37+ Best Mailchimp Newsletter Examples & Newsletter Templates [2023]
8 min read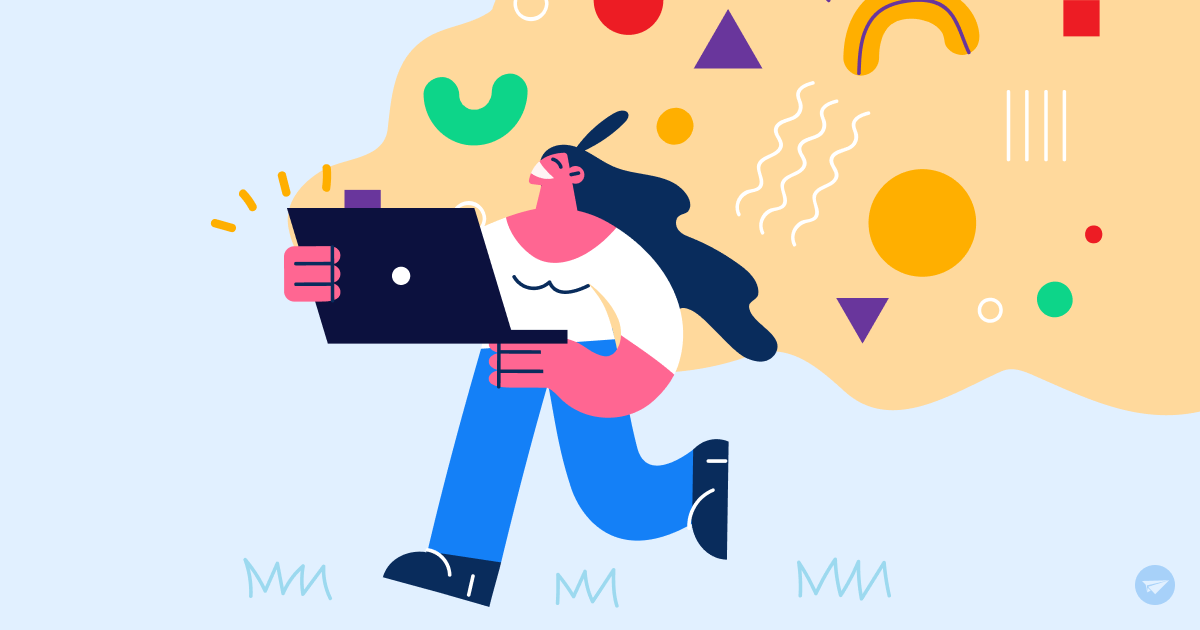 We all have this sensation… you need to launch an email campaign. You want something well designed, well crafted in order to impress the people that will open your message. Besides the message content, you think that looking professional is a must as well.
The problem?
You don't have a designer on your team, and you are not a good designer yourself. Well, that can be solved, since you can find anything on the internet these days. You decide to look for a freelance designer online that can create an email template that goes well with your brand, but soon you find out that the good ones can be really expensive for your small SMB pocket.
That's it, I will send it in plain text and forget about this all design thing.
Sure, you can do that. And there is nothing wrong with a plain text email, and usually, I prefer them. But don't forfeit your dream of having a well-designed email template just yet. We may be able to give you a few tips that will put you into Nike mode - just do it.
How?
There are three ways you can achieve that:
Using the

newsletter templates that Mailchimp already offers

you in your account.
Looking for sites that you can

buy cheap and beautifully

designed, and in some cases, free Mailchimp templates.
Or even look for

free alternatives on the web, since there are plenty of resources out there.
And in this article, we will explore a little bit of these three options..
Mailchimp's Own Templates and Examples
Why choose the templates that Mailchimp already provides you? They are already a step further than where you are sitting right now - you have none. And if you are already paying for the service being a small business this could help keep the budget in control, since you get them for free. You might want to know a little more about Mailchimp pricing though.
Another strong motive is that if you are not a tech-savvy you can still pull it off, you just have to select and modify the fields by selecting them and change what you need to be changed with your own words and pictures - easy money!
Depending on what you are going for with your newsletter, Mailchimp gives you 30 templates examples that you can choose from.
As you can see, it is just a matter of taste or the type of design that you think that approaches more to the final result you are looking for. After that, you are the designer in charge, change what you want and re-use it whenever you feel like it.
Just a quick note before we advance to the Mailchimp newsletter examples and templates that you can buy from the internet. I talked about paying for the service because when you use the Free account your template selection is limited.
Paid Newsletter Templates for your Mailchimp
Now that we talked about using the newsletter templates that Mailchimps offers you, we must assume the possibility that you won't like any of them. Now what? Well, there are other options for you on the internet.
Websites like Envato Elements, Theme Forest from Envato Market and Creative Market got you covered.
And we will analyze what they have in store for you, so you can make an informed decision when you are choosing your Mailchimp newsletter template.
Envato Elements
With a lot of resources for designers, creators or people that are none of those but who can tweak work that already been done by others, Envato Elements is a great place for you to find a well-designed template for your Mailchimp campaign.
One thing that can be a deal-breaker for you is the fact that they run on a subscription business model. If you are looking for that one Mailchimp newsletter template for you to buy and start using this may not be for you. Theme Forest and Creative Market may be more your style since they allow you to create an account and purchase the item you want without having to pay a monthly fee.
In my opinion, Envato Elements have the most beautifully designed Mailchimp templates from those three options. Maybe a premium subscription may not be a bad idea after all.
Let's look at some of the Envato Element Templates. We have picked the top 4 templates here based on various use cases
Atellar
This template can be used for multiple purposes. It provides you a block structure to showcase your content image, a short snippet, and the CTA. It follows a good structure of typographical hierarchy having heading, subheading, and some text in different font sizes. It is responsive and compatible with Mailchimp.
Space
This template has a slightly corporate look and works well for professional emails, company updates, or communication. It has a background image that you can edit or remove.
You can export it to the desktop as an HTML or Mailchimp template. It is responsive and works with all major email clients.
Emalio
Emalio is an email template with a very clean, minimal look. Instead of images, it has icons, text, and one hero image. All of this is customizable with a drag and drop feature in the Maropost editor. This template has a color palette of two colors, keeping the look perfect for a minimalistic brand. It is responsive and compatible with Mailchimp. You can export this as an HTML or Mailchimp template.
Kepler
Kepler is a responsive template good for a newsletter with a mix of images, icons, and text. You can edit the colors, background images, and CTAs to suit your newsletter. It is compatible with Mailchimp and responsive on all major devices and clients.
Theme Forest
Part of the Envato Market, the Theme Forest has one particularity, it allows you to choose what you want to buy, you pay for your Mailchimp newsletter template and you can walk away, no commitments asked from you - one time buy and that's it.
If you are low on a budget, or if you just want to look for that one Mailchimp template to tweak and turn it into the face of your brand, by all means, try to find something here. I still believe that the designs you can find at Envato Elements are far superior but as the Portuguese saying goes - "He who doesn't have a dog hunts with a cat".
Let's look at some of the top Themeforest Templates.
Notification App
This template is focused on conversions. It is great for app developers or eCommerce store owners. It has pre-built designs for welcome emails, order confirmations, invoices. It is fully responsive, customizable, and compatible with Mailchimp.
Kinetic
This template provides a variety of modules like video embeds, carousel, progress bar, etc. that you can customize according to your newsletter. It is great for designing interactive campaigns. It also supports the background image for all the versions of Outlook.
Notify3
This template is good for transactional emails such as - password resetting, login notification, OTP confirmation, etc. You can't host it on your own server though it works perfectly fine with Mailchimp.
It is responsive and supported on 60+ email clients.
Kappa
In this template, you get draggable elements, Google fonts, background images, and color choices. It is one of the premium looking templates and perfect for a high-end product or your weekly newsletter. It doesn't support background image for any version of Outlook.
Creative Market
Very similar to Theme Forest and Envato Elements, Creative Market has a collection of Mailchimp templates from professional designers that most likely will give you that touch of a respectable brand that you are looking for.
Similar to Theme Forest, you can buy the item you like without having to commit to a subscription account like Envato Elements.
One thing that Creative Market is known for is their bundles, instead of just buying an item you can buy several in a package usually with a great discount - assuming that you buy them one by one.
This means that you can acquire a pack with different styles of Mailchimp templates and have options to choose from or you can buy a pack with templates that are "similar", with that same "brand" look and feel, which is awesome. You can vary your newsletters without compromising the consistency of your design.
Let's look at the type of templates you can expect at Creative Market.
Mailchimp Newsletter by Itsdesign
This template has a cheerful look. You can use it if you work in artistic fields like photography, illustration, pottery, etc. All text, colors, images, and CTAs can be edited. It has a good color palette to start with.
Google fonts are only supported in Apple Mail, iOS Mail, Google Android, Samsung Mail (Android 8.0), Outlook for Mac, Outlook App. For others, fallback options are provided.
Blush Vibes Email Template by Edit & Go
This template has a mix of a casual and professional look. It is perfect for bloggers who need a flexible layout that can accommodate longer text lengths and look gorgeous on any size device.
It is fully responsive and comes with Mailchimp compatible templates.
Some Free Newsletter Templates for your Mailchimp
Now that you know where to buy some templates at reasonable prices, its time to move onto the free alternatives, since not everybody can afford to buy templates, especially if you are in your early stages of business, where every single dime counts.
Colorlib 4
The first on the list is Colorlib 4.
With a clean design, this is for sure a great template to use on your newsletter, elegant and sophisticated with a few "moving parts" which makes your editing and tweaking easier. If you use it to promote the articles on your blog, the creator has made the process very simple as well. Here you can see the template in action and you can go here to download it.
Mantra
A collection of email templates that varies from Welcome emails, progress, thank you, birthdays and so on. Not as elegant as the Colorlib 4 template but you get a bundle, so no more thinking about how to change the template to adapt to the context you need it.
Just choose one that already fits into your situation, and modify it towards your needs, click send.
Explorational template
More a layout than a proper email template, but the designer already did all the work for you, it comes with a wireframe in Sketch and an HTML version that you can tweak to your needs, or just populate it with content.
I don't know, but the Ikea effect can play a huge role in this one, and you may end up liking this layout more than those previous templates.
Get your explorational template.
Kreative
Created by ZippyPixels, this is a beautifully designed responsive template that will give you that satisfaction of sending something that will make your subscribers think "wow, their designer is really good, I wish they have such talent in-house". Of course, we both know the truth. It's just a template you downloaded here and modified.
SendX's Never-ending Free Resources
SendX is the ultimate resource for people looking for free email templates online, why?
Let's start with one of their resources that I have no doubt that will provide you with a lot of templates to choose from. 1500+ Free Email Templates, that's right, not five, not ten, not a hundred email templates, but 1500+.
And since we are talking about Newsletter templates, check this out:
I think it is time to stop because I don't want this to become a looooong article. So, if you want to check more of the SendX's Free Resources, just follow this link.
A quick note about plain text vs Mailchimp newsletter templates
We all want to show people how cool our brand is, and how sophisticated we can be by sending those fancy HTML emails, but sometimes it is better to put our effort on the content instead of on the looks.
A relevant message will have a better impact on your business, it doesn't matter if you write it in an informal way, without capitalization and send it as text only.
Have in mind that even when you are using HTML Mailchimp templates you should avoid putting your core message as an image, make sure that you make it as text because a lot of people will have email filters activated or even their email provider can choose to block your images, and if you rely on that beautiful image to convey message, guess what? You just waste money and effort because they didn't see it.
Use plain text, use HTML templates, use whatever works for you. But content is more important than looks.
Final words
I don't have really much to say here, I just hope that I could help you find good alternatives for not having an in-house designer, or for your lack of design skills.
If you decide to subscribe to Envato Elements, or just buy one Mailchimp newsletter template at Theme Forest or a pack of them at Creative Market or even search the web for free resources, it is indifferent to me, as long as the path you choose works for your needs, and helps you and your business.
As a reminder, you can always use this never-ending resources from SendX to make your business prosper. Click here for a brief comparison between Mailchimp and SendX. And this guide here will satisfy your curiosity if you want to know more about Mailchimp alternatives.
If you are still looking for more alternatives to Mailchimp, you might be interested in the full mailing list of our Mailchimp comparisons:
FAQs
1. Why should I use the newsletter templates offered by Mailchimp?
Because Mailchimp provides a wide range of professionally designed templates, using these templates ensures that your newsletters look polished, visually appealing, and consistent, which can help improve your brand image and credibility.
2. How is SendX when it comes to email templates?
SendX offers as many as 1500+ free email templates, and also provides a collection of 20+ premium responsive templates.