Top Email Marketing Software for Real Estate in 2023
I was tempted to put a cool stat in the first line, to show off you know.
Then I realized that these stats might not be the same in every country/region.
But I thought & found one stat that doesn't change, wherever you are.
It is: A real estate agent who is not using email marketing is losing 100% of the customers he could have gotten!
Why Email Marketing for Real Estate?
Buying or renting a house are high-ticket expenses that require a lot of thought and consideration before making a decision. And no one is making that impulse purchase even if you put a wine fountain in the garden of the house & post that on social media.
Since so many leads, especially millennials, prefer to be contacted via email, writing effective real estate emails will help you close more deals, even (ESPECIALLY!) in the downtime.
You only have limited hours to meet people, show houses, draft proposals, and on top of that engage with potential customers. And of course not to forget that you have a life to live! So how do you still keep growing?
In addition to these benefits, when you combine a winning email marketing campaign with other valuable real estate marketing tools, you can boost your online marketing, traffic and leads significantly.
Automate and put on autopilot. Let your system send that welcome email automatically. Create a process to share relevant content. All of this can be done with email marketing.
Here we have put together a list of 6 email marketing tools which can help you pick the right one for your mission: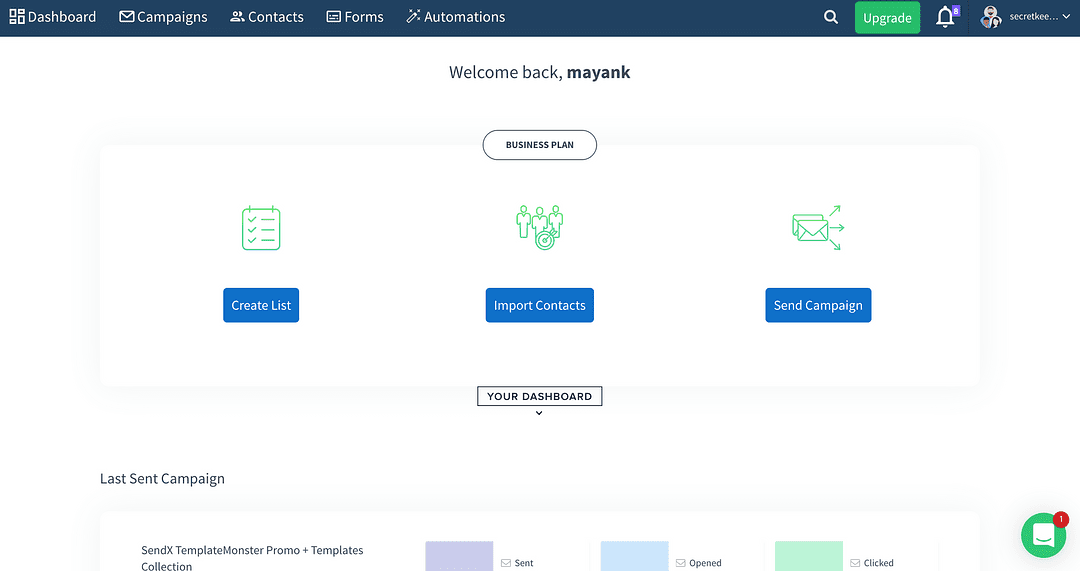 It's an easy to use, affordable, and feature-rich platform.
‍
To use SendX's email editor, you don't need to know HTML or secret Sanskrit mantras. It's a drag-and-drop editor that makes creating emails very easy and fast.
‍
You don't need to even start building your email from scratch. You get a responsive, pre-built library of templates that can be customized to your brand or use case.
‍
Whether you build your own template or use pre-existing ones, you can do personalization with the recipient's names, birthdays etc.
Email marketing automation by SendX can help you save time, grow engagement, and drive more people to open-house events, or realtors' expo .
The automation features in SendX lets you create a series of emails that are sent to subscribers when triggered by a specific time, activity, or event.
Some examples are:
Starting a series of emails updating about the credibility of your firm, listings that are available in your area, a guide to help them buy their dream house.
Congratulating a person for closing a deal for buying or selling a property
Stopping a campaign on receiving the required action or reply
‍
| | |
| --- | --- |
| Pricing | Starts from $7.49/mo for 0-1000 contacts |
| Trial | 14-day Free Trial. No credit card required |
| Customer Support | 24/7 Phone, Email & Chat Support |
| Features that stand out | Easy to use UI, Drag & Drop Editor, Automation capabilities, High-delivery rates |
| Refund Policy | No refunds |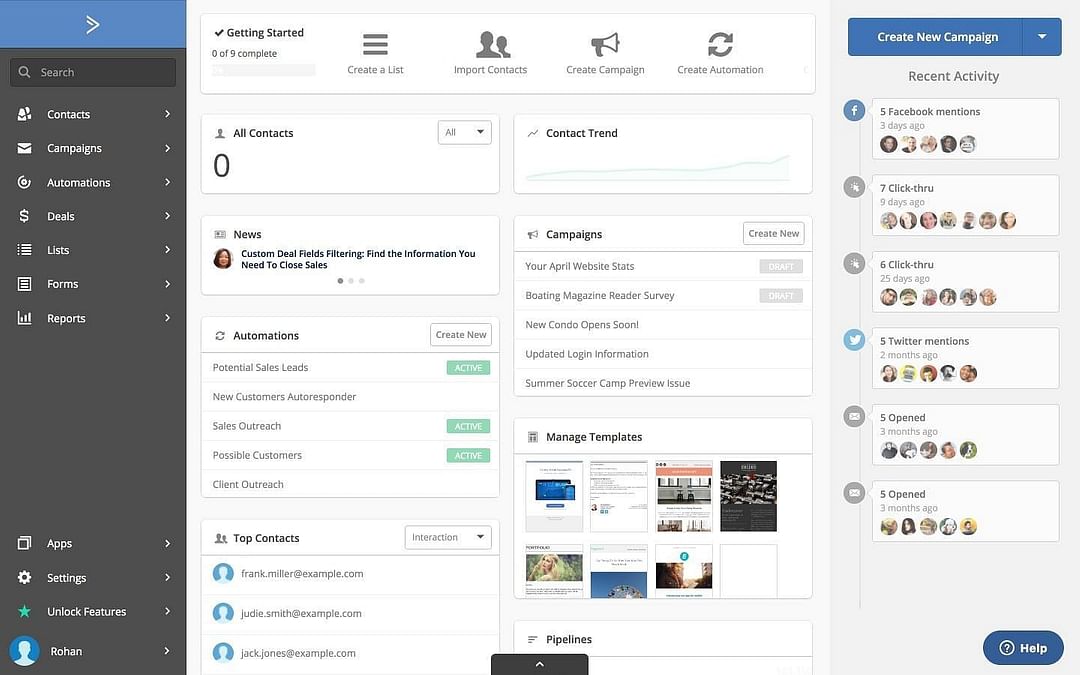 For building automation, their easy to use flow chart system is pretty intuitive and drag-and-drop builder lets you set up automated workflows in minutes. You can also find templates to get started or get ideas from.
You also get reporting on all areas such as click-maps, geo-tracking and page visits. This can help you see what's working and where people are paying attention.
ActiveCampaign's list-management features are very popular.
You can segment contacts via custom fields (which are contact fields that include additional data about the contact, e.g. location or interests etc). Tags and custom fields can be added or removed via automation.
‍
Another interesting feature is- ActiveCampaign also offers lead scoring allowing you to assign scores based on past actions of subscribers. This helps you segment the audience from highly engaged to totally inactive. And thus helps you make actionable decisions for your marketing strategy.
‍
| | |
| --- | --- |
| Pricing | $9/month ( 500 subscribes) |
| Trial | 14-day free trial |
| Customer Support | Email, live chat, easily searchable knowledge bases and tutorials. |
| Features that stand out | Automation, List Management, Reporting |
| Refund Policy | No refunds |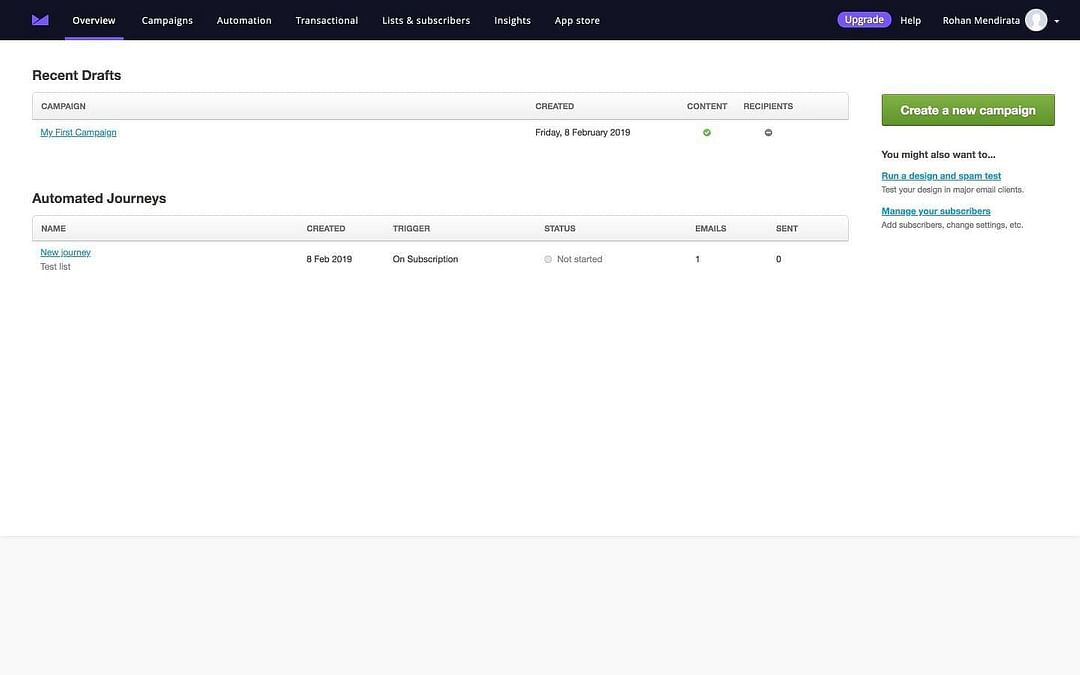 In real estate, every lead and every email counts. So Campaign Monitor helps you seamlessly integrate with several CRM, and event platforms—so you'll have all the data you need to quickly send personalized email campaigns that drive footfalls
It offers real-time data tracking. From the moment you hit send, you get advanced email testing tools and analytics so you can easily measure and optimize performance in real-time. Finally, you can get an aggregate view into the performance of your overall email marketing program — including geography, acquisition and engagement per campaign.
‍
| | |
| --- | --- |
| Pricing | $9/mo with 500 contacts & 2500 emails |
| Trial | Free trial only until you send an email |
| Features that stand out | Integrations, Real time data tracking |
| Refund Policy | No refund (but can have exceptions) |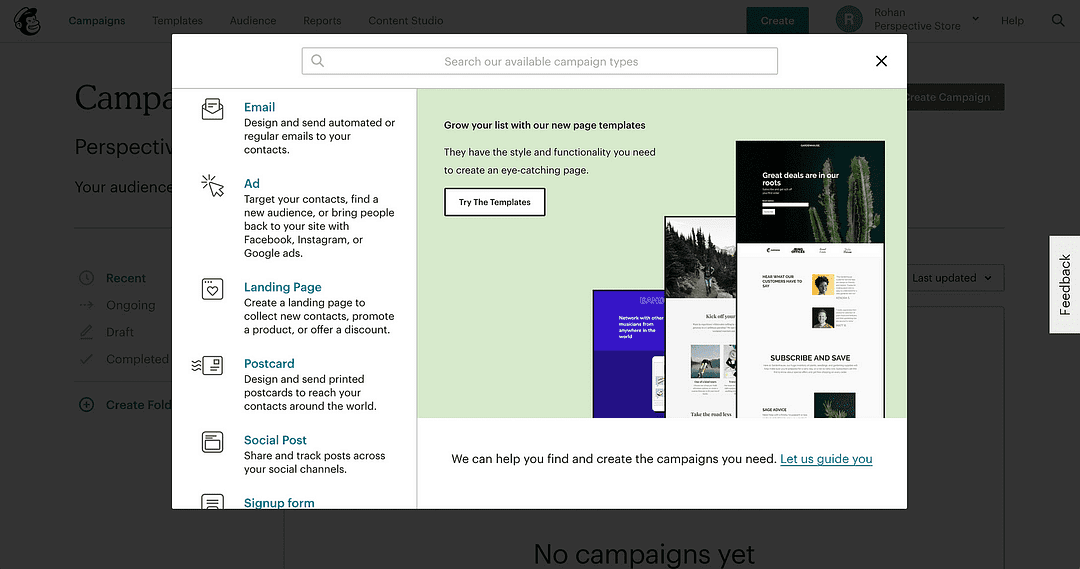 Mailchimp is extremely user-friendly. They have an intuitive, simple UI and you won't waste time going through any pieces of training or guides. Their templates offer much more flexibility & creativity - you can create 1,2 or 3 column structure or display images and social media options or show social clout of your pages.
If you send sporadic emails, you can choose the Pay As You Go Plan. It is a flexible alternative to a monthly plan. Instead of paying a recurring monthly fee, you purchase email credits as needed. It's good if you send quarterly updates only. The Pay As You Go plan comes with the same set of features as their Essentials plan.
Mailchimp's pricing starts off cheap but gets really costly as your audience increases.
‍
| | |
| --- | --- |
| Pricing | Starts from $9.99/mo |
| Trial | Forever Free with upto 2500 contacts |
| Customer Support | Depends on the type of your plan |
| Features that stand out | Ease of use, Extensive reporting and integrations |
‍
Mailchimp's Venture Into eCommerce
One important update for all those looking at Mailchimp as an option is that Mailchimp has also recently launched its own online stores for SMEs, and a new service for booking appointments. The appointment booking service went live on 28th April 2021, and the new eCommerce features are scheduled to become available for the US and UK Mailchimp customers by May 18th 2021.
New 'Websites and e-commerce' plans will be introduced (and free-plan users will have to pay 2 percent transaction fee). Transaction fees will be reduced for users of different pricing grades, for example, those who go for a Plus plan at $29, only 0.5 percent transaction fee will be applicable.
Besides, for $10 extra, Mailchimp's branding will be removed and you will get email and chat support, and you will only have to pay 1.5 percent transaction fees.
All their plans will also include SEO tools and Google Analytics integration. Plus, you can build websites with unlimited pages and without bandwidth restrictions.
And when it comes to the online stores by Mailchimp, you can build your product catalogues, manage your orders, and taxes and shipping configurations.
But if you don't need all of these additional features and services, you should still proceed with comparing Mailchimp with other email service providers.
Constant Contact provides a high email delivery rate and that is what marketers care about more than anything else. With a high email delivery rate, you ensure that all your emails land directly into the inbox and not in the spam box.
While many email marketing tools also have a cap on how many messages you can send in a month, Constant Contact doesn't. This helps you send emails to a large list or run multiple campaigns in a month.
Constant Contact has templates related to the real estate industry and not just for one type of email but for sales, for inviting to events and even newsletters. With newsletter templates & some valuable content beyond just decreasing & increasing prices of houses and shops, you can add so much more value to your subscribers.
Most importantly, it lets you collect online donations securely and you can track donations on a custom landing page.
You can also send an email invitation with RSVP capabilities—Yes, No, Maybe—built-in. Your subscribers would be able to respond easily to upcoming fundraisers, volunteer events, or other programs.
| | |
| --- | --- |
| Pricing | $20/mo for up to 2000 contacts |
| Trial | 30-day trial but requires you to signup with your credit card |
| Customer Support | Call support is from Mon-Sat & Chat support from Mon-Fri with fixed hours. |
| Features that stand out | High email delivery rate, Easy to use editor |
| Refund Policy | No refunds |
‍
SendX FAQs for Real Estate
1) What are the main benefits of email marketing to realtors?
As a realtor, you need to position yourself as a market leader, and show that you understand the prospect's budgeting priority. You also need to give timely updates about the real-estate market. All this can be accomplished effectively using email marketing.
2) Can we automate emails like congratulations for buying/selling a property, prospect's birthdays (asking them to gift themselves a new property) etc?
Yes, of course. SendX allows you to create automations to truly turn your marketing efforts into auto pilot mode. Some of these activities include event based marketing where events like birthdays, anniversaries, property purchase transactions, sale transactions etc, serve as triggers to send beautifully designed automated emails.
3) Most of our prospects need to be nurtured through multiple emails before they are ready for an email with a CTA. How can we achieve this lead nurturing with SendX?
For that, you can plan a drip campaign in SendX. A drip campaign is a method used in marketing to acquire customers through lead nurture programs. It involves sending marketing information to prospects repeatedly over longer periods of time in order to nurture prospects or leads through the marketing funnel. You can define the criteria, such as a subscriber's email reply, to stop the drip campaign and trigger a sales email with a clear CTA.
4) Most of our emails need good imagery as the emails need to illustrate the real-estate properties really well. Is SendX up to the task?
Yes, very much. In SendX, you can get access to more than half a million royalty-free stock photos for your email marketing campaigns, which should be more than sufficient for your requirement.
5) Realtors are not technical people. Do we need HTML skills to design attractive emails in SendX?
No. With the WYSIWYG editor in SendX, you can design beautiful email newsletters even if you don't know HTML.
6) Are there any special discounts for realtors in SendX?
Even though there is no special discount as such, you can go for an annual plan which will save you up to 25% per year.