Wix is a website builder that has a built-in email marketing service. With a Wix website, you get access to an email marketing service that helps you create effective email campaigns and engage your audience.
Mailchimp is a popular cloud-based email marketing solution that helps you build and manage email marketing campaigns. It also integrates seamlessly with all the major website builders.
Below, we will examine the key factors that make an email marketing software great and compare both solutions.


How Do Wix Email Marketing and Mailchimp Compare?
We will pit both Wix Email Marketing and Mailchimp against each other and compare them based on the following factors:
Pricing: Wix vs Mailchimp
Your budget will determine the pricing package you select, and feature sets differ from one pricing tier to the other.
Fortunately, both Wix and Mailchimp offer free plans that give you access to most of the features you need. You can start small and pay more as you scale up your email campaign.


Wix Email Marketing Pricing
The basic Wix Email Marketing Plan is forever free and you will discover that the available features are adequate for a small email marketing campaign.
With the free plan, you can run three email campaigns in a month and send a total of 5,000 emails. Your monthly quota will reset on the first day of each month, regardless of which day of the previous month you sent your first email campaign.
The premium Wix Ascend Plans will let you send more emails and give you access to more robust professional features.
If you upgrade to an Ascend Plan, you get:
More email campaigns per month
An increase in the total number of emails you can send per month
Access to premium customer support
Removal of the Wix branding from your email marketing campaigns
The three Ascend Plans are as follows:
Wix Ascend Basic ($10/month):
This plan gets you 9,500 emails and 5 campaigns per month. You also get Payment Forms and 50 Lead Capture Forms.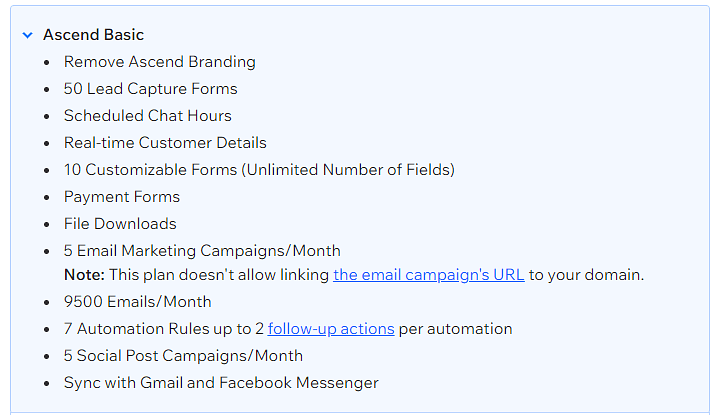 Wix Ascend Professional ($24/month):
You get 20 campaigns and 50,000 emails per month. The plan comes with 150 Lead Capture Forms and 20 Customizable Forms.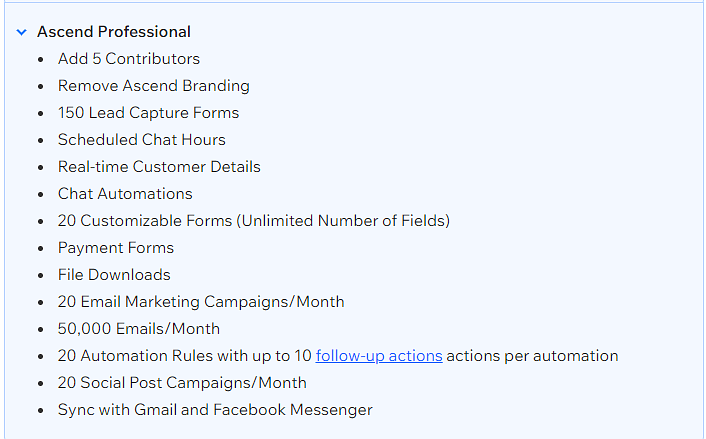 Wix Ascend Unlimited ($49/month):
You can create unlimited email campaigns and send up to 1,000,000 emails per month. You also get VIP support and unlimited Lead Capture Forms.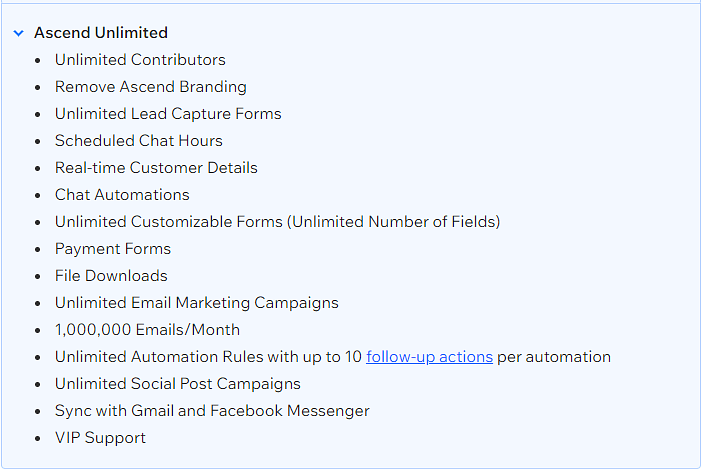 Mailchimp Pricing
Below is an overview of Mailchimp's pricing packages:
Mailchimp Free Plan: Mailchimp's free plan lets you have 2,000 contacts and 1 audience. The free plan will get you most of Mailchimp's features including:


Segmentation
Behavioral targeting
Social posting
Templates
Pop-up forms
Analytics

To get advanced segmentation, A/B testing, and 24/7 customer support, you will need the premium plan.
Mailchimp Essentials ($9.99/month):
With this plan, you can have 50,000 contacts and 3 audiences. Together with the features in the free plan, you also get A/B testing, custom branding, and 24/7 customer support.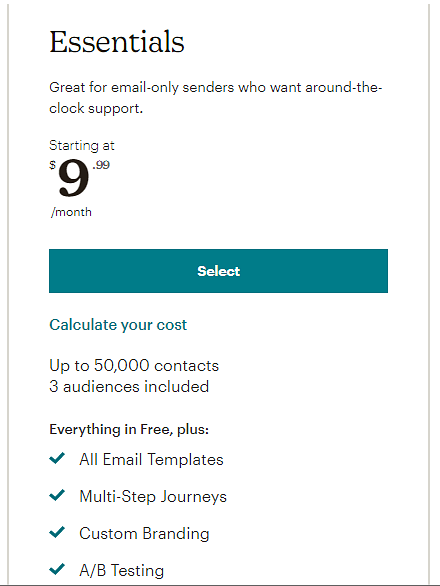 Mailchimp Standard ($14.99/month):
You get 5 audiences and up to 100,000 contacts per month. In addition to the features available in other plans, you get custom templates, a customer journey builder, and behavioral targeting.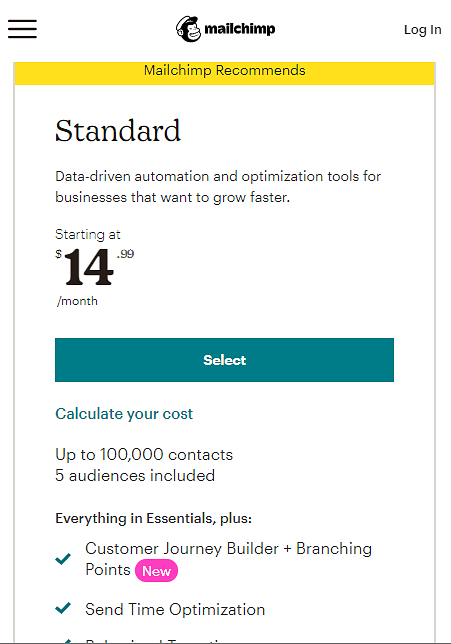 Mailchimp Premium ($299/month):
For that price, you get unlimited audiences and more than 200,000 contacts per month. Additional features include advanced segmentation, comparative reporting, and phone support.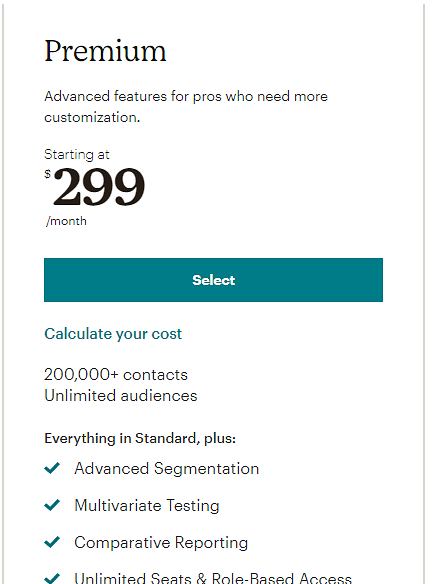 Mailchimp also offers a Pay As You Go plan for users that send emails infrequently. The plan works by letting you buy email credits only when you need them. Each email will cost one credit and your email credits expire after 12 months.


Wix vs Mailchimp Pricing Winner?
Wix offers a free plan and cheaper premium plans, but you get fewer features than you get with Mailchimp. Mailchimp also offers a free plan and its Standard plan is adequate for the needs of most small businesses. It is also cheaper than Wix's Ascend Professional plan. Mailchimp provides a pay as you go plan for infrequent senders. Mailchimp wins this category.


Features
An important factor in the success of your email marketing campaign is the breadth of features provided by your email marketing solution. We will examine both solutions on five key features, and they are:
Mobile-Responsive Templates
Automation


Wix Email Marketing Features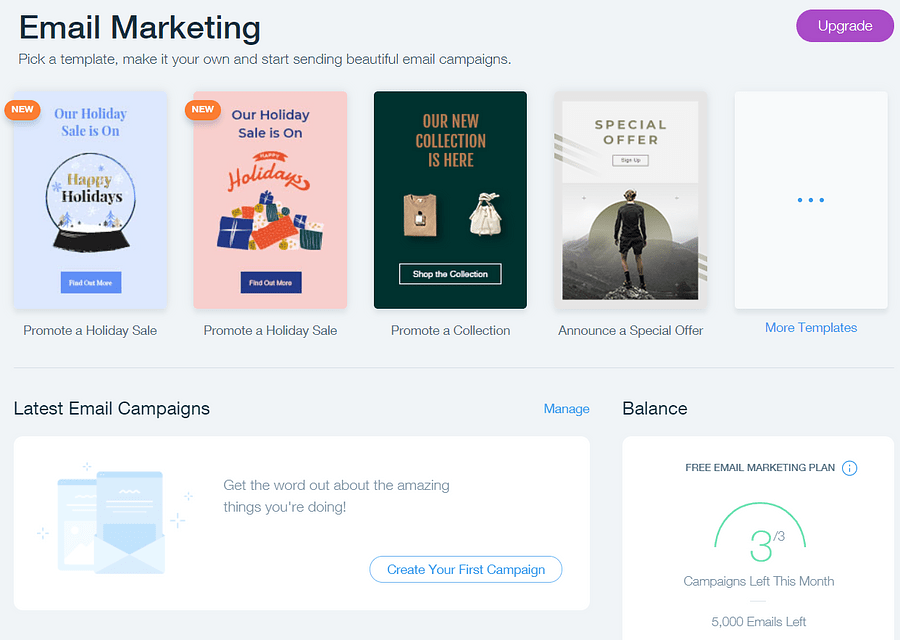 Wix Email Editor:
Wix's drag-and-drop editor helps you customize ready-made templates by changing fonts, adding images, and more.


Templates:
Wix provides a large collection of designer-made templates that are designed for every type of message. These templates are mobile-responsive and they will look good on any screen size.


Segmentation and Personalisation:
You can segment your contacts by demographics, behavior, and geography. Wix lets you send email blasts to your contacts. These email blasts can be promotions or newsletters.


A/B Testing:
Wix Email Marketing does not offer A/B testing.


Automation:
Wix Automations lets you define events that will trigger an email to your customer. For example, you can create an automated email to remind your customers about overdue invoices.
Mailchimp Features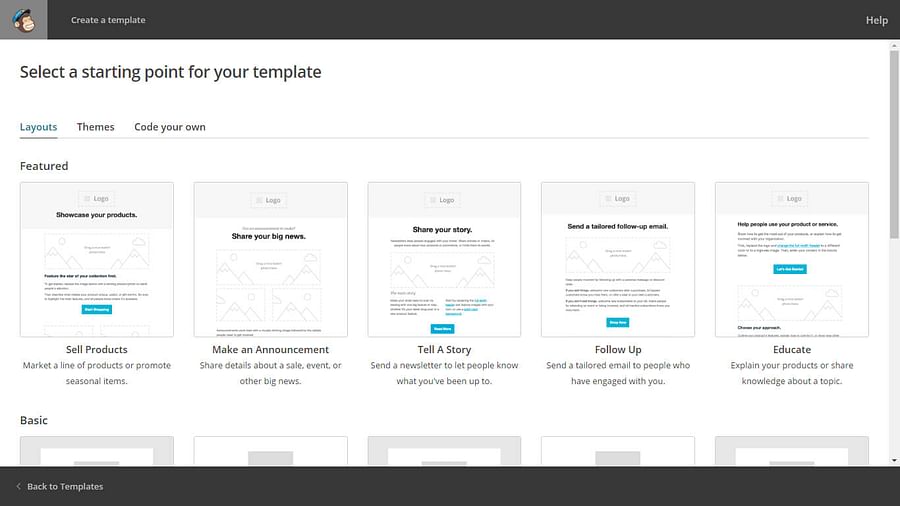 Mailchimp's Editor:
Mailchimp's drag-and-drop editor gives you lots of options. You can easily add text, images, social icons, and buttons. The editor saves your designs every 20 seconds, and this removes any worries about losing your template.
Also, you can save any template you create for future use.
Templates:
Mailchimp offers hundreds of pre-designed templates for a wide variety of industries. There are templates for promotions, sales, and newsletters.
You choose from any of these templates or customize a blank template using the Mailchimp editor. Mailchimp also lets you code your templates, and you can't do this with Wix.
Segmentation and Personalisation:
Mailchimp helps you sort your contacts into segments and target them with ads or email campaigns. Also, you can save contact segments for future campaigns.
With Mailchimp's advanced segmentation, you can target specific contacts on a granular level. This feature requires a $299 per month Premium subscription.
A/B Testing:
Mailchimp makes it possible for you to test different versions of an email to see what works and what doesn't. You can use different subject lines, images, CTAs, content, and more.
Automation:
Mailchimp provides robust automation, and many automated features are available in the free plan. For example, you can set up a series of automated onboarding emails to welcome your new customers.
Wix vs Mailchimp Features Winner?
Mailchimp wins this category. Its features are more robust and it also offers A/B testing, which is not provided by Wix Email Marketing.


Email Deliverability: Wix vs Mailchimp


Deliverability is the ability of your email marketing solution provider to deliver your emails into the inboxes of your contacts and not the spam folder.
You want your emails to get to the inboxes of your subscribers, so the deliverability rate of the email marketing solution you choose is very important.
Wix Email Marketing's Deliverability
Wix does not provide data on deliverability rates of its email marketing service, but you can monitor the delivery results of your email campaign on the platform.
Wix tracks the following:
The number of emails that were delivered successfully
The number of emails that were opened by the email recipients
The number of email recipients that clicked a link in your email
You will get these metrics in percentages and this helps you track the deliverability rate of your email campaign.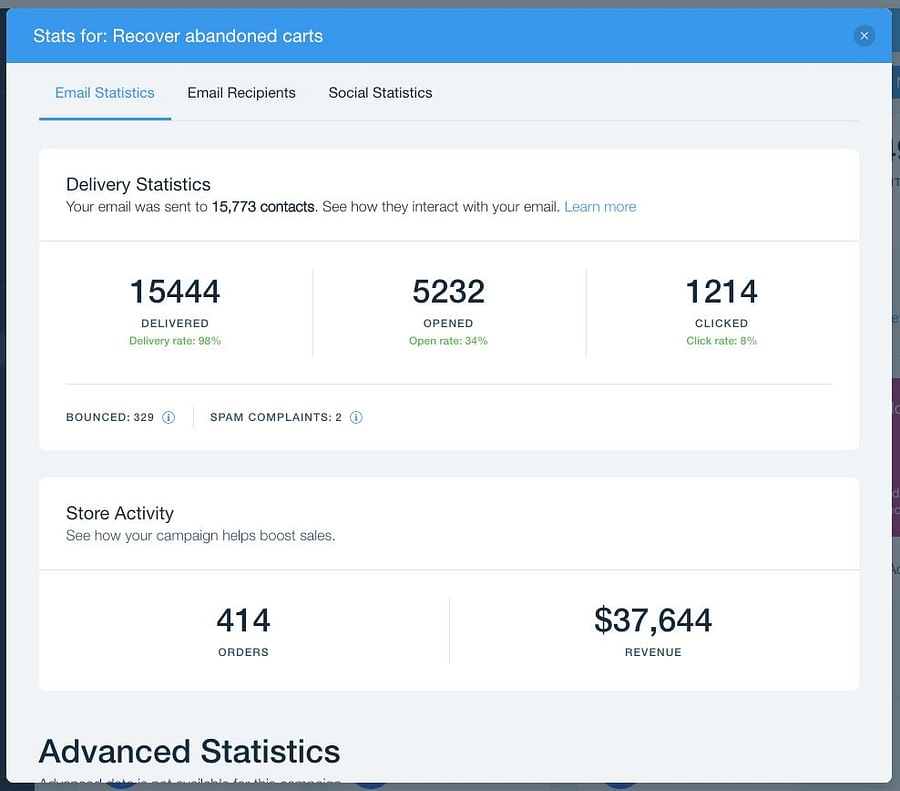 An alternative email marketing solution that offers the best open time deliverability rates is SendX. The platform is focused on email deliverability and it provides a one-click capability to resend unopened emails.
Another relevant feature is automated geo-targeting, which gives you time-zone deliverability. Migration from your existing email marketing solution is completely free.


Mailchimp's Deliverability
Just like Wix, Mailchimp hasn't provided a deliverability rate for its platform.
However, Mailchimp takes deliverability seriously, and it is registered with all the major Internet Service Providers (ISP) to ensure it receives alerts anytime an email campaign is marked as spam.
Such spam email is removed immediately to prevent it from affecting the reputation of your IP address. Mailchimp also provides detailed campaign reports for your email campaigns. These reports help you track the delivery progress of your emails.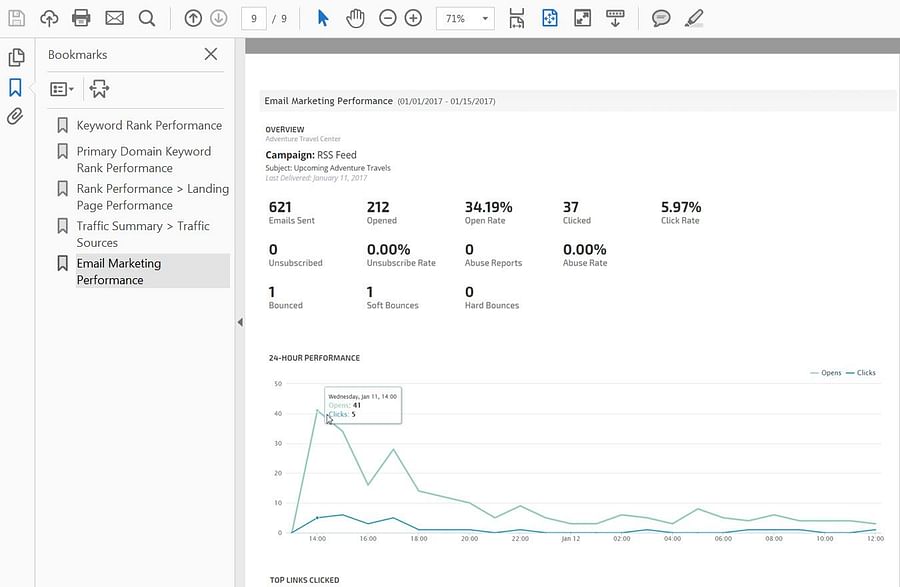 Wix vs Mailchimp Deliverability Winner?
Both platforms provide you with reporting and analytics to track your email deliverability, but neither has provided official deliverability rates for their platforms. This is a tie.
Third-Party Apps Integration: Wix vs Mailchimp
Third-party integration lets you share data with your email marketing platform without the stress of manual input. Integration lets you link a stand-alone email marketing solution like Mailchimp with your website.
Both platforms offer integration with third-party apps, but Mailchimp stands out. Mailchimp offers hundreds of integrations including eCommerce platforms, website builders, CRM software, Analytics, and more.
Wix Apps Integrations
Wix focuses on integrating with popular marketing tools and some of them are:
Hubspot
Google Ads
Visitor Analytics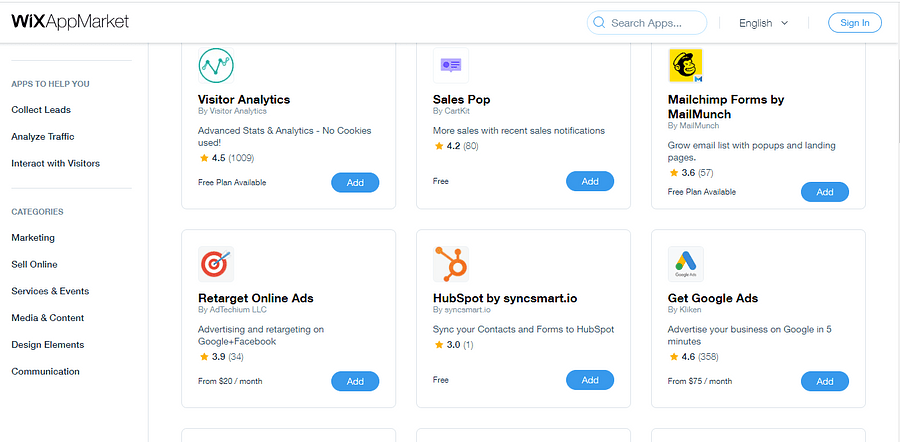 Mailchimp Apps Integrations
Some popular apps in Mailchimp's extensive integrations directory are:
Stripe
Zapier
WooCommerce
Calendly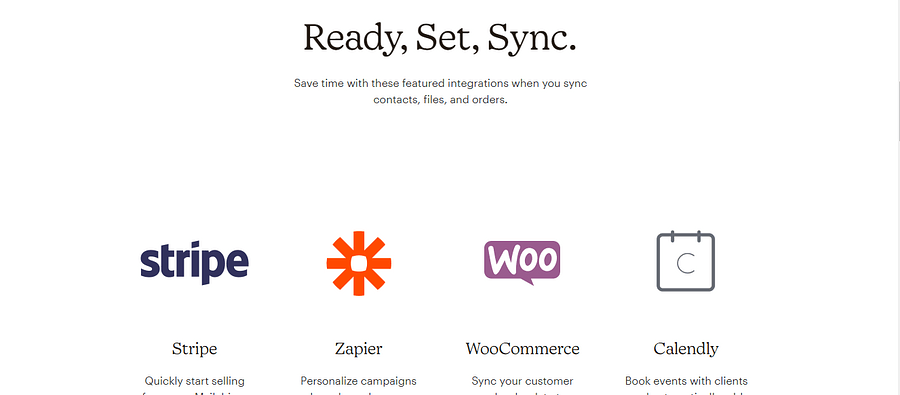 Wix vs Mailchimp Integrations Winner?
Mailchimp is the undisputed winner of this category. Mailchimp's integrations directory remains unmatched by any other email marketing solution provider.
Mailchimp's Venture Into eCommerce
One important update for all those looking at Mailchimp as an option is that Mailchimp has also recently launched its own online stores for SMEs, and a new service for booking appointments. The appointment booking service went live on 28th April 2021, and the new eCommerce features are scheduled to become available for the US and UK Mailchimp customers by May 18th 2021.
New 'Websites and e-commerce' plans will be introduced (and free-plan users will have to pay 2 percent transaction fee). Transaction fees will be reduced for users of different pricing grades, for example, those who go for a Plus plan at $29, only 0.5 percent transaction fee will be applicable.
Besides, for $10 extra, Mailchimp's branding will be removed and you will get email and chat support, and you will only have to pay 1.5 percent transaction fees.
All their plans will also include SEO tools and Google Analytics integration. Plus, you can build websites with unlimited pages and without bandwidth restrictions.
And when it comes to the online stores by Mailchimp, you can build your product catalogues, manage your orders, and taxes and shipping configurations.
But if you don't need all of these additional features and services, you should still proceed with comparing Mailchimp with other email service providers.
Customer Support: Wix vs Mailchimp
Online software platforms are not perfect and issues will inevitably arise that will affect your email marketing efforts. A good email provider will offer 24/7 customer support to give you the help you need when you need it.
Also, online documentation and resources should be available to walk you through the process of using the platform.
Wix Email Marketing Customer Support
Wix offers the following customer support services:
Support tickets
24/7 callback service
Social media channels that are actively monitored while community managers are happy to answer customer questions
An online knowledge base called Wix Help Center that contains how-to tutorials about every facet of the Wix platform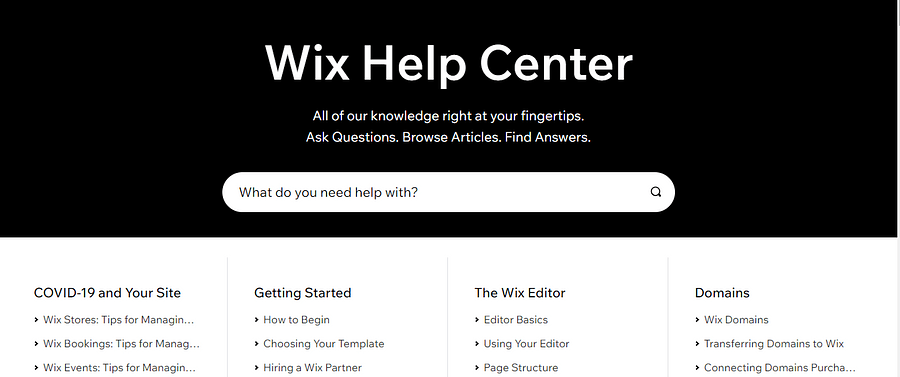 MailChimp Email Marketing Customer Support
Mailchimp provides the following customer support resources:
24/7 Email & Chat support (only for paid plans)
Social media channels are also actively monitored and representatives are often available to answer customer inquiries
An online resource that is easily searchable and contains text and video tutorials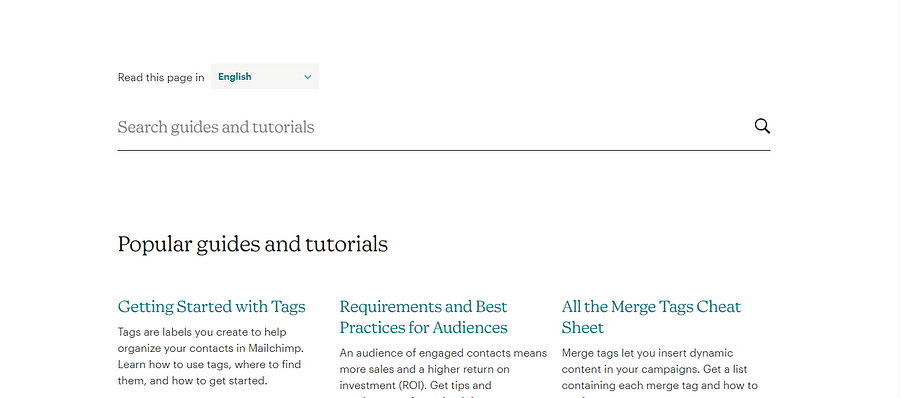 Wix vs Mailchimp Customer Support Winner?
Wix wins this category. Wix offers 24/7 callback service and support tickets for free. However, you need a paid plan to enjoy Mailchimp's email support and live chat.
Which Is The Best Email Marketing Solution For Your Small Business?
The best option for your business is Mailchimp. Mailchimp is a purpose-built email marketing solution with all the bells and whistles needed to run a successful marketing campaign.
Wix is different, it is primarily a website builder, and its email marketing functionality is designed to complement the user's website. This is reflected in the relative limitations of its email marketing features.
For a small business owner on a tight budget, the Mailchimp free plan has all the features you need to test the waters and learn the ropes of email marketing.
When you have successfully gained 2,000 contacts and you are generating revenue from the success of your email campaigns, you can upgrade to a premium plan.
But we also suggest that you try an alternative like SendX, which is affordable and intuitive. You can go for a 14-day free trial, no credit card required.