One of the top reasons to change from Mailchimp to an alternative email marketing software is that Mailchimp's support needs improvement. And then there is the pricing structure which is rather exorbitant for a small business. Here we have listed the best alternatives to Mailchimp for you to choose from.
Here are the Top 11 Mailchimp Alternatives
Our team went deep into Mailchimp, and realised that it might not be the right fit for email marketers and businesses who don't use all marketing channels. Their support can be slow at times, and Mailchimp's pricing structure can get really complicated with the introductions of audience. That said, Mailchimp still remains a really robust software, with best in class editor having a lot of email templates (with 3rd party support) amongst other things.
If you are crunched for time and are looking for a quick insight on how each Mailchimp Competitor fares, check out our verdict at the bottom of this page.
| Mailchimp Alternative | Why Go With It | Why Avoid It |
| --- | --- | --- |
| SendX | Intuitive UI, responsive templates, high deliverability. Extremely affordable at $7.49/mo. | Doesn't have advanced workflows. Limited integrations. Not suited for eCommerce. |
| Campaign Monitor | Advanced email testing and analysis. | Doesn't have a landing page creation tool. |
| HubSpot Email Marketing | Advanced personalization and automation. CRM and all-in-one digital marketing growth tool. Useful features under the free plan | Can get expensive if you're only interested in the email tool. |
| ActiveCampaign | List Management & Segmentation. High quality support | Interfaces can get overwhelming for beginners. |
| AWeber | Huge template library and stock images. Best deliverability. | Doesn't have advanced automation tools. Slightly outdated templates. |
| Sender | Powerful drag-and-drop and HTML editors, low learning curve, extensive automation options, fair pricing, in-depth analytics | Email marketing focused tool with fewer CRM features. |
| ConvertKit | Focused on content creators. Templates created for responsiveness, readability. | Limited A/B testing. Doesn't have image based templates. |
| Automizy | Easiest Automation Builder. Built-in features for getting higher open rates. | Doesn't have many pre-built templates. |
| Moosend | Automation builder at a low price. | Limited analytics. Slow user interface. |
| Constant Contact | Good for event marketing. 100+ templates. | Outdated email templates. Not for advanced marketers. |
| Drip | Visual workflow builder is good for beginners. | Expensive for basic features. Lacks modern email templates. |
1. SendX
‍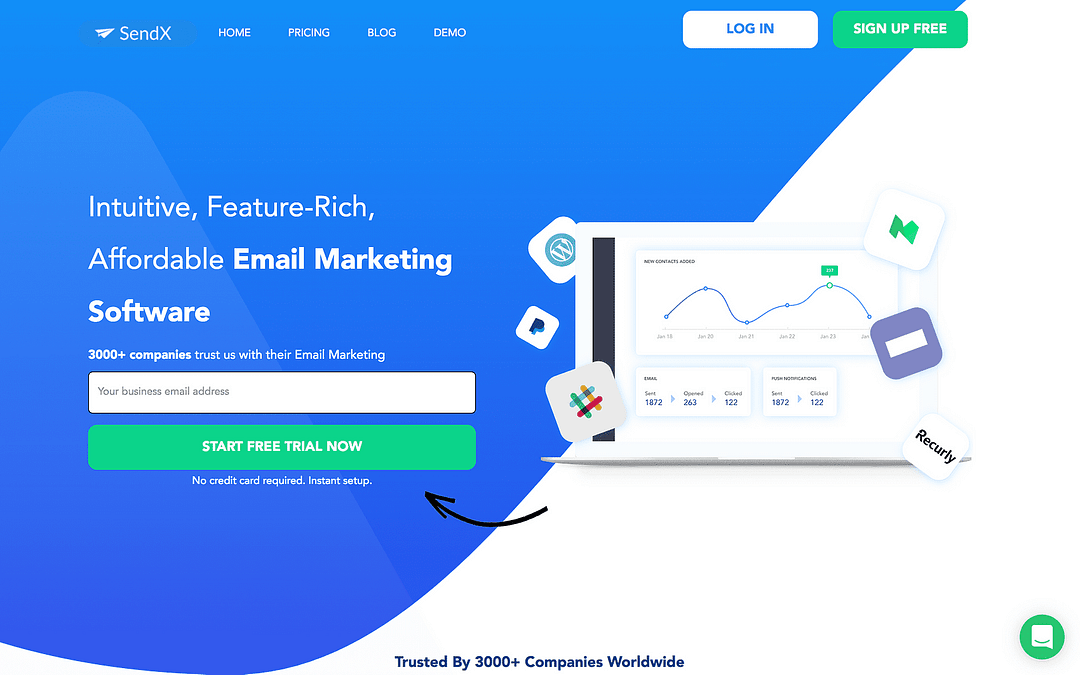 ‍
SendX is an intuitive and affordable email marketing software built to solve 2 main problems:
Not enough features at affordable cost: With SendX, you can find all the necessary features at an affordable cost of just $7.49/mo for 1000 subscribers.

Complicated pricing: Our pricing is straightforward and you just pay for the number of subscribers you have & get access to all the features.

Read in-depth feature by feature comparison between SendX and Mailchimp.
‍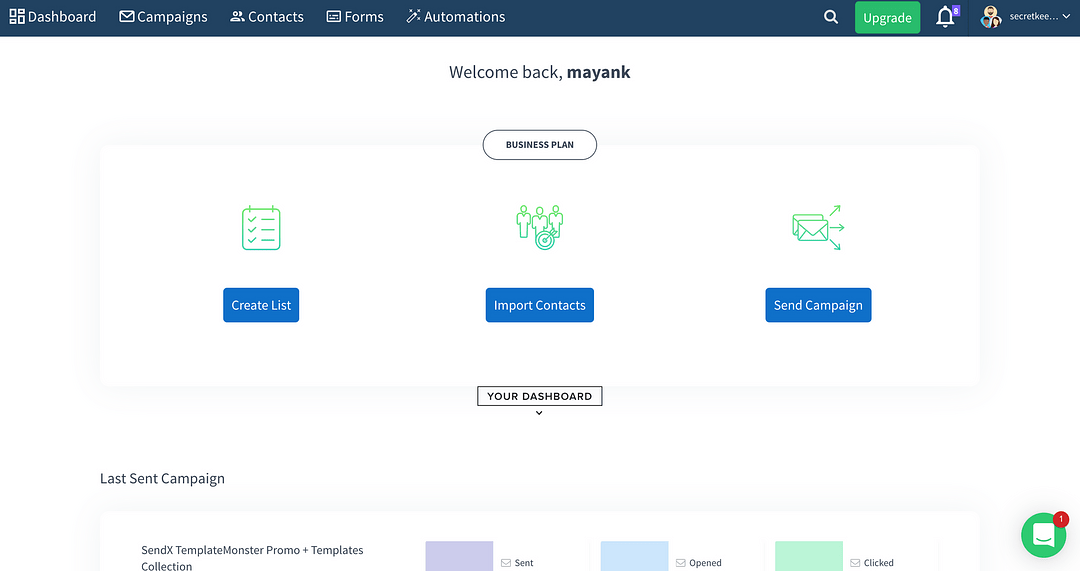 ‍
Customer Support:
We take our Customer Support EXTREMELY seriously, and ensure that they are provided 24x7 support via email. No matter which plan they are on and in which country they live in.

Mailchimp's support can be a hit or miss a lot of times. If you're on the Free Plan, Email is the only way you can get your queries solved. And I personally know about support queries taking up to 2 days to get a reply.‍
Unlimited Emails:
While we have a 14-day Free Trial instead of a Forever Free Plan, SendX is a much more affordable platform as your Email List grows. So you end up paying less for the same number of subscribers, as you would on Mailchimp.

Additionally, you can send unlimited emails no matter how big your Email List is, while Mailchimp will start limiting you as you grow past 50k contacts.‍
Deliverability:
Mailchimp has a LOT of customers (over 18 million). This doesn't allow them the time and labour to focus on every customer's email deliverability. Hence, they developed an automated system to protect their email reputation.

So if something goes wrong and you accidentally get a lot of bounces or spam complaints, Mailchimp can shut your account right down without providing any warning.

With SendX you have the luxury to get in touch with an expert to solve your deliverability or engagement issues.

We have already served 3000+ companies in a short period of 3 years and have some raving reviews.
"I've been using SendX for about 11 months now. Can't speak highly enough about it. I was looking for an alternative to MailChimp - it's easier to use, and with more features. I think most impressively, the support has been excellent."
~ Steven K, Marketing @ Communicate Jesus
"I can create sophisticated email marketing campaigns. The team is also superb - helping me with my requests very quickly. I have to say that SendX is the best email marketing software I have used till date."
~ Jon Buchan, Marketing Influencer, Founder @ CharmOffensive
We are young, and we work 2X harder to win you.
You can sign up with just your email address. No credit card required unless you are fully satisfied with all the features.
Sign Up for a 14 Day Free Trial
‍
2. Campaign Monitor
With a focus on design, Campaign Monitor is an email marketing tool which has two good things - professional looking, responsive emails & a set of marketing automation tools.
Easy-to-use (and beautiful) Email Templates: Campaign Monitor comes with a really well put together Template Collection. All templates are responsive. While Mailchimp does feature fairly good templates, they are focused more on beginners.
Personalization and segmentation: Using their visual journey designer and advanced segmentation you can send targeted emails to your subscribers. Mailchimp, on the other hand, offers a streamlined workflow and basic segmentations.
Integrations to support retargeting ads and landing pages: Campaign Monitor integrates with 3rd Party apps in a few clicks and that helps you run paid ads and create landing pages. Mailchimp has these capabilities in-built into their platform.
‍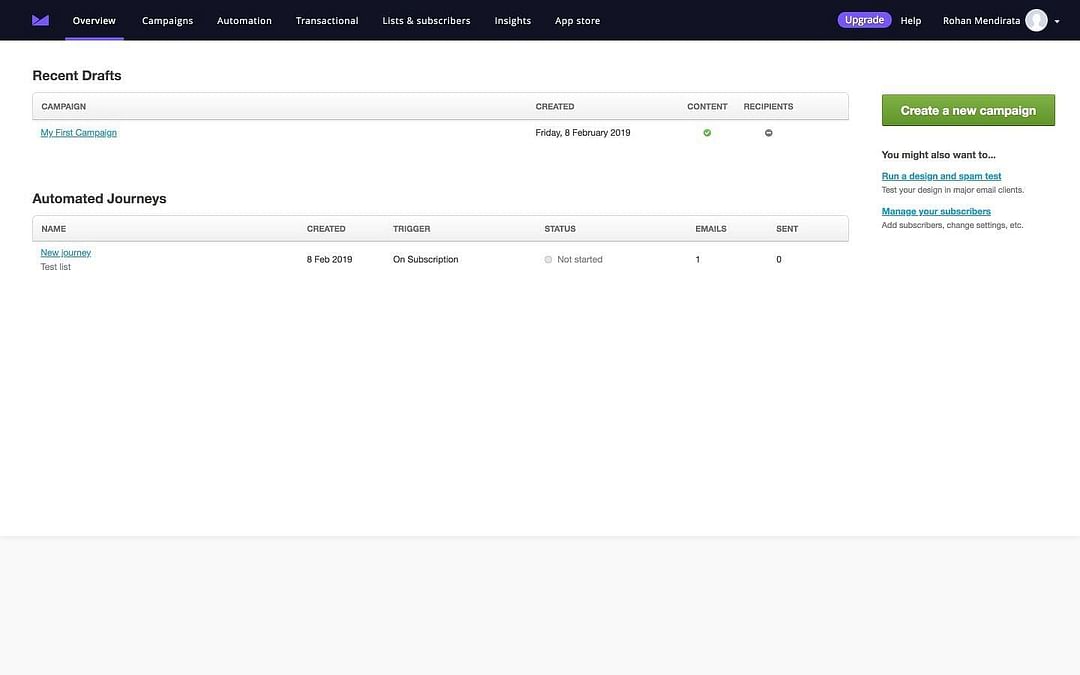 ‍
Onboarding:
When you login and set up your account, you are given a set of basic tasks (which are optional) to help us get started and "activate" fast. There is a guided journey to create an email campaign and a list.

It seems like the right combination of advanced and simple. The interface is an absolute breeze to go through.

But surprisingly there was no landing page creator, which I was definitely expecting from a product at this price point and capabilities.
Summary: Campaign Monitor vs Mailchimp
Campaign Monitor can be good choice if:
You're looking for beautiful email templates to use.
You're looking for a good on-boarding experience to get you started fast.
You're fine with no landing page tool being available in your software.
Learn how SendX compares with Campaign Monitor.
‍
3. HubSpot Email Marketing
HubSpot is an all-in-one growth platform that combines email marketing with marketing automation, a CRM, customer service tools and a complete suite of additional marketing tools to help you create highly personalized experiences for your audience.
How is HubSpot different from Mailchimp?
HubSpot and Mailchimp are both all-in-one platforms but with some very clear distinctions between them.

A powerful CRM: Mailchimp's CRM helps you keep track of your contacts, but a lot of the features are premium.

HubSpot's CRM is fully free and gives you insights into your subscribers' entire experience with your company.

You can create email campaigns that give each subscriber a personalized experience based on the information you've collected within the CRM.

On top of seeing if someone opened your most recent email, you'll be able to track how they are interacting with your website, how their most recent sales call went, whether they have an open ticket with customer support, and more.

Advanced marketing automation: Both HubSpot and Mailchimp offer autoresponders and drip campaigns, but HubSpot also lets you create complex automation workflows using conditional if/then logic.

In addition to setting automated email sequences, you can automate internal notifications and tasks, lead management and segmentation, as well as contact and company information updates.

More tools to grow your business: HubSpot is much more than just email. HubSpot's marketing comes with signup forms and popups, live chat and chatbots, ad management, landing pages, and more.

This allows you to create a well-integrated customer experience across your company.

Their drag-and-drop interface is very intuitive and easy to pick up. The software guides you through each step with a single goal - to make your emails better.
You get everything that you ask for from regular, automated, blog/RSS email types to rich templates with customizable modules.

Collaboration & Testing
If you're working within a team, there's a collaboration feature that shows you the version history and gives you a sharable link to show your colleagues what the email looks like before sending.

You can also test the email and have it sent to yourself before actually sending it to your contacts to make sure everything comes out nice.

The biggest downside with HubSpot is their pricing. It's good for enterprise businesses which can comfortably spend on a CRM. But if you're an SME looking for a plain email marketing software, then HubSpot may not be for you.
Summary: HubSpot vs Mailchimp

Go for HubSpot if:
You're looking for a complete suite of free tools to start growing your business.
You want to use advanced marketing automation with your emails as well as within your business.
You're looking for an all-in-one marketing platform for your entire marketing strategy.
‍
4. ActiveCampaign
ActiveCampaign is a powerful email Marketing Automation and Sales CRM software founded in 2003.
It has advanced email marketing, marketing automation, sales CRM, messaging Capabilities and much more. And all these features come at a reasonable price.
How is ActiveCampaign different from Mailchimp?
We reached out to ActiveCampaign and asked them how they are different from Mailchimp. They pointed me to the G2 Crowd comparison since they didn't want to give biased feedback. So here are some points that G2 Crowd page highlights:
Quality of Support: Users claim to have experienced much better support from ActiveCampaign compared to Mailchimp. Mailchimp is known to have issues with its support.
Ease of business: According to the users, ActiveCampaign is much easier to do business with than Mailchimp. This shows why their adoption percentage, and the length of contracts is higher than Mailchimp.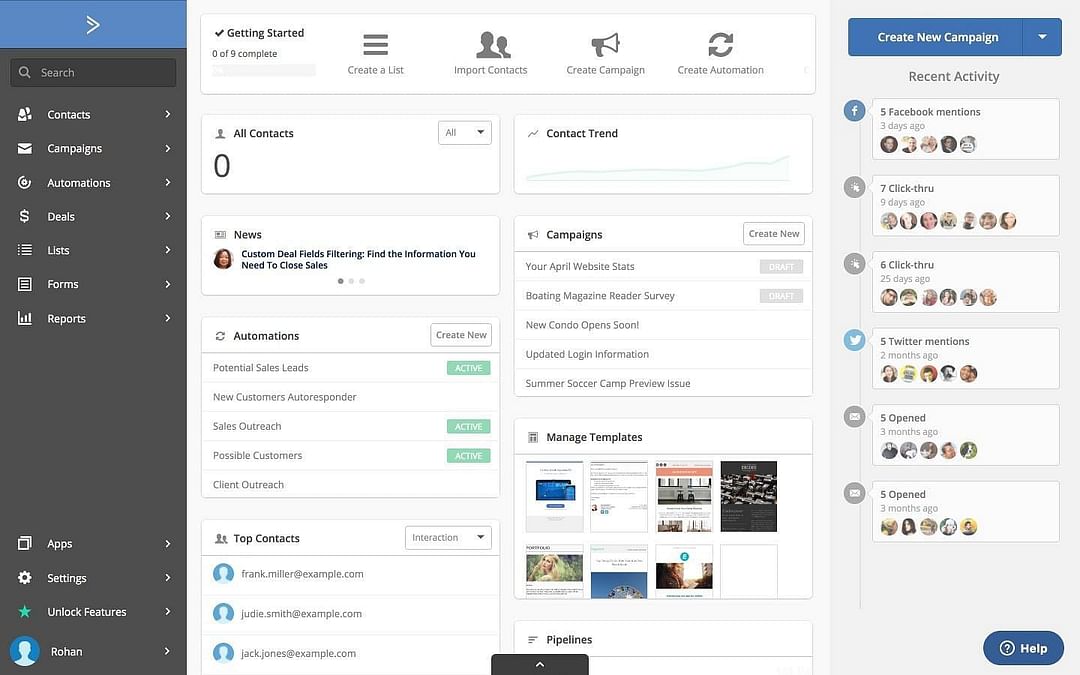 My experience with ActiveCampaign
As soon as you log in, you are shown all the features to create campaigns, see stats, manage templates etc. This look might feel crowded to some but definitely easy to access all things in one dashboard.

At the price range that they're at, I was quite surprised by the number of features provided in the visual automation builder. It is good for making journeys with medium complexity but the simple 'if this, then that' automations that a lot of marketers are used to was definitely missed.
Summary: ActiveCampaign vs Mailchimp
Give a solid try to ActiveCampaign if:
You're looking for the best value for money.
You plan to use advanced marketing automation tools.
You are comfortable using their visual builder that can overwhelm you at times.
Read our in-depth review of ActiveCampaign Vs Mailchimp and learn how it compares with SendX.
‍
5. AWeber
AWeber started as an autoresponder and then evolved to become an email marketing software. It is reasonably priced & easy to use.
How is AWeber different from Mailchimp?
Huge library of stock images and templates: AWeber has a library of 600 stock images and 700 templates ready for use. This number is definitely 10x more than what you find with Mailchimp. Although some of the templates out of all the 700 ones can be outdated.
One of the best deliverability rates in the industry: AWeber is known to have the best email deliverability, thanks to its age and experience. While Mailchimp is not far behind in the same, they have some automated filters to protect their email reputation which can be a nuisance sometimes even if your emails are legit.
One price for all features: Mailchimp starts with a Free Plan, it has a majority of features locked and reserved for premium paying users. Whereas in AWeber all features are unlocked from the start, and you pay one price for all the features.
On another note, their interface has a minimalistic blue-colored theme with clear menus & it's pretty easy to use.
‍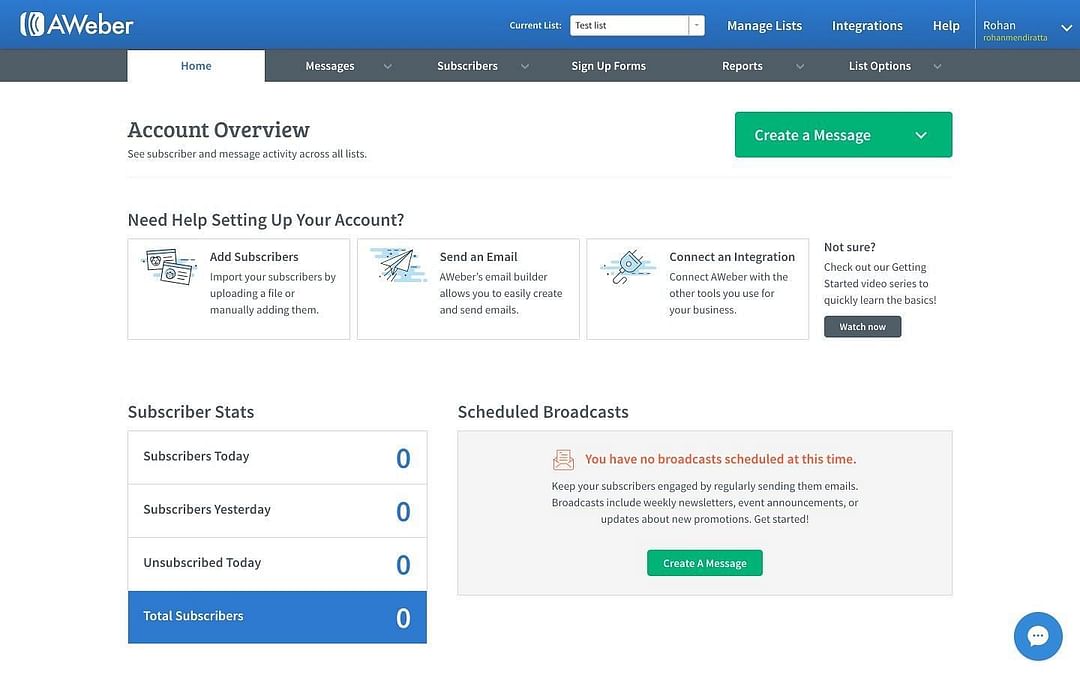 ‍
Customer Support:
One of AWeber's standout features is their support. While a lot of the companies in this space have email, live chat and phone support. AWeber goes a step further and gives their phone number upfront on the Contact Us page which you can simply dial and get help from. So no forcing you through Knowledge Bases or Contact Forms. That's helpful for people who are just getting started and have little to no technical skills.

Also, read our detailed review of AWeber Vs Mailchimp.
Summary: AWeber vs Mailchimp
Switch to AWeber if:
You don't need very advanced marketing automation capabilities.
You rely on customer support quite a lot.
You rely heavily on email templates.
6. Sender
Sender is a professional email marketing platform with a high number of features. However, these features are implemented thoughtfully and make the platform accessible even to those without any technical skill.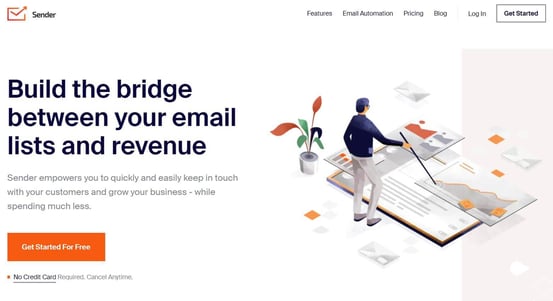 How Is Sender Different From Mailchimp?
Significantly lower pricing: Sender not only provides a free plan for those who have up to 2500 subscribers, but provides a completely different pricing strategy. Instead of tallying up all entries to the list, duplicate or not, Sender chooses to only count unique entries. Finally, plans for identical subscriber counts are several times cheaper.
All advanced features available in any plan: Sender brings with them a feature list that at least matches Mailchimp, if not beats it. However, the advanced features provided by Mailchimp cost extra! Sender provides all features, including the advanced ones, with any plan.
Intuitive email campaign creation: Mailchimp has an unfortunately steep learning curve. Sender set out to fix that! They provide both a simple and intuitive drag-and-drop editor and a powerful HTML-based editor. Additionally, the entire onboarding process has been created for people who might not be as tech-savvy as a developer.
Quality of support: Mailchimp has been known to have issues with their customer support. Some may even say they may be a little hard to deal with. Luckily, you won't have to experience any difficulties with support if you choose Sender!
‍Advanced segmentation: While Mailchimp provides some basic segmentation, Sender allows you to truly harness the power of this feature. Advanced marketers will be able to really maximize email campaign efficiency.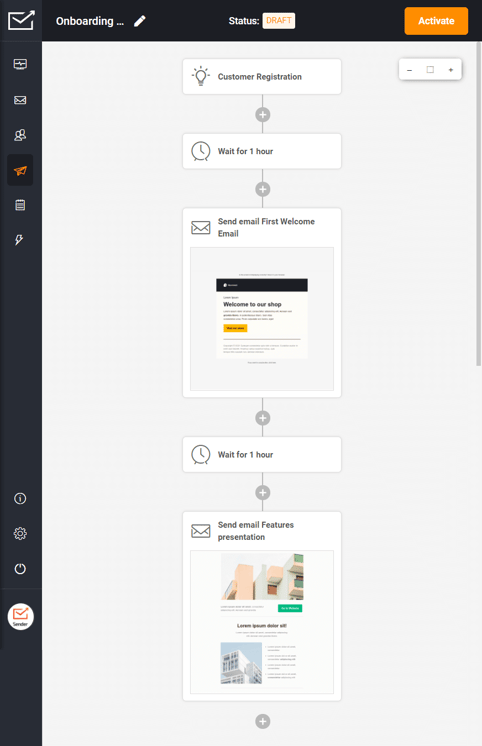 Lots of additional features: While Sender does provide pop-up forms and other ways to gather subscribers, Mailchimp goes the extra mile with all the landing page, chatbot, ad management and many other features. All of the extra marketing features can help you create a more streamlined customer experience.
Powerful CRM: Sender is a powerful email marketing platform, but it's mostly just that. Mailchimp brings with it the entire CRM feature set. While, to be fair, they are paid extra features, those can really help some businesses drive up ROI.
Summary: Sender Vs Mailchimp
Choose Sender If:
You are looking for an email marketing platform that won't break your bank, but will bring every feature that even the most advanced marketers need.
You are looking for in-depth analytics for your email campaigns and are planning to use that data to optimize.
You don't want to spend ages learning the platform, but want to get started as soon as possible and learn all the advanced features along the way.
‍
7. ConvertKit
ConvertKit is an email marketing platform for online creators and bloggers. All their features are designed with this particular audience in mind.
Advanced Automation Workflows: ConvertKit has advanced workflows for bloggers which we did not find in Mailchimp. Their Visual Automation Builder is built with a blogger in mind. So it's speedy simple to use!
Focus on Text-Based Emails: If you are someone who doesn't like fancy templates and just wants to write simple text-based emails with only a few extra elements like images and CTA, then you can go for ConvertKit.

They have designed their platform to have only basic templates as they believe text-based emails are best for deliverability, readability, and responsiveness on all devices.
Simpler Tracking: ConvertKit has a simpler reporting dashboard compared to Mailchimp. You will get graphs that focus on showing your list growth, and some other high priority metrics on the forms & landing pages. With Mailchimp you get in depth reporting analysis with geo-tracking, heatmaps etc. So a choice here would really depend on your reporting needs.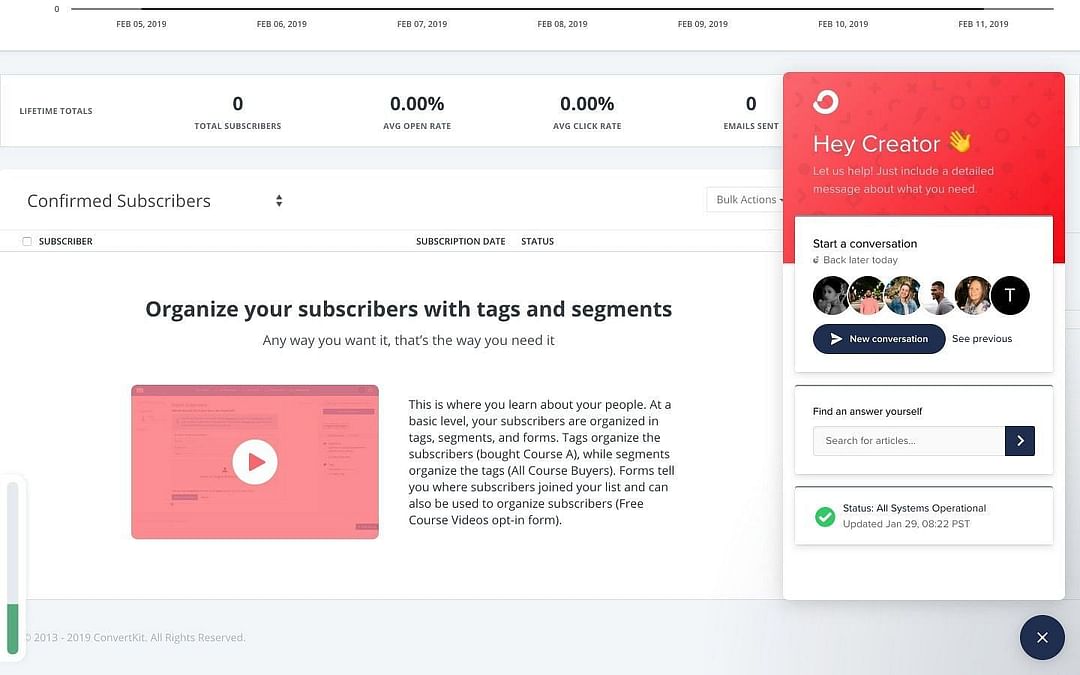 Interface:
Out of all the alternatives covered, ConvertKit is the simplest of them all. Hands down. Crisp clear menus, and minimal clicks needed to create campaigns and sequences. Major props to the ConvertKit team for this one.

A/B Testing:
Convertkit doesn't have A/B testing capabilities for things like Email Content, Automations etc. You could only test subject lines. Which was a major bummer since I've personally seen a lot of creators actually A/B testing their Email Content and funnels.
‍Summary: ConvertKit vs Mailchimp
You should use ConvertKit if:
You're an online content creator.
You sell information products.
You don't plan to A/B Test Email Content and Automations.
Also, read about ConvertKit alternatives and deep dive into ConvertKit Pricing.
‍
8. Automizy
Automizy is a fairly new all-in-one email marketing tool. It leverages the power of omnichannel marketing by allowing you to connect your marketing channels and trigger your automated workflows.
How is Automizy different from Mailchimp?
AI-Powered Subject Line Tester: Automizy has a neat Subject Line Tester which grades your subject line based on data of over 1 million campaigns. While this cannot guarantee a 100% open rate, it's a great tool for correcting your subject line if the score comes out to be below your benchmarks.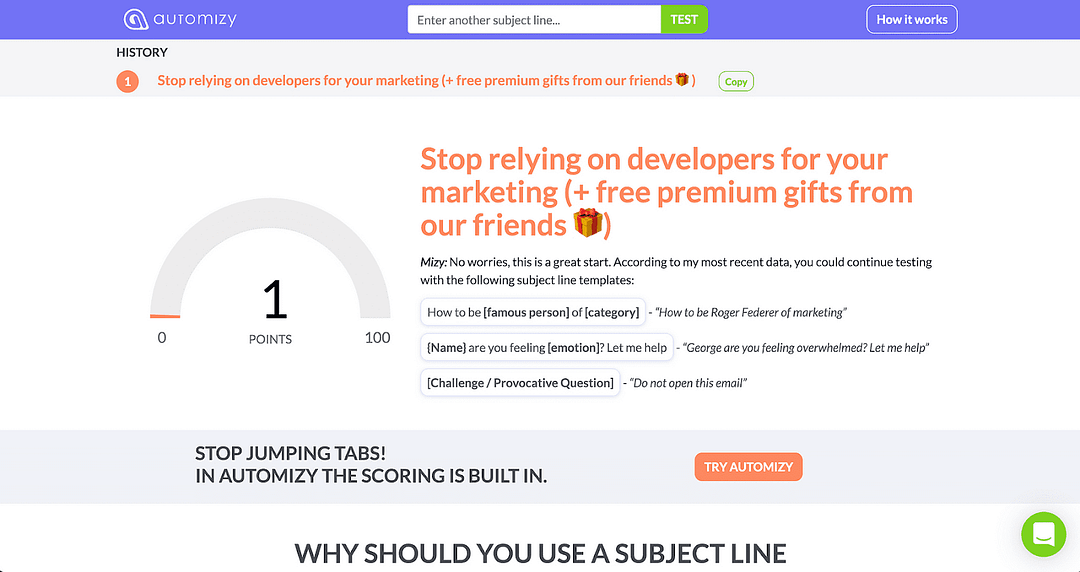 ‍
Machine Learning Powered AB Testing: Automizy allows you to enter upto 4 subject line variations for your email campaigns. After that, it automatically optimizes and sends out the best performing subject line to get the maximum opens.

Intuitive List and Contact Management: Automizy has a simple and easy-to-use contact management interface. You can also assign various tags and other details pretty quickly.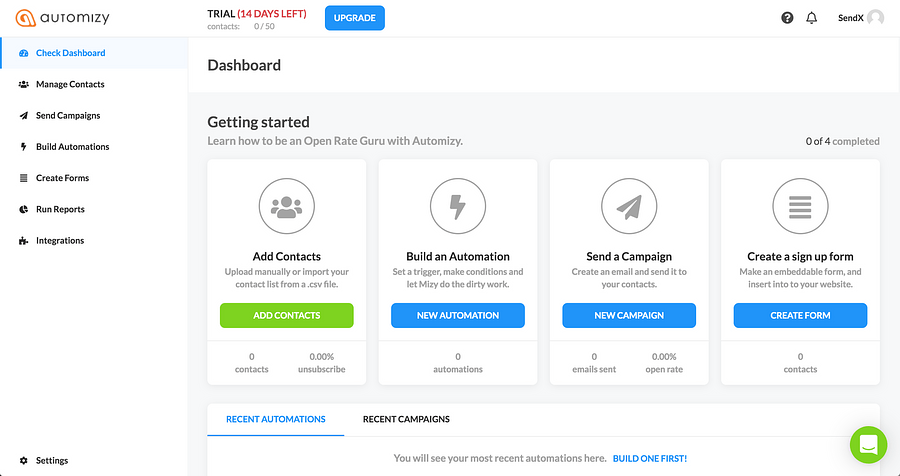 ‍
Ease of use:
One of the things that caught my attention right from the start with Automizy is their Email Workflow builder. It's easily one of the most simple to use workflow builders out there.

On logging in, you're taken to an extremely clean interface with a white background. And you can see everything happening, clearly without any unnecessary bells and whistles to distract you.

Templates:
‍Automizy doesn't have pre-built email templates whereas Mailchimp has a lot of them. So if you are someone who needs templates to work on your emails, this might not be a great choice.
Summary: Automizy vs Mailchimp
Give Automizy a shot if:
You're looking to improve your Email Open Rates predictably.
You want an extremely simple Workflow Builder.
You don't use a lot of pre-built email templates.
‍
9. Moosend
One of the cheapest Mailchimp Alternatives in this list, Moosend is a full fledged email marketing and automation tool.
Thanks to a brief email communication with Moosend, we realised that it is a serious competitor to Mailchimp and people who are not happy with Mailchimp's pricing plans and email limits would feel right at home with Moosend. Since it had such a powerful case against Mailchimp, we decided to check it out.
How is Moosend different from Mailchimp?
Free Forever in the truest sense: Mailchimp advertises a really generous free forever plan but it comes with a lot of restrictions.

Moosend blows Mailchimp's free forever plan right out the water with it's unlimited emails (compared to Mailchimp's 12000). And on top of that, they have all the features available for use in the free plan, something not available with Mailchimp.
Sophisticated segmentation: Moosend has additional segmentation capabilities like filtering out users who visited the checkout page and who viewed a video on the website etc.
Automation Builder (even in the free plans): Moosend offers a fairly robust automation builder which allows you to have a lot of creative freedom without sacrificing speed. And on top of that, it is available in every single pricing tier.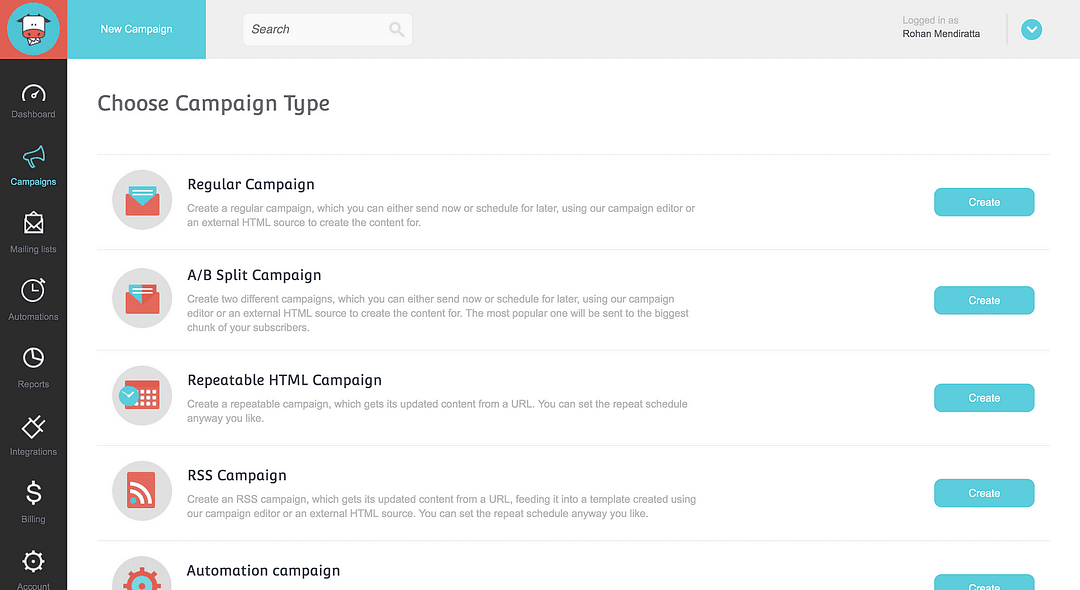 Integrations:
One area where Moosend does lack is Integrations. Especially, when coming from Mailchimp, the user will be really disappointed if his workflow was heavily dependent on Mailchimp's integrations (which are admittedly really hard to beat!).
Summary: Moosend vs Mailchimp
Give Moosend a shot if:
You're looking for a much cheaper email marketing tool.
You need an automation builder and sophisticated segments.
You don't mind fewer templates.
‍
10. Constant Contact
The oldest Email Marketing Software in this list, Constant Contact has been one of the most popular Email Marketing tools for more than 20 years now (check Constant Contact alternatives).
How is Constant Contact different from Mailchimp?
Read our in-depth Constant Contact Vs Mailchimp here.
Email Templates: It has a wide variety of email templates. The designs of templates were far better than Mailchimp's and creating email was easy with its drag and drop editor.
Deliverability: Constant Contact offers some of the best deliverability in the industry. This is one of the main reasons marketers make a shift to it. This is also where their years of experience comes handy.
Event Management, Surveys and Social Campaigns: Native Event Management tools, in-built surveys and social campaigns are some niche tools provided by Constant Contact, which can be invaluable for quite a few businesses.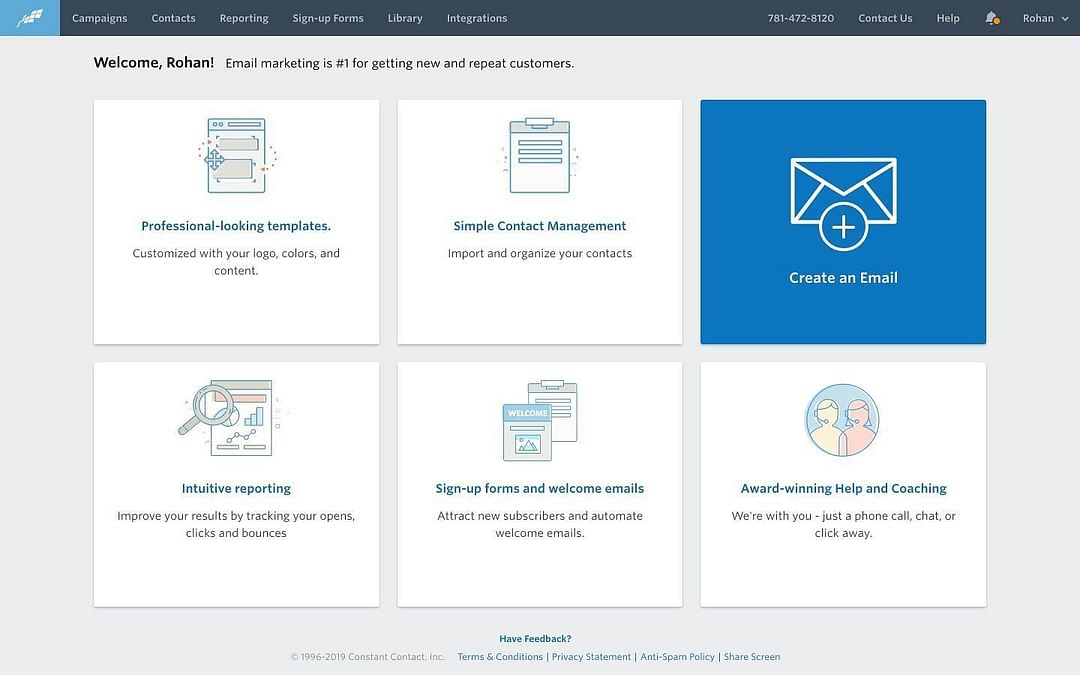 Interface:
Another extremely simple dashboard. Gives you everything you need to do in one screen with big buttons telling you what does what. I did find the interface a little dull at times.

Templates:
Constant Contact provides a vast library of 100+ templates. You can even create your own branded templates using the template builder. All this with very few steps and almost no coding.

For the technically savvy marketer, Constant Contact allows for complete customization of an email campaign in HTML or XHTML.

A small downside to this is that a lot of templates feel outdated. While it's understandable since they've been doing this for quite a long time, it would have been awesome if they updated a few of them!
Summary: Constant Contact vs Mailchimp
Give Constant Contact a shot if:
You're looking for simplicity.
You don't have very advanced automation needs.
You don't mind a few outdated templates.
Learn how Constant Contact compares with SendX.‍
‍
11. Drip
Drip is a pioneer of personalized marketing emails. It is the self-proclaimed world's first eCRM - eCommerce Customer Relationship Manager. It helps build fully automated marketing campaigns and get eCommerce businesses closer to their customers.
With their recent pricing changes (in-depth review of Drip's pricing) and transition from marketing automation to eCRM, we gave it a shot.
How is Drip different from Mailchimp?
Tight Integration with Facebook: Drip has very close integration with Facebook, allowing you to create custom audiences based on their activity from right within the app. It also provides workflows for Facebook ads and integrating Emails right with it.

While Mailchimp also has a Facebook integration, it primarily allows you to create ads, setting the budget and tracking.
Advanced Automation Capabilities: Drip has an automation for almost every activity that a user can do within your app. This means you'll have a very close understanding of your customers and can engage with them at a micro level if needed in just a few clicks.

Mailchimp does have a fair share of automations within the app, but they are not as diverse and powerful as Drip's.
Visual Builder: We absolutely love Drip's Visual Workflow Builder. Differentiation of different actions by colors, and clear representation of user journeys make setting up complex campaigns a breeze.

Mailchimp also has a fairly well- made workflow builder, but it can get a little confusing at points. Especially, when making large complex campaigns based on user behavior.

It can however, be a little complicated for total beginners in Email Marketing.
‍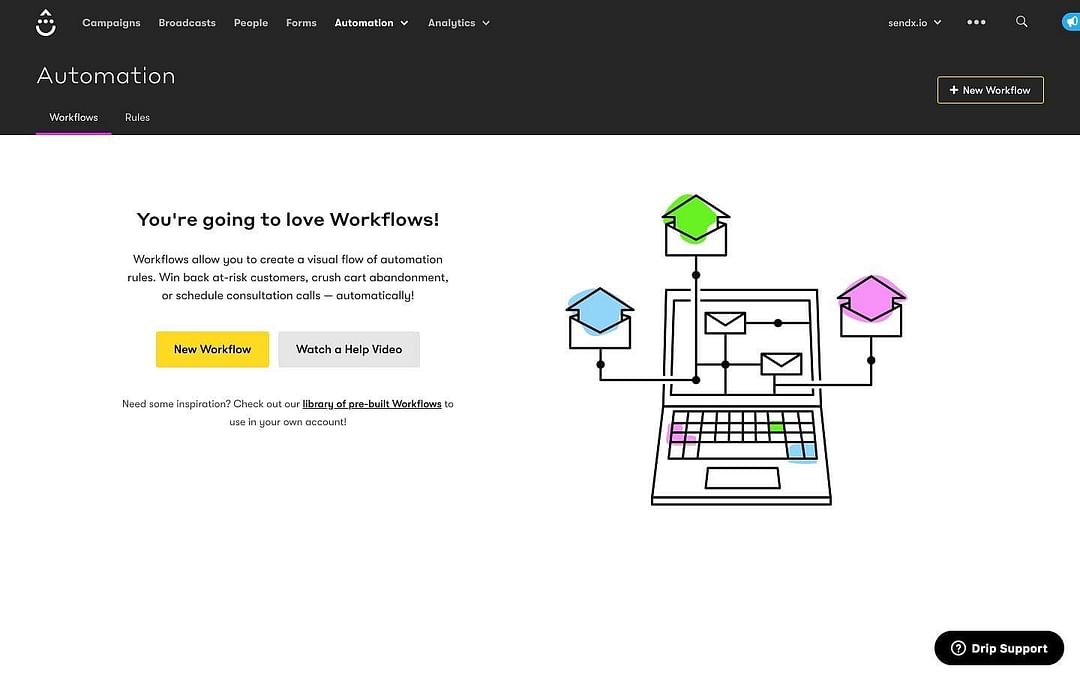 ‍
Summary: Drip vs Mailchimp
Switch to Drip if:
You want the most feature-packed tool in marketing automation.
You don't mind paying a little higher price.
You're looking for the best visual builder in the industry.
Learn about other Drip alternative.
Bonus: Mailchimp Alternatives- MailerLite
Read more about how MailerLite compares with Mailchimp and along an in-depth deep dive into MailerLite's pricing.
Mailchimp Alternatives for Shopify
Mailchimp parted ways with Shopify in March 2019 leaving customers to look for an alternative.
ActiveCampaign
Drip
Omnisend
MailerLite
Klaviyo
Mailchimp Alternatives for Wordpress
Are you looking for the best Mailchimp alternative that works seamlessly with Wordpress? Here are the top 4 picks:
MailerLite
Omnisend
Sendinblue
Mailchimp Alternatives for Nonprofits
Emails are the best way for your nonprofits to engage and thank your audience. By sending tailored, auto generated emails you can attract more volunteers and spread the word about the cause you care for. After a careful evaluation, we have put together a list of Mailchimp alternatives offering some discounts to nonprofits.
SendX – Special 25% discount
Aweber – offers 25% discount and 3 months of free service to new accounts
Constant Contact – 20% discount with 6-month prepay and 30% with 12-month prepay
Campaign Monitor – offers 15% discount
GetResponse – 30% off on monthly plans without Getresponse logo; 50% off on monthly plans with GetResponse logo
Conclusion: Which Mailchimp Competitor should you go with?
Now you have a good idea about the top 10 email marketing software that will suit you if you are switching from Mailchimp.

All of these platforms are built by brilliant teams & there is no doubt that all of these will keep innovating. But which one do you start testing before you commit to something?

As you can see, ActiveCampaign, HubSpot and AWeber are a little bit ahead of the others in the game. They are built for enterprise businesses.

Constant Contact, Automizy and Campaign Monitor serve mid-size businesses.

ConvertKit, Moosend and Drip are related to specific use cases like bloggers & eCommerce.

If I have to look at features, ease of use, email deliverability, automated campaigns - all without charging as high as ConvertKit, I would go for SendX.

Why?

You will be able to create your campaigns easily & quickly using their drag-and-drop editor.
Your emails will less likely go to spam as SendX ensures very high deliverability.
Reporting is shown in clear dashboards.
You are never on your own with their 24/7 customer support

SendX will cost you only $7.49/mo for 1000 contacts and you get access to all features.

And unlimited emails.

You will be impressed with their simplicity, customer support, powerful automation tools & vast options for landing pages.

You get a chance to try all of this before you put in your credit card. You can sign up for a free trial here. No credit card required. You get access to all the features for free for up to 14 days.
FAQ's
1. Why should I switch from Mailchimp to an alternative?
Mailchimp can be relatively expensive, especially as your email list grows. If you find that the pricing is becoming prohibitive for your business, it may be worth exploring more cost-effective alternatives that offer similar features.
2. Can you suggest some good alternatives to Mailchimp?
Some good alternatives to Mailchimp are SendX, Brevo, Campaign Monitor, Active Campaign, Moosend, and Constant Contact.