Email Marketing for Insurance Agents: 6 Must-Know Email Types
People don't want to think that something bad might happen to them. But when such bad things do happen, people realize the need for insurance. But in many cases, it's too late by then. So the big challenge is helping them see the value of insurance while there is still time.

This is where email marketing plays a critical role, and offers insurance agents the opportunity to nurture their relationship with the prospects and build that trust and credibility. So that if and when things go bad, the prospects will remember 'that' insurance agent.
‍
Sure, convincing people to buy insurance, and invest in something they don't want to think might happen in the future is tricky.
But sometimes, I wonder, convincing people about the benefits of email marketing is trickier ;p.
But if you are here, then I am grateful that you are convinced.
And congratulations.
Because you are going to be way ahead of your competition in getting more sales and reducing your overhead costs and time?
You have to keep reading to learn what kind of emails you can send (with examples) & build your winning insurance email marketing campaign. But first, let's see what email marketing for the insurance industry really means
‍
Understanding Email Marketing for Insurance Agents
Email marketing simply put is the use of email by businesses to establish contact with the people interested to know more about them and might turn into potential customers.
Two popular ways businesses use it:
Direct selling with new product launches, discount codes, etc.
As a medium to keep their subscribers informed about their brand and stay on top of their mind.
What should insurance agents do?
For insurance agents, the strategy should not be about direct selling. Instead, use email to make a connection and develop deeper relationships with potential leads and existing clients.
To get the most out of the benefits of email marketing, you're going to need to choose a reputable email service provider (ESP). A good ESP should have excellent deliverability(Messages go to inbox, not the spam folder), easy to use editor, campaign analytics tracking ability, and reliable customer support. This page will benefit you no matter which ESP service you choose. However, we have saved a suggestion for you to try out at the end of this article.
Let's get started by looking at what kind of emails you can send:
Types of Emails to Send
1. Welcome email
A welcome email is your first touchpoint with a new subscriber. So depending upon your strategy, you can share:
What kind of emails can they expect from you
If you have an app, encourage them to download it
Invite them to join your social media channels
And finally, don't forget to thank them for joining your list.
2. Content emails
Once someone subscribes to your list, they are expecting emails from you and looking forward to connecting with your brand. So don't sit on that pile of email addresses doing nothing.
Start communicating - whether it's a good piece of content or a sales email.
But before you send a sales email, I would encourage you to build some trust with the subscribers by sending quality content. This content can be:
Tips for good health
Stories about how travel insurance helped someone during their trip
Your brand values
People might not buy insurance from you right away. But whenever they would be ready to take action, you would be on top of their mind because of these emails.
3. Post Purchase Instructions
Once someone has bought insurance from you, don't consider that email irrelevant because you still need a referral from them. You want them to renew next year.
So, engage with them even after purchase.
This email can contain:
Expression of thankfulness or happiness
Instructions on what to do next
Where to contact if they face any problems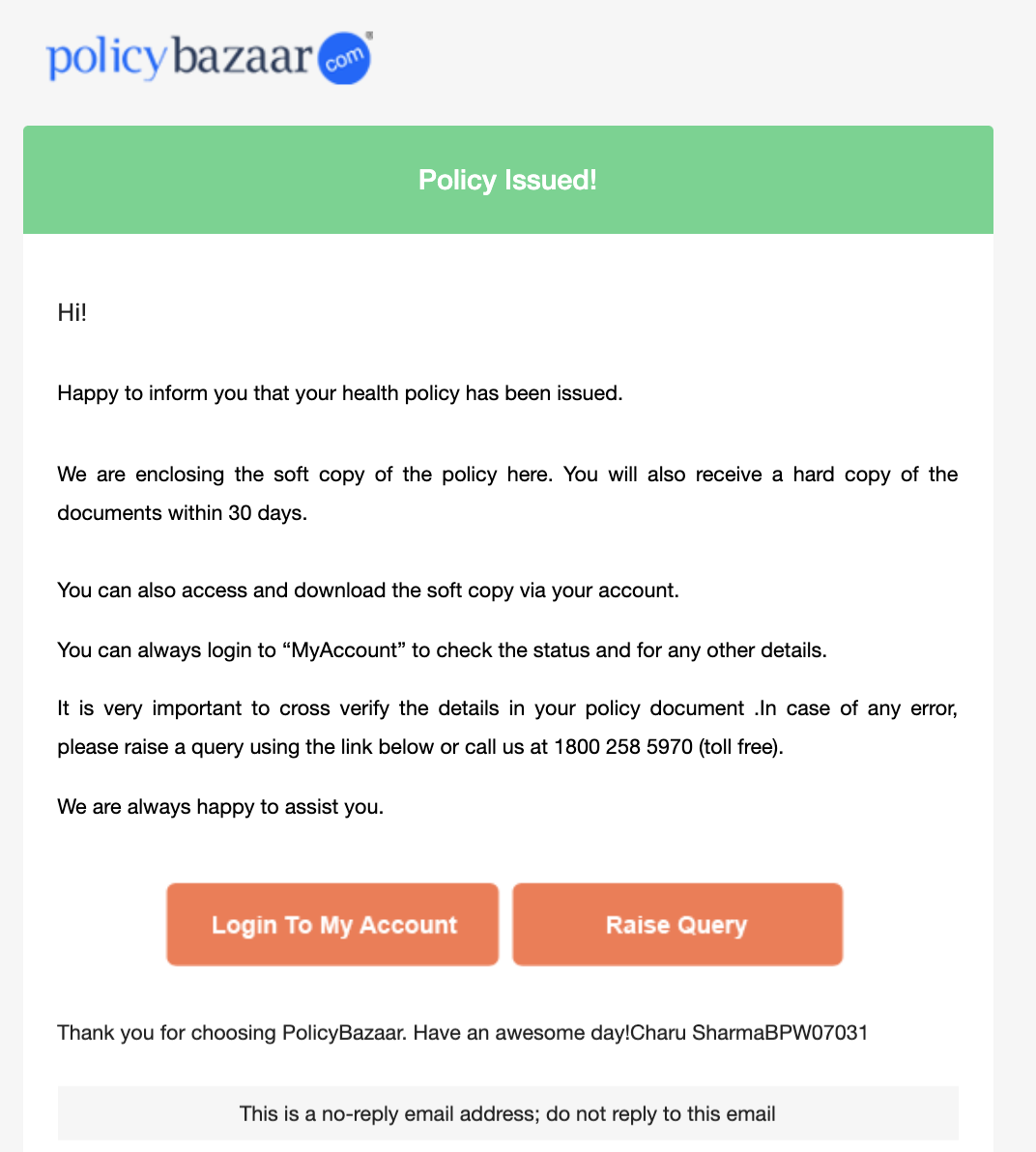 4. Feedback email
Feedback emails can be collected at various points in the journey of a customer. The two most common are:
After they make a purchase
After any customer service interaction
Feedback emails help you do three very important things:
Reassure the customer that if they have any concerns, they have a portal to voice those
Collect testimonials for your work and business
Identify the customer's pain points and address them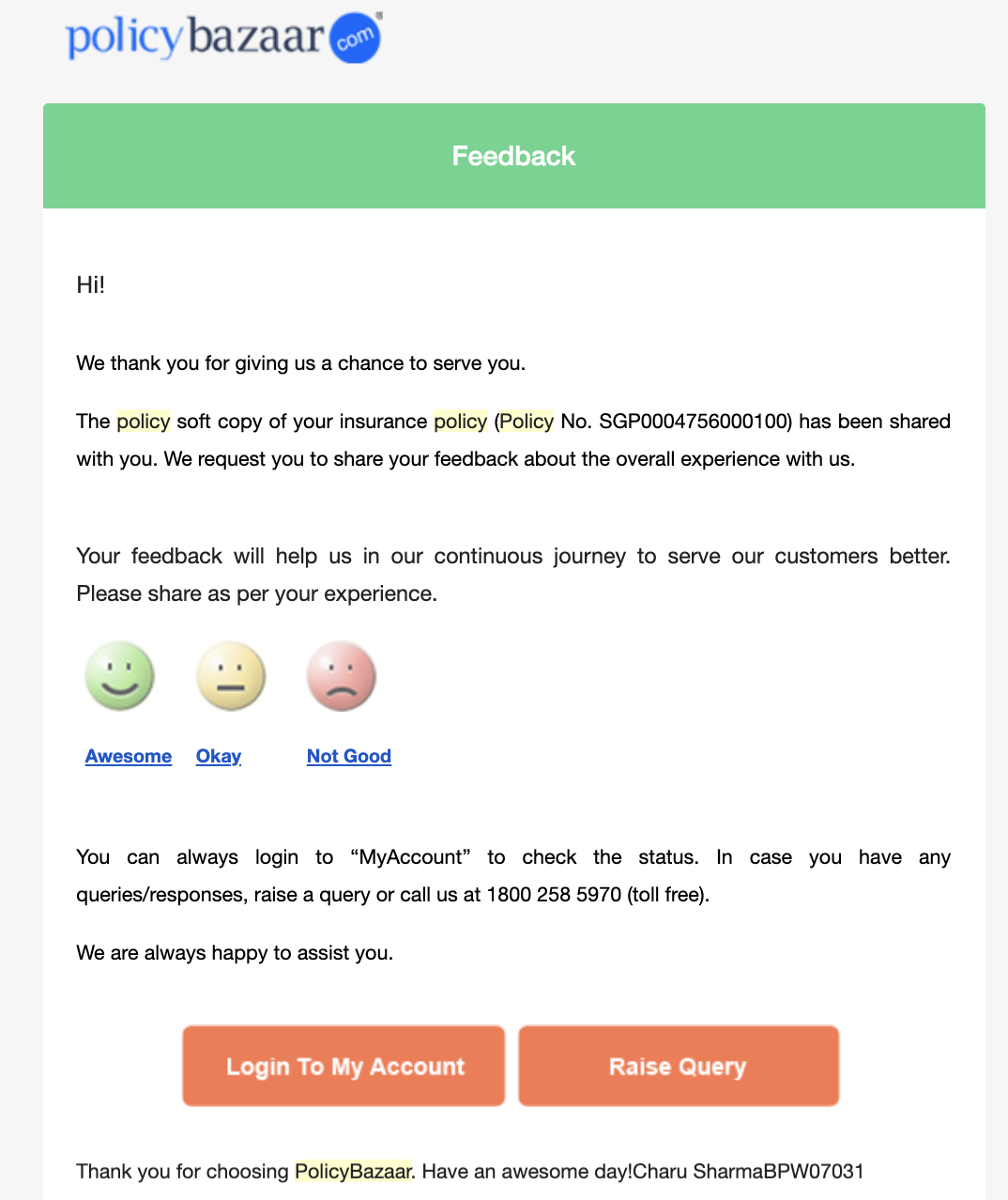 5. New Product Launch Update
With an effective product launch email, you can connect to your users and show them that you've built something they really need & can help solve their problems.
This email should have these components:
What's the new product about? If it has a name, include that
How can someone try it - a clear CTA, preferably above the fold
Benefits of this product
Check out this example from Policy Bazaar on the launch of their PB Platinum Health Pass. Notice how the CTAs are distinct and above the fold. And they have included 'Free for Policybazaar customers' so that at least their potential buyers don't trash it without even giving it a second thought.

6. Renewal reminders
I don't think anyone remembers to renew policies, apart from those super organized people or people with personal assistants.
‍
Anyway, you should send a renewal reminder to people for whom the renewal date is approaching.
I would even suggest sending multiple reminders until they renew or the policy expires or they inform explicitly that they don't want to renew.
Few tips to make this email work:
Include the details of the policy you are asking them to renew - policy name, expiry date and the amount payable, are the basic things.
Tell them of any benefits of renewing now
Since they are reading this email and considering renewing, what else can you upsell them? Include that in the email.
This can be automated according to the insurer's expiry date and personalized info like name, policy number, etc.
‍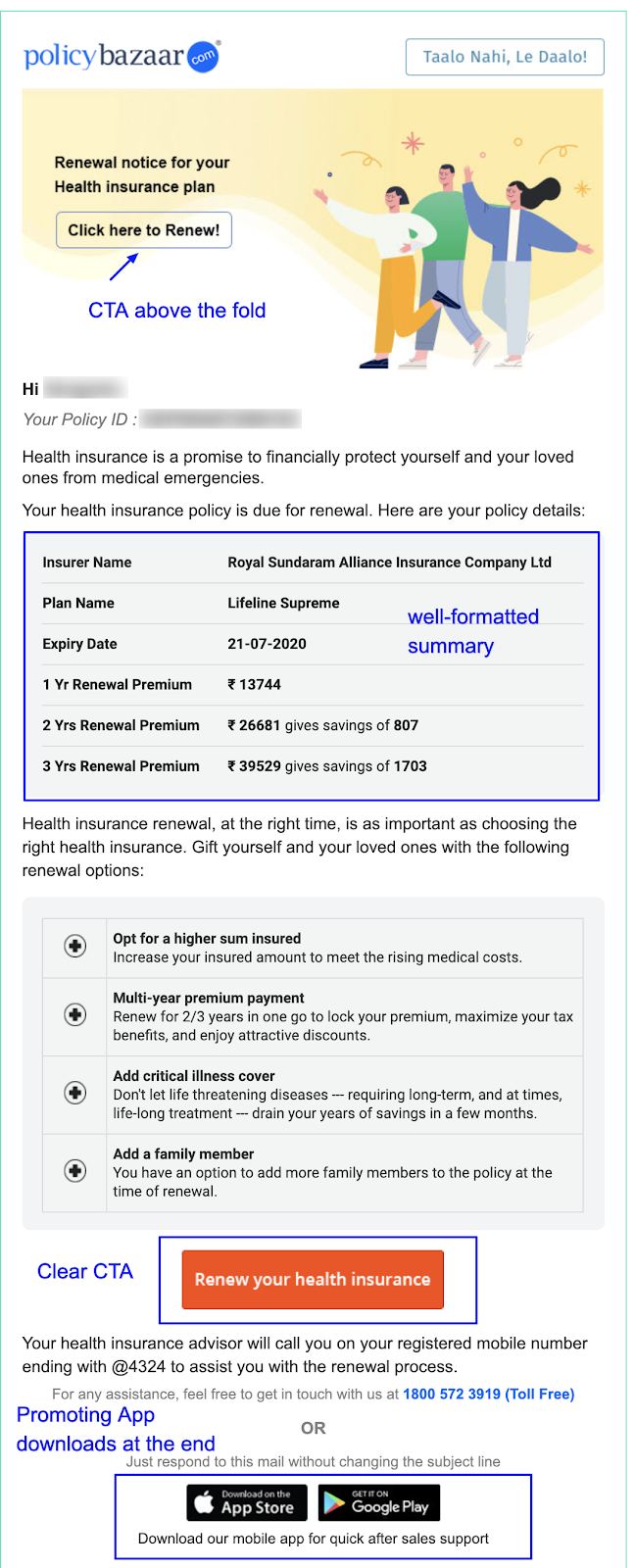 An email is considered a formal notification since it's controlled fully by you and not any social media platform company or a newspaper.
So if you wish to get any information or announcement across to your customers and subscribers, email is the best way to do that.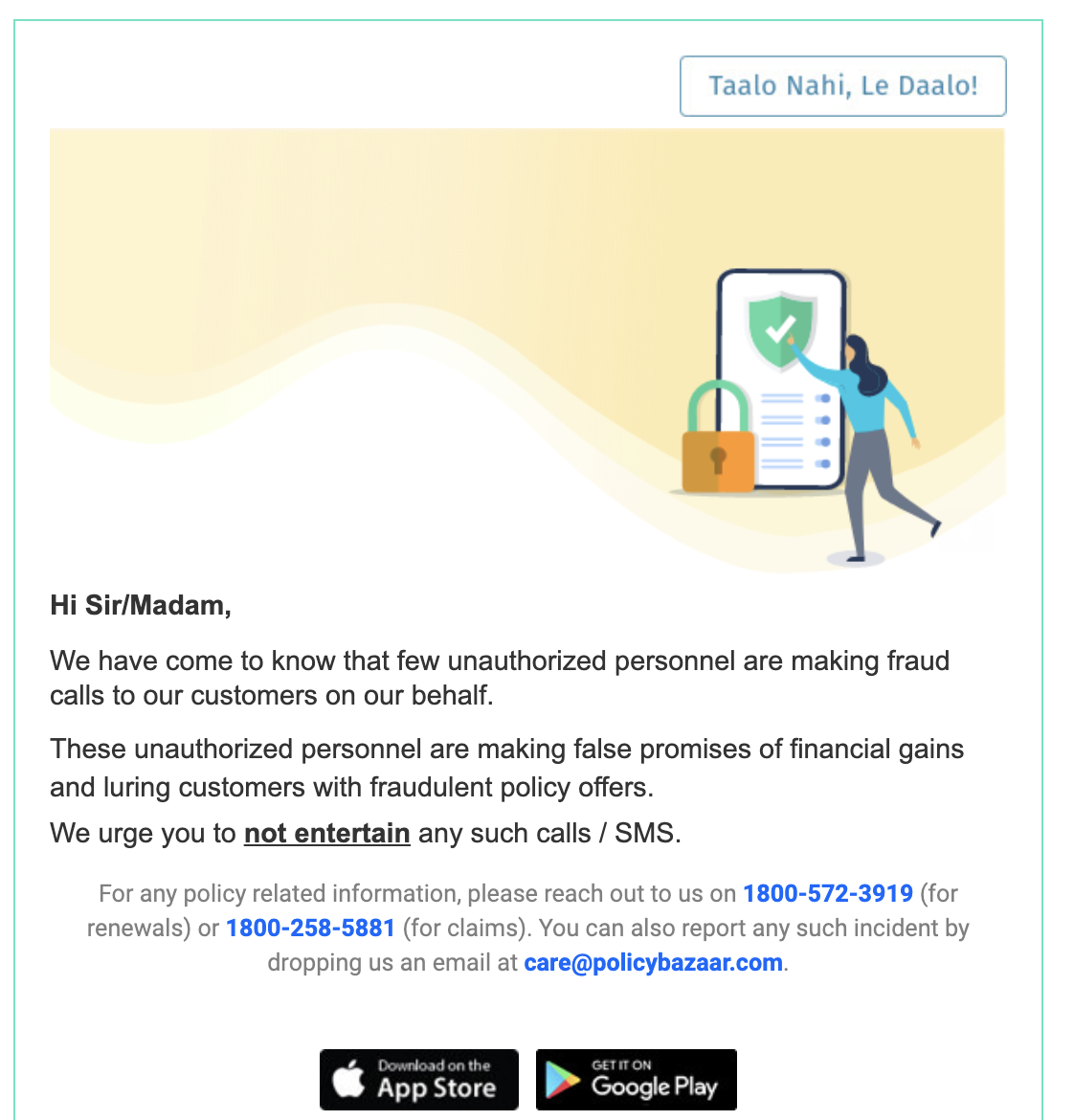 Wrap Up
Now that you have lots of ideas around what emails to send, let's look at how you will send these.
You will need an ESP (Email Service Provider) that gives you all the capabilities to store email lists, send emails, automate a lot of your tasks like sending welcome emails…
...But, while being affordable, easy to use, and scale with you as your business grows.
I would highly recommend you checkout SendX and actually start testing a few of these emails. The best part is, SendX won't charge you anything for the first 14 days. It won't ask for your credit card either. You just need your email ID to sign up. So you should really take advantage of the Free 14-day Trial and after that, you can choose an affordable monthly or annual plan.
FAQs
‍
1) What are the benefits of email marketing for insurance companies?
As an insurance company, you need to stay in constant touch with current policy holders and make sure that they know that you understand their requirements. Even new insurance prospects need to know that you have fair understanding of what their needs are, so that they are gently nudged forward in their decision-making.
‍
2) How can I sell more insurance policies with insurance email marketing?
The answer to that is to develop the ability to anticipate your subscriber's needs. For example, the needs of someone looking for life insurance are very different from someone looking for a home insurance. Your email campaigns need to be well personalized and segmented to send the right email to the right subscriber.
‍
3) How can I use email marketing for insurance lead generation?
Here are some top tips on how to use email marketing for insurance lead generation:
- Create a subject line that will grab attention
- Give the important information easily
- Use email templates for professional looking insurance emails
- Include a clear and easy to find CTA
- Track the success of your email campaign using email marketing KPIs.
‍
4) How can I use email marketing for insurance referral leads?
Insurance leads that are word-of-mouth referrals are easy to generate and low cost. Here's how you can excel at generating more of them:
- Offer an incentive for referral
- Leverage your social media presence
- Ask for referral at the time, like just after setting up an insurance policy.
‍