Email Marketing for Musicians
Creative people are pretty brilliant at creating excuses and avoiding the 'sale'.
"I am not a marketing guy, I only make music."
"I don't want to bother my fans with emails."
"376 people joined my IG live. I think I am finally successful"
‍
Drop the damn excuses and let's learn how to make money from music.
This guide will walk you through the fundamentals of email marketing - how to build your list, what emails to send, tips to create emails that are valued, and how to choose an email marketing software.
All in this quick post. Let's read on.
Why build an email list?
Email offers personal access to your fans, which isn't always the case when it comes to social media.
On Facebook, we see the decline of organic reach so you generally have pay to 'boost' your post to reach your entire audience.
On Twitter and Instagram, anyone's attention is as little as that of goldfish and on top of it, you're striving for your followers' attention against the hundreds of other accounts they follow and see in their feed.
‍
With email, people are actively allowing you to send them messages. Meaning, they really want to hear from you. Your messages are much more likely to be seen.
Being a marketer will only help you avoid depending too much on music labels or big companies. They probably won't understand your vision and choice. So why don't you build up your own successful music career with a bit of effort in email marketing?
That's why it's vital to place high importance on building your email list.
‍
How to build an email list?
In 2008, Reznor gave away NIN's album The Slip in exchange for fans' email addresses. Coldplay did the same with their album in 2009.
Can you do that too? Well, that's one of the ideas out there.
Let's see what else can be done:
Use content, bonus tracks, additional information as form of gated content. Meaning, visitors will be able to access that content only after giving their email address. It works well because people get instant value and don't mind sharing their email address for that.
You can ask the followers you already have on Facebook, Instagram, and Twitter to sign up for your email list too. Provide them some incentive to do so - like promising to send them exclusive content for free, opening up discounts for them in the pre-release phase, sharing not just your music but your journey as well with private Q&A.
Collaborate with artists in a similar niche, music shops & ask them to email their list with a prompt to sign up to yours, and you can do that same for them in return.
Update your bio on social media, on dating profiles, on LinkedIn with a link to your website, and put up a subscription form on your website.‍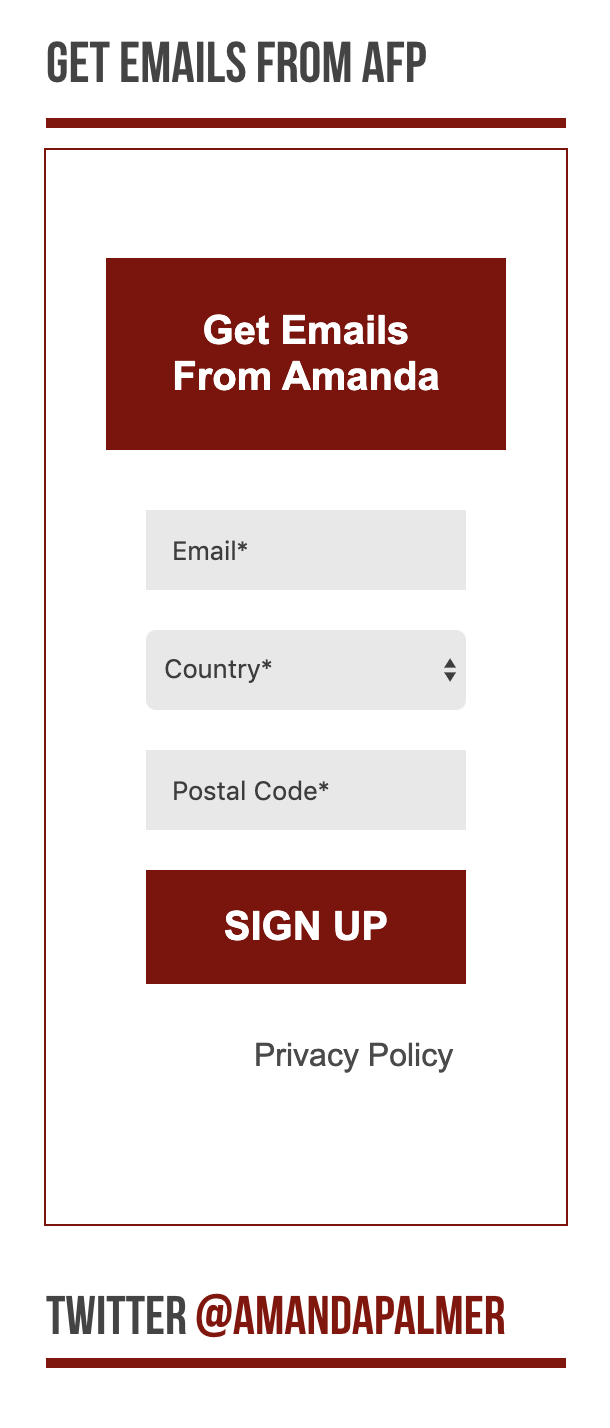 ‍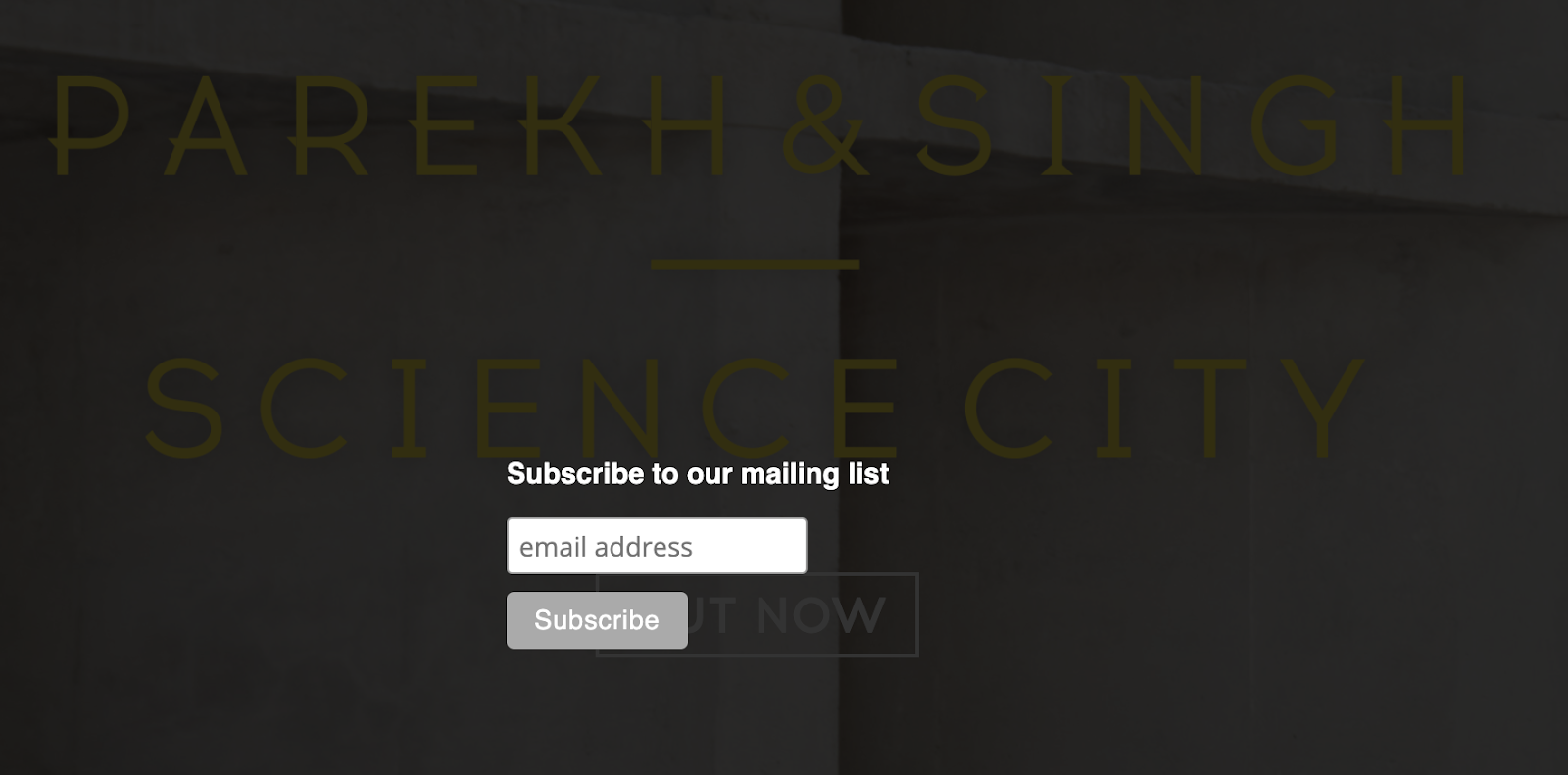 ‍
Take an iPad or just a sheet of paper & place it on your merchandise table. After the show, ask people if they would like to be added to the list. Offer an incentive in exchange for emails like a discount on merch, free stickers, or a button
You can create quality blogs related to music, music industry and other artists to attract the audience to sign up.
What kind of emails to send?
The first one should always be, of course, a Welcome email. Thank them for joining your list. Talk about what to expect in future emails and how often do you email. Share your social media links & ask them to whitelist your email address. This can be automated pretty easily in your email marketing software.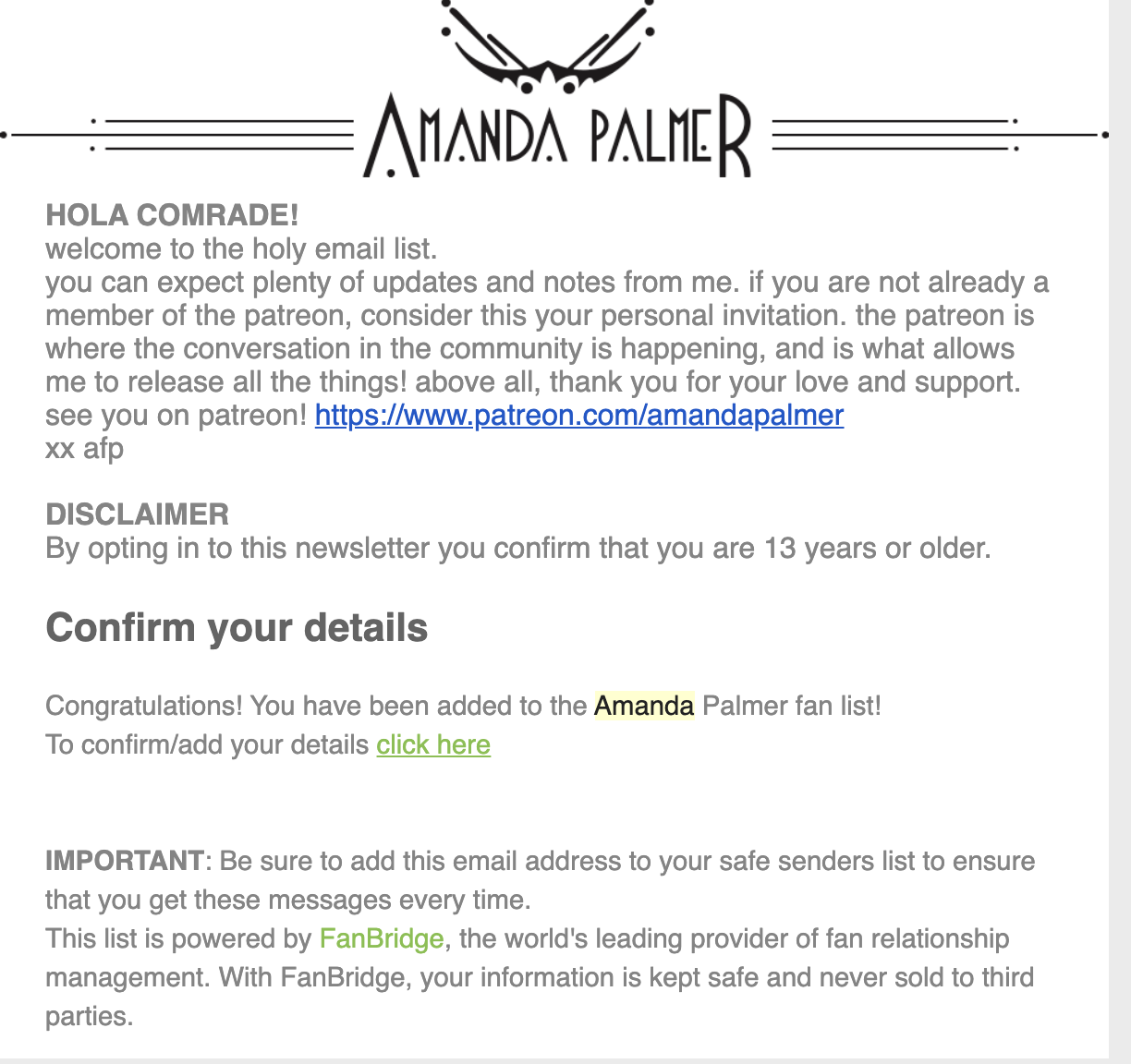 After a show where you have collected some email addresses, write an email to your new subscribers thanking them for coming to listen to you. You might have to upload the list manually or through an excel.
Then you have your regular broadcasts going out for which you can choose a set of content & check the audience's response. Then if the engagement is high, send more of such content.
Some ideas:
Give out downloadable lyrics sheets
Host private streams or Q&A sessions
Share exclusive coupons code or discounts
Behind the scenes of writing a song or composing music
Some guides on how to make good music
There is no magic number of the days in a week when you should email but once or twice in a week is pretty good. You can also test out the engagement by sending emails at different frequencies.
Some tips to nail your email marketing
Keep a consistent branding: Always have the same 'from' name & logo placements and brand colors. Keep the tone of your message the same each time.
Have a balance between content emails and sales emails: If you solely send out pushy sales emails, there's no room for your fans to get to know you. With so many advertisers, artists, companies fighting to get attention, it's important to invest in personal relations that can grow into a business.
Include a CTA in your emails: Every email should lead to an action from the reader. If it's an email about a new song video, tell them to 'Watch the video here', if it is about buying tickets for your upcoming show, say 'Buy Tickets Here'.
Ideally, there should be only one CTA per email so readers don't get distracted. Make your CTA button large enough to work on a touchscreen display and make it stand out with noticeable (but not eye-soring) colors.
Responsive emails: Responsive email design can control the layout of your email on different sized devices. As most people keep switching between laptop, mobile, or tablets, it's important to just design once and view appropriately everywhere. Choose a template that facilitates this.
Choose the right Email Marketing Software
You will need email marketing software to do the following basic things:
Create and maintain lists of email subscribers
Email to many subscribers at a time, by automation and/or manually
Offers a user-friendly email builder or has a library of pre-made email templates
Provides reports which help you measure the success of their campaigns.
The cost of an ESP today is nothing compared to the benefits you get. So yes, shop for an ESP.
Ideally, I suggest going for an ESP that's easy to use, affordable and can help you scale as your list grows. SendX is a great choice. It has all the things I just mentioned and some more…
This email marketing software for musicians promises a high inbox delivery, which ultimately builds up your fan base.
Build a strong relationship with your music fans with the help of autoresponder & automation. ‍
You can rectify any error made in the emails before sending them to subscribers with the help of the email inbox preview facility - previews available for both mobile and desktop.
You can check it out today and get a 14-day free trial. It's easy to signup and doesn't require you to add your credit card.
Now you have all the basic elements of email marketing and all you need to do is to sign up for an ESP and send your first campaign. Let us know what you think of email marketing in the comments section. We respond to each one of the comments.
FAQs
1) What is the need of email marketing for musicians?
With email, people are actively allowing you to send them messages. Meaning, they really want to hear from you. Your messages are much more likely to be seen. Therefore you can really boost your musical business using email marketing.
2) Why build an email list for musicians?
As musicians, it is essential to connect with your fans on a regular basis. Therefore it is crucial to build an email list full of fans you can reach out to and engage with instantly.
3) What kind of emails can I send as a musician?
In addition to welcome and thank you emails, you can send emails to your fans for the following purposes:
- Give out downloadable lyrics sheets
- Host private streams or Q&A sessions
- Share exclusive coupons code or discounts
- Promote your new album or show Behind the scenes of writing a song or composing music
4) Can you give some tips to really do well in email marketing as a musician?
In order to be really successful, here are some tips you can use as a musician in email marketing:
- Keep a consistent branding
- Strike a balance between content emails and sales emails
- Include a CTA in your emails
- Go for responsive emails