If in a rush, read this short summary
Forever Free plan: $0, 2000 contacts, 10K emails
Cost of 'x' Contacts
Free Plan
Essentials
Standard
Premium
500
Free
$9.99
$14.99
N/A
2500
Free
(upto 2000
contacts)
$29.99
$49.99
N/A
5000
N/A
$49.99
$74.99
N/A
10000
N/A
$74.99
$99
$299
15000
N/A
$129
$159
$349
25000
N/A
$189
$219
$449
50000
N/A
$259
$299
$599
‍
The rest of the plans are based on a combination of features you use and the number of contacts you have.
‍
Features
Free Plan
Essentials
Standard
Premium
A/B Testing
N
Y
Y
Y
Abandoned Cart emails
Y
Y
Y
Y
Chat and Email Support
Knowledge base
& 30 days email support
Y
Y
Y
Comparative Reports
N
N
N
Y
Charges for Unsubscribers
N/A
Y
Y
Y
CRM
Y
Y
Y
Y
Discounts
N/A
N
N
N
Email Templates
Basic
Everything
Everything
Everything
Mailchimp Banner
A small banner in
the newsletter's footer
N
N
N
Maximum lists allowed
1
3
5
Unlimited
Monthly limit of sending emails
10,000
5,00,000
1.2 million
3 million
Multi-step automation workflows
N
N
Y
Y
Multivariate Testing
N
N
N
Y
Number of users
1
3
5
Unlimited
Predicted Demographics
N
N
Y
Y
Refunds
N/A
N
N
N
Reports
Y
Y
Y
Y
Retargeting (Facebook, Google, Instagram)
N
N
Y
Y
Segmentation
Y
Y
Y
Y
Single-step automations
Y
Y
Y
Y
Time Zone Delivery
N
N
Y
Y
Transactional Emails
Y
Y
Y
Y
Deep dive into 4 Pricing Plans
One thing you will observe as we go through these pricing plans is that Mailchimp's pricing starts off cheap but gets really costly as your audience increases. Read on to dig deeper.
‍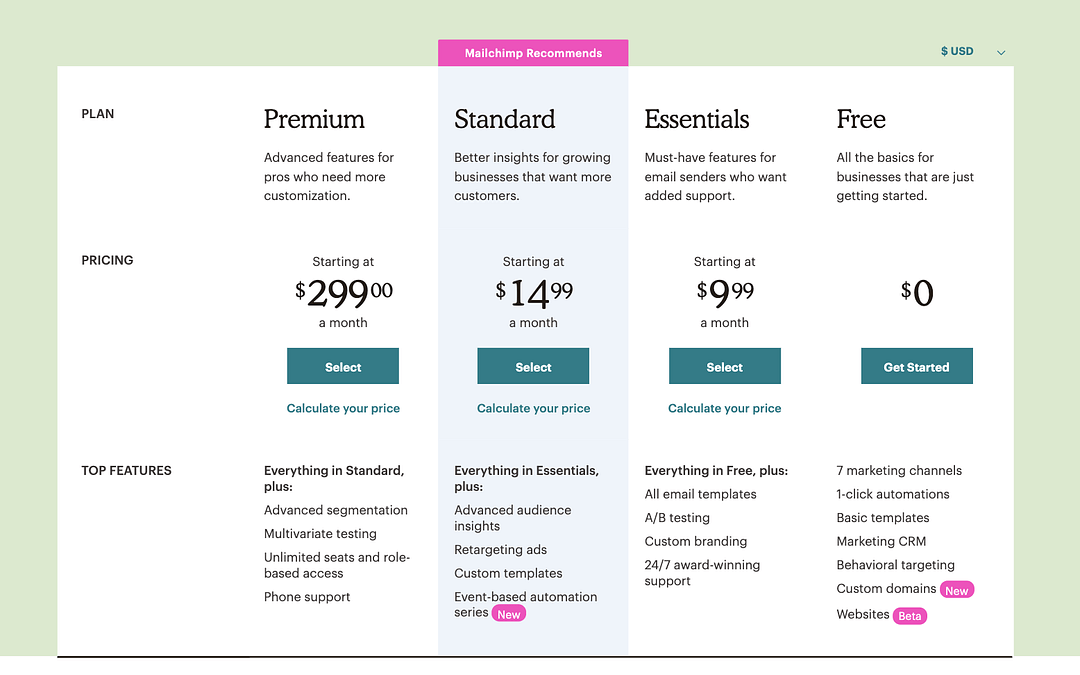 ‍
Forever Free Plan Price
$0/month
Subscribers: up to 2,000 emails: up to 10,000 It's the most basic plan good for new businesses or if you are someone exploring email marketing. It basically lets you start for free till you grow your list and strategy.
Things to note Mailchimp logo appears the footer
Access to limited templates
No customer support after 30 days.
Essentials Plan
For 500 contacts: Price: $9.99/month
Emails: up to 50,000
This plan is for you if you need basic automation, A/B testing and higher email limit.
Standard Plan
For 500 contacts: Price: $14.99/month
Emails: up to 1.2M
Things to note You can have a maximum of 100,000 contacts & a maximum of 5 users
Premium Plan
For 500 contacts: Price: $299/month
Emails: 3M+This plan is useful if you have a strong email marketing strategy and wish to integrate social media into it. This is almost crucial for a team size of more than 5 people. But just to give you an idea, if you have 100K contacts in your list, you will end up paying $599/mo. Now you have to think if that's a rounding error in your financial statement or a big chunk of your profits. For a small business, that's a hefty price tag but let's see what you get here:
If you don't wish to commit to a monthly payment, there is pay as you go plan. Let's see if that fits your business.
Pay As You Go Plan
The Pay As You Go Plan is a flexible alternative to a monthly plan. Instead of paying a recurring monthly fee, you purchase email credits as needed. Credits are units of payment that are used for the Pay As You Go plan. Each email send costs one credit.
It's a good option for seasonal markets or people who send quarterly updates only. This plan comes with the same set of features as the Essentials plan. For example, one email sent to 100 contacts equals 100 sends, so it would cost 100 credits. Credits expire after 12 months. Pay As You Go credit blocks start at $150 for 5000 credits. These credits cannot be used with any other Mailchimp pricing plan. You can stop this plan anytime but you won't be refunded for unused credits
Try me, Try me not?
There is no free trial but a forever free plan for up to 2000 contacts with basic features. You can't try all the advanced features before committing.
What happens when you want to upgrade or downgrade?
If you upgrade your plan or contact limit mid-cycle, you'll have access to the new features or higher contact limit immediately. Your monthly bill will have prorated charges. If you downgrade your maximum contact count or plan mid-cycle, your bill will include the full contact count or plan you chose for that month. The next billing cycle will reflect your changes.
Discounts are always delicious
Mailchimp offers a 10% discount for 3 months when you add two-factor authentication to your Mailchimp account with an app like Google Authenticator or SMS two-factor authentication. It also offers a 15% discount to nonprofits and charities. To request the discount, you just need to sign up for a free account and contact their Billing team with your username and a link to your organization's website.
What happens if you outgrow your subscribers' limit?
If you choose a paid monthly plan, you'll decide how many contacts you want to store in Mailchimp across all of your audiences. The number of contacts you choose will put you in a pricing tier that determines your monthly bill and sending limit. Their monthly plans come with a set amount of contact storage and email sends per pricing tier. If your audience grows more than expected, your services are not interrupted. Instead, you'll see an additional charge on your bill.
Does Mailchimp Charge For Unsubscribed & Duplicate Subscribers?
Mailchimp charges you for contacts you can't even email. This decision was also influenced by their pivot from being just an email marketing platform to an all-in-one marketing automation platform. As they want to encourage you to use other features to reactive unsubscribers. Under the new pricing model, you will be charged for all "subscribed and unsubscribed contacts". The only types of contacts you will not be charged for are: cleaned, pending, reconfirmed, deleted and archived contacts. So when someone unsubscribes from your email marketing, you will need to ensure you archive them otherwise you'll continue to be charged for having their email address in your audience.


Mailchimp's Website and eCommerce Plans
Mailchimp has also recently launched its own online stores for SMEs, and a new service for booking appointments. The appointment booking service went live on 28th April 2021, and the new eCommerce features became available towards the end of May 2021.
New 'Websites and eCommerce' plans were introduced (and free-plan users have to pay a 2 percent transaction fee). Transaction fees will be reduced for users of different pricing grades, for example, those who go for a Plus plan at $29, only 0.5 percent transaction fee will be applicable.
But you would want to note that the transaction fees will be levied per transaction on the order value after deducting promotions and discounts, but after adding tax and shipping - whenever you create and publish a store. And these transaction fees cannot be refunded.
| | | | |
| --- | --- | --- | --- |
| | Free | Core | Plus |
| Price per month | $0 | $10 | $29 |
| No. of seats | 1 seat with owner permissions | 3 seats with owner and admin permissions | 5 seats with owner and admin permissions |
| Custom Domains | Free Mailchimp domain | Connect to a custom domain | Free custom domain for one year |
| Support | Email support for the first thirty days | Email and chat support | 24/7 email and chat support, and phone support |
| Transaction processing fees | Plus 2% transaction fee and Stripe processing fees | Plus 1% transaction fee and Stripe processing fees | Plus 0.5% transaction fee and Stripe processing fees |
*In the Plus plan, the Mailchimp branding is removed.
*The free email marketing plan's features are available on all websites and commerce plans.
All their plans include SEO tools and Google Analytics integration. Plus, you can build websites with unlimited pages and without bandwidth restrictions.
When it comes to the online stores by Mailchimp, you can build your product catalogues, manage your orders, and taxes and shipping configurations.
One more thing: transactional email is an add-on which you can choose for Standard and Premium Mailchimp monthly plans. You can send transactional emails such as password reset emails, order confirmation emails, and welcome emails.
Here's a tabular summary of the Transactional Email feature available with Mailchimp:
| | | |
| --- | --- | --- |
| Transactional Email | | |
| Total Blocks | Monthly Emails | Price per Block |
| 1 to 20 | 1 to 500000 | $20 |
| 21 to 40 | 500000 to 1 million | $18 |
| 41 to 80 | 1 million to 2 million | $16 |
| 81 to 120 | 2 million to 3 million | $14 |
| 121 to 160 | 3 million to 4 million | $12 |
| > = 161 | > 4 million | $10 |
*Dedicated IP at $29.95 (optional)
But if you don't need all of these additional features and services, you should still proceed with comparing Mailchimp with other email service providers.


Any Alternatives to Mailchimp?
Mailchimp is actually one of the most expensive newsletters tools out there for small-to-medium businesses.If you are looking for a budget-friendly solution we'd encourage you to try SendX. You'll be joining many other former Mailchimp users who've shifted to SendX and never looked back. You can find a quick comparison of SendX with Mailchimp here.SendX pricing is based on a number of subscribers only and you get access to all features at all price plans. This makes it so simple to budget for your email marketing. Learn more about how email marketing pricing is done, for your reference.Before you go and add numbers, I have done some maths for you comparing Mailchimp and SendX - SendX is 100% cheaper! SendX will cost you only $14.99/mo for up to 2.5K subscribers. You can send unlimited emails at this pricing. And the incredible part is, it includes features like advanced segments and email templates at lower prices. Try it for free for 14-days. Please note: Last updated in March 2020. We make our best effort to keep the pricing information updated but in case it changes, send us a sweet message about it so we can refresh it and both of us will earn good karma in the world.
‍
FAQs
1) I don't want the Mailchimp logo in my marketing emails. Do I have to pay extra for this?
Yes. It's a part of a paid plan. Mailchimp logo will also be removed if you upgrade from free to any paid plan.
‍
2) The emails I send are to different recipients like Gmail, Outlook, Yahoo mail etc. How can I know it looks good on each of them?
As a part of all paid Mailchimp plans, you can preview how your emails look in different email clients (Gmail, Outlook, etc).
‍
3) Most people nowadays check their email on the mobile phones. Is the preview optimized for mobile view in Mailchimp?
Mailchimp has mobile styles feature using which you can preview how the campaigns would look on mobile, and test them before sending.
‍
4) How much will Mailchimp cost me if I want to test the subject line as well as the body of the email at once?
Multi variant testing is the answer. Mailchimp's premium plan which starts at $299 for 500 contacts, offers this feature.
‍
5) Our business is mostly seasonal. Which Mailchimp plan do you recommend?
The Pay As You Go Plan is a flexible alternative to a monthly plan. Instead of paying a recurring monthly fee, you purchase email credits as needed. Credits are units of payment that are used for the Pay As You Go plan. Each email sent costs one credit. It comes with the same set of features as the Essential plan.
‍
6) What about the unsubscribes? Do I have to pay for them forever in Mailchimp?
The only types of contacts you will not be charged for are: cleaned, pending, reconfirmed, deleted and archived contacts. So when someone unsubscribes from your email marketing, you will need to ensure you archive them.
‍
7) What are Mailchimp credits? How do they work?
Mailchimp credits work the same as a subscription, except you are paying per email that you send. Mailchimp's monthly paid accounts charge a flat rate per month, like $10 or $15 a month. Mailchimp's Pay As You Go credits only get used when you send an email.
8) Is Mailchimp Free?
Yes, Mailchimp does have a free plan, and it providers a few features you will like. However, it has limitations such as the Mailchimp log appearing at the Footer and access to limited templates only.
‍