Best Practices for Product Launch Emails (With Examples)
6 min read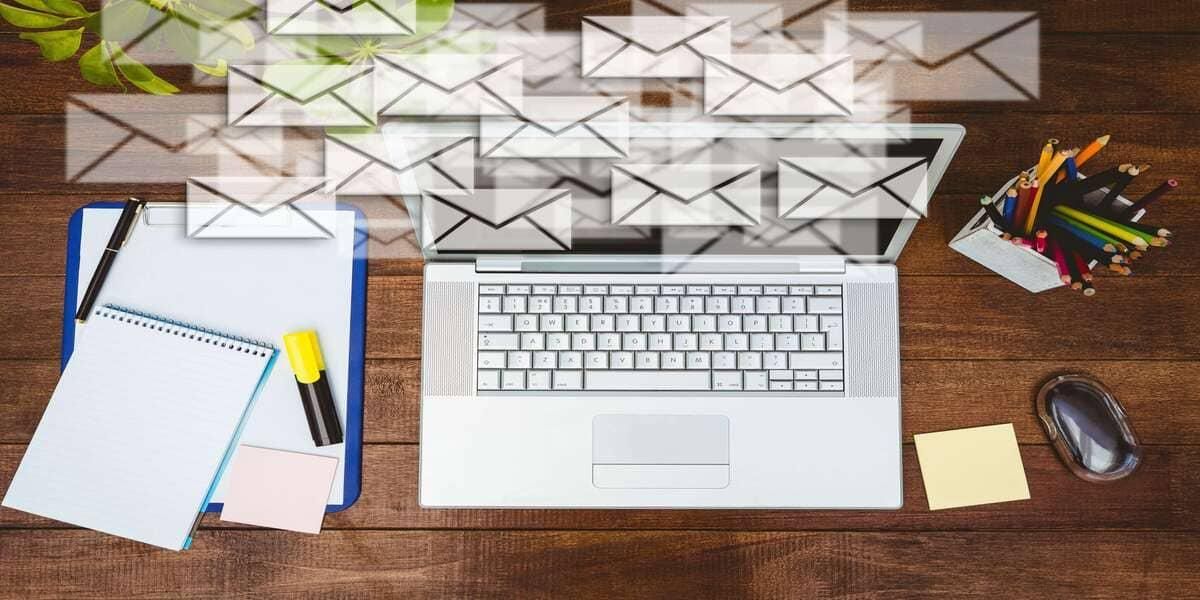 Congratulations on the development of a new product! You've scaled the mammoth task of figuring out what your customers want and are now ready to present them with a solution over email. Why email? Because no other marketing channel provides premium one-on-one time the way, this medium does. No wonder 9 out of 10 marketers leverage email marketing to share their content with potential buyers.
But, how do you begin? You can't, out of the blue, plop a product launch email with no prior context or rationale! You must plan a sequence of emails to grab the attention of leads and eventually convert them. Begin by asking questions like:
Is there a standardized structure to email sequencing?
Are there certain power phrases or words to use while crafting product launch emails?
Can I automate a product launch email sequence?
To lay to rest these burning questions, check out the next section on how to sequence your product launch emails.
Table of Contents
Email Sequencing Best Practices
The announcement for new product is news you must share in phases. After all, it took a great deal of effort to develop one, and the target audience must feel the same. Moreover, if you draft a series of emails rather than one, you'll keep prospects hooked to the edge of their seat for the 'great reveal.'
Sequencing best practices can help you make a more compelling case for your product. Moreover, communicating about your product and brand through multiple launch emails is valuable to various prospects – from those who faintly know of your brand to the ones who eagerly await the launch.
So, here are 4 quintessential steps to consider before automating email sequences for your product launch:
Step 1. Send Teaser Emails
The best way to build anticipation around your new product is to talk about it without talking about it. Remember, creating a little suspense never harmed anyone but worked wonders for product launches.
Draft a teaser email that talks about a problem your prospects face and ask them to stay tuned for a solution about to be revealed. Make sure your teaser email is aesthetically appealing, not heavy on text, and carries a GIF or video or animation if possible. Once you've sorted the design, content, and layout, send it at the right time, which is not earlier than two weeks.
In fact, if you aim to send two teaser emails, begin four weeks in advance, else send only one 10 to 14 days before the launch. Anything before two weeks, and your audience will forget that there was an impending launch in their email pipeline. But, before you begin a teaser campaign, make sure you send a welcome email to newly acquired leads who may or may not be familiar with your brand.
Here is a killer example of a teaser email. It lets the reader see the brand name and the date of the launch, but that's it! We give it full marks for being a tease.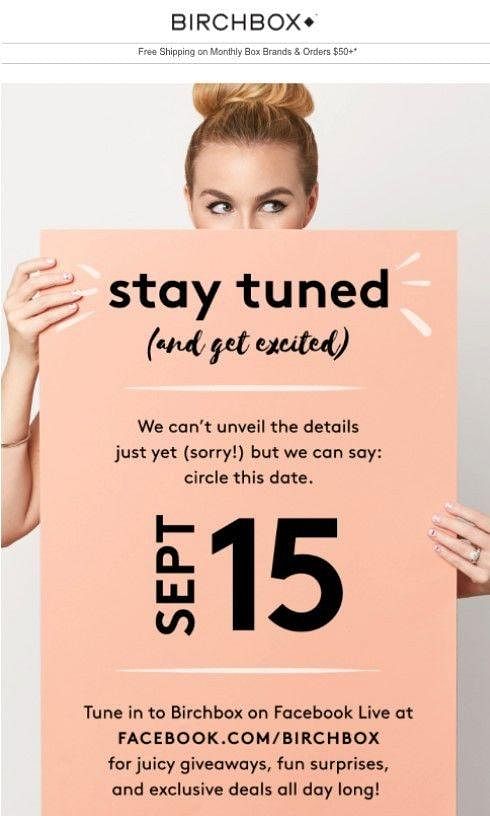 Step 2. Launch the Product over Email
Share full details of your product, its features, pictures, and videos in this email. Don't keep them guessing for more here. Provide the right CTAs so they can pre-order your product. If pre-ordering is not possible, announce the exact date from when your product will be available at stores or e-commerce portals.
Here is a product launch email with striking imagery and concise but detailed information about the offering. The CTAs are powerful and placed right.

Bonus Tips on how to write a product email that works
Use data to segment your target audience. Doing this helps personalize email messages.
Articulate a powerful and personalized subject line announcing the launch.
Try to include an offer with the launch.
Include valuable CTAs that take prospects to user-friendly and quick-loading landing pages.
Make sure the email contains striking imagery and is not text-heavy.


An important part of the product launch is creating a memorable presence on YouTube. You can check customizable YouTube banner templates that you can use to create beautiful banners for your product launch. You can easily create stunning banners in minutes without the need for any design skills.
Step 3. Send an Email on the Day of the Store Launch
Always assume your prospects are busy. A ton of activities fill up their days. So, why should they remember the date you said you were launching a product they need. It is up to you to remind them that they can now go to the store or log in to an e-commerce portal to make the purchase.
Therefore, on the day your product hits the shelves, send out another email to your prospects. Include the image or your offering, add a store locator button, along with social media sharing buttons. You must provide prospects with avenues to spread the word that your product is now available for purchase. Also, embed a direct link in case they want to buy your offering right away.
Look at Apple's store launch email. While the layout and imagery grab your attention, this template contains all relevant information like "Find a Store" CTA and a clean and crisp layout. It also highlights salient features of the product and uses detailed imagery to give you a feel of what the product looks like.

Step 4. Don't Forget the Follow-Up Email
Reminding your leads of the product and its launch is essential because sometimes they intend to purchase it but simply get distracted. So, wait a week and then send a follow-up email that contains a revised pitch. Make sure it comprises of CTAs like "click here to purchase" or "locate the nearest store."
If possible, embed a product video to boost engagement. You can also use the same video to align your offline campaigns. You can use the video in fliers, kiosks and your store with scannable codes. Just add a youtube QR code to your marketing materials to drive awareness for your product.
Suppose you're not sure how then seek the assistance of an email marketing software like SendX. This user-friendly SaaS app allows marketers to design and automate stunning product launch email campaigns. Lastly, avoid sending follow-up emails to prospects who already bought your product.
Look at this follow-up template. The brand used abandoned cart info to almost poetically nudge a prospect towards conversion. There is just one CTA geared to take the lead back to their cart rather than having to start over – the chances of which are generally low.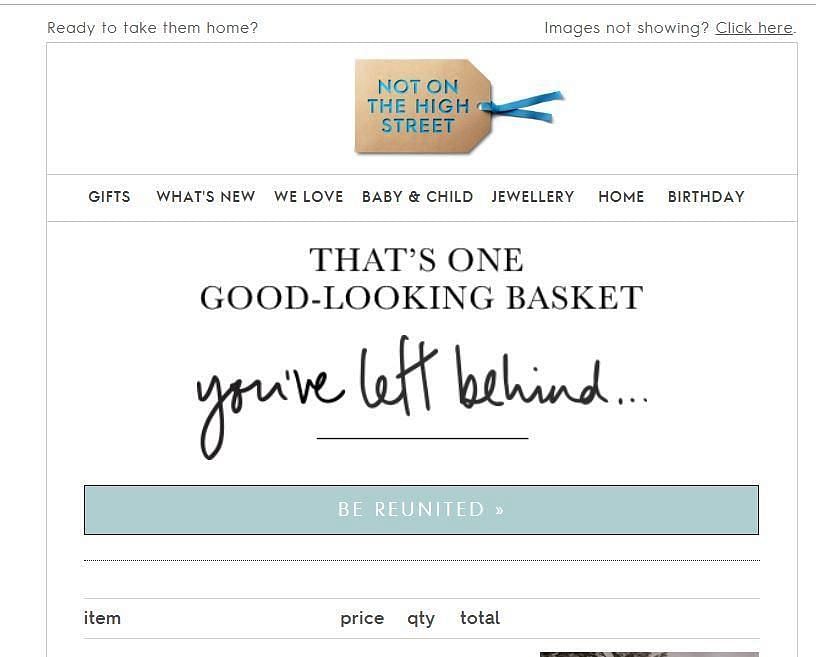 More Product Launch Email Examples to Inspire Your Next Campaign
If you thought that the four product launch email templates were all we had to inspire you, you're wrong! Here are a few more examples that are a mixed bag of the four types discussed above to help you brainstorm your very own launch campaign.
1.Teaser Templates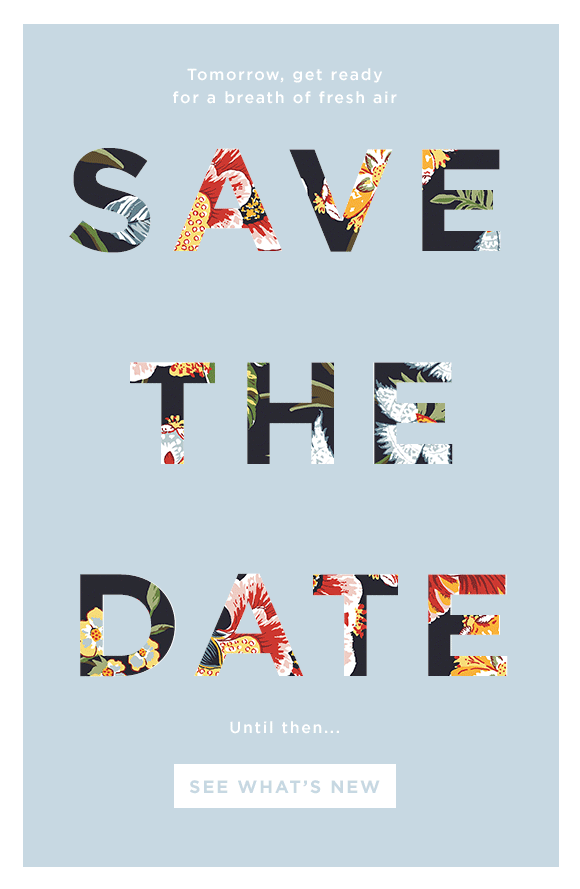 As you can guess, this is yet another creative template for a teaser product launch campaign. On the surface, it's a simple image with hardly any text, but it's enough to arouse your prospects' curiosity. In a way, this email is enough to get a conversation started around what's to come.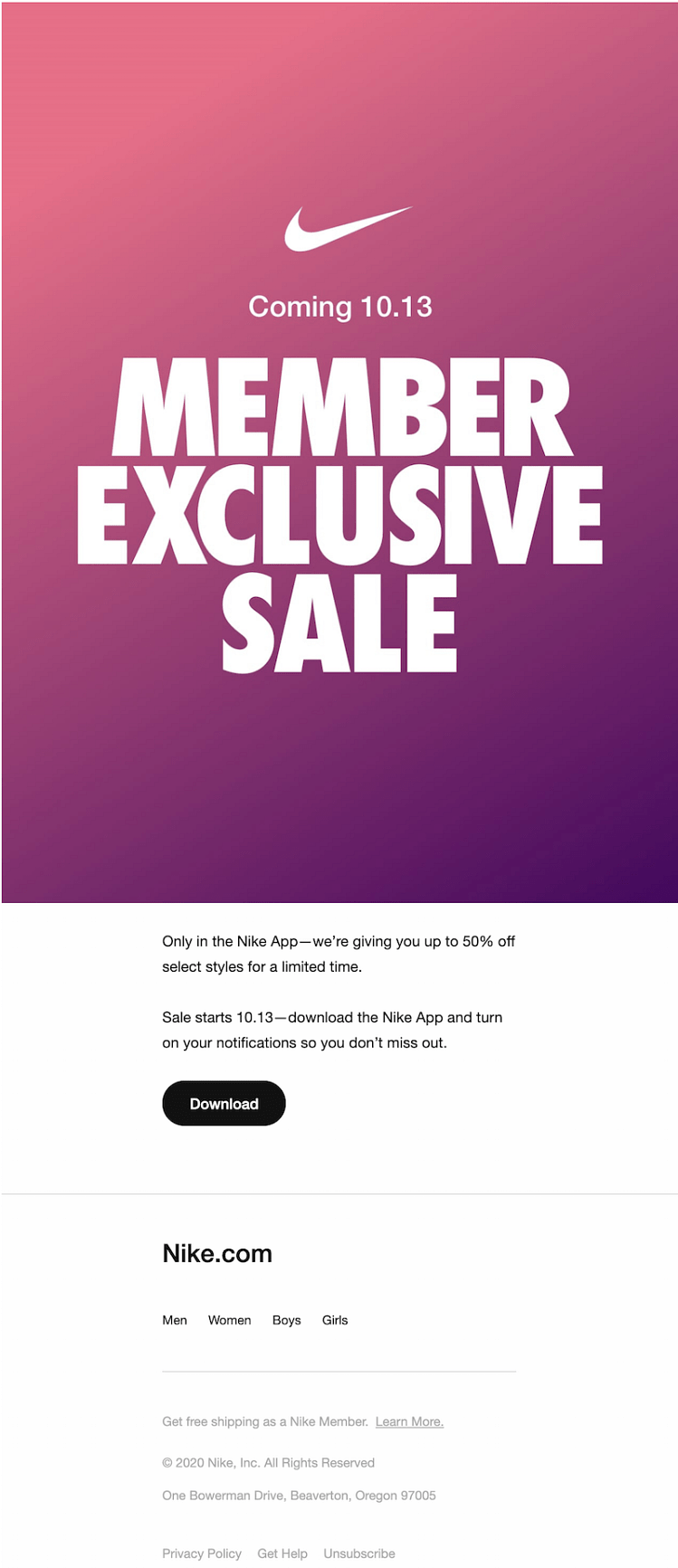 Here is another teaser email for just before the announcement for the product. Sure, this one is for a closed group of individuals who are already Nike customers. But, getting repeat business from them is no easy task.
This email tries hard by not only adding to the mystery of the launch but also promoting exclusivity. The brand could have chosen not to emphasize the "member only" aspect, but they did, thus making the members feel special and nudging new leads to take a Nike membership.
2.Product Launch Templates

Here is a heartfelt launch email that champions the product fearlessly. The striking banner image with the rustic backdrop informs the viewer of the toughness and aesthetics of the product. The animated sub-banner provides more options with an individual CTA for each. Not only is this template easy on the eyes, but it is also easy to interact with.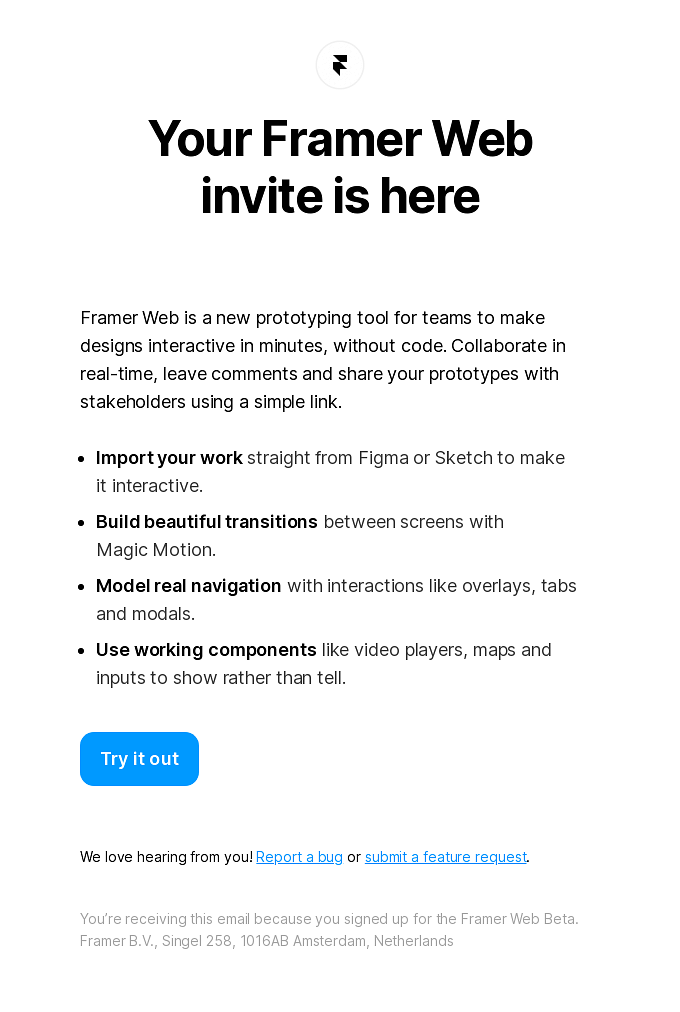 Framer's launch email takes a no-nonsense approach. It uses a single-column layout, which puts all note-worthy information at the forefront. The product's four features are only too clearly listed out, with every functionality succinctly explained. It also has a single-focus CTA, in blue which is hard to miss.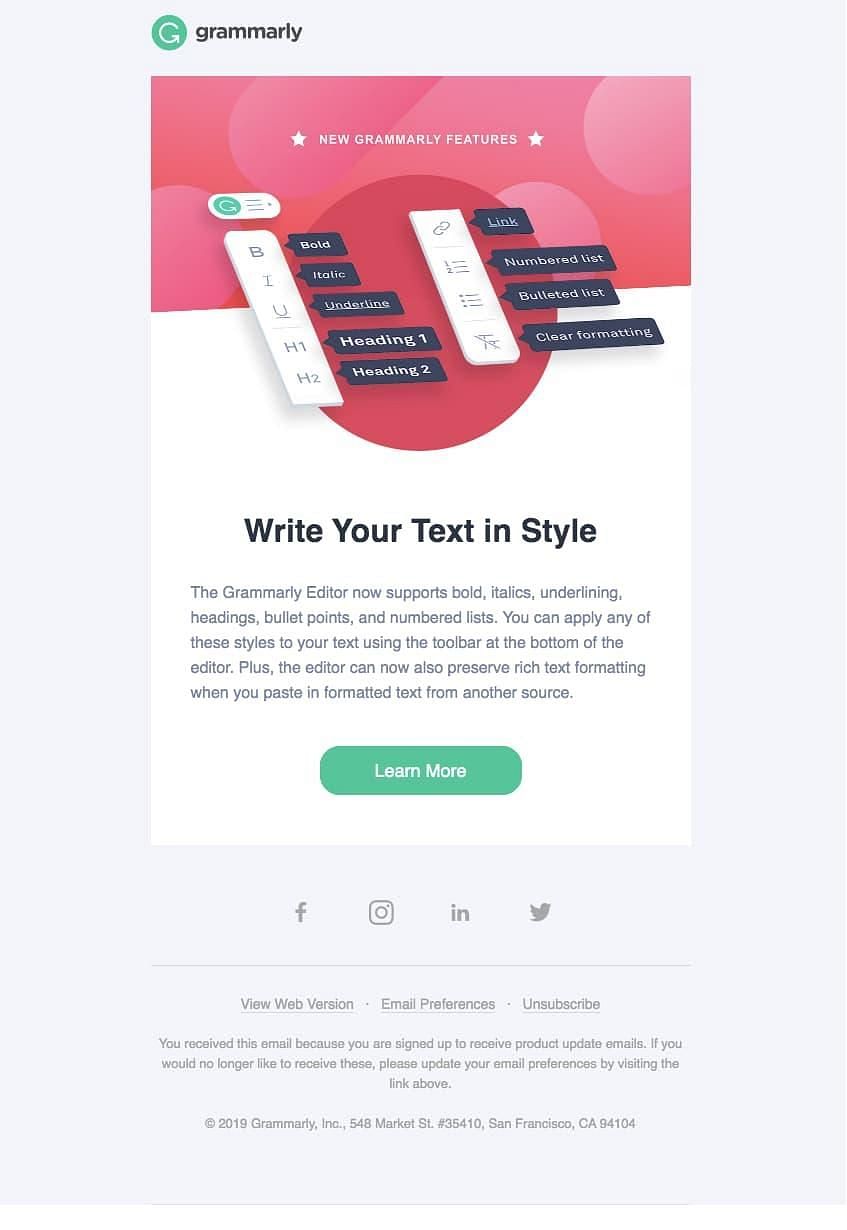 A launch doesn't always entail launching a completely new product. Sometimes you would want to spread the word about a valuable new product feature that can provide tons of value to your customer. But, they still need to learn about it, and what's more, they may require a reason to adopt it. This template offers both! It provides a collective visual of all Grammarly features that allow viewers to quickly scan through what's new.

This product launch email shows how the brand's sneakers are great for both formal and informal occasions. The model wears both a dress and a casual pantsuit with the same pair of shoes. There is more imagery than text, which is befitting the context, and the CTA is geared towards nothing but making a sale.
3.Follow Up Templates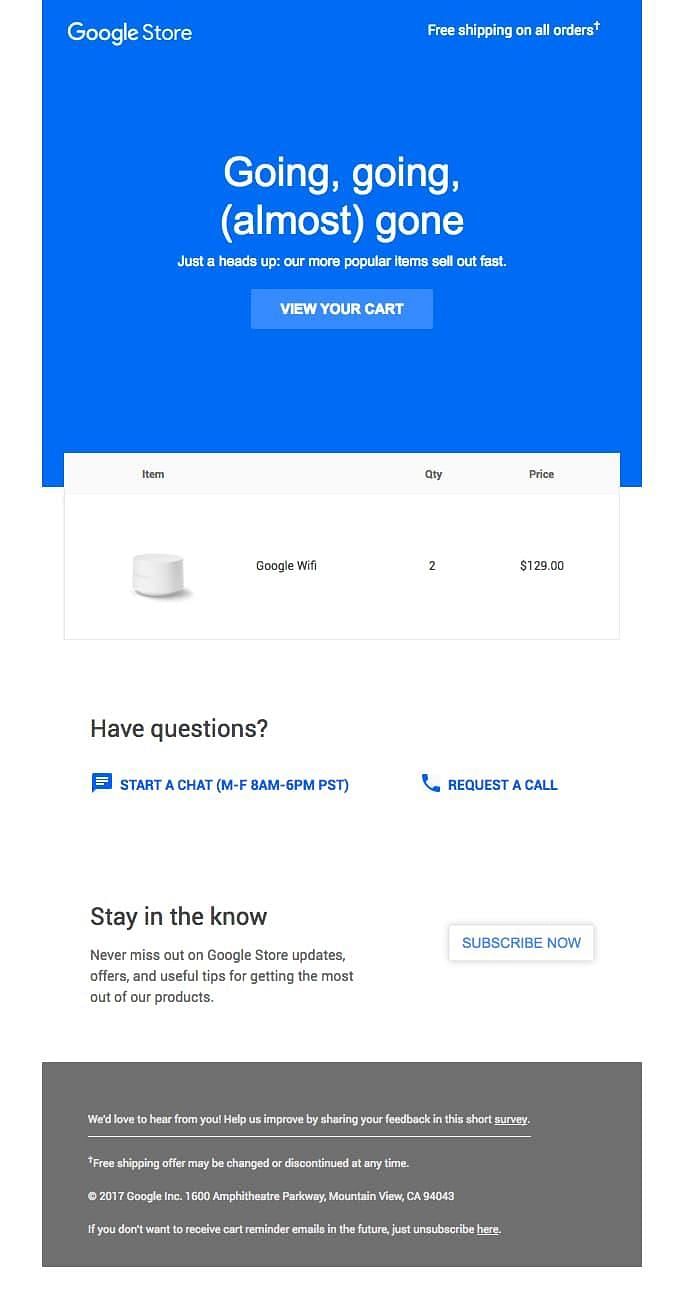 Excellent copywriting, well-placed CTAs, and impeccable personalization – this follow-up email is hard to pass. It improves the chance of a sales conversion by creating a sense of urgency right away!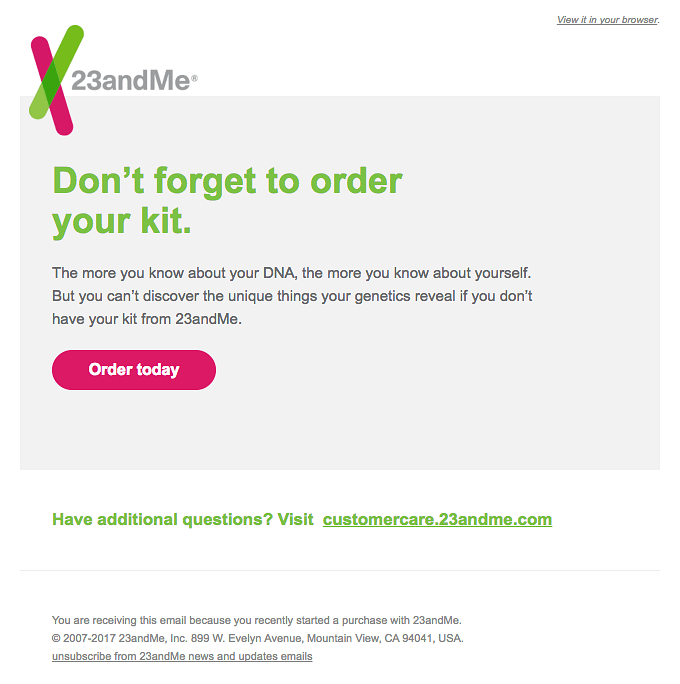 This follow-up template keeps things to the point, which ensures fewer distractions for the reader. With a single CTA geared purely towards purchase completion, this example is worth a quick glance at the least.
Conclusion
When drafting a product launch sequence, it's never enough to get only the elements of design, content, timing, or personalization right. Instead, all these elements must come together in harmony to offer value to your prospects.
If you are planning an automated email marketing campaign to launch a new product soon, use our tips provided above as a blueprint to fork out your own sequence.