Constant Contact vs Mailchimp - Compare Pricing, Features, and More (2021)
9 min read
Another day in this testing article series.
This time we have the well known Mailchimp and Constant Contact going face-to-face, and in the end, we will see which one is still standing.
Constant Contact has been around for a while now, since 95, so even though it's not as well known as Mailchimp, it is still a relevant alternative to Mailchimp in the market worldwide.
Both tools claim that they help small businesses thrive in this crazy business world, so if you are just starting, stay tuned because this might be the article for you.
Comparison - Constant Contact Vs Mailchimp
| | Constant Contact | Mailchimp |
| --- | --- | --- |
| Price | 30-day free trial period. Starts at $20 per month. Pricing is based on number of contacts | Takes up to 2000 subscribers in free plan. $9 per month for up to 500 subscribers and all core features |
| Automation | Simple editor yet has limited automation capabilities | Great automation features yet the editor is really confusing and it is easier for people to get lost in there |
| Reporting | Provides basic reporting. You can track your opens, clicks, bounces, and that's it, pretty much | One of the best in the industry. Provides basic reports plus advanced stuff like eCommerce reports, geo-tracking reports etc. |
| Support | Offers email support, live chat and phone support across all plans | Has 30 day support via email on their free plan. Phone support available on paid plans only |
| Integrations | Has 477 integrations and uses categories for its search function by business need, industry or attribute to make the process easier even for beginners | Has 227 integrations with a limited search functionality making it tedious for you to find what you want |
| Delivery | Has 90.5% overall deliverability rate according to EmailToolTester | Has a 84.9% overall deliverability rate according to EmailToolTester |
Before going any further let me interrupt you with my shameless marketing plug and pitch you SendX - our email marketing platform has a clean design, features like automation, A/B test, click Heatmap report, resend to unopens and much more. On top of that, it is affordable. You can test it all FREE of charge for 14 days.
Well, let's get back to the main event.
Table of Contents
An Overview of the Constant Contact vs Mailchimp
At first glance, Constant Contact looks cleaner than Mailchimp, which gives you the impression that Constant Contact is easier to use.
None of these email platforms will take you a lifetime to figure out how things work, you just need to set some time aside, click around, and see where the links will take you.
Anyway, there is something that will jump right at your face when you visit the two platforms' home pages: the way they position themselves. Whilst, Constant Contact goes for the email marketing tool, Mailchimp decided to be more than just an email marketing tool, using the words "all-in-one marketing platform".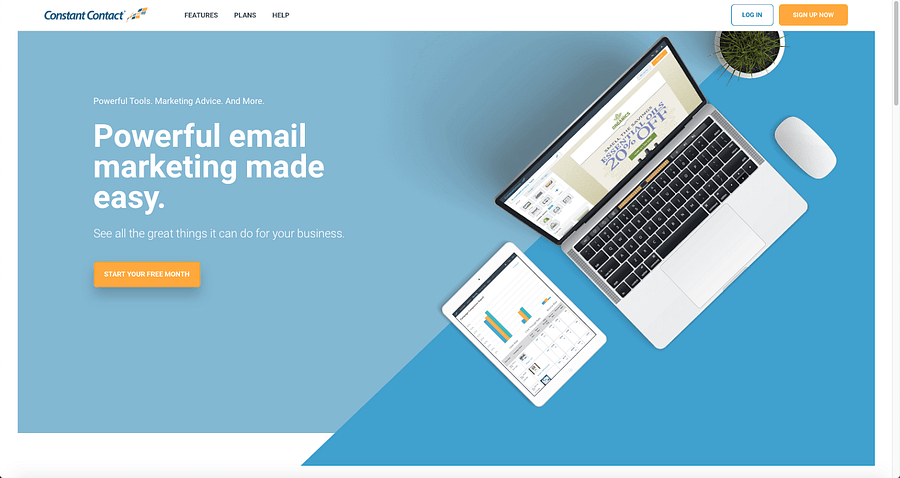 So, by now you must be thinking that this won't be an apple to apple comparison, but I will do my best to keep it fair - I will talk only about things related to email marketing.
Constant Contact vs Mailchimp - Creation and Design
A lot of people prefer the all-text email format, they say it is more personal and feels less transactional, but nonetheless, when we are looking for an email marketing tool, we want one that is capable of producing those well-designed emails using a drag-and-drop editor, and if they have templates that we can modify that would be great.
Both of these tools allow the user to create emails using a drag-and-drop editor, or HTML code if you have the knowledge for that. They also present various templates that you can modify and re-create something new from.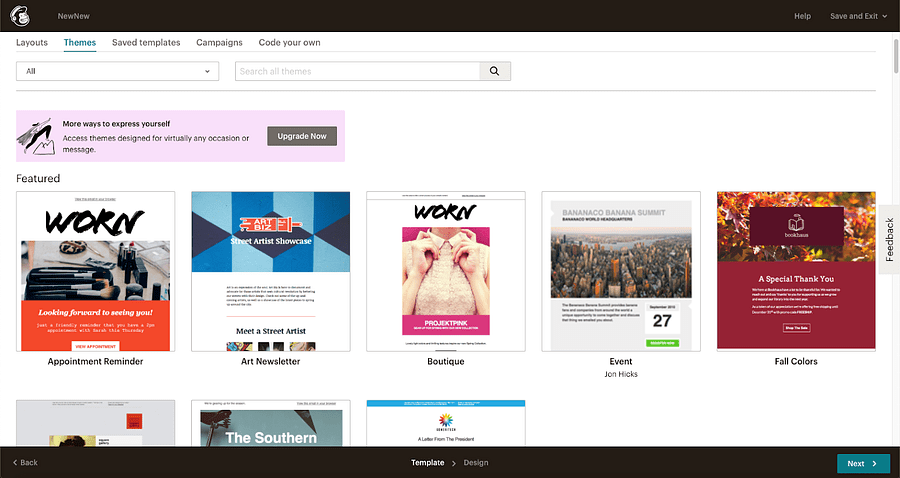 Despite having similar characteristics on this topic, I felt like Mailchimp is slightly better. Their templates are organized by categories facilitating the user's choice - picking the template that fits your needs and your sector the most.
Another thing that both have is the option to choose what type of campaigns you want to create. And the two platforms offer you more than emails. I know, I know, I said I would keep it inside of the email marketing scope, but since Mailchimp and Constant Contact give you similar options, I am putting this in the article.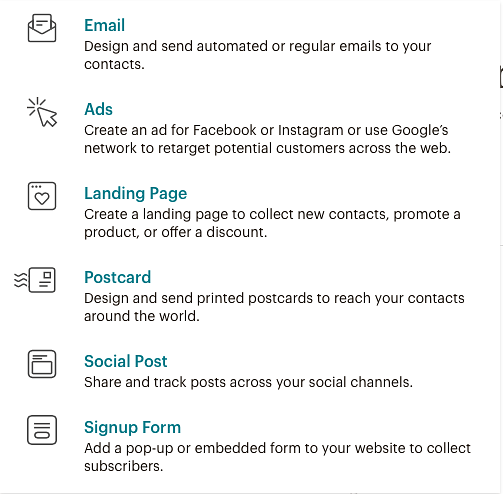 If you ignore the Postcard, you will end up having exactly the same options on both tools.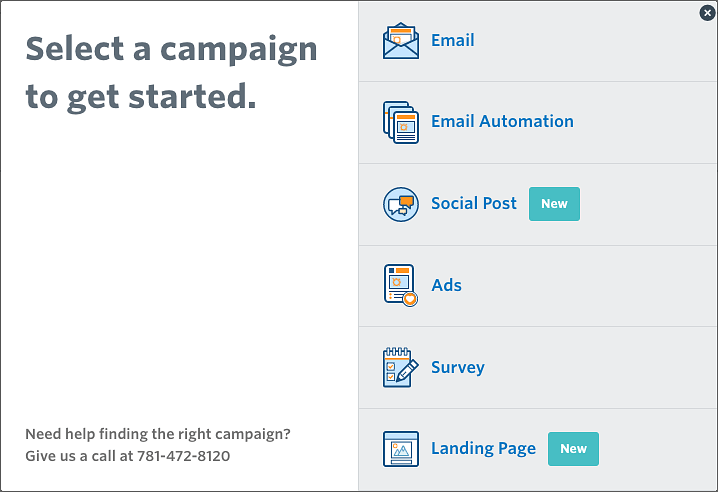 With that said, we will have to continue to drill and dig deeper in order to bring out the differentiators.
Well, let's advance and analyze one of the most valuable features of an email marketing tool, the automation.
Constant Contact vs Mailchimp: Running in Autopilot Mode
Imagine that you have done your research well, you have all your funnels tested one-by-one with hard work, so you know what brings results and what is a waste of time. You know the type of language your clients respond to and what boosts your conversions.
So, you don't want to go every single time, login, segment your lists manually and go to your campaigns and click the send button, when you want to run a campaign sequence that has been a rainmaker for you.
That's why people love automation so much, and why I think it is one of the most important features in an email marketing tool because once you've done all the heavy work, you don't need to keep doing it again and again.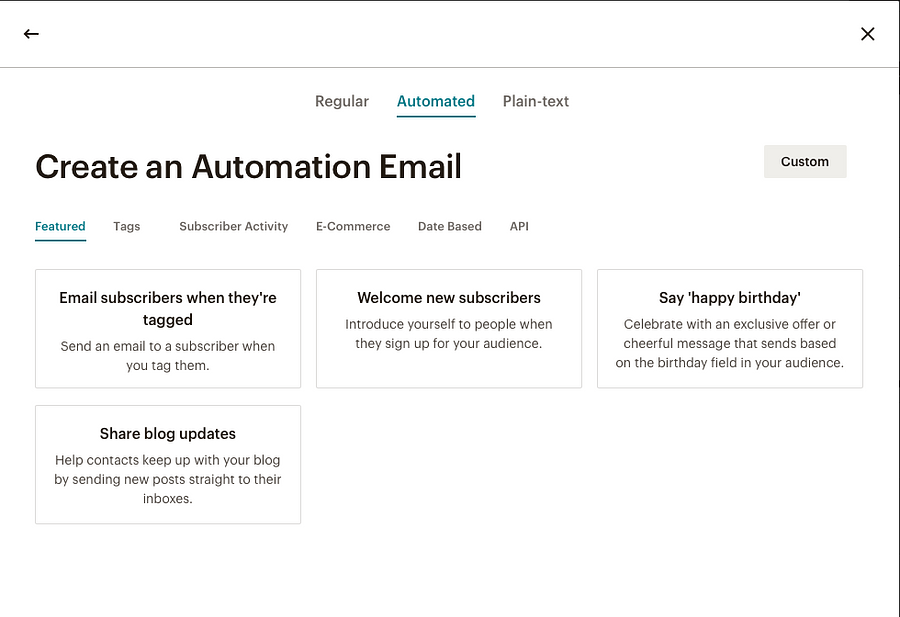 I must say that these being tools with a long time on the market, they should have done a better job with their automation.
Constant Contact is pretty limited on pre-made automation templates that they offer their users. Mailchimp does a better job with those templates, but anyway it still falls short when you want to create your own customized automation.
The Mailchimp's custom automation editor is really confusing and it is easier for people to get lost in there. You might end up going with the trial and error method until you nail the winner down. Constant Contact has a simpler editor to use, but it is not that powerful anyway.
WARNING: If you are using Mailchimp's Free Plan, bear in mind that you will be limited to a single email in your automation, you will not be able to create a dripping sequence or any kind of sequence for that matter.
If you looking for an affordable email marketing tool with advanced automation, try SendX for 14 days FREE of charge - no credit card needed. We don't have the workflow, but we will not limit your automation to a few autoresponders.
Constant Contact vs Mailchimp: Reporting
Another important thing in email marketing is the ability to track your campaigns, so you can know what's resulting and what needs to be modified or shutdown. Because of that, your email marketing tool has to be great at reporting.
Constant Contact prefers to travel light on this one, giving you the ability to track your opens, clicks, bounces, and that's it, pretty much.

Of course, you have some other ways to see your reporting. For example, the devices your emails have been open on - Computer vs Mobile, but the metrics won't vary that much.
On the other hand, Mailchimp gives you all the same reports plus advanced stuff like eCommerce report, it has a geo-tracking report and it even shows you reports about how your campaigns are performing on different email providers.
In this reporting topic, Mailchimp is one of the best in the market, they really did a great job with that.
Constant Contact vs Mailchimp: The Email Deliverability
It doesn't matter if you have all these awesome templates; if your email marketing tool has this easy to use drag-and-drop email creator; or if you have all these email automation sequences ready to roll. If your emails aren't getting in front of your subscribers, nothing else would make a difference.
Email deliverability depends on many factors but for the sake of simplicity, the guys from the website emailtooltester.com define deliverability as when an email lands on the primary email inbox instead of the spam graveyard that all the email marketers fear to end up.
Those guys from EmailToolTester ran a test comparing Constant Contact with Mailchimp's deliverability. This was the result: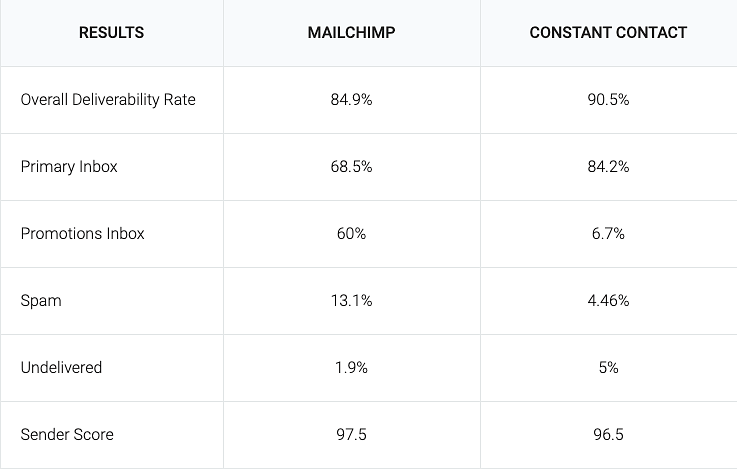 As you can see, with Constant Contact emails will land more on the primary inbox than Mailchimp, so if deliverability is an important factor to you, I hope that I shed some light on it just now.
Constant Contact vs Mailchimp: Integrations
People love to know that their email marketing service integrates with their favorites software out there and that they don't need to change their habits because they started using a new email marketing tool.
In this case, I will keep it short and simple:
Mailchimp has 227 integrations while Constant Contact has 477 integrations.
What does this mean? I don't really know for sure, numbers are important, but the quality of those integrations have a huge weight as well, but for now, let's just consider that the odds for Constant Contact have the integrations you need is twice of Mailchimp.
Constant Contact vs Mailchimp: Support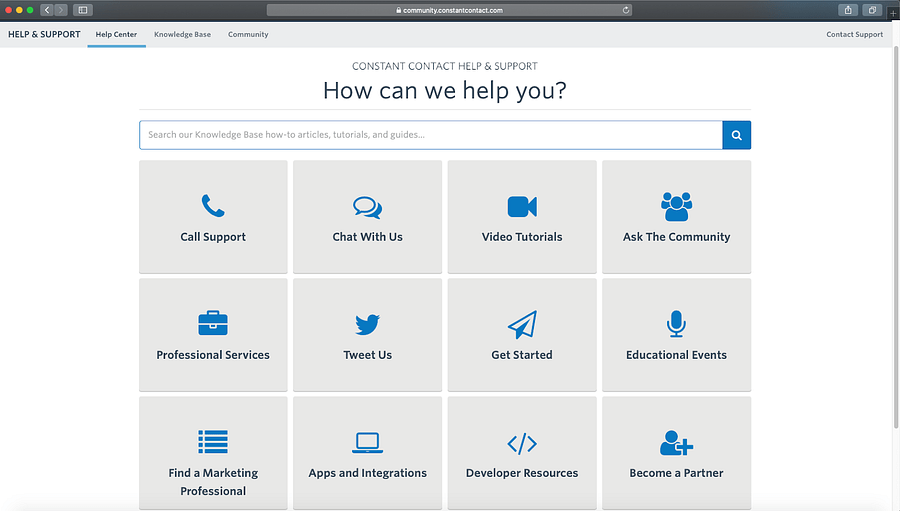 Constant Contact offers you traditional support channels and some more to help their customers: Twitter, a community, video tutorials in one place. While Mailchimp has some of these as well, the company prefers to stick to the basics, and communicates that they give you support via email 24/7, live chat a business hours, and phone calls if you have an expensive plan.
By the way, if you are using Mailchimp's free premium plan, they will give you support for 30 days to help you set up your account and learn to use the platform, after that you will be on your own. But they have a vast knowledge base, and it's only fair that you do the research on your own since you are not paying.
The only problem would be if you really need some technical help after your 30 days.
Constant Contact vs Mailchimp: Pricing
Before diving deeper, here's a quick guide on how email marketing pricing is done.
Now, let's get to the pricing comparison between Constant Contact and Mailchimp.
The first difference that you can spot right away is that Mailchimp gives you a Forever Free Plan with 2000 contacts and 10000 emails per month, while Constant Contact gives you a 30 day Free Trial so you can test their platform and see if you like it before you start paying.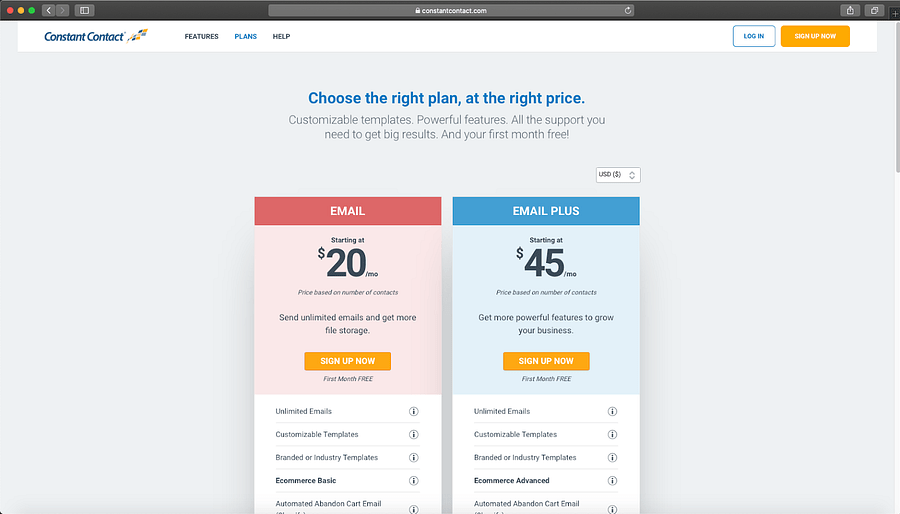 Another difference between the two email marketing tools is the way they communicate their pricing.
We all know that the paying plans from Mailchimp can become expensive really quickly, but at least they let you know what their prices are when you reach a certain amount of subscribers in each plan. Here's a quick reference to Mailchimp pricing.
Mailchimp even lets you pay as you go, a possibility that can be less expensive for someone that does not send emails that often.
Constant Contact does not offer you the possibility of paying as you go, and when your trial period reaches its end it will end up being more expensive than Mailchimp. Constant Contact has three plans: Email, Email Plus and Lite.
All of these plans have a starting point and tell you that: "Price based on number of contacts", but they don't let you run a simulation like Mailchimp to know exactly what is the price you will be paying monthly.
Clarity is everything and Constant Contact has one of the least clear pricing communication I've seen.
If you're looking for an affordable email marketing platform with a clear pricing communication, you may give us a chance, SendX gives you 14 days for FREE, no credit card is required.
Mailchimp's Venture Into eCommerce
One important update for all those looking at Mailchimp as an option is that Mailchimp has also recently launched its own online stores for SMEs, and a new service for booking appointments. The appointment booking service went live on 28th April 2021, and the new eCommerce features are scheduled to become available for the US and UK Mailchimp customers by May 18th 2021.
New 'Websites and e-commerce' plans will be introduced (and free-plan users will have to pay 2 percent transaction fee). Transaction fees will be reduced for users of different pricing grades, for example, those who go for a Plus plan at $29, only 0.5 percent transaction fee will be applicable.
Besides, for $10 extra, Mailchimp's branding will be removed and you will get email and chat support, and you will only have to pay 1.5 percent transaction fees.
All their plans will also include SEO tools and Google Analytics integration. Plus, you can build websites with unlimited pages and without bandwidth restrictions.
And when it comes to the online stores by Mailchimp, you can build your product catalogues, manage your orders, and taxes and shipping configurations.
But if you don't need all of these additional features and services, you should still proceed with comparing Mailchimp with other email service providers.
Constant Contact vs Mailchimp: Conclusion
Despite Mailchimp's move to become an All-in-One Marketing Platform, they are still solid as an email marketing tool, the problem might be that you will end up paying for things that you are not intending to use.
Still, they have a better automation, better reporting, they have better templates and their pricing is better communicated than Constant Contact.
Constant Contact says that they are an Email Marketing Tool but it seems to me that they are trying to mimic Mailchimp, and you can find a lot of similar features like Social Media Posts, Ads and so on.
We could compare these two as All-in-one Marketing Platforms indeed.
But since we are writing this for people that are looking for email marketing solutions only, we decided to keep it in the email realm.
If you are coming looking for a Mailchimp Alternative, because Mailchimp decided to widen their scope beyond emails, Constant Contact might not be the best alternative, because they seem to be going on the same path as of now.
However, SendX will make for a great Mailchimp Alternative. We're focused on emails, and have a pricing structure and feature set made for Email Marketers. You can try SendX out for yourself for Free for 14 Days and test it out! And if you want to compare SendX with Mailchimp, and SendX with Constant Contact first, you are most welcome.
And if you are still looking for more alternatives to Mailchimp, you might be interested in the full list of our Mailchimp comparisons:
FAQs
1) If I want a forever free plan with 1000 contacts, which one should I choose between Constant Contact and Mailchimp?
Mailchimp has a forever free plan, while Constant Contact does not. But you can go for a 30-day free trial with Constant Contact to decide whether it is worth a paid plan.
2) I need a simple editor with reasonably sophisticated automation. Neither Constant Contact nor Mailchimp matches my requirement. What do I do here?
Constant Contact has a simpler editor to use, but it is not that powerful. So if you are looking for a simple to use but sophisticated automation editor, something like ActiveCampaign would be a good choice.
3) Email deliverability is truly critical to me and I want the best, and I don't mind paying a bit more for it. What should I go for - Mailchimp or Constant Contact?
Constant Contact has an email deliverability of 90.5% according to EmailToolTester, as opposed to Mailchimp which is at 84%, so it is a straightforward choice in this case.
4) We have seasonal business and need a pricing plan to suit us. Which is a better option between Constant Contact versus Mailchimp?
Mailchimp has a pay as you go plan, which is ideal for your requirement.
5) Which is better when it comes to reporting when it comes to Mailchimp versus Constant Contact?
Mailchimp has more advanced features on reporting than Constant Contact. It provides industry averages and an email click map for users to see the best positions for placing links.