Email Marketing for Retailers in 2023
Retail is in the midst of an online revolution. With human contact being minimized we are moving away from window shopping to online browsing, from pamphlets to emails.
According to Nasdaq:
"Digital sales are projected to represent more than 16% of total retail for the year and account for more than three-quarters of retail's total gains. And those numbers are only expected to grow from here."‍
Particularly during this time, we know that email marketing will be an even more important piece of your retail strategy.
So we have created this guide to help you get started from understanding the importance of email marketing to showing you some examples of great emails from retail brands.
Let's dive in.
Reasons Why You Should Care About Email Marketing
1. Integrate your online & offline experience
Some retailers have physical store locations, or larger brick-and-mortar carrying their products, as well as an online presence on their own website or e-commerce websites like Amazon.
Many examples of that are - Decathlon, Nike, Sephora, etc.
Email allows them to integrate their online and offline experience.
With the 'Shop in Store' section, Nike uses email marketing to help connect subscribers with their physical store locations, if that's their preferred way of shopping.


2. You don't have to stick with one storefront
With a brick-and-mortar store, everyone will see the same storefront. Whether it is a 16-yo boy or a 40-yo lady. There is no personalization. Therefore, placing QR codes at a physical store helps shoppers visit the website of the brand. These codes are easy to scan and create - just use a QR code maker.
With emails, you can create the user experience according to their past interactions with your brand, their age, gender, and much more. This will lead to greater revenue and lower the cost of customer acquisition.

Continuing with Nike's email marketing examples, you see they have tailored their email to suit a male who must have looked for similar products on their website.

3. Gather valuable feedback
Emails can be used to gather feedback from many people at once & at scale without annoying them in the middle of their shopping experience at the retail store. This data can be stored digitally very easily and can be accessed anytime to improve your strategy.
‍
What Kind of Emails Can You Send?
For the ease of understanding, we have divided emails for retailers into 2 major categories:
Automated Emails
Broadcasts
‍
Automated Emails
This category has all emails that are created once and then sent to each subscriber by the system, based on the subscriber's action or time in the journey from subscriber to customer.
Most email marketing software these days provide automation capabilities so you don't have to worry about executing these automated journeys.
1. Welcome email:
Thank them for joining your list. Talk about what to expect in future emails and how often you email. Share your social media links & ask them to whitelist your email address.
You can put a rule that if signup happens, then send the welcome email. And the rest will be taken care of by the software.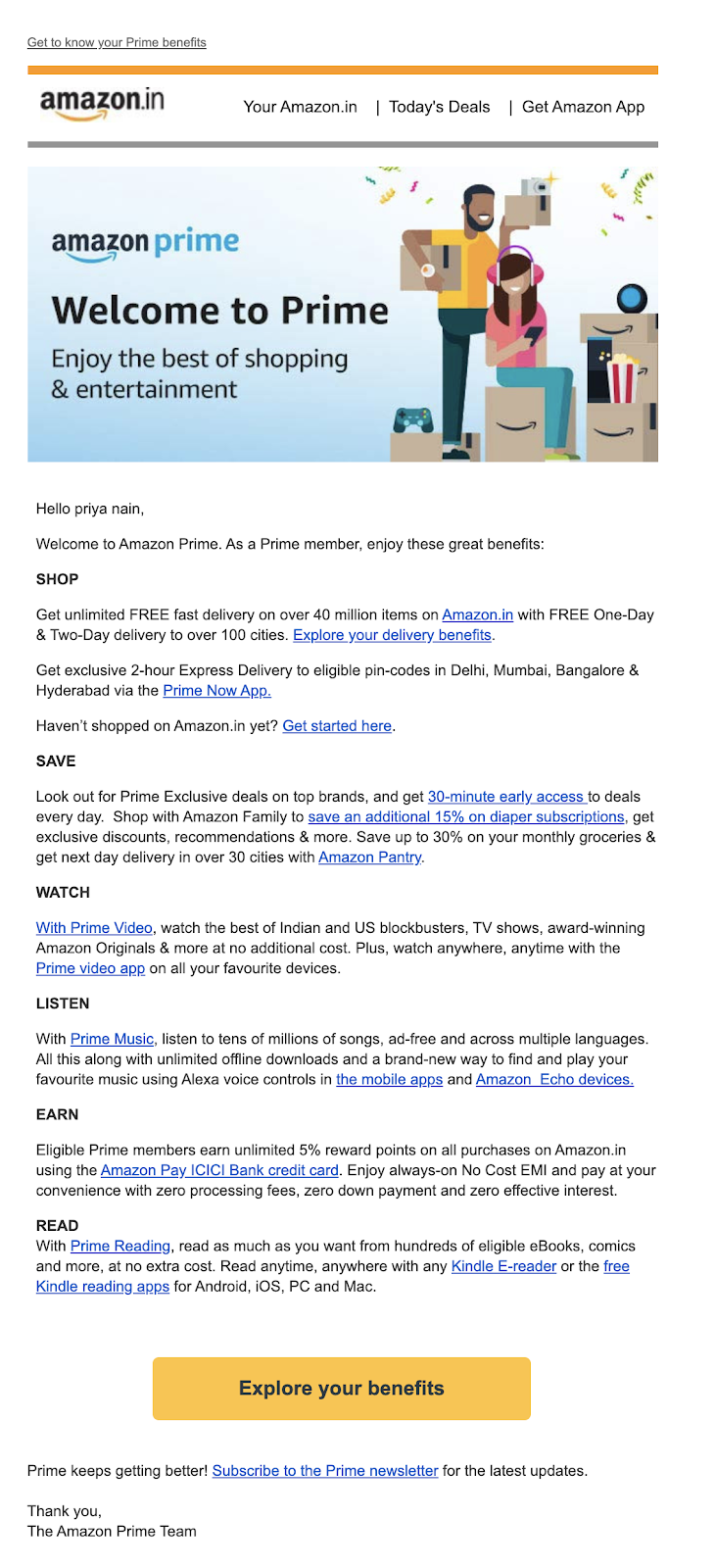 2. Cart Abandonment email:
This email can be automatically sent by the software when someone adds a product to the cart but doesn't complete the transaction.
Why is it valuable?
It can remind people to complete their purchase which they might have dropped in between due to unreliable internet, or if they wandered off to check memes on Reddit.
Most customers abandon their carts because the final price is more than what they expected. So you can entice them back with a discount code in your abandoned cart emails.
Casper does this pretty well with 10% off in abandoned cart emails.
‍
‍3. Cross-selling Emails:
Cross-selling is the art and science of introducing customers to complementary products to what they recently bought.
Since the customers have recently bought something from you and now trust you, they are more likely to buy the complementary products from you.
| | |
| --- | --- |
| Main Product Sold | Cross-sell product ideas |
| Shoes | Socks, Shoe-cleaning products |
| Laptop | Mousepad, Laptop sleeve |
| Training Guide | 1:1 Coaching |
| Hotel Booking | Local experience |
You can put various rules for various products in your system. If someone buys a laptop worth INR 50,000 then cross-sell 1yr warranty to them. If someone buys a laptop worth INR 1lac, cross-sell a printer to them.

Dollar Shave Club does it brilliantly along with the purchase confirmation email. They even incentivize the buyer to take action with the words 'Add before we ship'.
All of this can be automated with your email marketing software and your emails can do the selling for you while you build your business or go on vacations.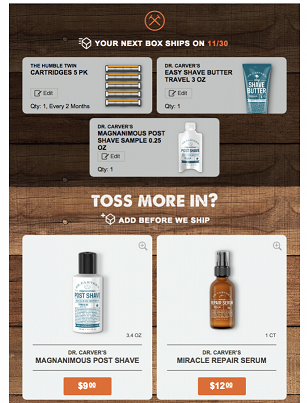 ‍
‍Broadcasts
These are the emails you send to everyone on your list or to everyone in a particular segment. They are created as and when you want to send them.
Let's see some examples of broadcast emails you can send.
‍
‍1. New product announcement:
Even your most engaged customers aren't checking your website daily for new products. But they do check their email daily. And that's where you need to be to tell them to check out the new product.
The aim of this email is also to tell them how your company's products are designed to solve their pain points and reiterate your brand philosophy.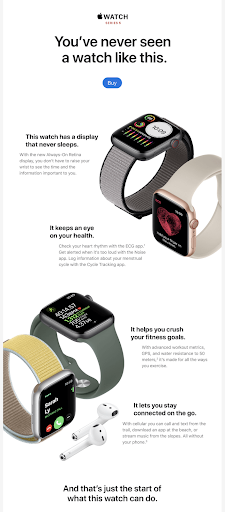 ‍
2. Newsletter:
Harry's does this well with their newsletter giving tips around grooming for men. They create content relevant to their target group which is men, and their products fit the man as the hero in their content.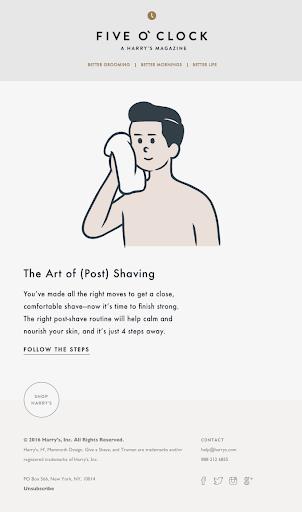 3. Sales & Promotions:
Sales, discounts, and exclusive offers are best sent as broadcasts to the whole list.
But only if it actually applies to everyone on your list.
If you are running a sale on particular products only, like on men's shoes or women's handbags then it's better to segment your list into groups and send a broadcast to only the relevant segment.
That way your email won't feel like spam to the audience to whom they are not relevant.
You can make your broadcast feel a little personal by adding the subscriber's name and writing conversational language.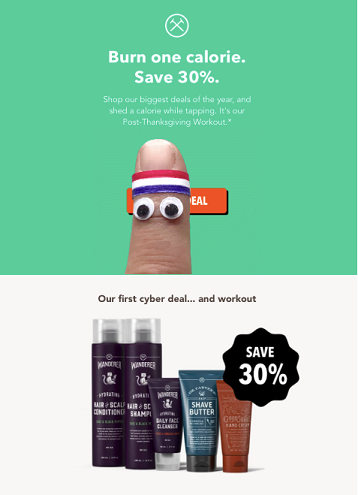 Many local retailers want to manage their email marketing in house rather than use a digital marketing agency. The trick with that is to use an efficient, easy-to-use, and affordable email marketing software.
I would suggest you checkout SendX for a 14-day free trial with just an email address. No credit card required. You will get quick access to all the features of the platform. The bonus part is that it's easy to use and extremely affordable.

For more tips on email marketing for your business, check out our other blogs on email marketing basics, tips to help you automate, etc.
FAQs
‍1) What is the need of email marketing for retailers?
Email marketing for retailers allows you to promote and sell your products, and to build lasting relationships with the customers. You can ensure customer retention and brand loyalty using retail email marketing best practices.
‍2) What are some retail email marketing best practices?
Here are the top 3 email marketing best practices you should be following:.
- Automate your email campaigns
- Segment your email list
- Personalize your email campaigns
‍3) What kind of automated emails can I send as a retail email marketer?
Broadly speaking, for retail email marketing, automated emails can be classified into welcome emails, cart abandonment emails, and cross-selling emails.
‍4) What kind of broadcasts can I send in retail email marketing?
You can send 3 main types of broadcasts you can send in the course of email marketing as a retailer:
- New product announcement
- Newsletters with relevant content to the target groups
- Sales, discounts, and exclusive offers