Email Marketing for Artists - The Only Email Marketing Guide an Artist will Need
As an artist, it can be hard to shift your focus from creating art to marketing and selling it. Both require a slightly different set of skills.
It's even harder to market correctly, using the right channels & right timing.
But it can be pretty straightforward if you use emails as the backbone of your marketing efforts. You get trackable results, actionable insights. And you have the full attention of your audience.
Whether you are a painter, an illustrator, or a sculptor, email is the best choice to spread the word regarding your art – and marketing it, too!
This guide will show you why email marketing is essential, how you can get started and what best practices to follow for best engagement and efficiency. And yes, we also have some ideas on the kind of emails you can send.
How To Build Your Email List
Gated content: People will part with their email addresses only if they get something in return. It's the law of reciprocity. So you can create some email content that will be accessible only when someone gives their email address and signups for the newsletter.
‍
Redirect your audience from other channels: If you observe the website or social media of any company, you will see that everything leads to collecting your email address & making you part of their ecosystem.
You can do that too.

‍
Ask the followers you already have on Facebook, Instagram, and Twitter to sign up for your email list. Provide them some incentive to do so - like promising to send them exclusive content for free, giving free workshops, discounts to your next exhibition, or promising to share not just your art but your journey as well with private Q&A.
‍Update your bio: Put a link to your signup form or website on social media, on dating profiles, and your business cards with a link to your website, and then show a subscription form when someone visits your website.
‍
Collaborate with artists: Contact people in similar niche or art galleries & ask them to email their list with a prompt to sign up to yours, and you can do the same for them in return.
‍
Collect emails at shows: Take an iPad or just a sheet of paper & place it on a table at the entrance or exit of your next show. After an art show ends, ask people if they would like to be added to the list. Offer an incentive in exchange for emails like a free workshop, your invites to a private session.
‍
‍Create content: You can create quality blogs related to art, artists, and attract the interested audience to sign up.
Ideas For Emails To Send
Welcome Email
A welcome email is your first impression of you in your subscriber's mailbox. Keep it positive & of course, thank them for joining your list first. Then you can share:
What kind of emails they can expect from you
If you have a store or gallery, where is it and how they can check it out
Invite them to join your social media channels
Behind the Scenes
We always see the finished product from an artist, and for someone who doesn't paint, sketch or make art... that feels like magic.
So to add a human touch, take your subscribers behind the scenes to show your process, your studio, setup, tools you use, etc. Let them feel that they are 'insiders' now as you are letting them into your life with these sneak-peeks.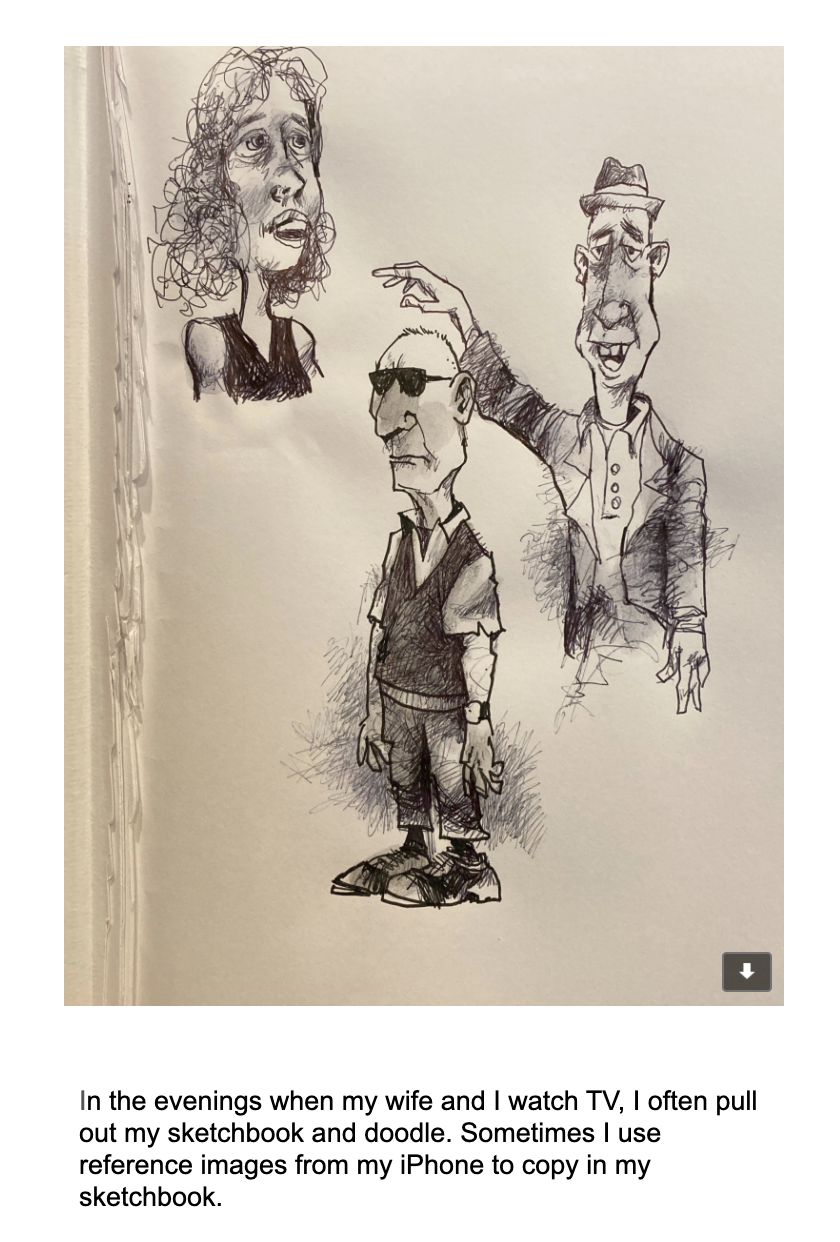 Show Invitations
Whether your art is getting displayed at a gallery or you are putting up a show in your studio, your email subscribers will really appreciate a notification about the event.
Write details of how to buy tickets, if there are any, how to reach the venue, timings of the show, what kind of art to expect. This will make it easy for them to take action and make a plan. And you just got visitors without having to spend on expensive ad campaigns or jumbo size posters.
If you want to give them an incentive to act, let them know a coupon code they can use to get free drinks at the show or enter before everyone else, etc.

Sales & Promotion
Once you have nurtured a strong artists-admirer relationship with your audience by giving free content, insider info, tips, etc., it's time to build a transactional relationship.
You can show off your art with high-quality images & persuading copy. Of course, keep it authentic and don't be pushy.
Most of them won't take out their wallets as soon as you say 'buy here', so you can create an email campaign that runs for a few days & informs them about various kinds of pieces on sales, the story behind them, and where they can buy it.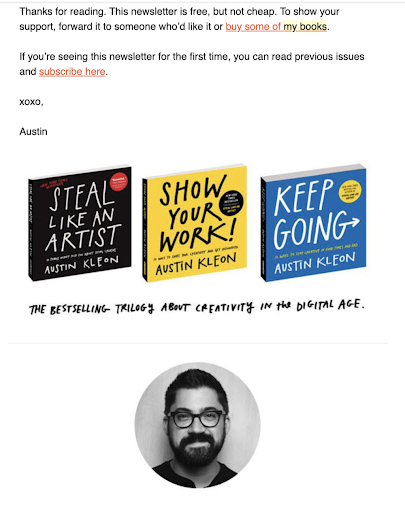 Email Marketing Best Practices For Artists
Automate your emails
Email marketing saves time and manual effort because you can automate a lot of emails.
You don't have to keep your brushes down every time someone signs up.
Here are some ideas on emails you can create once and let the system send automatically:
Welcome emails: You can pre-define a series of welcome emails introducing the subscriber to you, your art, and what to expect in future emails. And these will be periodically and automatically sent to the subscriber. You are thus keeping them engaged.
You can automate getting feedback from people who attended your workshop or bought your art.
Your email marketing software can send birthday or anniversary wishes to your subscribers automatically.
Segment your audience
Segmentation means creating different categories of your subscribers and sending content tailored for those particular groups.
The criteria to categorize can vary depending on your strategy. You can segment based on purchase history, engagement level, demographics, or location.
If you have a segment of people who haven't opened any of your emails in the past month, you can send a re-engagement campaign specific to this group. Similarly, you can send pre-launch content to your super-engaged audience ( your most loyal fans) and get their feedback.
This will maintain good open and click-through rates because the content will be specific to people's interests.
Avoid the spam box
If your emails don't reach the inbox, is there even any point in sending those emails?
So before you fuss over subject lines, which template to choose, etc., ensure that you have 90% + email deliverability. It is just a ratio of emails that reached the inbox/total number of emails sent.
If most of your emails are going to spam box, that means your email deliverability is low.
How to stay out of the spam box?
Don't use 'too-good-to-be-true' subject lines.
Avoid spammy words that are used to make claims or outrageous offers like '100% off', 'free,' '$$$,' 'chance,' 'password, 'guarantee.' There is a long list of these words you can easily find on google. Here is a full list of words you should avoid.
Use correct spelling and grammar. Take time to edit and proofread. You can use services like Grammarly to help you with that.
Link only to legitimate sites with reputable domains. Avoid shortening your links when you link.
Don't use image-only emails: Email clients can't read images, and hence using image-only emails is a notorious technique used by spammers to hide their text. So when your behaviour matches that of a spammer, your emails won't pass the scrutiny of spam filters and hence won't make it to your reader's inbox.
Let people unsubscribe: If your unsubscribe button is hidden or not present, readers are going to mark your emails spam. All email clients give them that functionality. And if you get a lot of spam complaints, your future email will be automatically sent to spam.
This is definitely not an exhaustive list, so read more; you can check out this blog on email deliverability.
What's Next?
It's not a straight path to become an established artist, but email marketing can certainly help you. You can finally have a solid strategy to turn your passion into a business if you include email marketing.
The tips and ideas we shared above will be only helpful if you take the first step, sign up for an email marketing software, and just create your first email newsletter. You don't have to think about all the complex stuff yet.
I would suggest signing up for SendX. Why?
Once you sign up, you will see how intuitive & easy it is to use the platform.
It comes with all the nice templates & features an artist would need in an email marketing platform. You will have your first campaign ready in minutes.
You will be able to build a strong relationship with your fans & followers with the help of autoresponder & automation.
This email marketing software for artists ensures a high inbox delivery, which ultimately builds up your fan base.
It doesn't cost you more than a mug of beer per month.
You don't even have to commit anything before you are sure. You just have to give it a try with the 14-day free trial: no credit card or any long-form filling process involved. Sign up here.
FAQs
‍
1) Why do I need to go for email marketing as an artist?

Whichever type of an artist you are, whether you are a painter, an illustrator, or a sculptor, email is the best choice to spread the word regarding your art. Because, you will get trackable results, actionable insights, and you have the full attention of your audience that have already subscribed.
‍
2) Can you offer some advice on how to grow my email list as an artist?

Here are some top tips to grow your email list as an artist:
- Create and offer valuable content in return for signing up
- Lead your audience from social media to signing up with their email
- Collaborate with other artists and art galleries
- Personally collect emails at art exhibitions and shows.
‍
3) What kind of emails should I be sending as an artist, to consumers of art?

You can send the following types of emails to your audience:
- Welcome emails thanking them for signing up, with setting expectations of the content that you will be sending them
- A behind the scenes sneak-peeks into what goes into making the finished art product
- Invitations to your art exhibitions at art galleries, your own studios, etc.
- Sales emails and promotional emails, after you have built an artist-admirer relationship.
‍
4) Can you share some email marketing best practices for artists?

Some of the best practices for artist's email marketing are as follows:
- Automate emails such as welcome emails, feedback emails, birthday, anniversary emails, etc.
- Segment your subscribers and send them content tailored for those particular groups
- Ensure high email deliverability by staying out of the spam box.
‍