If you are looking to send high volume emails, you need an extremely robust emailing infrastructure with a high email deliverability rate.
‍
SendX is capable of this kind of work.
‍
SendX has sent more than tens of billions of emails, and we have worked with more than 3,000 companies to help ease the pains of sending high-volume emails. We have high delivery rates, affordable plans, intuitive UI, and 24/7 world-class customer service.
‍
You can try the full range of features of the platform for free for the first 14-days. No credit card or long sign up process required. You can sign up by clicking the button on the right and get quick access.
You will read the general advice to personalize the message or segment your list all over the internet. And it's not wrong. You do get the benefits of increased engagement and greater brand reputation.
‍
But these efforts are not always the most efficient route. Sometimes, you need to send the same email to everyone on your list. For example, in the case of newsletters, event updates, app features, etc.
‍
This guide will take you through the best practices if you're going to send a high volume of emails.
‍
Before you read further, let's get on the same page and know the following characteristics of high-volume email:
Email is sent only to legit subscribers (opt-in list)
The mailing list is not segmented
The email has a universal appeal
It comes with one clear CTA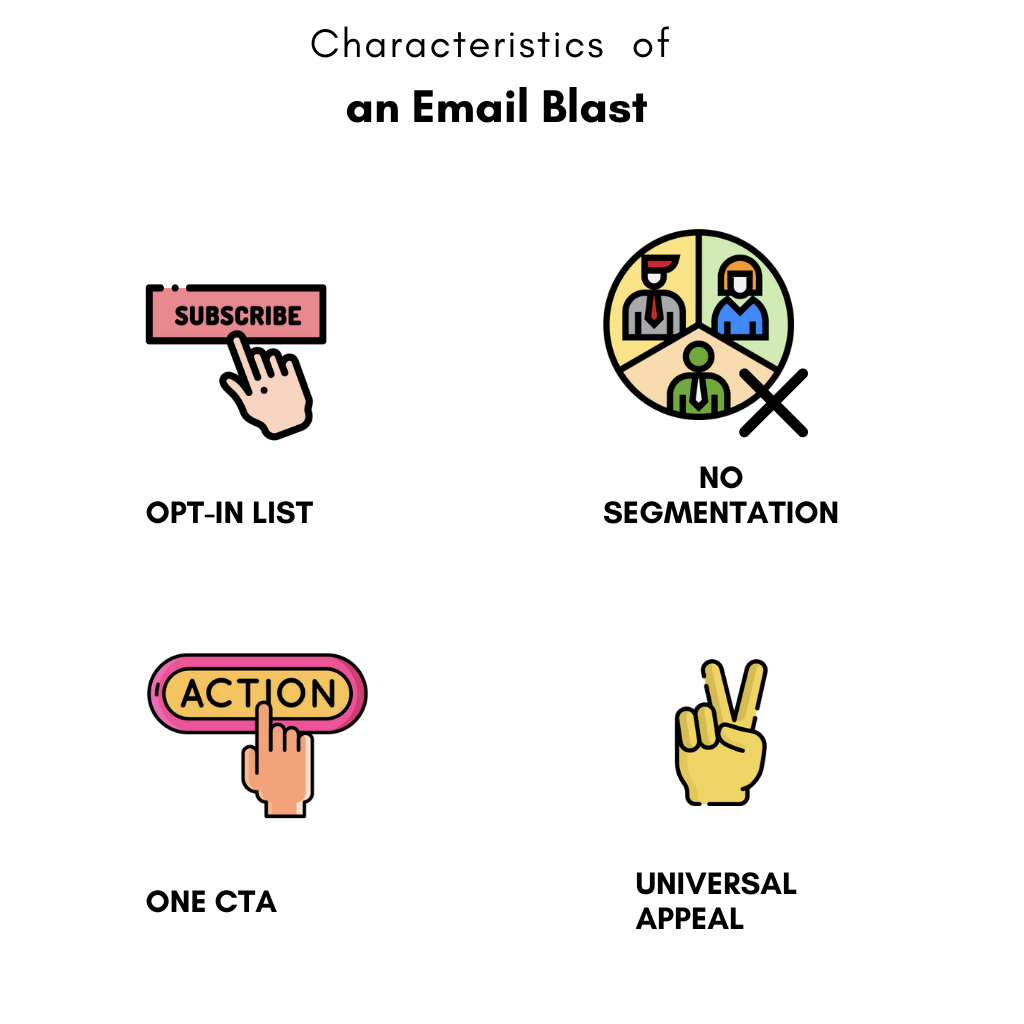 Best Practices for High Volume Email Marketing
Send only to 'subscribers'
Every contact on your blasting email list should be opt-in. Oh did I say 'should'? Sorry, I meant MUST.
If your subscribers permitted you to send the emails by subscribing or by ticking a box, then it's an opt-in email list. If you obtained this list from business cards, or third-party 'source' but not the permission to send emails, then it is not an opt-in email list.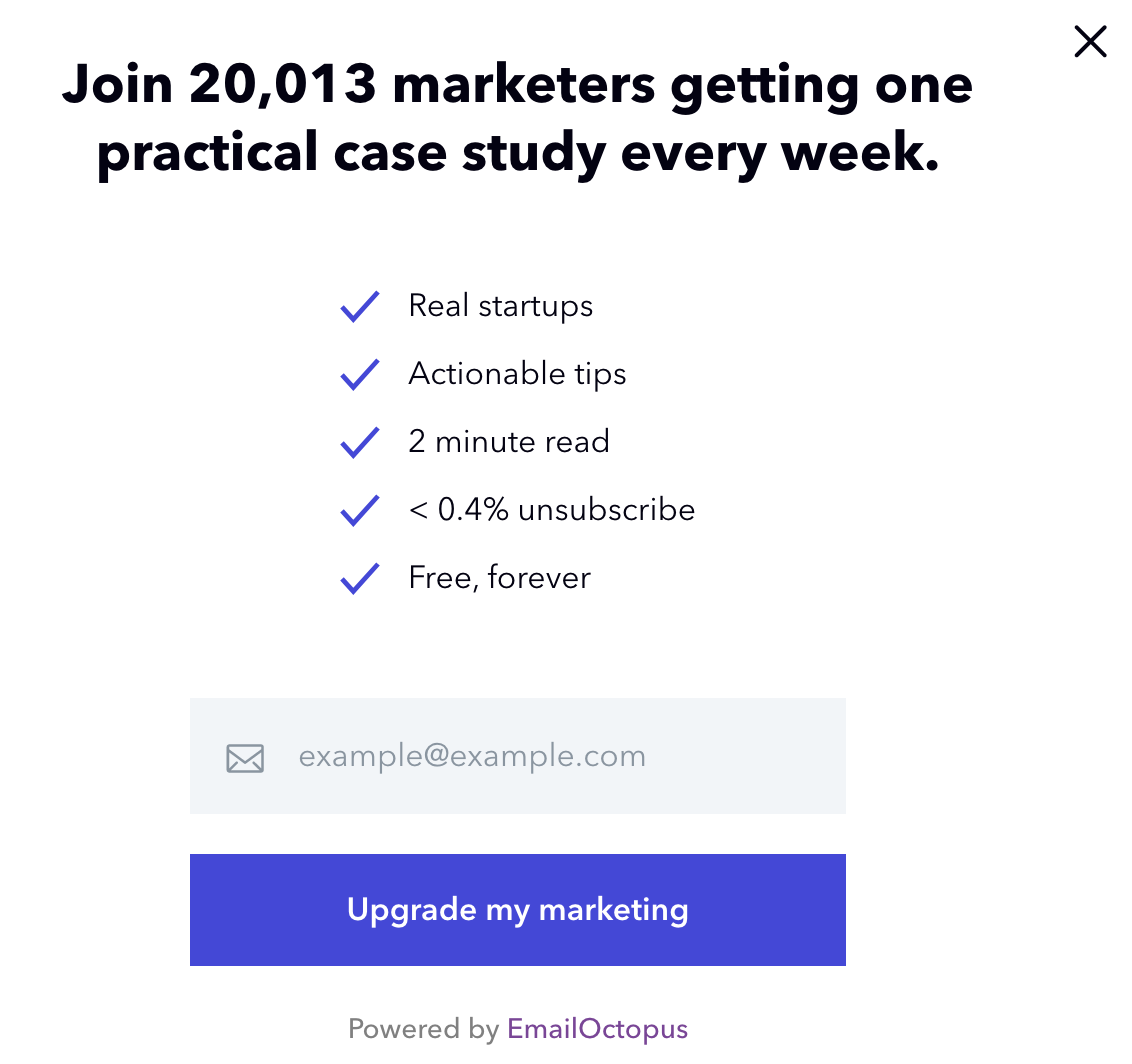 This is what an opt-in form can look like - a simple description of what people can get on subscribing, field to enter email address and a CTA.
‍
This will make 3 magical things happen:
‍
Regulatory compliance with CAN-SPAM laws.
Ensures that your relation with the subscriber is mutual.
An enviable bright metric in terms of deliverability and engagement.
‍
KonMari (Clean up) your list
Once you have a 'subscribers' list, the next step is to clean it up.
Remove any invalid, inactive, spam traps, or catch-all email addresses.
Doing that will give you two major benefits:
‍
You will avoid being marked as a spammer as you will be sure that you are sending emails to a valid list and people are engaging with your emails, thereby improving your delivery rate.
You will also save money by removing irrelevant addresses that were anyway going to bounce and increase your email bounce rates.
You can use an online service to do so. They provide 99% accuracy. Check out the list here.
‍
Warm-up your IP
‍
Always send high-volume emails from a warmed-up IP.
The way to avoid the problem of being marked as spam with a high volume of emails is to create an IP warm-up schedule.
How to do that?
Progressively increase the number of recipients of your email campaign.
Send emails to a highly engaged audience and then add a less involved audience.
‍
15-30 days is usually good for this procedure.
‍
Typically the organic growth of your business, by its nature, creates a warm IP. Most reputation systems only store data for 30 days, so you should not go 30 days or more without sending on any given IP. If you do, then you will need to warm it up again.
Universal messaging
Once your list is checked and all cleaned up, let's get to the actual email now.
Make sure the message in your email is relevant to almost everyone on your email list.
You wouldn't want to send a message about a sale in your Paris store to people in New Zealand. So, don't be lazy to think through it and segment whenever necessary.
Other tips to make your emails get engagement:
‍
Your subject line should be direct and truthful about what is in the email.
Keep your email short. Subscribers tend to skim longer email messages anyway, so stick to your most important points.
Use formatting that highlights your most valuable content.
Use High-quality images that are responsive to various device sizes.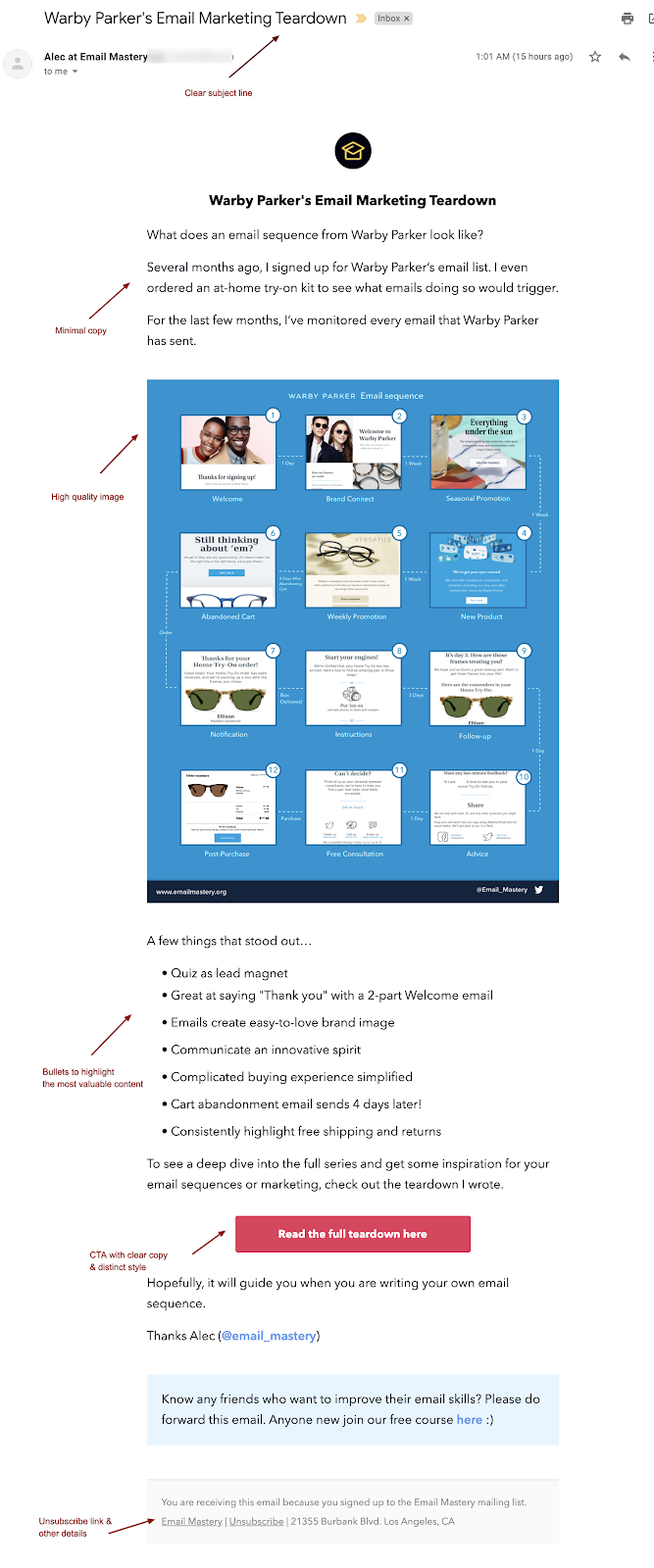 Optimize for mobile
Make sure every email that you send out is optimized for mobile viewing. The majority of people now check emails on their mobile devices. So if your emails do not display properly, your efforts will go in vain.


Include Unsubscribe link
When you send an email to the whole list, there are high chances you will experience a wave of unsubscribers.
But it's not always a bad thing. It's better to have a highly engaged list rather than just a vanity metric of a large no. of a not interested public.
Two important tips:
Make unsubscribing easy. One-click. That's it.
Put the unsubscribe link in the footer. Don't make people log in for unsubscribing.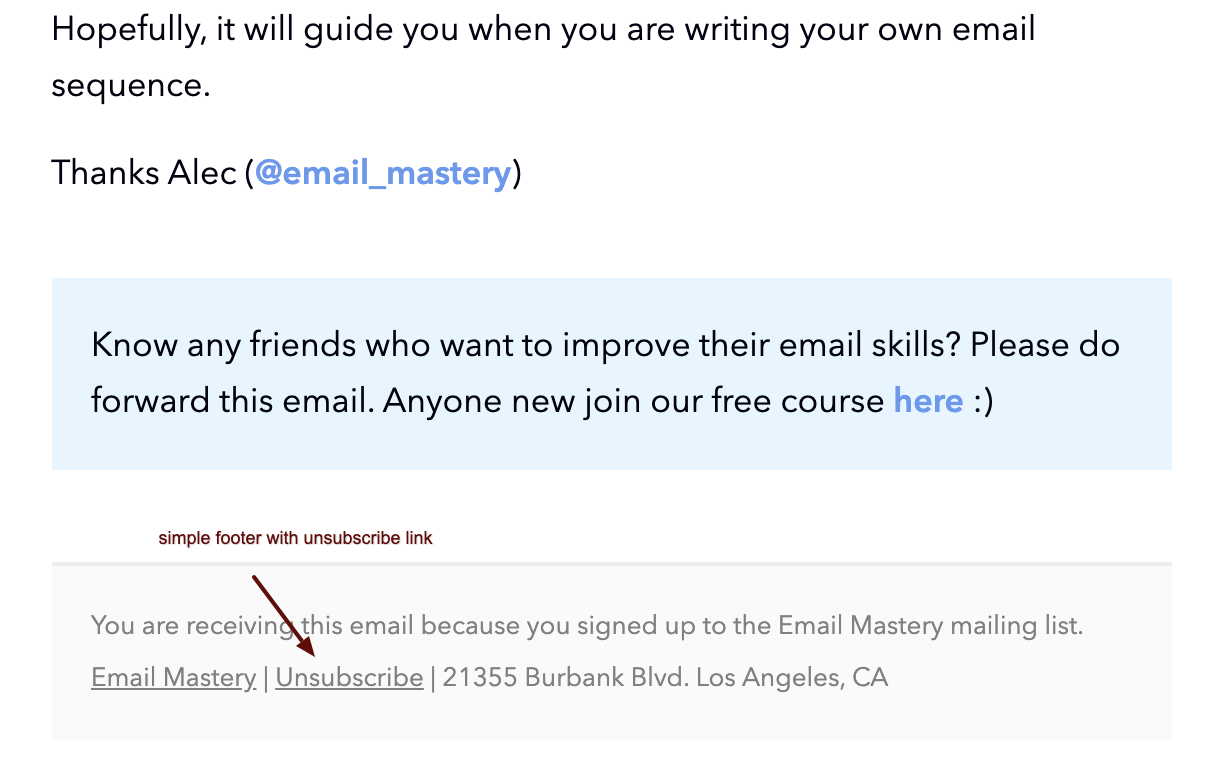 Unsubscribe link in the footer can be as simple as used by Email Mastery emails… Just a word & one-click step to unsubscribe.
‍
If you don't include an unsubscribe link, first of all, you are violating the law. According to the Federal Trade Commission's Website in the USA - You must honor a recipient's opt-out request within 10 business days. Similar laws apply to almost every other country.
‍
Secondly, you will have a large number of people reporting spam. A high volume of emails combined with a surge in spam complaints will spoil your deliverability.


Wrap Up
Today, marketers prefer to use services that help send high volumes of email to deliver important messages with minimal effort. However, if high-volume email marketing is not properly managed, users may view it as spam, and consequently, it may hurt sender reputation.
We hope the best practices like maintaining list hygiene, warming up your IP, not 'buying' the list, and optimizing your emails for all devices will help you deliver your message right into the inboxes.

If you wish to read further on how to avoid the crash landing into the spam box, you can check out some actionable tips from this guide we wrote a few months back on how to send bulk emails without spamming.
FAQs
‍
1) What is high volume email marketing?
High volume email marketing means exactly what it sounds like - the process of sending a very high number of emails (also known as mass emails) usually to your full list at one go.
‍
2) What are the main challenges in high volume email marketing?
The main challenges to high volume email marketing are deliverability, relevance, and personalization.
‍
3) What are the characteristics of high volume email marketing?
The main characteristics of high volume email marketing are:
1. Email is sent only to legit subscribers (opt-in list).
2. The mailing list is not segmented.
3. The email has a universal appeal.
4. It comes with one clear CTA.
‍
4) How can we achieve maximum customer engagement for our high volume email marketing using SendX?
‍In order to achieve maximum customer engagement for your high volume email marketing, you need to follow certain best practices:
1. Send only to 'subscribers'
2. Regularly clean up your list
3. Follow anti-spam hygiene
4. Warm up your IP by creating an IP warm up schedule
5. Make sure the message in your email is relevant to almost everyone on your email list.
6. Optimize for mobile
7. Include an unsubscribe link
‍
5) Since we are sending to a lot of people, chances are most of them will read their emails on a mobile. How can we optimize for this in SendX?
SendX provides an email preview feature in which you can verify how your email looks both on desktops and on mobile devices, using which you can optimize for mobile very effectively.