Product & Features
Improve Your Email Deliverability & Engagement

SendX offers a robust set of tools to help you craft beautiful emails & send them effectively to your audience, from the simplest newsletter to the most complex marketing systems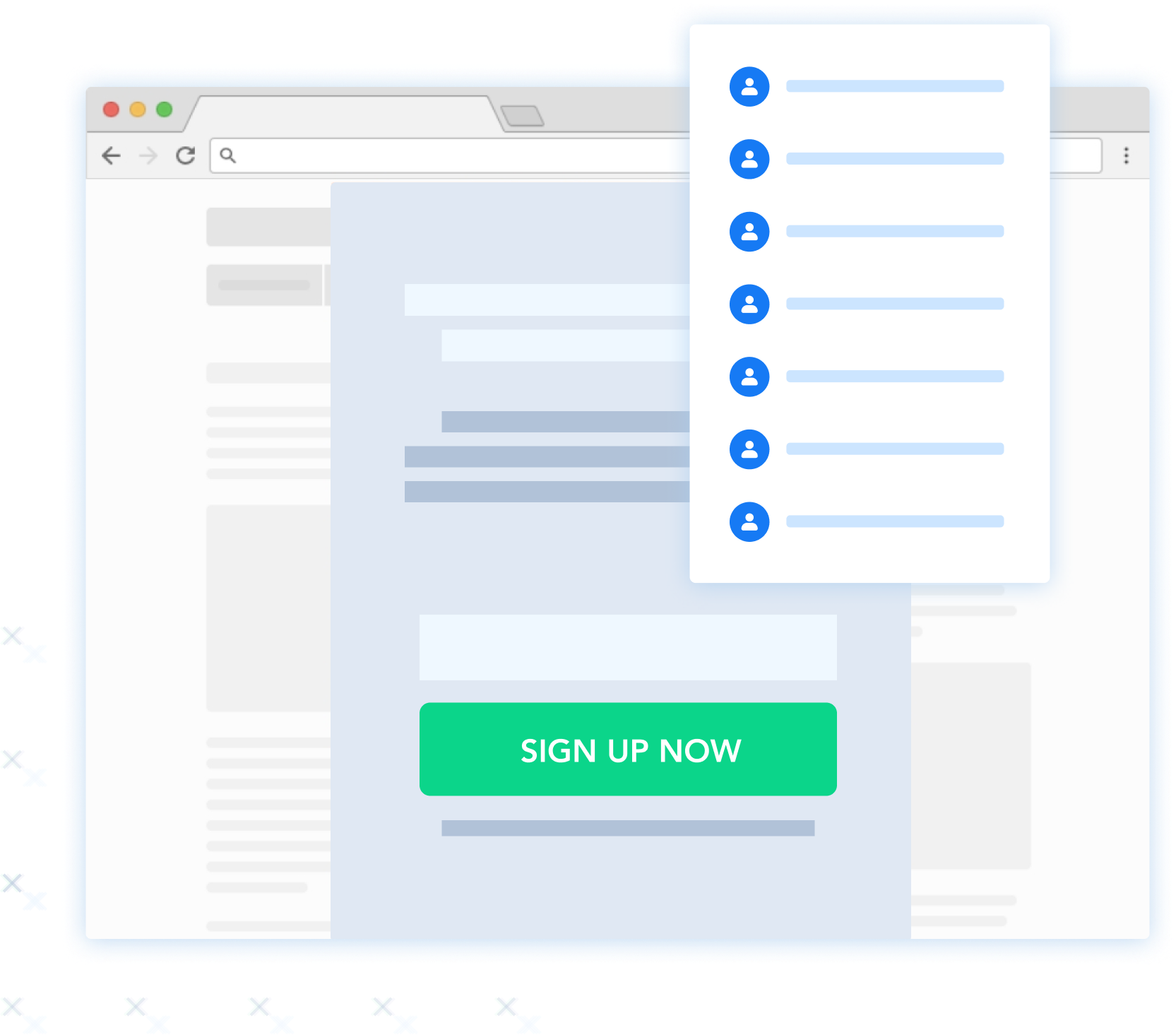 Forms and Landing Pages Help You Grow Your List

Start with one of our 50 proven-to-convert templates or build your own form or landing page and watch your audience grow. Forms are easily embedded into your live website, or just use our Wordpress plugin. If you're testing a new product, spin up a quick Landing Page and send ad traffic to it in minutes. Learn about popup forms

The thing I like most about the software was how simple it was to set up and use.
-Pete C.
IT Director, Real Estate, 10,001+ employees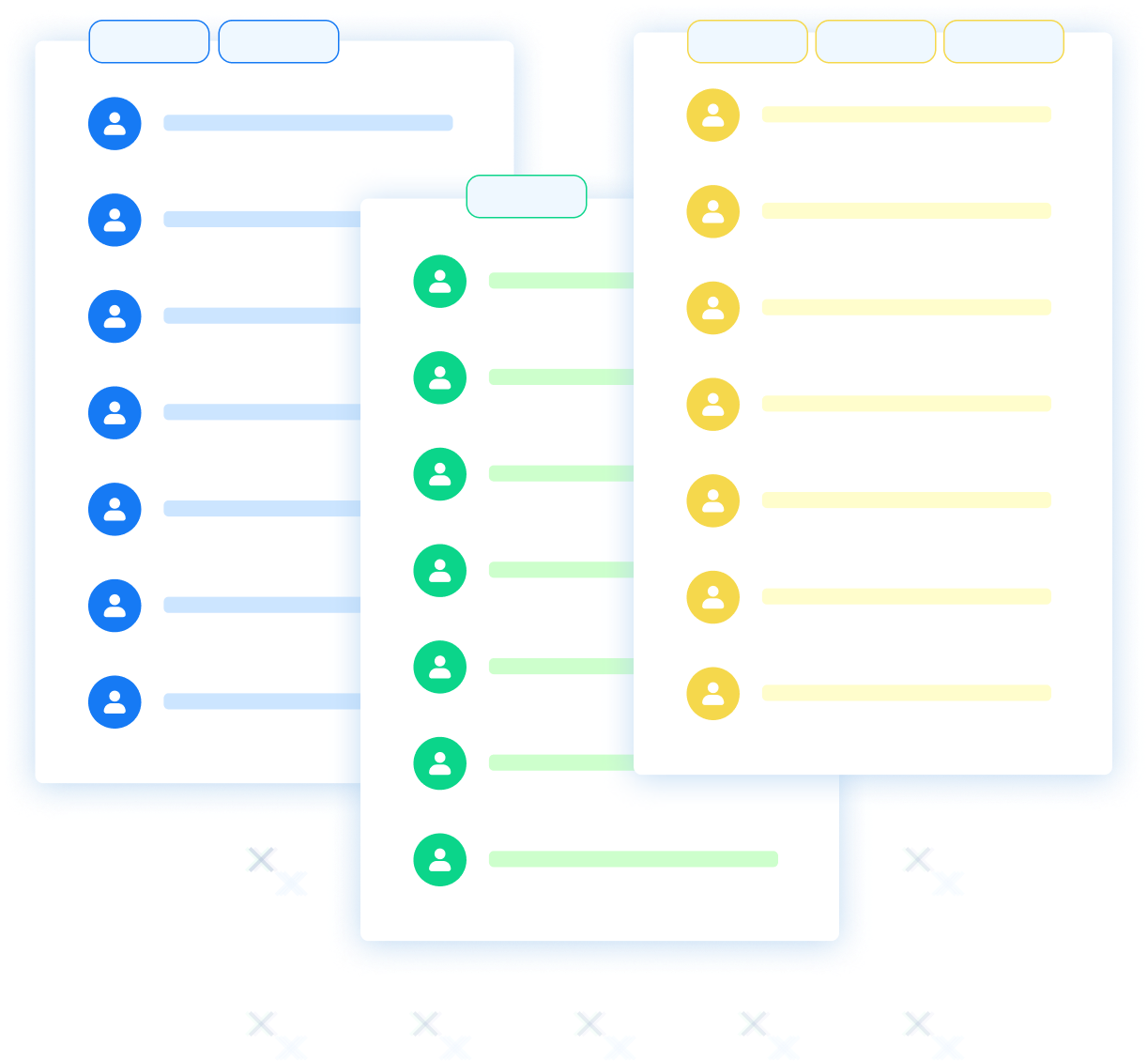 Tagging & Segmentation Help You Stay Organized

Tagging and segmentation make it easy to organize your list based on any attributes, including contact behaviors and custom properties. Imagine being able to craft a message just for highly engaged subscribers with a birthday coming up. You get unlimited tags and segments.

[SendX is a] Reliable Email marketing tool to run targeted email campaigns. It had advanced automation features to trigger emails. We can segment [our] list using customer behavior and retarget them.
From another 5-star review on Capterra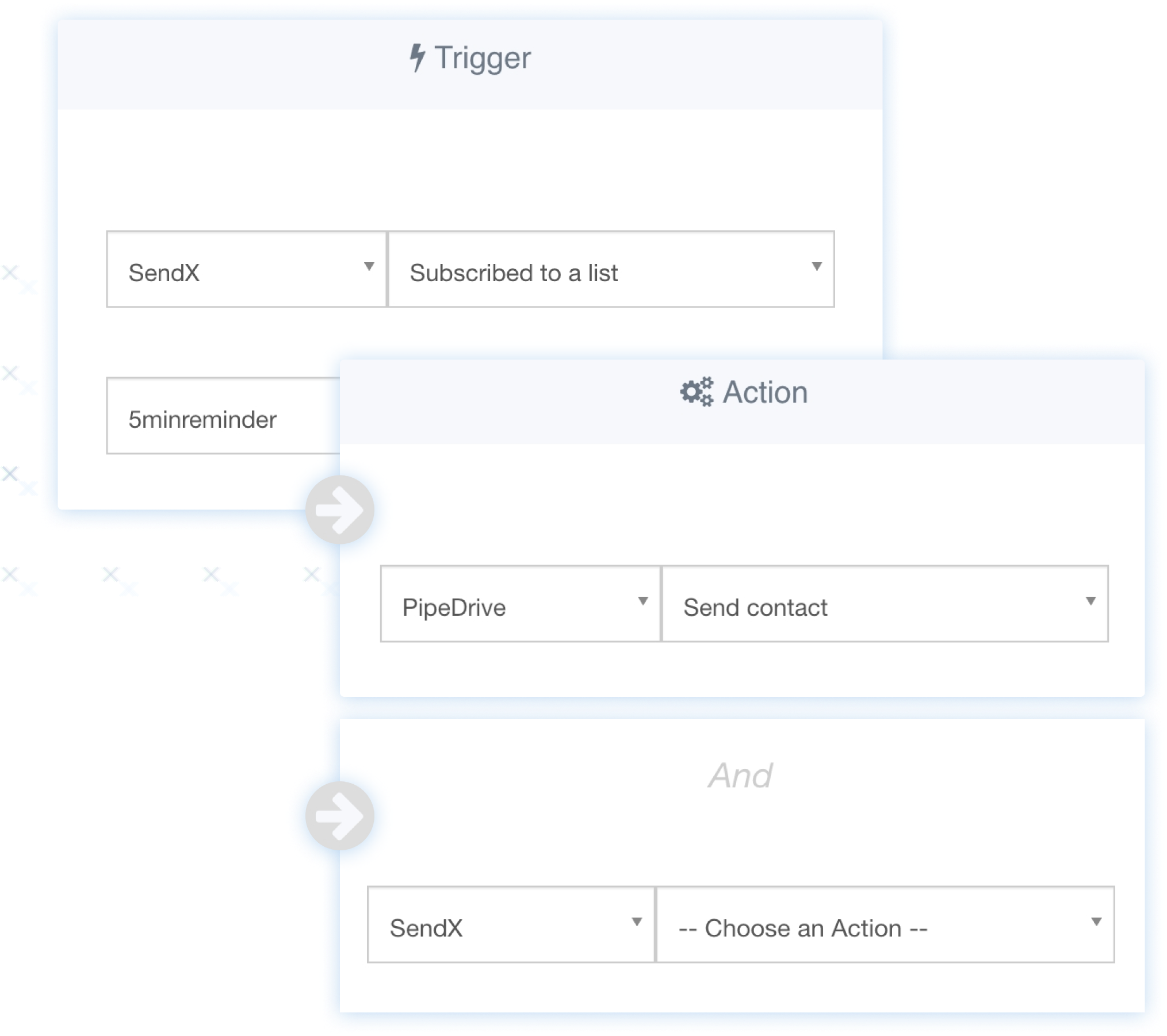 Advanced Automations to Squash Repetitive Manual Tasks

If you need to clean up your list, or run an ongoing integration with a 3rd party app, SendX allows you flexible no-code options. Automations allow you to add or remove tags, send data out or process inbound data. With SendX you can deliver onboarding emails, RSS updates from your blog or even an anniversary campaign to thank your loyal customers. Explore what automations are possible

[Our] marketing automation initiatives are paying off with SendX and we see a clear ROI with them. I would recommend anyone who has a marketing automation use case (like ours - EdTech) to try out SendX
-Jayarajan J.
Digital Marketing manager, E-Learning, 51-200 employees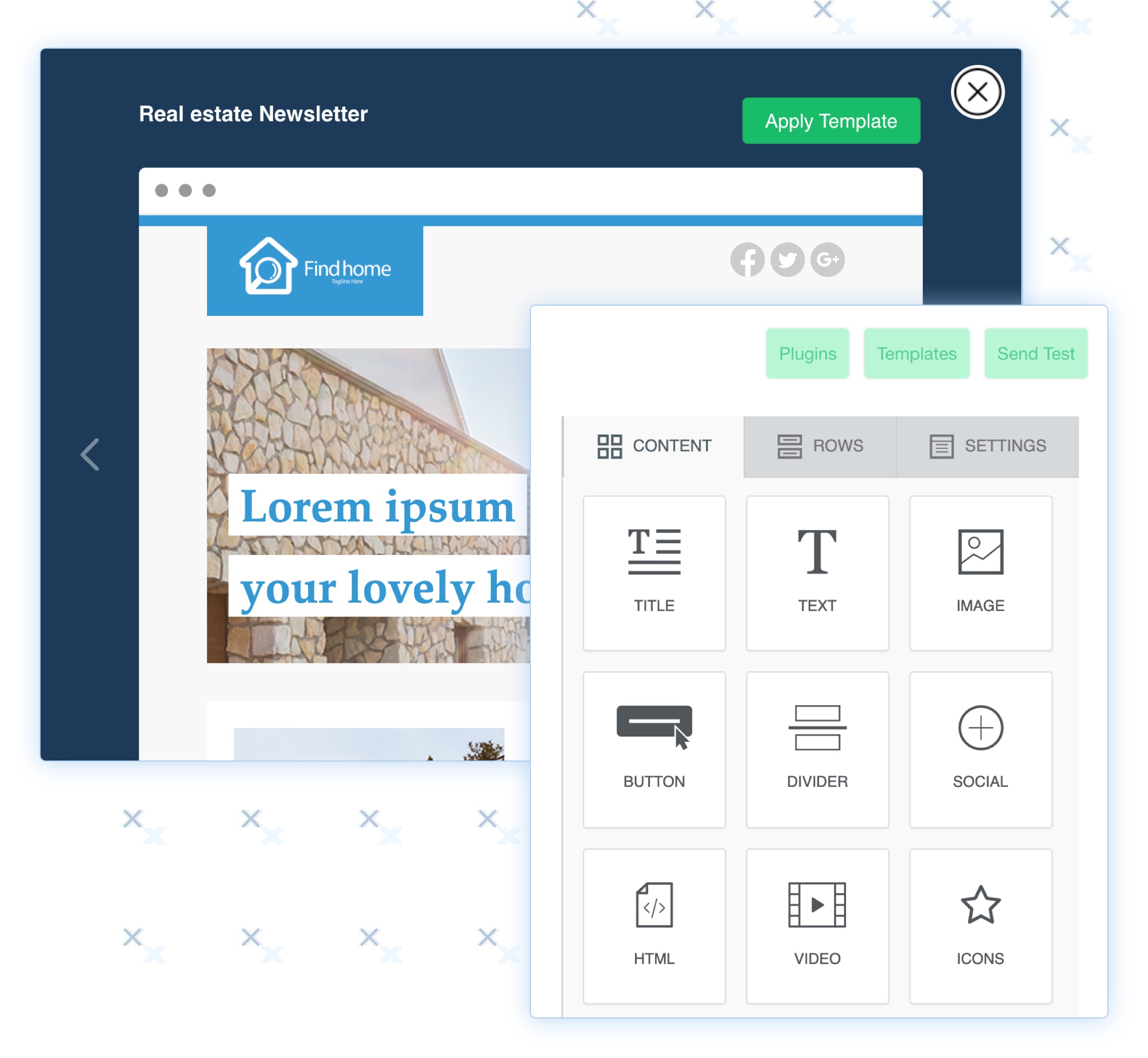 Easy Drag & Drop Editor to Build Attractive Emails

Our user's favorite feature is the visual email builder. Drag a text block into the email and you'll see exactly what your subscribers will see. Drag in a visual block or video block to make your email more clickable. SendX's builder provides complete design flexibility. Additionally, we offer 500,000+ Free Stock Photos for all of our users. Plus, our emails look great on mobile devices too! Learn more about the WYSIWYG builder

SendX is an awesome tool that lets you create attractive emails with its inbuilt templates. It has an intuitive interface facilitating the automation of emails. The customer support team is bang on and helps resolve issues at a faster pace [than the competition].
From another 5-star review on G2 Crowd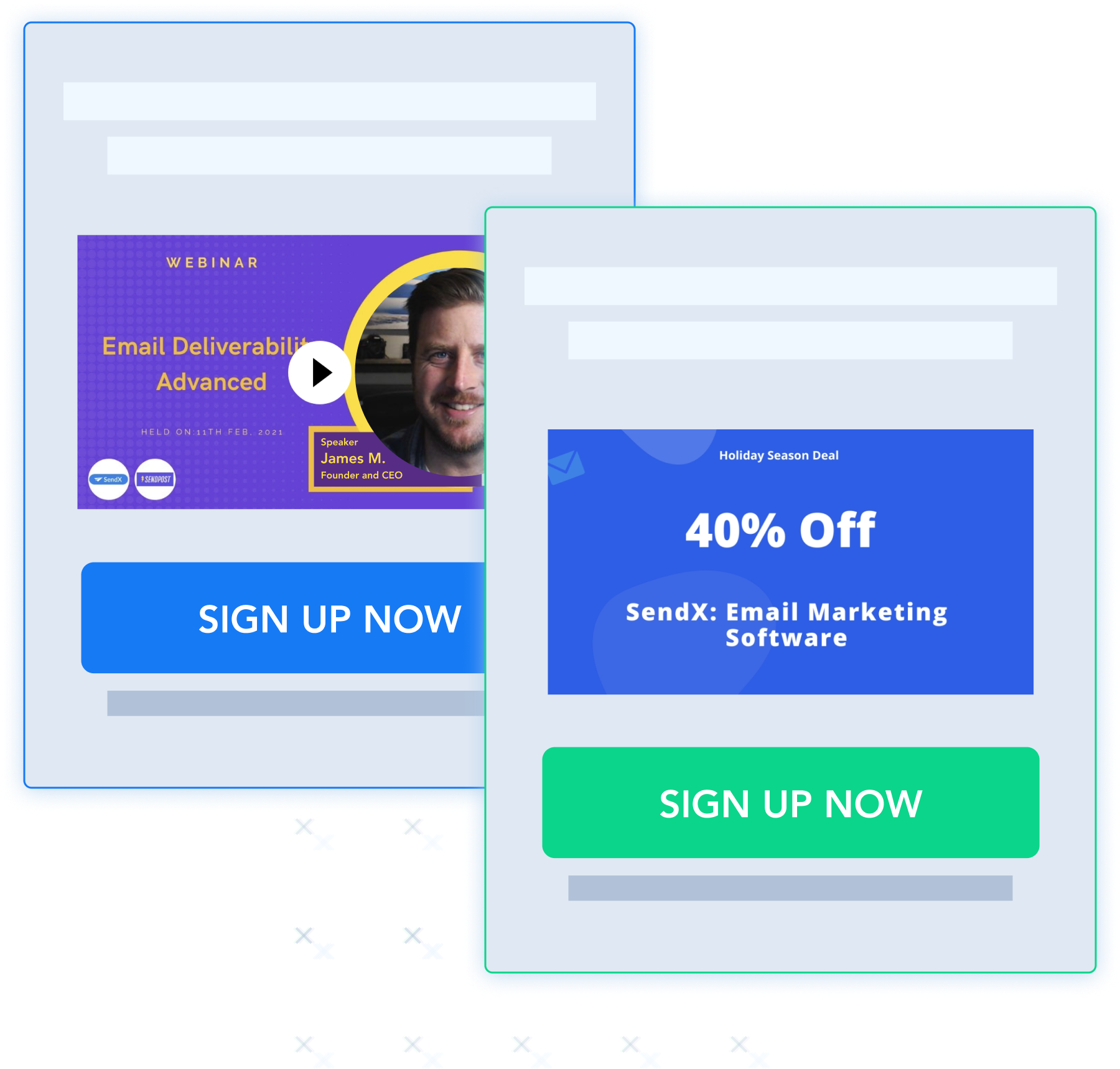 A/B Testing to Make Sure Your Message has the Highest Engagement Possible

The best way to make sure your messaging is on point is to test it. Not sure about this subject line? Test it. Maybe that image is better than the other one? Test it. SendX let's you run experiments so you can constantly nudge up your engagement scores and your ROI. Explore how to use A/B testing

I've been using SendX for about 11 months now. Can't speak highly enough about it. I was looking for an alternative to MailChimp - it's easier to use, and with more features. I think most impressively, the support has been excellent. Never waited more than 30 mins for a response, and I've seen a constant stream of quality features added. Really recommend [it].
-Steven K.
Marketing Manager, Religious Institutions, 11-50 employees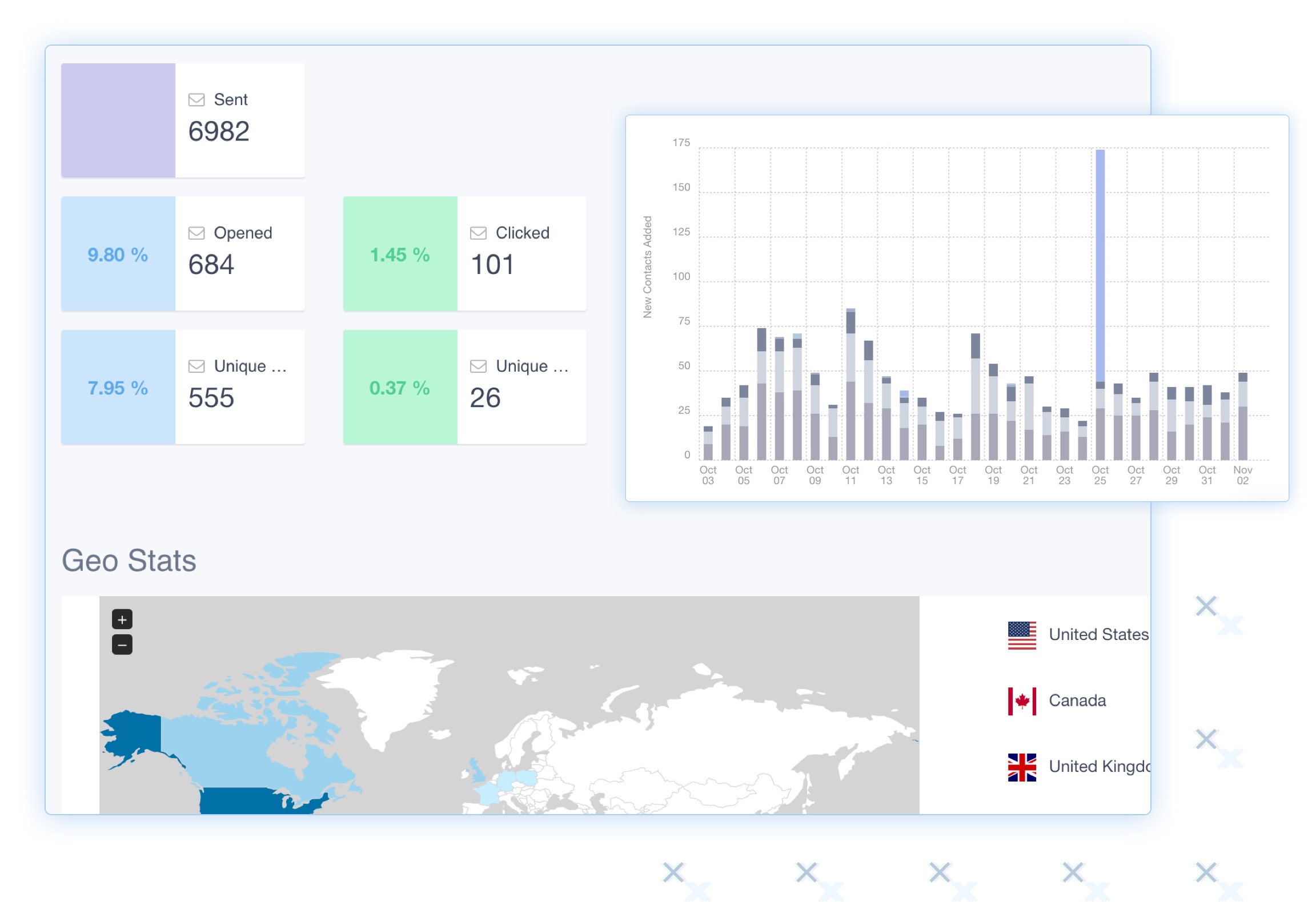 Powerful Reporting to Share Your Successes

Increase your understanding of your message effectiveness through SendX's clear reporting and heat mapping tools. You'll be able to quickly see what parts of your email got the most clicks with heat maps. Zooming out, you can watch your list size and engagement rates grow with beautiful graphs and charts. Your marketing performance should be easy to understand so you can make decisions quickly.

[The] Email marketing software space is super crowded but SendX truly stands out with it's pricing and it's continued focus on improving delivery. Be it bulk email or just pure play email automation, SendX has worked really well for us. + Their pricing really hits the sweet spot.
Another 5-star review on Capterra
3,000+ Businesses Depend On SendX To Drive Marketing, Sales And Customer Retention Through Email:
Even More Features to Brag About
Free Migration for Large Volume Senders
Looking to migrate to SendX but don't have time? High-volume senders qualify for free migration services. If your list size is 10,000 or more, we'll help you recreate your old setup and list in SendX to make the switch as seamless as possible for you.
Integrations
SendX integrates via API to Amazon, CRM, Zapier and many other 3rd party services. Our REST based API is fully documented and supported. Learn more about integrations
Dedicated IPs Available
If you don't want to share your sending IP with other users, we can assign you dedicated IP addresses and then help you warm them up. Here's how dedicated IPs work
Unlimited Teams & Users
SendX pricing is based on list size, not number of users. As your team grows, we will never penalize you. Invite as many users and create as many teams as you need to be successful.
Deliverability Consulting
If your needs are more complex or if you have specific concerns around deliverability, we offer professional services. Contact our sales team to schedule a call
Resend To Unopens
Resend email campaigns to non openers with a single click by changing the subject line. Get more opens and reach more subscribers.
Frequently Asked Questions
What kind of support can I expect from SendX after I sign up?
We provide excellent customer service with standard business hours five days a week via live chat.
How do I import my old contacts to my new SendX account?
You'll need a list or a tag to import the contacts into your account. You can create a 'list' from Contacts > Lists > New and import the contacts into it using a CSV file (separated using a comma). Here is a step by step guide on how to do it.
Can I upload my custom email template?
What can I do if my email landed in the spam folder?
We are sorry to hear that your email landed in the spam folder. Please ensure that you are using your business domain (eg: marketing@yourbusiness.com) to send promotional emails. Your business domain should also be whitelisted with SendX. Here is how you can do that.
Can we use more than one business domain to send emails?
Can we integrate SendX with "X software"?
We have direct software integration available for the following products: Woocommerce, Intercom, Stripe, Pipedrive, Click funnels, Paypal, Teachable, Instapage, Demio, Convertbox, Samcart, and Zapier. If the software you've requested is not listed here, you can check if it's compatible with Zapier over here: https://zapier.com/apps. If so, you can use Zapier to connect the software with SendX.
How do I download my invoice for SendX?
Currently, we only provide invoice/s on a request basis. You can just drop us a message on the live chat or you can send us an email and we'll share the requested invoice/s with you.
Can we send emails based on events?
You can send event-based emails for sure. For example, send an automated birthday wish to your customers or send a welcome email when someone subscribes to your service, etc. All you have to do is to choose the right automation rule from the available choices. Check this out for more information.
Can I pay using Cryptocurrency?
Unfortunately, we don't accept Cryptocurrency as a method of payment yet. We do accept all major credit cards, you can try using the same.
Do I need a domain to send emails? Does SendX provide domains?
Yes, you'll need a business domain to Send emails from SendX. Since email service providers such as Google/Outlook demands the marketers to use a business domain to send promotional emails, we don't support mail sending from publicly available domains such as gmail.com, yahoo.com, etc.
SendX doesn't provide domains, you can reach out to any domain registrar such as GoDaddy or Namecheap to buy your own business domain.
Do you allow Crypto/NTF/Affiliate/Gambling business? Can we use your service?
We never discriminate against our users based on their industry. Feel free to use SendX for your marketing needs. However, please keep in mind that we don't support cold email sending and your mailing list should be opted-in.