AWeber vs Mailchimp – Compare their Pricing, Features, and More [2023]
11 min read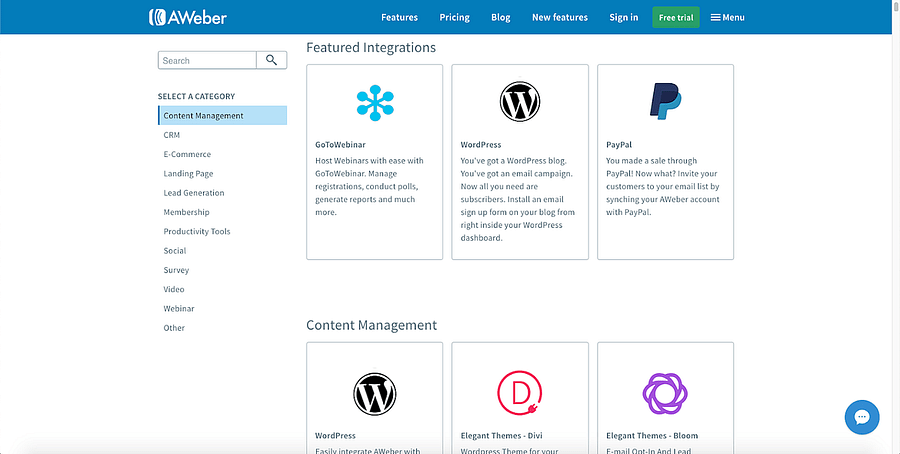 Quick Summary:
Both AWeber and Mailchimp offer a free plan, but it's not an apples to apples comparison because Mailchimp chargers for email sends, whereas AWeber charges for the number of subscribers.
From an automation standpoint, Mailchimp has a better range of automation capabilities than AWeber, but AWeber's editor is slightly easier to use.
When it comes to support, AWeber's chat support is 24/7, and they have phone support during business hours as well, whereas Mailchimp offers phone support only for the premium plan.
Both handle subscribers the same way, and both have almost the same number of integrations.
One is from 1998 (AWeber) and the other is from 2001 (Mailchimp), both of them would be considered young adults if they were people. Being companies that turn those dates into something even more amazing.
Despite being older, people usually consider AWeber a Mailchimp alternative and not the other way around.
And with the recent changes in Mailchimp (becoming an all-in-one marketing platform) people are looking more for an alternative to this former email marketing platform.
If you are a small business, it makes total sense to go out there and find the best alternative, and this is why we are putting them face-to-face in this AWeber vs Mailchimp article.
Comparison - AWeber Vs Mailchimp
| | AWeber | Mailchimp |
| --- | --- | --- |
| Price | Has a free plan in which you can send mails to 500 subscribers. Paid plans start at $12.50 per month | Free to send 1000 emails. Pai plans start at $11.03 for up to 5000 emails |
| Subscribers | Charge you for unsubscribers in the list | Charge you for unsubscribers in the list |
| Templates | Has a bigger number of templates, but their designs feel a little bit outdated | The templates have a clearly superior look |
| Automation | Automation is a feature called Campaign in Aweber. Easier to edit and modify. Has a better UX, yet not as powerful as automation on Mailchimp | Has a good range of automation capabilities yet the editor is not very flexible |
| Reporting | Provides basic reporting | One of the best in the industry. Provides basic reports plus advanced stuff like eCommerce reports, geo-tracking reports etc. |
| Integrations | Quite a few integrations are available with big names like Zapier, PayPal, WordPress, Shopify, Salesforce and more | Has 227 integrations with a limited search functionality making it tedious for you to find what you want |
| Support | Email support available on all plans only, phone support available on premiere plans | Has 30 day support via email on their free plan. Phone support available on paid plans only |
| Delivery | Has a 79.8% overall deliverability rate according to EmailToolTester | Has a 84.9% overall deliverability rate according to EmailToolTester |
By the way, being a small/medium business you might as well check us out - SendX can be a great and affordable alternative if you are looking for an email marketing platform, feature-rich and less pricey than most of the email platforms from the market.
AWeber vs Mailchimp - Weigh-in Faceoffs
From the blue corner comes AWeber, a very well known email marketing tool, with a lot of experience in the market. That tries to target the SMB with the unique value proposition of helping them grow, and giving businesses a 30-day free trial in order to convince them throughout the first-hand experience using the product.
On the other side, on the yellow corner, we have the happy monkey (Mailchimp) - a well-known fighter in the realm of email marketing that decided to go even bigger and step his game up becoming something more than an email marketing platform. What does this mean? I hope to elucidate you in a bit, I promise.
I must say none of them are that easy to use if it's your first ride with this kind of tool. Mailchimp has a cleaner design, and both of these tools try to help you set up your account for the first time so you don't get lost in there, but I still believe that they could be more straightforward.
1) Aweber Vs Mailchimp - Which Has A Better Email Builder?
We have all been there, we have this campaign to go out like… tomorrow, and we don't have any clue about the aesthetics of the email or even the content. Usually, these tools give us a hand and present us with some templates well designed, and even a written email to modify or get inspired by.
Both Mailchimp and AWeber have all the basic following email builder functionalities:
Drag & Drop builder
Plain text emails
HTML Editor: Option to code your own email using HTML, from scratch
Templates: You can use the existing templates or export your own from 3rd party platforms
Mailchimp has a few extra features such as templates exported from 3rd party platforms or using past campaigns as templates and customizing those.
When it comes to the visual look of the email builder, the Mailchimp builder definitely looks pleasing and easy to use. But there is not much difference in elements they provide such as buttons, boxes, images, etc.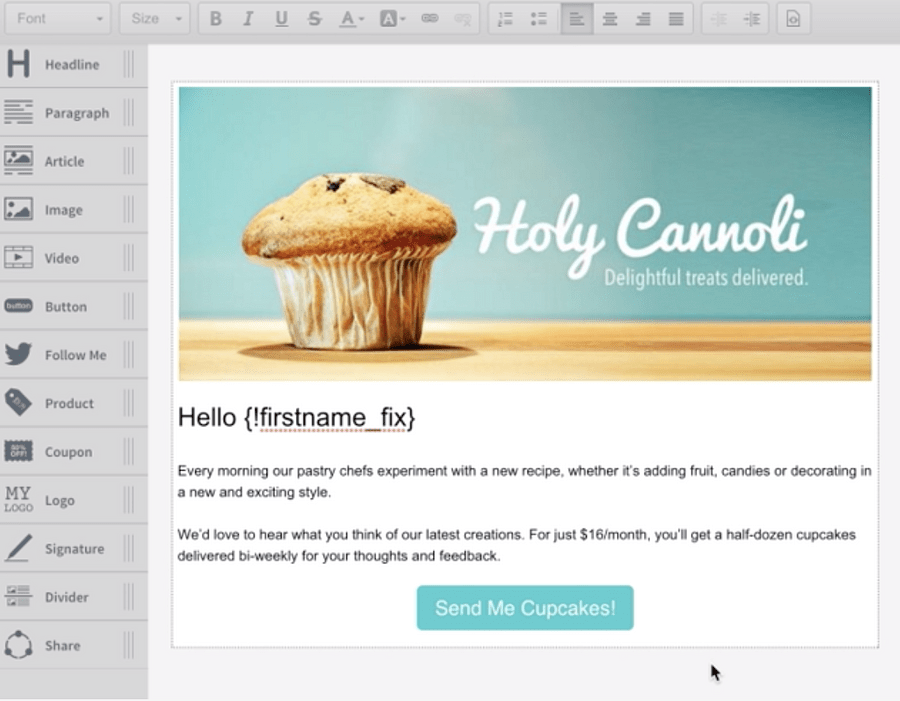 But AWeber has an edge when it comes to innovation. It has a 'Smart Designer' for creating emails, faster.
To use it, you put your website URL in a form field & let it analyze your website or social media account for logos, images, and color palettes. Then it automatically builds ready-to-use, custom email templates for your business.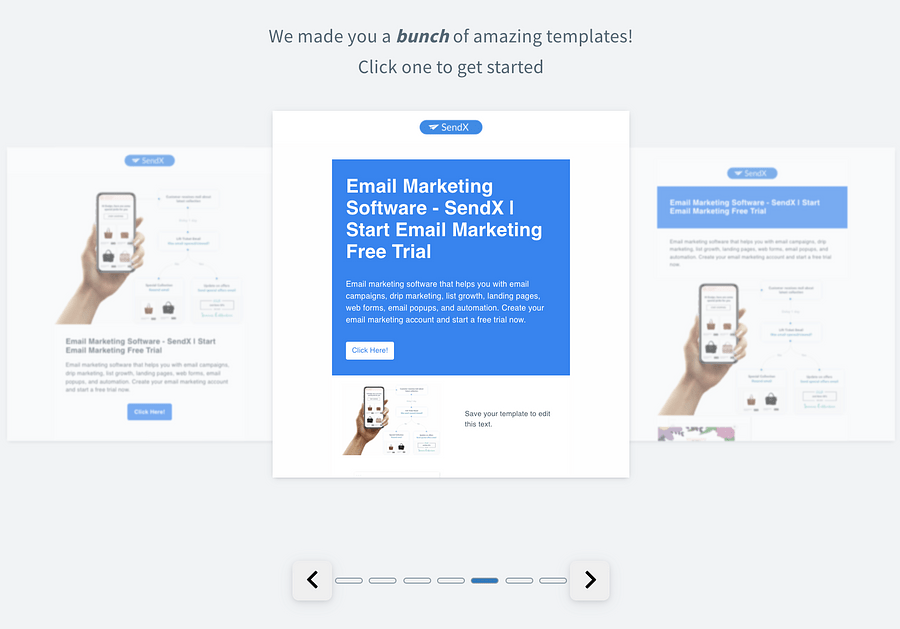 Mailchimp however provides dynamic content features that AWeber doesn't have. The dynamic Content feature allows you to send different content to different users based on their persona. This setting can be added to content blocks with just one click.
2) AWeber vs Mailchimp - How do they handle subscribers?
Mailchimp has never been an easy tool to handle subscribers, it always had this "obscure" side on the way it handles things. Before it used to be all about the lists, you wanted to segment your subscribers you would create lists and distribute your subscribers to the lists that would make sense for your business.
Now Mailchimp looks more like a CRM than an email marketing platform, using the concept of audience.
Yeah, but what's wrong with that? - you can ask. And I will answer.
The other email marketing tools like AWeber and even us (SendX) are still using lists concept to organize subscribers - so you can tag them accordingly with their source, so you can segment them later.
With the TAGs, you can have one list and still have powerful segmentation, and automation sequences.
And it seems like, with the changes, Mailchimp decided to adopt tags for audiences in order to help with segmentation, something that they didn't use before.
But both companies have this way of charging for subscribers that, in my opinion, "hurt" their customers, especially small businesses - will expand this note on the pricing section.
3) AWeber vs Mailchimp - Which offers better pricing?
Time for the pricing talk, usually, people hate them or love them and there is no single soul that stays in between. You will find here a quick guide on how email marketing pricing is done.
Mailchimp has one of the most generous free forever plan out there, giving you the possibility to send 1000 emails.
But there is really one problem with this Mailchimp pricing, besides the Free account, everything varies, and they can get expensive really quick if your subscribers start growing big.
Mailchimp's Essentials plan is cheaper than AWeber Email Marketing when you have 500 subscribers, then their pricing starts to level up as the number of subscribers increases, so in that sense AWeber is cheaper.
I promised in the last section to talk about it, so I will talk about it now.
After May 15, 2019, Mailchimp introduced their new pricing model, so what that means, in a nutshell, is the following: for the new users, or for those who are changing from free to monthly paying, Mailchimp will start charging them by contacts, and contacts for Mailchimp now involves "subscribed, unsubscribed, and non-subscribed...", before that it would charge you only for subscribed contacts.
And AWeber seems to do the same, so once in a while you if you using Mailchimp or AWeber you have to clean your unsubscribers because they will charge you for them.
Another thing to have in mind is that Mailchimp and AWeber will charge you for duplicate contact as well. Same contact belonging to a different audience - in case of Mailchimp - and different lists - in case of AWeber - will end up on your billing.
If you think this is abusive, that the same contact shouldn't be charged twice just because it is on a different list, just take a look at SendX it would be a great alternative.
4) AWeber vs Mailchimp - Which is better at automation?
This is one section, I would call it a comic irony if Shakespear was the one creating the automation feature for both of them, not making fun of those, just keep reading and you will find out what I mean.
Mailchimp - has this really solid automation. You have pre-made automation templates for common situations, and it lets you create your own custom automation as well. By using triggers, custom fields or even behavior you can set up powerful automation and let it work by itself. The only problem? Not very easy to modify when they are set. That editor is everything but intuitive.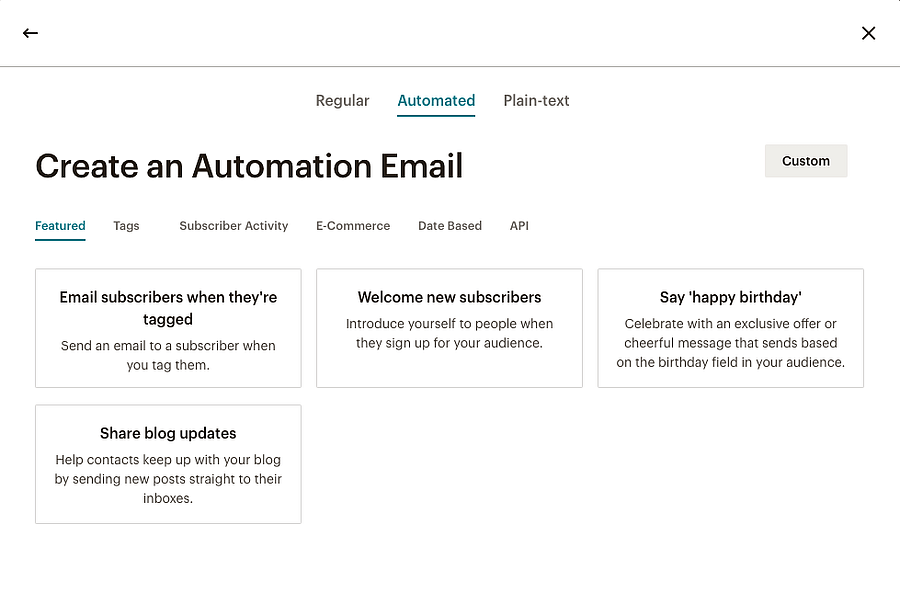 AWeber - totally the opposite of everything I just said about Mailchimp. Automation is a feature called Campaigns by AWeber, only God knows why, but ok it's only a name, so once you know that campaigns really mean automation you are good. The thing is, it's easier to edit and modify than Mailchimp, you have a better UX, but it is not as powerful as automation on Mailchimp. It uses tags to send tailored messages to your subscribers, set up a sequence and even delays… but it is limited for now.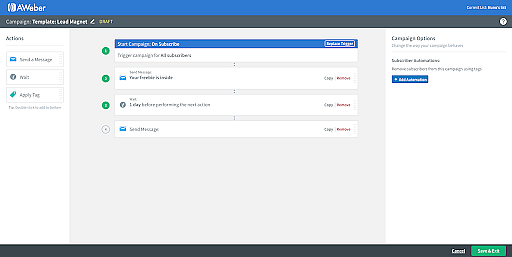 5) AWeber vs Mailchimp - Growing your contacts with forms
Mailchimp enters this round smiling with the confidence of a fighter that knows what he's got. The hard work and all those long hours of training and sacrifice will finally pay off.
The tool has some options for you to collect the emails on your site and those options are just enough, besides that, it comes with a drag-and-drop editor that will allow you to add and remove items from your sign-up forms or even pop-ups with some easy steps.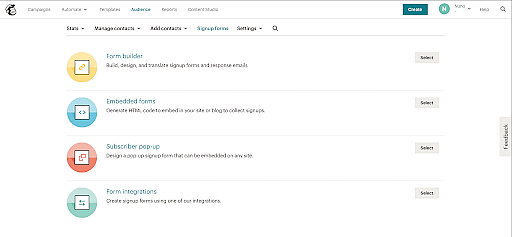 AWeber has this really powerful form and popup editor as well, here we can say that the fighters are not holding, going blow by blow at each other. But AWeber tries to go the extra mile to bring this fight home with "Thank You Pages" that supports audio and video if you want to leave a more personalized message to your subscribers.
Overall, you can create the same type of forms using Mailchimp or AWeber, but with Mailchimp you will have a more smooth experience doing it. AWeber has cool features and even goes the extra mile but it could do a better job with the usability.
6) AWeber vs Mailchimp - Which has more integrations?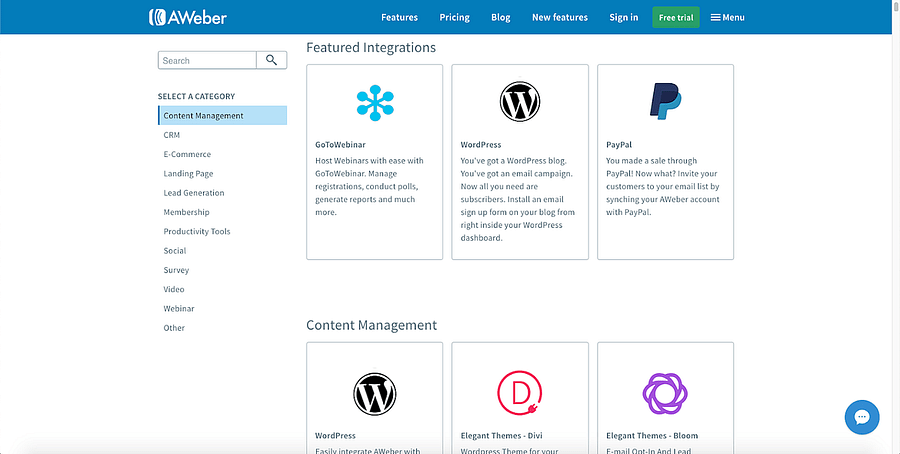 AWeber plays his hand heavy in the integrations realm, they are not afraid and they land those punches. They manage to integrate with big names like Zapier, PayPal, WordPress, Shopify, Salesforce and so many more - they went from quality and quantity.
Mailchimp is not scared at all, with around 220 integrations in the yellow corner, I wouldn't say that they have any motive to be. They are well served as well, and the customers from both services can be happy about the integrations.
7) AWeber vs Mailchimp - Which has better email deliverability?
How many of those emails you send end up on your subscribers inbox, and how many goes to spam or even worse, never get send?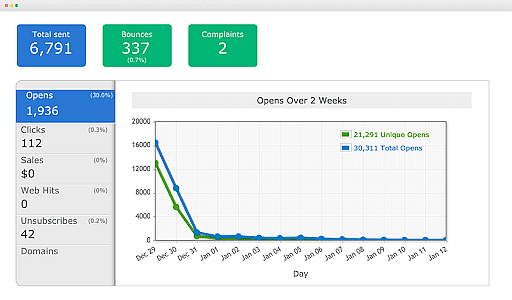 AWeber have been scoring low for a while now in tests, and the performance is even poorer when subscribers use Microsoft emails, like hotmail and outlook. This is a little bit unexpected since AWeber have been around for a while now, and you would think that by now they would score higher.
Mailchimp has a fairly good deliverability rate, the only problem seems to be that emails from Mailchimp will land a lot in the Gmail's promotion tab.
8) AWeber vs Mailchimp - Which has better reports?
"Motivation is misguided if you hit a mark that is not needed" - Pusha T (if my memory is not failing me).
The quote above is especially true with email marketing, it doesn't matter if you are a great email designer or copywriter if you are not putting the right content in front of the right audience. How do you do that? Reading the numbers and seeing what is failing or what is bringing results, so you can avoid or double down.
Both tools made a pretty good job with their reports, they track similar metrics (almost) and they give you a pretty good overview of your email marketing efforts.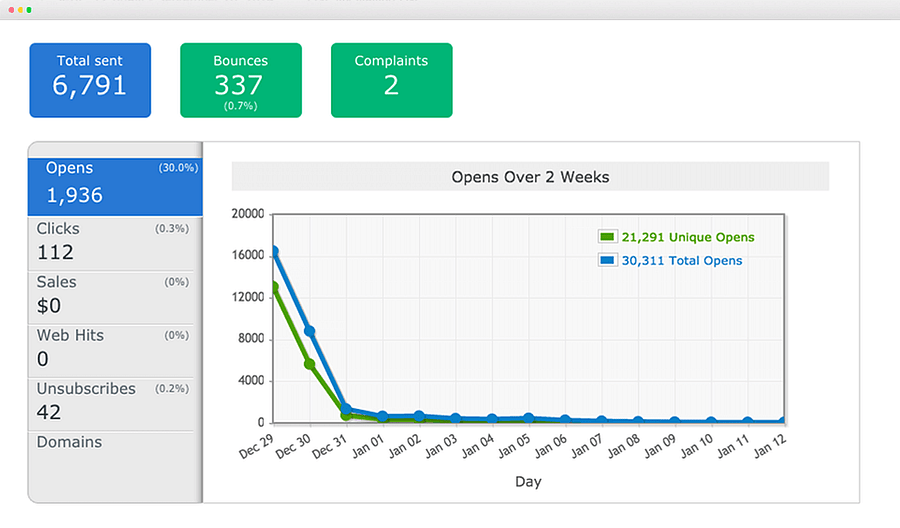 The issue is practically the same as other things we compared so far. AWeber has the same features as Mailchimp - if we are talking about email marketing features only - but it seems that the Mailchimp designers take a little more time and effort to think about the aesthetics and UX. The same goes for the reporting menu.
9) AWeber vs Mailchimp - Which provides better support?
Mailchimp seems to go to extended lengths to not be bothered by its customers, and I am not saying this like it was a bad thing. They have a great knowledge base, and they try to tackle every single question a customer might have.
Besides the knowledge base, Mailchimp offers support via email and chat, although the chat support is limited to business hours.
Heads up if you are a Mailchimp Free Plan user: you will be given support only on your first 30 days. After that pretty much you have to figure things out on your own, you always the KB to help you out.
Overall, Mailchimp's answers are great, and they are helpful, but it seems that the problem relies on their slowness to respond, and we usually contact support when we have a problem that we need to solve ASAP, so I don't think that a late good answer is that useful.
On the other end of the spectrum, AWeber support is pretty fast. And their chat support operates 24/7, not only in business hours. And they have a phone support during business hours as well. So I would say that AWeber support is better since you can have an answer almost immediately. Maybe it is to compensate for their knowledge base, the info is there but is not that easy to be found like on Mailchimp. If you really need an answer, just ask them.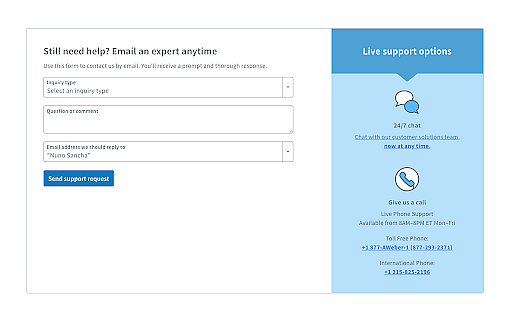 If support is a big thing for you, give SendX a try. We are well known for the fantastic support we provide.
Mailchimp's Evolution Into All-In-One Marketing Platform
Mailchimp had indeed significantly evolved from its origins as an email marketing platform. The company was founded in 2001 by Ben Chestnut and Dan Kurzius, initially focusing on offering email marketing services.
Over the years, it grew into one of the most popular and user-friendly email marketing tools. By providing user-friendly interfaces and designs, Mailchimp helped demystify email marketing for many small business owners.
In response to the changing digital marketing landscape and to better serve its customer base, Mailchimp began expanding its services beyond email marketing around 2017. It introduced new tools for social media ads, landing pages, digital ads, CRM, website building, and other marketing automation tools. The intention was to provide a comprehensive marketing platform for small businesses, allowing users to manage multiple channels and tools from one place.
The transition to a full-service marketing platform reflected the company's understanding of the multi-channel approach necessary for effective marketing in the digital age. Mailchimp's evolution aligned with the trends in digital marketing, where businesses need to have a presence in multiple places at once and ensure a consistent message across all channels.
AWeber vs Mailchimp - Comparison synopsis
Despite both being heavyweights and well-known in email marketing, the fight was clearly won by Mailchimp. They do almost the same, and Mailchimp has a better design making things more intuitive, plus they offer a wide range of newsletter templates.
AWeber has some strong punches when we talking about support, but that's it. Not saying that the support is not a great thing to have in mind, but there are other great alternatives out there, with great support and better pricing than both of them.
Remember that both tools can become pretty expensive because they charge for duplicate email contacts and unsubscribers.
Take note, in this story we have taken into account only the 'Email Marketing capabilities of Mailchimp'. So if you are looking only for an email marketing tool that has all these great features and is still more affordable - primarily if you are a small business - just go with SendX since we won't charge you for duplicate contacts and you will have unlimited emails. You can also compare AWeber with SendX, or Mailchimp with SendX to help you choose the best alternative.
And if you are still looking for more alternatives to Mailchimp, you might be interested in the full list of our Mailchimp comparisons:
FAQ's
1. What has better reporting capabilities - Aweber or Mailchimp?
Both tools offer a variety of robust reports, but on the pricey side. If affordability is the priority here, then you might want to look for an alternative like SendX, in which you can get detailed reports on how your subscribers are behaving on your email campaigns and drip sequences and refine your email marketing strategy.
2. Which has better support - AWeber or Mailchimp?
AWeber will be the better choice, as their chat support is 24/7. And they have phone support during business hours as well. For your requirement, AWeber support is better since you can have an answer almost immediately.