Top Crypto Marketing Agencies
7 min read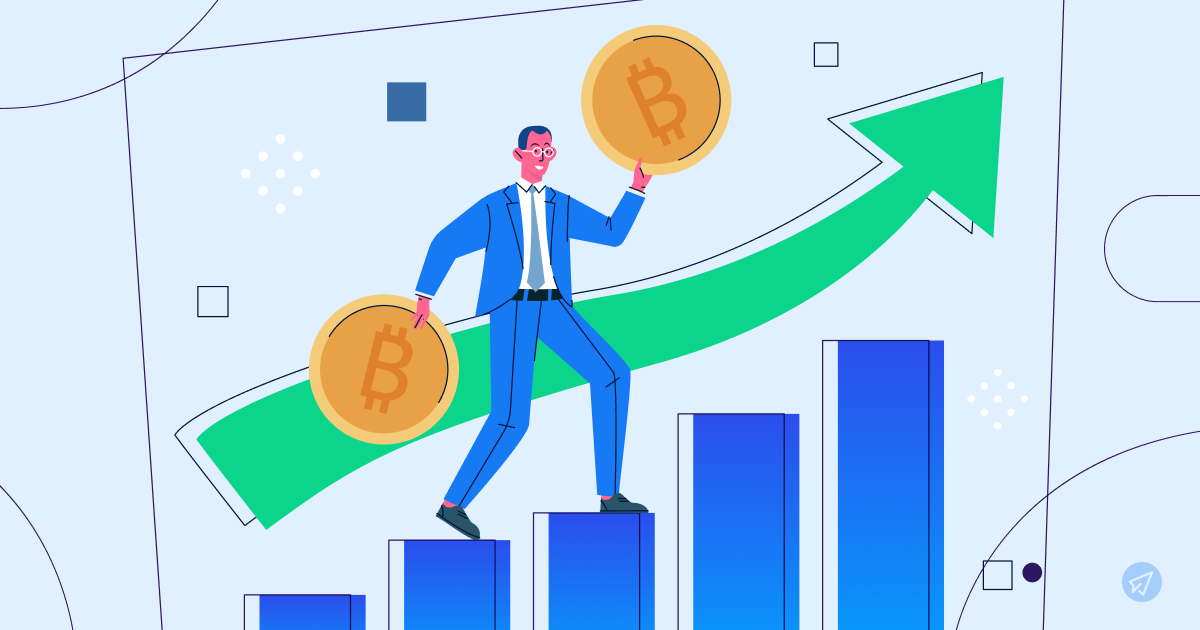 Due to stiff competition in the bitcoin market, marketing is an essential component of launching a successful crypto company. Crypto marketing agencies are experts that can manage this part of the crypto business — assisting in increasing awareness and improving performance, growing your user base, increasing your brand value, and thus getting the results of your investments.
This post will go through the finest crypto marketing agencies available these days, as well as how these agencies operate and some pros and cons of going with crypto marketing agencies. The aim is to help you make a sound business decision and help you check out a few marketing agencies.
Crypto Marketing Agencies Overview
How Does It Work?
They provide data-driven cryptocurrency marketing campaigns to keep the targeted audience interested by posting regular reports on specified social media sites, creating high-quality explainer videos, and influencer campaigns just to help your crypto firm to reach its full potential.
Reviews
"Our partnership with Blockwiz has yielded great results for us. Their team of digital marketers and growth experts have worked strategically to boost our marketing efforts, based on our business objectives."
- Prashant Kale(source)
---
"We're happy to partner with Blockwiz, a leading Cryptocurrency Marketing Solutions Provider. We've already been working together for a few months, in which their team has proven a level of professionalism and specialization completely unique to the crypto space."
Ciervo Crypto King (Source)
How Does It Work?
Coinbound operates by digging deep into your crypto competitor and your business to identify the high ROI methods that will help you develop quickly and scalably.
Reviews
"Absolutely the best, most knowledgeable crypto marketing agency around. Responses were always extremely quick and they helped us put together and manage a large-scale campaign that would have been impossible to do in-house" (source)
How Does It Work?
NinjaPromo drives all parts of social media marketing (SMM) tactics by implementing innovative approaches like PR, Branding, and influencer campaigns, etc to help grow your crypto firm.
Reviews
Internal stakeholders are pleased with Ninja Promos attention to detail. The team delivers quality work while adhering to deadlines. Their wealth of knowledge sets them apart from other agencies. (source)
ICODA

How Does It Work?
ICODA's Crypto PR services can help your company attract thousands of crypto fans. To spread awareness about your cryptocurrency projects, they employ a variety of Crypto PR approaches like promotional video production, media campaigns, news releases, animations, and newswire publication.
Reviews
"We are impressed with their professionalism and teamwork." (source)
---
"We select the vendor based on professionalism, initiative, and sincerity in the communication process." (source)
How Does It Work?
CryptoPR works by giving crypto firm's exposure to the biggest news sources, access to international markets, DeFi promotion, and NFT marketing to help in your firm's development.
Reviews
Amazing services. Serious connections. True to his words and deliver as promised. Highly recommend (source)
How Does It Work?
With its unmatchable quick and quality services Flexe.io claims to deliver online visibility to its clients through collaborations with media powerhouses in the fintech field such as Yahoo Finance and Cointelegraph. It works with multiple advertising companies i.e., Facebook, Doubleclick.net, Google remarketing, etc., to increase the overall growth of frim.
Reviews
Great culture, leadership, and talented people (source)
Blockwiz
Founded in 2019, Blockwiz now stands among the top Crypto marketing agencies. They have over 70 crypto marketing professionals on staff that have worked on over 150+ profitable crypto projects. They provide data-driven cryptocurrency marketing programs to help crypto firms get the most value for money. Blockwiz's award-winning community moderating staff makes it simple to administer your blockchain networks on Telegram and Discord.
Their video production team can assist you in producing high-quality visual content to boost interaction on social media.
Polls, questionnaires, and incentives are among the content types that the Blockwiz SMM team develops. They keep the targeted audience interested by posting regular reports on specified social media sites. What's best is their content writing team helps develop the highly optimized SEO-friendly email newsletters, website content, blogs, white papers, and e-books to enhance your brand's online appearance. Right now Hubble, CryptoBiz, and Cobidez are among the top clients of Blockwiz.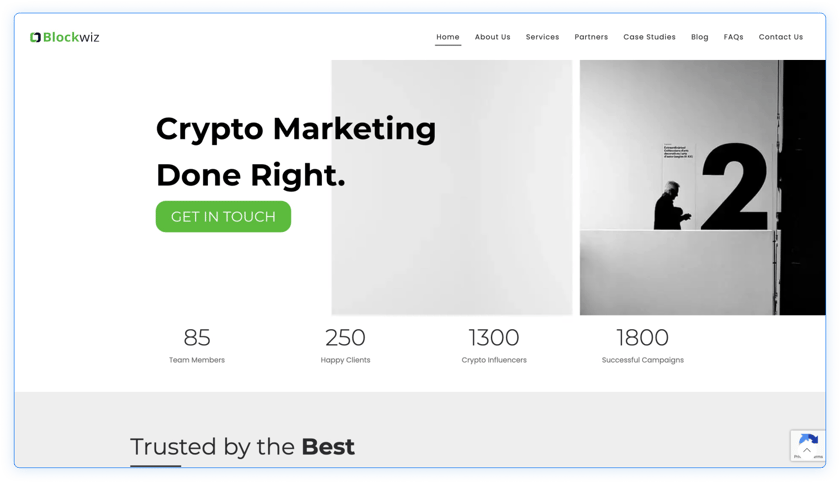 Coinbound
Coinbound is another crypto digital marketing business with offices in New York and Los Angeles. OKEx, ShapeShift, and eToro are just a few of the companies that have partnered with this crypto marketing agency. The firm has a strong track record of successful marketing campaigns and exceptional profits for its service users.
A few of these results include a 5x return on investment from PPC, a 600% boost in organic traffic via effective SEO strategies, and influencer programs that were so effective that customers had to put a stop to new sign-ups. Furthermore, Coinbound is among the few companies on the list that provides organic development using 4chan and Reddit social platforms.
Cosmos, Nexo, and OKcoin are among the top clients of Coinbound. So, if you are looking for a crypto marketing agency with working experience with some of the big names in the industry, then Coinbound is your way to go.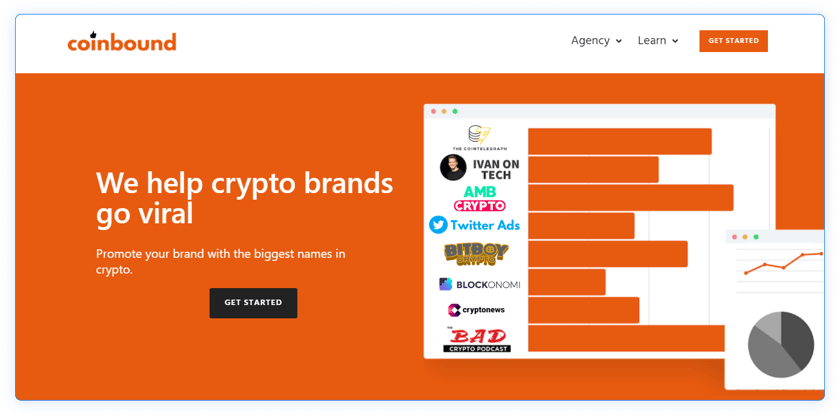 NinjaPromo
NinjaPromo, a major NYC ICO agency with locations all over the world, was founded in 2017. NinjaPromo is a pioneer in blockchain-related social media marketing and advertising. Through remarkable content development, public relations, sponsored advertising, and influencer marketing, they successfully assisted more than 20 blockchain firms to find traction in the hyper-competitive cryptocurrency realm.
NinjaPromo drives all parts of social media marketing (SMM) tactics by implementing innovative approaches as we mentioned above. When you work with NinjaPromo, you can rest assured that your ICO, Defi, STO, and NFT would be effectively maintained.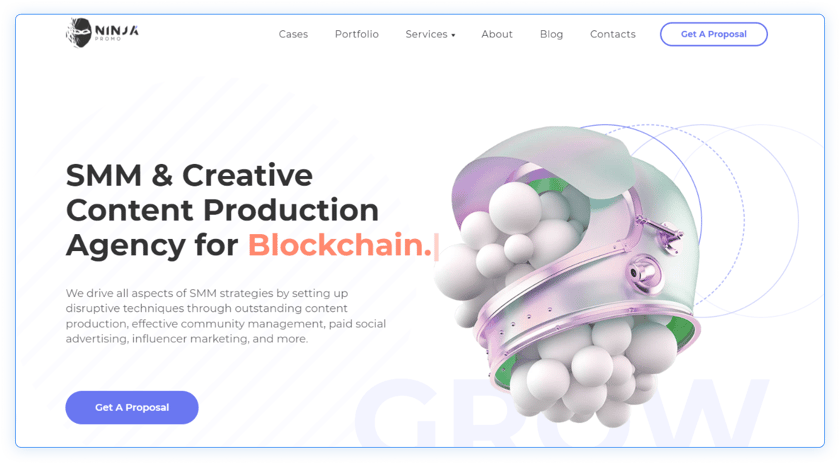 ICODA
ICODA is a cryptocurrency advertising firm with a solid reputation in the industry. ICODA is all about helping blockchain and crypto-based enterprises attain their peak performance. ICODA has assisted in the promotion of approximately 50 Crypto businesses since its beginning. Professionals with marketing experience and the cryptocurrency business make up the entire workforce.
They use AI research and multiple personal features to manage genuine liquidity on key cryptocurrency exchanges. They also have distinct techniques for growing the token trade and generating liquidity at their disposal.
They cover a comprehensive variety of marketing services, from website design and content creation to data analysis. Not just this, ICODA will help you register your cryptocurrency on the most popular cryptocurrency markets.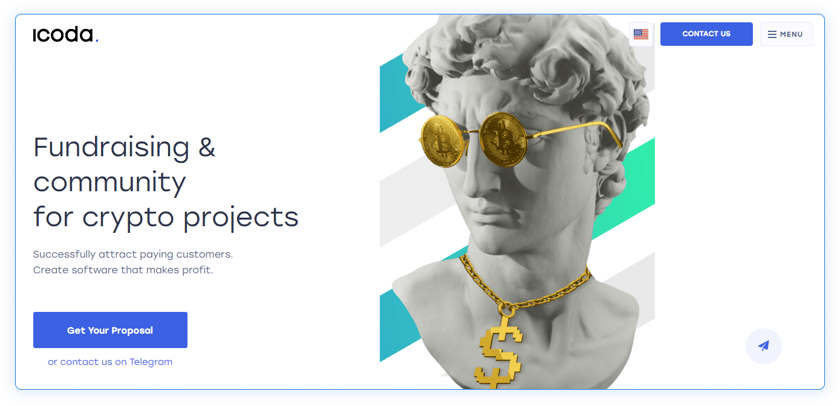 CryptoPR
Crypto PR is a global Web3 marketing and PR agency. The strength of this agency comes from the former experience of its founder as a PR consultant for Fortune 500 companies, along with long-term experience in Web3. They are well known for their solid narrative building, creative strategy, and trend creation within the Web3 ecosystem.
On the creative front, Crypto PR established a production house to create entertaining video commercials, known to be the only crypto agency with such a service, it launched its first crypto video commercial earlier in August 2021, The Crypto Fortune Teller. Shortly after launching the campaign, many other crypto projects followed this video commercial trend, such as FTX, Crypto.com and Coinbase.
With years of experience, Crypto PR has 6 major services under its umbrella:
Digital Transformation Advisory

Public Relations

Investor Relations

Influencer Marketing

Social & Community Management

Creative Advertising




Flexe.io
Flexe.io started operating in 2018 and, in a short period of time, has handled both simple and advanced projects, and made its way to the top blockchain marketing firms. Their fast yet quality-based services are why they stand out from the rest of the crypto marketing agencies. Flexe.io claims to deliver online visibility to its clients through collaborations with media powerhouses in the fintech field such as Yahoo Finance and Cointelegraph.
Through its advertising and marketing tactics, Flexe.io focuses on supporting the products or services of various cryptocurrency and DeFi brands. Flexe.io also has experience with ICOs and crypto listings on well-known exchanges. The organization states that it has completed various projects and that several DAO tokens have been offered on major markets.
Another notable thing about Flexe.io is the DEX listing. Flexe.io lists its clients' crypto tokens on prominent blockchain platforms, yield farming platforms, and crypto loaning networks. Clients can improve the value of their utility tokens as well as the net profits of their project by doing so.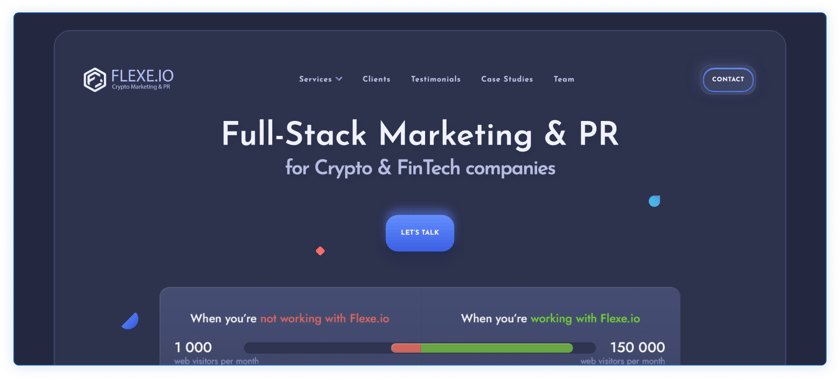 Crypto Academy
Crypto Academy is a crypto marketing agency founded in 2016 and now stands among the biggest crypto platforms worldwide. This platform has been creating waves in the huge and rapidly expanding digital finance ecosystem. Crypto Academy informs people about various cryptocurrencies, reviews, price predictions & analysis, press releases, NFTs, and much more. Starting from scratch, Crypto Academy now consists of a team of 35 professionals, including content writers, web developers, SEO specialists, etc., and has more than 500 clients and over 30 marketing services.
Besides its main website, its staff works constantly and operates on Discord, Twitter, and Telegram as other ways to connect and communicate with the community. Granit Academy, the founder, and CEO of the platform, is very active on Twitter and always tries to bring the latest news to its community to keep their constant interest and update. Despite being relatively new, Crypto Academy is constantly on the rise and has partnered with some of the biggest companies in the industry right now, including Bybit, Nexo, and Cornerstone Metaverse, among many others.
Pros & Cons of Crypto Marketing Agencies
When dealing with a Crypto Marketing Agency you must make sure that you are giving your brand into the right hands. Also, you must know some of the pros and cons when going with a crypto marketing agency. Here are some pros and cons you might experience when dealing with a crypto marketing agency:
Pros of Crypto Marketing Agencies
Quality Services
All crypto marketing agencies exist to provide high-quality promotional services to the businesses. These firms have an edge over traditional advertising agencies in that they can offer quotable fintech expertise as well as a strong knowledge of blockchain technology.
Experienced Workforce
A crypto marketing agency is based on developing the most effective brand awareness marketing programs. To a large extent, these firms have sufficient knowledge of creating successful campaigns that raise brand awareness. They're also up to date on current events in the cryptocurrency business.
Accurate Data Collection
Blockchain allows corporations to collect vast volumes of consumer data (through financial or other interactions) and preserve it all in one "place," allowing for more precise targeted advertising. This convenience will not only save businesses a lot of time in market analysis, but it will also allow companies to better answer customer needs without overwhelming them with useless traditional marketing tactics.
Cons of Crypto Marketing Agencies
High Charges
A crypto marketing agency is more expensive than a traditional marketing agency because of its particular skills. A condition in outsourcing your crypto brand to a crypto marketing firm is that, in addition to the regular costs for creating advertisements, responsive web design, or any other type of exposure, the crypto marketing agencies may levy increased service rates to run a whole campaign.
Lack of Check & Balances
Because bitcoin is still relatively new, there is no quality management body to oversee established crypto marketing businesses' checks and balances. As a result of the lack of checks and balances, these entities have complete control over some areas of their operations.
Wrap Up
Marketing is equally important for crypto businesses as it is for any kind of business out there. For example, Crypto email marketing is a new term, but the concept behind this has been in use for decades now with the main purpose of helping organizations to grow.
We have revised some of the best crypto marketing agencies on the market in this post, with an emphasis on what they do to assist advertise your crypto project. Given the significance of advertising in bringing new cryptocurrencies and NFTs to market, we are pretty confident that these firms can be a tremendous asset to your business's success. You can also explore more crypto marketing agencies to find your best pick.