Guide to Profitable Crypto Email Marketing
6 min read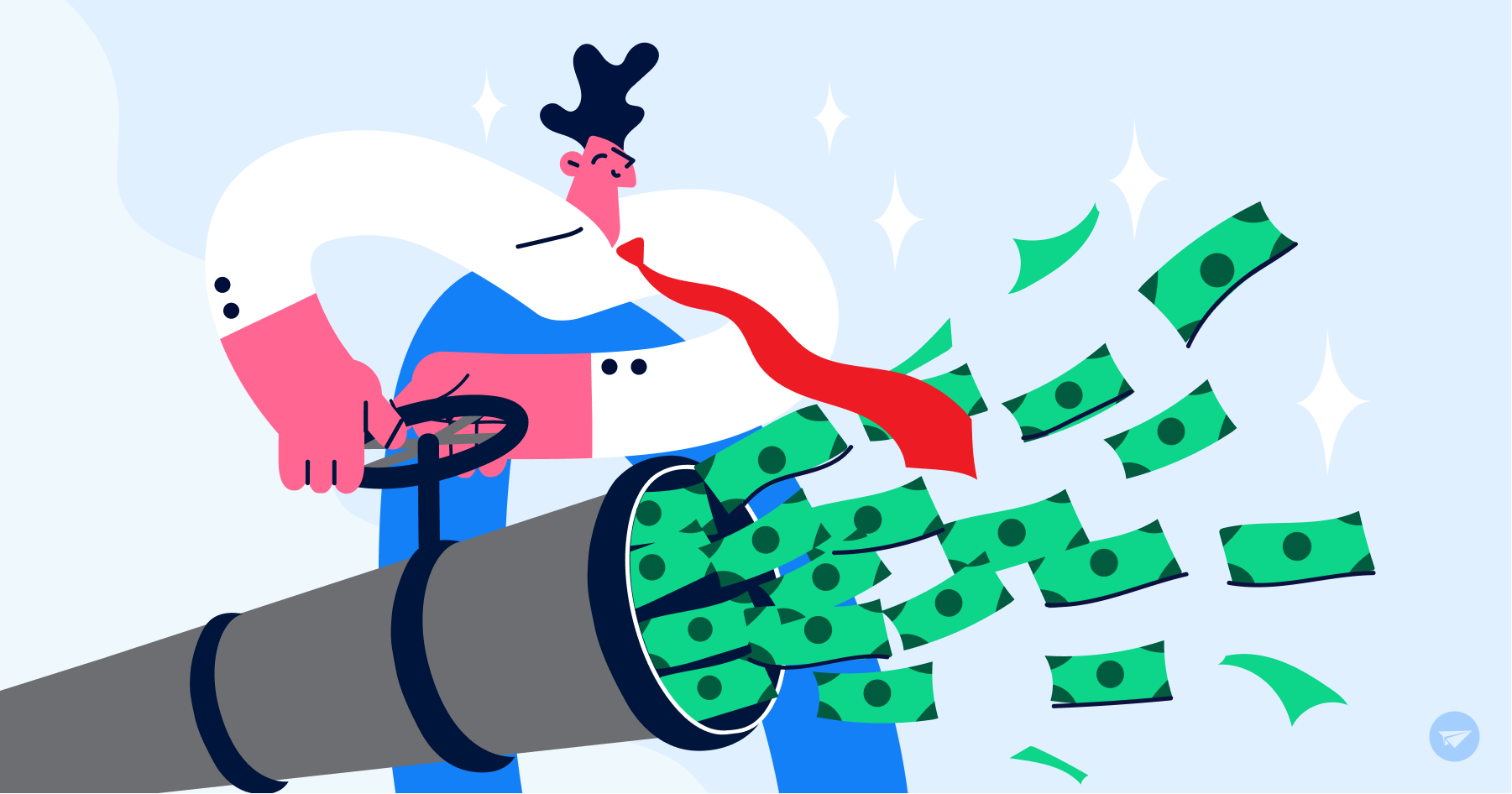 As a crypto or blockchain business, you understand the power of the internet and owning your assets rather than letting someone else have control. So why not think the same way about your audience, communication channel, and what you have to say?
It's time to look at email marketing as more than just another marketing tactic. It can bring growth, revenue, and engagement. How? We'll explore in this guide the benefits of email marketing, examples, and best practices for profitable results.
Table of Contents
Why Should Crypto Companies Use Email Marketing?
1) Own your audience & channel of communication
Email marketing is an open channel of communication. No one company or individual owns it.
You must have heard about people's social media accounts blocked or removed from the platforms because the company behind them didn't like what they said or did. That happens even after the person has built a huge following. It can be taken away instantly.
Can't do that with email! If you've created an email list and people want to hear from you, you can communicate with them without restrictions. You are not tied to any platform. That is what it means to own your audience & channel of communication. And that's what makes email the most preferred channel of communication for any brand playing a long game.
2) Send content in the format that suits you, whenever it suits you
With email, you can send text, graphics, videos, GIFs to convey your message. And all of this can be sent in the same message. The choice of templates & designs available gives you the option to show your branding in full force.
What other communication channel gives you the same flexibility? None we can think of.
3) Not everyone is on social media or platforms like Discord or Slack
In 2020, 4 billion people in the world were using email and this number is only increasing (source). Let's compare that with social media -- YouTube has the highest number of users among social media channels and that is 2.2B. Instagram has 1.3B and that's one-third of email users (source).
A lot of crypto communities hang out on Reddit, Discord, or Slack. But as we mentioned before, they are not your own platforms and if they shut down or block you, your audience will be gone with them. Additionally, consider using a cryptocurrency heatmap to make your audience's experience smoother as they can keep up with any updates happening.
So, your best bet is email.
4) Learn what works using data and insights
Email allows you to see data on how your audience is interacting with your audience. You can get to know what they like, what gets them to take action, how many times do they open your emails and so much more.
Every email service provider (like SendX!) provides you with analytics that you can see and optimize your future campaigns. You can run a/b tests to make your emails effective over time.
5) Email marketing drives conversions
Have you seen how people open their social media and keep scrolling until their thumbs hurt or they get bored… but all this while, their mind is elsewhere or wants to know what's the next post or story.
With email, you have your readers' undivided attention. You can say as much as you want to convince them to take action. And when they have given you their email address, they are aware of your brand and much more willing to make a purchase or take action.
Agreed, that in inbox also your email is fighting for attention from other brands but the fight is very less compared to the competition on socials.
Social media hasn't been able to crack conversions and sales very effectively. So again, email is the way to go if you want something more than just vanity numbers of followers and likes.
Examples of 5 Emails for Growth & Engagement in a Crypto Business
Here are the types of emails you need to create a strong email marketing strategy for your blockchain applications or another crypto business. We've also included some examples to show them in action.
1) Welcome email
A welcome email is the first email that a subscriber receives from you after the signup to be on your list. It's your brand's first 1-on-1 interaction with them.
Welcome emails receive 3x-4x more clicks and attention compared to a regular email (source). People expect to receive a confirmation, are excited to hear the first time from you and
It can be used to include any important step the user has to take, what they can expect in the future and a warm welcome for joining your list.
Here's a welcome email from the crypto exchange, Coinbase:
2) Onboarding emails
Onboarding emails are sent to guide and educate subscribers about how to use a product effectively. The aim is to get users' results after using the product so they stick, upgrade, and spread the word to their family and friends.
Here's an example of an onboarding email that explains, with visuals, on steps that are done and the ones that are left to start using the platform.
It even has a clear section on what to do in case you are facing a problem in doing any of the steps.
3) Information about features
Your product features might be very obvious to you since you built them or spend hours and hours using them but they might not be too obvious for your users.
Email is a great way to tell them about your product features, inform them how it will benefit them, and also how to use that feature. People might discover a feature that will make them stick to your platform, ask for your services or upgrade their plan.
Here's an example from Coinbase informing how people can convert any portion of bitcoin to any of the coins listed there. It has clear CTAs, with to-the-point information and crisp visuals to convey that.


4) Newsletters
Newsletters are emails sent to inform, educate or entertain people. They are not sales-y.
People look forward to reading newsletters when you talk about topics that readers are thinking about, or want to know more about.
This helps you establish an authority in your field which builds credibility and brand.
Newsletters that link to your blog or website help increase traffic to your website. This might help people discover new features or offerings and this increases your sales.
Here's an example:

5) Referral email
It is an email that offers people an incentive for sharing your product with their network.
Referral emails work because people are more likely to buy/subscribe to something when referred by a trusted friend. Sometimes, FOMO also plays a role. If people see that their friend is using something cool, they would also want to be associated with that.
Here's an example of a referral email from coinbase. What we liked in this email:
It starts with getting your attention by telling what's the incentive to refer.
Then it goes on to explain in detail what you'll get.
It also offers something to the person who is referred to. That's a sweet deal.
There's a step-by-step procedure on how you can take advantage of this referral program.
The CTA is clear and repeated twice for more conversion.
Best Practices To Get Results With Email Marketing
Build your email list, don't buy it
It seems exciting to start off with a huge list rather than waiting every day for people to discover your website, subscribe and grow your list from scratch.
But the shortcut doesn't get you any long term results, doesn't build a brand, and is not even legal according to CAN-SPAM laws.
So build your email list the right way -- by taking people's consent to send emails. You can put a signup form link on your socials, run ads to your blogs where you can put the form, or host giveaways on social media in return for subscribing.
Choose an ESP that aligns with your email marketing goals
There are thousands of ESPs in the market today. But not every tool will be useful for you.
Choose the one that fits your budget, & your requirements. It should be easy to use and offer automation so you can scale your marketing efforts.
Most importantly, it should have a good deliverability rate (% of emails that go into the inbox instead of spam box).
Since you are here, I would suggest giving SendX a try with a 14-day free trial. No credit card is required. Just a simple signup process that takes a few minutes. It's affordable, intuitive, and is trusted by 3000+ companies.
Create a cadence for your emails
Sit with your team to brainstorm how frequently you would be sending your broadcast emails and your automated emails. Build a frequency that helps you deliver the best results. If you send a daily email, it might be too hectic. And if it's once in a month, readers might lose track of your brand and forget why they signed up. Usually, once or twice a week is a good frequency.
Focus on delivering value
The maximum of your emails should be about the reader and not about your brand. They can always have a pitch for your products but people read emails because they entertain, inform or educate them.
So before you send your newsletters or onboarding emails, think about whether this will be useful for the reader… would you like to receive such an email in your inbox?
Make use of data to optimize your email marketing
Use data provided by your ESP to see what's working and double down on that. Observe what's not working and test if you can improve it. If not, stop doing that.
Track weekly or bi-weekly to spot any issues early on. Use data to make informed decisions rather than working on 'gut' feelings.
Hope this guide will help you get started or execute better, your email marketing, and grow your crypto or blockchain business.
FAQ's
1. What is crypto email marketing?
Promoting and selling products or services related to crypto business, such as an exchange, a wallet, a lending bank, a community, etc., is called crypto marketing. And executing the crypto marketing strategy using email marketing is called crypto email marketing.
2. Why should crypto companies use email marketing?
Email marketing is an open channel of communication which is not owned by any company or individual. Here are the top reasons why crypto companies should use email marketing:
Own your audience & channel of communication.
Send content in the format that suits you, whenever it suits you.
Not everyone is on social media or platforms like Discord or Slack.
You can see data on how your audience is interacting with your audience.
Email marketing drives conversions.
3. How can crypto companies get the best results with email marketing?
Here are the best strategies to get results with crypto email marketing:
Build your email list, don't buy it.
Choose an ESP that aligns with your email marketing goals.
Create a cadence for your emails.
Focus on delivering value.
Make use of data to optimize your email marketing.