Lead Generation Automation: Tips + Tools
10 min read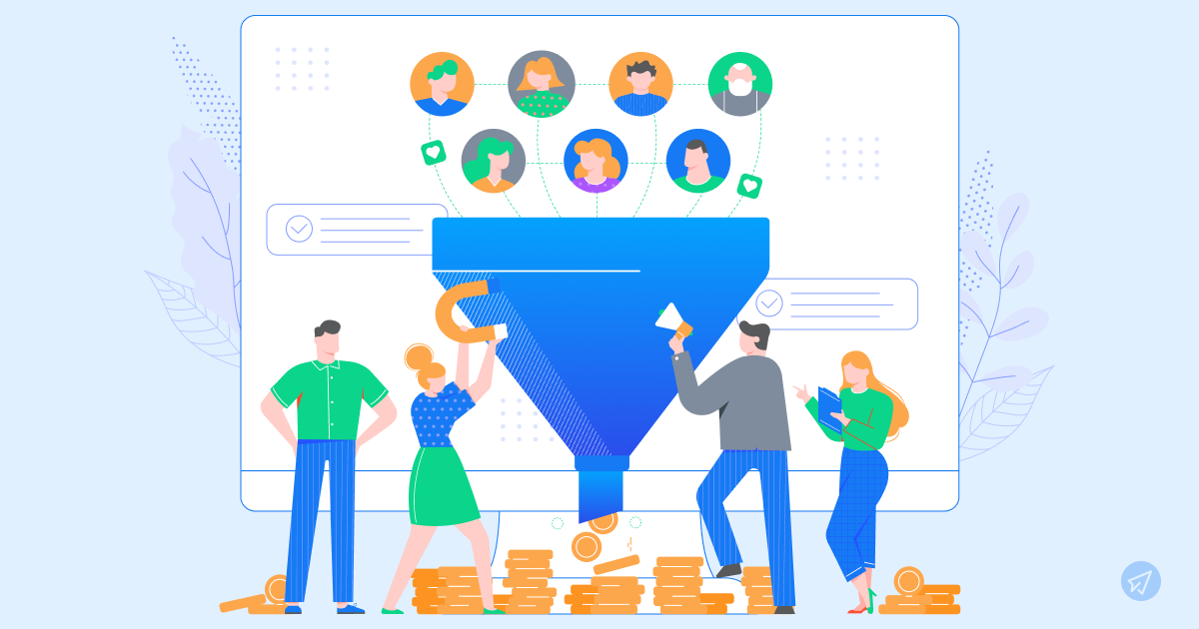 Are you looking for ways to automate your lead generation processes? If yes, then this article is for you. In this post, We'll share some valuable tools and techniques that can help you generate leads faster and easier.
Lead generation is the lifeblood of any sales team.
Without leads, you won't get anywhere. Because without leads, you won't make any sales. The good news is that it's possible to automate lead generation.
Table of Contents
We will be talking a lot about lead generation in this article, but what exactly is a lead?
A lead is simply someone who has shown an interest in your product or service.
Lead generation is all about finding these people and getting them interested enough in your business so they want to hear more. This could be through advertising online, such as social media ads or PPC (pay-per-click) campaigns, or offline, such as direct mail campaigns.
While lead generation forms part of your marketing strategy, its success and its results have the biggest effect on your sales team.
Lead generation is important because it means that you will be able to determine whether there is demand for your product or service before investing time and money into marketing it. It also helps you to find new potential customers and grow your existing customer base.
When generating leads, the most important thing is to ensure that you are using automated systems and tools to find new customers.
Perfecting your lead generation strategy is essential to growing your business.
We have listed a number of tips below to help you yield the best results, but before that, we just want to stress the importance of choosing the right lead generation channel.
You need to make sure you are choosing the most effective channel not only for your business but also for your potential leads.
Okay now let's get onto our tips:
1. Make It Personal & Targeted
You don't want to waste your time and resources trying to sell to people who are not interested in buying from you. So make sure that you are targeting the right audience with your lead generation strategies.
We also advise you to take your target campaign and personalize it as much as possible.
Personalized content marketing has been among the top digital marketing trends. If you show people that you really care about them, they will be more likely to respond positively to your message.
2. Segment Your Leads
Hopefully, your campaign is so successful that you have thousands of leads pouring in. But now what? Now you need to segment these leads so you can focus on the ones that are most likely to convert.
Lead segmentation is just a fancy way of saying break down your list into a smaller list.
3. Invest In PPC
Yes, you can use some of the more affordable lead generation strategies, but we also suggest investing a bit of money into pay-per-click (PPC) advertising.
PPC is an excellent tool to increase traffic to your site and generate qualified leads.
With PPC, you only pay if and when someone actually clicks on the advert.
4. Leverage Live Chat To Your Advantage
Adding a Live Chat function to your website is a great way to improve your conversion rates and overall user experience.
Live Chat is a fantastic way to engage with visitors and turn them into leads.
It gives you the chance to answer any questions they may have and help them get the most out of your website.
5. Use Social Proof
Social proof is another effective tactic for increasing conversions. When users see other people interacting with your brand, they are more likely to follow suit.
Users tend to trust others when it comes to online purchases and lead generation, so we suggest sharing your positive reviews and encouraging user-generated content.
6. Try Out Content Gating
Providing value through content is what makes B2B content marketing so effective.
Show your users enough to make them interested, and then block the rest of the content unless they sign up.
7. Have A Giveaway Competition
Having a giveaway competition is a great way to build your mailing list and gain new subscribers - as well as generate interest in your business.
The key here is to offer something valuable to your audience.
8. Optimize Your Lead Capturing Forms
This may seem obvious, but your lead capture forms need to be optimized in order to be effective. When we say optimized here, we mean making sure you have clear instructions, multiple fields, and easy-to-find buttons (check out this example of optimizing lead capturing forms here where there are call-to-action buttons in the header as well as the body of the page).
9. Automate Your Processes Using Tools
Lead generation can be daunting and poor time management will only make things worse. But luckily for you, there are many tools available to help you automate this process. Automating your lead generation process is a great way to save time and increase efficiency.
There are many different types of lead generation tools such as:
On-page lead generation through your website
Email marketing tools
Customer relationship management tools
Sales tools, communication tools
Advertising tools
While there are many tools available to help you automate your lead generation process, we have compiled a list of 12 tools we think are the best:
1. SendX
Image source: SendX
It's us! If you stumbled across our blog by chance, let me tell you a little more about what we do.
SendX is a powerful tool that allows you to create (and send) automated emails using templates, build email lists, and perform A/B testing so you can figure out which campaigns will bring in the most leads.
If you haven't guessed it yet, SendX is first and foremost an email marketing software.
A major advantage of SendX is that no matter the plan you choose, you get to send unlimited emails to your contacts, and you get ALL the features SendX offers. Plus they offer 24/7 customer support, so there is always a member of their team around to lend a helping hand if you need it.
SendX segments its pricing by the number of subscribers (unique email addresses) needed. The starting price for 1-1000 subscribers is $7.49/month paid annually, whereas if you wish to have 10K-15K you are looking at paying $44.99/month paid annually.
And yes, there is a free 14-day trial!
2. Pipedrive
Image source: Pipedrive
Pipedrive is one of the world's leading all-in-one Sales CRM and pipeline management platforms. It connects businesses to customers and helps them manage every aspect of their interactions. This includes lead nurturing, prospecting, and lead conversion.
You can use Pipedrive to segment your leads based on whether they are B2C or B2B.
However, I would say that the biggest advantage of Pipedrive is its integration. You can integrate your platform with over 275 other tools.
Pipedrive comes with a free trial period where you can try it out before purchasing. After that you are looking at a starting price of $12.50/user/month billed annually and can reach up to $99/user/month billed annually.
3. OptinMonster
Image source: OptinMonster
OptinMonster is a software that has been made specifically for lead generation, and that has been used by thousands of companies across the globe. OptinMonster is a robust tool that allows you to easily design landing pages, collect contact information, follow up with prospects, and much more.
The good thing about OptinMonster is that it doesn't require any programming knowledge to be able to use it.
The cost of OptinMonster starts at $9/month billed annually and goes up depending on how many advanced features you're looking for. The maximum price you can expect to pay is $49/month billed annually. There is no free trial, but they will refund your money up to 14 days after your purchase.
4. Outfunnel
Image source: Outfunnel
Outfunnel is the app connector tool you never knew you needed but you won't be able to live without it once you use it. It allows you to connect your sales and marketing tools to one another so that you never lose any customer data. It also records any and all marketing engagement that takes place in your customer relationship (CRM) tool.
Outfunnel is there to make the lives of both your marketing and sales team easier. It saves marketers vital time that they could be investing in other marketing-related activities, and it allows the sales team to segment leads and focus on the ones that will be most prosperous first.
The pricing for Outfunnel ranges from $6/month billed annually to $49/month billed annually. However, if you need to be moving extensive amounts of data between your tools, you can opt for a fully customized plan and price.
5. INFUSEmedia
Image source: INFUSEmedia
INFUSEmedia is another content marketing and lead generation software that is aimed at B2B businesses. They use an omnichannel approach that is driven by data and a database of qualified B2B decision-makers in order to identify and qualify leads.
Over and above lead generation and content marketing, anyone using INFUSEmedia can also look forward to account-based marketing, intent-driven marketing, brand amplification, competitive displacement as well as some sneaky INFUSEmedia exclusives.
Set up a call with one of their sales agents and they'll help you decide on the features your business needs at a price your business can afford.
6. Datanyze
Image source: Datanyze
Datanyze is a cloud-based B2B contact database and contact information finder that allows you to store and organize information about your contacts. This means that you can keep track of everything from where your contacts work to who they know - making it easy to see whether they might be a good fit for your business..
You can search for contacts by name, job title, industry, city, state, phone number, or email address.
Pricing starts at $21/month billed annually and ends at $39/month billed annually. Unlike other tools, which mostly offer a 14-day trial period, Datanyze gives you 90 days to decide whether they are the tool for you.
Image source: Lead Forensics
Just by the name, you should be able to tell that Lead Forensics is a software solution that focuses on generating leads. What you may not be able to tell immediately is the fact that it focuses solely on B2B website visitors.
The software uses a combination of data mining techniques to identify potential leads in your database.
The software will then send personalized messages to these leads based on their profile. You'll get a detailed report showing you what happened during each interaction.
Lead Forensics offers a free 14-day trial for anyone interested in their services and after that, you'll have to talk to one of their sales experts to get a customized package (and price) that suits your needs.
8. UnboundB2B
Image source: UnboundB2B
B2B companies - this one's for you. UnboundB2B uses artificial intelligence to identify potential buyers at the correct point during their interactions and allows you to facilitate a completely personalized buyer journey for each person.
UnboundB2B has thought of everything your sales team needs after the fully qualified lead is in their capable hands including appointment setting abilities, account-based marketing, email marketing, content syndication, and install-based targeting.
Unfortunately, we can't inform you of their pricing as they keep that under wraps. In order to create a package and pricing plan that matches your exact needs, you will have to book a sales meeting.
9. Omnisend
Image source: Omnisend
Omnisend is another great option for those who want to automate their email and SMS marketing efforts. They know how effective email marketing is for lead generation and have features so you can leverage this.
Omnisend offers hundreds of free and customizable templates so that you can create the best customer experience.
Key features of Omnisend include segmentation capabilities, audience sync for ads, reporting and analytics functionality, web push notifications, and the ability to create popups and forms that you can use to capture and convert leads.
Omnisend offers a free version with enough features to show you what it's capable of and once you are down with that, prices range from $16-$59/month.
10. Salespanel
Image source: Salespanel
Salespanel provides you with state-of-the-art visitor intelligence that allows you to identify high-quality leads (both on and off your website) and target them with personalized marketing campaigns.
In terms of features, with Salespanel, you can look forward to lead generation, lead tracking, lead alerts, a lead data platform, lead segmentation, lead scoring, workflow automation, account-based marketing, contact scoring, and B2B advertising. What more could you want?
Salespanel offers a free version as well as a 14-day trial on all of its paid plans. Paid plans start at $49/month and reach $499/month. If that seems steep to you then we suggest opting to pay annually as then you are awarded a 10% discount.
11. CIENCE
Image source: CIENCE
CIENCE offers Orchestrated Outbound which includes tech-enabled research, multi-channel prospecting, lead response, and our sales enablement platform to build your enterprise.
CIENCE builds highly targeted campaigns to help you close target accounts.
They penetrate your top-tier companies by finding multiple contacts across each department at key accounts. Orchestrated Outbound combines targeted research and multi-channel outreach to create sales opportunities.
CIENCE offers the quickest, most-targeted path to market using our Orchestrated Outbound program to deliver qualified sales opportunities directly to your business.
12. Agent Legend
Image source: Agent Legend
Are you working in real estate or mortgaging? If yes then this is the automated lead generation and follow-up tool for you.
With Agent Legend you can easily connect with your leads, prioritize your important leads, schedule, and plan follow-up communications, personalize those communications and monitor your results, all in an effort to increase your inbound leads. All automatically.
Pricing for Agent Legend starts at $66/month paid annually and reaches as high as $466/month paid annually. However, if you aren't ready to take the plunge yet there is a 14-day free trial.
13. CallPage
Image source:CallPage
CallPage is a click-to-call widget that helps you improve customer experience and convert more visitors into calls and customers.
CallBack automatically connects the potential buyer with an appropriate consultant. Visitors can leave a text message or schedule a call at a time of their choice. The widget's appearance can be personalized to match the design of your website.
CallPage offers 7 days for a free trial, after that, you can choose one of three plans: Basic - $0, Basic+ - $25, Professional - $129 and Premium - $329.
This tool encourages an immediate conversation and connects a potential client with a consultant in 28 seconds, which has a direct, positive influence on conversion rates and sales results.
14. FindThatLead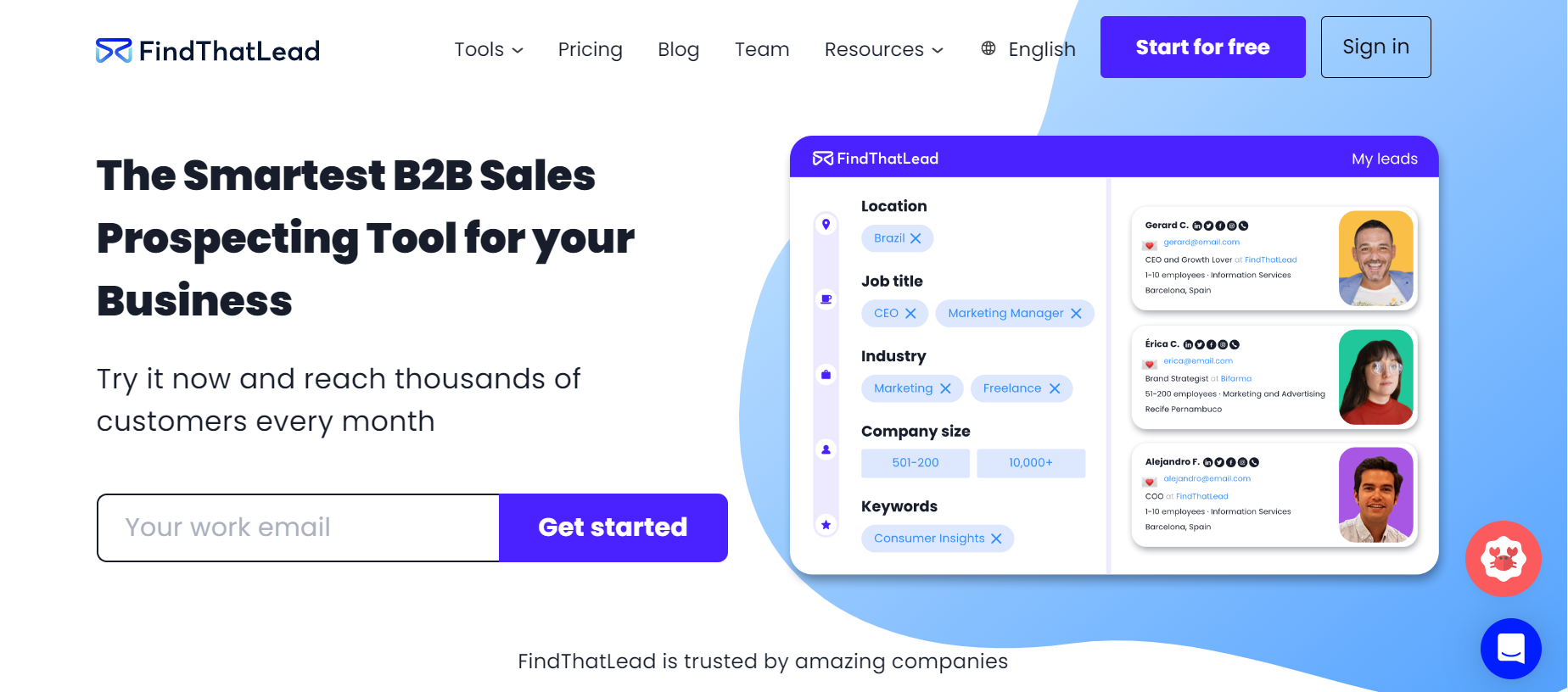 Image source:FindThatLead
FindThatLead is an all-in-one lead generation platform that helps businesses and individuals find the professional contacts they are looking for, generate leads, verify emails, manage their customer portfolios as a CRM and establish mass email communication.

FindThatLead's integrated CRM allows its users to capture and update the status of their contacts, prospects, leads and customers.

Prospector, its lead generation functionality, allows sales professionals to search and prioritize companies and employees based on location, industry, size, technology, job titles, keywords and other categories.

FindThatLead's API allows its users to integrate its system with various third-party tools such as Hubspot, Salesforce, Gmail, Salesflare and more. Users are also provided with dashboards that show sales funnel results, from email open rates to conversion rates.

Tools on FindThatLead:
-Prospect Generation Tool - Provides you with the contact of your future best customers
-Cold Email Campaigns Sender - Reach your prospects with catchy emails
-Avoid Spam Folder - Verify your email lists to make sure you are reaching the right people
-Find any professional email - You just need to put a URL and we will extract the emails
-Search by Technology - Find companies that uses specific software
If you haven't guessed it yet, SendX is first and foremost an email marketing software.
In conclusion, there are lots of different types of lead generation automation tools available today. Each of them comes with its own set of pros and cons.
Some tools focus on sales, others focus on marketing, and others are better suited for specific industries.
As you can see, choosing the right tool for your business can be tricky. However, when you know what type of tool you want to use, you'll be able to narrow down your search and find something that fits your needs perfectly. Hopefully, we have given you a good enough starting point.