Crypto Marketing: Definition and New Strategies You Can Use For Business Growth
6 min read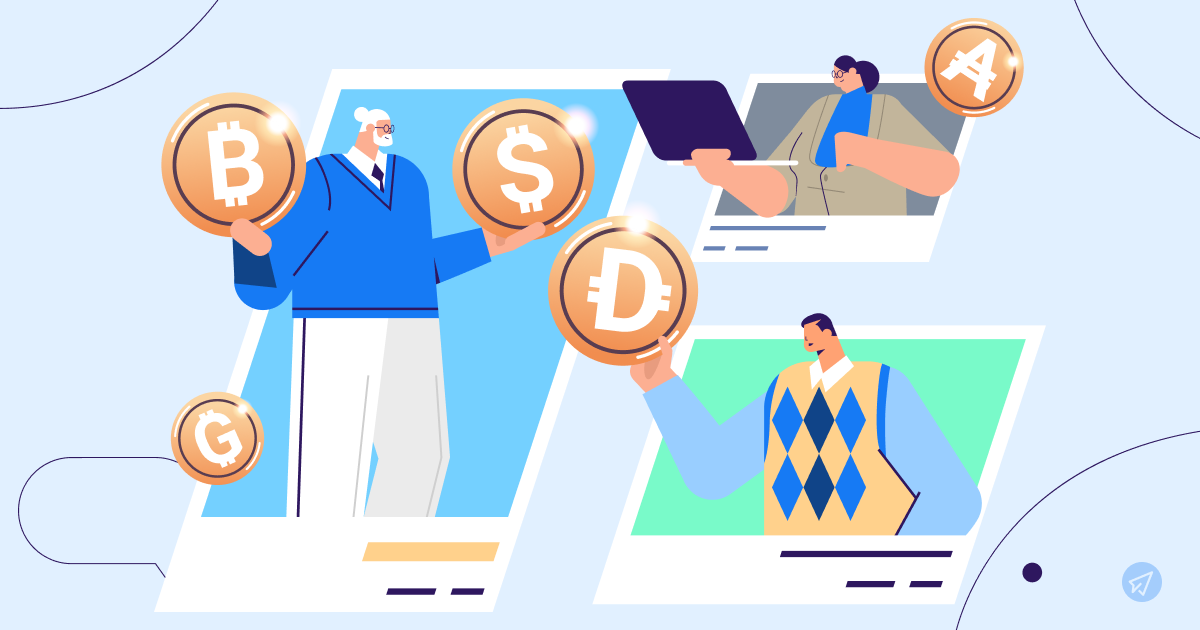 By the end of 2024, it is expected that the blockchain market will grow to $20 billion in annual revenues (source). That means more companies will come into the crypto industry, & competition is going to be stiff.
As of 2021, the estimated global crypto ownership rate was at an average of 3.9%, with over 300 million crypto users worldwide. (source)
Out of a total world population of 7 Billion, there are still billions of people that need a business to reach out to and get them included in the crypto ecosystem through their company.
The opportunities are exciting, and the competition is going to be fierce. The only thing you can do is create an efficient marketing strategy that brings growth. If you own a crypto business or handle marketing for one of them, this post is for you. We discuss what crypto marketing is, how it's different from traditional marketing, and 10 strategies you can use to grow your business.
What is Crypto Marketing?
Promoting and selling products or services related to crypto business (an exchange, a wallet, a lending bank, a community, etc.) is called crypto marketing. Any activity related to building brand awareness, getting customers, increasing return customers, and improving sales will come under crypto marketing.
Crypto marketing is different from traditional marketing in a few ways:
Technology and terminology used to describe the crypto market are new & complex.
The market is community-supported and sometimes community governed.
The crypto industry and its adoption are still in their infancy.
These unique factors mean that traditional marketers have to rethink how they promote crypto businesses & take advantage of the fact that it's all digital, and people turn to online communities for any guidance.
7 Crypto Marketing Tips For Business Growth
Invest Into Content Marketing
Since the crypto world is pretty new and complex, there's a requirement for a lot of content to educate people about the technology, its future, and how it works.
Due to the attractive financial benefits and novelty of the new technology, people are constantly looking for the latest information. If your content shows up in Google search results, in social media feeds, or in communities, it has the potential to attract leads to your platform.
Content also helps build authority & trust if people see that you know what you are talking about and can guide them through it. This gives your brand a greater share of mind and leads to people choosing you over a competitor.
The easiest way to share content is to create a blog on your website. Whenever someone discovers your blog, they will automatically discover your website and offerings too.
CoinSwitch, a cryptocurrency wallet, publishes blogs around crypto trading for both experts & beginners. They also host Q&A sessions with experts that are turned into blogs.
What content works well for a crypto blog:
Detailed guides for beginners – a knowledge hub
Articles with reviews of the cryptocurrency market, reports on industry trends
Expert Q&A or webinars
A glossary of crypto terms that is kept up-to-date
Crypto market tips & tricks
Coinbase has a website section dedicated to guides, practical tips, and market updates for beginners as well as experienced investors.
2. Use Email Marketing
To share the content with your audience, you can start a newsletter.
CoinDesk has a newsletter that focuses on keeping its audience informed about bitcoin, cryptocurrency, and digital assets.
Coinbase has a newsletter called 'Coinbase Bytes' that shares the week's crypto news with its subscribers.
Apart from an informational newsletter, you can use email to onboard new customers to your platform, inform them about upcoming launches, or invite them for free webinars.
The advantage of email marketing is that you are not dependent on any platform's algorithm to reach your audience. You can send your message as a text, as a video link, or as an image. It's up to you how you design your email. Email feels like a 1:1 connection with the brand rather than a social media broadcast, so people are more likely to respond to your offers & messages.
To run email campaigns, you will need three major things: a list of subscribers, an email platform to manage your list & content to send.
Most email platforms restrict crypto companies from using their services, but SendX does not!
We at SendX believe in the potential of cryptocurrency and blockchain & don't agree with email marketing service providers' policy of banning all the blockchain startups and, thereby, stifling innovation. So if you are looking for an email marketing platform, check out SendX & get your 14-day free trial.
3. Build a Community
A community is a group of people having similar interests.
A community will help you attract the right audience and new users. But a community means more than just followers on social media. You will not be able to moderate or influence any conversation there.
If you want to have a high impact on people as well as your business, you should use platforms like Reddit or Telegram. For crypto enthusiasts, discord is also quite a popular choice of platform.
Apart from providing a platform for people to hold discussions, a community is a great way to listen to their pain points and learn about what they are looking for from a platform. It will help you refine your messaging.
Few examples of crypto communities:
Binance has Telegram Channels that are curated for different languages and regions.
Crypto Hub is a popular community on Discord with 12K+ followers.
Coinbase has a community of 207K folks on Reddit.
4. Do Crypto Airdrops
To distribute the token of your cryptocurrency in the hands of the maximum number of people, distribute free tokens in exchange for signup on the platform, or just by virtue of being part of the community. This marketing strategy is called Airdrop.
This would help in 2 ways:
1) Building loyalty: Early adopters would be the ones who would be your most loyal supporters by virtue of getting special treatment and the novelty of being an early adopter.
2) Spreading the word: The early adopters & freebie lovers would also spread the word since they stand to gain financially from the popularity of the token.
5. Run Bounty Campaigns
A bounty is a payment or reward given as an incentive for completing a task.
In the crypto world, a bounty is given in the form of tokens of the cryptocurrency that the platform is promoting. Instead of spending money on advertising to reach potential customers, bounty programs tap into the network of crypto enthusiasts to find new users.
Bounties are different from Airdrops. In airdrops, people don't have to do any difficult tasks. It's literally as if something fell out of thin air into your lap.
Bounties require tasks that need time and might have time limits too. For example, posts, reposts, retweets on social networks, thread promotions on forums, etc.
6. Use Referral Programs
Referral marketing is a marketing strategy that incentivizes existing customers to introduce their family, friends, and contacts to become new customers.
It is built on the philosophy that you are much more likely to buy something or check out something if it comes as a suggestion from someone you trust rather than promotion on social media.
To run your referral program, here are the things you need:
A unique referral link for all your current subscribers
An incentive structure based on how many referrals someone does
A way to inform your current users about the program.
All crypto companies have a dedicated section on their website to promote and explain their referral program. Here are two such examples:
7. Choose your social media platforms
Not every social media platform is going to be worth the time and effort for blockchain, crypto & digital assets companies. Facebook is the most popular platform, but it's popular amongst that older generation now that's catching up with the digital transformation. Snapchat and Instagram are more for the younger generation that might not have the finances to get into crypto.
For crypto companies, here are the social media platforms that you should be on:
Twitters: Twitter has a large base of crypto enthusiasts and promoters because thought leaders like Anthony "Pomp" Pompliano, Coin Center's Neeraj Agrawal, and hedge fund manager Mike Novogratz are constantly posting their views, sharing information on the platform.
Coinbase Twitter account has 5M followers! That proves you should also be hanging out there & adding value to your followers.
Reddit: To give you an idea of its popularity, there are 4.7M members in the r/CryptoCurrency/ subreddit & 1.3M in the r/ethereum/.
Discord: It was initially designed by gamers, for gamers, but Discord has gained popularity in the crypto community. It might be because there's quite a bit of overlap between gaming and crypto audiences.
Apart from this, you can also use Telegram, which is good for connecting with your audience informally.
Bottom Line
Over 2000 cryptocurrencies failed in 2021 alone, and different crypto companies are closing down every month (source). However, the global crypto market hovers at $983.72 billion. If you don't wish to be in the pile of dead companies & coins, it's time to invest in long-term marketing strategies.
You can start with content marketing & email marketing to share that content. Create a blog and start sharing knowledge with your existing customers or adding value to crypto communities. Remember, it's a long game. There's no going to the moon right after you publish your first post.
FAQ's
1. What is crypto marketing?
Promoting and selling products or services related to crypto business, such as an exchange, a wallet, a lending bank, a community, etc., is called crypto marketing.
2. Can you offer some crypto marketing strategies for business growth?
Here are seven crypto marketing strategies for business growth:
Content marketing
Email marketing
Community building
Crypto airdrops
Bounty campaigns
Referral programs
Social media platforms
3. What is a crypto-airdrop?
A crypto-airdrop is a marketing strategy in which you distribute the token of your cryptocurrency in the hands of the maximum number of people, distribute free tokens in exchange for signing up on the platform, or even just for being part of the community.