How to Drive Traffic Using Email Marketing
6 min read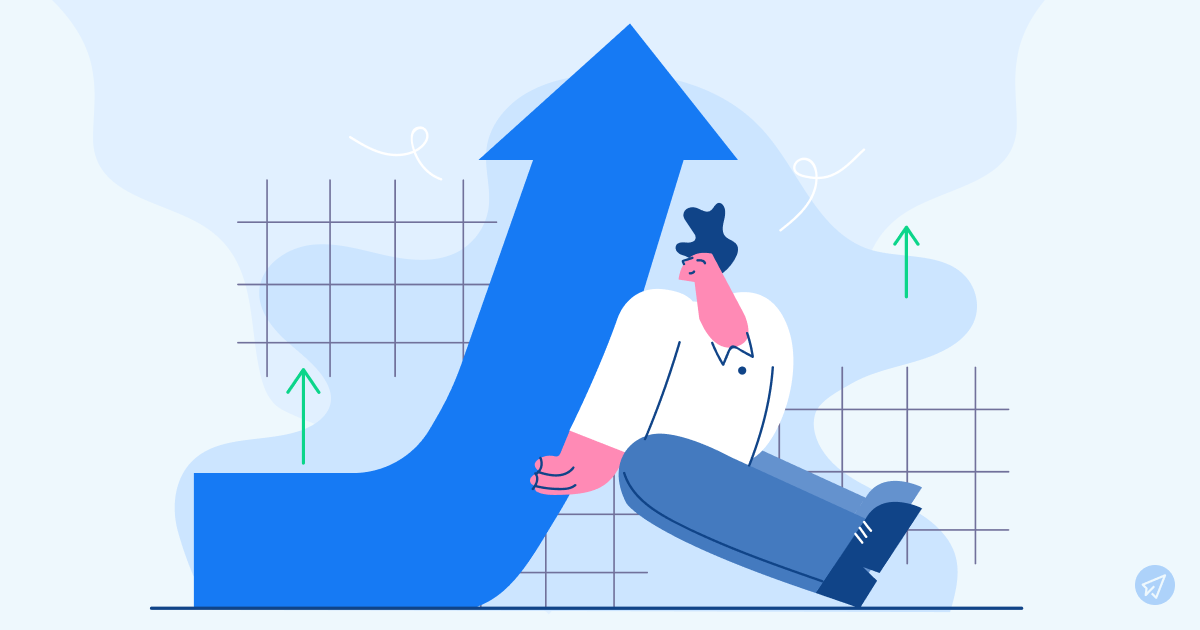 Marketers, these days, are using a range of digital avenues to target their customers. In addition to traditional advertising methods, marketers use contemporary techniques such as video campaigns, webinars, social media marketing, and more. However, regardless of the communication method you choose, it is essential that you also keep email marketing in the mix.
If you are still wondering if email marketing still holds charm over the populace, it is. Take a look at these statistics:
The number of global email users in 2020 was an astounding 4 billion, and this number is predicted to touch 4.6 billion within the next five years. This number means that more than half the world's population has access to emails. It is an expanding market that marketers have to leverage for their benefit.
Table of Contents
What is Email traffic?
We've all heard about email marketing, but what exactly is email traffic? Email traffic indicates the number of visitors driven to your website through email marketing campaigns. Suppose the primary goal of your email marketing campaign is to reach larger target audiences, convey your message and drive conversions. In that case, email traffic shows whether your campaign has been successful or not.
Email traffic is crucial to your business as it shows the traffic originating from existing customers and new leads. It shows how well your customers and leads are engaged with your business. When you analyze the traffic, you will understand the type of email marketing strategy that has to be harnessed by you. You can also come to know if the email marketing strategy works in your favor.
How to Monitor Email Traffic?
Monitoring email traffic is crucial to know how well your email marketing strategy is working and any chunks missing from your marketing arsenal.
Measuring the Total Traffic
The standard metric is tracking the total email traffic. You can monitor the traffic based on the list segment or demography. When you segment the traffic, you'll get a better idea about the number of people visiting your site clicking on the link from your email.
Conversion rate is probably the best indicator of the success of your email marketing campaign. It is possible to get high traffic from email marketing, but those visitors should also be taking the intended actions on your site. While gaining visitors from emails is a great sign, it should also help you achieve higher ROI. One way to alter the ROI in your favor is by optimizing the landing page for conversions or attracting targeted traffic.
Track Click-to-Open Ratio
Opening the email and clicking on the link provided are two completely different elements in an email marketing strategy. When several people are opening your mail but aren't clicking on the embedded link, it means your content is not captivating enough. One solution is to provide relevant and compelling content.
Monitor Behavioral Patterns
Understanding the behavioral patterns of your visitors will give you insights into their shopping patterns and help you design your email marketing content. Use Google Analytics to understand inbound traffic – analyze where your visitors go after coming to your website, or how many pages on average do they visit?
Understand the bounce rate
If your site's visitors' bounce rate is too high, it means they are finding the content compelling or the landing page is not optimized. For example, your visitors bouncing off the landing page could indicate a mismatch between the content in your email and the page it is leading. While the focus is on content and SEO, security is another important factor. Consider getting a VPS to keep your hosting safe and under control.
10 Email Marketing Strategies That Drive Website Traffic (With Examples)
Businesses use many email marketing strategies based on their business growth needs and specific marketing needs. We will discuss ten successful email marketing strategies that can drive traffic to your website.
Thoroughly understand your marketing need and type
Without a proper marketing plan, devising a specific email marketing strategy will not reap many benefits.
Each email is written with a specific need and purpose in mind, and each email marketing approach should be treated as such. For example, a welcome email would be different from a cart abandonment email.
Source: Headspace
A business can launch various email campaigns depending on the purpose they are planning to meet. Some strategies are:
Welcome emails
Product or brand promotion emails
Seasonal emails
Cart abandonment emails
Customer retention emails
Regardless of the campaign you choose, make sure it is personalized and sends the message across in a non-intrusive and interesting manner.
2. Develop an email list organically
Developing an email list is a mandatory step in any email marketing campaign. Emails should ideally be sent to customers who have opted for communication. If you are sending emails to contacts whose information you purchased, it means they haven't voluntarily agreed to be contacted, and chances are high that your email will not be welcomed, or still worse marked as spam.
If you are contacting a person whose permission you've earned due to a previous interaction, you are more likely to see improved engagement and greater performance.
Once you have built an active email list, it is time to organize the contacts into different groups. You can base the groups on their shared interests, location preferences, and previous purchase history.
For example, you can group subscribers based on their purchases or the preferred location.
3. Personalizing emails
Personalization in emails is one method that has a reasonable click rate. In a survey in 2016, personalized emails had a click rate of 18.8% against 13.1% for non-personalized emails. It is no wonder that more and more marketers are employing personalization methods in their email marketing efforts.
Source: Rent the Runway
Personalization doesn't stop with sending the emails addressed with their first name. It can include customer-specific product recommendations, reminders, offers, and valuable content based on shopper history.
According to a research, emails with the highest click rates (8.8%) advertised a drop in the price of products the customer had been browsing. Greeting customers on their birthdays or special occasions could send a message that you value the customer.
4. Targeting the right audience with the right emails
Sending the right emails to the correct audience makes a lot of difference to your marketing campaign. Moreover, make sure you send it at the right time too. For example, a seasonal offer email must be sent ahead of the season to ensure conversion.
Sending your emails to the wrong audience will not help you see the results you are aiming for. You have to send emails to the people who are likely to interact and connect with your business.
Try to build a relationship and drive engagement with your segment to customize your content accordingly. Customize your content based on its place in the sales funnel and curate your content such that the audience receives it.
5. Building email content
Composing the email content is the next major step in your email marketing campaign. Your customers don't wander into your online store without a purpose. Please provide them with a solid and convincing drive for opening your emails.
A short, creative, and sometimes quirky subject line will help your emails overcome the first hurdle.
Pique their curiosity, but don't give false promises. If a flashy pop-up line made them open the email, they wouldn't do it the second time if the mail didn't deliver on the promises.
Provide clear and concise content: any rambling information is likely to see the bottom of the recyclable bin.
Include images and a few lines of text, preferably limited to 20 lines.
Refrain from providing too much information in the emails, enticing their interest, but stop going overboard.
Place a clear call to action and ensure it is in the above-the-fold area. If the purpose of the email is to enlist to an event or sign up for a scheme, convey an explicit response action you want them to take.
Finally, don't forget to thank your readers.
6. Balancing the frequency of emails
There is a delicate balance between appearing polite and appearing clingy.
One too many emails and your readers will lose interest, and worse still, they might unsubscribe. Don't abuse the trust of your customers by flooding their inboxes with irrelevant and excessive emails.
7. Analyzing the effectiveness of email marketing
Putting an email marketing strategy in place is only half the battle. You should also analyze the campaign's effectiveness to understand its performance and enhance its value by generating a marketing report. A reasonable click rate is an indication that your email marketing campaign is working well.
Another valuable metrics to analyze the effectiveness of your email marketing campaign are:
Open rate: It is a percentage of how many people opened your email out of the total number of emails sent.
Click through rate: CTR shows a percentage of how many people clicked on the links in your email.
Conversion rate: It shows a percentage of how many people clicked on the link and completed the specific action.
Bounce rate: It shows how many of your people didn't receive your email.
8. Using multiple channels to promote email subscriptions
Promote your emails using a multi-channel approach.
Increase the reach of your emails by promoting them on Facebook, Twitter, and other social media sites. Also, make use of blogs and forums to provide extensive information about the content of your emails.
9. Incorporating videos in emails
They say a picture speaks a thousand words.' And this is true! But how many words do you think a video says?
A video is, perhaps, the most effective form of storytelling. And everybody likes a good story. Make the story about your product interesting, informative and memorable.
The very mention of the word 'video' in the subject line increased the open rates by 6%. Video emails marketing should be the latest addition to your content marketing arsenal. Nobody has the time to read through lines of text.
However, the video should be short, fast-loading, and mobile-friendly. You can include demo videos, new product introduction, innovative ways of using the product, or talk about how your company started.
10. Don't go for a 'no-reply' in emails.
'No reply' is a standard phrase used in place of the sender's name. When 'no reply' is used, the receiver cannot respond to the emails or even opt out of the mailing list.
CAN-SPAM is legislation in the US that oversees email marketers across the country. The purpose of CAN-SPAM is to ensure marketers do not use the terms 'no reply' or other similar phrases.
It is good to send emails using a person's name, especially a first name, instead of using generic terms. Customers will be more prone to opening emails from human beings rather than from marketing automation tools.
Conclusion
Are you ready with a creative and clickable email campaign?
A marketer has several digital marketing tools at his disposal, and email marketing is an integral part of any business's marketing strategy. Get creative and use different strategies to grab the attention of your customers. Limit the number of emails you send, and don't get too fussy with the sales pitch.
Go easy on the CTA, and above all, try to build a persona for your business. Concentrate on building a relationship and providing value, and everything else will fall in place.