6 Abandoned Cart Email Template Examples, With Tips To Recover Abandoned Carts
6 min read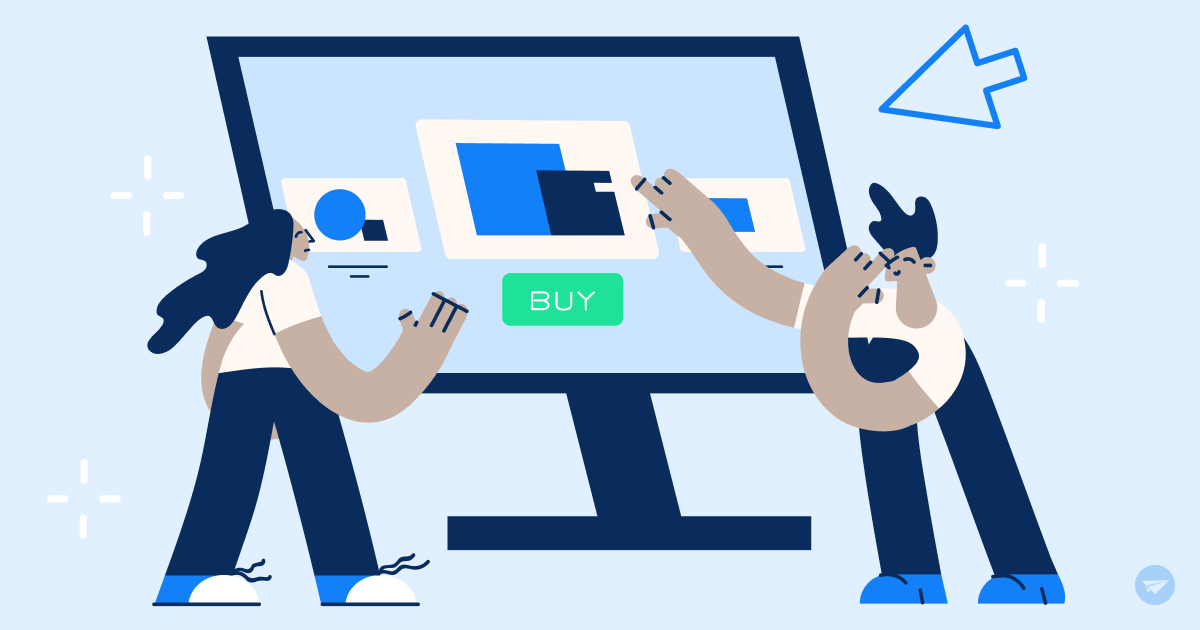 What is an abandoned cart email?
When someone adds a product from an eCommerce site into their cart but doesn't complete the purchase, it is said that the cart is 'abandoned'. Emails sent to them as a reminder to complete the purchase are called abandoned cart emails.
If someone is already so convinced with your brand and product that they were ready to add products to the cart, it's easier to convert them to customers compared to convincing a cold audience to buy. So the purpose of an abandoned cart email is to recover a lost sale.
Why do people abandon their carts?
If you know why people abandon their carts, then only you will be able to take steps to convince them to complete the purchase.
Firstly, there will be some people who are just doing online 'window shopping' or some research. These are not your potential buyers. You will not be able to recover a sale from them even after sending multiple emails. So forget about them.
But there are people who have genuine reasons to not buy immediately and let the product sit in the cart for a while. Your focus should be to convince this group of potential buyers.
Here are some of the common reasons for cart abandonment & how you can address these in your abandon cart emails strategy:
Price is high: Customers get cold feet when it's time to actually take out their credit card. You can nudge them by offering a discount or cashback offer.
Unanticipated costs at the checkout: When people see the final cost that is higher than expected, they will have to re-think their purchase decision. Hence, will leave your site in the middle of the checkout process.
A way to avoid this is to show pricing, terms related to cost before someone adds the product to the cart. Another way is to show updated total costs at every step of the checkout process.
Unsure if they really need the product:
Lack of payment options: When someone is ready to give you their money but there are no suitable methods to do that, they will have no choice but to quit the checkout process.
Provide as many options as you can from credit, debit, Paypal, virtual payment cards etc, and even cash on delivery if it's feasible.
Long checkout process: If the checkout process is long and complicated, people get time to re-think their purchase and also lose trust in your brand (because you are making them do some hard work!).
Create a simple 2-3 step checkout process. Every step should be relevant to getting the product delivered to the customer. See how successful companies are doing it and try to design something similar.
Lack of trust in the brand: Customers are not always willing to give out their credit card information or location details so even if they have a slight doubt trusting your brand, they might decide to drop off right before the purchase.
You should use social proof, recognizable logos, or security credentials badges to build trust.
Got distracted: Sometimes, people get distracted and forget to complete the checkout. In this case, you just have to remind them.
How to make the most of your abandoned cart emails?
Optimize for getting your emails opened
The first step in tackling the objection of your potential customers is to get them to read your emails. But how can you do that if they don't even open it? Your emails might have a compelling offer or lots of social proof but everything is useless until someone opens the emails.
The only way to optimize for getting your emails opened is by creating a subject line that hits some of these points:
Reminds about the abandoned cart
Create urgency
Talks about a discount of coupon
Uses personalization
Here are some real-world examples of abandoned cart emails from top eCommerce brands
Did you forget something in your cart?
We promise to hold your items until tomorrow
20% on the shirt you just liked
We have saved your cart
Items in your cart are selling fast
Showcase the product they left behind
Don't leave people guessing about what they leave in your cart. Clearly show the image of the item left behind, how many units are there, and what is its price. Provide full information about the product here.
Ideally, club all of the items left behind in one single email so that there is a chance to sell at least one out of all.
Create a sense of urgency
If someone has added an item to their cart, they are already somewhat convinced to buy so now your job is to nudge them to take immediate action before they change their mind.
This is done by introducing an urgency. Some of the ways to create urgency are:
Letting them know you might run out of stock soon
Mentioning a date before you will clear their cart
Offering coupons with an expiry date which should be in the next 1-2 days
Address potential objections
It's a good thing that your customers have objections. It's a sign that they are interested and you just have to resolve some doubts they have.
Address potential questions your customers would have liked to get answered before purchasing. Find out these questions by talking to your customers & looking at feedback.
Objections around your product can be addressed in FAQ style. You might have explained those on your website but people miss these things all the time.
Use reviews and social proof to convince
How many times have you visited a tourist spot or restaurant because your neighbors, friends, or colleagues went there and have rave reviews about it. A lot of times, right?
The same applies to customers. They can be convinced to buy something if they see others like them buying it and finding it useful or delightful.
Here are some ways to use social proof:
Testimonials
Number of times the item is bought
Any PR to show off
Number of reviews and ratings
Offer an incentive to take action
Sweeten the deal for a potential customer by offering them a coupon, free shipping, discount, cash back, or some customization offer.
But remember that customers shouldn't get used to it. Next time they would want to make a purchase they might intentionally abandon the cart waiting for the discount.
So offer an incentive only as a last resort. Or offer it to make a sale on a high-margin product.
Timing your cart recovery emails to make the most impact
After creating the best subject line, great offer and images if your timing is not correct then abandoned cart email will not prove effective. If sent too soon, it might seem too sales-y and if sent too late, the potential customer would have totally forgotten about it.
Here is how you can time your emails:
Send one email after an hour. This should just remind them about the item in their cart & create urgency.
The next email should be in 24 hours after the previous one. This one should remind them about the benefits and show social proof.
The last one can be sent 2 days after the previous one. This can contain a coupon or discount offer.
I would also suggest you test out different sequences & timings to see what works for your audience.
6 great examples of abandoned cart emails
Here are some real-world examples of abandoned cart emails to inspire you to create your own.
1) Handling objections via FAQ
This email from Whiskey Loot starts with a list of fun things you can do with their Whiskey. This grabs people's attention and they are interested to reach further.
Then it tries to convince people to go back to the cart by answering potential questions they might have.

2) Offer of Free Shipping
This email by Huckberry is a classic example that can be adopted by any eCommerce company.
It says that 'sales are often' limited which creates an urgency. Then it incentivises to buy by offering code for free shipping.
And we have the main section talking about the product details, cost, quantity in the cart.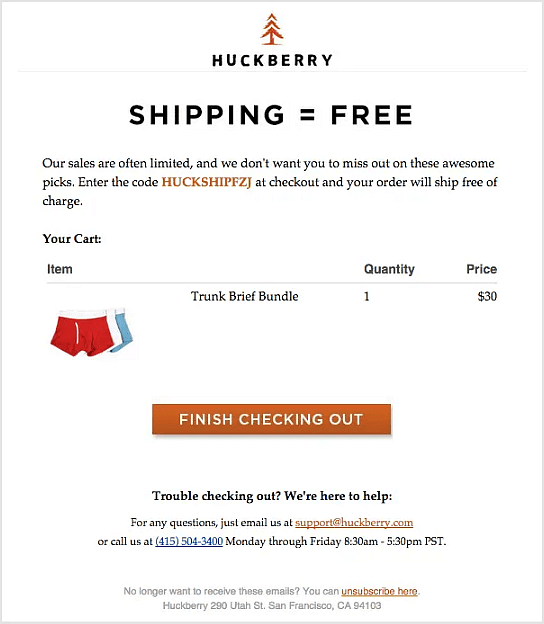 3) Creating urgency
This email from society6 starts by creating an urgency by telling that they will reserve the cart & discount for only 48 hours.
Interestingly enough, they don't display the item in the cart but other aspirational stuff from their website.

4) Scarcity and social proof email
This email serves two purposes with one headline. By saying the items are in 'high demand' it signals that the product is loved by others too. And then it says 'don't let it fly' to signal that they might run out of stock so the reader needs to take action now.
This is subtle, clever, and classy.

5) Just a reminder email
This email from Headspace acknowledges that you might have gotten distracted while trying to buy their subscription and you can simply return back to completing the checkout.
It also highlights the email address you can reach out to for any questions. This builds confidence that customer satisfaction is a priority of this brand. And hence, increases the chances of completing the purchase.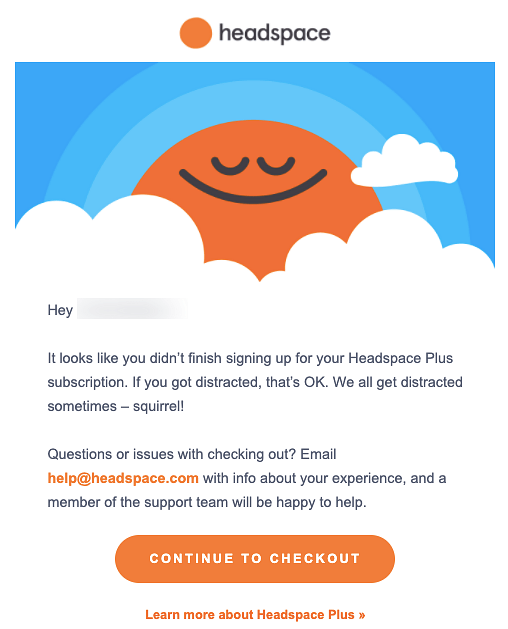 6) Doubling the trial offer
Kajabi sends an abandon cart email if you don't complete signing up for their free trial and leave it in the middle. It's not a cart in the traditional sense because you are not paying for anything yet but it is still a cart with a $0 value.
The offer they make to convince you to sign up is doubling your free trial from 14 to 28 days.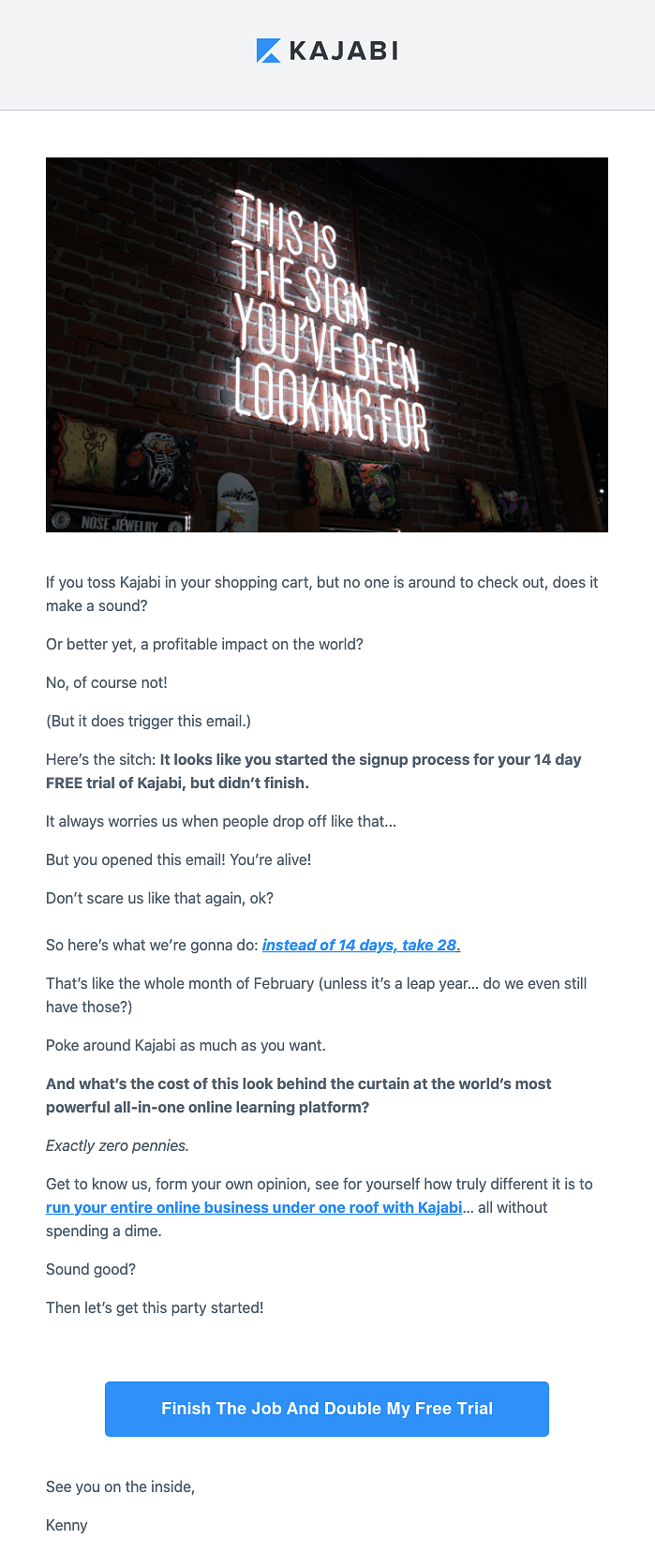 Conclusion
Abandoned carts are going to be there and probably increase as competition & choices increase. But the antidote to this problem is constant communication with potential customers via emails.
Abandoned cart emails are an easy way to turn a lost sale into a recovered one. And the best part is that all this can be automated.
If you are looking for an ESP that can help you automate this process, SendX is a great choice trusted by 3000+ companies. It can be integrated with eCommerce platforms, has a drag-and-drop email editor, and doesn't break your bank. Check it out here. And if you want to test the waters first, get a 14-day free trial. Without a credit card or a lengthy signup process.