12 Best Welcome Email Examples to Engage Your List
7 min read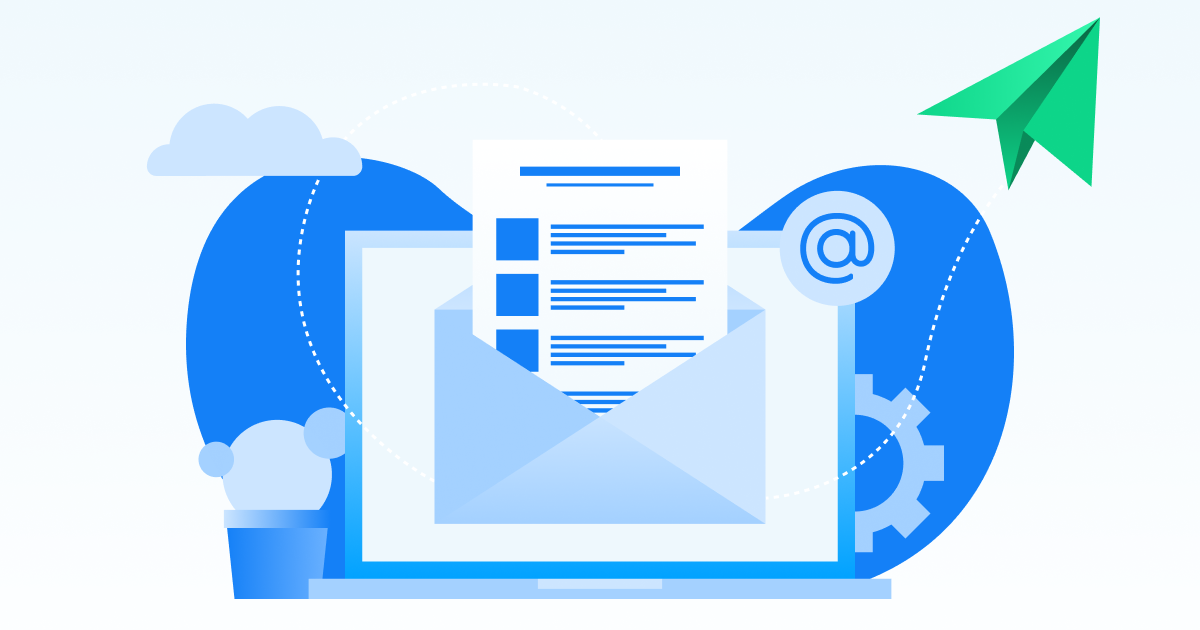 Wouldn't it be weird if you checked into a hotel and there is no one to tell you where to go, what to do, or just greet and feel welcomed? It certainly would be. You would not form a positive image or have any emotions for the place.
The same might happen if you invite people to subscribe to your emails and then don't welcome them. Apart from just psychological reasons, a welcome email is also helpful for your business in moving people from free to trial, get them to download the app, nudge them to buy from you, tell your story, and attract the right audience with your core values.
So, in this article, we aim to tell you what's a welcome email, how it can help you in managing and engaging your list and give you 12 examples of engaging welcome emails.
What is a 'Welcome email'?
A welcome email is the first email a subscriber receives after they become a part of an email list by subscribing to a newsletter, downloading a lead magnet, or signing up for a discount.
When should you send it?
Send it immediately after someone signs up to be part of your list. Don't wait for an hour or a day. Welcome emails have the highest engagement rate when sent immediately.
How to send it?
To send a welcome email, brands use automated workflows. This reduces any manual task of checking who joined the list and then sending the welcome email. All major email marketing service providers will provide this functionality. SendX is one of them.
Here's How a Welcome Email Helps in Management & Engagement
Increased engagement
Welcome emails generate 4x more opens and 5x more clicks than regular emails. Even if you offer a heavy discount, your regular promotional or content emails might not get such a high engagement.
High engagement is because 74% of the people who sign up for a newsletter or give their email expect to receive a welcome email. (source). They want assurance that they are actually part of the list now and are eager to check out the content you will share.
As a bonus, you can include your IG or Twitter handles in the welcome emails to get your email subscribers to keep in touch with you on social media. (double engagement!)
Setting expectations and delivering on the promise
A welcome email can be used to inform subscribers what they can expect from further emails and at what frequency can they expect those.
If you promised to give something to subscribers on signup (a free PDF, discount, link to a video, access to a free course are some of the examples), a welcome email should contain that.
Welcome email should also include a brief about what is your company all about, what are your values and how your products or services can help the subscribers.
Segmentation opportunity
Since a welcome email is opened by maximum people in your list, it's a chance to ask your subscribers any questions or fill up a survey to segment them into categories.
Segmenting your list will help deliver relevant content to your audience since not every type of subscriber will have the same interests or needs.
12 Examples of Engaging Welcome Emails
We went through our inbox and even signed up for a lot of newsletter and product pages to receive a variety of welcome emails and analyze what's engaging and great about each one.
Here's a round of the 12 emails we found worth looking at & also analyzed what you can learn from each one of them.
1) Airbnb welcome email
Airbnb is a platform where you can rent your place to a traveler or travelers can book a place to stay while traveling. We received this email after signing up on the platform as a new user.

Takeaways:
A warm welcome to subscribers by saying that they are part of a community now.
A clear, concise section describing what Airbnb is all about. Useful for a new subscriber who hasn't explored the platform yet.
CTAs are not pushy as this is the first email. Instead of saying 'rent a home' or 'book experience' they urge you to explore and learn more.
2) Allbirds welcome email
Allbirds is a company that designs and sells footwear and apparel made out of natural materials. We received this email after signing up for the Allbirds newsletter.

Takeaways:
The values of the brand are explained briefly to make a connection with readers who relate to sustainability (one of the Allbirds core values). There is even a CTA if someone wants to learn more. This helps build trust in the brand
Included a link to their Instagram so people can keep in touch with the brand outside of email too.
There is a small section that talks about shopping for shoes. Since welcome email gets a high engagement, this is useful for getting visitors to explore their collection and buy.
3) Evernote welcome email
Evernote is a note-taking app. We received this email after signing up for their free account.

Takeaways:
Evernote is most useful when you need to take quick notes on your phone. So they have highlighted that you should download the app, right at the top, above the fold, and even at the end of the message.
It then leads with two clear benefits (and not features!) and gives an option to explore more.
Briefly talks about upgrading. Not too pushy since it's the first email to subscribers.
The images used to show products in use, in real-life scenarios.
4) Harry's welcome email
Harry's is a company selling men's grooming products in retail stores and online. We received this email after signing up for their newsletter.

Takeaways:
The branding here is on point. They have shown their products at the top to convey what they do. The classic show, don't tell technique.
Then they briefly talk about their story to make a connection with the reader. So they build a brand image, become customers, and strengthen loyalty.
They have highlighted the 3 core reasons why someone should choose them.
The section about products is very subtle. Rather than asking you to 'buy' (which is a big ask), it nudges you to ' explore' since it's their first email to you.
5) Trello welcome email
Trello is a project management tool. It comes in the category of SaaS tools. Here's the email we received after signing up for their free plan: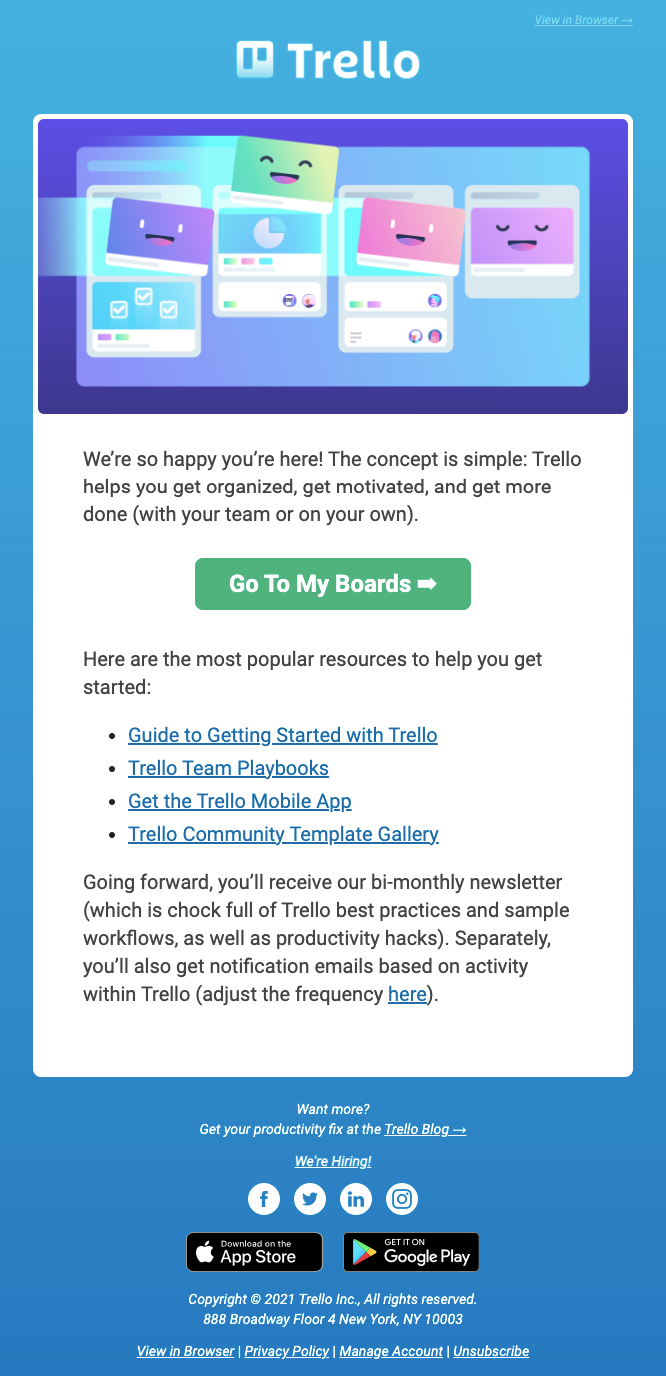 Takeaways:
The image on top could have been better but it does show a happy feeling you get when you move tasks from 'to-do' to the 'done' list.
Quickly explains the concept of the product and how it will help you in simple terms to get you the aha moment.
The CTA is for you to go to your 'boards' which are tools inside Trello where you collaborate and note your tasks.
There is further reading material to get to know the tool better. Notice that they don't ask you to upgrade as soon as you become their lead. They want to nurture a bit before pitching to upgrade.
6) Typeform welcome email
Typeform is a tool that allows you to run online surveys. This is the email we received after we signed up for the free account and confirmed our email.

Takeaways:
It gets you straight to learning and using the tool, without wasting any time or emails. So welcome email is step 1 of the small journey they take you on to see the benefits and features. That's because they probably realize that the customer is here to solve a problem and we need to help him do that quickly.
The CTA is -- Get started to nudge you to just start and not to worry about anything complex.
7) Wistia welcome email
Wistia is a video hosting platform. We received this email after signing up for the free account.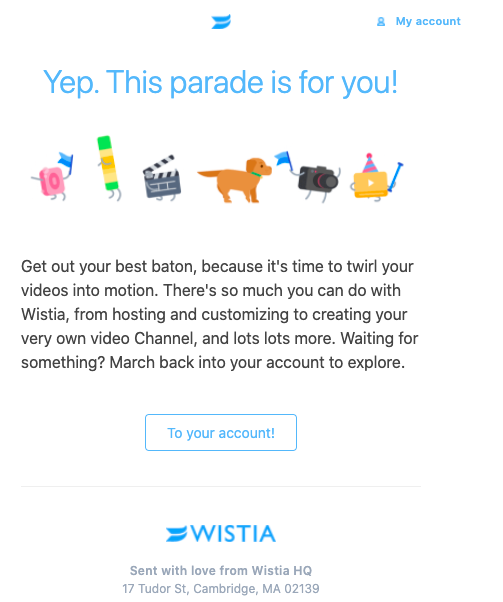 Takeaways:
This email is a perfect example of how you can be fun, concise, and clear in your welcome email. It doesn't want you to spend time reading the email but actually using the platform
The headline cheers you up and you feel a bit special. It's a fun way to welcome a new subscriber.
It gives you some ideas on what you can do with Wistia and then urges you to go back to your account to explore those ideas. Pretty cool way to get the user accustomed to the app. This will help their adoption and retention.
8) Headspace welcome email
Headspace is a popular meditation and sleep app. This is the welcome email you receive on first signing up on their app or website.

Takeaways:
Appreciate you for taking the step to start a meditation journey. This boosts the morale of the subscriber and they are more likely to stick to the app and practice (which is in their favor!).
Give you some tips to get started. Talks about what's available on the app and how it can help you.
It's trying to build a brand image by saying 'get some headspace' instead of 'start meditation', right from the first email.
9) Birchbox welcome email
Birchbox is a beauty products' subscription company. They curate subscription boxes using products from different brands. We received this email after we signed up on a popup offering $5 off on the first box we ordered from them.

Takeaways:
Positions the brand correctly from the get go -- better way to shop for beauty
Re-iterates why you need their subscription & explains what the subscription is all about.
Opportunity for segmentation by asking subscribers to take a quiz to better curate products for them
Fulfills the promise of $5 off on the first box.
10) Grammarly welcome email
Grammarly is a cloud-based writing assistant that checks your writing for grammar, spellings, punctuations, etc. We received this welcome email after we purchase.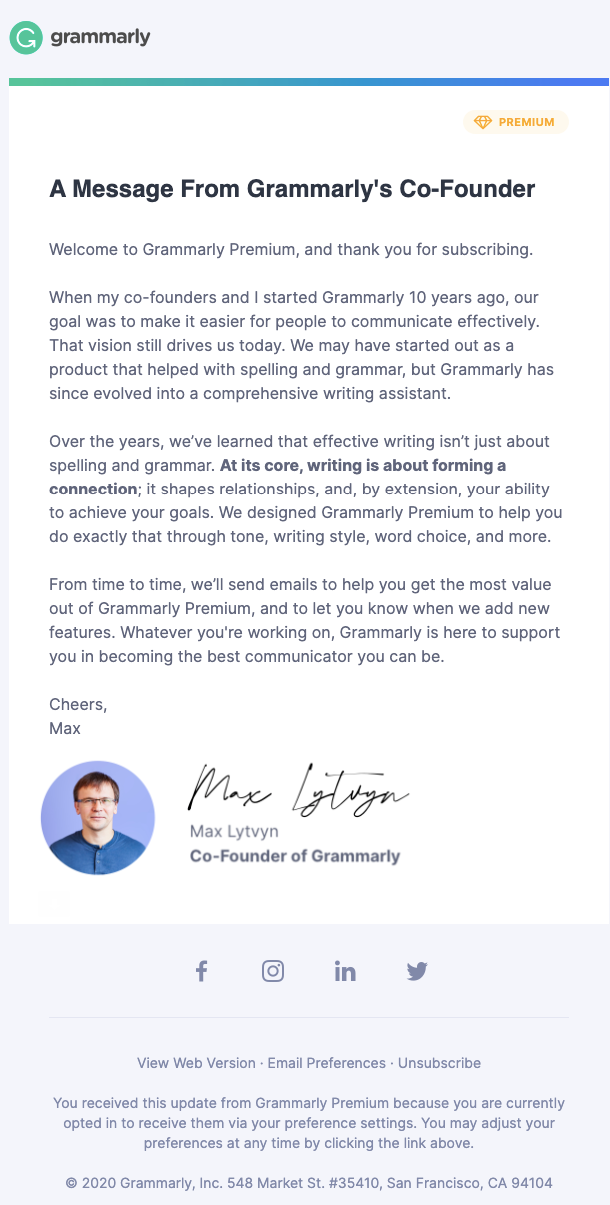 Takeaways:
Welcome message from a co-founder makes you feel that you are valued as a customer. It makes it feel like you are dealing with a company of humans and not just faceless robots.
It's a warm welcome and a genuine thanks for subscribing.
Talks about Grammarly's evolution and its story. Gives you confidence in the product.
Sets expectations for future emails.
Cheerful signup from the co-founder sets a positive tone.
11) Homage welcome email
Started in 2007, homage is a clothing company.

Takeaways:
Fulfills the promise of 15% off made when we subscribed for the emails.
Talks about the story of the brand & the core values
Opens up a loop by saying 'there are so many stories yet to be shared' so people will look forward to future emails.
Subtle hint at checking out the products at the end.
12) Reformation welcome email
Reformation is a women's clothing brand. We received this email after signing up for their newsletter.

Takeaways:
This welcome email is unlike others. It has a conversational tone and a very crisp copy -- clear, to-the-point.
The images of various products available on the website give an overview of what's available.
Talks about the core value of the
Wrap Up
From all of the welcome emails we have analyzed above, it's clear that your welcome email doesn't have to be pushy and it has to show your brand's best version to subscribers. Here are some themes that have emerged and are helpful to be included in your welcome email:
Make subscribers feel welcomed
Talk about your brand story & core values
Set expectations for future emails
Can have multiple CTAs
Nudge people to explore your products or platform.
Don't be too sales-y or pushy.
A welcome email is an important step in an engaging customer journey so make sure you have one implemented. If you want to get started, SendX can help you with an intuitive email editor and automation functionalities. The best part, you can try it for free for 14 days, without a credit card.