Your first impression makes a big difference when it comes to determining the kind of relationship you are going to have with your customers going forward. Business owners have to think about how they make that impression across all touch-points.
However, in most cases, certain touch-points are prioritised over others. It's only natural. That doesn't mean that you're not missing out on some potentially valuable first touches.
Even business owners who rely heavily on Email Automation can overlook the Welcome Email.
Here, we're going to look at what you need to know about this particular kind of first impression, how your business can make use of it, and how to ensure that you're delivering Welcome Emails that deliver customers in return.
What Are Welcome Emails?
As the name implies, welcome emails are email messages welcoming new members of your audience to your brand or business.
Most of the time, they're the first time that your brand reaches out directly to leads, customers, or readers who have used your service for the first time, subscribed to a blog, or subscribed to your newsletter or email marketing campaigns.
They're a great way to establish the tone of the brand, early, to lead with value first, and to give them the best possible first impression that your brand has to offer.
They allow you to set the basis for the relationship that you have with the reader, to give a clear idea of what you can offer, and to lead into a more consistent email marketing campaign.
99% of consumers check their email accounts every day, and almost all professionals and business owners check their account multiple times a day, as well.
Finding your way in there gives you a direct line that is certain to catch the recipient's attention.
A Welcome Email doesn't just welcome a reader, customer retention or client to your brand, it also welcomes your brand to their Inbox, where it will hopefully be welcome to stay for a long time to come.

How Can Different Businesses Leverage Welcome Emails?
How you make use of our Welcome Emails and the most valuable way to leverage them depends on a few factors.
First of all, you need to consider how you got the email address in the first place. For instance, if you got it through a purchase on your online store, it makes sense to send out an email that's sensitive to the context of that purchase, rather than one that tries to introduce them to a brand that they already know.
The second factor that should influence how you use your welcome emails is what your business's goals are. Are you trying to convert them? Are you trying to keep them subscribed to your emails?
Are you trying to build word-of-mouth, customer loyalty, or good will? Each of these objectives has a different strategy (or potentially a few) attached to them.
Leveraging welcome promotional emails well also means understanding the psychological triggers that they pull when customers receive them (and receive them well): care, attention, and service.
By being immediately welcomed, they know that a brand cares enough to reach out, they might get warm feelings about the attention they're getting, and they understand that you're taking a step to serve them directly.
Sign Up for a 14 Day Free Trial of SendX: Email Marketing Software
With that in mind, let's look at some ways you can leverage welcome emails:
Getting Them Started
These emails are designed for customers who might not know how to effectively use your product or service, or for those who haven't converted but have signed up to your emails. Explain what your brand offers, how to take advantage of it, and a little space to highlight the benefits of it, as well.

The Social Call to Action
If your new email subscriber has taken the time to allow a welcome email, they might be open to connecting with you on other platforms, too. This allows you to maximize their potential to convert (or to be retained) and allows you to avoid trying to sell them on your very first email to them, as well.
A call-to-action encouraging them to reach on social media can also help you meet your goals of growing your social reach, too, of course.
Thanking Them for Their Purchase
A short, sweet message focusing on showing your gratitude for doing business with you is simple and effective. These should keep the tone light and can be combined with upselling offers or social media calls-to-action that can potentially capitalize on the boost of positivity that they often bring.

Thanking Them for Their Support
Customers like to feel like more than consumers, especially for service-based transactions. They like to feel like they're part of something, that they're contributing to what they support.
Taking the time to make them feel special and to show your thanks for their time and attention, even if they haven't bought anything yet, can create a closer connection between them and the brand.

An Incentive For Purchase
Freebies, discounts, and exclusive offers can be a particularly spicy way to open up a Welcome Email. Naturally, their purpose is to incentivize sales, but they also immediately show customers the value of staying signed up for future emails, making your future email campaigns all the more likely to succeed.
Asking For Feedback
Want to make customers feel welcome, like they're part of something bigger, and that they're valued? Asking them for feedback does all of that, increasing customer loyalty and making them more likely to stick around.
It's even better if future email marketing campaigns highlight updates and changes you've made based on feedback, too.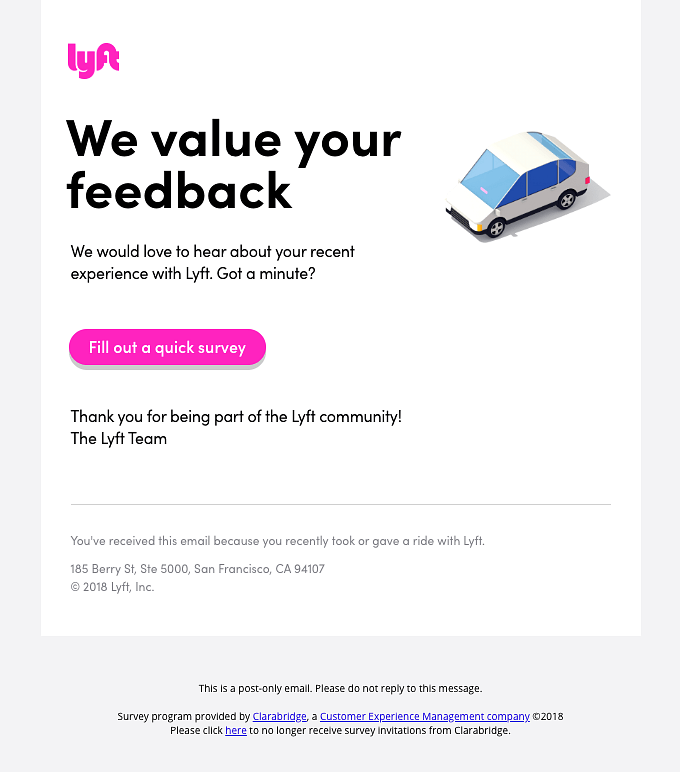 You're not necessarily restricted to any of the strategies above, either. There are endless ways to welcome emails, as well as ways to combine the different strategies above.
You can thank them for their support while asking for feedback, incentivise a purchase while offering a social call to action, and much more. Consider your goals and your existing relationship to determine which is the best fit for your business and this particular customer.
Sign Up for a 14 Day Free Trial of SendX: Email Marketing Software
Best Practices and Uses of Welcome Emails
Now that you have an idea of the different ways you can leverage your Welcome Emails, it's time to think about how to make them as effective as possible.
Here are some tips for welcome email best practices you should follow to ensure that they're effective, impactful, and much less likely to get thrown in the trash:
Put Your Purpose in the Subject Line:
You might be tempted to lead with a clickbait-y title and that might succeed in getting them to open the email. However, it quickly becomes annoying and might see you losing subscribers quickly.
Whatever the "value" of the email is, whether it's an offer, a guide, or a simple thank you, summarize it in the subject line as snappily as possible.
Use Multimedia to Your Advantage:
Gorgeous imagery and engaging videos can be a welcome break from the text blocks that usually fill up an email inbox. Keep it above the fold and make it as accessible as possible.

Format It Sensibly:
If your welcome email is going to be broken into different subjects or categories, make that as clear as possible. Keep sections visually separated, give them highly noticeable headers, and try to keep them concise.
Be Concise, Be Creative:
Try to boil your message down to the bare essentials and avoid flooding readers with details up-front. Take the time to get colorful with your language, especially your subject line. It should be clear and easy to read but engaging at the same time.
Be Authentic:
With that in mind, don't dive into marketing speak with your welcome email, either. Keep it organic and informal, establishing your brand identity but without feeling like the reader is stuck in a corporate orientation session.
Best Tools to Create Welcome Emails
So, how do you get started with creating and delivering excellent welcome emails? You can go the route of hand-writing emails every time you get a new subscriber or customer or even of copying and pasting welcome email copy each time.
But that gets old and time-consuming very quickly.
A much more efficient way would be to capture your emails online using a form creator tool. Once your email is in the system, you can use integrations to automatically synchronize your emails and customer-data with the email software of your choice.
Email marketing tools can automate the process for you while making it much easier to design gorgeous looking emails with your own unique brand materials.
They can also help deliver different Welcome Emails depending on the context of how you acquire an email.
For instance, you can set it so that a new customer gets a different kind of welcome email after a purchase compared to a reader of the blog who signed up to your newsletter. Simply put, email marketing tools can take out a lot of the work for you.
Sign Up for a 14 Day Free Trial of SendX: Email Marketing Software
Are You Ready To Welcome Your Customers?
Hopefully, the tips above help you see the sheer value of welcome emails, as well as how to get started with them. Start thinking about the welcomes that meet your goals today and use your email marketing campaign to its fullest potential.
---
FAQs

1). What is a welcome email?
Welcome emails are email messages welcoming new members of your audience to your brand or business. It is the first impression you make with a new subscriber via email.
2). What are the uses of sending welcome emails?
Subscribers who have visited your webpage and submitted their email address voluntarily, are literally asking you to communicate with them. And what better way to engage new email subscribers than by sending them an automated welcome email, thereby acknowledging their subscription.
3). What should be the contents of a good email marketing welcome email?
Ideally, a good welcome email should have the following content:
A thank you statement
Self-introduction
Expectation setting
Delivery of what you promised at the time of subscription
Value add by sharing helpful resources
Avenues to stay connected with you
4). What are the best practices for crafting a good welcome email?
Here are some welcome email best practices:
Put your purpose in your email subject line
Your subject line should be clear and easy to read, but also engaging
Keep sections visually separated, give them highly noticeable headers
Insert relevant imagery and engaging videos
Be concise and creative with your email subject line
Establish your brand identity and avoid diving into marketing speak
5). Do I have to design welcome emails from scratch in SendX?
No. With the WYSIWYG editor in SendX, you can design beautiful email newsletters even if you don't know HTML. And, SendX offers 50+ free response email templates as well, including welcome emails.