25 List Building Strategies to Build Your Email Lists [Top Tips For 2023]
24 min read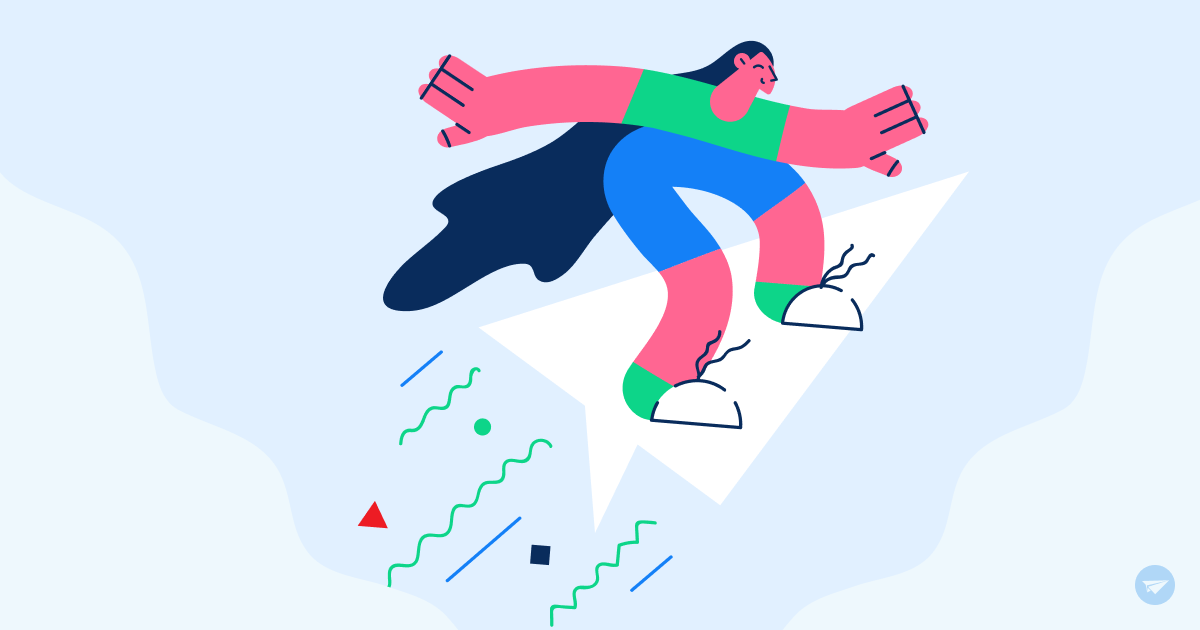 When was the last time you scrutinised your email marketing strategies with Holmesian rigour? If you've been sending out emails that aren't opened or need to make an email strategy, it's time to do away with old-school game plans and build an email list from scratch.
Table of Contents
Introduction
Email list building is the act of getting users to subscribe to your email list. It means that you grow your list gradually and organically by adding subscribers from your web forms and landing pages, and other subscription interfaces.
Email list building is a must for any marketing strategist. Marketing products and service through email list bring return-on-investment (ROI) of 4200%. Email list building is an affordable way to get maximum profits. Email users are forecast to rise to 2.9 billion by 2019.
The benefits of these lists are many. It is a list of people who've signed up willingly to receive your e-newsletters or any other e-communication you may plan to send them. They're loyal, and a loyal base of readers and customers goes a long way in building your brand.
Email lists are cheap to set up and way easier to understand than social media, especially if you're targeting outside of the millennial audience. More than 59 per cent of businesses see emails as an advantageous tool for connecting with their audience.
Emails are more personal, which means customers are more likely to feel invested in your growth and progress than if they see a generic post on social media. Emails convey authenticity to the audience.
Start Building Your Email List with SendX
Investing in building your email list and continuing to nurture those who have subscribed is essential. Here is a list of ways to build an engaging, authentic and relevant email list for 2020.
1. Make It Dead-Simple to Sign Up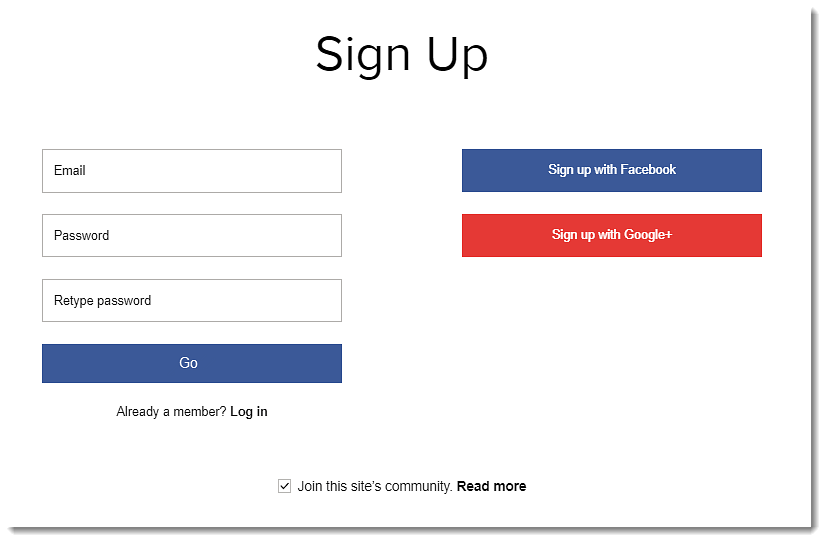 Let's start with a straightforward strategy that you can implement almost immediately - make it very simple for your reader to sign up as a subscriber. No one wants to spend time filling out government-level forms to sign up for a newsletter or an update. Instead, ask for the necessary details--email ID (obviously) and name, if you'd like to customise your emails.
One of the best ways of implementing this tip is to create a design which is minimalistic and simple and yet does what is needed. One rule you can follow, while ideating the model, is to make use of negative spaces.
Instead of creating a page long banner with your picture and attractive colours, keep it simple, by just using 2 or 3 colours at max. Keep the rest of the background empty, so that your reader's attention is directed exactly where you want it to be and not anywhere else. You can also build your email list by asking contacts to send a text to a number (SMS Opt-in), and set up an automated reply to collect their email address, and even importing contacts into a list. This will allow you to send them mass texts along with your email campaigns.
Tip: You can allow readers to tick the domains they're interested in, so they only get emails on topics they choose, like The New York Times does. That way, they're more likely to open the email and click through to one of your pages!
2. Offer something which the customer truly values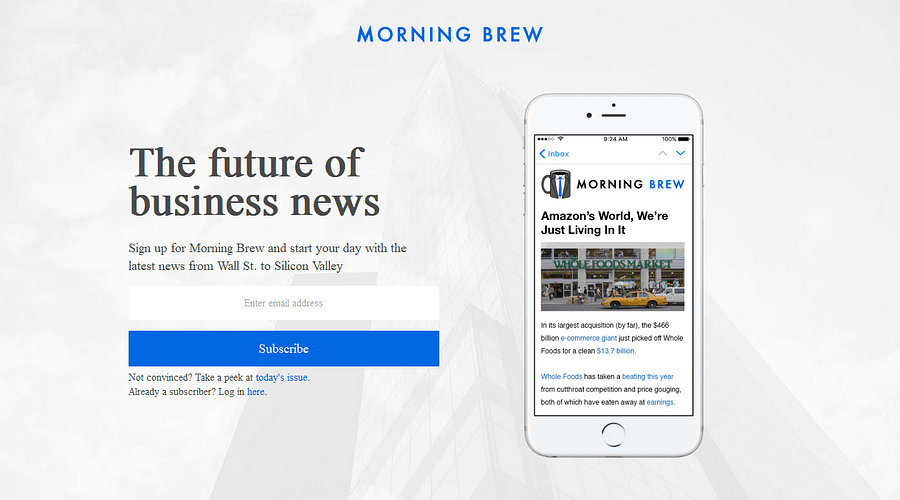 Customers following through on a Call-To-Action and signing up with their email IDs are, likely as not, looking for something valuable in their inbox every day. What they assuredly don't want to see is spammy emails that are more clutter than use. Give them the information they're looking for, as well as information they didn't think they needed.
For example, Morning Brew email subscribers get quick updates on the latest goings-on in the financial and business world, which keeps them informed and up-to-date.
The signing up page can offer: "Sign up and get a free supplementary course or a PDF ebook on XYZ or a coupon or an update on monthly seminars."
The whole point is to be succinct, provide value and rope the customer in to sign up.
But although it might sound easy, providing value on each one of your emails is not an easy task. You need to know your audience and understand what they are looking for and only then can you provide them with info they are looking for.
Without proper research and understanding of your audience's persona, every email you send will look like spam in their inboxes.
3. Make your Emails "Hyper-Personalized"
A great way of starting this process is by sending a welcome email to your subscribers, right after they have shared their email address with you.
Personalization is one the best ways to gain trust from a customer says Gaetano DiNardi Head of Demand Generation at Nextiva.
In this welcome email, you may mention how grateful you are, that they have taken out time from their busy days and chose to subscribe to your email list rather than picking someone else. Not only will this type of email make them feel more connected to you, but also make them think, that they are invested in your growth and success.
Here are some tips you can follow while writing your welcome email:
a. Always address your subscriber by their first name, rather than just saying generic greetings like Hello Subscriber. Calling them out by their first name will instantly develop a bond and will make them feel more connected to you, on a personal as well as professional level.
b. Keep it short and sweet. Instead of writing a whole paragraph on how grateful you feel that they have subscribed to your mailing list, just write one or two lines thanking them and then move to provide value.
Keep in mind, that the sole reason your reader chose to subscribe to your email list, is because they believe, that your emails will provide them with some unique service/product which they may or may not find anywhere else. Why not turning to writing pros like those at Grab My Essay , Studicus or SupremeDissertations to keep your emails laconic and informative?
Once the welcome email has been sent, wait a day or two and then start sending your weekly or daily newsletter. But remember, you can ensure that only that information is linked where the subscriber has shown some interest on your websites like your blogs, particular service or such.
Make sure to set a schedule to send the emails. Sending boring news or daily follows to your blogs, won't be of much help, because your readers will feel that you are spamming them. Make it a point to experiment and figure out a routine that works best for you as well as your subscribers.
"Segmentise" your emails:
Remember one size fits all emails do not work. Research says 56 per cent of emails fail to be opened as readers find them irrelevant
c. Keep an eye on the stats and see if your emails are opened, what time is spent reading them and if the links are being clicked on or not.
d. Look for preferences or better prepare a list of your content and ask them to pick what they would like to receive in their mailbox.
e. Look for location, and if the client list is specialised, build a sales and customer relationship and send relevant information
According to research carried out by DMA, segmented and targeted emails generate 58% of all revenue. All these metrics will help you to know where you are going wrong and thus help you quickly resolve them to make your emails more effective and efficient.
Tip: Quick tips, discounts, a rundown of hot topics, practical guides and even simple infographics can go a long way in getting people on your email list and keeping them there.
Start Sending Hyper-Personalized Emails with SendX
4. Don't be afraid to write killer CTAs on every blog and landing page
If you don't promote your services and email list, chances are people won't sign up to it. To potentially rope in every visitor to your website, create Call-To-Action statements or CTAs that urge the reader to sign up for in-depth information, faster updates, or whatever else you plan to send them.
What's even better is personalising the CTA for every webpage.
If a visitor has just finished going through your "SEO Marketing" blog, you can draw them in even further by suggesting that they sign up for your e-newsletter to get a strategy-a-day in their inbox, just like BigCommerce does.
So how does this happen? To understand your subscribers, start acting like one. What would you look for if you came to a landing page and found someone urging you to sign up?
a. Apparently, a simple "Submit" or "Register" for the newsletter is not going to cut it. Thus, the idea is to keep the CTA attractive and catchy.
b. For inspiration, you can look at some of the more popular bloggers and media websites out there. For example, instead of using statements like Submit or Register, Neil Patel, one of the biggest marketers of our time, uses catchy and yet simple phrases like "Let's do this" or "Grow your traffic."
Using phrases like these will not only make subscribing to your email list look more fun and engaging, but at the same give a sense to your readers that they will get a lot of value from your emails. And believe us when I say it, every one of your readers has come to your blog to find value and nothing else.
c. Therefore, delivering it from the very first moment of engagement will make you much more worthy in their eyes, and that's always good for business.
Tip: Why not make the submit button a CTA? It's far more engaging to click on "Give me that freebie!" than "Click here" or "Submit".
5. Allow subscribers to opt-in (and opt-out)
There's nothing customers like less than businesses suddenly sending them hordes of emails that they don't remember signing up for. When trying to get people to sign up, make sure they know what they're signing up for and allow them to decline the offer. It's the right thing to do, and in many countries, it's a legal requirement too.
Forbes' email marketing pop-up invites you to sign up for quick headlines and reviews straight to the inbox. Right below that is the 'no thanks' option that allows the reader to make a choice and keeps you looking good.
a. Look at various examples online, and you will easily get to know what the masters of this game are doing. One popular example you can take a look at is, Powered by Bounce emails. They follow a very simple strategy of two options. There is a headline that attracts your attention and then two lines that explain the key benefits of joining this email list. Once that's done, there is a space to fill out the email and a simple button that confirms subscription. But what makes Bounce emails so compelling is the second option they provide. Instead of saying things like, "No, I don't want to subscribe", they write witty statements that suggest that one would lose on potential benefits and miss out a lot if you don't open them.
Take for example Men's Health email popup. Instead of saying, no I don't want to subscribe, they have written, "No Thanks, I am not looking to lose weight." Just by reading this statement you feel like a fool, and thus chances are higher that most of your audience won't click on the second option. And this is just not a wild guess; after implementing this strategy, Men's Health's email subscription list almost grew by 20%, which is enormous.
Noah Kagan at SumoMe did something similar with a very tempting offer for a training course:
Sign up to make sure you get the 15 free lessons and $2,500+ in bonuses! The course closes Monday...
Send Me My Lessons!
Contrary to what you might think, this strategy of writing witty lines and providing two options to lure your customer into subscribing was not found by trial and error. There are famous researches like the "Zeigarnik Effect," which prove that when given two options, people are more likely to make a decision, than when given one.
In a recent research paper that was published in the Journal of Consumer Research, Professor Daniel Mochon introduced a concept known as "Single Option Aversion." He chose three groups of subjects and asked all of them to imagine that they were in a market place. The first subject group got information on Sony DVD Players, the second one got information on Philips DVD Players, and the third one got information on both the Sony as well as the Philips DVD players.
At the end of the study, when the first and second groups were asked about their decision, it was found that about 10% of them were ready to purchase then and there.
But now is the interesting part; when the researcher asked the 3rd group, more than 33% of the participants were ready to make a decision then and there. Hence, including a second option lures more people to make a decision, rather than just including one.
Tip: Craft your opt-out button creatively, like Timothy Sykes , whose version of a 'no thanks' button reads "No thanks, I prefer to be lazy and eat Cheetos on my couch." It's fun, and sounds unfavourable enough to prompt more opt-ins.
6. Catch them when they're leaving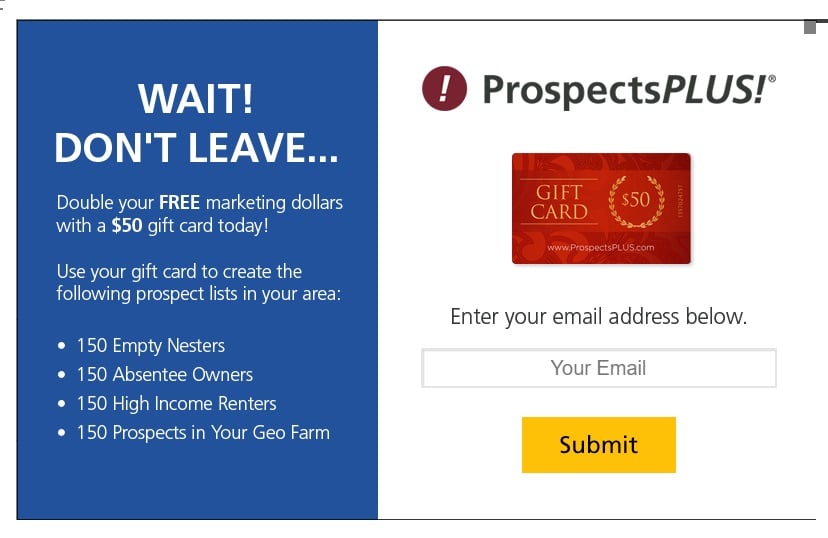 There's power in a pop up, as exit-intent popups have proved. These are triggered to appear as soon as visitors prepare to leave the webpage as a final attempt at converting visitors into customers; in essence, the digital version of someone stopping you as you move to say "Hey, before you go, why not take a peek at this?".
One of the most effective ways to capture the email addresses of your website visitors is through well-timed and highly-targeted popups. Picreel is a versatile tool that can help you create beautiful popups with pre-designed templates.
It also has a drag-and-drop editor, using which you can build unique popups and give them your own unique twist. The tool's extensive customization, advanced targeting, triggers, and A/B testing features prove helpful in creating appealing popups that strike the right chords with your target audience.
Pura Vida combines this strategy with a 'mystery offer' in exchange for a reader's email ID. Social Triggers' popup cleverly gets the reader to stop, offers them a free e-book, and customises their opt-out statement to create some reconsideration in the reader. Smart Blogger takes a laser-focused approach -- when readers begin to leave their post about finding freelance writing jobs, an exit-intent popup asks if they'd like to attend a webinar that'll show them how to get started with a freelance writing career
While this strategy might sound intriguing and not so smart at first, there is a lot of data out there to prove that this works. This technology which was first developed by OptinMonster is now one of the most popular in the industry, and according to their official website, more than 700,000+ people rely on this method to get more subscribers every day.
Almost everyone you see on the web uses this technology in some form or other. Be it Neil Patel or Men's Health; they will always have a special offer lined up for you, right when you are about to leave.
Tip: Pay attention to colour and design of popups, which can help you be that much more persuasive as they associate feelings, emotions and experiences to your brand. Personalise your popups even more with photos, like the World Wildlife Fund , or a quiz, like Buffer .
Start Building Catching Your Visitors with Pop Ups in SendX
7. Pave a path for your readers with Content Upgrades
If you are a blogger or your organisation's primary source of revenue is generated from your blog, getting more and more people to stay on your website longer is one of the best ways to succeed. But just by writing long articles which explain every point in detail will not gain subscribers.
Pursue an approach that is popularly known as a content upgrade. What this means is, you put the maximum amount of information you want to share on the blog itself, but you don't mention 2 or 3 critical points, which are crucial for the rest of the points referred to work. You hide this extra content by using an add on and ask your subscriber for their email address in exchange for this additional content.
While this might look like a crude method at first to get someone's email address, the beauty of this method lies in how you craft your message. Instead of blatantly saying, if you want more content, subscribe to our newsletter, say something witty and creative, which will do the job without hurting anyone's emotions.
Try this approach by a way a checklist of ten things your subscriber needs to do, and then removing the last 2 points. One example of this approach can be seen on the Backlinko blog, where author Brian Dean does this with most of his articles. He will share 90% of everything you will need to know and then keep the rest 10% saved for his "private subscribers".
By doing this, he is building a loyal following, urging the reader to become a part of the elite list of his subscribers, and perpetuating a belief that he is a person who can add more value to their lives.
Tip: While crafting the message for content upgrades, make sure to put your message in a very subtle way, rather than blatantly asking your readers to exchange their email address for extra information.
8. The Power of Qualaroo
Have you heard of Qualaroo? In all probability you have used this popup maker sometime, maybe while partaking in some promotional survey or questionnaire; you didn't notice the brain behind the survey tool.
As of today, Qualaroo is by far one of the most popular extensions you can use on your website to survey your audience. It lets you customise its settings, thus luring your readers in to answer a short and simple survey. You can also checkout SurveyAnyPlace, which is a great alternative to qualaroo.
The University of Alberta, which was facing a stagnant subscriber rate, used the customisable feature of Qualaroo to push the numbers up on their mailing list. Instead of using the survey tool to poll their visitors, they used it to ask visitors to opt-in for a subscription to their newsletter. And this strategy worked for them.
Let us break it down for you.
a. By removing the pop-ups from their website, they removed a significant resistance from their subscribers' mindset, that they are forcing readers to subscribe. Once this was done, readers were more relaxed and not feeling any pressure to subscribe to the website.
b. They researched and found out that a third of their readers landed on their pages through searching keywords, so it was apparent that they had an interest in the content of the website. The team decided to place the nudge pop-up asking people to subscribe to their newsletter to anyone staying beyond 10 seconds on their pages.
c. Experiment, if Alberta University had not thought a little out-of-the-box, the numbers would still have been floundering.
Within three months of the University trying out this method, their email subscriber base shot up by almost 50%, and thus this method surely did work.
Tip: Instead of making your readers feel that they are forced to subscribe, ask them in a subtle way, like The University of Alberta.
9. Confirm the Subscription
We all know that once readers put in the email address and click on the subscribe button, they immediately receive an email which asks them to confirm the same. But what most marketers aren't aware of, is the fact that ignoring this crucial page is one of the worst things you can do when you are trying to increase your subscriber count.
Let us delve deeper.

Your readers and subscribers are busy people, and they get hundreds of emails every day. But since it is a law in most countries that you have to send a confirmation email to your subscribers, you can't really omit it.
And thus you need to make it appealing enough so that it gets recognised in the tons of other emails that land up in their inbox every day.
One of the best ways to do this is to look at websites which have built millions of subscribers over time. One such website is Neil Patel. If you have at any point in time subscribed to Neil's email newsletter, you will remember getting redirected to a page where Neil breaks down the advantages of subscribing to his newsletters and also outlines the three steps needed to immediately confirm the subscription.
Essentially, Neil has smartly optimised that page and at the same time made it easy to subscribe to his content. This is one of the most important aspects that most marketers miss.
You need to optimise the landing page of your email subscription, to actually get more people to subscribe. Otherwise, like most others, your confirmation emails too will get drowned in the thousands of emails your readers get every day.
The key is in immediacy. Word it in such a way that a subscriber is tempted to go and confirm the email. Design it in such a way that it is just a click away.
Tip: Make sure you make a simple yet attractive page which reinstills the unique advantages of subscribing to your newsletter on the email landing page. This will increase your reader's trust and in the long run, increase your subscriber base as well.
Send High Quality Confirmation Emails with SendX
10. Testimonials and Numbers
If you search online how to increase your email list, there will be at least one point which states that you need to show your subscribers how many people have already subscribed to your blog, in short validating your services.
While this theory sounds great on paper and in some cases works as well, but if your email list barely reaches steps, double figures, then it makes no sense to put it out and write something like, "join 12 others, just like you, on this awesome mailing list.".
Because think about it, who wants to visit a website or subscribe to a mailing that only 12 people read. Right?
But of course, there is a better way to solve this issue. Instead of displaying the number of people who have signed up for your newsletter, collect testimonials from those who already have and then display this on the signup page.
Testimonials from other people will not only help increase your credibility, but will also boost your reader's trust, and thus increase your subscriber count over time.
Tip: Make it a point to collect and assemble 3 of your best reviews and display them on your email signup page. Gathering social proof from other readers of your website, is one of the surest ways of encouraging others to sign for it as well.
11. Learn from your competitors and adapt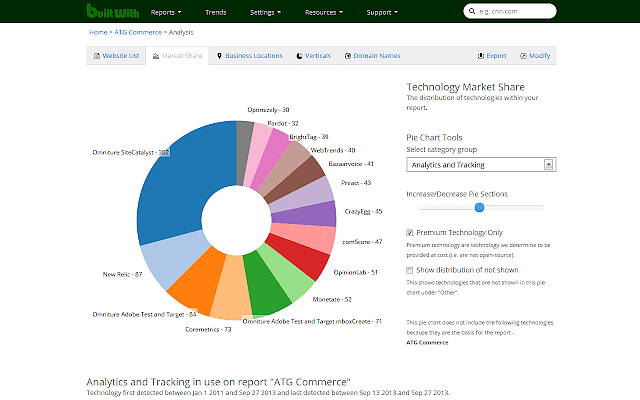 Every one of us, no matter in which industry we might be, have at one point in time wondered, what are our competitors doing better? What are the strategies, the methodology and tools that they employ?
We believe that this competitive spirit is good. This feeling propels you to work harder to beat your competitor. One of the best tools on the internet that you can use to find out what your competitors are using is BuiltWith.com.
This tool was first created by the creators to test on their website to discover the flaws and improve on them. But as of today, the BuiltWith website is being used for much more. Known for its capabilities of analysing and recognising the technologies behind any website, this tool is often used by marketers to analyse competitor websites to understand them better.
By using this tool, you can enter any domain name you want, and BuiltWith will tell you, what technologies have been used to make it. You can check out the programming language, the servers, which add ons they are using, are they running on WordPress or is the website custom built and much more.
All these key metrics will help you understand what your competitors are doing better than you so that you can improve your strategies moving ahead.
Tip: While using BuiltWith.com is encouraged, not all the data that is being shown is 100% accurate and thus you need to use the same with caution.
12. Social Media: LinkedIn Groups for Mining potential Email Subscribers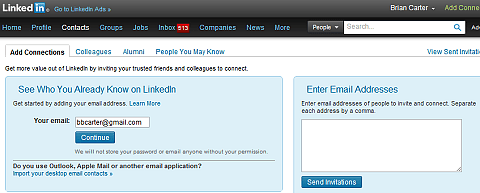 Being a marketer yourself, you are already aware of the important role that social media plays in getting visitors to your website. But while there are hundreds of ways out there in which you can use social media channels to redirect traffic to your website, in this section, we will talk particularly about LinkedIn Groups.
No matter which industry you might be working in, there are high chances that there is at least one LinkedIn group out there which will cater to your needs. From networking opportunities with other members to sharing key insights and latest updates in the industry, these groups support a very important purpose in social media.
But if you want to increase your reach and go beyond what others are already doing, you need to create a LinkedIn group of your own for the industry you cater to. Once the group is created, promote it and invite people from your network to join the same.
Once any new member joins the group, LinkedIn sends an automatic welcome message as well as a confirmation of joining the group to the user. Now here lies the magic; instead of relying on LinkedIn's default template, customise the same and include an exclusive link to a landing page which will share premium content with those who want more.
Now you can make this link as a redirect to your blog, or you can promote an online course you are selling or encourage them to join your mailing list. Whoever clicks on the link and lands on your page is a potential subscriber to your emailing list, thus ensure you make the most out of the opportunity.
Tip: Look at various examples online and follow popular LinkedIn Groups to learn how they have mastered this technique of getting new subscribers every day.
And it's not just LinkedIn. You can also build your email list with other Social Media channels like Instagram.
Start Building Your Email List with SendX
13. The Need for Social Proof
In a previous point, we already highlighted the need for social proof and why it matters so much when it comes to getting more visitors to your website. One cannot boast about a 12 member mailing list, but on the other hand, you might have 10,000 people who are reading your blog daily.
Now, this is a number that one can promote.
Create a sidebar on your website, and include testimonials and figures of how many people visit your website every month. Adding these two crucial pieces of information will help you in two ways. First, it will add credibility to your site by gaining the trust of your new readers. And second, it will increase the social proof that we all crave for.
With small tweaks to your content like nudges, sidebars, blog leads and more you can push visitors to your site to bigger goals (like email subscriptions to content), than just information seeking.
Tip: Instead of starting a live counter, which keeps adding numbers as more visitors come in, use a static display, because some months visitor might be less and in some, the footfalls might be more.
14. Conversational Marketing is the future
Chatbots are another way to engage visitors on your website and grow your mailing list.
Pop-ups can be distracting and sometimes even annoying, though websites are getting savvy and designing witty non-intrusive ones. They are focused on gathering emails.
Chatbots, on the other hand, are non-intrusive and can effectively engage visitors. They invite people to interact and give an opportunity to get an insight into audience behavior.
Once a chatbot appears, it personalises the engagement and interactions, which is great in building customer loyalty. You can onboard prospects by asking a relevant question and can qualify the lead by offering the products best suited to the visitor.
Gobot has launched customizable website chatbots and the possibilities of usage are immense. You can also use Verloop if you're looking to create WhatsApp Chatbots.
SendX has come up with a chatbot option on its webpages. It is simply worded and designed, asking the reader, "Which marketing channel works best for you? Emails or paid ads." An answer will obviously lead to prospective opt-ins for the services offered.
Tip: Chatbots are the future. Customers are looking for engagement and a dialogue which gives concrete results. For the websites and businesses, it is a good way to engage and qualify the lead into a subscription and prospective custom.
15. Spin Wheels are the Wheels of Email Fortune
A simple discount is that one-pony trick that is gradually becoming redundant. For prospective email leads, offering a free coupon or a certain percent off is not working, according to retailers and business owners. Most offers lie unused and do not create any further engagement.
To up the ante, developers have come up with gamification in pop-ups. Game-design elements are being increasingly used for more engagement and to bring in the fun element.
This has been around for a long time, and is routinely used in online games etc. It is now being used to rope in audiences with a chance to spin the wheel and win some interesting prize or discount.
Who does not like a game of chance and feel lucky? There are many websites that offer templates to build in spin wheels and they can be customized to reflect your brand and services/products. OptiMonk offers such templates.
Zwende.com , a lifestyle product website, has a hugely popular spin wheel opt-in, where you can simply put in your email address and spin the wheel and take a chance to win something. The business gets an email and the customer is happy to try his luck. It is engagement with fun and recall value.
Tips: Take a chance to really turn the wheels and compel the visitor to take a chance. Spin wheel is fun , has the element of chance and luck and by its very design, easy to navigate. It is an easy collect of emails.
16. Host Giveaways
Giveaways are a way to leverage the self interest of others. People are ready to sign up if you show them a compelling reason in the form of a giveaway. A gift or prize is easy enough to attract a large audience.
A giveaway gift should be related to your services and products because you don't want to add any random people to your list. If the prize is something generic and used by everyone like a phone, you might end up with a large unqualified list. If your prize is too narrow e.g. subscription to a publication about nanotechnology, then your audience will be very less.
You can also structure your giveaway in a way that creates a network effect by asking people to forward your email or refer others to join.
Here is an example of holiday giveaway hosted by evercoach.com:
Notice the subscription form that is required to be filled to enter the giveaway.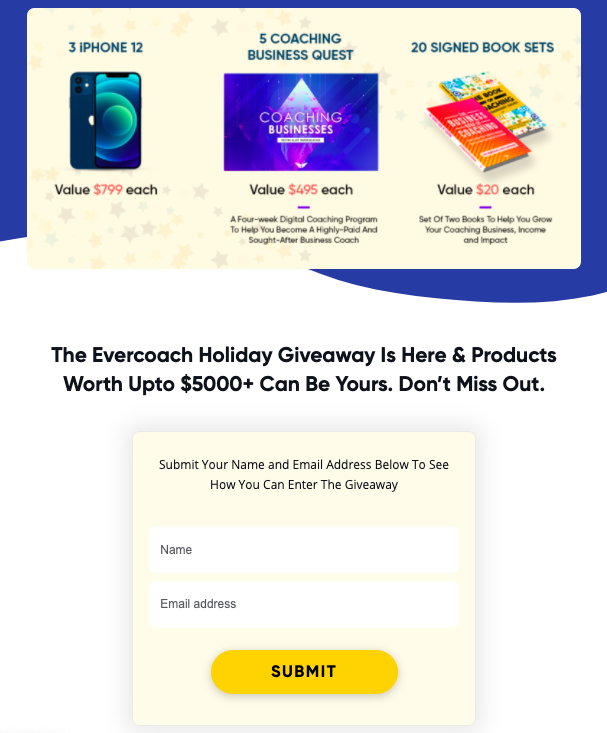 17. Craft Compelling Lead Magnets
Lead magnets also appeal to people's self interest, just like a giveaway would but a lead magnet is given to everyone who signs up for your list and is up for grabs all the time. It's a digital tool versus a physical gift.
Usual examples of lead magnets are -
eBooks
PDFs
Checklist
Reports
Case studies
Templates
Videos
Planners
Free fonts
Discount code
Free trial
And there are so much more… The examples would vary depending on your products and services. For example, if you are a SAAS brand, then your lead magnets could be ebooks, checklists, and interactive PDFs about how your users can do wonders with your SAAS tool.
A lead magnet should attract the audience related to your product or service. Just because it is free doesn't mean it can be low value. Your lead magnet should deliver high value and something that is unique to you. That's the reason people will remember you and give up their email address… because they really want it and have no other choice. Remember to work on SEO by building links to your lead magnet. You can do this yourself or work with a qualified SEO consultant, who can help accelerate the process.
Here is an example of lead magnet from funneloverload.com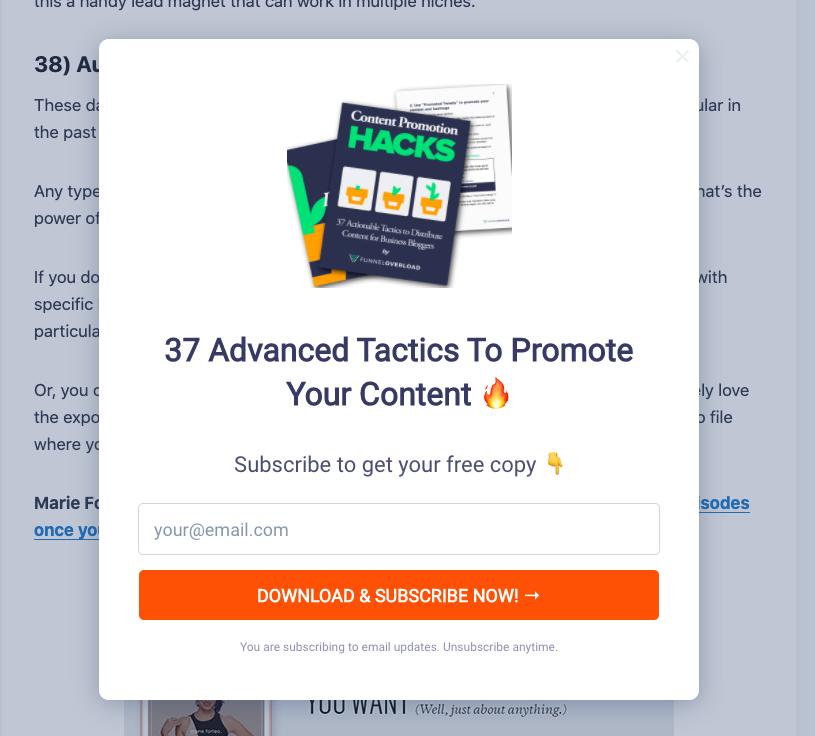 18. Incentivize Referrals
People in your list know the best about other people like themselves who would enjoy your emails, newsletters, offers or products. So leverage their network to reach other people like them. This will help you reduce spending on getting new subscribers to your list.
But to refer others, people will need some incentive. You can create a referral program where people get something if they refer to other people and those who are referred actually sign up.
Ensure that people in your list are aware of the referral programs. You can put this at the end of your emails every time you send one or you can highlight that on your website/app.
Finally, make sure that the steps to refer are clear and very simple to follow.
Referrals are one of the main reasons for the growth of newsletters like The Morning Brew or The Hustle.
Here is an example from The Morning Brew newsletter: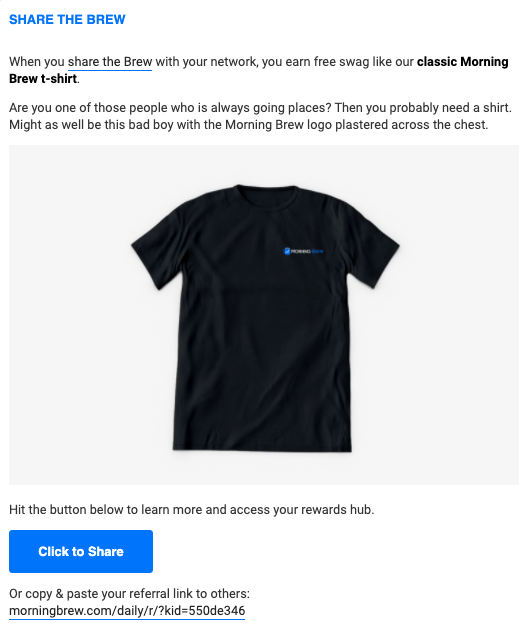 19. Collaborate with other companies or brands
You can reach out to other brands in your industry to host a joint campaign.
Your pitch to them should highlight how they would be benefitted from the collaboration.
Here are some of the ideas to collaborate on:
Host webinar: Usually interview style webinars work the best. So either you can invite someone and promote to the email list of both - yours and the guests'. Or you go as a guest and ask them to promote it to their audience with your subscription forms too.
Discounts: Partner with another company to offer a discount to their audience. For example, if someone has a newsletter around coffee and you have an online-course coming up on baking cookies, you can collaborate with that company to offer a 10% discount to their readers.
Cross-promotion: You can collaborate with a brand to share each others' social media space for a few days, or share the same booth in an offline event.
Make sure the collaboration is a win-win for both and you get sales qualified leads. Collaborate with brands who are catering to the same audience that you are looking for.
20. Run Social Media Ads On Content
We all see ads for some products or services. But you can also run ads for your free content. It will not give you immediate ROI but it can be a good strategy for the long term. The attribution to this might also be difficult because it's tough to track how someone entered the list and when and for how much they buy.
But you can surely see the results in over all revenue in a few months and decide if the strategy is working.
Once someone enters your list after seeing the free product, then you can promote your paid products and services to them. This way you will be able to cover the cost of your promotions.
21. Collect Emails at Offline Events
Your offline events are a great way to connect face to face with customers, provide them instant value and then ask for their email address. You can put up an iPad with a signup form that they themselves fill up or you can use a simple excel sheet where you record their details.
After you get their email address, don't forget to send them a welcome email and remind them about signing up at your booth/event and confirm that they want to continue receiving emails from you. This will help avoid any spam issues.
22. Ask Subscribers to Forward Your Emails
It may sound very simple, but at the end of every email you can simply ask subscribers to forward your emails to their friends or someone who might like them. There is no incentive but you can reinforce the benefits someone will get from reading your newsletter.
People have a natural tendency to appear smart so if you remind people that they will be appreciated if they send something valuable to others. Leverage this and just remind them to forward your emails to someone who might enjoy them.
To make it more compelling, you can ask people to forward the lead magnet to their friends.
Here is an example from the emailmastery.org emails: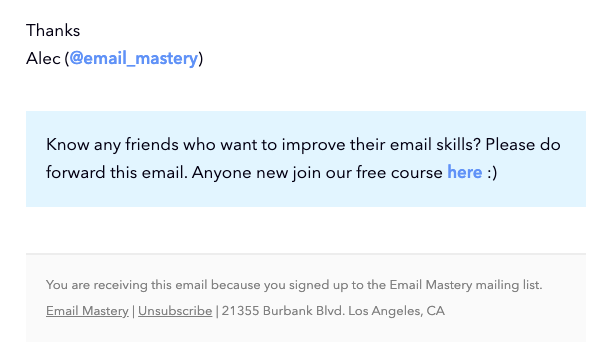 23. Utilize Social Media Content
Your social media posts don't have to be just about following you on that social media. Your CTA can sign up for your email list too. After all, we all know that on social media platforms, you don't control how you serve content, how you reach people etc.
So it's always a good idea to inform your social media audience that you have a newsletter too and if they want to get more content, special discount announcements from you, they should join the email list.
Here is an example of how Ramit Sethi pitches his newsletter in his Instagram bio:

24. Add value on Q&A Forums
If you want people to discover your website and content, you can be part of Q&A forums like Quora or Reddit and share valuable insights and answers. After you provide value, you can inform people about what you do and where they can sign up to hear more from you.
25. Use Slideshare
Anytime someone has a problem, or they want to find an answer to something, they go to Google. And Google will serve some websites having established authority, good content. Slideshare is one of them.
So you can just take your content and put it into visually attractive slides. These can be then uploaded to Slideshare. The good thing here is that unlike a blog, these are easy to read. Thus, making the reader connect more with your brand. If they like the slides, they will check out your blog/website. Then on your blog/website, you will have an opportunity to convert them into subscribers.
Conclusion
In the past decade, digerati were keen on replacing the ancient mail box with the modern peer to peer communication channels like chatbots, social media platforms IM et al., but it seems this old method is here to stay for now.
Email list building continues to be the top dog of marketing strategies. By building a curated email list, you're building a repertoire of loyal subscribers that lend credibility to your business and the work you do. By engaging them with personalised emails, you keep your business at the forefront of their minds.
While you might not be able to reach an emailing list count of 100,000 people overnight, following these well-outlined strategies will surely help you reach there in due time. Thus the key to building an extensive list of email subscribers is about following the right list building tips the right way, and maintaining consistency.
Need some help in implementing these strategies for your brand-new email list? Sign up on SendX for free and get more ROI out of your emails.
Sign Up for SendX
---
FAQs

1). What is email list building?
Email list building is the act of getting users to subscribe to your email list. It means that you grow your list gradually and organically by adding subscribers from your web forms and landing pages, and other subscription interfaces. It is a list of people who've signed up willingly to receive your e-newsletters or any other e-communication you may plan to send them.
2). Why is it important to build an email list?
Email marketing remains one of the top marketing techniques, and in order to get the most of it, you need to build an email list consisting of subscribers to whom your product or service is relevant, and who are likely to convert into customers with the right kind of targeting marketing.
3). What are the benefits of email list building?
Here are some top benefits of building an email list:
You can easily reach your customers through your emails
You can get visitors to act on your CTA
The email list built by you is yours forever
Sending emails to a relevant email list will help you gain the subscribers' trust and respect
A well targeted email to an opted-in list has a higher chance of conversion
4). What strategies can I adopt to build an email list?
Listed below are some of the strategies and list building techniques that can be adopted to build an email list:
Make it simple to sign up
Offer something which the customer truly values
Include a clear and strong CTA on your landing pages, and even blogs
Identify exit intent and catch the subscribers while they are leaving.