5 Tips to Improve Your Customers' Experience with Email Marketing
7 min read
Business leaders everywhere recognize that consumer experience is such an essential metric. Customer experience affects not only initial interactions but also contributes vitally to the retention of customers. When deciding which marketing channel to employ for their goals, many marketers and business leaders have unanimously agreed that email marketing is still the most rewarding way to boost consumer service and offers 4200% RoI, the highest of all marketing channels.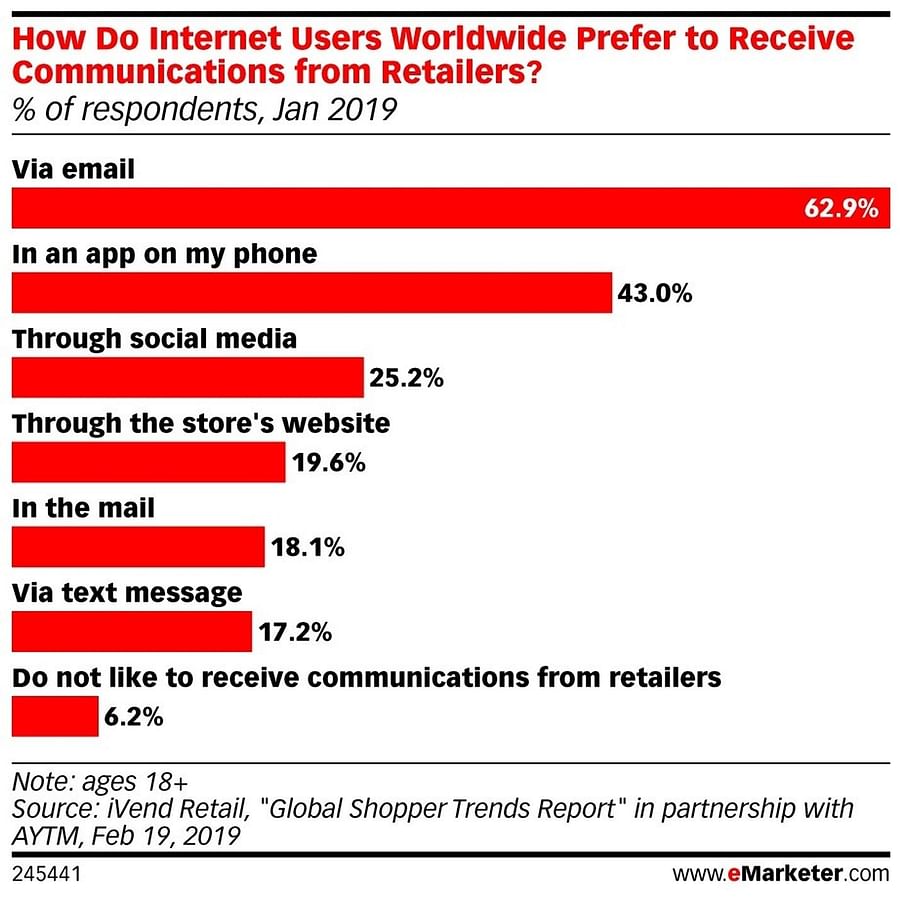 In order to remain important and at the front of the minds of your customers, you should deliver an experience that engages them with your brand way after the sale. Instead of establishing a transaction-oriented partnership, you need to establish a continuous relationship.
As perhaps the most powerful marketing tool, email provides consumers with a continuous information flow that not only serves the company's brand goals but also serves the needs of the consumer.
However, before we dive into the potential advantages that email marketing harbor for your customer experience practices, it's crucial to have a thorough comprehension of the importance of customer experience and how it can impact your brand's goals.
Table of Contents
What Is Customer Experience?
Customer experience is the feeling or perspective your customers are left with after an interaction with your brand. This is normally the product of several points of contact along the buyer's journey.
On another note altogether, a survey by Customer Management IQ revealed that while 80% of marketers and business leaders claim that they are offering "superior experiences" to their customers, only 8% of consumers in return agree with them.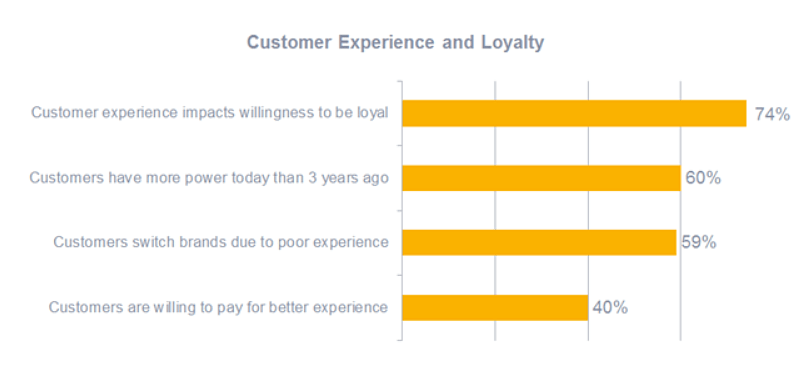 Role of Email in Customer Experience
Before jumping into the advantages of email marketing in the sense of customer engagement, it is necessary to have a strong grasp of what customer experience is and how it can impact your company.
Customer experience is defined as the "customer's perceptions and related feelings caused by the one-off and cumulative effect of interactions with a supplier's employees, systems, channels, or products." The objective is to meet or surpass the standard expectations of each customer individually. This contributes to improved overall consumer satisfaction, along with retention and advocacy.
The core of email marketing for excellent customer experience is focused around a basic question: "How can emails assist customers in fulfilling their own objectives while being equally efficient in the areas of their lives that the products/services in question touch?"
So, if email marketing is that critical a tool, how do you integrate it into your customer experience strategy? In addition to reviews and survey responses, there are a host of ways to use email marketing in the management of customer service, including:
Welcome emails
Thank you emails
Reward reminders
Confirmation emails
Special incentives or discounts

The aim here, is to ensure that you are still observing a few key customer experience best practices.
Including personalized recommendations within emails is vital to providing the ultimate customer experience. So, take a step forward and ensure that you are categorizing your email lists appropriately, are using dynamic content, and are leveraging data extracted from chatbots in your emails.
Chatbots are AI-powered tools that are designed to enhance customer service and communication by imitating human behavior by leveraging natural language recognition and deep learning algorithms.
Now, when applied to email marketing, chatbots can significantly increase interaction, reaction rate, and content delivery. Here, we will take a look at how chatbots and email marketing work in conjunction.
How Chatbots Can Provide a Personalized Experience
Scores of marketers say that chatbots will destroy email marketing because of their personalized experiences and ability to offer tailored information to buyers. However, email marketing is not going anywhere because chatbots are the perfect companion to email marketing rather than being their bane.
In reality, using both tools together will significantly enhance their overall effectiveness. Furthermore, chatbots can enhance the live customer experience of buyers. A chatbot can deliver a highly tailored user experience and help create engaging relationships with buyers.
AI chatbots help collect invaluable buyer metadata and provide tailored product or service recommendations. Sephora is a great example of how to use data gained from chatbots to learn more about consumers and provide them with the right product recommendations via email.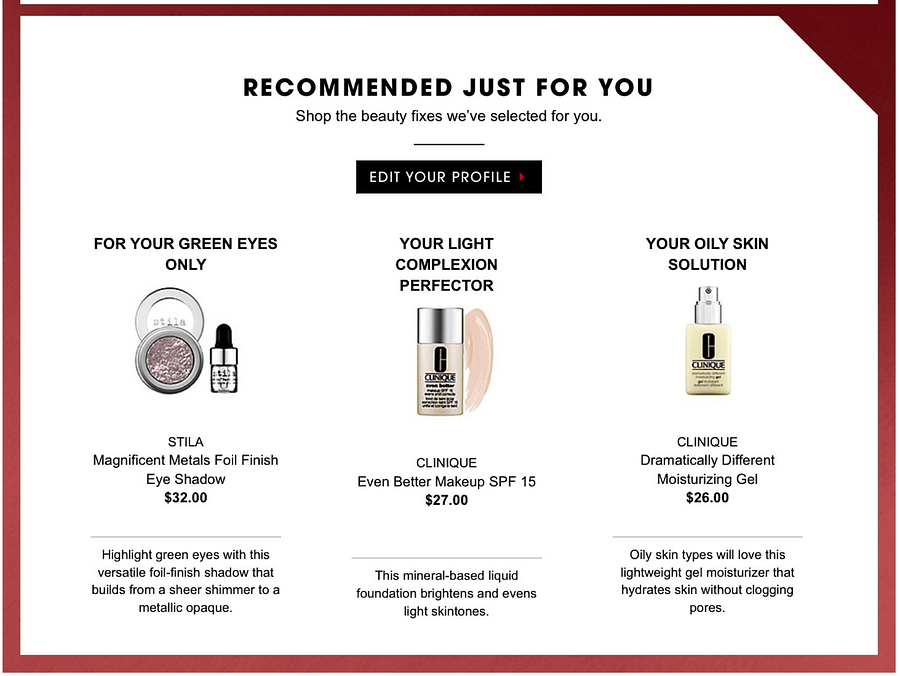 Using a chatbot for email marketing also means that you will no longer have to overflow consumers' mailboxes with different deals. Instead, these AI bots can offer consumers a seamless experience while helping companies seal the deal via personalized deals sent through email.
Additionally, chatbots can also assist in simplifying email newsletters, providing the right content to consumers, etc. In other words, you can deliver emails with the most appropriate deals for your prospects and help them make a buying decision.
5 Tips to Improve Customer Experience with Email Marketing
Considering that more than 293 billion emails are sent each day, the question is inevitable. In this vast ocean of emails, how do you distinguish your brand and product from the scores of brands present out there and enhance your revenue by higher clickthrough rates?
1. Use Personalization to Improve Engagement
There's no question that email customization is a brilliant strategy that has demonstrated to have substantial benefits for email strategies. According to Invesp, personalized promotional emails have a 29% higher open rate and 41% higher click rates.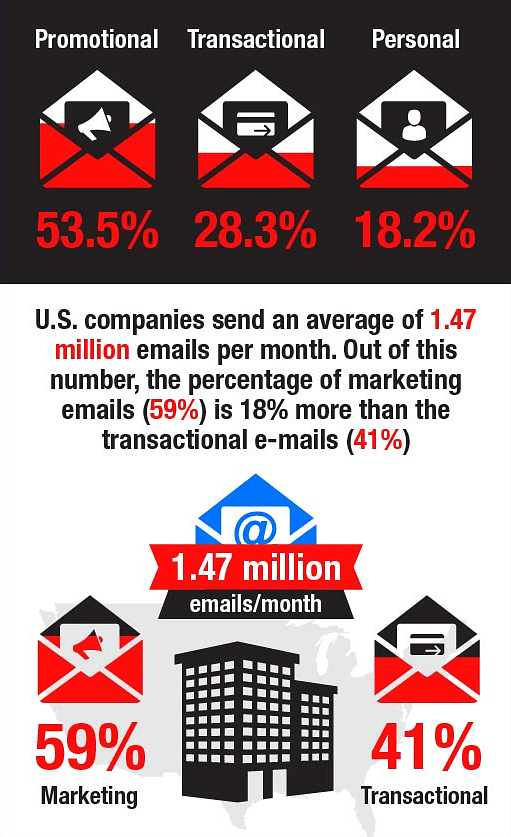 The advantages don't stop here. According to yet another research, 90% of consumers are more inclined to buy from a brand offering personalized services.
Consumers wish to feel like the company they're purchasing from knows their desires and creates services and products for them. Once you begin requesting prospects to sign up for your email list, try to extract the information pertaining to the kind of content they wish to pursue and the deals that they would like to receive.
Since you are providing them with a personalized experience, they will be more likely to click on and open your emails. In fact, personalizing your emails by segmenting your prospect lists in this way can also improve your clickthrough rate by 100%.
2. Keep Your Subject Lines Short
Did you know that 47% of email recipients always read emails based on the opening sentence (subject line), and the ones that are personalized have a 22% higher likelihood of being clicked upon and opened? This goes to demonstrate that subject lines are highly relevant to the effectiveness of your email marketing strategy.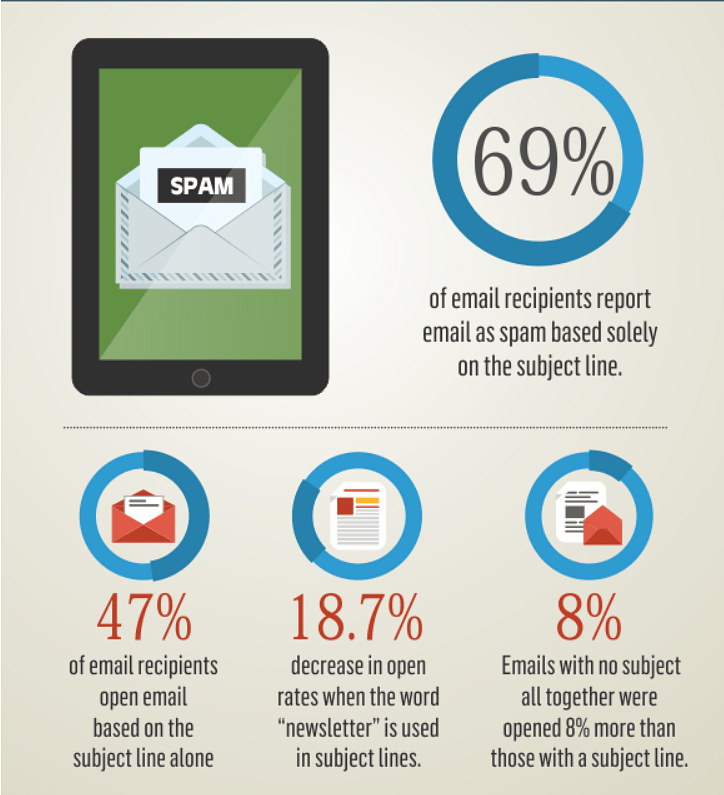 However, numbers suggest that it is not just the content you have to be particular and selective about, but you also have to be cognizant of the number of characters that you use. According to standard practice, 6-10 word-long email subject lines have one of the highest open rates.
What may look like a simple one-liner can actually take a fair bit of time to come up with. Since subject lines can either improve the effectiveness of your email strategy or lead them on a downwards spiral, it is important to bear in mind that the more you can convey with fewer words, the better your chances of having a successful campaign will be.
3. Segment Your Subscribers
Segregating your mailing lists speaks to your customers more specifically and thoughtfully. It provides them with the appropriate information at the proper moment. When you're doing the right thing, the desired outcomes will be assured.
In a study conducted on the effectiveness of segmenting users for marketing purposes and strategies, Optimove concluded that target markets of up to 150 buyers had at least $1.90 uplift for every buyer. The classes of 1500+ had the highest uplift at $0.90. This goes to show that the smaller the community, the greater the number of potential outcomes.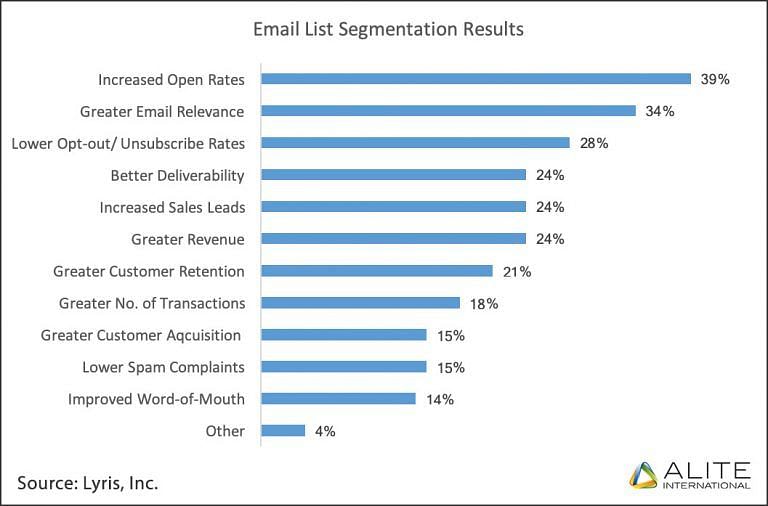 According to yet another report by Lyris, businesses using email differentiation reported a 24% rise in revenue. Subscribers wish to obtain relevant details to their liking – as it provides a smooth user experience. Taking this into account, it is important that your lists are correctly segmented to optimize your involvement.
4. Pick the Right Time for Email Sending
Timing is what the success rate of your email strategy hinges on. You're likely striving for better clickthrough and open rates, so selecting the time wisely to send the emails is an aspect that you absolutely must concentrate on.
Another explanation is that loyal customers may continue to connect with your content and possibly share it on social media as well. With that in mind, you can utilize all the resources you have at your disposal to assess the best time for them.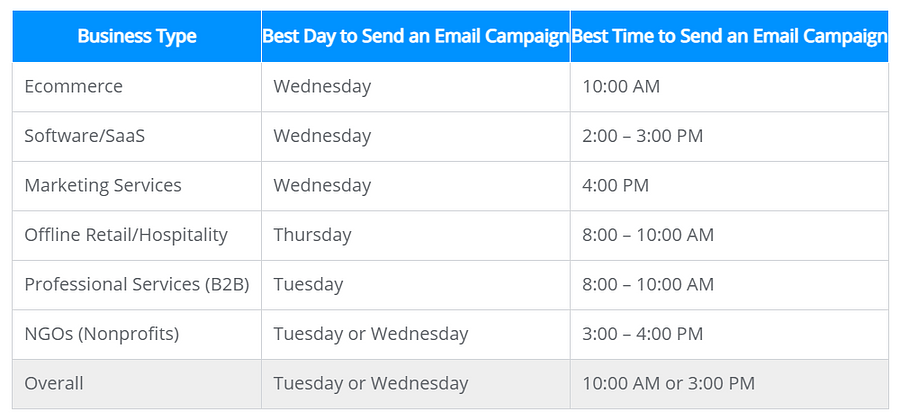 On average, 51% of companies are actively using automation, which comes as no surprise – as there are numerous automation tools available today that help you run sophisticated multivariate testing to find the perfect time for messaging your customers. In return, the practice of using these tools saves your company a lot of time and money and encourages you to concentrate on the important aspects of your email marketing campaign.
5. Send Emails Thanking Customers
In a study conducted by HubSpot on email open and CTR rates, they found that thank you emails generate a 42% open rate and a 14% CTR than other dedicated sends. In other words, the quick, automatic kickback of thank-you emails produced twice the involvement of dedicated marketing emails that were sent just once. What's more — they seem to take only half the time to make!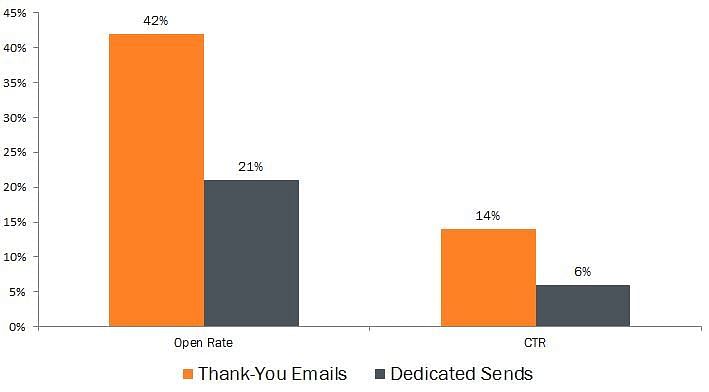 Unlike purchasing straight from a shop, consumers don't have concrete experience with a company. For this, automatic thank-you emails would help you give your buyers a feeling of affirmation from the moment they hit the Order button until the product is delivered to them.
In addition, thank you emails are an alternative to beginning an online relationship that is similar to the interpersonal relationships that your clients have while visiting physical stores.
Conclusion
The integration of email marketing for customer service is a strategy that should be embraced by companies everywhere. If you're prepared to see how email marketing can play a significant role in your customer experience strategy, then get started with SendX today to build your customer experience throughout the sales funnel.
FAQs

1) What is customer experience?
Customer experience is the feeling or perspective your customers are left with after an interaction with your brand. This is normally a result of their experience at several points of contact along the buyer's journey.

2) How can I use email marketing to drive improved customer experience?
You can improve customer experience using email marketing by sending various types of emails such as survey emails, welcome emails, thank you emails, reward reminders, confirmation emails, and special incentives of discounts.

3) Can you offer some tips to improve customer experience with email marketing?
Here are some tips to improve customer experience with email marketing:
Use email personalization
Create short and attractive subject lines
Use customer segmentation
Send the emails at the right time based on the segmentation
Send thank you emails
Leverage customer experience analytics

4) How does personalization help improve customer experience?
Consumers wish to feel like the company they're purchasing from knows their desires and creates services and products for them. Since you are providing them with a personalized experience, they will be more likely to click on and open your emails.