100 Email Marketing Statistics: Ready Reference to Why Email is the King
10 min read
Statistics that help you make the best-informed decision on why to go for email marketing
Table of Contents
The Case for Email Marketing
As marketers, we often have to make complex choices, and are always faced with the challenge of backing our decisions with tonnes of research, facts and figures.
Email marketing continues to be the dominant type of marketing, in spite of the rise of social media marketing. This is because in email marketing, a relationship with the customers already exists - because they have voluntarily subscribed - as opposed to unsolicited social media marketing.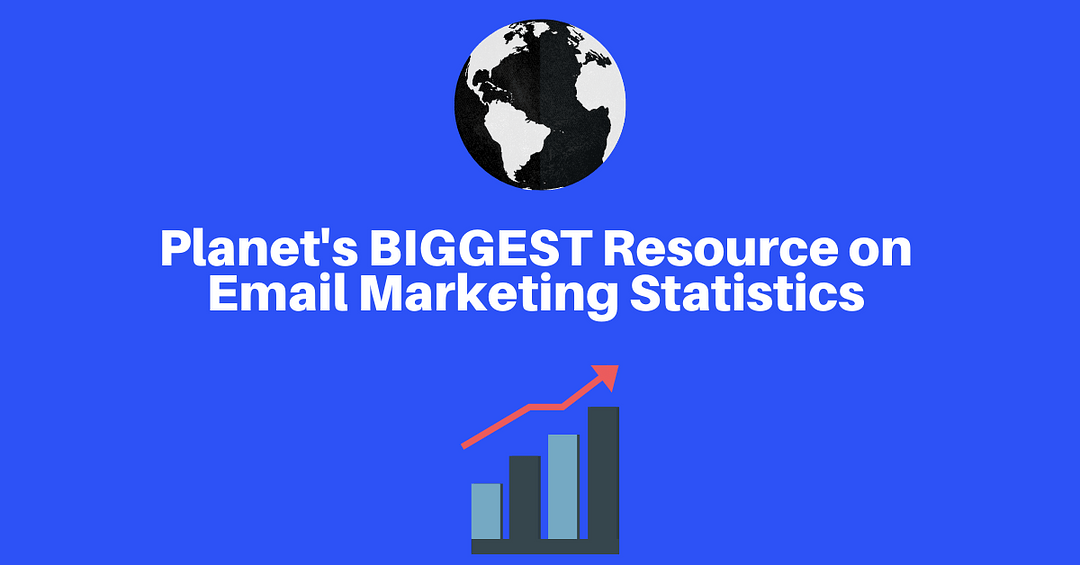 The ROI on email marketing is an incredible 4200%, according to DMA. Email marketing is sure to make you big bucks compared to any other form of marketing.
We have created the exhaustive list of statistics that will help you make a thoroughly well-researched decision on opting for email marketing.
So, here you go: Presenting the planet's BIGGEST email marketing statistics resource.
Jumping in...
100 top Email Marketing Statistics
Widespread Usage of Email
99% of consumers check their email every day.[1]
58% of consumers open their email first thing in the morning. [2]
As many as 20.41% emails are opened within the first hour of delivery. [3]
44% of users check their email for a deal from brands. [4]
Over 290 billion emails are sent and received each day, globally, per 2019 estimates. [5]
There were an estimated 3.9 billion email users in the world in 2019 and this number is forecast to grow to 4.3 billion by 2023. [6]
39% of consumers checked their email account where they received marketing/advertising emails. [7]
102.6 trillion emails are sent and received each year, and that number is rising. [8]
Email marketing revenue will reach $17.9 billion by 2027 [9]
82% of workers check email outside of normal business hours. [10]
On an average, we receive 121 emails per day, which is 33 more emails per day two years ago. [11]
57% of email subscribers spend 10-60 minutes browsing marketing emails during the week. [12]
Popularity of Email Marketing
Email marketing yields a Return on Investment of a whopping 4200%. [13]
73% millennials prefer email for business communication. [14]
93% marketers use email marketing software to distribute content. [15]
80% business professionals believe that email marketing increases customer retention. [16]
32% marketers get in touch with their clients 2 to 3 times per month via email. [17]
46% of marketers consider email marketing an important lead generation tactic, while 47% consider it important for lead nurturing. [18]
44% of B2B marketers consider emails their largest source of lead generation. [19]
40% of marketers think that email newsletters are most important for their content marketing success. [20]
35% of marketers choose to send three-to-five emails per week to their customers. [21]
81% of Small Medium Businesses still rely on email as their primary customer acquisition channel. [22]
59% of B2B marketers cite email as their top channel for revenue generation. [23]
73% of senior-level marketers believe email marketing is core to their business. [24]
At 82%, email marketing has the highest adoption amongst users of marketing automation suites. [25]
59% of respondents say marketing emails influence their purchase decisions. [26]
55% of eCommerce marketers use email marketing software for marketing automation. [27]
64% of businesses use email marketing automation to schedule their welcoming messages and for other customer onboarding purposes. [28]
87% of marketers use email campaigns to nurture their audiences. [29]
97% of businesses use email marketing to convert email recipients into buyers. [30]
Over 60% of marketers use mass email to connect with their customers. [31]
91% of shoppers want to hear from companies they do business with via email. [32]
Effectiveness of Email Marketing
Trends in Email Marketing
Challenges in Email Marketing
Wrap Up
Having made yourself familiar with the top statistics of email marketing, you are now ready to make a well-informed decision on why to choose an email marketing software at all. By the time you are ready to choose an email marketing software to suit your needs, you will be quite an expert yourself.
No fluff, all substance.
And once you are equipped with the expertise to justify your decision to go for email marketing, choosing the right email marketing software will be a piece of cake.
Talking of email marketing software, while there are plenty of email marketing software out there, if you are looking for something that is affordable, yet intuitive, then SendX would be a good pick. You can go for a 14-day free trial (no credit card required), and get access to all of its features.
References
---