5 Quick Tips on Email Marketing for Small Business Owners
It probably feels natural to assume that a small business owner does not need to invest in marketing much. But the truth is that small business owners need email marketing more than they know. In this era of digital marketing where having an online presence is a survival necessity, can you as a small business owner truly afford to rely on offline channels like referral alone, or for that matter, just social media. Sure, social media channels probably have a wider outreach than word of mouth, but is it enough? In fact, email marketing's returns are 40X more than returns on social media outreach.
No matter what your small business, email marketing is there to help it grow and thrive. Ever since the pandemic, a lot more people have become used to staying indoors, and would prefer to read their emails and are happy to rely on authentic emails to meet their day to day needs, rather than venture out or just browse. This is a good reason why email marketing has a return of investment of 4200%. No, seriously, it's a fact.
Small Business Email Marketing is Here to Stay
You can not only earn a solid ROI, but also consistently engage customers and promote your new products by running email campaigns and sending periodic newsletters. Surely, you will be able to reach a vast number of customers by sharing your online content through email marketing. You will stand out as a brand and sustain customer loyalty by running loyalty email marketing program. You can conduct email surveys to gather market intelligence about what your customers like and what they don't.
In a recent GetApp survey 11% of small businesses owners have mentioned content marketing as a way to attract new customers.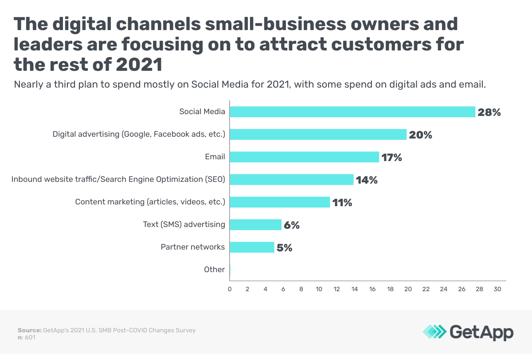 ‍
So, you see, there is every reason for a carpenter, electrician, or plumber (amongst quite a few more) to invest in email marketing. Size of the business is no barrier to aiming high, is it?
How to go About Small Business Email Marketing?
But there are a handful of factors to consider before you invest in an email marketing software:
1. Build Your Email List
The very first and unavoidable step is email list building. You need to create a signup form and place it on your website, blogs (as a CTA), social media, and pretty much wherever you have an online presence for your business. Just be clear about what the subscribers can expect from you once they sign up, and ensure you follow through to deliver that. And make sure you avoid the common pitfalls when it comes to building an email list.
2. Plan Your Email Types
Newsletters are the most popular email types. But there are others too, such as welcome emails after a successful signup, holiday emails (like Christmas, Thanksgiving Day, etc), seasonal emails (like Black Friday and Cyber Monday emails), drip emails to nurture your leads, and transactional emails like online purchase receipts and other notifications.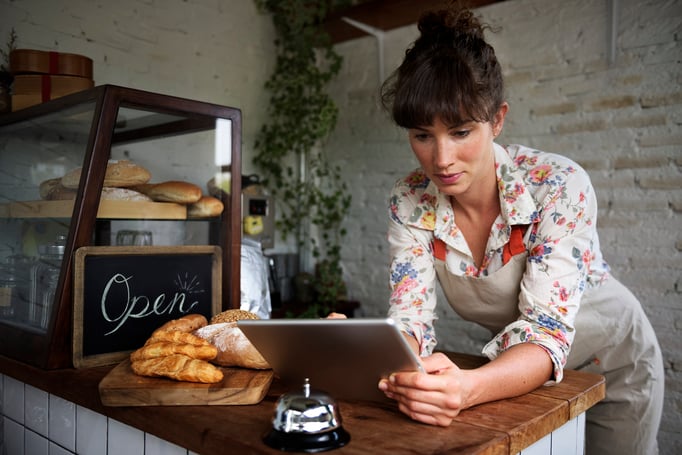 3. Design And Create Content That Your Customers Will Love
Before you dash off your newsletter and other emails to your customers, you need to be sure that your content will resonate with your audience. Choosing an email marketing software with an easy to use and robust email editor will go a long way in helping you do it well, even if you don't know designing or HTML. A word of caution, though: you don't need a super-duper design. Just a neat and attractive one highlighting the value and service your business will deliver should do the job. A WYSIWYG editor will be a great fit for your needs.
Expert tip: Make sure you give them an easy to locate option of unsubscribing. It's any day better than getting marked as spam.
4. Executing Your Campaigns
While you have built an email list and have great content handy, you still need to send it at the right time, with a few more considerations, such as segmentation, personalization, a/b testing, timing, and well-placed call to action buttons (usually asking them to read a new blog, download an eBook etc). And to do it well, you will need an ESP which can do this well for you while being affordable and intuitive, while also offering good email deliverability. We recommend SendX, it comes with a 14-day free trial, no credit card required (and paid plans start as low as $7.49/mo).
5. Analysing Your Campaign Results
It's not send-and-forget, is it? You need to know the key metrics you need to track to know your email campaigns are doing. Some top metrics/KPI's you need to track are: click to open rate, click through rate, unsubscribe rate, and bounce rate.
Wrapping up
While this page serves as an educative guide for small business email marketing, there are quite a few more things you would do well to keep in mind and boost your email marketing efforts, such as giving more importance to quality rather than length of your emails, avoiding spam traps to prevent your emails from going to spam, optimizing your emails for mobile viewing, automating your email campaigns – and most importantly, deliver the service that you have promised in your emails. And that's how you can make the most out of email marketing for small business owners.