What is a Custom Unsubscription Page for an Email Campaign?
5 min read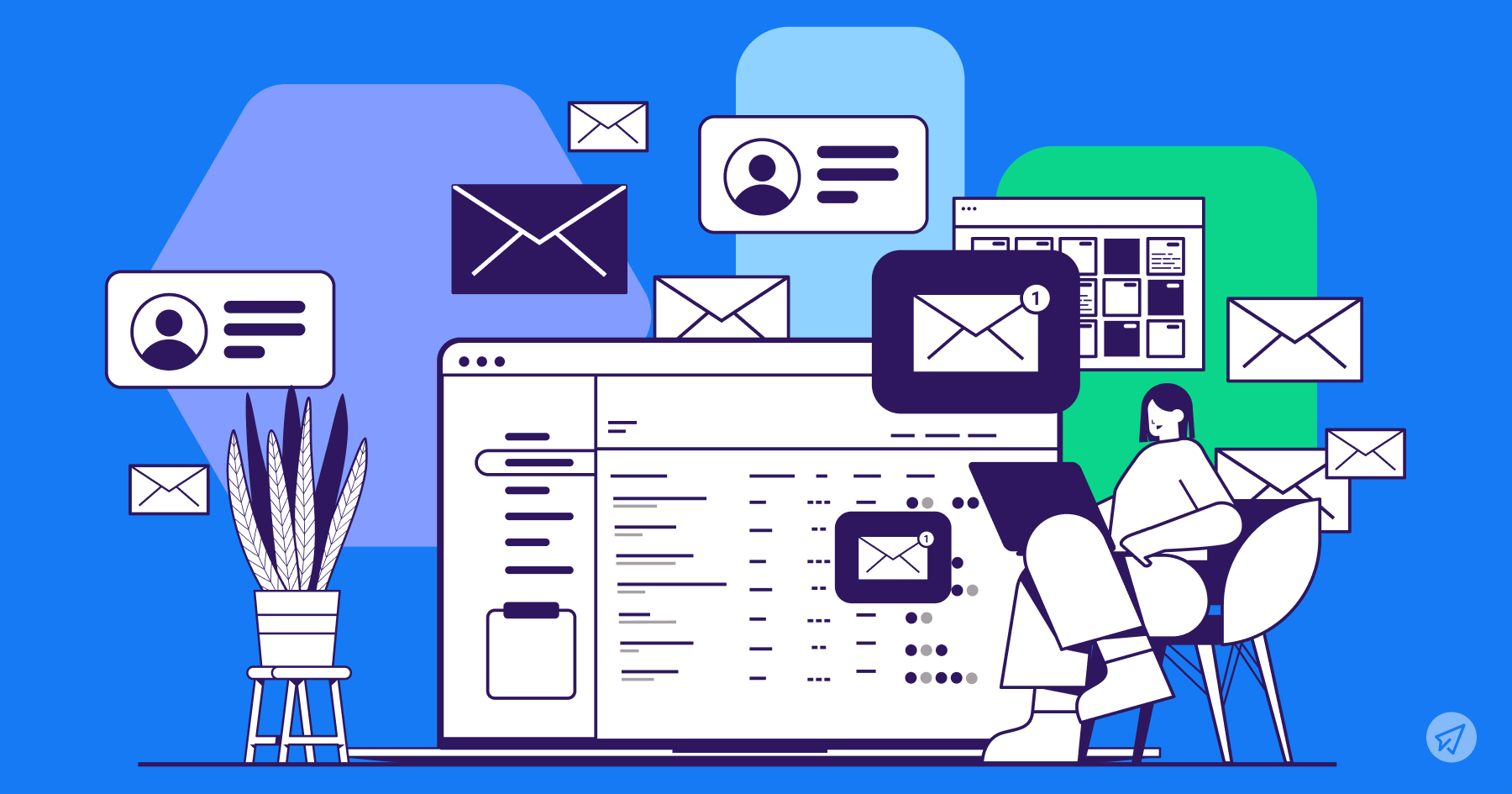 Are you tired of receiving unwanted emails? You're not alone. According to a survey by MarketingSherpa, 69% of email recipients report emails as spam based solely on the subject line. And when it comes to unsubscribing, it's not always a smooth process.
In fact, 54% of consumers say they have received irrelevant emails, and 45% say they have received too many emails. This can lead to frustrated customers who may decide to unsubscribe altogether.
However, a custom unsubscribe page can help. By providing options for customers to choose their preferences, such as content topics or frequency options, you can keep them on your email list while sending them fewer emails.
In this article, we'll explore the benefits of custom unsubscribe pages and provide examples of effective pages to inspire your own design.
Source: storyset on Freepik
Table of Contents
The Purpose of a Custom Unsubscription Page


Exploring the role of custom unsubscription pages in email marketing not only safeguards user preferences but can also serve as one of the essential KPIs for customer success for businesses online.
You may have heard that if the number of unsubscribes exceeds a certain percentage, it can potentially hinder email deliverability during your future email campaigns. This isn't necessarily true. What will affect your sender reputation and email deliverability, however, is the following:
Users marking your marketing emails and newsletters as spam. This trains email service providers like Gmail and Outlook to automatically redirect your future emails into their Spam or Junk folders. This tends to happen to brands that flood their users' inboxes with unwanted emails too much without offering a clear unsubscribe link as a way to opt out.

A low email open rate.

Users consistently ignoring and/or deleting your unopened emails may also affect your sender reputation and, consequently, your future email deliverability. This is because email providers track things like engagement — not just positive engagement (open rates) but negative engagement as well (such as the above-mentioned spam issues and general disengagement). Giving users a simple and obvious way of unsubscribing from your emails is a much better alternative to this.
Emailing bots or spam addresses. If you don't properly maintain your mailing list by deleting inactive email addresses every once in a while, your emails are bound to start ending up in dormant inboxes. Abandoned email addresses get marked as spam traps by mailbox providers after some time has passed, and by sending emails to these spam traps, you are hurting your sender reputation.
Source: Unsplash
Beyond everything we've just mentioned, the unsubscription page serves as the final opportunity to re-engage users or, at the very least, understand their reasons for wanting to stop receiving your emails. A custom unsubscribe page, when designed well, can, therefore help you retain some users.
Finally, a custom unsubscribe page allows you to understand which emails you could focus more on in your future campaigns. Using email analytics tools, you can collect this sort of data to form patterns and trends and easily gauge what kind of content gets you the most open rates and the least amount of unsubscribes (and vice versa).
Legal and Ethical Considerations
Respecting user preferences isn't just a good practice; it's often a legal requirement. Many countries have laws that demand that businesses offer a clear way for recipients to unsubscribe from their mailing lists.
Moreover, from an ethical standpoint, this kind of practice builds trust and demonstrates that your brand values user choice over the opportunity to abuse their personal information.
Key Components of a Custom Unsubscription Page
Source: upklyak on Freepik
Once a person clicks on the unsubscribe link in your email, they can be taken to a page that contains multiple elements apart from the actual unsubscribe button. We have listed some of the main ones below.
Branding and Customization
Many companies choose to have an unsubscribe page that looks nothing like any of their other online profiles. Often, when a user clicks on their unsubscribe links, they reach a blank web page with the confirmation message "Click here to unsubscribe from future emails" in a nondescript font at the center.
But you can and should do better than this.
For one, your unsubscription page should reflect your brand's overall style. Use your company's colors, logo, and a friendly tone matching your communication style.
Explanation of the Unsubscribe Process
Source: Unsplash
Regardless of how you choose to customize your unsubscribe page, you need to make it crystal clear how users can opt out. Even with a more elaborate design, the page should prominently display a simple, one-click option to unsubscribe completely from all emails.
Remember, if users are not able to find the unsubscribe option within a few seconds of opening the page, they will simply resort to flagging all future emails from you as spam. As previously mentioned, this can harm your sender reputation and email deliverability. Therefore, avoid hidden links or complicated steps.
Alternative Choices for Users
Source: Freepik
Sometimes, subscribers don't want to sever ties completely, and a custom unsubscription page is a great opportunity to offer alternatives like reducing email frequency or selecting specific types of emails they want to receive.
The "unsubscribe from all emails" option should still be the most prominent one, but you can include a few more that allow the user to re-subscribe to the types of content they might still want to receive from you.
For example, a content marketing agency may offer the following options:
Stay subscribed for emails containing industry trends and insights
Stay subscribed for emails containing marketing software reviews and recommendations
Stay subscribed for emails containing news about our latest offers and services.
The more interesting options you provide, the better the chance the user won't need to opt out completely.
Benefits of a Custom Unsubscription Page
Source: upklyak on Freepik
Now that we've covered the importance of having a custom unsubscription page in the first place, here is a summary of its main benefits:
Maintaining a positive user experience: A well-designed custom unsubscription page leaves a positive last impression. It tells your audience that you value their choice, even if it is to stop receiving emails. Often, it might even sway their decision to unsubscribe completely, especially if you offer some neat alternatives for receiving emails that might suit them better.
Compliance with anti-spam regulations: Staying within the legal boundaries helps you avoid penalties associated with spam-like practices.
Reinforcing brand identity: Even when people decide to unsubscribe, you can create a memorable impression by customizing your unsubscribe form to match your overall brand. A custom unsubscription page can also be an extension of your brand's image.
Best Practices for Designing a Custom Unsubscription Page
Source: Unsplash
Here are some unsubscribe page best practices to keep in mind when designing your default unsubscribe page:
User-friendly layout. Keep it simple, easy to navigate, and clutter-free. The unsubscribe option should be prominently visible, even if you have multiple other elements in place.
Mobile responsiveness. Ensure your unsubscribe page works seamlessly on mobile devices, as a significant portion of users access emails from their smartphones.
A/B testing for optimization. Regularly test different elements of your unsubscription page to see what works best. Minor tweaks can lead to improved results.
Examples of Effective Custom Unsubscription Pages
Here are some unsubscribe page examples of companies that have successfully created custom unsubscription pages that maintain their brand identity and offer clear options for users.
J.Crew
J.Crew's custom unsubscribe confirmation page offers the choice to customize your email preferences. The language used on this page aligns really well with the overall character of J.Crew Factory. Ensuring users feel empowered to manage their future email content, this brand certainly manages to retain at least some of those fleeing users.
Grammarly
Grammarly's unsubscription process also provides its subscribers with multiple options to tailor their preferences. If you're only there for their product updates and your own writing reports, you can just check those options and opt out of everything else that's more promotional. Their unsubscribe message also effectively conveys that by customizing your preferences, you play a part in the ongoing improvement of Grammarly's product.
Yankee Candle
Yankee Candle offers a hassle-free, single-page unsubscribe process. They recognize the importance of making the unsubscribe process as straightforward as possible. As such, their unsubscribe page keeps it simple with just a few essential fields. Users are asked to provide their email address and confirm their unsubscribe request or choose an option to temporarily pause or "snooze" emails (eliminating the need for a re-subscribe button; users automatically start receiving promotional emails again after the 30-day period has passed). This minimalistic approach reduces friction and allows users to quickly and easily manage their email preferences and inbox.
Conclusion
Source: rawpixel.com on Freepik
Respecting choices when users unsubscribe and maintaining a strong brand identity go hand in hand. Having a well-designed custom landing page dedicated to unsubscriptions is a testament to this balance, ultimately benefiting your business and your customers.