12 Best Practices To Improve Email Marketing For Higher Education & Scholarships
6 min read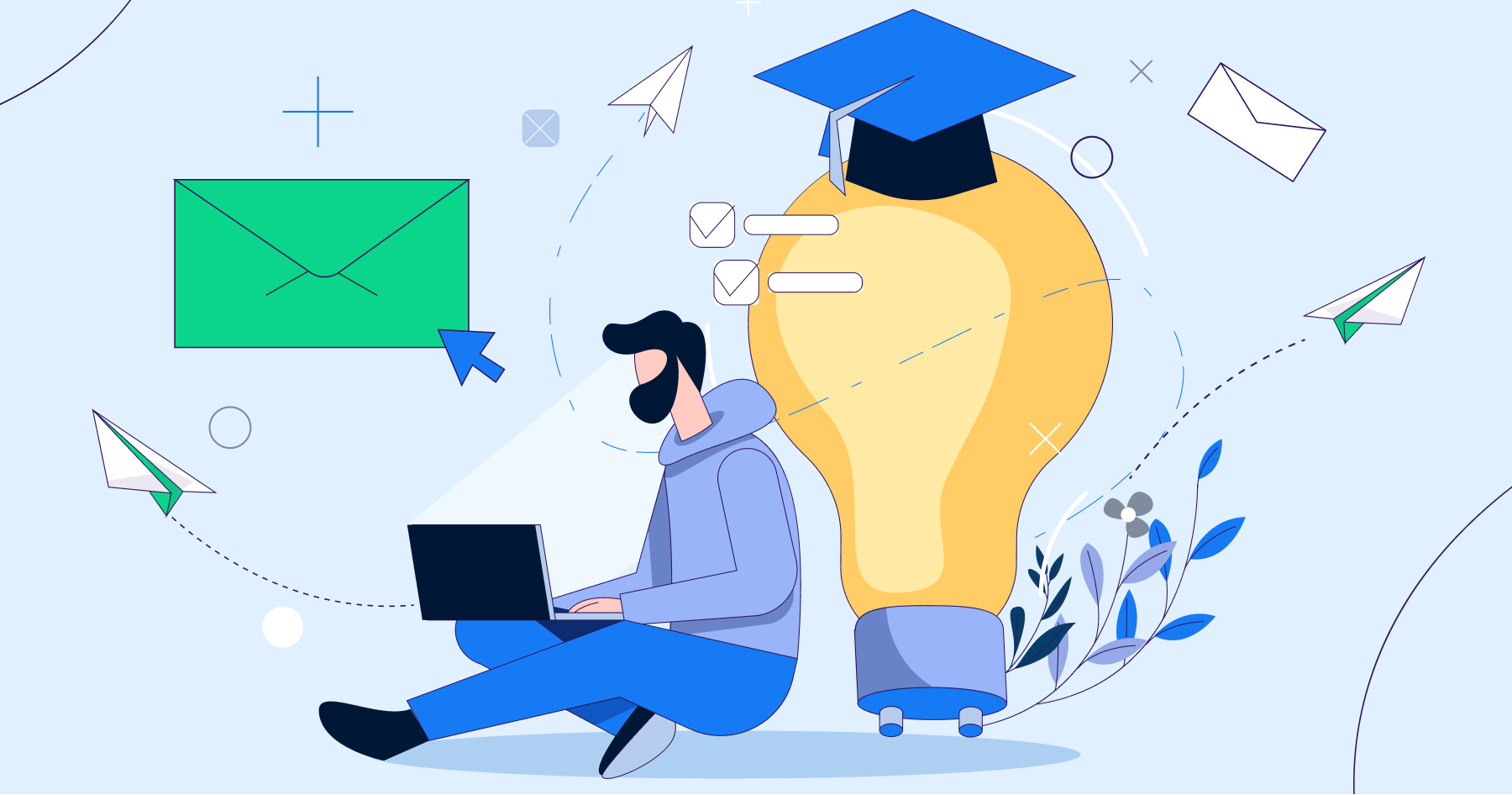 Admissions departments around the globe are now more sophisticated and agile than ever when it comes to email marketing to potential students. Our world in higher education is always changing, thanks to the pandemic, swift changes in campus plans, and an increasing Summer Melt.
To reach, draw in, and attract students, it is therefore extremely important to use the appropriate tactics and resources in the appropriate contexts. For instance, email marketing and prospecting software.
What Is Email Marketing For Higher Education?
One of the more cost-effective marketing strategies a university may use is email marketing, which also stands at the top of profitable strategies in terms of ROI (ROI).
When done well, email marketing may greatly increase enrollment and retention at an institution while actively involving both present students and alumni. You're well on your way to empowering students' preferences via peer-to-peer interactions and sustaining those ties when you combine email marketing campaigns for higher education with software like Smarter Select.
Professionals in higher education can utilize email marketing to get more applicants to their campuses' colleges and universities. Through email campaigns, professionals might send routine emails on admissions or other college situations. Education authorities can boost their registration process, promote any sporting activities, and do so all through one channel by using email marketing.
In this article, we will tell you 12 best practices you can utilize for effective email marketing for higher education & scholarships.
Best Practices For Effective Email Marketing For Higher Education & Scholarship
Look For Ways To Acquire Potential Student Email Subscribers
You must first persuade your potential students to subscribe to your emails before you can even begin communicating with them. Usually, this entails encouraging potential students to go to your website when they start looking at their options.
You might not be responsible for SEO and content strategy as an email marketer. Still, you can collaborate with these teams to identify the best locations on the website to include email subscription forms.
Find out which online pages and articles at your school receive the most visitors and interaction. Apart from that, you can check the high-rating digital document pages on the StuDocu study materials platform being widely used by students. Consider how prospective students might relate to these sites and information. Does the content match the criteria someone might use to choose a college?
Once you have your hands on websites and platforms to insert your email subscription links, now is the time to start focusing on your headlines, CTAs, and contents.
Segment Your Email List
Higher education professionals should consider email list segmentation because their subscriber bases are likely to be diverse. You'll have access to the email addresses of parents, school counselor counselors, future students, present students, and more. Additionally, each of these individuals will have a unique history, various financial circumstances, and different academic interests.
Segmenting your list and sending more tailored email communications is the best way to keep everyone satisfied and, eventually, boost the number of enrollments your school receives.
Email segmentation entails grouping your contacts into various categories in order to send customized emails.
Contact information for potential students, current students, alumni, etc.
Administrative information: Departments, directors, departments' staff, etc.
Personalize Your Email Subject Lines And Make Them Catchy
Email marketing is effective when sending personalized emails, especially when trying to reach a large or challenging audience. Additionally, tailored messaging can raise conversion rates by 10% and click-through rates by an average of 14%.
No matter how big or tiny a university campus is, both students and staff members want to feel like they are a part of the neighborhood. Personalizing the subject line of your email is a simple method to accomplish this. Using your existing data to create content that is more tailored to their interests, geography, or level of interest is an even better strategy.
Give High Preference To University Admission Emails
Emails regarding college admissions should be handled carefully because they are regarded as confidential information.
A critical deadline or important information may be missed if a student's college application email ends up in the spam folder.
To ensure that every email reaches students' inboxes, you must employ a trustworthy higher education email platform.
Here is an encouraging example of a college admissions email:
Congratulate the participants.
Show off your scholarship program.
Create realistic expectations.
Send out a deadline.
You can manage the scholarship program by communication to your users via email and text messages.
Always Include A Captivating Copy In Your Email
You can keep readers interested in what you have to offer by creating captivating content. It must be both fascinating and pertinent to the reader in addition to both. A weekly email newsletter is an effective way to keep your prospective student engaged with your institute.
An outstanding example of pertinent copy for a college student and their family can be seen in this email newsletter. The newsletter contains a wide range of essential information that all students, particularly freshmen, may need to be aware of in order to be ready for life on campus.
The headline of the article, "The money issue—everything you need to know," may immediately catch readers' attention. All students could benefit from reading a weekly that covers important financial themes because university students are known to suffer financially.
Personalize The Whole Content Of Your Email
Your chance to make a strong first impression is in the subject line, but overall email personalization is essential to maintaining students' interest and engagement.
Make sure the email's content is pertinent to them if you have segmented your member database of potential students by their preferred study subject(s), present or intended location, or extracurricular interests or hobbies.
Inform prospective students who are interested in your nation that your university is the greatest place to show them everything your nation has to offer. Send details about the courses or programs you offer in a particular field to students who express an interest in that subject or program.
Check out this extremely personalized email campaign where a program advisor from the institution addresses students by name.
Make Your Emails Mobile Friendly
In case you hadn't noticed, your students are huge smartphone users. Studies have found that more than 70% of individuals read email on mobile devices. Therefore, you must make your messaging mobile-friendly. Your messages just won't be read if you don't.
Include Eye-Catching Images To Enhance The Message
Even if email marketing is one of the more "traditional" tactics available, you can still make it more engaging by adding eye-catching graphics. Attractive graphics attract viewers' attention, engage students, and support your university's promotion of its distinctive brand.
Just be sure to add alternative text. Even while not all email providers will render your images, if you include alt text, your readers will at least understand what the image is meant to express.
Strong CTAs Will Increase Clicks
After drawing students' attention to pertinent content, compel them to click by including compelling CTAs. The majority of clicks take place "above the fold" or before the reader needs to scroll down: therefore, it's crucial to place your most crucial CTAs front and center.
Select a header image that will catch the eye of your reader since vibrant, lovely header photos nearly always garner clicks. Pictures of happy students at your university, photographs of the campus itself, or scenic images of the nation or city where your university is located can all help prospective students envision themselves studying there.
The first CTA button should then be positioned immediately following a brief text block and specify to your reader exactly where they will be redirected upon clicking it.
CTAs are a terrific approach to enhance conversions if they are appealing and well-designed. Use concrete words to entice clicks, such as:
Learn more about this initiative.
Look for a scholarship
Learn more about this program here
Email Automation Is Necessary
You might want to think about automating some of the higher education email marketing process since it helps you be more productive and allow you to send out more emails.
You might want to automate the repeated jobs since they make up a portion of the process. Additionally, if you need to inform the student population of a significant announcement, you may want to send out automated emails that include all the pertinent information.
You could want to use these automatic emails to inform the student if the date of the scholarship result announcement is delayed. Also, you can find really great email templates & examples you should be sending your scholarship applicants to keep them engaged.
Send Holiday Emails To Your Students
Email marketing for higher education is about more than just important announcements and campus news.
Sending an email to your students wishing them a Merry Christmas or other holiday can help you relax during the break. Your students will feel important and respected as a result. Also, this way of sending out holiday emails to the alumni will act as a reminder to them that a very sophisticated institute is right there for them.
Test & Optimize Your Email Marketing Message
Finally, testing and optimization are the cornerstones of effective email marketing. Even the world's best marketers don't always succeed the first time around. The secret is to examine particular data points, such as open rate and click-through rate, and figure out how to increase each of them in subsequent mailings.
A/B testing is the simplest method for evaluating your emails. This is how it goes:
You begin by writing your message, as usual, making sure to include a catchy subject line, concise body copy, and persuasive CTA.
Then you draft a second message that is almost exactly like the first but differs in one key way. Use an alternative picture or subject line, for instance.
You then send both emails to a small sample of your list to evaluate which is more successful. The rest of your subscribers can then receive an email announcing the winner.
A/B testing is a simple and effective technique to enhance your email marketing initiatives. We urge you to make frequent use of it.
Bottom Line
So, these are the best practices for email marketing for higher education and scholarship you can use for your own institute. Email is a great recruitment tool for colleges since it is inexpensive, direct, and highly targetable. Email marketing has a good return on investment regardless of industry.
You must, however, be absolutely certain that your university email campaigns are prepared to land in the inboxes of prospective students once they have been written, created, and developed. Aside from these practices, software like SmarterSelect is out there to help you streamline your grant programs as well as college admission processes to attract real and worthy talent.