Marketing Strategy for Real Estate: How to Market Your Business and Improve Retention
5 min read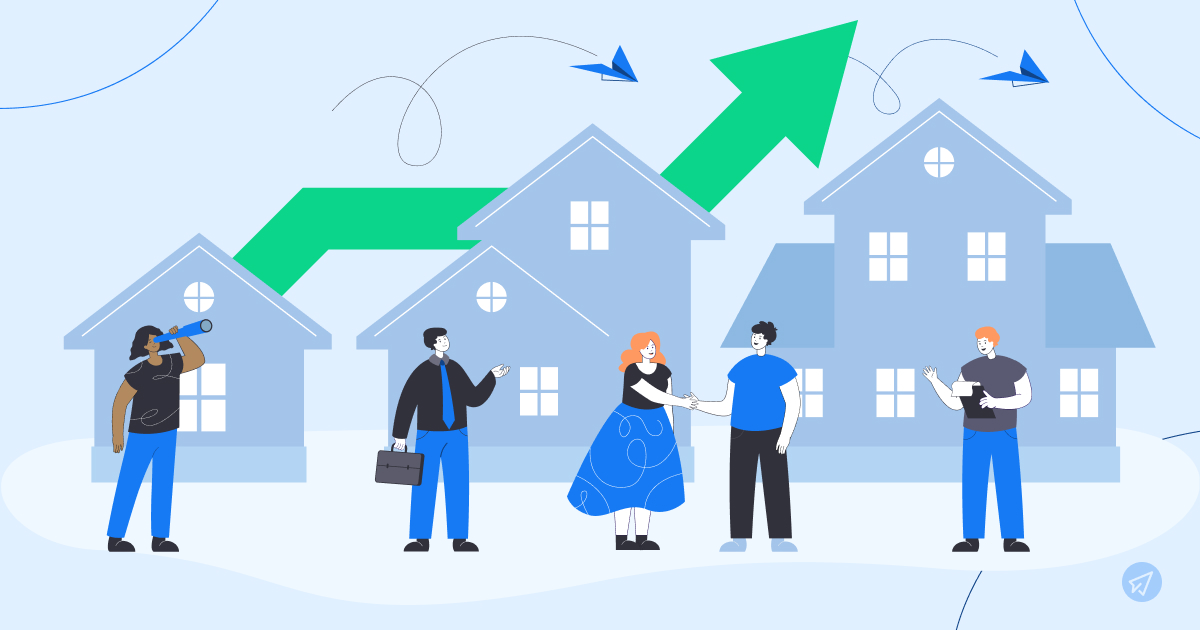 If you're a real estate agent, then you know that marketing is key to your success. It's not enough to just list a few homes on the market and wait for the phone to ring. You need to have a solid marketing strategy in place if you want to attract new clients and keep the ones you already have.
More importantly, people are now shifting their way of consuming promotional material offline to online. If billboards used to be the king of marketing, today, online marketing like animated commercials is the empress of business strategy. While there are many different ways to market your real estate business online, not all of them are effective.
After all, it's not easy to promote a house just by posting images on social media platforms. There are thousands of similar agents or brokers who do the same. Not to mention people can casually upload their house (and decorations) for fun.
So, aiming for these markets who love liking great houses won't be easy.
You may wonder if moving to online marketing is your way to get clients and retain their attention to what you offer.
Fret not!
This blog post will discuss some of the best ways to market your real estate business. We will also talk about how to improve retention among your client base. Let's get started!
Why Should Real Estate Business Shift to Online Marketing?
The amount of people owning smartphones is about 6.65 billion worldwide. And with that device, they can access many things, whether it's to collect the latest news, order food, or pay bills! This only means that people heavily rely on mobile devices in their daily life.
Speaking of smartphones, the internet and this device can't be entirely separated. Mobile devices operate with the internet on them, and that said, the only way you use your smartphones is by connecting them to the internet.
In other words, the way people use their mobile devices has changed how they consume information, and that includes your real estate business.
So if you haven't shifted to online marketing, it's time to do so! Here are some of the reasons why:
Online marketing allows you to reach a wider audience
By using online platforms such as Google, Facebook, and Instagram, you can target people outside of your immediate area. Not only that, but you can also target people who are interested in buying or selling a property.
Online marketing is cost-effective
Traditional marketing methods like newspapers or television ads can be quite expensive. On the other hand, online marketing is much more affordable and can even be done for free! For example, if you want to explain your property in an engaging post, you can find some infographic ideas to make informative yet fun content.
Online marketing is measurable
With online marketing, you can track your results and see which campaigns are working and which ones aren't. This way, you can save money by discontinuing the campaigns that aren't giving you any results.
Now that we've talked about the reasons why real estate businesses should shift to online marketing, let's move on to discussing how to market your business effectively.
How to Market Your Real Estate Business and Increase Retention Online?
Improving customer retention is just as difficult as acquiring them in the first place. You need a huge effort to attract potential clients and turn them into loyal customers for a long time.
Now, this is the problem.
With so many real estate agencies out there and the competition getting tight, you can lose your existing customers in no time—especially when competitors offer better benefits or incentives that often attract more audiences. You can't stay put with the old marketing strategy because you won't be going anywhere with that.
In this case, you'll need a new marketing strategy that incorporates online channels to promote your housing offers.
So, here are some tips on how you can market your real estate business online:
1. Build a strong company website
A company website is highly recommended for a real estate business that's just starting an online marketing strategy. It will serve as the foundation of your online presence.
Make sure that your website is professionally designed and contains all the necessary information about your company, such as your contact details, services offered, testimonies from past clients, etc.
In addition, your website should be optimized for search engines so that potential clients can easily find you when they conduct an online search. Utilizing the services of a company that builds customized websites for realtors will definitely help you rank higher on SERPs.
2. Use social media channels
Social media is a must if you want to reach out to a wider audience, especially young generations. Platforms like Facebook, Instagram, and Twitter are great to use to promote your real estate business.
Make sure to create content that everyone can relate to. It's also important to understand the characteristics of each platform as it's built and designed differently.
For example, if you want to promote a brand-new house with product videos, you can use Facebook or YouTube to post longer content. You can add a little information to each video or make a bit of storytelling about why people should invest their money in your agency, not others.
If you want to post shorter videos, TikTok and Instagram Reels are the way to go. That's because these platforms are good for distributing short content to thousands of users beyond your reach. So, you can connect with potential customers from all over the world.
Additionally, you can also learn how to search for people on TikTok and other social media to gain valuable insights into your target audience, such as their demographics and interests, enabling you to tailor your content and engage with them effectively.
Also if you are running the same marketing campaign offline then linking back people to your social media page with a social media QR code can help you increase your reach.
3. Offer incentives for new clients
When using online platforms, you have a bigger chance to connect with more people. While reaching out to a wider audience, you can use this opportunity to make a program, such as rewards, incentives, or discounted prices for those who have never invested in your property.
For example, you can offer a percentage off for the first house they buy from you. This is a great way to attract new clients and improve customer retention at the same time. Or, you can make a program for recurring customers with a loyalty card. They can get a certain percentage off for every purchase they make within a certain period.
4. Run an email marketing campaign
Email is a personal way to communicate with potential clients. People don't randomly share their email addresses with brands or companies unless they have an interest in them.
You can take this advantage by promoting your property using email campaigns. Email marketing is a great way to nurture your leads and convert them into customers.
To make your email marketing campaign more effective, you can segment your list according to your buyer persona. This way, you can send them personalized emails that are relevant to their needs and interests.
Email marketing helps retain your existing customers by sending them updates about new houses, properties, and offers they can get. Make sure to use email subjects like "Long time no see [name], we have a special offer for you!" can attract your customers to open the message.
Takeaway
There are many other strategies you can use to market your real estate business online effectively. But these are some of the most basic and essential ones that you should definitely start with.
Make sure to start online marketing right away because your competitors might just be a step ahead of you. And once you've started, don't forget to measure your results regularly so you can improve your strategy along the way.
Implementing these tips will help you acquire new customers and improve customer retention.
So, what are you waiting for? Start planning your marketing strategy today! If you need help, we're always here to give you a hand.