30+ Remote Working Tools You Need in 2023
21 min read
Need for sophisticated yet easy to use Remote Working Tools in 2023
Until two years ago, remote working was considered a privilege restricted only to an elite few. But ever since the beginning of the pandemic, it has become the norm. In fact, COVID-19 compliance laws have made remote working the standard for most industries.
At a time when Business Continuity is threatened, remote working brings a whole new set of challenges, especially when it comes to delivering quality and managing productivity.
Some of us probably miss the routine of daily office commute and face to face interactions with work colleagues. Some of us enjoy the better work-life balance and the comfort of working from home. And some of us are indifferent. But we all understand one thing: we must adapt to survive.
Being productive while working remotely does not happen easily—especially since the boss is not incessantly breathing down one's neck. And let's face it: not all of us are conscientious enough to give a hundred percent when not being watched.
Yet, for the success, and indeed survival of the business, productivity and quality have to be maintained just as they were supposed to be while working from within the office.
For this, a designated work space in the home is required for optimal organization. As well as any required stationary and equipment such as printers being easily accessible, there are a range of ergonomic options to support you as you work - everything from standing desks, chairs and ergonomic mouse pads, you can design a workspace that fully supports your comfort and capacity to work at your best.
So, how can we compensate for the absence of in-person monitoring and face to face interactions? How can we coordinate delivery of our daily tasks, collaborate productive meetings, review performance, or even plan the next day—without coming face to face with each other for months at a time? This is where task management softwares come in.
It would be naïve to presume that remote working can be managed well enough through just emails, manually maintained trackers, and ad hoc phone calls.
Fortunately, there are quite a few sophisticated yet simple remote working tools, which will make it incredibly easy to prevent the problems that result from lack of in-person monitoring and face to face interactions. One simple but effective technique is having two phone numbers on one phone so you can keep work and personal phone use separate despite using the same handset for both.
Listed in this article are the most recommendable and highly effective remote working tools in 2021. These remote working tools will help ensure business continuity, uninterrupted service delivery, sustained productivity, and desired quality of work. Some of them even ensure better employee & customer engagement.
How do they accomplish this transition to a remote work culture? Check them out!
1. Slack
Slack surveyed 17,000 knowledge workers across ten countries in 2019, and found that 75% of these workers were permitted to work remotely to some extent. Of those, 51% said that remote work was OK in some circumstances, and 24% said that it was broadly permitted by their workplaces.
A collaboration software that moves your work forward, Slack helps you work remotely and stay productive, be visible, and create human connections.
Slack gives you one central place to direct marketing efforts, define campaign deliverables, and share results. You can quickly access performance stats, orchestrate your social media flows, and directly manage email campaigns.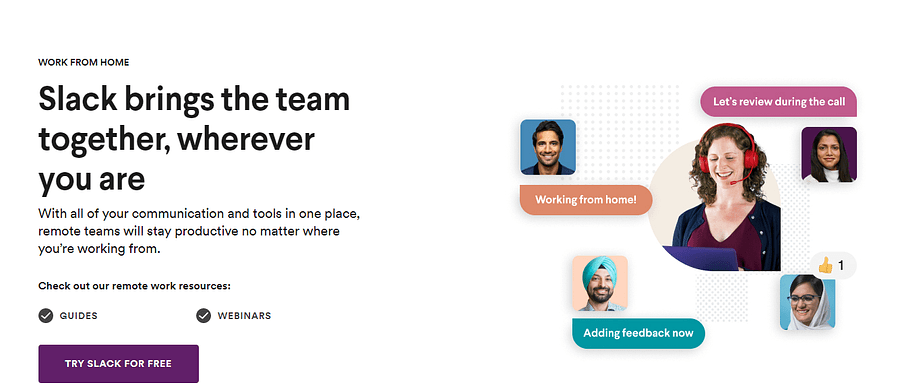 Slack's pricing ranges from a free model to a custom enterprise grid for large businesses.
Try it out now!
2. Basecamp
People have the tendency to put the right thing in the wrong places, and this only gets worse when work related information is spread all across emails, spreadsheets, chats etc. It becomes difficult to know where to look for what.
Basecamp solves this problem with remote working by combining all the tools teams need to get work done, in a single, streamlined package. Your teams will know what to do, where things stand, and where to find things they need.
Basecamp's features include to-do lists, message boards, documents & file storage, real-time group chat, check-in questions, client access, Hill charts, direct messages, and email forwards.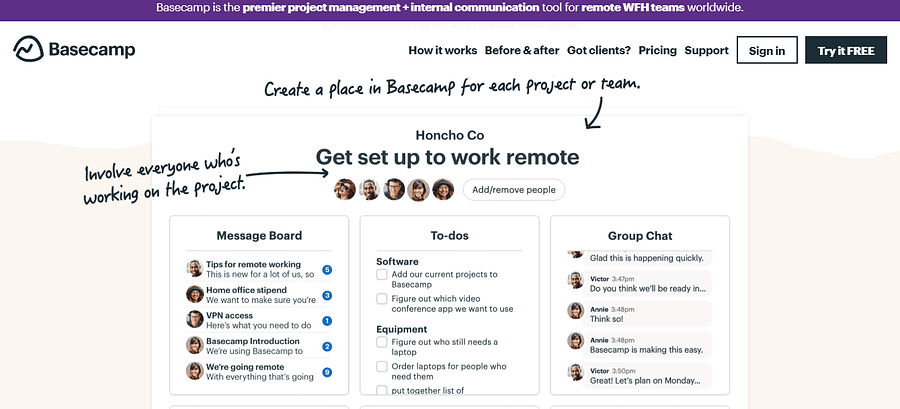 Priced at $99 per month, Basecamp offers a 30 day free trial (no credit card required). A worthwhile investment!
3. Zoom
In a remote working setup, due to decrease in the personal touch, the major areas that are affected are performance, trust and engagement. Customers who switch to Zoom report this:
92% report an increase in performance
82% report a greater sense of trust
91% report a greater sense of engagement
85% saw an increase in video usage
Built for modern teams, Zoom offers enterprise video conferencing with real-time messaging and content sharing. Multiple participants can share their screens simultaneously and co-annotate for a more interactive meeting.
Zoom enables you to meet securely by encrypting all meetings with role-based user security, password protection, waiting rooms, and placing attendees on hold.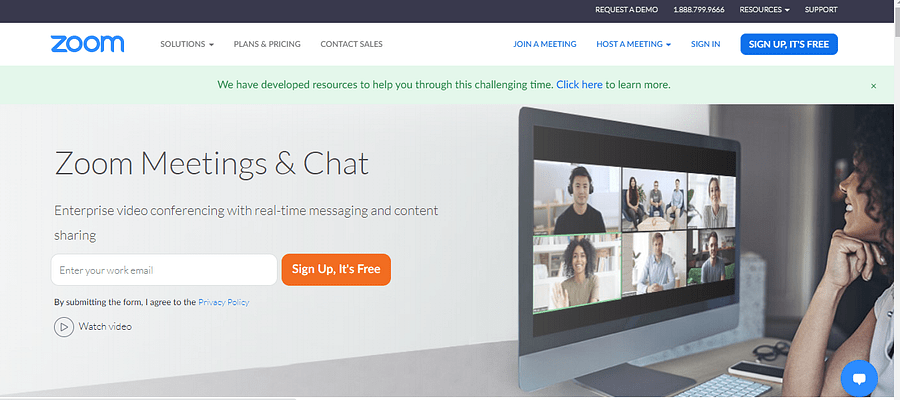 Pricing for Zoom starts with a free package which allows hosting up to 100 participants, and can be customized for large enterprise-ready businesses as well.
4. Kontentino
A major challenge for marketing companies in this era of remote working is streamlining the teams' workflow. Kontentino is a social media management tool which solves this problem by making collaboration and approval easier.
A human-friendly social media tool for agencies and brands, Kontentino was created in a digital advertising agency. It is tailored for effective agency - client collaboration. Kontentino makes it possible to have all your social media content perfectly organized and scheduled in the most human-friendly social media calendar app.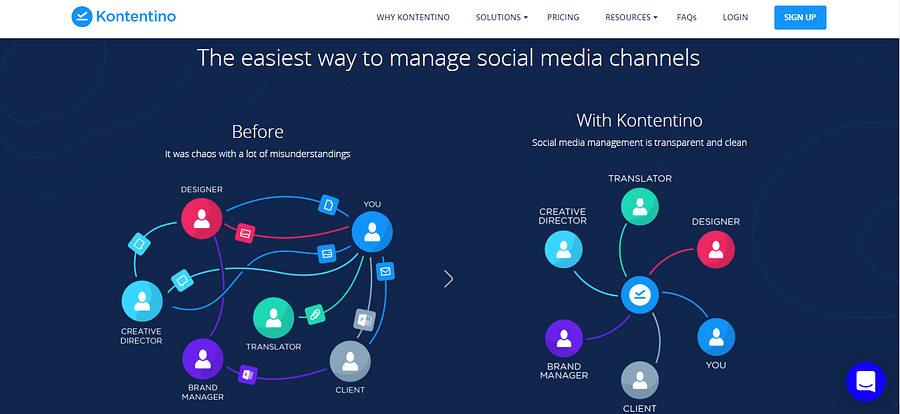 Kontentino offers a 30 day free trial (no credit card required), at a price point of €44 per month, billed yearly.
Try it out now!
5. CoSchedule
In a remote working setup, where marketing companies are losing control of their marketing process, and struggling to have a consolidated view of all their projects, CoSchedule is a marketing remote working tool which rises to the occasion.
CoSchedule gives you instant clarity into all of your projects and helps you confirm you're working on the right priorities. It removes time wasters so your team can perform to its full potential. Simply put, the CoSchedule marketing remote working tool makes it easy to complete more work, deliver projects on time, and most of all - prove your value.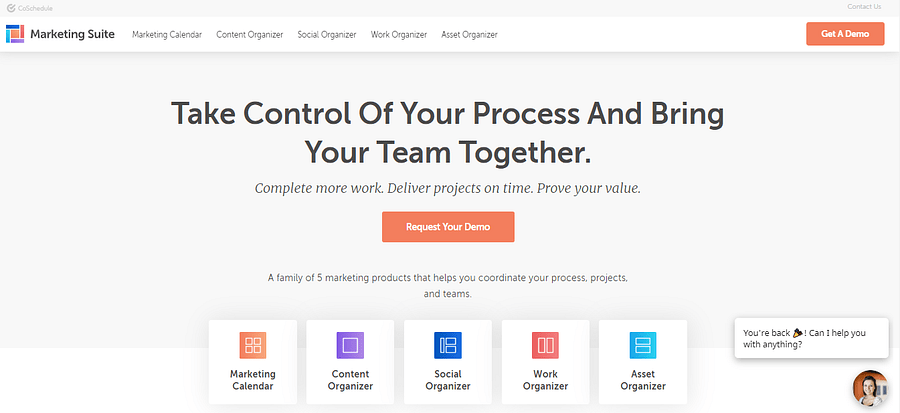 CoSchedule is priced starting at $14 per month (billed annually), and offers a 14 day trial (no credit card required). Wait no further! Get it now!
6. SendX
Growing your audience through easy-to-design emails is one thing which remains a major area of focus for marketing companies, and there are not many secure automated remote working tools which can deliver excellence in it.
Trusted by 3000+ companies worldwide, SendX is an intuitive and affordable Email Marketing Software that can be used remotely. SendX's enables you to reach your email subscribers, grow your audience, automate email sequences, and design emails with a drag & drop editor.
With no hidden limits, every SendX plan comes with unlimited email sends to opted-in subscribers. It also optimizes email campaigns based on 30+ parameters including past open behaviour, time-zone, domain name, email client, ISP etc.
SendX also features a Heatmap report for different types of campaigns, which gives you a quick overview of which CTAs are working and which links people are clicking visually.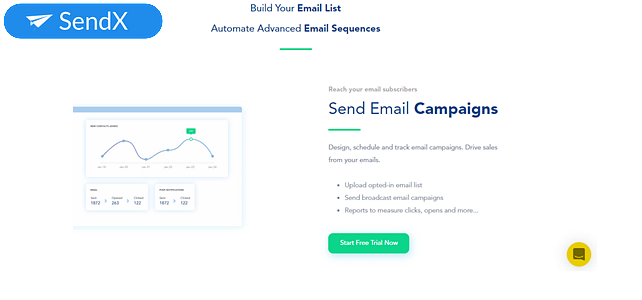 Priced starting with an annual plan at as affordable as $7.49 per month per 1000 subscribers, SendX also provides access to 50+ free premium responsive email templates for a variety of use cases and industries.
So what are you waiting for? Try SendX now for a 14 day trial (no credit card required).
7. SocialPilot
Finding a simple & cost-effective social media management tool for small teams and agencies that help them to strengthen their brand presence across all major social media platforms is never easy.
With SocialPilot, you can publish content on LinkedIn, Twitter, Instagram, TikTok, Facebook, Pinterest, Google My Business, Vk, and Tumblr. It is popular among small businesses because of its cost-effectiveness, intuitive UI, and exceptional customer support. It also assists you in creating, plan, schedule quickly, and publish posts.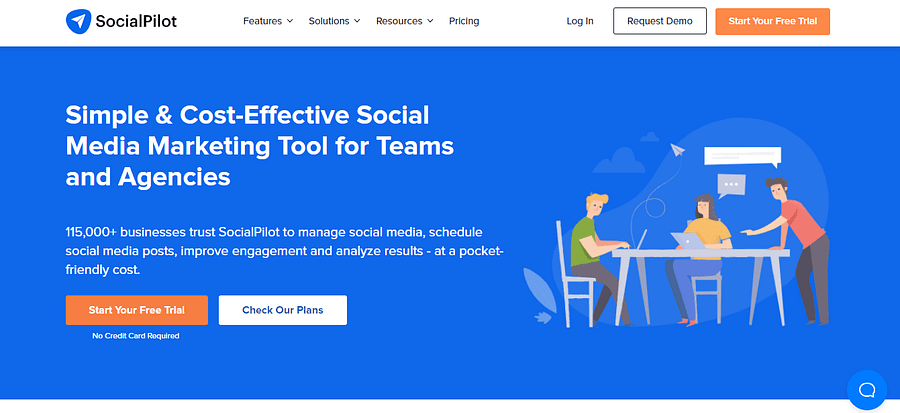 Starting at an annual billing plan priced at $25 per month, SocialPilot is the best social media management platform for efficient teams.
8. Xoxoday
When it comes to performance, motivation plays the most important role. Employees who are highly motivated give their best, and this in turn ensures excellence in service delivery and product quality. And when it is a remote working setup, motivation plays an even more critical role, since the opportunity to personally motivate the employees is lacking.
Xoxoday provides a set of remote working tools for building a happy, motivated and engaged workforce ensures that the employees are well engaged, and never lose their enthusiasm to deliver excellence. Its products motivate employees with social recognition, greetings & rewards, benefits and savings.
Xoxoday Empuls is one intuitive platform which brings all employee engagement initiatives together. It helps manage employee motivation, empowerment, alignment and communication.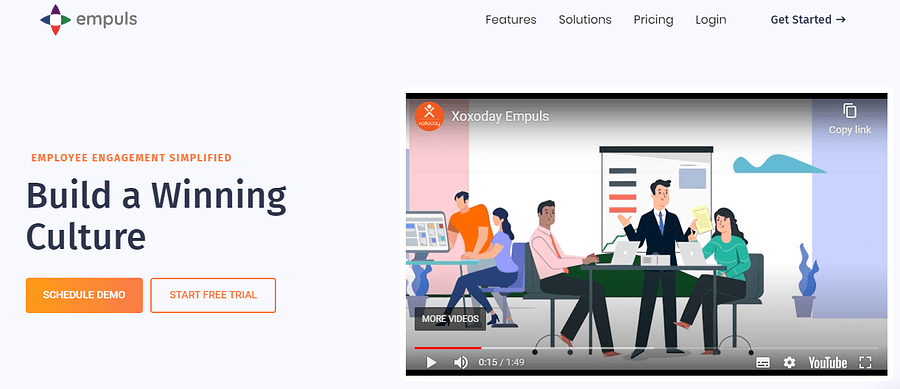 Xoxoday Compass aligns people to targets, digitizes incentives and communication, and provides error-free pay-outs on time.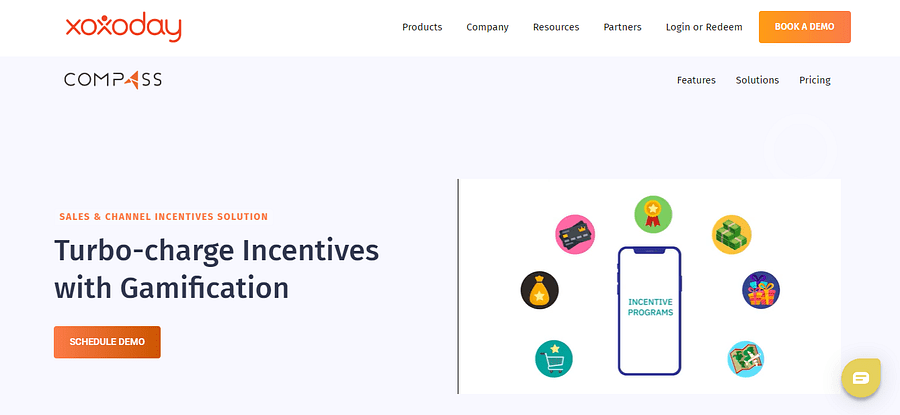 Xoxoday Plum helps in overcoming challenges in rewards, benefits & incentives.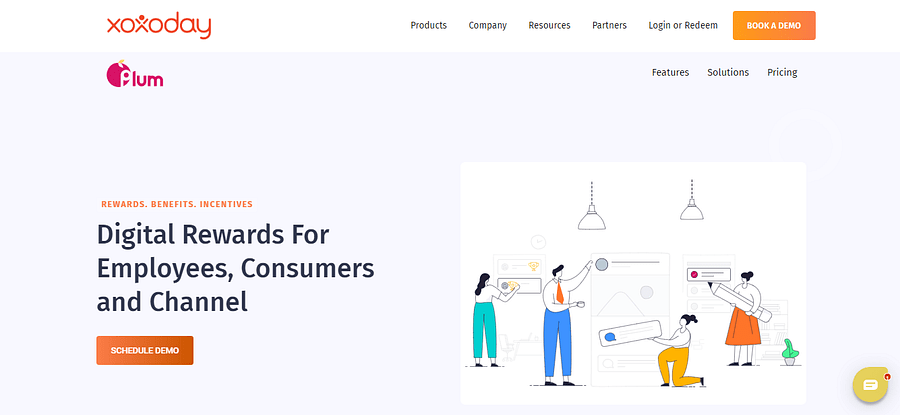 Xoxoday Store provides employees with 20,000+ options to redeem their reward points on experiences, perks, gift cards and more.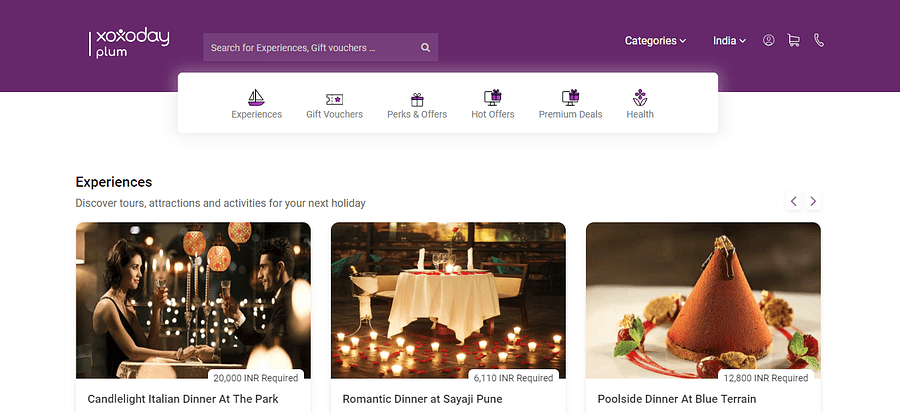 With a pricing model starting at $3 per user per month, it is a very affordable employee-oriented set of remote working tools.
9. Qandle
The need for sustaining productivity can never be ignored in any type of business. And managing it remotely can be really tricky.
Qandle has developed a remote working toolkit which has everything from task management to screen tracking to 1:1s. Qandle's unique employee productivity toolkit ensures that productivity and effectiveness do not suffer in a remote working environment.
It has features that efficiently enable Task Management, Progress Tracking, Remote Attendance management, Screen Tracking, eSignatures, Virtual 1:1s, Real-Time Feedback and Polls and Surveys amongst others.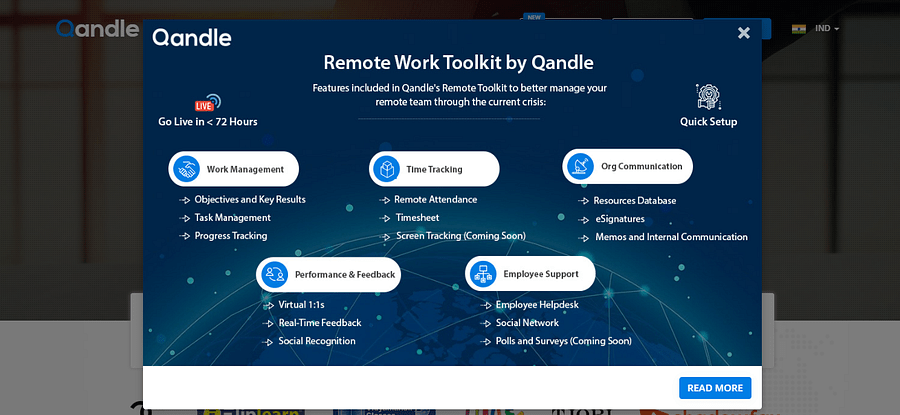 Starting at a price point of $2 per month per employee (billed yearly), Qandle is easily one of the best remote working tools around.
10. InstaSafe
Catering to a remote workforce brings with it the inherent risks of having a larger attack surface to protect. Organizations now face a new set of challenges: cyberattacks.
Workforces are no longer located "inside" a network and the legacy perimeter has vanished. Threat actors exploit this model with the result "leading to breaches and bringing legal, financial, and regulatory exposure."
InstaSafe provides three products to help mitigate this: InstaSafe Secure Access, InstaSafe Cloud Access, and Zero Trust Security Solution. InstaSafe Zero Trust Network Access as a security architecture creates an "identity- and context-based, logical-access boundary" around applications.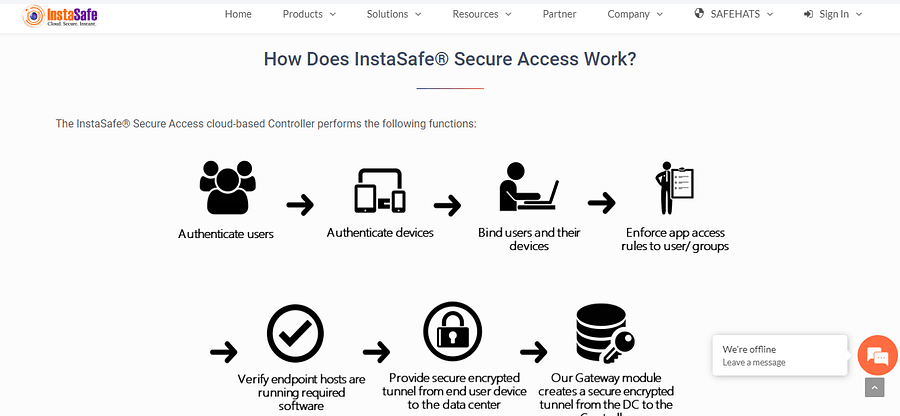 For more exciting details and pricing, explore the InstaSafe website.
11. SalesKen
Even though inside sales have been a part of the sales function for over a decade, they have never played as critical a role as they do now. With remote working having become the norm now, it has become increasingly difficult to monitor productivity, manage productivity, and coach the inside sales reps.
SalesKen helps sales teams improve and improvise while working remotely. Managers get complete analytics on their reps' conversations - what's working and what's not. Sales reps get real-time talking points in their conversations, through SalesKen's AI algorithms. The tool learns the most successful ways to tackle all aspects of a sales conversation, so that remote working sales reps can learn tactics from their manager.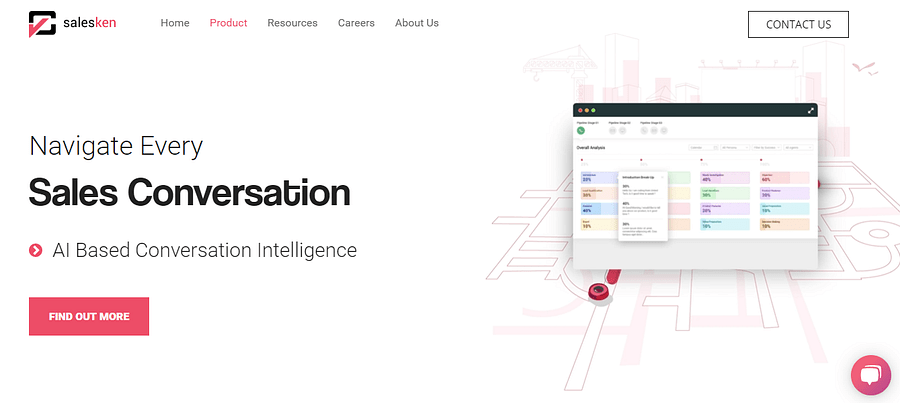 For more details on how it navigates every sales conversation, captures every pitch, coaches every conversation, and conquers every lead, visit the SalesKen website.
12. NittioLearn
If things go wrong at the training stage, achieving excellence in service delivery is impossible. No matter how well motivated, an under-skilled workforce will never be able to deliver service or a product, well enough to earn customer delight. And then there will be the additional cost of reskilling. Training program design, delivery, and participant engagement - all need special handling.
NittioLearn offers dynamic features to deliver excellence in training endeavours. It enables you to design a perfect remote training program, execute it effortlessly and provides insights to drive learning. What's more, it also helps you automate your repeat training programs!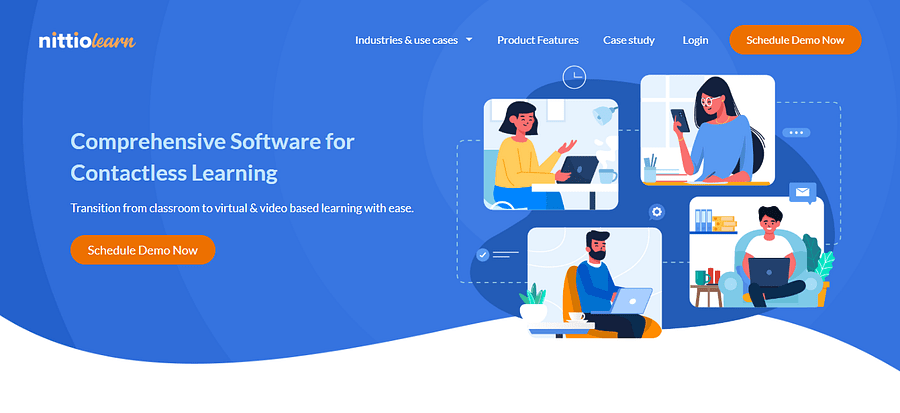 NittioLearn is offered at a customized pricing model, depending on your business requirements.
13. SignEasy
With hand signatures not advisable during the COVID-19 lockdown phase during which most work is done using remote working tools, teams need to collect signatures remotely without the need for pen and paper or scanner. And it needs to be as legally binding as using pen and paper.
SignEasy solves this problem by enabling you to remotely manage the end to end document signing process. It enables multiple people to sign documents one by one in a specified order, or all at once. You can also review the progress of a document sent for signature by checking who has signed, and who still has to.
SignEasy works with apps such as Google Drive, Evernote, Dropbox, Zoho CRM amongst others.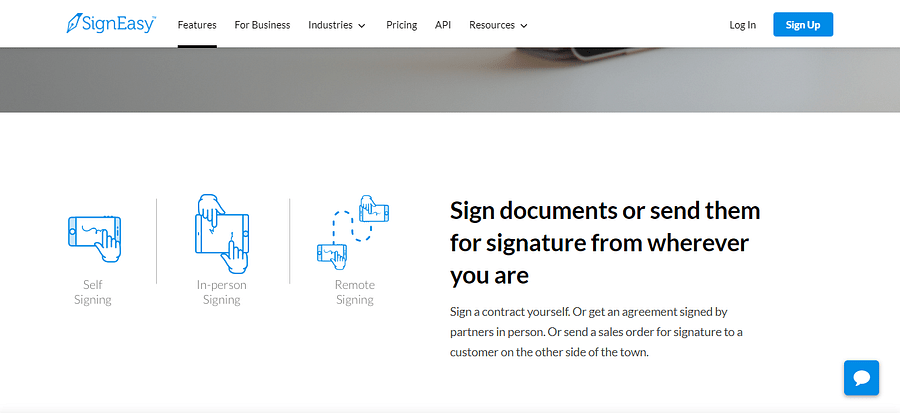 SignEasy's pricing plans for individuals begin at $12 per month (billed yearly). Check them out now!
14. JustCall
As worldwide lockdowns push for teams to transition to remote working, maintaining business continuity becomes a major challenge. Cloud telephone systems turn out to be a boon here.
JustCall offers a cloud-based phone system that is ideal for remote sales and support teams as well as virtual contact centres. It is a cloud phone system that can be accessed from anywhere, anytime, and on any device. It ensures a disruption-free switch to cloud phone systems.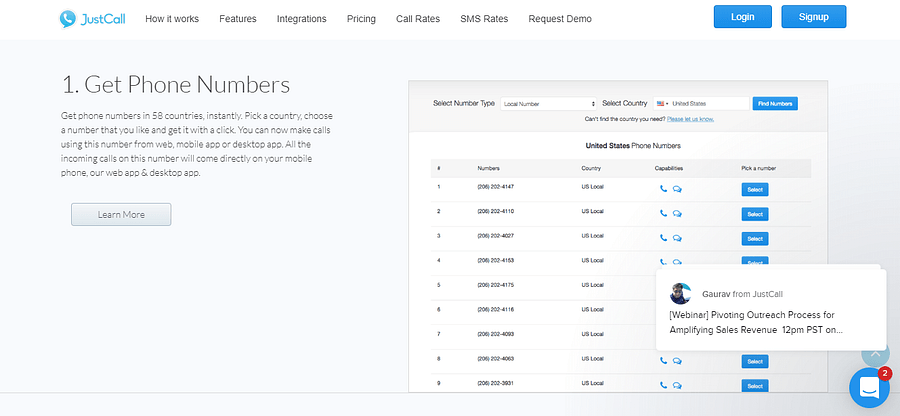 Priced at an affordable rate of $20 per user per month (billed yearly), JustCall also offers automated integrations with Zapier, PipeDrive, HubSpot, Helpwise, Infusionsoft, and various other tools and apps. Value for money, don't you think?
15. Hippo Video
Prospects receive a lot of text emails which are automated, mundane, and unreal. This completely dilutes the credibility of the senders. On the other hand, Videos enable sales reps to build REAL relationships.
Hippo Video is a video engagement platform for remote working sales teams. From prospecting to closing sales, remote selling is now easier with videos. Hippo Video leverages your video assets to lift your marketing, sales and email campaigns.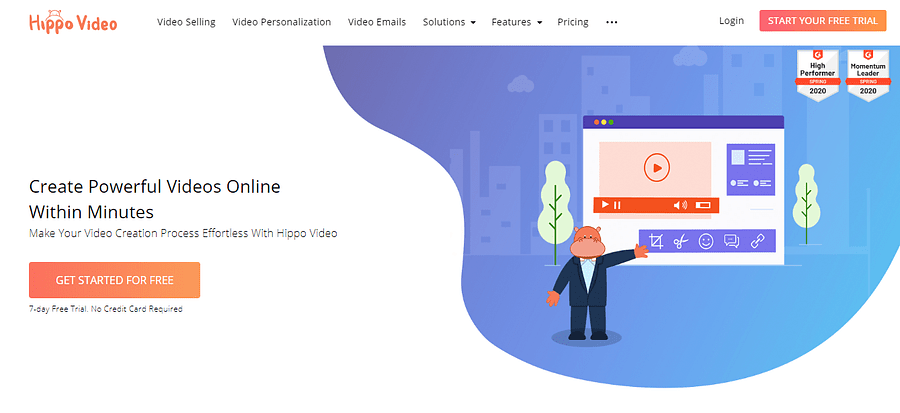 Hippo Video enables your team to close more deals, generate more leads and delight more customers with video starting with a free subscription option, it also offers a 7 day free-trial for its paid pricing models.
16. Convin
Organizations are constantly striving to sell more by understanding what's working on calls, and replicating best performing reps. At the time when most of the sale is remote, recording, transcribing, and analysing all sales calls is next to impossible without the right tool.
Convin records, transcribes, and analyses all your sales calls to uncover the black box of calls and tell you what to focus on during calls. It helps you search for anything in the sales call in your dashboard, displays alerts to keep you updated about market trends, and enables you to collaborate and give feedback to your reps.
While giving top priority to security, Convin also offers seamless integration with HubSpot, aircall, Google, and quite a few more. It also enables using Conversion Intelligence for call insights, replicating closers, fasttrack onboarding, and market intelligence.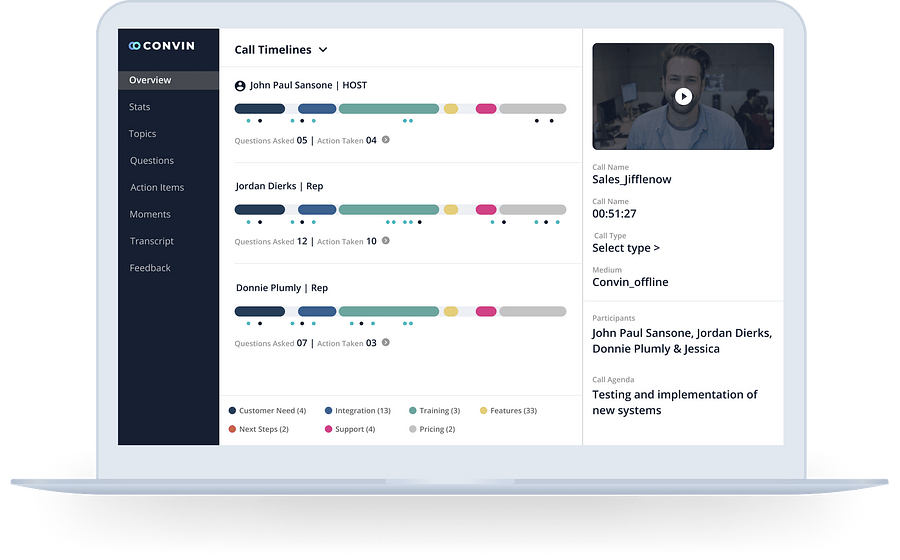 For more details and custom pricing, visit the Convin website.
17. MyOperator
MyOperator is a remote working call management SAAS that enables businesses to manage their sales & support team calls through the platform. With over 6000 SMBs across India as a customer, it's a predominant tool for remote working for the sales & support team.
MyOperator allows businesses to Connect, Manage, Automate, Store, Analyze, and Integrate their entire call communication. At the same time, your team can be present anywhere with just a mobile phone for the team as an essential prerequisite.
Office IVR is a product built with simple call-related features along with a virtual number, and is suitable for businesses who want to bring automation to their customer communication.
Cloud Call Centre Solution for advanced call management comprises superior calling features along with a virtual number and is apt for organizations looking for sophisticated and advanced call handling.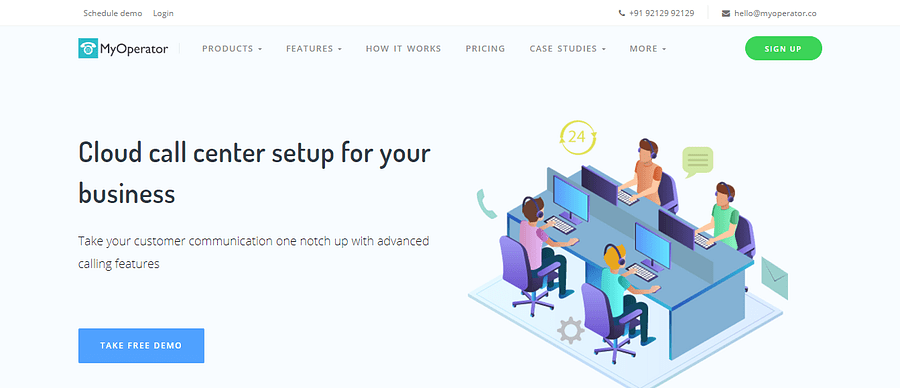 With custom pricing plans that would suit your company, MyOperator helps you create a better calling experience for your customers.
18. Ameyo
There is an ever-rising need for customer engagement platforms that helps businesses go remote. Businesses and agents need to work remotely with ease while streamlining their customer service and customer support processes.
Ameyo's solution is customized to function with the infrastructure available at the agents' end. Its agile and robust platform is available for on-cloud and on-premise implementation with private, public, as well as hybrid instances which makes migration, if needed in the future, a seamless experience. Even while working remotely, you get to establish governance for your IT and operations.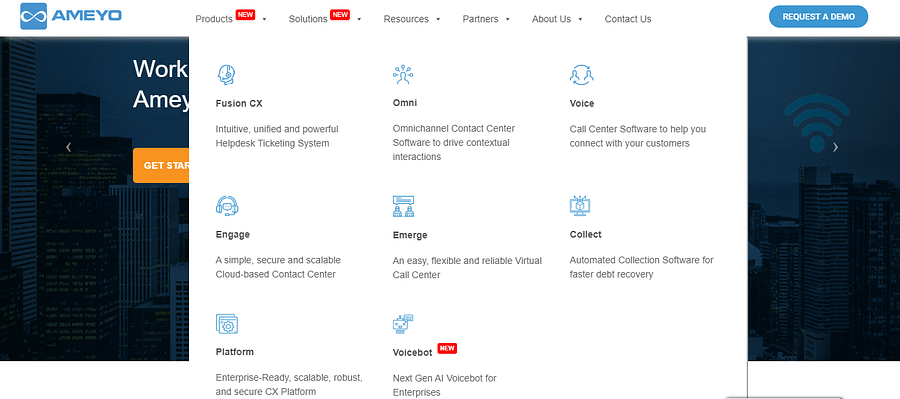 Ameyo offers custom pricing plans that would cater to your specific business requirements.
Studies show that businesses with the highest levels of employee engagement are 22% more profitable than those with low levels of engagement. Employee engagement affects just about every important element of an organization — profitability, revenues, client experience, employee turnover, talent acquisition, brand presence, market share, and workplace safety.
Springworks helps achieve just that: high employee engagement levels. It provides remote working tools which enable talking with teammates, interacting with them. And celebrating should have no boundaries, no matter where you are.
Springworks SpringEngage provides employee engagement that's seamless and recognition that's boundless.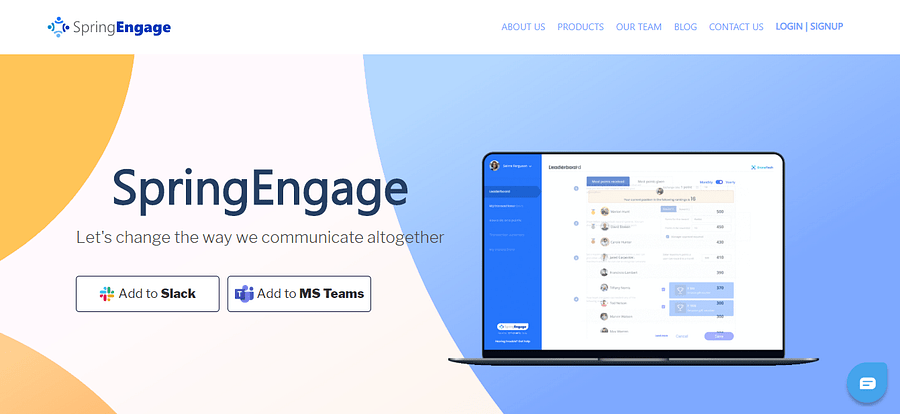 Springworks Trivia is the new way to connect with your remote team while playing exciting quizzes!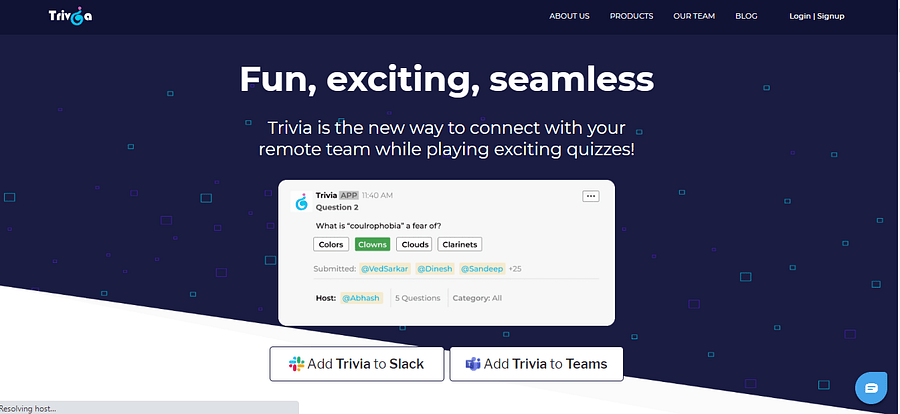 And what's more, Springworks also provides integration with Slack and Microsoft Teams.
The future of recruiting is here!
Pricing model is a customized one, depending on your business requirements.
20. Fyle
Eradicating expense fraud and automating expense approval flow are essential requirements for managing reimbursements. And this calls for an intuitive and advanced expenses management software is the need of the hour.
Fyle helps remote workers easily file their expenses for reimbursement or payment. With the intuitive mobile app, and Gmail & Outlook integrations, Fyle makes it super easy for remote workers to manage their expenses and get their reimbursements on time.
Some key features of the Fyle platform to keep your data safe are that all communication is encrypted, passwords are protected, and there is 3rd party testing.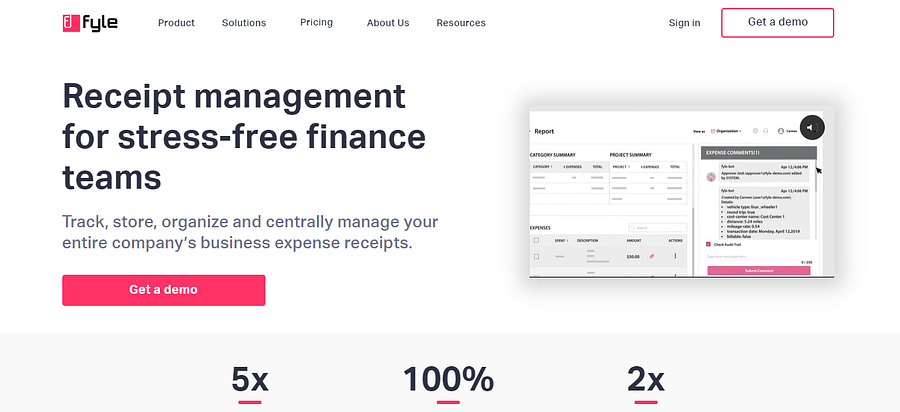 Fyle remote working tool's integrations include:
Simplifying expense accounting with one-click expense reporting, and sync all expenses with your company books
Seamlessly integrating employee expense data in Fyle with the accounting and ERP software of your choice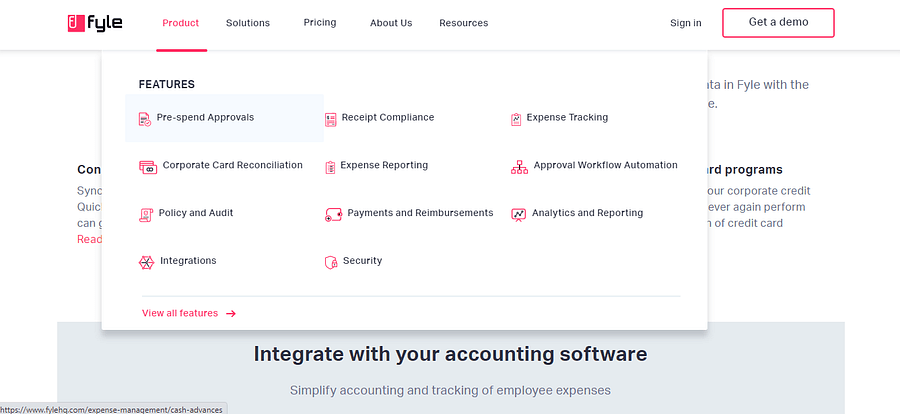 Fyle adopts a custom pricing model for each prospect based on the prospect's requirements.
21. Xtensio
For teams, both remote and those working closely together, a collaborative tool is the perfect way to complete tasks and projects efficiently. Xtensio is one of the best examples of this. It is a comprehensive program that allows groups of people to create, share, and present real-time access documents.
With its unique features, Xtensio can benefit agencies, podcast promotion companies, businesses, consultants, and educators to shorten their workflow without needing to sacrifice quality. Document sharing should no longer be a problem when everybody can see and control the same things at the same time.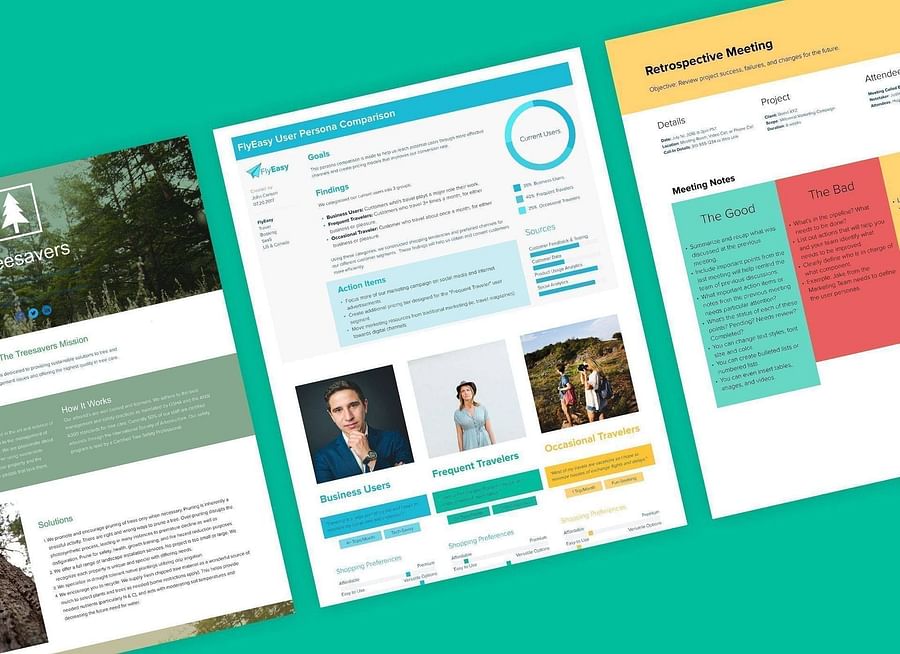 Xtensio's pricing starts at $8 per user per month (billed yearly). Try it out!
22. Time Doctor
Every small, medium or large organization seeks to boost the productivity of its employees. This is especially true for fully or partially-remote organizations.
Time Doctor is a time tracking tool that makes it easier to manage distributed teams. It combines a wide range of remote working tools. From screen monitoring features to distraction management features, from chat monitoring to payroll module, Time Doctor is essential and indispensable.
A growing body of research has shown that this time management tool can boost the productivity of remote teams by up to 22%.It's features allow you to track and monitor employee productivity, generate accurate timesheet billing information and also generate project and web usage reports.
Time Doctor's pricing starts at $7 per month. You can also access its features for free, if you sign-up for the 14-day trial package.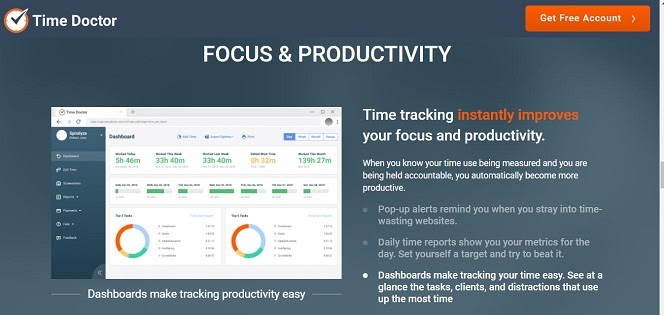 23. Voluum
During the pandemic, some businesses are actually more active than they were before. And if you're working from home while your business is booming, you need advanced tools to ride the crest.
For marketers, it means that high-performance marketing tools have to travel with you, and marketing campaigns have work fast and be accessible to your team, even when that team is spread across a collection of apartments and private homes.
That's when a resource like Voluum it great to have by your side. It's especially helpful in managing in-app native ads in highly-interactive spaces like finance, e-commerce, dating, trading, and lead generation - stuff that can be tricky to manage from home. Their personal on-boarding managers can help you get set up and kick-start your advertising action.
Voluum's pricing starts at $149 for individuals and $499 for start-ups per month. Additionally, once you buy a plan you'll receive onboarding emails and will be offered a group webinar or an individual onboarding, depending on your chosen plan.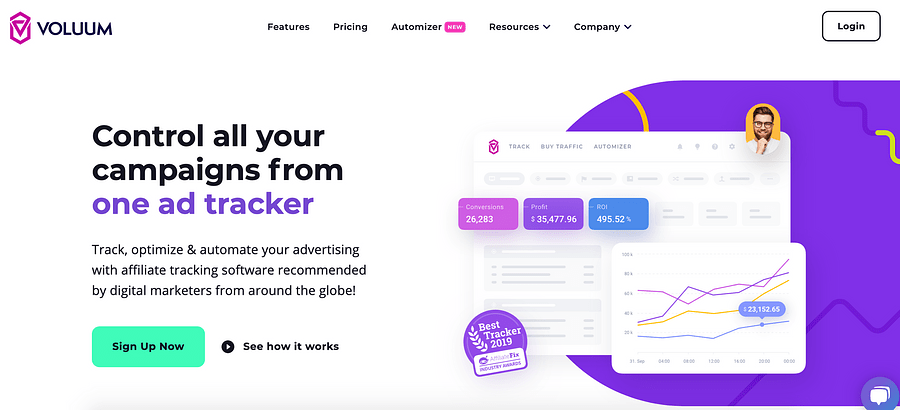 24. ZeroPark
This one is a little specialized, but if you have to manage your company's affiliate network from home — good luck! Even in the best cases, that can become a hodge-podge of limited software and lots of sticky-notes.
Use this work-from-home time to transition to something more powerful that you can use now and even take back into the office once we're all "baaaack." ZeroPark helps manage affiliate relationships and their volumes for all the most popular traffic sources and affiliate networks. Whether you work solo or as part of a collaborative team, ZeroPark adapts so that while you're busy managing the complex world of affiliates by day, you have so much control that you can sleep well at night. And you get to banish those sticky notes forever.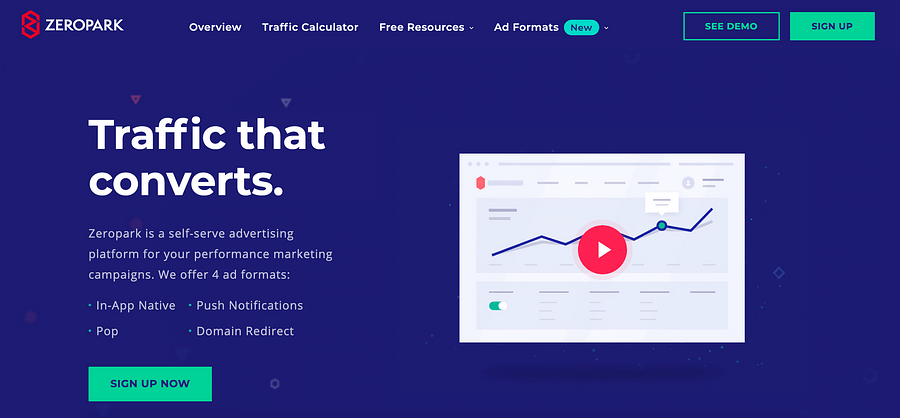 25. Kickidler
If you're looking for remote employee monitoring software that is impossible to trick, then look no further - the answer is Kickidler!
In addition to common functions like time tracking, productivity analysis and working time sheets, Kickidler provides the manager with the ability to monitor the screens of all their employees online, check video recordings of their workdays and, thanks to a keylogger, track keystrokes on work computers. In addition, this feature is integrated with video recording, so you can always watch a certain fragment of the video that shows the context in which the employee typed that specific text.
In 2020, Kickidler's developers released the new feature of the program titled "AutoKick," which is designed specifically to track remote employees' time. It allows employees to see infographics on their own productivity, receive automatic notifications regarding work schedule violations or overtime hours and enable or disable the program's grabber agent on their own.
Prices for Kickidler start at $3, and there are different types of licenses, including unlimited one.
26. Appy Pie Connect
A survey done recently revealed that for certain sales teams data entry can take up almost 10 hours per week. Data entry is a very important process for an organization. In an era, where working from home is common, processes like data entry or processes that involve the exchange of data have become more important.
A workflow automation tool helps automate and simplify data entry and various other monotonous and simple work processes with the help of API-based integrations and workflows. Appy Pie Connect is one of the finest workflow automation software available in the market. It lets you create custom workflows and integrate over 200+ software.
A workflow automation software brings various benefits.
1. It lets your employees focus better on more important tasks
2. Helps streamline and simplify business processes
3. Increases productivity across various departments
4. Can be used to integrate almost any software on the planet
Workflow automation software have seen a massive growth over the pandemic with tools like Appy Pie Connect leading the charge. Appy Pie Connect simplifies work and increases effectiveness for remote working as well. Businesses looking to automate processes will enjoy Appy Pie's intuitive interface and the amount of customizability the tool offers for each integration.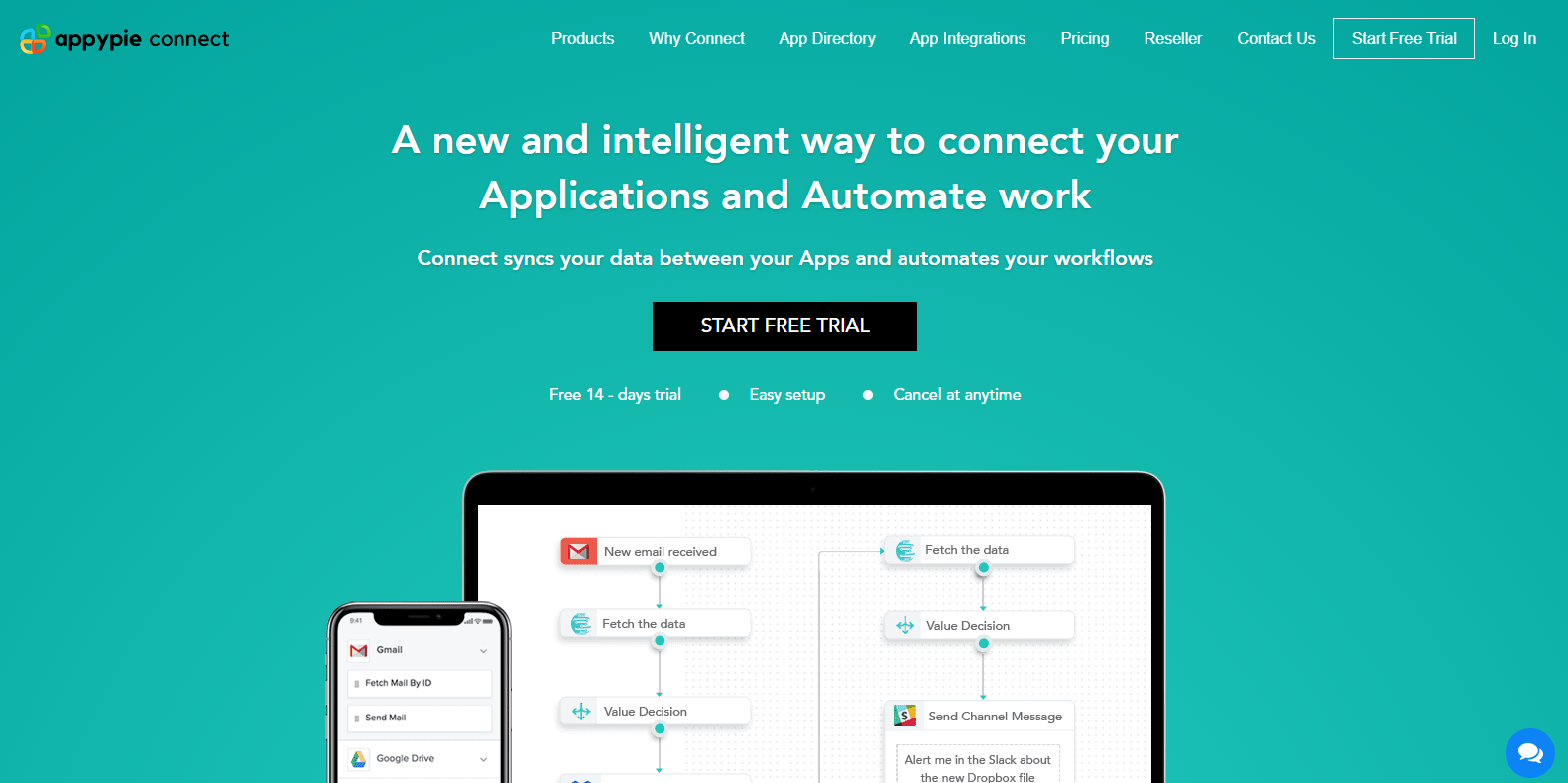 27. EkranSystem
Ekran System is a cloud-based insider threat detection tool that helps companies monitor user activity, identity management, and privileged access. The platform offers a range of features, including system resource dashboards, browsing history, keystroke logging, time tracking, password management, behavioral analytics, compliance management, and data exports.

Ekran System comes with a module that allows teams to deploy multifactor authentication (MFA) and identify shared account users with secondary authentication. The privileged access management tool allows managers to manage access permissions, record sessions, and perform audit actions. Team members can use this system to control access and monitor third-party service providers.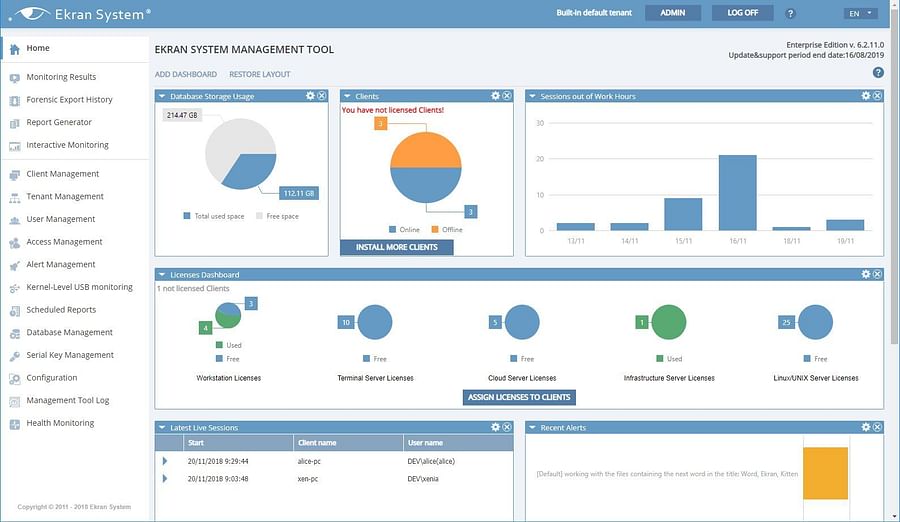 28. NapoleonCat
If you're looking for a social media engagement tool that will resemble the in-office team experience, NapoleonCat's Social Inbox is your best choice. The tool gathers all social media comments and messages in one place, and while your team members are moderating conversations, everyone's able to see who's doing what in real-time.
Thanks to this real-time collaboration view, you can be sure that you won't overlap with your colleagues and answer the same message or comment. In Social Inbox, users can also assign conversations to moderators and consult queries with people outside the organization (for example, clients).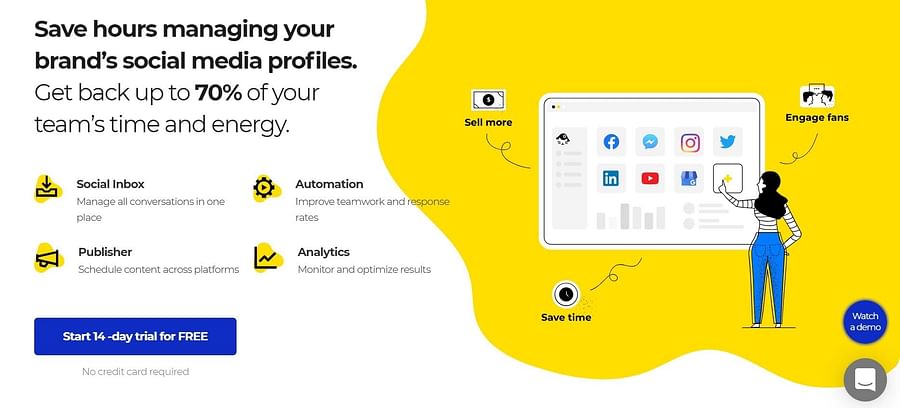 Apart from the Social Inbox, NapoleonCat offers a scheduling tool that works with all major social media platforms and easy-to-use analytics and reporting tools for an affordable price.
29. 8x8
Have the freedom to work anywhere while staying connected and up-to-date with your work team by including 8x8's Cloud Unified Communications in your company's day to day activities. The platform brings together voice, video, chat, contact center, analytics, and APIs that your team can use effectively as it's all included in one application.
There is also training and support offered for those who are getting familiarized with the platform, on top of the many integrations with other platforms such as Microsoft Teams, Salesforce, and Google Workspace. With a variety of plans to choose from depending on the size of your business, 8x8's cloud communications platform is right for you!

30. factoHR
It is challenging for HR to bring the employees together for collaborative performance. Are you too posed with the same threat? Well then, it's time to empower your organization with factoHR, a cloud-based payroll solution, and the right HR partner for an excellent workflow and a satisfied remote team.
factoHR is an all-in-one HR suite for the new generation workforce. Its unique features of remote employee monitoring software ensure an engaged and productive workforce despite the recurring hassles. Its exclusive features especially meant for remote working tools include-
Selfie punch: a perfect tool to manage attendance and ensure its authenticity.
Timesheet: ensures the efficiency and effectiveness of the workforce by listing out the tasks on the process, to do, as well as those accomplished along with the time taken to accomplish them.
Mobile-Friendly application: streamlines the monitoring and cuts down the workflow by enabling a perfect mobile solution right at your fingertips.
It enhances employee engagement despite the distributed workforce to stay connected.
Provides the opportunity to mark the attendance as well as put forth an application for regularizing the errors.
Its geofencing and geo-tracking features make the monitoring of remote workers extensively simplified and more reliable for attendance, as well as directing the employees to meet the client requirements.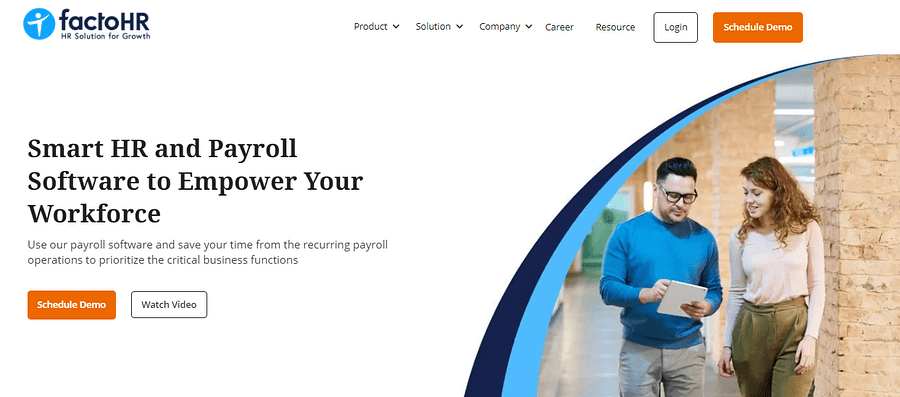 Moreover, factoHR strives to create a common yet excellent platform for the management and workforce for a better work culture on a more digitized level. Therefore, it is trusted by 1500+ corporates to be the best HR solution partner that has enhanced the organization's value significantly. And thus, factoHR has paved the way to meet the changing needs, better transparency, and an overall empowered organization.
An affordable and easy online business phone system, Ring4 provides an excellent low-cost alternative to expensive office landlines and dedicated employee work phones. The best part is that your business can get set up with Ring4 in 30 seconds.
You can sign up for the business console & mobile app with your business email and choose a phone number, start calling, texting and video chatting immediately. You can also automatically record and transcribe every call you make.
Ring4 pricing is incredibly simple and flexible. It has just two plans: Free and Business Professional. The annual Business Professional plan starts at just $ 8 per month, and it comes with a money back guarantee of a 7 day trial.
With Taggg, you can schedule group meetings effortlessly. You can connect with contacts and overlay your availability to find the earliest time to meet. It does not require any voting or polling. It helps you overcome any meeting scheduling problems.
If you still sometimes email back and forth to find a time to meet, then you need a solution that eliminates having to do this again.
You can connect with your contacts and their calendars no matter if they use Google or Microsoft calendar, it allows for sharing availability and faster meeting booking than ever before.
In terms of pricing, Taggg presently offers a Free plan, with a Pro plan and Team plan coming soon.
33. TimeCamp
Remote work, especially when it's something new to the company, often results in micromanagement. Managers experience problems with the right measurement of how their teams perform and do their best to make the employees feel their breath over their shoulders. Such a vague atmosphere ends with high stress and uncertainty.
But how about giving the employees the tool to self-manage their working hours? TimeCamp is a remote work tracking tool that tracks time automatically, directly from employees' computers and mobile devices. It seamlessly fills timesheets with time entries and daily activities. What's more, the app tracks employees' absences and makes sure all the attendance papers are in order.
Remote team managers can quickly estimate and check how the resources are utilized across the projects, how productive the employees are, determine costs and revenues, etc. And if they can't find the default report that matches their needs, they can easily create the custom one.
TimeCamp offers a free plan for unlimited users, including unlimited projects and tasks, tags, one integration, project templates, etc. Paid plans start at $5.25 per user/month. 14-days free trial available.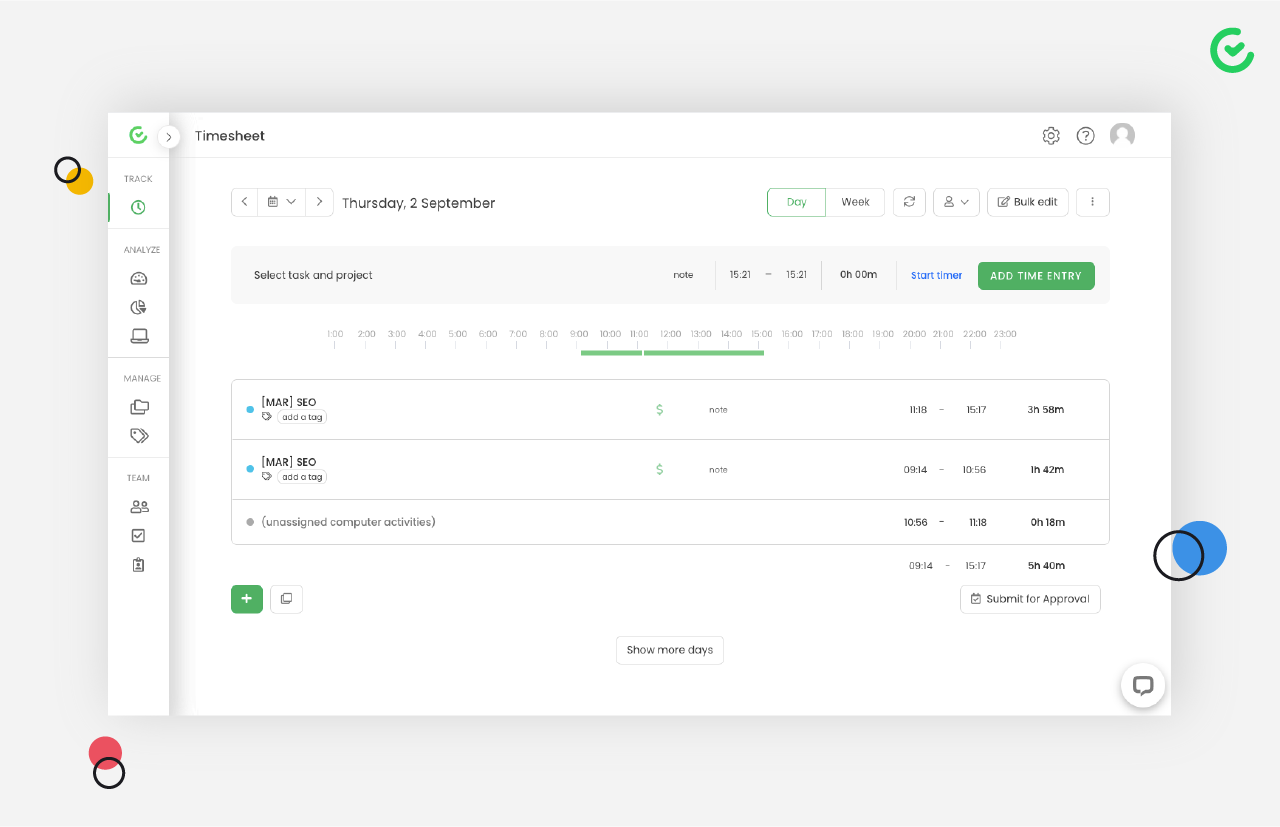 34. NameCheap
When working online, you are more prone to cyber attacks, hacking, and data theft. Any of these, if it happens, not only damages the way your company works, but also affects your image and reputation in front of your customers.

Remote employees and companies need a cyber security tool or virtual private network, which not only protects their privacy & data, but also gives access to multiple resources with geo-restrictions, and masks your digital footprints to keep your device and company server secure.

35. WebWork Time Tracker
In a remote work setting, it is especially hard to monitor the work of employees and ensure that they work conscientiously. Seeing them online on Slack is not always enough to make sure that an employee is available and busy with work.
WebWork is a time tracking and task management tool that simplifies the process of monitoring and managing remote work.
WebWork has time tracking, task management, and communication features that make remote work a breeze. Managers can see what their employees are working on, how much time they spend on tasks, and, how productive they are. Employees also get to see where their time goes and learn to manage it better along the way. The task management system allows managers to assign tasks and check their completion stage. Team members can stay in touch through WebWork's inbuilt chat and video calls.
WebWork offers simple and affordable price packages with the Basic costing $2.99 per user/month.

36. Jotform Sign
The best way to onboard employees remotely is with legally binding documents created in Jotform Sign. Create documents and collect electronic signatures. Automate your workflow by adding signers to your documents and create an approval flow. Get notified when someone signs your documents. All from one app.
Get access to 600+ templates that you can use to save time and customize your documents to keep in line with your branding. Embed your finished documents on your website so people can directly sign them without jumping through hoops.
Integrate with all your favorite apps to help with tracking data and submissions. Upload your documents to the cloud and access them from any device.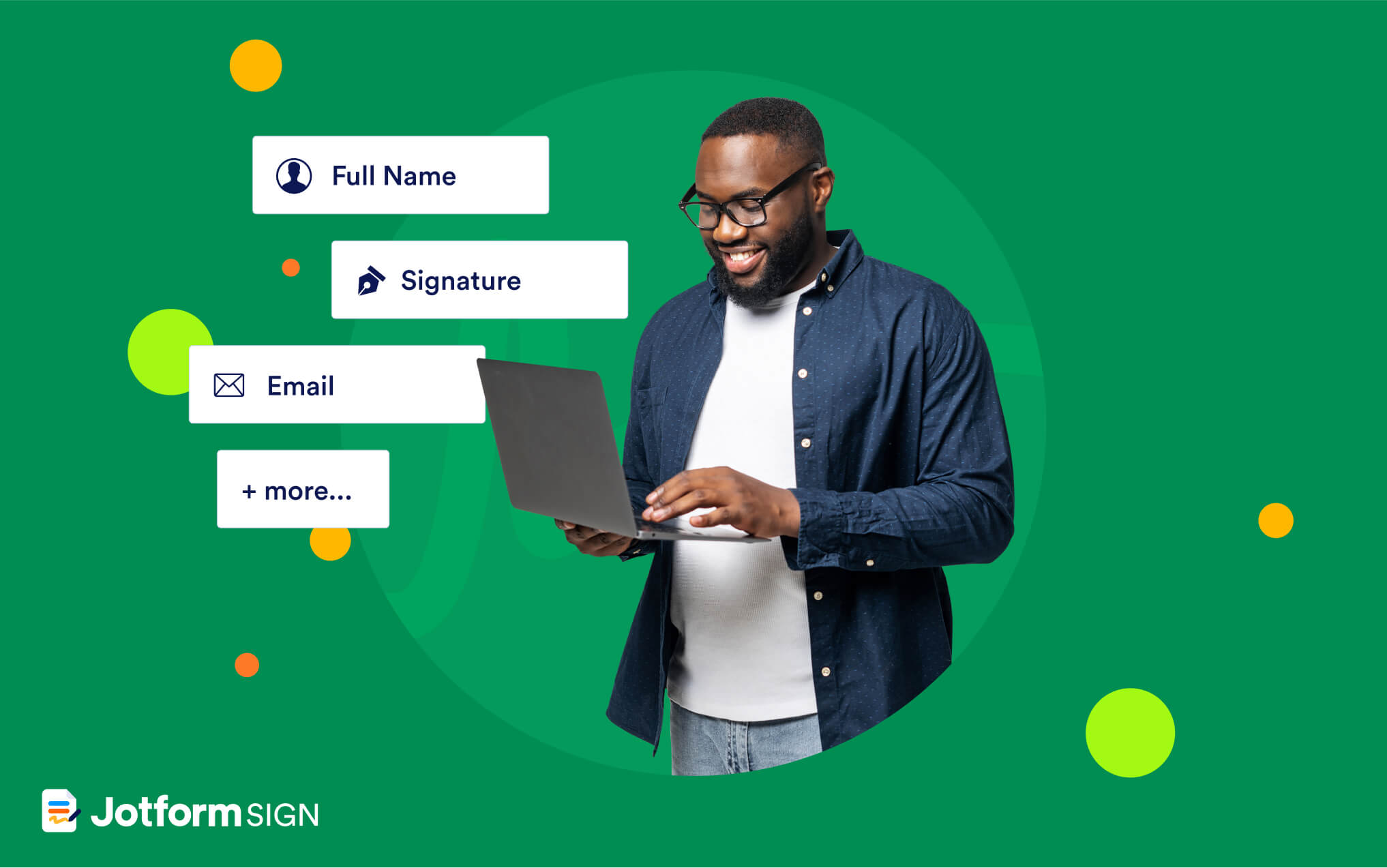 Jotform Sign has a free plan that includes a 10-signed document limit. The paid plans start at $34/month paid annually. You get a higher document limit and more storage. They also provide an enterprise plan for large-scale companies which you can learn about by contacting sales.
37. FreshBooks
Whether you have your own business or you are a freelancer, you will need to invoice your clients. To ease that process, a tool you can use is the FreshBooks software.

Invoicing, accounts payable, cost tracking, time tracking, retainers, fixed asset depreciation, purchase orders, payroll integrations, mileage tracking, double-entry accounting, and industry-standard business and management reporting are all included in FreshBooks' subscription-based offering.

Users can view the same set of books from anywhere using desktop and mobile computers because of the cloud's storage of all financial data on a single unified ledger.

The price of the software is based on a recurring monthly fee for each use.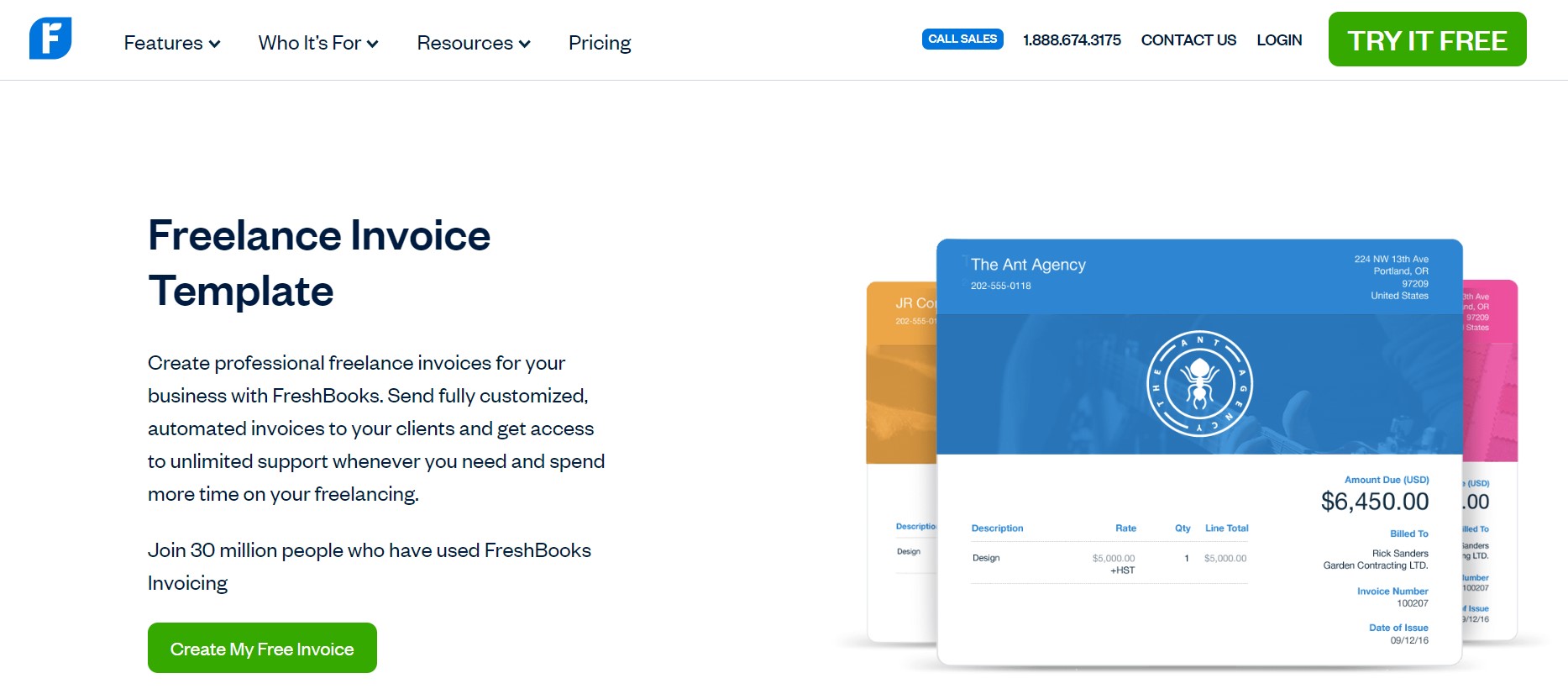 38. Papersign
Papersign is an e-signature solution designed to simplify creating, sending, and signing documents, so you can spend more time on the things that matter.
One can go from a blank page to a signed document in just a few minutes. Upload PDFs, create documents from scratch, or mix and match the two to create contracts at lightning speed. Unlike other eSignature solutions, Papersign also lets you easily match your brand identity by adding logos, rich imagery, and a range of different fonts, colors, and formatting options.
Papersign has robust security measures to protect your documents and signatures. It complies with the requirements of several eSignature legislation in the US, EU, UK, Australia, and New Zealand to ensure the privacy of your information. It also has a seamless built-in integration with Paperform that lets you automatically trigger signature requests for your documents.
It's free, so you can play around and send your first signature request entirely risk-free today.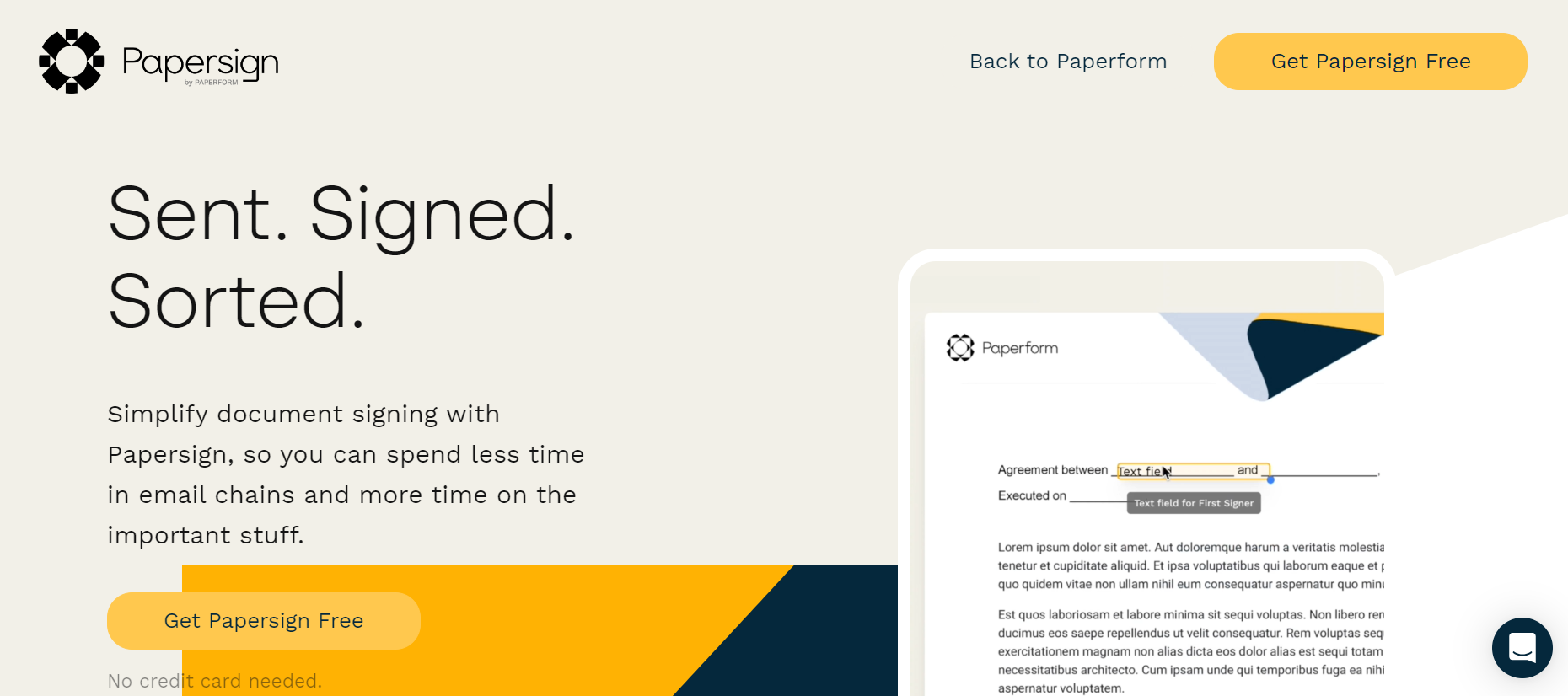 Conclusion
The corporate world as we know it has changed, and it is not going to be reversed in the foreseeable future with remote jobs becoming more common. Two years have gone by and we are still fighting the pandemic. It is a war we must win, by coming out of it as survivors.
Thanks to the implementation of remote working tools such as those listed in this article, we are not only able to maintain business continuity and survive, but are even able to thrive under this immense pressure.
While it is true that remote working tools can only complement, and not replace human elements of people management and problem-solving—it is also equally true that we are able to sustain productivity, quality, and profitability in these times, largely thanks to these very tools to work remotely.
The year 2020 will always be remembered as the year in which we faced our biggest threat yet in the form of COVID-19. A year in which we have learned to adapt and survive, mainly because of using the remote working tools.