20+ Must-Have Online Marketing Tools for your SaaS Business
14 min read
According to a Forrester report, digital marketing spend will reach $146 billion by 2023, growing at a 9% compound annual growth rate (CAGR).
Online marketing is that Marvel superhero that took its time to arrive in the marketing arena but is here to stay for a long time. With the rise in competition, it becomes even more imperative to have a solid online presence.
So, let's begin with understanding this Marketing hero and how it can benefit your business.
Table of Contents
What Is Online Marketing And How Can A SaaS Business Benefit From It?
Online marketing is how you leverage different web-based channels to transmit messages about a company's product or service to potential buyers or target audiences.
Kotler & Armstrong (2012 p. 508) stated that online marketing is "efforts to market products and services and build customer relationships management over the Internet."
Let us quickly go through the 4 major subcategories of online marketing:
Online marketing has become quite popular for SaaS businesses and there are many reasons why:
There are no geographical boundaries when it comes to online marketing. Your audience ranges in millions and you can get customers from all across the world.
It's cost-effective as compared to the other traditional marketing channels.
With the right strategy in place, online marketing can get you rewards even in the long run.
It helps you build brand awareness which is the first step to generating higher sales.
Let us take two real-life examples of SaaS businesses that have grown tremendously, all thanks to online marketing:
Close, a CRM for startups and SMBs, is making use of content marketing campaigns to engage their audience. Their blog generates six figures in traffic value every month and they get over 40,000 visitors to the site monthly. Pretty amazing, isn't it?
Slack, a collaboration tool makes use of social media marketing by sharing 140-character #SlackTips regularly and responds to almost 10,000 tweets every month. No wonder they saw a spectacular rise in their user figures with 15,000 at the launch, over 171,000 six months later, and more than 500,000 in a year.
Why Use Tools To Manage The Online Marketing For Your SaaS Business?
Three reasons: time, energy, and efficiency.
While online marketing is effective, it can take up a lot of your time. Consider the number of emails you have to draft, keep track of, follow-up with; the number of blogs you need to draft and publish every month; being active on every major social media platform and so much more. In this case, if you do not have a proper strategy in place and something to help you keep everything sorted, you are doomed.
Using tools help you save time. It helps your entire team manage their workflows better as everything is organized and in one place. It leaves them time to do important things like testing and strategizing better.
But which tools do you pick?
Worry not. We have prepared just the right list for you.
19 Effective Tools To Boost Your SaaS Online Marketing
1. SendX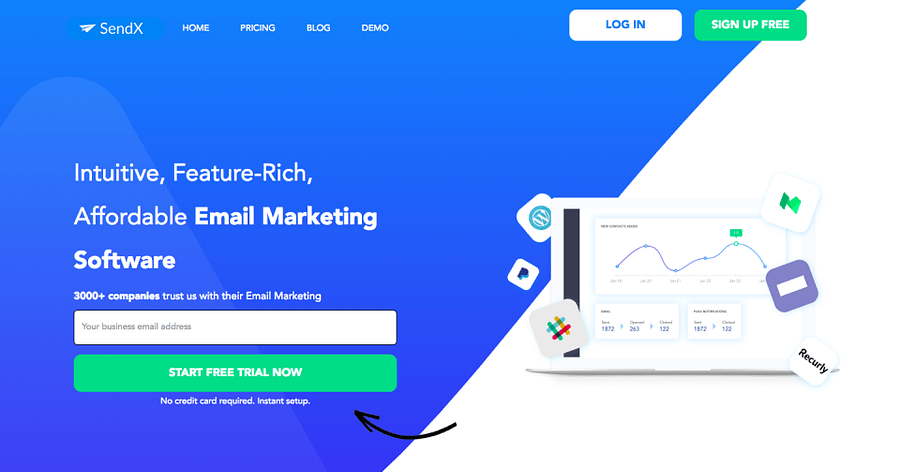 SendX, an intuitive and affordable email marketing software that will automate things for you and provide you with free email templates to start your newsletters or email campaigns. You can start by designing, scheduling, and tracking your email campaigns.
But what if you don't have an email list?
SendX provides you with the perfect solution that will help you build your email list from scratch. You can do so by designing email popups forms, inline forms, and then measuring the conversions.
To assess the effectiveness of your campaigns and strategy, they also provide you with various reports like the Heatmap report (overview of which CTAs are working) and custom reports for measuring your email campaign performance.
2. Qualaroo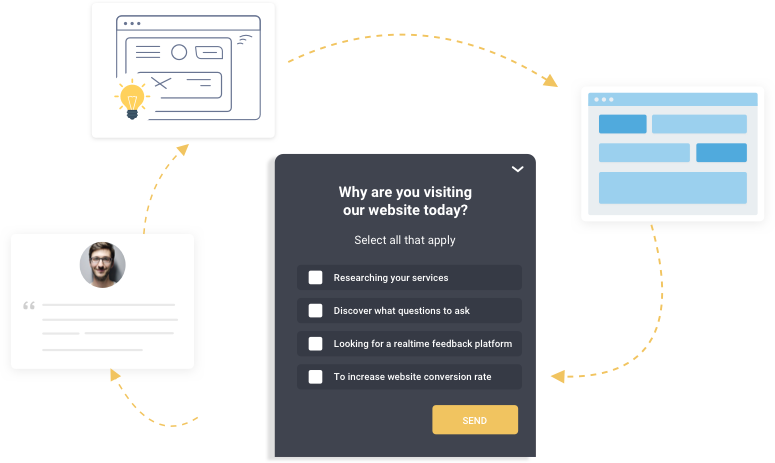 Qualaroo is an advanced customer feedback tool that helps you conduct exit-intent surveys and collect feedback the moment a user engages with your brand. By reaching out to a user when they show exit intent, the likelihood of addressing issues and concerns that are adversely affecting your marketing efforts increases manifold.
Using customer insights gained through Qualaroo's delightful NudgesTM, you can make changes to the website, modify your brand message, tweak your offerings/value propositions/pricing, and much more. The qualitative feedback can help you refine your marketing strategy and increase SaaS conversion rates.
Creating an unobtrusive survey with Qualaroo is hassle-free. With advanced targeting options, you can deploy the survey based on your exact requirements.
One of the most useful features of Qualaroo is Sentiment Analysis powered by IBM Watson, which helps you process survey responses (especially open-ended ones) for actionable insights.
Qualaroo's analysis tool also allows you to create a word cloud from free-form text box survey feedback to detect the most common responses, themes, and pain points and time and effort in analyzing customer feedback to improve SaaS conversion rates.
3. SocialPilot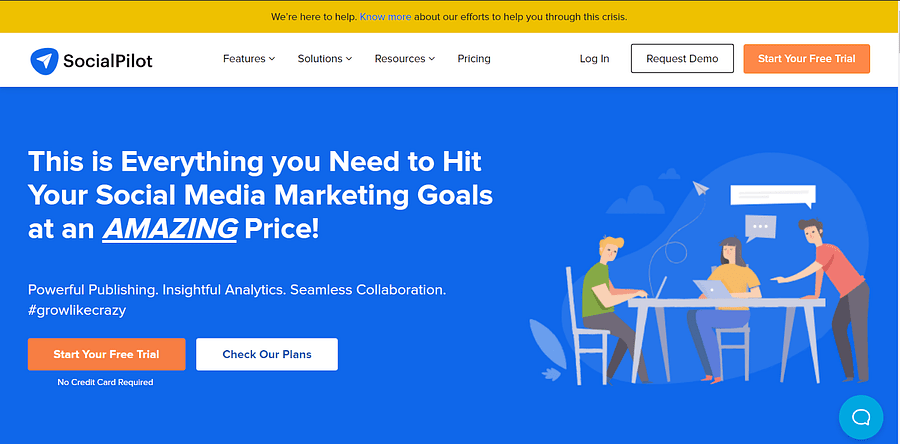 Which type of content gets the most engagement on Facebook?
How do I measure our social media performance?
What is the best time to schedule my post on Instagram?
SocialPilot is one such tool that helps you find the answer to all these questions and many more. It is your one-stop destination for managing all your social media requirements.
It has many amazing features like bulk scheduling, content discovery, and curation, comprehensive analytics that can be converted to shareable reports, audience analytics, designing engaging advertisements, social inbox, team management, etc.
The best part about SocialPilot is that it is presently the only tool that lets you post on all major social media platforms like Facebook, Instagram, LinkedIn, Pinterest, Twitter, TikTok, Tumblr to VK, all from one dashboard.
4. Pixpa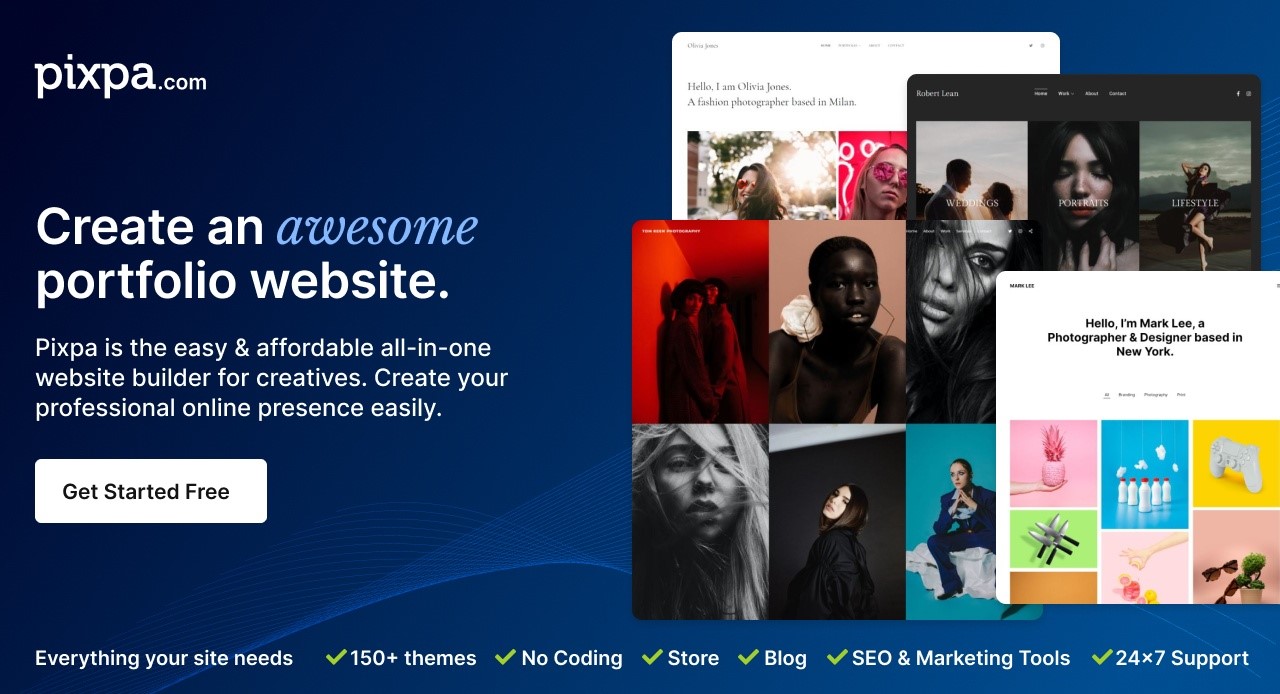 Pixpa stands out from other website builders with its focus on simplicity, flexibility, and powerful editing features. Pixpa offers 150+ stunning, pixel-perfect, mobile-friendly templates to fit every style and requirement. Adding pages to your website is a breeze with Pixpa's drag-and-drop page builder.
Pixpa offers a full-featured e-commerce store builder with all the tools required to run your online business - products and inventory management, discounts, taxes, shipping, abandoned carts, and easy order processing.
Pixpa offers a 24/7 fast and proactive customer support through live chat and email. There is also a comprehensive help centre with guides and step-by-step tutorials.
5. Ahrefs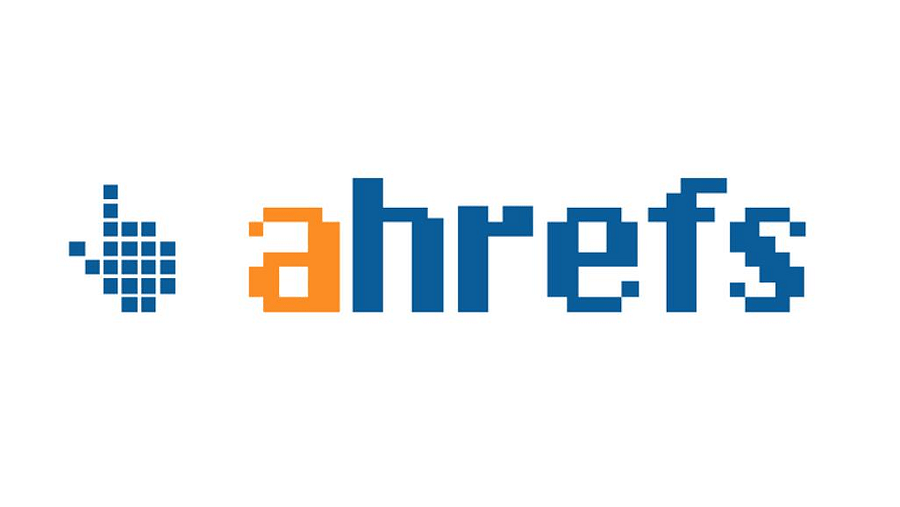 Are you clueless when it comes to SEO?
Ahrefs is the perfect place to be at if you are. Ahrefs has its own private Facebook community where you can learn and gain insights from accomplished digital marketers and SEO specialists.
They also have their own tutorials, blog articles, and learning materials so that you can quickly turn into an SEO specialist.
You can do a competitor analysis to see the keywords for which your competitors rank, which pages send the most traffic to their site, and the keywords they rank for but you don't.
While there are other backlink monitoring tools out there, we also have few impressive tools/features under Ahrefs such as keyword explorer, content and backlink research, rank tracking, and web monitoring.
6. Trello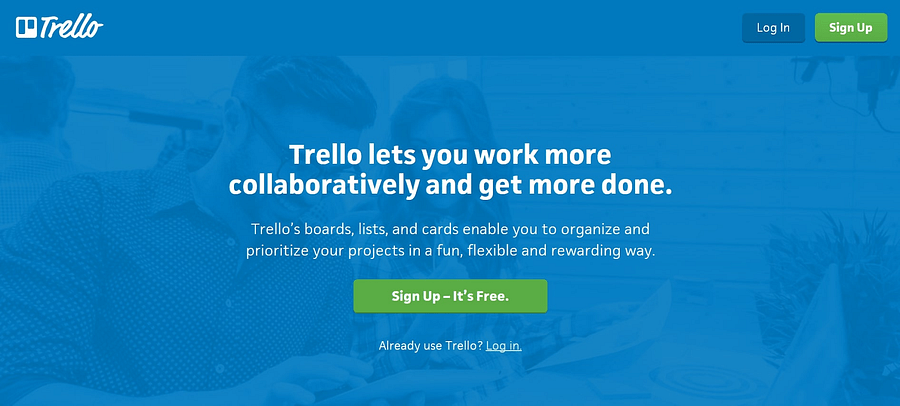 Trello is the go-to tool for streamlining and managing all your online marketing efforts.
The best thing about using Trello is that you save yourself the internal mail havoc that usually happens in the workplace. You don't have to wait for someone to reply to your email and send you the article outline to get started. As everything is organized and in one place, you save yourself and your colleagues a lot of time and energy.
For the same reason, it becomes easier to manage your content schedules, monitor marketing campaigns, track your progress, and communicate with your team effortlessly.
You can also find content marketing templates for free on Trello.
7. Hubspot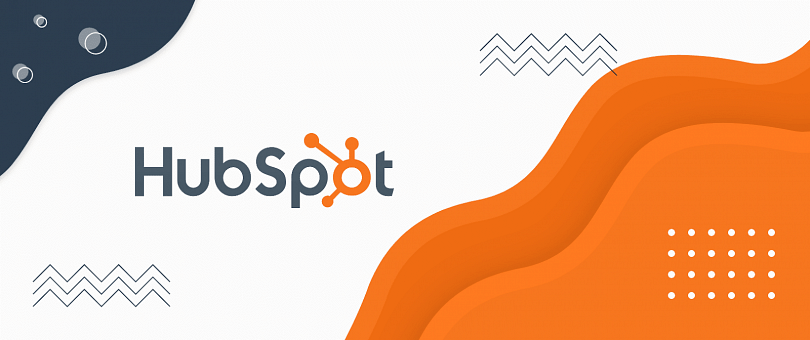 Hubspot is an inbound marketing tool that will make your online marketing journey easier and more fun.
It helps you attract more targeted traffic to your webpage through advertising, by giving you real-time SEO suggestions and designing CTAs your visitors can't help but click. Hubspot uses landing pages to convert more visitors into qualified leads by letting them opt into email lists, webinars, free trials, and so on.
With its Content Management Software (CMS), you can have multi-language content creation to suit your audience's requirements, analyze your content effectiveness by seeing which content types, sources and campaigns are getting you the most leads.
8. Canva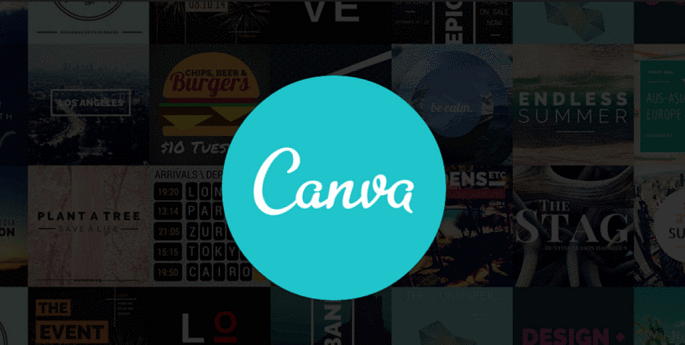 Did you know that almost 80% of readers just skim through your online content?
This could be a depressing statistic for so many of you. To make you feel better, let us add to this one more statistic.
Adding well-designed visuals actually increases people's desire to read content by 80%.
So write that amazing article but also include visuals in it.
While it can take time to create aesthetically pleasing designs for your target audience and customers, Canva is here to help you be more time-efficient.
You can pick images for your social media posts from their templates, edit images you already have, add a professional touch to it by adding your logo, create interactive presentations, and engage your target audience by creating visually pleasing Instagram stories.
For your email newsletters, you can convey statistics with the help of the graphs feature in Canva, and also embed it in your presentations or with your infographic on the blog post. This tool also allows uploading and using your own website headline fonts to make a message both appealing and recognizable in terms of brand.
9. ProofHub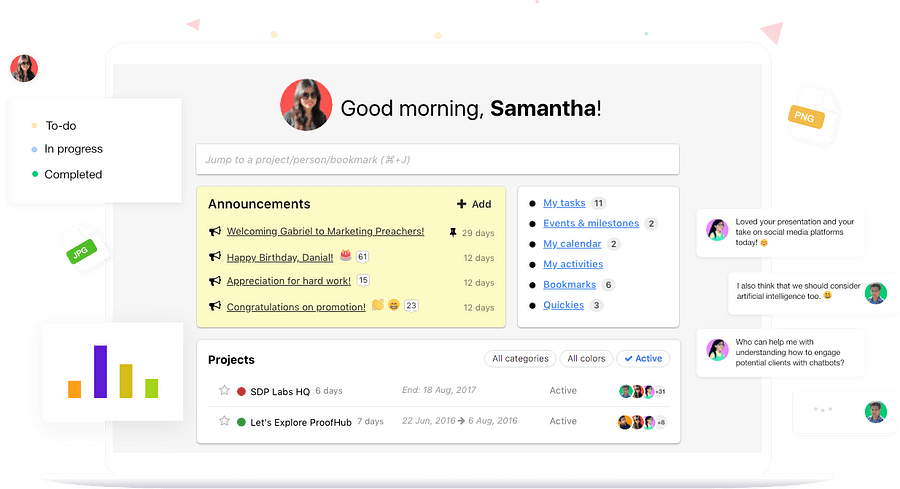 ProofHub gives you a central place to plan your marketing projects and manage your marketing teams effectively.
As an all-in-one project management and team collaboration software it has some amazing features that help marketing teams stay in ultimate control of their work. You can use to-do lists for simple task management or use custom workflows and Kanban boards to bring more clarity in the process.
Communication becomes effortlessly easy with its in-built chat app, so you don't have to switch to a different platform for the same. You also get a dedicated space to carry out real-time discussions in ProofHub.
One of the best features in ProofHub especially for marketing teams, where a lot of creative work is involved, is the online proofing tool that makes the review process as easy as pie.
10. AeroLeads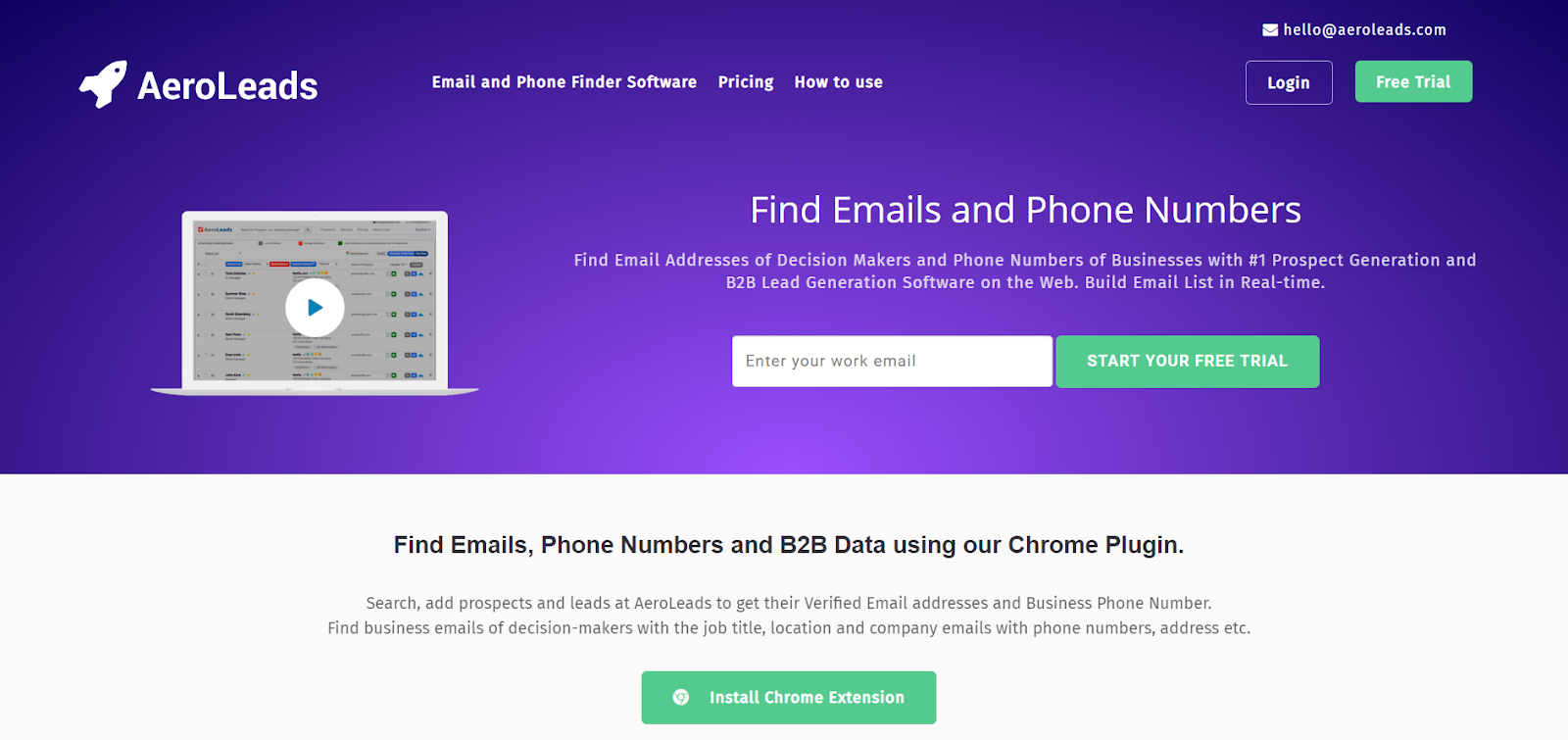 AeroLeads is an effective & powerful Email Finder and Lead Generation Tool.
For all your woes to find relevant & verified emails and speed up the lead generation process, this is the right tool. To accelerate the online marketing process, every business needs a tool like this. Getting contact information from LinkedIn has now become a piece of cake.
AeroLeads can be integrated with various email marketing tools and the data can be exported to other platforms such as Mailchimp, Zoho CRM, Hubspot etc.
With dedicated customer support, you get to have access to as many as 15 data points which includes company name, job title, business email address, location, phone numbers etc. To enjoy a free experience the tool has a chrome extension as well.
Finally, if you're quite on a shoe-string budget there's another great tool that is called US Search that can help you find email addresses and other contact details for free of charge!
11. G2 Track
G2 Track helps to gain instant control and analysis of all the other SaaS programs you're using to support your SaaS business. It helps you contain your software spend, reduce contract redundancy, optimize account usage and compliance, and manage contracts in one place. It even reminds you of renewals (so you'll never have to tell your co-workers it's your fault they can't access HubSpot today). All of this happens in one convenient dashboard.
Also, if you have various teams within your company using and paying for different tools or establishing duplicate bank accounts (which happens way too often), G2 Track will point this out and show you savings opportunities. It also gives IT directors a complete analysis of spend by department, employee, and product, so you can easily manage your budget.
12. SocialBee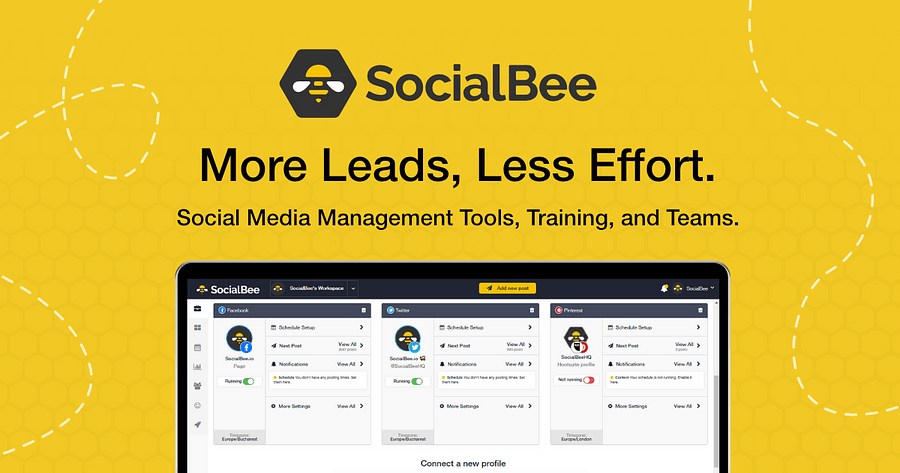 SocialBee is your go-to social media management tool! You can share content across all major platforms, from one place: Facebook, LinkedIn, Twitter, Instagram, Pinterest, and Google my Business.
You can create content categories with all your posts and have them shared based on best practices for each network. Not only that but even if you're sharing across multiple platforms, you can still have your content customized for each network. Then, all you have to do is decide how you want your content to be shared: once or multiple times.
After you set your schedule to running you no longer have to worry about it! More importantly, you can check your analytics and see what performed best on your social media feeds so you can create more content belonging to that category. Lastly, you can take advantage of all the integrations they have available: Canva, Zapier, Rebrandly, Bitly, JotUrl, RocketLink, and more.
13. Freshdesk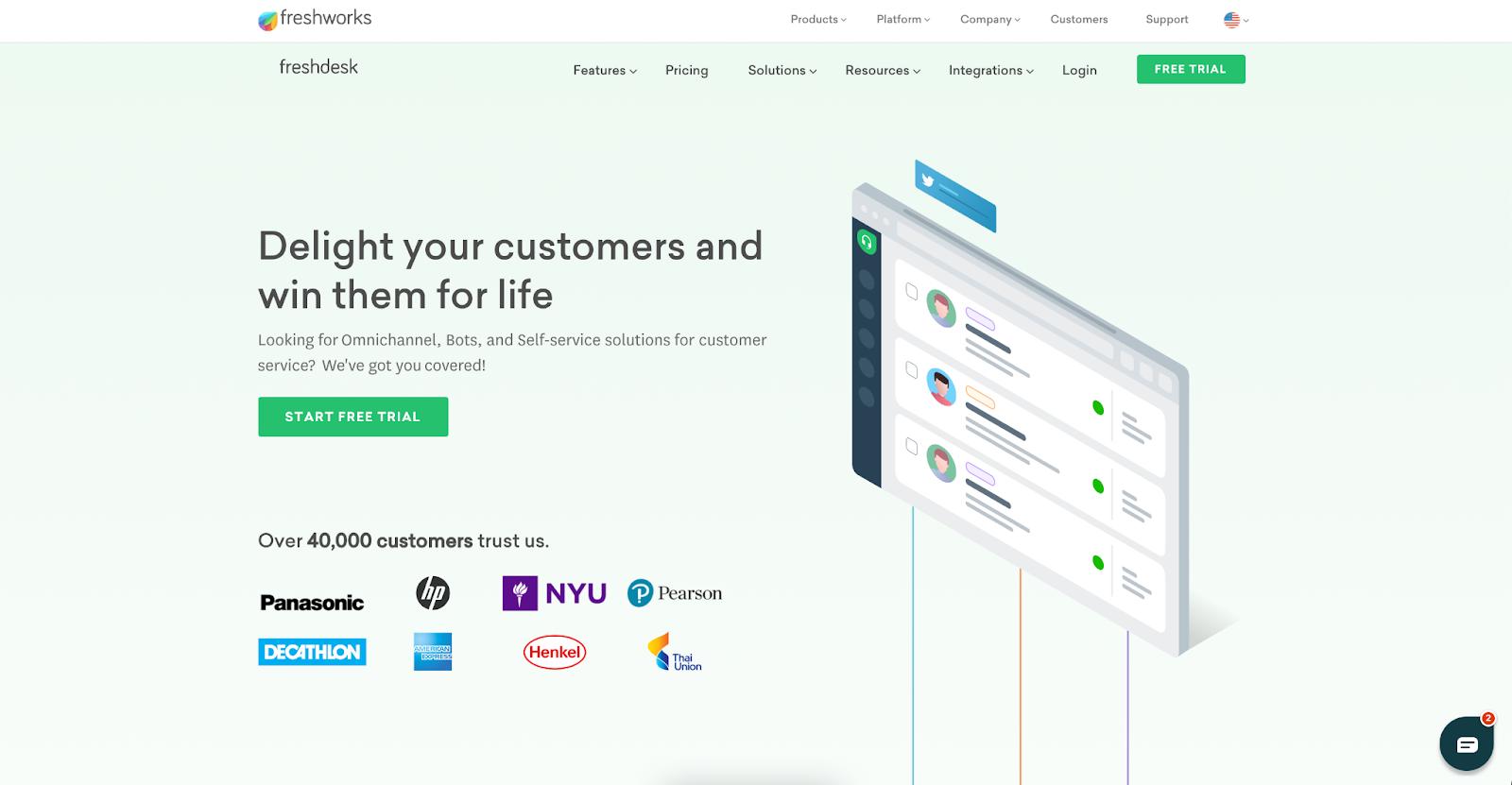 While you set out to acquire new customers, it can be easy for you to lose focus on the existing ones. However, that is a grave and costly mistake to make — acquiring a new customer costs five times more than retaining an existing customer.
Guess what? It doesn't take a lot to keep your customers happy. All they want is for you to continue to offer fast and personalized assistance even after they've purchased your product - this is especially true in the SaaS industry.
With a customer service software like Freshdesk, it's easy to engage in contextual conversations across all your customers' preferred channels - whether that's email, phone, social media, chat or messaging apps. When customers reach out to you, Freshdesk can instantly give you everything you need to provide the best solution.
In fact, most customers today don't even want to interact with your support team — they're happier if they can find a solution on their own. From publishing an exhaustive knowledge base and deploying a chatbot on your website, to building an active community of users, Freshdesk helps you set up a variety of self-service options, minimizing the wait for customers, as well as the burden on your agents. It's a win-win!
And how do you know if your customer service team's efforts are paying off? You can just leverage Freshdesk's one-click reports, customizable analytics, and real-time dashboards to get detailed performance and customer satisfaction insights.
14. ClickUp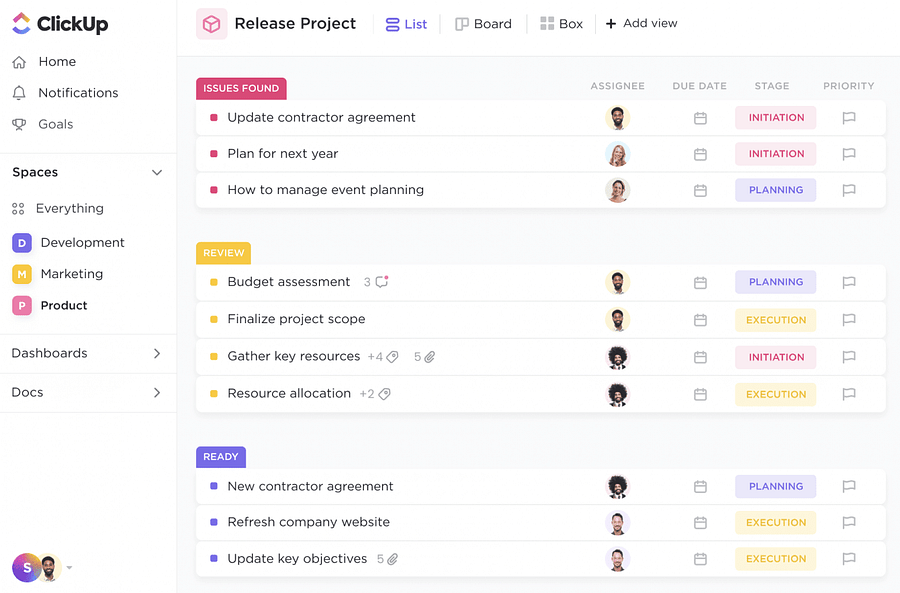 ClickUp is a powerful project management platform that allows marketing teams to effectively manage tasks, campaigns, docs, and clients—all in one place.
It offers every tool to fit your workflow—from content, social media, email marketing, and more. ClickUp utilizes a unique and robust Hierarchy structure to keep teams organized and efficient. Take advantage of in-app automation, marketing templates, and other highly customizable features such as views, Dashboard, Docs, Reminders, goals, time tracking, and more to manage and crush all your online marketing goals.
On top of it all, ClickUp's Email ClickApp lets you send and receive emails directly from tasks and take action without ever leaving the platform.
15. Nuclino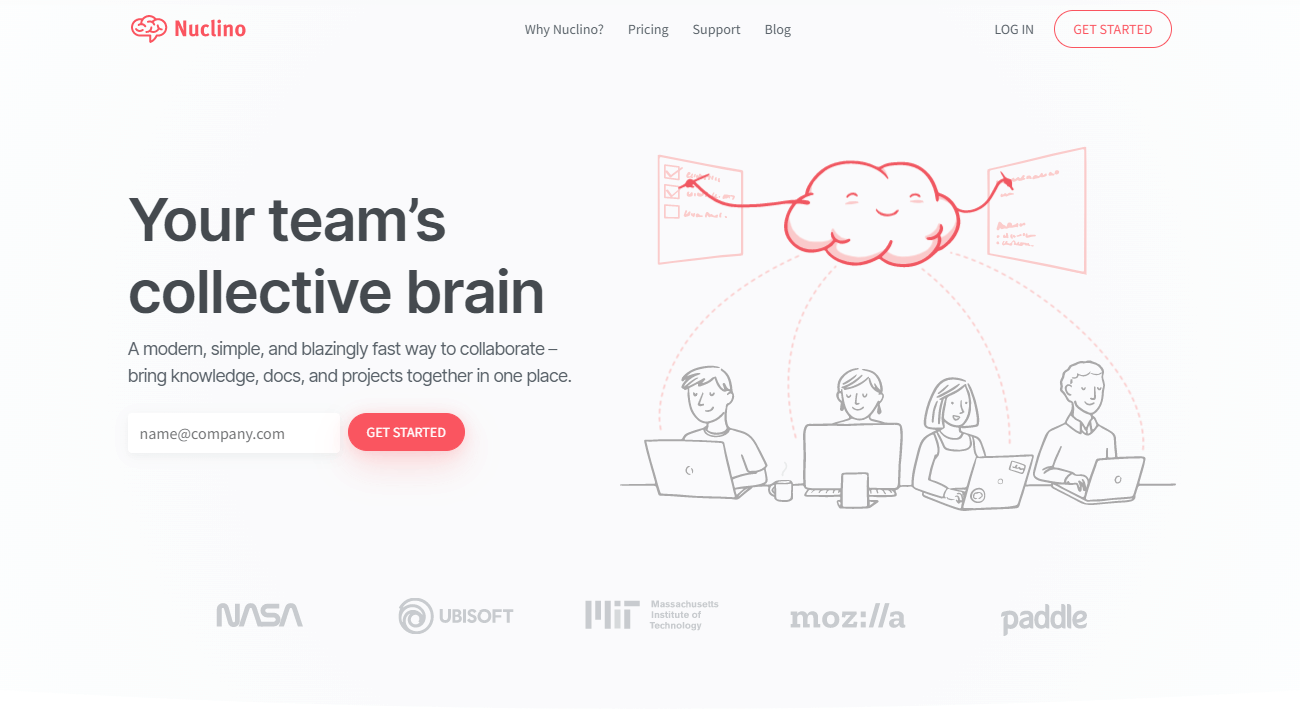 Nuclino is a unified workspace where marketing teams can bring all their knowledge, docs, and projects together in one place. It's a modern, simple, and blazingly fast way to collaborate on marketing projects, without the chaos of files and folders, context switching, or silos.
Nuclino is a highly versatile tool — you can use it to build your marketing knowledge base, collaborate on documents in real time, manage your campaigns and tasks, set up your content calendar, and more. The list, board, and graph views help you organize your docs and projects in a way that best fits your workflow.
A core strength of Nuclino is its intuitive, user-friendly design. The visual drag-and-drop editor enables an easy and fast editing experience. The interface is clean, uncluttered, and distraction-free, with only the essential features you need to get things done. That minimizes the learning curve for new users and makes it delightfully simple to get started.
16. SmartTask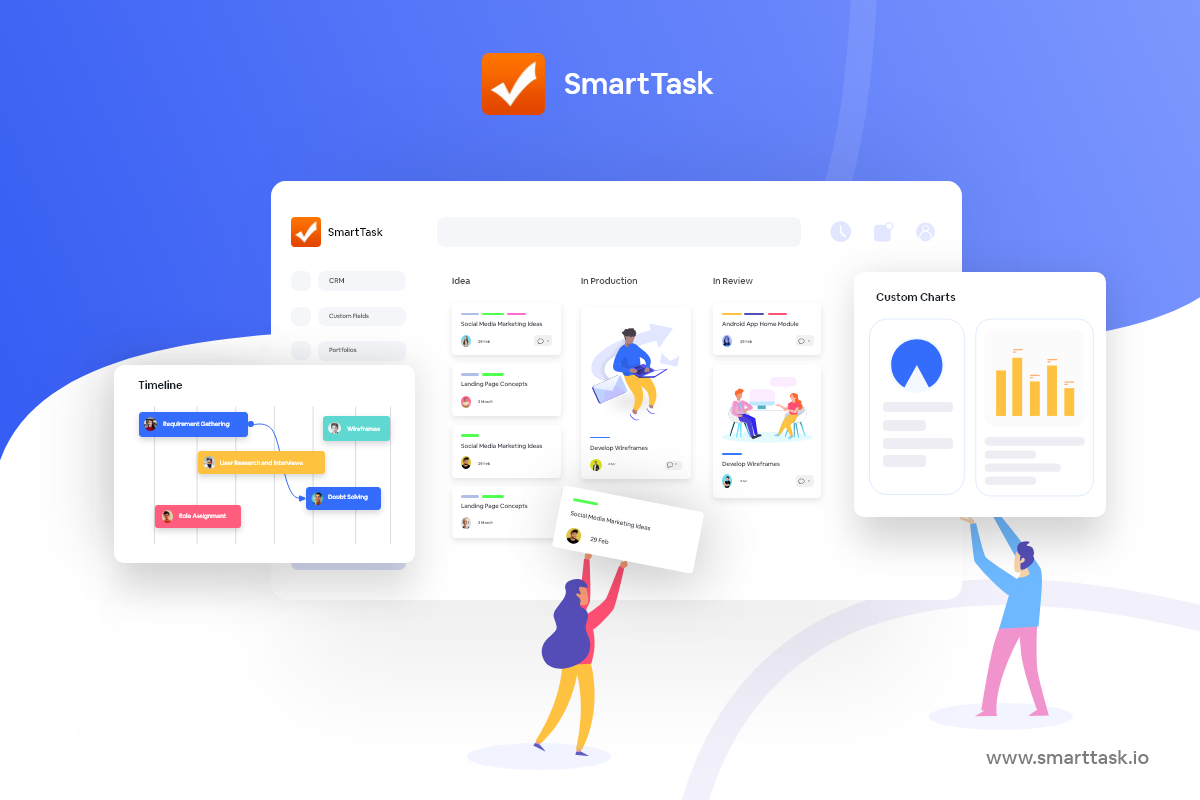 SmartTask is an award-winning all-in-one cloud-based work management software that can help you manage all your marketing campaigns and projects from one place. It comes with project management, task management, time tracking, team collaboration, CRM, analytics, and reporting capabilities.
It allows you to manage tasks with the list, board, calendar, and timeline views. You can handle multiple projects with the portfolio view, allocate resources with the workload view, set project milestones, auto-schedule tasks, track time, message instantly, and collaborate via video meetings from tasks.
It also offers ready-made templates for marketing teams to create content calendars, track campaigns, and achieve marketing goals from conception to execution.
SmartTask has gained popularity as the cost-effective alternative to Clickup Asana, monday, and other tools in the work management space.
17. Zonka Feedback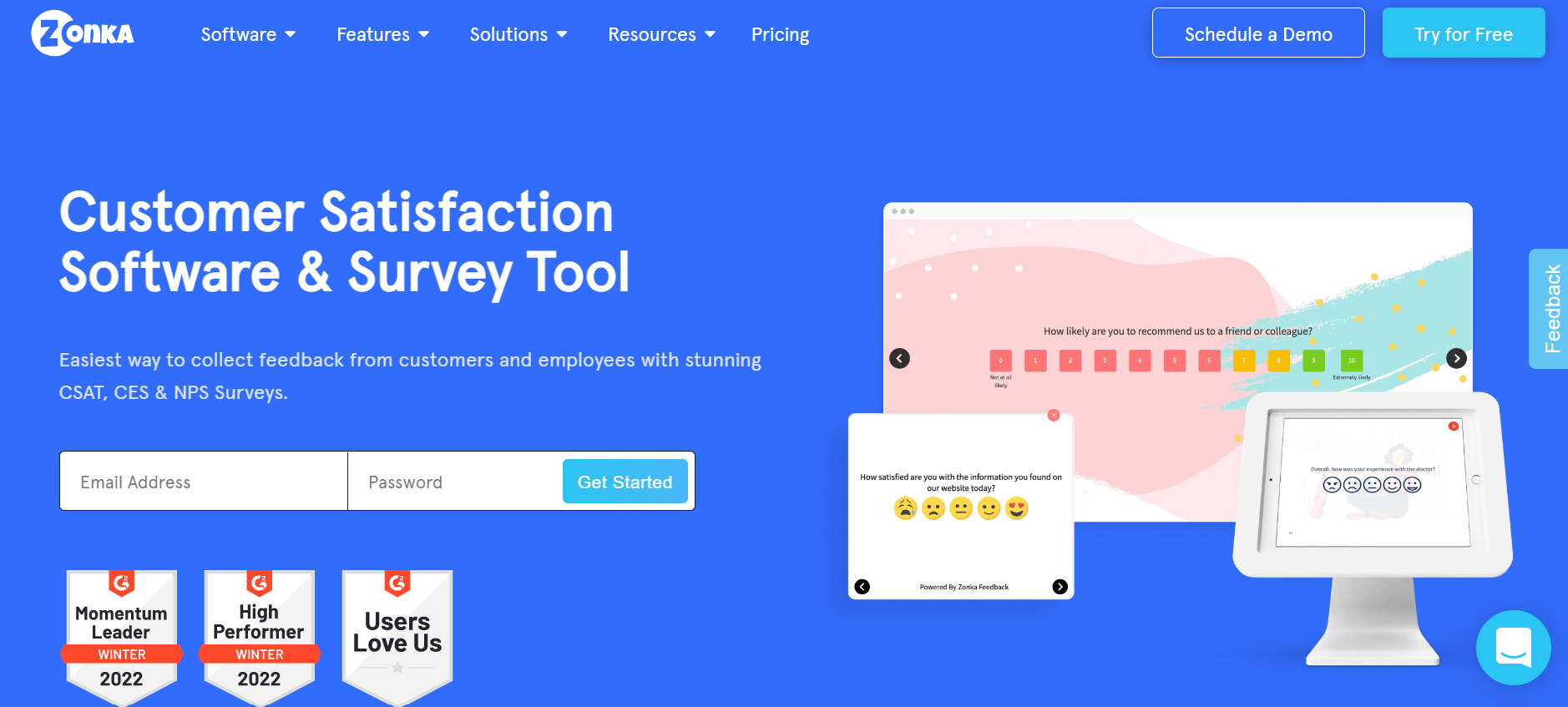 Zonka Feedback is a leading survey software and customer feedback app for your business allowing you to gather customer feedback on the go. You can reach your customers offline & online, get real-time responses, and in-depth instant reports and close the feedback loop.
You can use Zonka Feedback's survey builder to create a website survey with an amazing look and feel. Zonka Feedback also incorporates survey distribution, management and analytics features such as multiple distribution channels, smart data management and more. It allows you to capture website feedback via widget surveys in the form of embed surveys, popups and more.
Zonka Feedback is equipped with out of the box integrations that enables you to build workflows using custom APIs. The advanced response inbox helps to monitor the real time responses of your customers. It enables you to analyze the feedback data, convert them into tasks and work collaboratively with your team to resolve the issues.
18. Whatagraph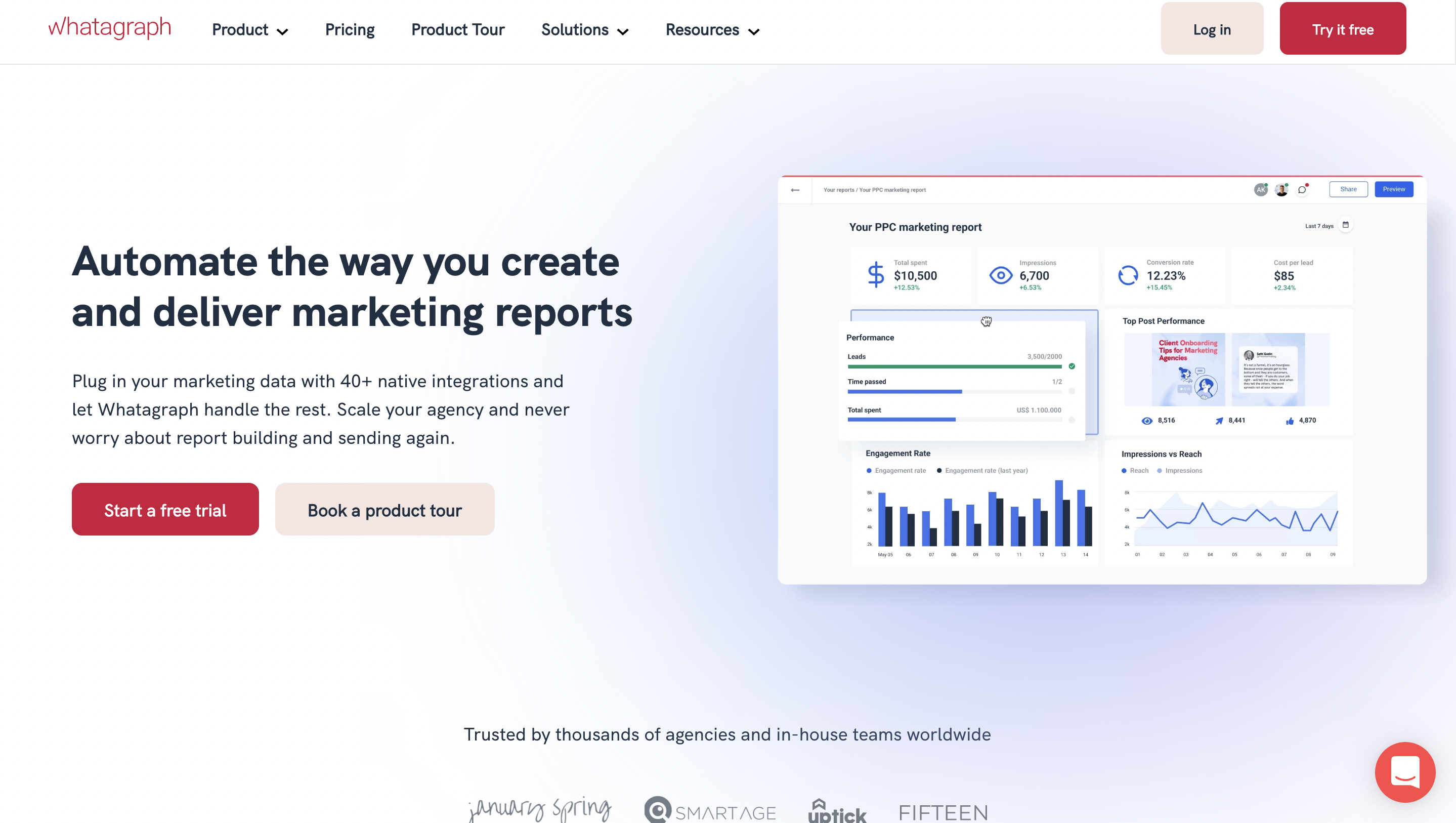 Whatagraph is a marketing tool that helps marketers and marketing agencies track, measure, and report on their performance. It provides users with insights into which marketing activities are most effective and how they can improve their results.

Whatagraph also offers a range of features to help automate reporting, including data collection, formatting, and distribution. This tool has 40+ data integrations, including Facebook Ads, Google Analytics and Google Ads, Amazon Advertising, and more.
It is intuitive, user-friendly, and has immediate live chat support. Whatagraph offers ready-made or custom templates to build remarkable reports within minutes instead of hours. With the help of Whatagraph performance marketing reporting, along with social media, SEO, and SEM reporting is easier to make data-driven decisions to scale business.
19. Acquire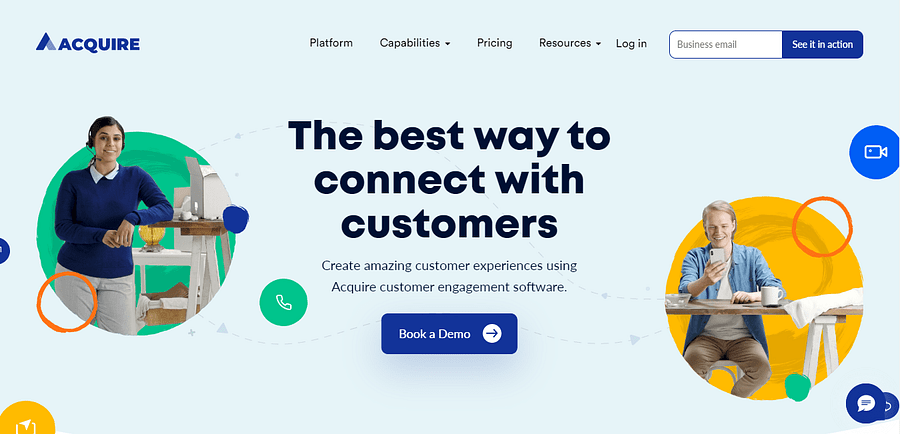 Acquire is an all-in-one customer engagement platform that helps in providing superlative digital customer experience.
In case, your customer support is bored answering the same repetitive questions, you can take the help of Acquire's chatbot and scale your support efforts.
This amazing platform also manages all your support email requests from one central inbox. This way, you can connect all your customer channels, including live chat, chatbots, social media, and much more.
You can also avail Co-browse features using Acquire that helps you to view and interact with customers on-screen in a secure manner without the need to download it.
Not only this, but Acquire also connects with newer generations of customers with the help of voice and video call software, all this straight from your chat messenger.
And finally, if this was not enough, Acquire also allows for several integrations that ensure that you are performing customer service duty at maximum efficiency.
20. Hive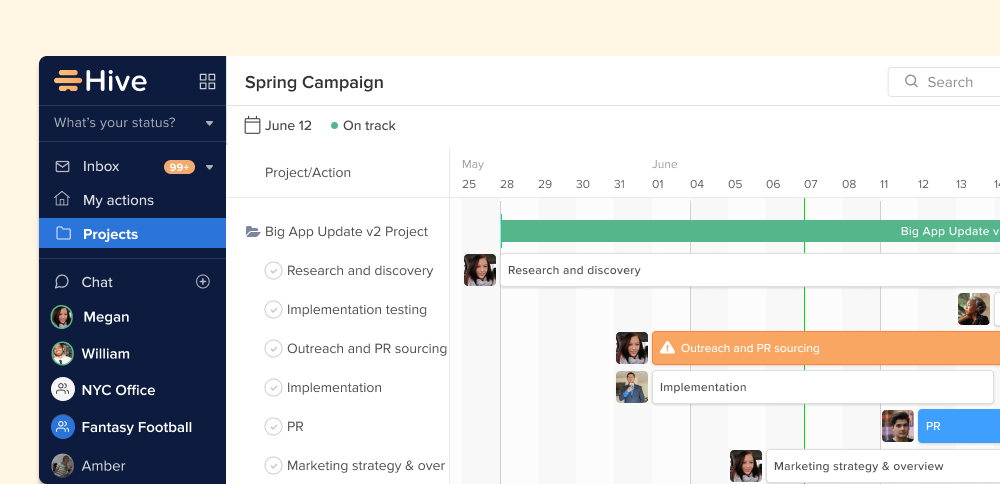 Hive is a leading Saas project management tool that helps thousands of teams including digital marketers work faster in today's hybrid work environment.
Hive brings all of your workplace tools to one single dashboard, so you can manage projects, chat with coworkers, send emails, and even start Zoom calls without ever leaving the window. Hive is more than just one of the best project management systems – it's the future of work productivity.
You can use Hive online in a web browser, via desktop apps for Mac and Windows, or on iOS and Android mobile apps.
21. SimPRO
SimPRO offers robust inventory management capabilities designed to bring order to the chaos of managing stock. The platform enables users to easily control their inventory, order stock quickly, manage their warehouse more effectively, and streamline their overall inventory management processes.
Through SimPRO, users can efficiently manage stock levels, assign items to jobs, and conduct stocktakes. Its real-time inventory tracking feature allows for updates on stock levels and locations from anywhere, even on the go. SimPRO's system also facilitates faster and more accurate stocktakes and helps maintain optimum inventory levels.
22. ClockShark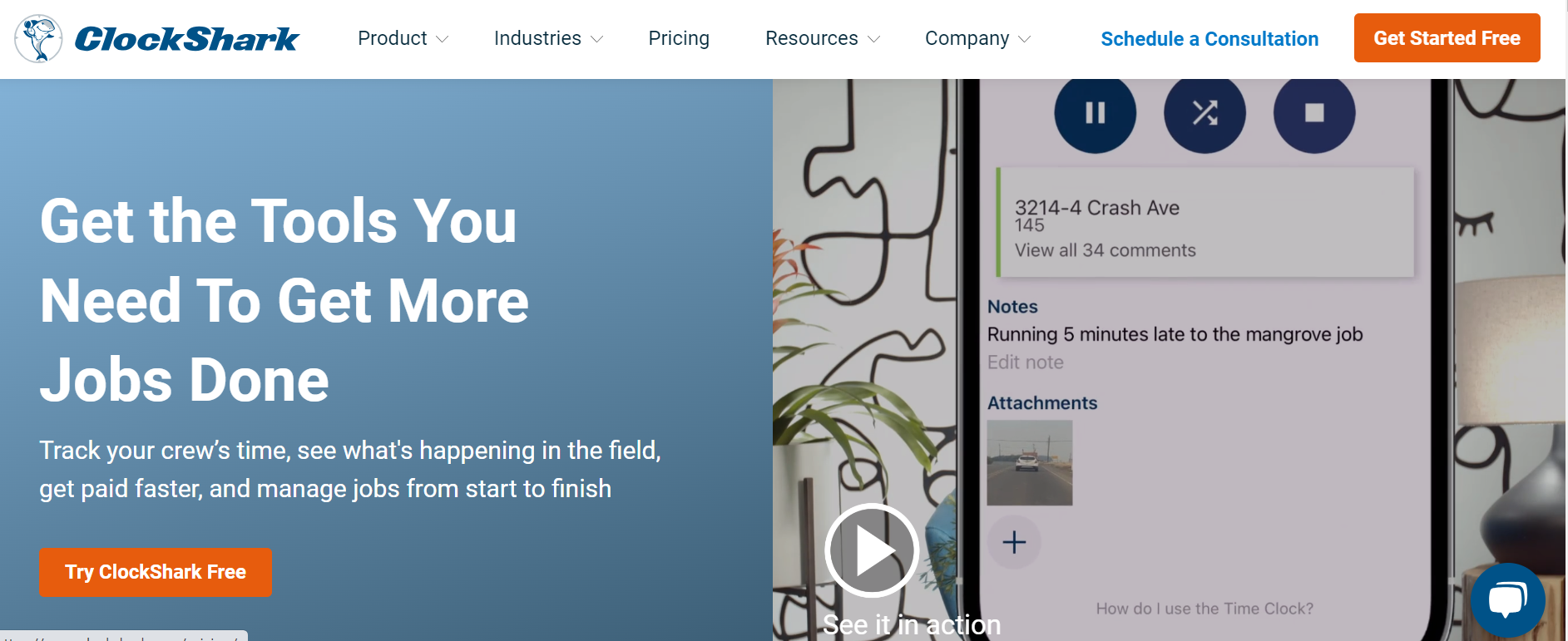 ClockShark is a powerful and user-friendly time-tracking solution designed specifically for construction, field service businesses, and more. With ClockShark by your side, say goodbye to the frustrations of paper timesheets and embrace a digital solution that puts time back into your schedule and money back in your business.
With a commitment to continuous improvement, an amazing product, and ridiculously good support, ClockShark stands out as the go-to solution for time tracking and job management. Whether you're a small business just starting out or a large enterprise looking to streamline operations, ClockShark is the partner you need to succeed.
Conclusion
The truth is, we all need help, especially when you are starting out. You just can't afford to spend all your time on online marketing. There is so much else to do from building your product, dealing with existing customer problems, getting the right content to expanding your business.
To make at least some part of your work stress-free and hassle-free, these 10+ tools will help save you efforts, time, and energy. And who knows, in the process, you might turn into an online marketing specialist with the ability to advice on how to market a startup?
So, what are you waiting for? Try these tools out today itself.
There are a bunch of powerful AI automation tools that can help you in various marketing activities.
FAQs
1) What is SaaS and how does it work?
SaaS (short for Software as a Service) is a software delivery method using which data can be accessed from anywhere. All you need is internet and a browser. It is the responsibility of software providers to host and maintain all the components of the Saas application like the servers, databases, and code.
2) What are some examples of SaaS tools?
Some top examples of SaaS tools are, Google Workspace (earlier known as G Suite), Salesforce, SAP Concur, Cisco WebEx, and Dropbox.
3) Why use tools to manage the online marketing for your SaaS business?
Using SaaS tools helps you save time, energy, and is more efficient. It helps your entire team manage their workflows better as everything is organized and in one place. It leaves them time to do important things like testing and strategizing better.
4) Why do I need online marketing for my SaaS business?
Online marketing has become quite popular for SaaS businesses and here are a few reasons:
There are no geographical boundaries when it comes to online marketing
It's cost-effective as compared to the other traditional marketing channels.
It helps you build brand awareness which is the first step to generating higher sales.