8 Ways to Increase Business Referrals and Boost Sales
7 min read
No matter what your business, attracting new customers is crucial to success. But, keeping a steady flow of leads rolling in isn't always easy. That's why so many brands not only like referrals but also encourage them.
They add tremendous value to any organization as they provide a first person look at what your product or service has done for others. This saves your prospects the time of researching your company and even allows them to see if your organization is the right fit for them.
Getting customers committed to writing reviews/referrals can sometimes be challenging at best. No one seems to have the time and even your most satisfied customers may not be your most outspoken customers.
We want to help you bridge that gap. Get the referrals you need and find the right customers to willingly help you out.
Table of Contents
What are Business Referrals and How Do They Work?
Marketing your business and then converting leads into qualified prospects and finally customers is not easy. It is a long cycle of the leads going through the funnel that might not even end up as a sale.
To increase the chance of sale, you should make efforts to get clients through your network, via referrals. Business referrals is when someone in your network of friends, family, colleagues or clients passes on information about your business to a potential client.
This can happen if you provide a great service and you solve the problems of your clients. Then at the end of service or anytime after, you can approach your clients to spread the word about you in their network.
Don't jump straight into your contacts and start asking them to send you business referrals:
Here's how you optimize to get maximum business referrals:
Find out the people in your network who are influential (managers, CEOs, Founders, or anyone who has a personality and rapport in business community)
Figure out the problem that these influential people are trying to solve and offer to help (even if it's for free or for minimal fee)
Once you have proved yourself valuable and capable of solving a problem, ask them to recommend your business to others.
8 Ways to Increase your Business Referrals
1) Select the Right Customer
Though your most satisfied customers may not be your most welcoming customers, there are things you can do to find the perfect spokesperson for your brand.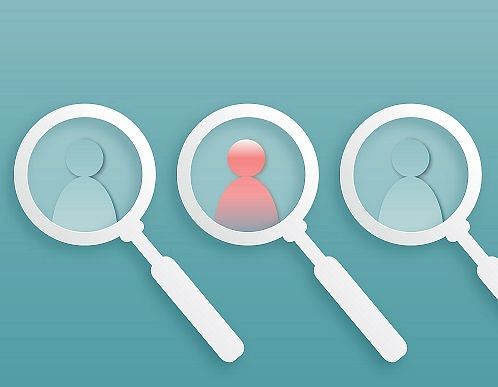 Make a list of all of your clients
Separate what you've done for them and how they've benefited from your product/service.
Look for feedback provided in the past.
If no feedback or constructive criticism has been provided, speak to your
in-house sales team specifically.
Once this has been completed, you should have a solid list of customers you want to reach out to. Remember, select customers that you've helped with common problems within your industry and managed to get real, tangible results.
Sure you offer a wide-array of services that apply to multiple industries but these referrals can be closed easier when they're working in the same industry. Allow me to elaborate.
According to a recent case study on RingCentral by one of the top outsourced B2B sales services on G2 Crowd Reviews, CloudTask managed to add 652 qualified sales appointments within 120 days. What this means is that other companies in the industry both large and small alike will want to reap the benefits that RingCentral did by using CloudTask as their outsourced sales provider.
Points like this provide other names in the unified communications industry with tangible results as opposed to just sharing a landing page link with them.
Select the right pain points that are common among your industry and make sure you're able to highlight how these problems were addressed and resolved by your organization.
But what if you're having trouble identifying the correct audience? Then think about utilizing a go-to-market platform like Dealfront, since their solution will provide you with the relevant information and insights to find your target clients.
2) Find the Right Time to Reach Out
Some will say there is never a right time to reach out to your customers for a referral. Though this might be true, there are impromptu times that will seem annoying to your customers.
For starters, once you've pre-selected a list of satisfied customers, and by satisfied we don't mean you've delivered, we mean you've exceeded what was in the scope, find the best way of reaching out (more on this in the next few sections).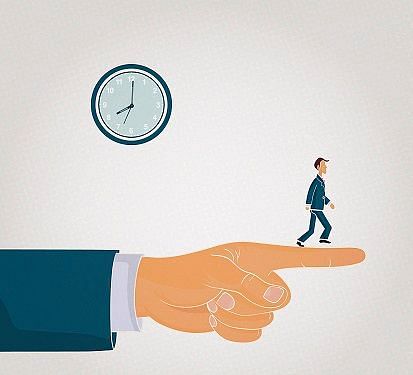 Customers are happiest once they've just had great results for their KPIs and/or renewed services. I say either or because even if customers don't renew, that doesn't mean their expectations weren't exceeded by your organization. Things just come up and let's face it, no one was prepared 8 months ago for what's going on now.
3) What to Say
Asking at the right time is beneficial and there are a few things you'll want to avoid if you want to grab their attention, like these words.
These might work best for prospecting in B2B sales and even for B2C but there are a few phrases that work across the board into asking for referrals as well. You'll want to use phrases that instead of making this feel like a chore that they'll eagerly endorse your brand.
Here are some phrases to avoid:
Sorry to bother you
I know you're busy
Individual
We highlighted these 3 phrases as some tend to sound like a cry for help or if you feel your organization hasn't been worth your clients' time to refer. You've either saved them money, made them money or saved them time, so why would you be a bother to them? If you've done one of those or all three, I'm sure your clients don't see you as a bother, so why should you?
Your clients aren't the only ones that are busy. Some might have more responsibilities that equate to less time on their hands, but that doesn't mean you're not busy. Even if they're not busy at the moment, using this phrase will remind them of all the things they could be doing instead of speaking to you.
This last one hinders you from creating a more casual conversation with your client. You don't tell your close friends or even family members that they're busy individuals. Creating a more personalized connection with your POC will allow you to ask for requests such as a referral.
4) Reach Out Via Email
Emails are probably my favorite way to reach out and ask for a referral. Why?
They can be simple, personalized and using cool design tricks, you can really create beautiful pieces of art that will resonate with your clients. But how should the emails be worded?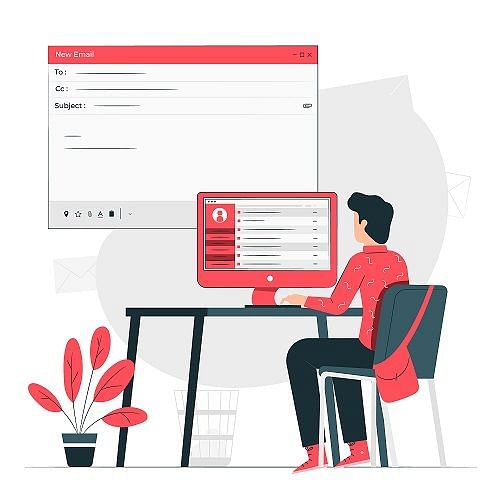 For starters, never (and we mean never) send two customers the same email when you're looking for a referral. Unless you have a cold outreach email project in mind where you're looking to target hundreds if not thousands of prospects, the more specific the better.
Start with a personalized greeting. Follow this with a section where you highlight the time you've worked together.
In a newsletter like presentation, be sure to add their logo, graphic images (personalized, nothing stock-y). Here are a few more tips for email marketing personalization.
We believe this personalized email should contain the following 3 important elements.
Tailor-made subject matter
The body should speak about milestones you've both reached together (possibly in no more than 5-10 bullet points)
The part where you ask for their help, keep it simple with chances are you've already spoken to them about the benefits of referring someone to your organization.
5) Reach Out Via Telephone
Phone calls are also a great way to ask for direct referrals as they give you between 2-5 minutes to really get your point across. More than enough time to highlight why you need their help as opposed to demanding it.
Furthermore, it is easier to call prospects instead of getting into any other outreach method because it is comparatively less technical. Depending on your business, you need a cloud phone or small business phone system to call your prospects.
Make sure you already have someone in mind you wish to speak to and schedule a call a few days in advance.
Once this has been done, we're not the biggest advocates of scripting, but having general points jotted down along with rebuttals will have you prepared for what's to come.
All of this is assuming that you've applied #2 on this list and have selected the best time to reach out. There's nothing worse than to ask someone to recommend your organization when they themselves are not fully satisfied with what they received.
We've also seen organizations send their SDR's to try and acquire these referrals. Nothing wrong with this of course but we've found that this is a job best suited for a CXO as they're familiar with the plight of your everyday customer.
If you run a smaller operation and don't have a CXO in place, a sales manager will give you a bit more leverage when asking for referrals.
6) Add value with content, resources or coupons
Before closing a lead into a customer, send them free resources that can solve their specific, tiny problem or provide them insights to solve it.
This way, they will build trust with you as you are giving them content without any pressure of closing a deal with you. It will also show your expertise in understanding their needs.
Such leads will be happy to refer your services to other businesses, as they remember you solving their problem. To make it happen, don't forget to ask them to share your content on socials or spread the word in their company about you.
7) Align with customers' values
Understand your customers' core values, beliefs and principles before asking for a referral. This will help you know what appeals the most to them and what kind of network they might have. Accordingly, you can ask them to refer other clients to you.
For example, if your client is associated with an NGO helping young girls go to school, you can offer to make a donation to that cause if they were to refer a client to you.
8) Offer referral commission
In the previous point, we talked about donating to a cause close to your client, but here we are talking about direct benefit for those who send customer referrals. You can create an incentive structure for people based on the number of clients they refer to you.
For example, a 10% discount on the next service if you refer one client. 15% if you refer to 2 and so on. This is like a coffee rewards system where you get a cup of coffee free after you have ordered 5 or 10 cups.
Wrapping Up
Referrals are a part of business and shouldn't feel like you're asking your clients to donate blood for you. Most customers are grateful and would be more than willing to help people in similar situations reach their goals.
So to sum up:
Look through your customer database and pre-select the customers that have been the happiest and or have had the most success.
Find the right time to reach out to them. This means either once they've renewed for your service or another quarter in the books with their KPIs hit thanks to your efforts.
Get rid of the fancy sales talk and just have your language be natural. Remember the last two steps, you've selected your most satisfied customers when they're the happiest.
Emails allow you to get creative with graphics, charts and milestones.
Phone calls give you more time to script and get personal.
Follow these simple steps and you'll be well on your way to acquiring not just more referrals but even identify new ways your organization can improve.