Top 4 Enterprise Email Marketing Software - 2023 [With Pricing & Features]
7 min read
There are 450+ email marketing platforms in the world right now.
But not every one of them is suited for an enterprise.
What is an enterprise email marketing software?

An enterprise email marketing software is one which can handle a vast amount of data and huge email lists that large businesses deal with, and yet offer the flexibility and array of email marketing features that typical ESPs provide, and cater specifically to the needs of enterprises.
So when you are looking for an email marketing software for your enterprise, you should consider the level of automation, ease of use, data you can get to make decisions that can have a considerable impact, quality of customer communication support, and of course, your budget, etc.
Yes, it can be overwhelming.
So to help you get closer to making a decision, we have analyzed 4 email marketing software & provided the inside look and pricing for them.
Read on to find more.
Table of Contents
1. Pardot
Pardot allows you to align your sales & marketing into one platform. With its detailed analytics, dashboards, and automation, the marketing team can quickly provide relevant and actionable data to the sales team to talk to the right customer at the right time.
Let's see how they do it.
Pardot's Engagement Studio:
For lead nurturing (developing relationships with subscriber/lead at every stage of the sales funnel) Pardot offers a visual canvas-like feature called Engagement Studio. Here you can create your drip email marketing campaigns & automation with three elements - action, triggers, and rules.
You can have up to 10 scheduled and active repeating programs at a time.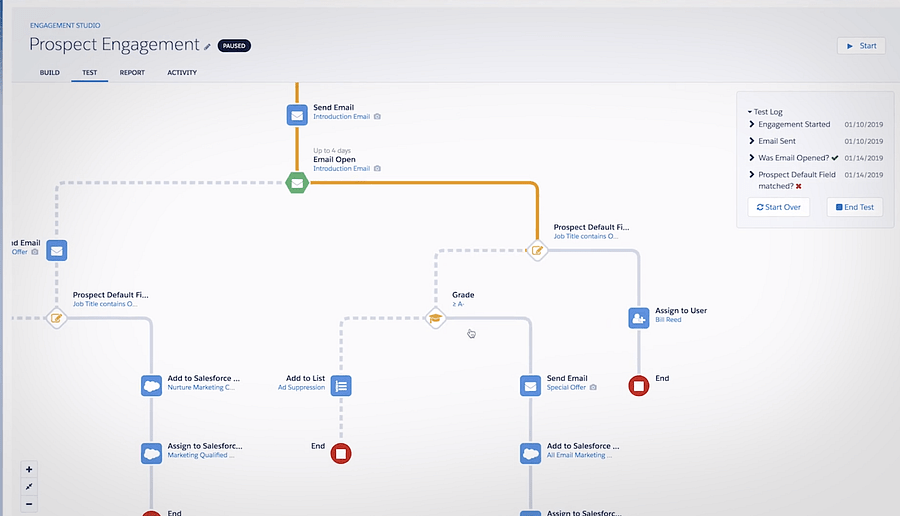 You also get some building blocks to get started and create your own automation engines.
A beneficial feature is the ability to test your program before activating it. You can see how a prospect will be sent emails based on different actions and logic. You test all possible combinations and make any improvements before making it live.
Pardot's Email builder:
Pardot's email builder allows you to craft emails in three ways:
Create your own template
Import a template from 3rd party builder: Just replace the existing HTML code with your custom code to see your email.
Edit an existing template
Note that all the three ways will require you to know HTML & bit of CSS to work around. There is no drag-and-drop functionality, yet.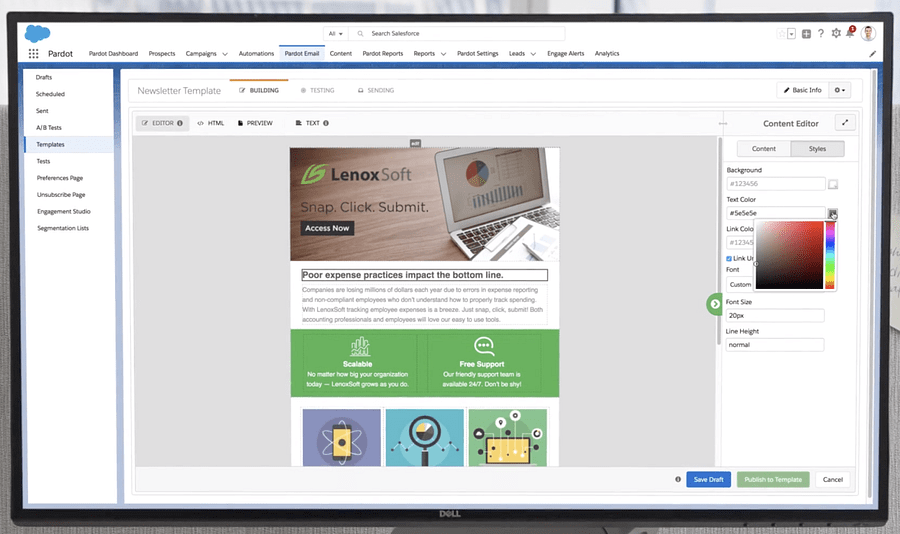 Pardot is planning to launch a new email builder called 'Lightning Email Builder' to fill in the gaps of mobile responsiveness, modern templates & may be drag-and-drop functionality that is lacking in the current builder.
In case you want to see a version of the email in your inbox before you send it to your subscribers or customers, you can do send a test email or do a rendering test (available only for pro & ultimate edition customers)
Pardot's Lead Scoring:
Pardot's lead scoring system assigns a value to each prospect that defines their level of interest - higher the score, more interested the prospect, and vice-versa. Then based on scores, you can create different segments like highly engaged, moderately engaged, or not engaged. This will help your sales team to talk to the prospects in a way that's aligned with their interest level.
You can also use lead scoring to send drip emails to nurture colder leads to a sales-ready state.
Pardot assigns default scores to certain activities e.g. points for form submission are 50, but you can tweak these numbers based on your strategy.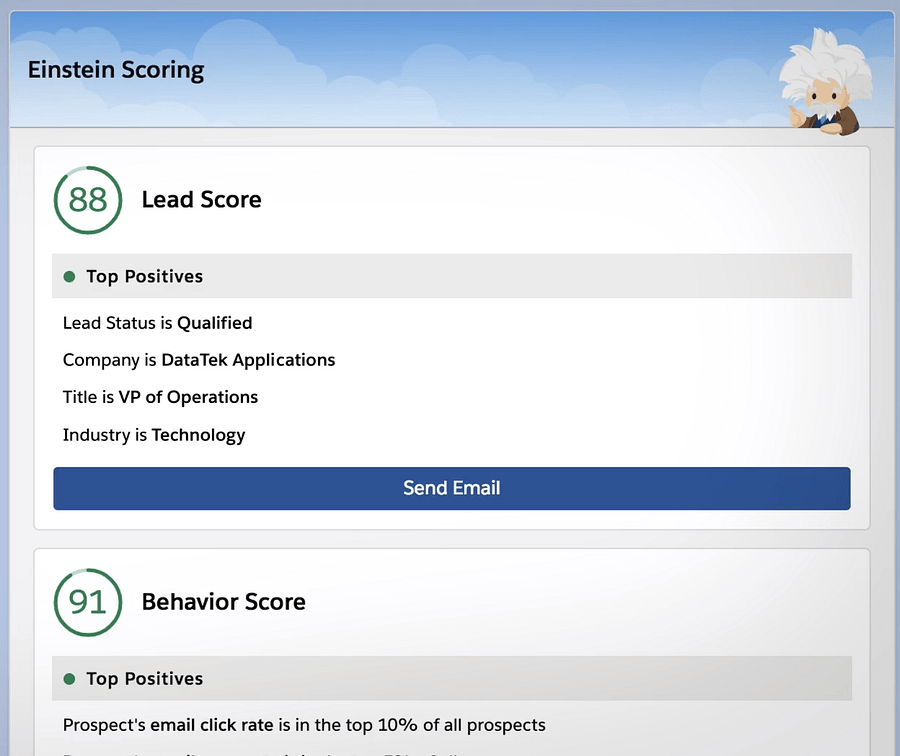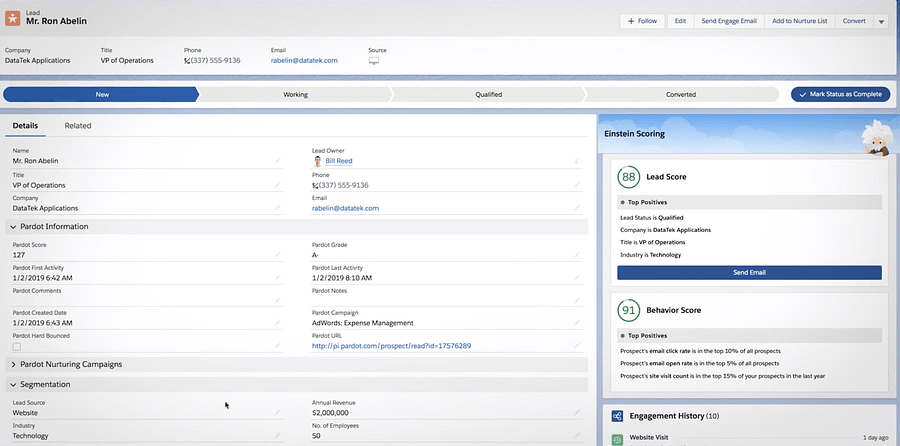 Pardot's Pricing:
Pardot's Pricing starts at $1250, and it's a reasonable price for a powerful automation tool for an enterprise, but powerful analytics, decision making dashboards, A/B testing are only available at higher plans.
You can also get some add-ons like Salesforce Engage or AI-driven recommendations by paying an additional amount.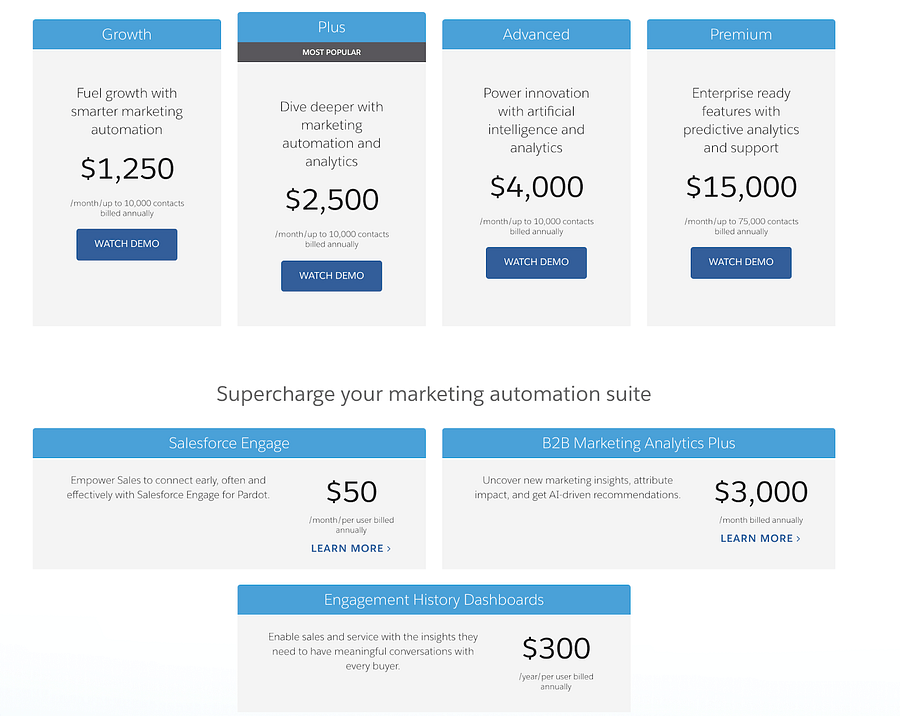 2. Mailchimp
Mailchimp has been popular amongst beginners as well as enterprises. It's been in business for 18+ years so it had time to build a polished, tested, revised product and that shows in it's under interface, templates, reporting, etc.
Let's look at features that will help an enterprise business:
Mailchimp's Email Builder:
Mailchimp's email builder is easy to use, has a clean interface and you don't need to know HTML to create your emails
You will find 5 main categories of templates to choose from:
Layouts (Featured & Basic): Choose an option and build on top of it
Themes: Pre-defined templates you can customize
Saved Templates: Templates you created or exported from 3rd party platforms
Campaigns: Email campaigns you sent in the past
Code Your Own: Option to create your template using HTML, from scratch.
All layouts are mobile-friendly.
Mailchimp's Layouts: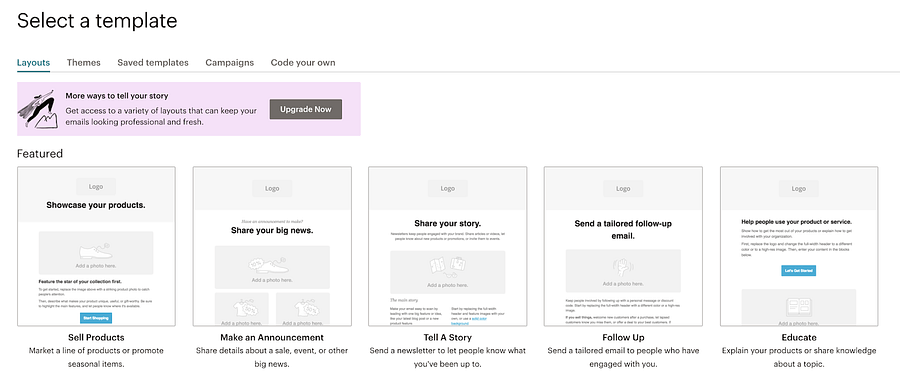 Mailchimp's Themes: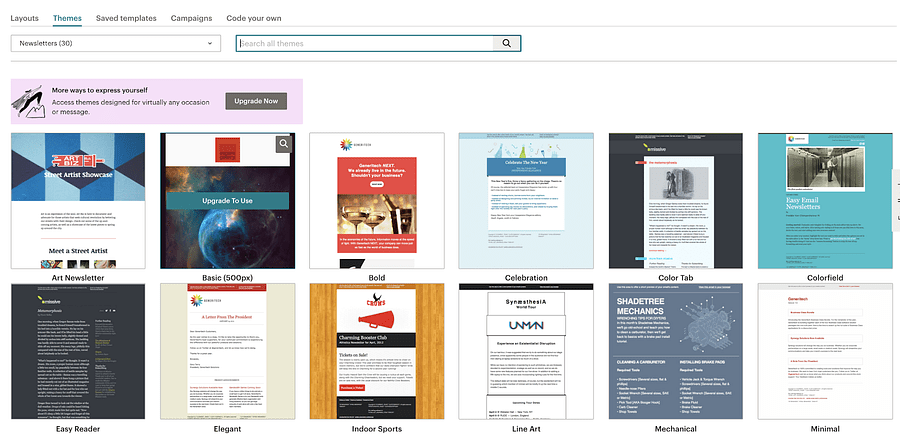 Mailchimp's Campaign: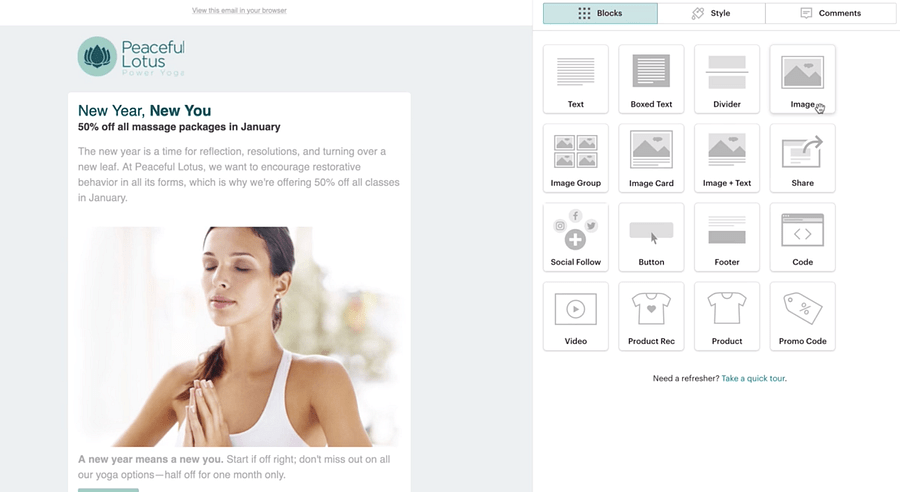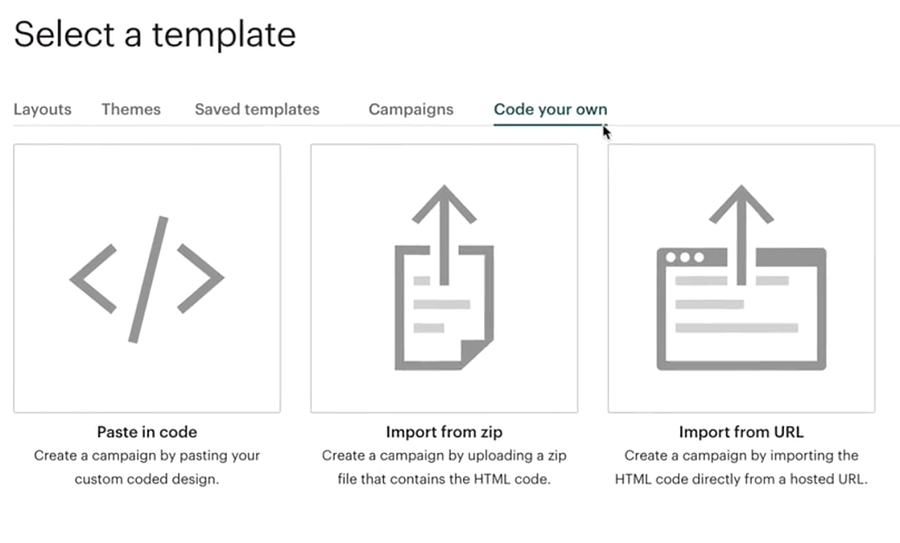 All the categories of templates can be edited with drag & drop functionality, except when you code your own. Mailchimp offers only 13 functional units for you to manipulate with text, images, social media, videos, and buttons.

Mailchimp's Reporting:
Each campaign report in Mailchimp will give you an overview of results on different metrics (open rate, unsubscribe, bounces, etc).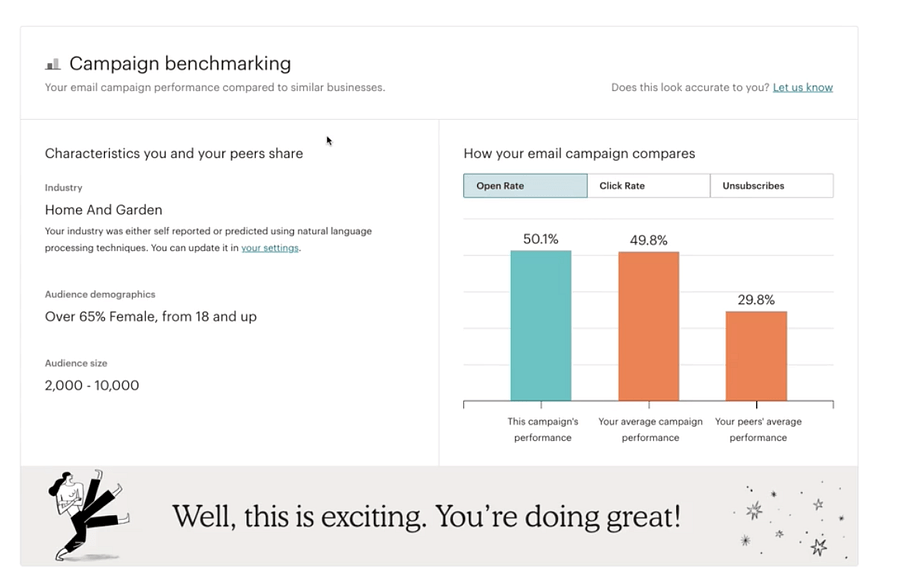 In addition to this, you can also view more details under different tabs - activity, links, social performance, eCommerce purchases, conversations, and analytics.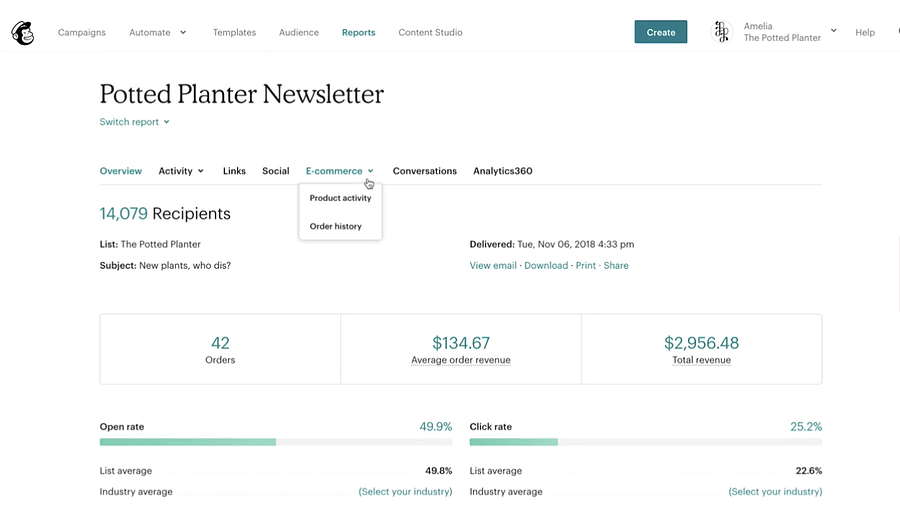 There is also a built-in sharing tool that allows you to share your campaign report with colleagues of clients.

Mailchimp's Integrations:
In an enterprise space, as your requirements are diverse, you might need to use tools outside of your email marketing platform.
So for the functions that MailChimp doesn't provide on its own platform, it helps you to integrate with third-party tools, easily.
For example, you can integrate PayPal with Mailchimp and import contacts of everyone who buys using your PayPal into your email marketing ecosystem. Or you can create sophisticated forms and quizzes for lead generation, sales, and client onboarding on Typeform & integrate with your Mailchimp account.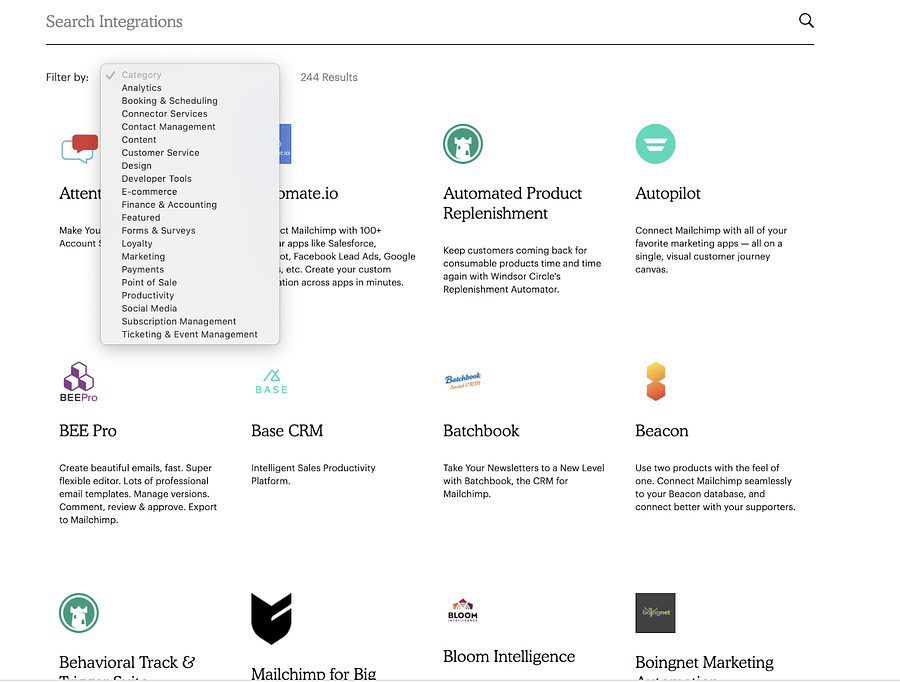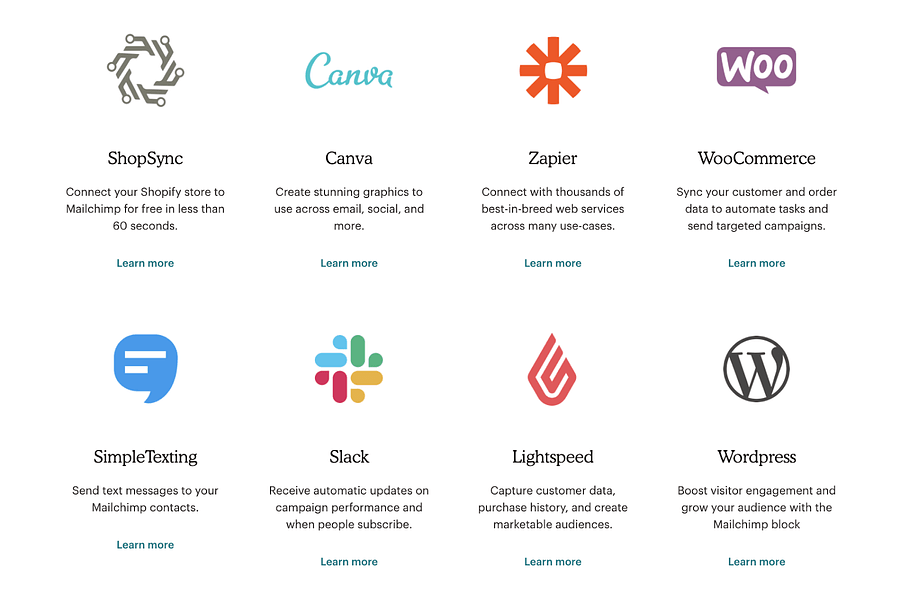 For some of the websites, Mailchimp is a default option for email marketing integration (e.g. Shopify, Squarespace).
Mailchimp's Pricing:
Mailchimp's pricing is based on a combination of the number of contacts and the level of features you want to access. So if you have high customers or need advanced features, you will have to go for higher-priced plans.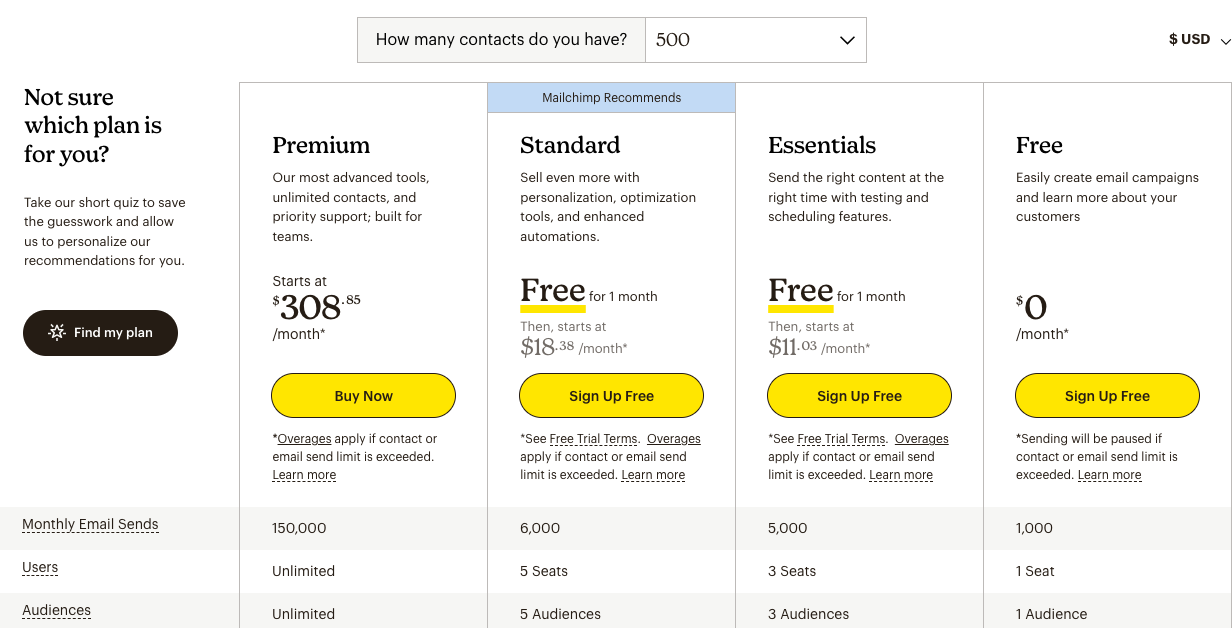 And, do note that you will be charged for Subscribed, unsubscribed, and non-subscribed contacts because Mailchimp believes that they are still in your ecosystem & you can reach them via social media retargeting, etc.
3. ActiveCampaign
ActiveCampaign provides email marketing, automation, and CRM all in one so that you can manage the customer experience from just one platform.
ActiveCampaign's Automation:
For creating automation, they provide an easy to use flowchart system that is pretty intuitive. If you want to add any element, you just use a drag-and-drop builder. You can get started on basic automation and drip campaigns by using pre-built automation templates and customize according to your needs.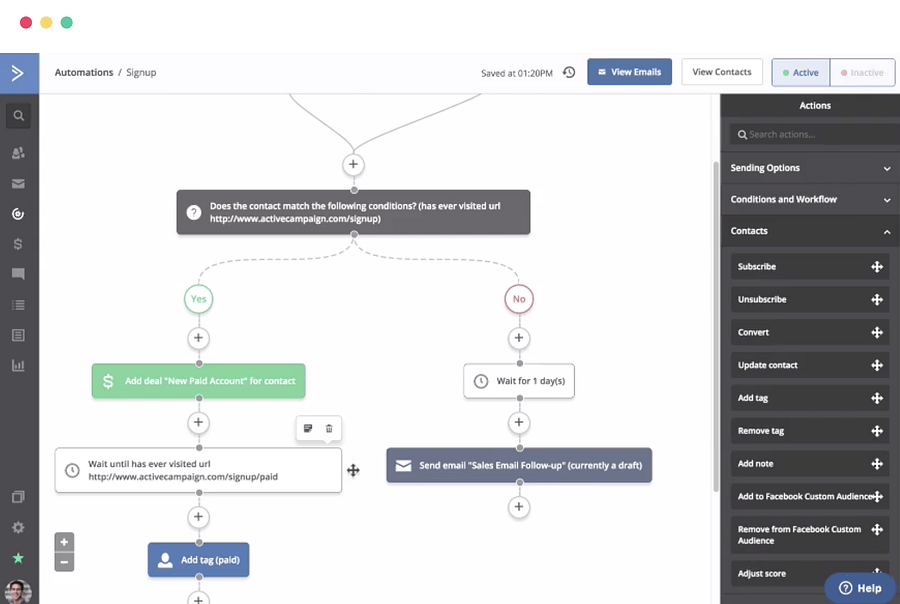 With the Automation Map feature, you can view how different automation are connected to each other. This way you can see which marketing gaps to fill or where to simplify the process. When you edit one automation, you don't have to guess which other automation it might affect. You can analyze the consequences and make a decision.
You can also see high-level reports on how each automation is performing.

ActiveCampaign's List Management:
ActiveCampaign's list management features are also impressive.
You can segment contacts via custom fields (which are contact fields that include additional data about the contact, e.g. location or interests, etc). Tags and custom fields can be added or removed via automation.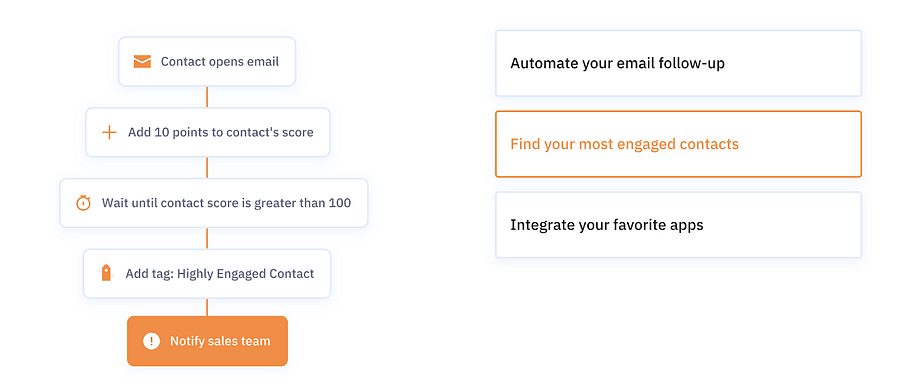 For enterprise plans, you can add as many users as needed (without any additional cost) and change their access at any time from the admin panel.
ActiveCampaign's Email builder:
ActiveCampaign provides a basic drag-and-drop email builder. You can also code your own template using HTML and CSS. You get 30 pre-designed template options to get started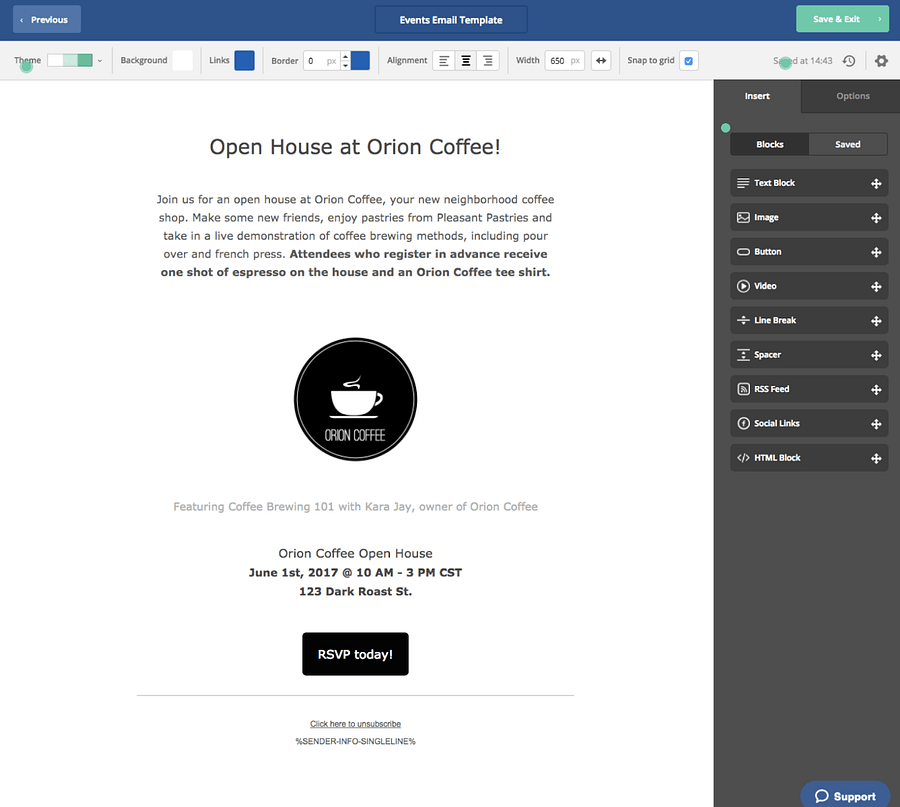 One thing that's good about their email builder is that you can create as many columns as you want & even adjust the column size.
Once you have built a template, you can use it for your broadcast campaigns and even for automation.

ActiveCampaign's Pricing:
ActiveCampaign's pricing is based on a combination of the number of contacts and kind of features you need.
via GIPHY

ActiveCampaign doesn't charge you for unsubscribed, duplicates or unconfirmed.
SendX is an all-in-one cloud-based email marketing software. Their pricing really hits the sweet spot & 24x7 customer support (through email) is something you don't find with other platforms unless you choose a ridiculously high priced plan.
SendX's WYSIWYG Editor:
SendX provides a simple WYSIWYG editor where you can design professional-looking emails without having to struggle with any HTML coding. Every element - buttons, image placeholders, text boxes, etc. can be dragged-and-dropped. It offers full customization as you can experiment with colors and layouts to design beautiful emails even if you don't know HTML.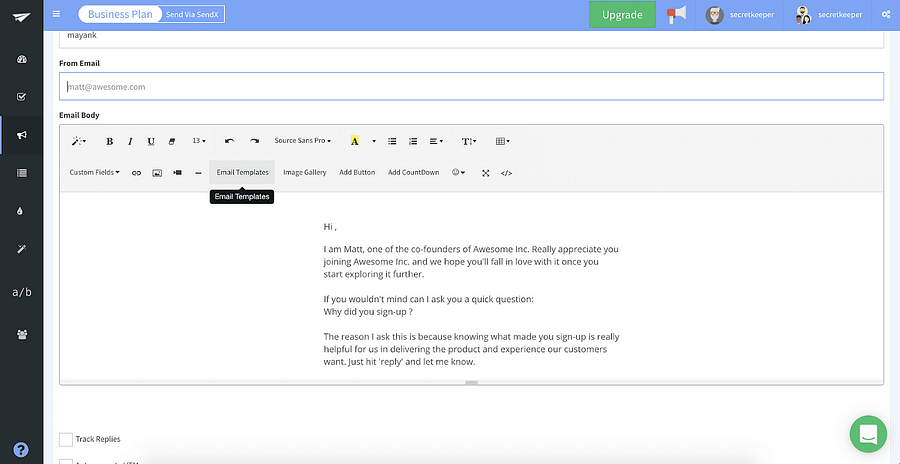 SendX's Instant preview for desktop and mobile:
You won't have to guess how your email will exactly look like on a mobile screen or desktop because SendX WYSIWYG Editor shows an instant preview of your email newsletter for mobile and desktop screen sizes.
SendX's Pre-built email templates:
You will get access to free premium responsive email templates for use in your newsletter, sales, holidays, or update campaigns. You can check out the template library here.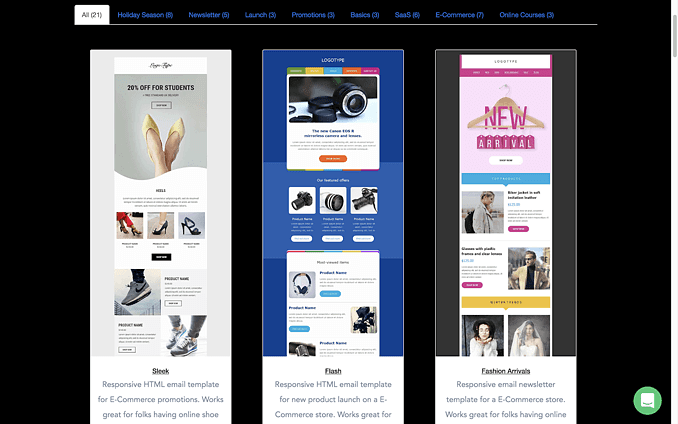 You also get access to more than half a million (yes, half a million!) royalty-free stock photos so you will never run out of creatives and won't have to chase any photographer or graphic designers to get your email out.
SendX's Automation:
The automation features in SendX lets you create a series of emails that are sent to subscribers triggered by a specific time, activity, or event.
Some examples are:
Starting a series on onboarding emails when a user buys a subscription
Congratulating a user for completing a milestone in the user journey
Rewarding with offers on cart abandonment
Stopping a campaign on receiving the required action or reply.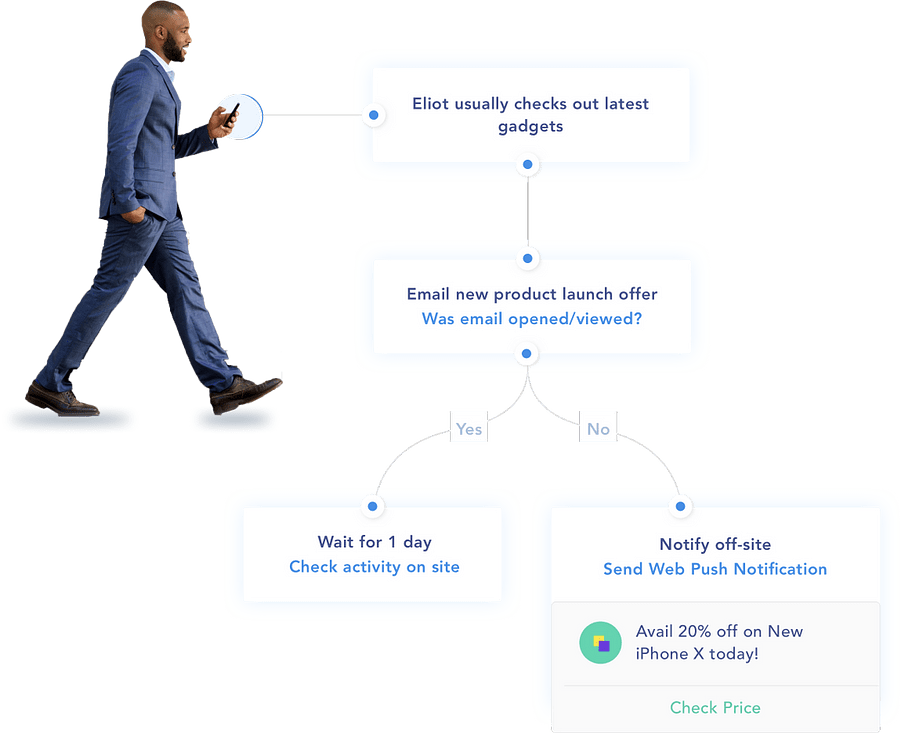 SendX offers a number of in-built triggers and other settings, so you can quickly find and create the right campaign for your business needs. You can also create custom automation from scratch.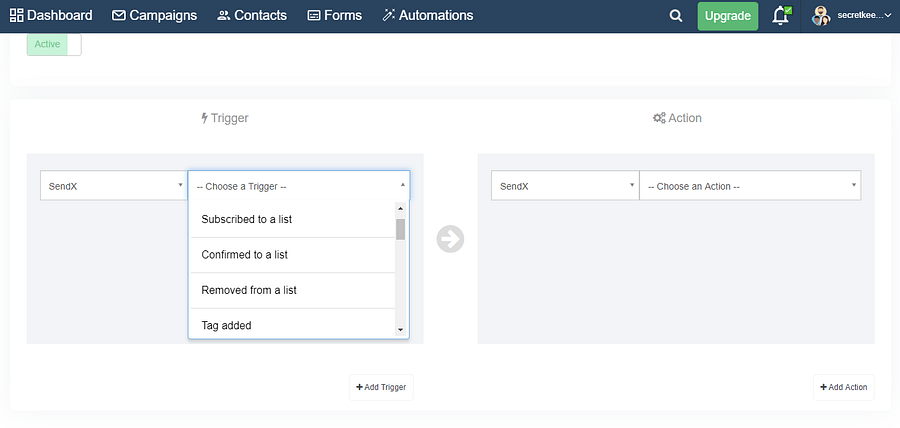 Free Migration to SendX:
If you are looking to migrate from your existing platform, SendX will do it for free if you! Their instant customer support team will be able to help you no matter the size of migration or the time zone of your country.
SendX's Pricing:
Without cutting corners on features and support, SendX has been able to keep their pricing affordable and simple. You get charged based on the number of subscribers only.
Unlike other email marketing software where responsive and modern templates are behind higher paywalls, with SendX, you get access to everything even if you are on your free trial. Even after the free trial ends, you can access all of the editor functionalities, templates, 24x7 customer support (through email) for as low as $7.49/mo.
If you don't find your desired pricing here, you can always contact them for a custom quote.
via GIPHY
Wrap Up
If you are an enterprise looking to leverage the best features of email marketing platform (A/B Testing, Integrations, Popup banners and so much more…), but without burning a hole in your pocket or trying to train your team on complex systems, I would suggest trying SendX.
SendX offers a 14-day free trial before you commit and signing up doesn't require any credit card. You get access to everything from day one & can also test their customer support before signing up for an affordable paid plan. Check it out!.