9 Tips To Get Seen By Your Email Target Audience
6 min read
Email marketing continues to be among the most powerful channels available, with a return on investment of 42:1 (Source: Litmus).
However, nowadays, inboxes are full, saturated with marketing messages and junk mail. This makes it difficult to get seen by your target audience.
Despite the huge potential for email marketing campaigns, if you're not optimizing your emails, you'll run the risk of your marketing messages getting buried under a pile of unread emails, then your project management will also suffer from it.
With that in mind, implement these tips and tricks into your email campaign optimization for increased opens, click-throughs, and conversions.
Table of Contents
1. Define the Email's Value in Your Subject Line
None of your email copy, images, or anything else matters if you can't get your customer to open it, and 33% of email recipients open an email based on the subject line. For that reason, your subject line deserves plenty of thought and care when optimizing email campaigns.
This is especially important in today's world of crowded email inboxes. You have to stand out among thousands of other promotional emails and avoid being ignored, sent to the spam box, or thrown in the trash folder.
Your email campaigns are an important part of the value chain for your products and services. It's important to let customers know the value your emails intend to bring.
To do this, clearly express the value of the email in the subject line. Make it clear what the customer will get out of opening the email.
Phrases that get some of the highest email open rates and click-through rates include:
Video
eBook
Newsletter
PDF
Free
This goes to show emails that include valuable resources get higher engagement. Not only should you optimize your emails by including valuable resources, but you should also point to these in the subject line.
2. Segment Sender Names
The subject line isn't the only "first thing" the recipient sees. 45% of email recipients say that they are likely to read an email because of who it's from.
Experimenting with the sender's name can affect whether a reader opens your email.
One way to experiment is to segment the sender name so that you can use different names depending on the type of content you're sending out.
Look at discount site Wowcher, for example.

Wowcher adjusts the sender name depending on the type of content in the email.
Emails sent by Wowcher Travel include travel deals, whereas emails from Wowcher London are geographically specific to London.
That way, readers can immediately pick out emails relevant to them, rather than feeling like they have to click on everything.
3. Add Quality Clickable Images
The more information about a product a customer has, the easier it is to make a buying decision. That's what images are for.
Images help customers see the product they're thinking of buying. It gives them further information about product dimensions and what it looks like in action.
Take a look at how Somnifix, a company selling mouth strips for a better sleep, adds clickable images to show off its brand identity and lead users to its social media pages.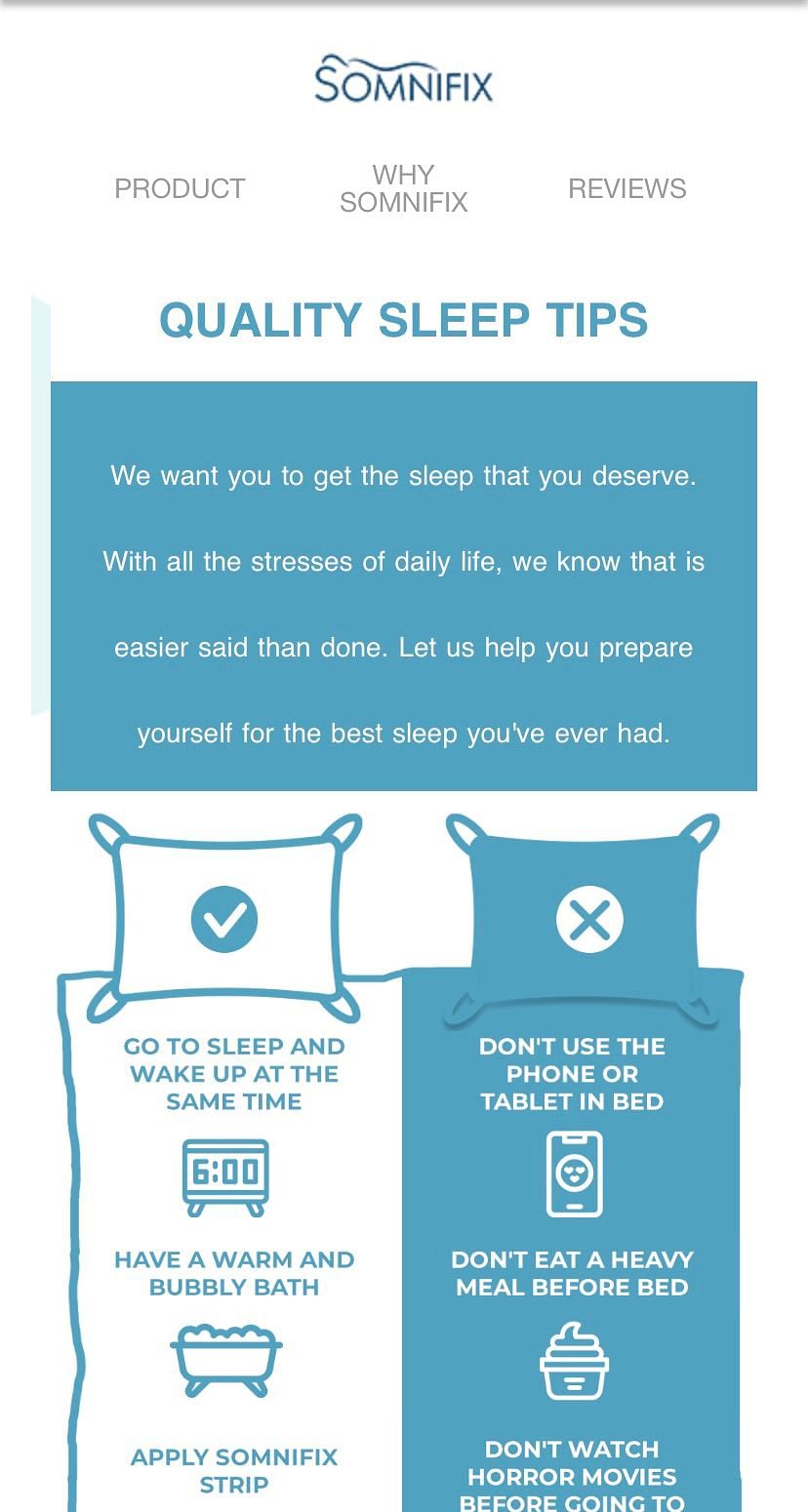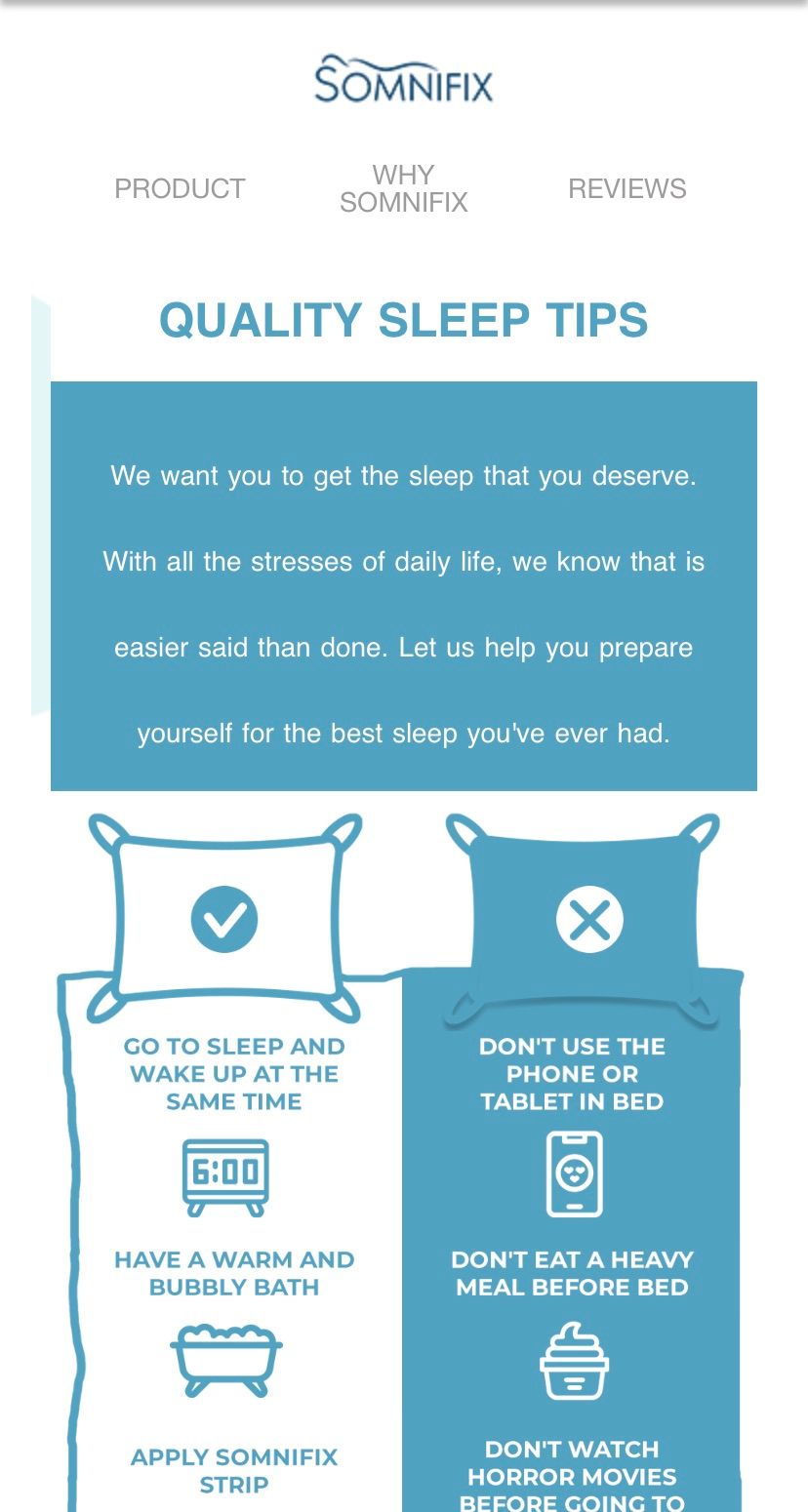 The infographic shows off the brand's products and aligns with the clear call-to-action CTA) at the bottom of the email.
Not only will clicking the images give customers more insight into these products, it also increases click-through rates.
4. Stick to One Clear CTA
Adding CTAs to each product listed in your email might sound good, but it can actually distract your audience from taking the action you want them to complete.
Instead, sticking to one clear CTA can increase your conversion rates.
Look at how Ultimate Meal Plans does this.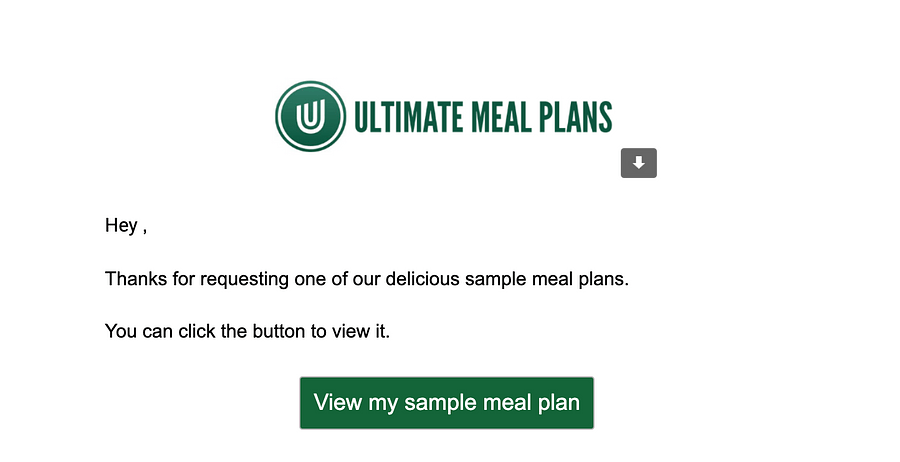 Combining whitespace with a clear call-to-action link, the meal plan company invites readers to view a personalized sample meal plan by clicking the green button.
There's no confusion about what readers need to do next, and there's nothing to distract the eye.
5. Make It Personal
With all of the automation of business processes going on today, it pays to add personality to your marketing communications.
Personalization is the top tactic marketers use to improve email performance.
There are a few ways to personalize emails.
On a basic level, you can add customer data such as names or company names. You may even ask questions about their role, industry, or needs at the lead generation stage and personalize your emails with this information.
More in-depth personalization requires you to dig deeper into your customers' behavioral traits.
Use customer buying behavior, website visitation behavior, and social media analytics to segment your email marketing list. Send different targeted emails to each segment with personalized information based on this data.
For example, you could send personalized product recommendations based on previous products a customer has purchased.
Take Alchemy Worx, for example.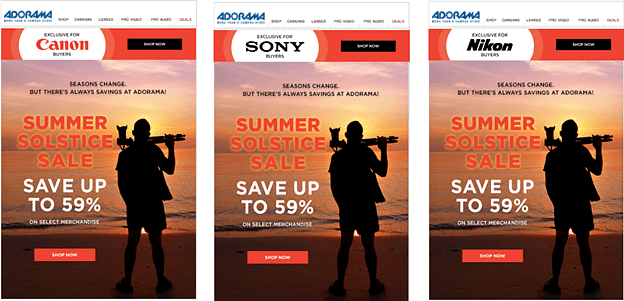 This camera brand added personalized banners to the tops of its emails, offering exclusive savings based on the type of camera the buyer bought. By doing this, the company increased engagement by 20% and boosted revenue per mailing by over 18%.
6. Switch to Plain Text Emails
In an era where flashy advertising is everywhere, simplicity seems to win out when it comes to emails.
Instead of sending packed email designs filled with colorful graphics, try sending plain text emails that appear to come from a real person within your organization.
The problem isn't just that highly promotional emails look salesy. It's also that they tend to head into the 'Promotions' tab on Gmail.
By switching to plain text emails, your messaging will head to the 'Primary' tab instead. Look at this example from Realthread, a custom t-shirt printing company: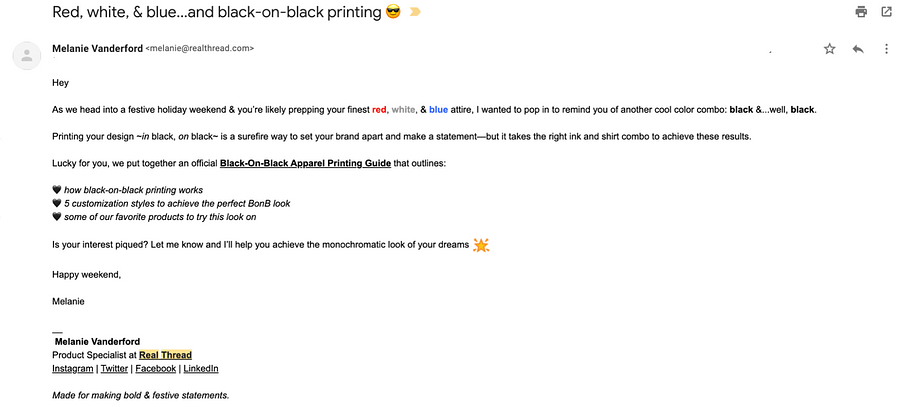 The content is clearly promoting one of their services with a link going to their website, sent by their product specialist. This way, the mail directly arrived on the "Primary" tab of the receivers.
Moreover, this is how customer onboarding software Forged managed to double its open rates and more than triple its click-through rates.
7. Send Your Emails at the Right Time
Timing is everything.
The days and times when you send out emails will have a significant impact on their success rates.
When it comes to days of the week, it's best to send out your emails on a Thursday. If you're sending a second email, schedule it to release on a Tuesday.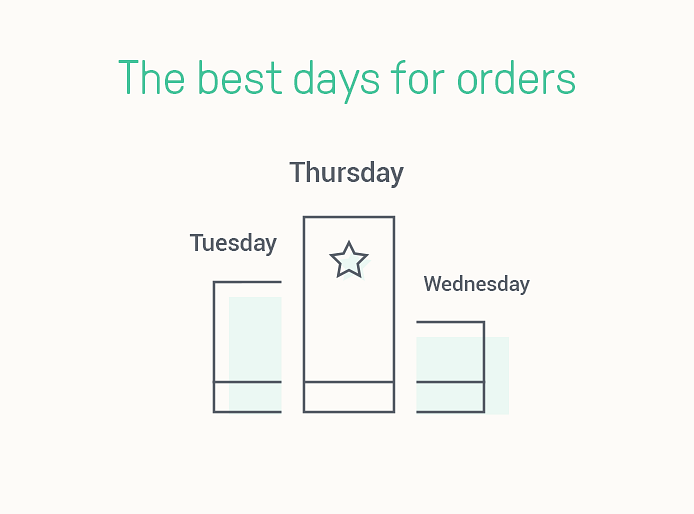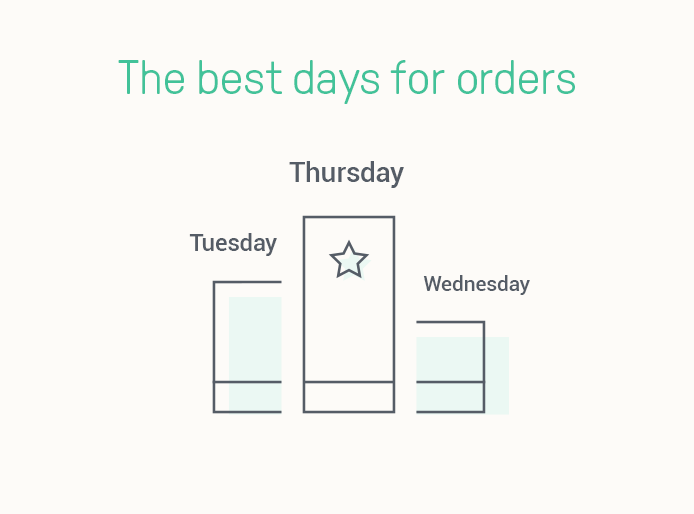 But not all Thursdays are created equally.
The data shows that email campaigns that go out at the beginning of the month tend to perform better than those that go out toward the end. Where emails sent out in the first 10 days of the month have a click-through rate of 18.5%, emails sent out in the last 10 days of the month have a click-through rate of 17%.
It's also wise to think about the time of day.
While the best open rates occur at around 8 a.m., the best click-through rates happen at 5 p.m. Interestingly, though, most orders come from emails at around 4 p.m.
8. Clean Up Your Email list
Finding the right emails is critical to getting good conversion rates.
Unfortunately, when you build your email list organically, sometimes people give a fake email address.
Plus, some customers may get onto your list without the intention to buy (or take whatever action you desire). Others may no longer have the problems your products and services solve.
Emailing these individuals that aren't likely to respond can harm deliverability because your email opens and click-throughs will be lower.
You want email subscribers that are willing to engage with your messages.
In this respect, it's smart to filter out bad email addresses and non-responders by cleaning up your mailing list regularly with an email verifier.
Plus, cleaning up your list can also save you money if your email service provider charges you per user. You'll cut your user count (and your subscription payment) while boosting your conversions.
9. Track campaign performance
Tracking campaign performance enables you to see which emails perform the best and which don't.
You'll be able to compare the different components of your emails to see patterns that work and others that put readers off.
For example, you may notice that your emails perform best when you send them out at a certain time or if they include an emoji in the subject line.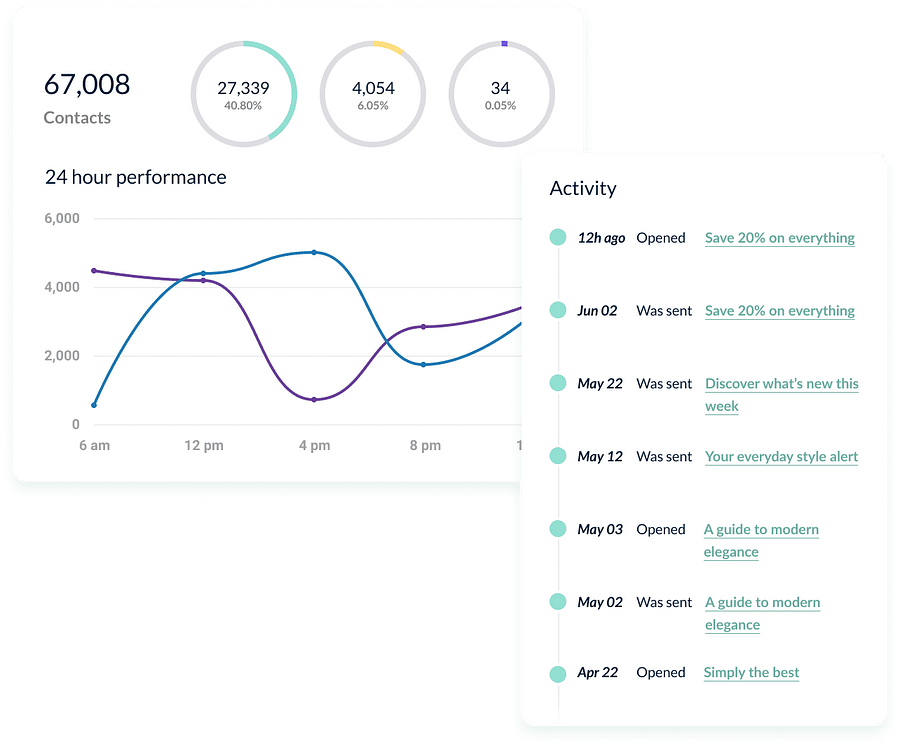 Alternatively, you may notice that certain segments perform better than others, enabling you to focus your attention on higher converting audiences.
With the right email tool, you'll be able to measure performance in real-time to gain actionable insights to help you improve future campaigns. You can then mix those data and add them into your sales tracking software and work on improving your campaigns.
In Conclusion
Email is a veteran among digital marketing channels, but it remains an excellent way for marketers to connect with customers.
Successful email campaign optimization efforts will help you build trust, boost engagement with your brand, and of course, make more sales. If you need some inspiration, you can check those email templates.
Remember that bigger isn't always better. A clear CTA, good use of whitespace, and a strategic plain text email can go a long way.
Most importantly, to improve your email performance, use real-time data to gain insights into what works and what doesn't.