Top 10 Email List Management Software for a More Engaged List
7 min read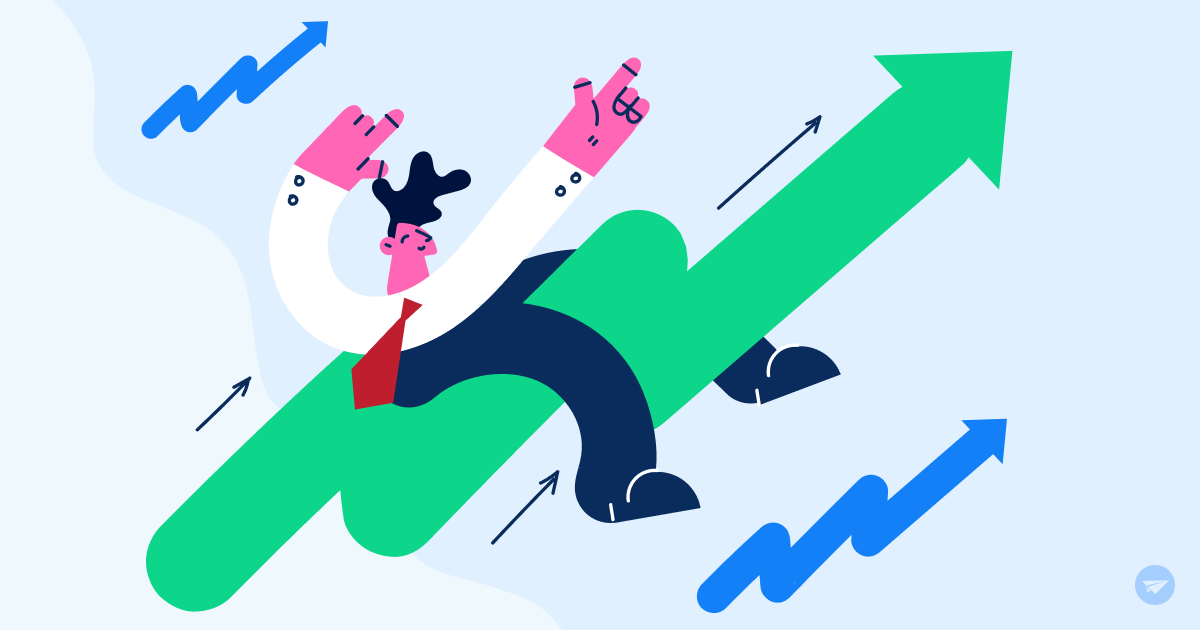 Email list management is how you handle the contacts in your list. Just having a list of email addresses is under-utilizing the power of tools available to segment your list, send targeted messages, improve deliverability, and grow your list.
An example of segmentation would be creating buckets and segregating your list based on their location. Then you can send them emails relevant to their area. Thus, improving engagement and decreasing unsubscribers.
Let's look at how the top 10 tools for email list management help you organize, grow and clean your list, without doing these tasks manually.
Table of Contents
1. SendX
14-day free trial, paid plan starts at $7.49/mo for 1000 contacts.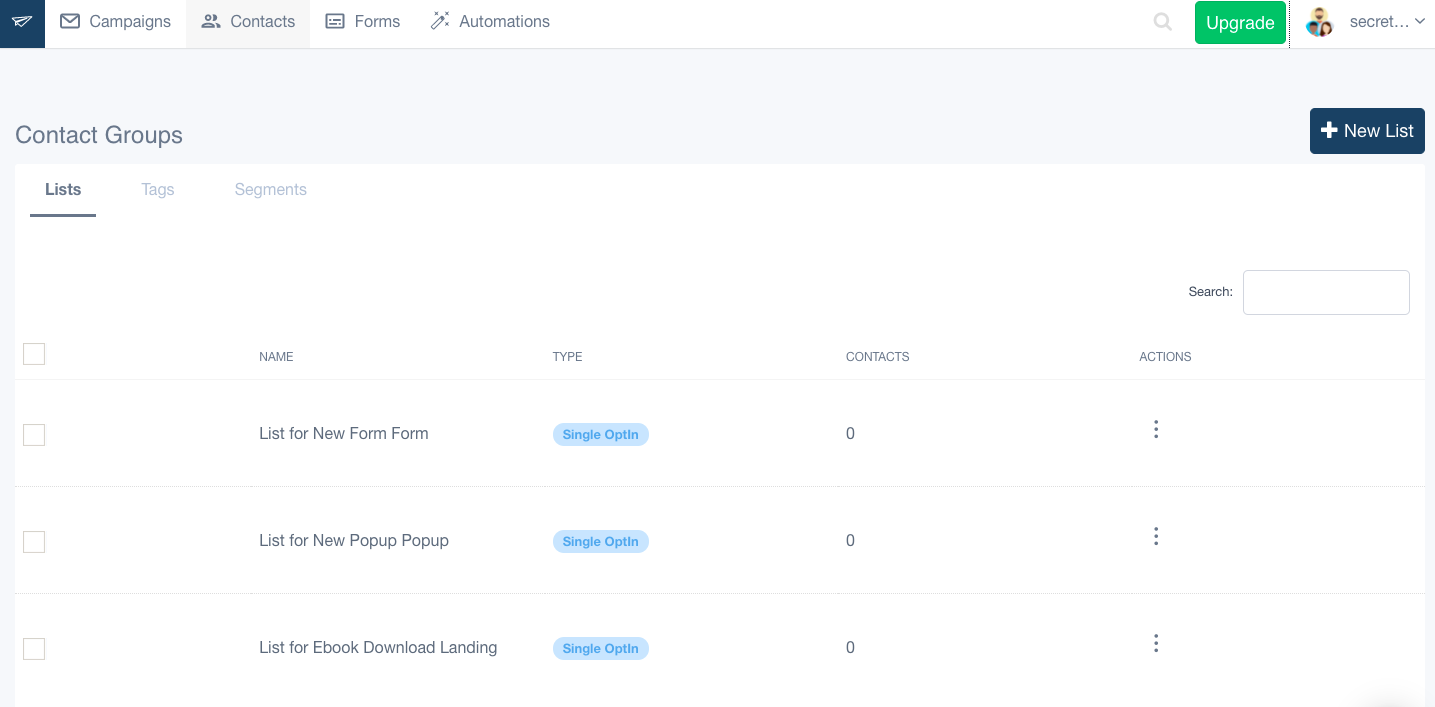 SendX is a cloud-based, email marketing tool suitable for managing bulk email lists without compromising on the deliverability of emails or struggling with complicated tools. With SendX, you can import a list from other tools or your CSV files with just a few clicks. Export and deletion of any lists are also done through intuitive UI.
SendX allows you to create your list from scratch using signup forms that can be easily integrated with your website. These are ready-to-use, customizable, and high-converting signup forms that work with single opt-in & double opt-in.
List cleaning is easy as you don't have to do it manually. With a few steps, you can put rules and conditions in automations and clean any inactive subscribers.
Apart from list management, SendX offers landing pages, drip campaign automations, intuitive email builder, responsive templates, and heatmaps.
Pricing & Trial
SendX offers a 14-day free trial. No credit card is required. You can use all the features & experience customer support during the trial period. You even get unlimited emails.
Pricing is based on the number of contacts & you can send unlimited emails. Quick & quality support is provided to everyone whether you have a few hundred contacts or few hundred thousand contacts. Here's a quick overview of pricing 👇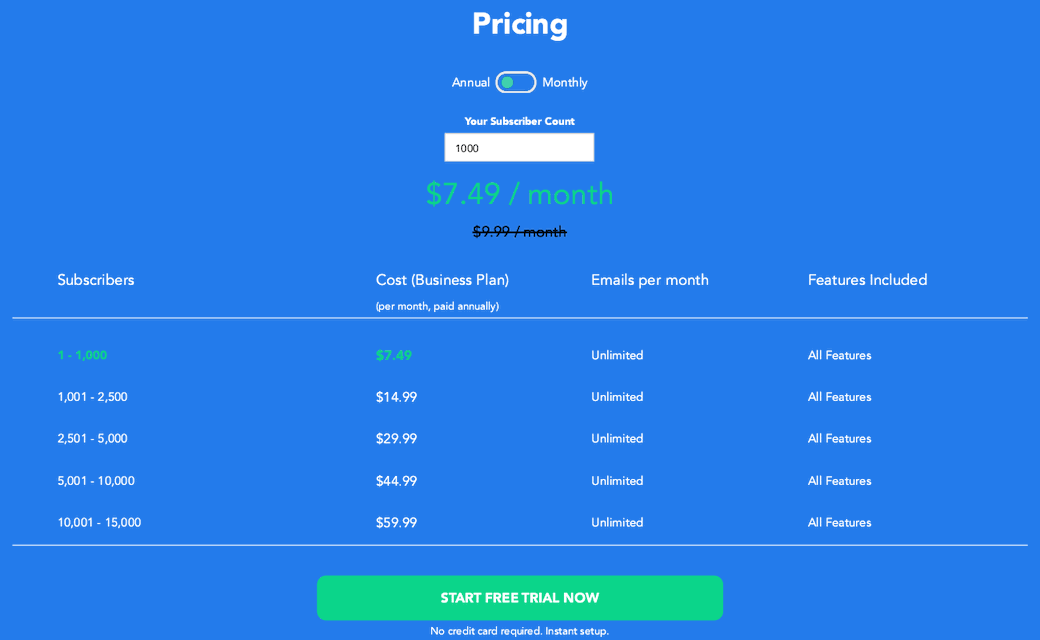 3000+ companies around the world trust SendX for simple, effective & intuitive email marketing. Because of this scale, they have been able to keep their prices affordable. If you want to try it for yourself, take the 14-day trial & test all the features. It's quick to sign up.
2. ActiveCampaign
14-day free trial with $7.50/month as starting price for 500 contacts.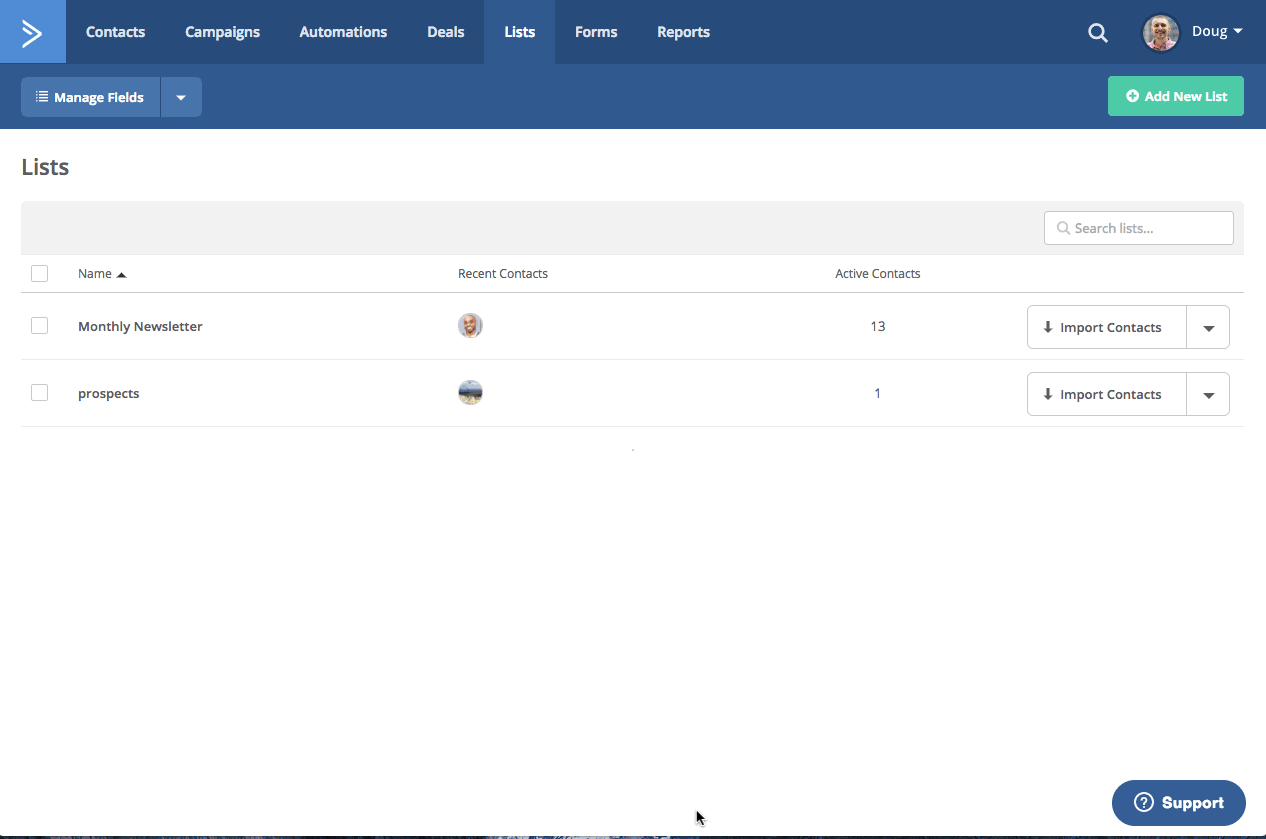 ActiveCampaign offers two ways of managing contacts -- with the help of lists or with the help of tags.
You can organize your contacts into separate lists based on a few common behaviors.
Though you might end up creating multiple lists that might put the burden on your ESP cost and cause trouble managing your lists.
Tags are a way to indicate that a contact belongs to a group. In a tag-based organization, contacts stay part of one but have different and multiple tags. It's like putting a contact into multiple folders.
In ActiveCampaign, these tags can be automatically added, based on conditions you can set. This is possible using a visual automation builder. You can also create a custom field for your contacts to store any additional data after they have been added to your database.
Pricing & trial
Pricing starts from $7.50/month for 500 contacts in the Lite Plan. This is a plan that offers only the basic functionalities. Pricing goes up to $139.50/month for enterprise clients.
It offers a 14-day free trial. You need only your email address and a few business details to signup. No credit card or approval is required.

3. HubSpot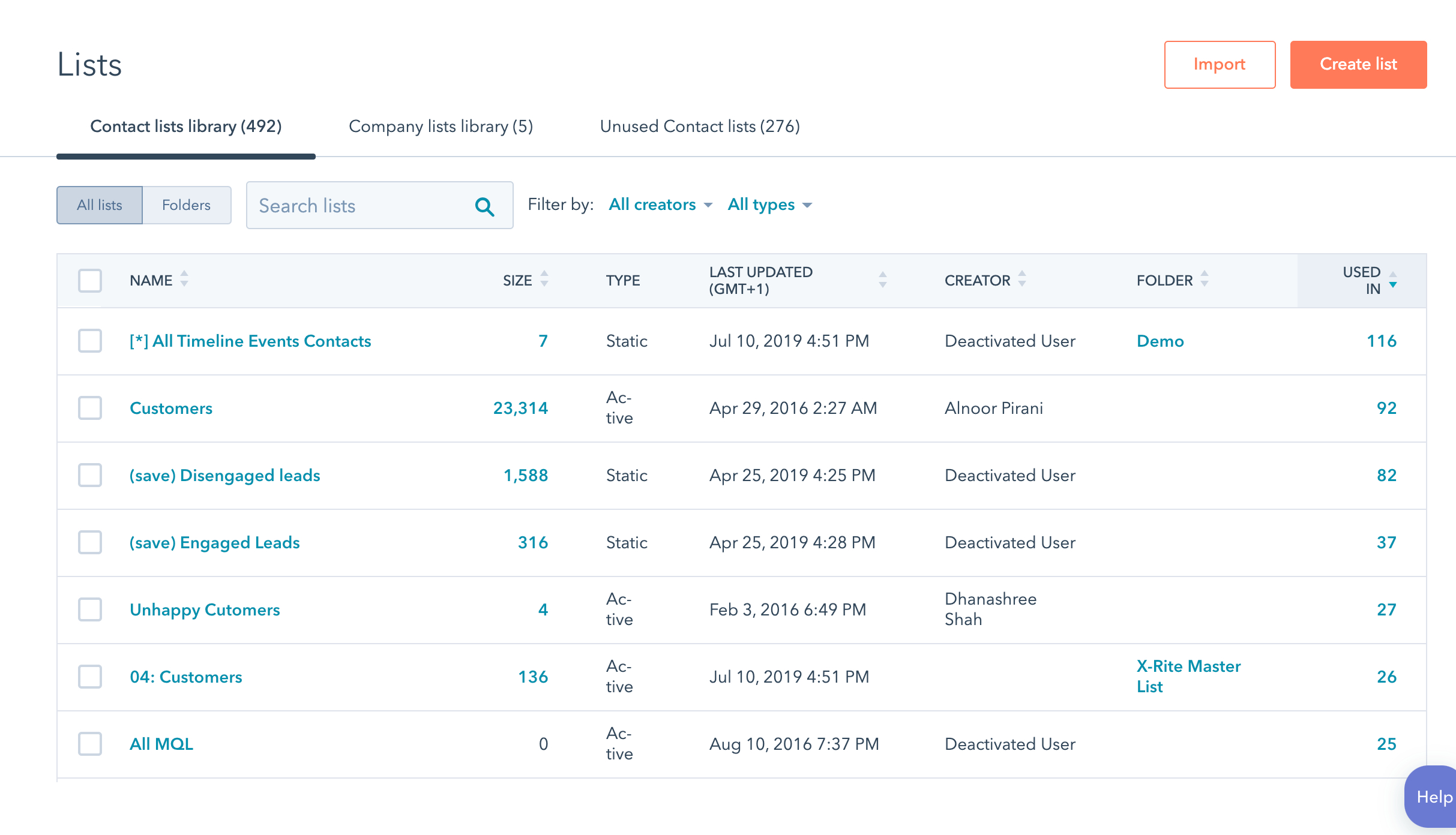 HubSpot is more than list management or email marketing tool. It's a full CRM pretty useful for enterprise clients. And that's why its list management capabilities are robust.
It manages contacts via two types of lists -- Active Lists and Static Lists.
Active lists update their contacts based on the criteria you set. Contacts will get added to the list when they meet the criteria and get removed when they stop meeting the criteria. The contact itself is not deleted from the database. Static lists do not get updated automatically, so new contact that meets the criteria will not be added to the list.
It allows you to use multiple combining criteria to create segments. For example, you can use multiple OR, AND, NOT rules to create one segment from a few lists.
It has every possible thing you can do with lists and contacts which makes the tool itself a bit bulky and you will experience a learning curve to get used to it.
Pricing & Trial
Email marketing tool is free for up to 2,000 emails sent per month. Paid plan starts at $45/month. It's suitable if you have a strong marketing strategy and plan to cover the costs of your investment in an expensive (& powerful) tool.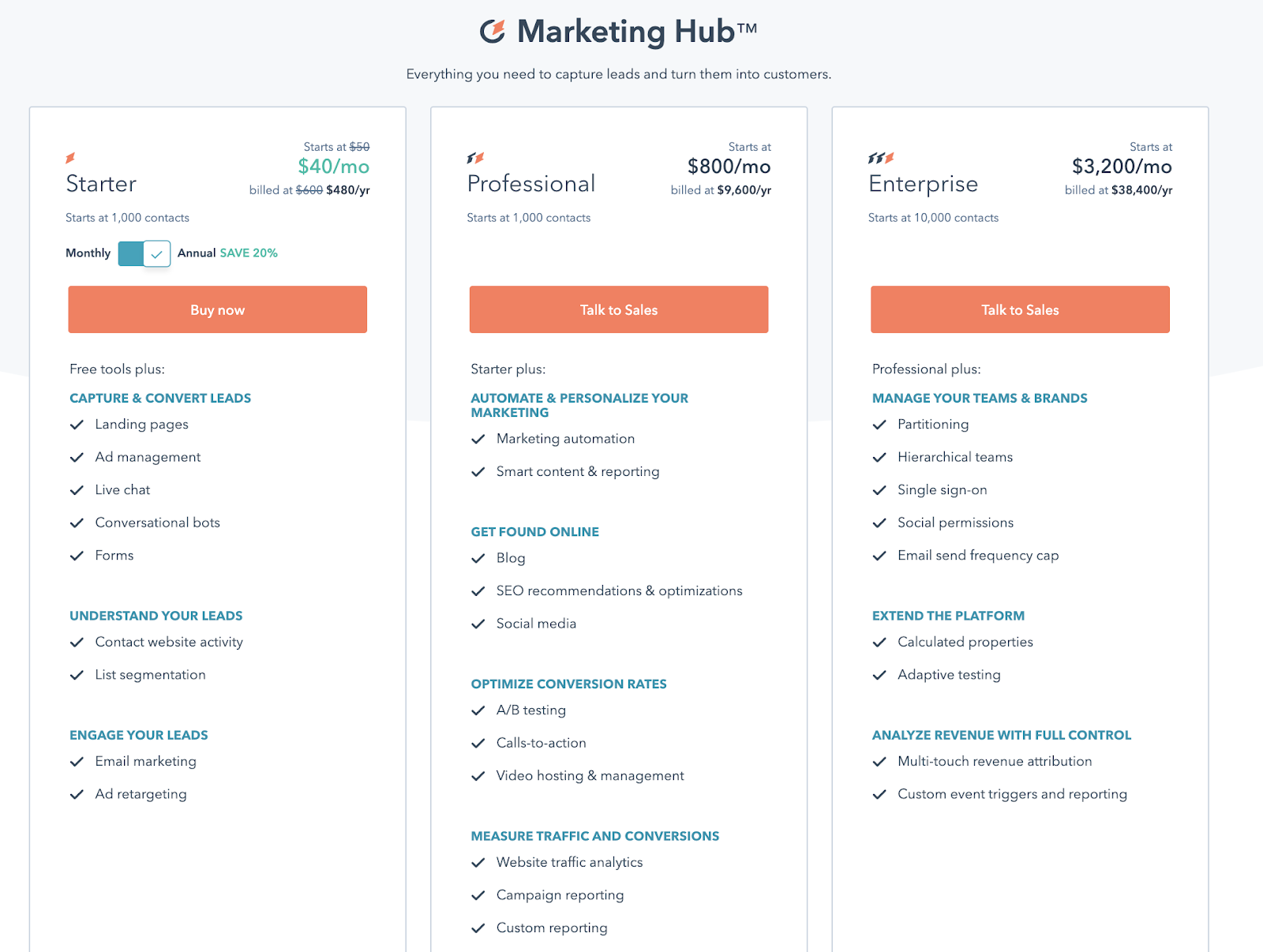 4. Mailchimp
Forever free for up to 2000 emails. Paid plan starts at $10/month.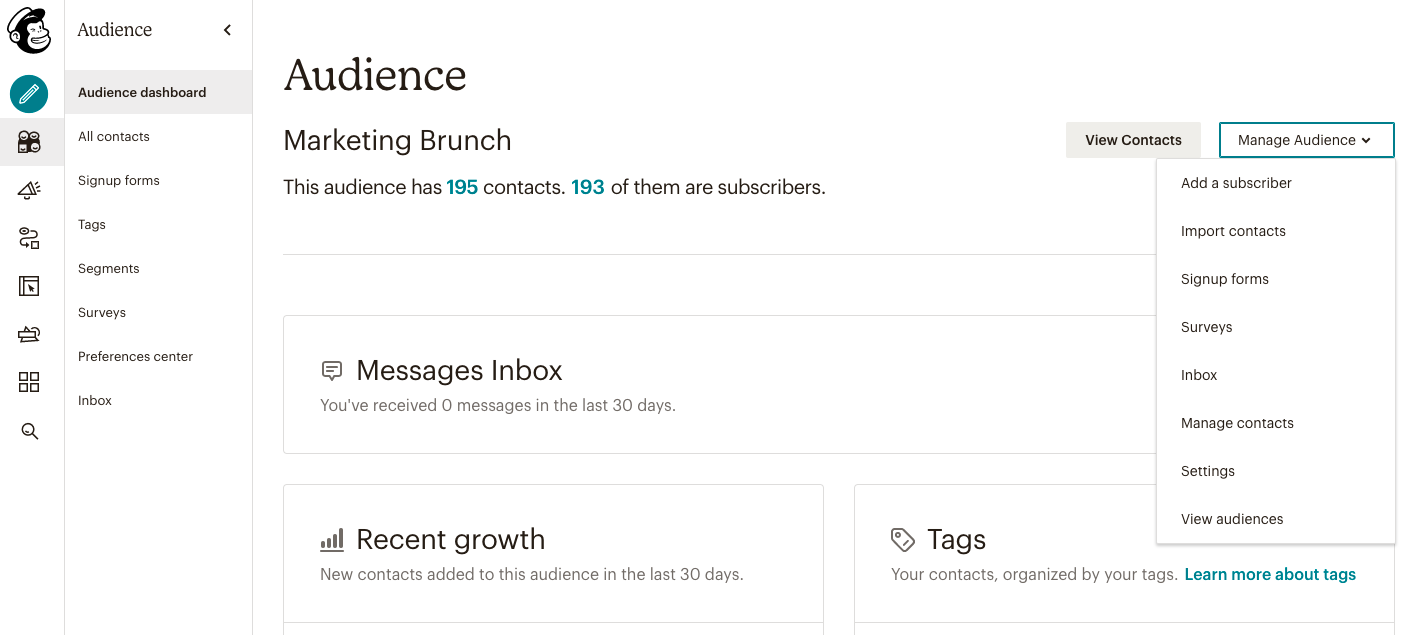 Mailchimp is an email marketing software suitable for beginners as well as experts. It's easy to get started with because of its intuitive interface & visual builders.
For the purpose of list management, Mailchimp calls its contacts 'Audiences.' You can create signup forms to collect email addresses, create segments and see stats about your list growth.
It categorizes contacts based on their email marketing status: subscribed, unsubscribed, non-subscribed, cleaned and pending. You can also archive your contacts, which removes them from your marketing audience but you still retain their data.
MailChimp takes care to keep your list clean so it will automatically remove addresses from your audience that hard bounce.
One thing that pinches marketers is that MailChimp will charge you for unsubscribes, as well as those, which are still part of the 'Audience' which can be used for things other than email such as retargeting or postcards. If you are not using any of those services, it's best to archive your contacts so you don't end up paying for unsubscribers.
Pricing & free plan
You can use MailChimp for free up to 2000 subscribers with limited features and MailChimp branding included in your emails. After that, it starts at $10/mo for a limited number of features. You can more as your subscribers increase or if you need more functionality.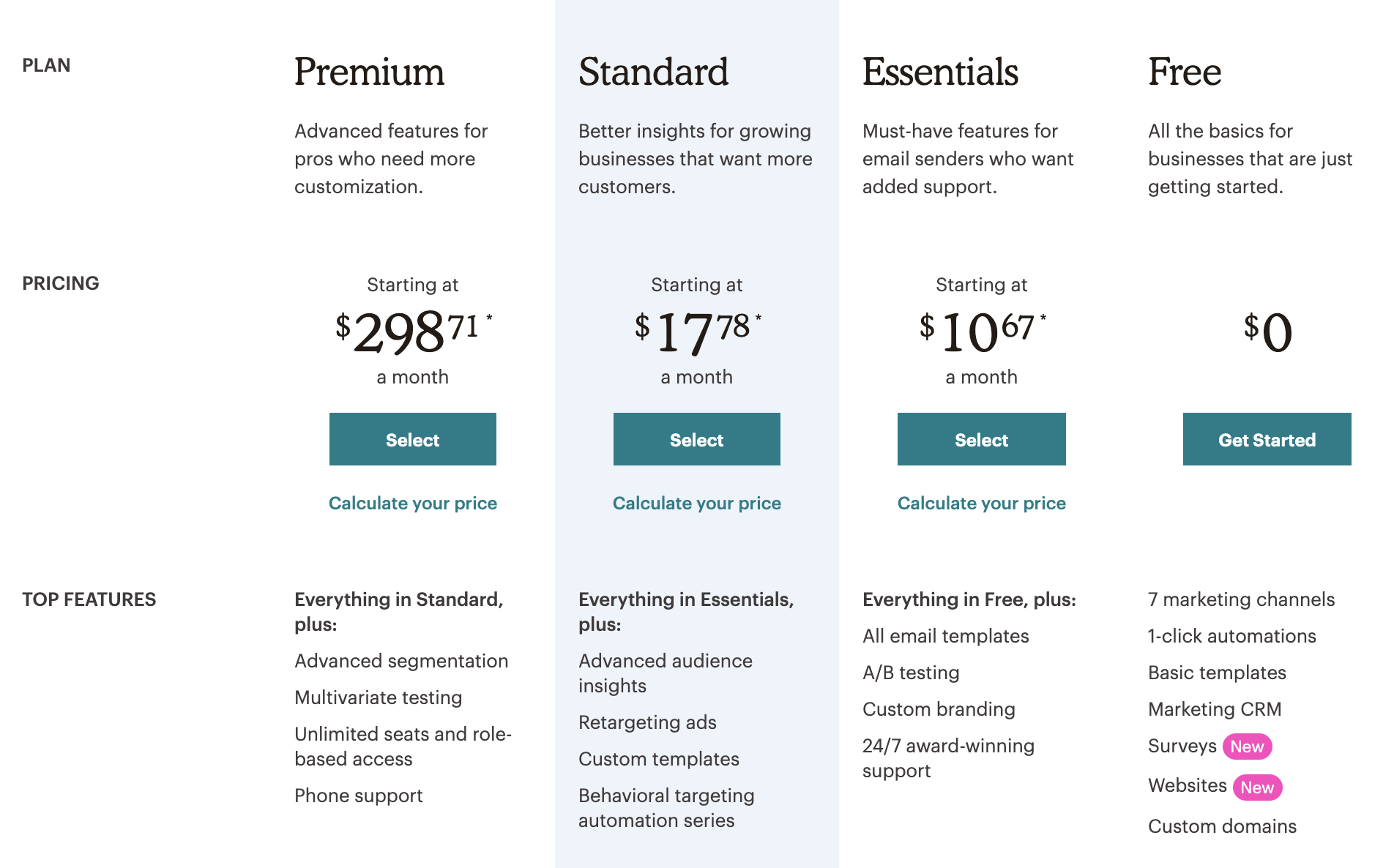 5. ConvertKit
It's free for up to 1000 subscribers. Paid plan starts from $49/month.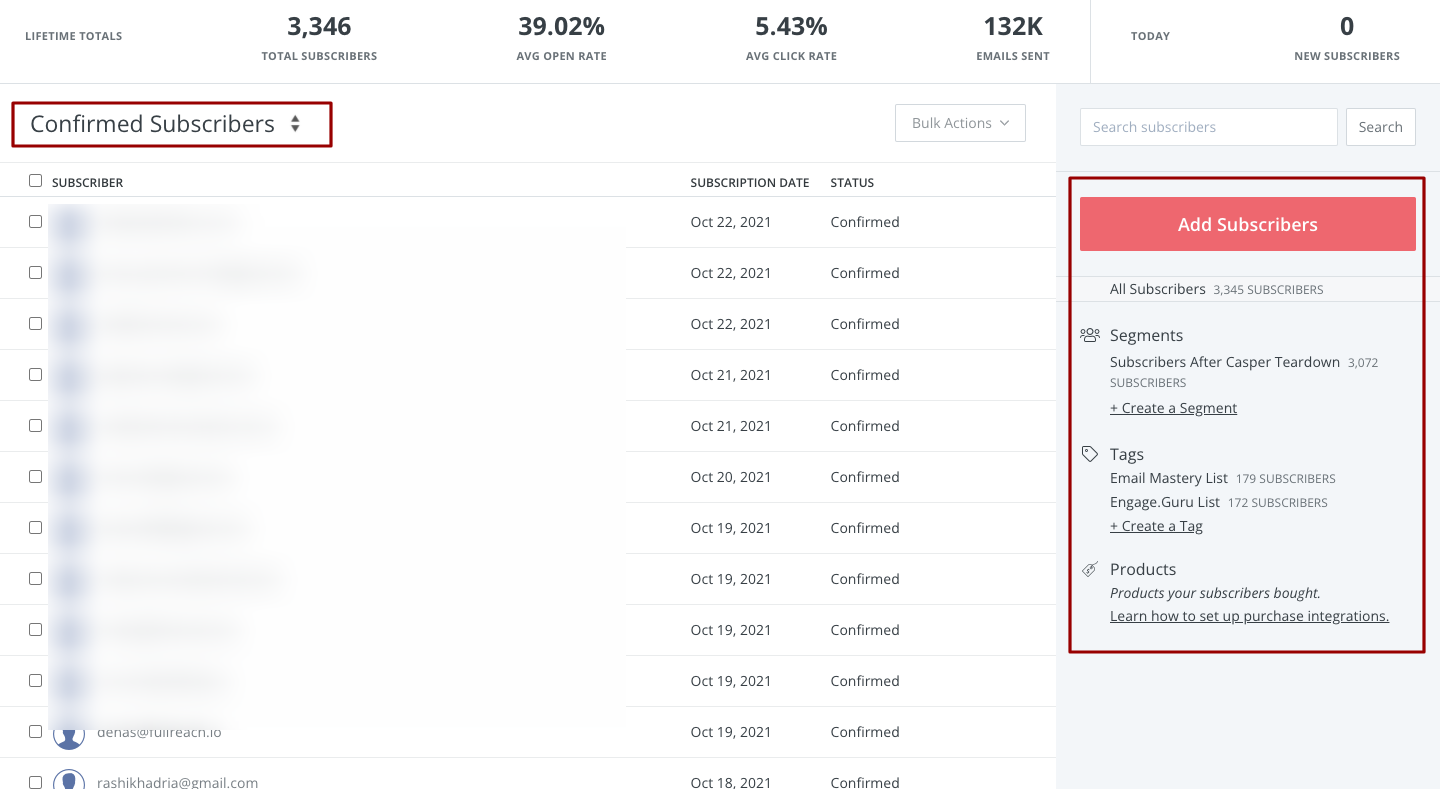 ConvertKit calls itself a 'Subscriber-centric' system. Each Subscriber is only counted once in your account. There will be one main list of subscribers, which can be further categorized using tags and segmentation.
Even if a subscriber opts in to one of your Forms or Landing Pages multiple times, they will only appear once on your main list. With segments, you can change their parameters anytime you want. Segments will automatically include Subscribers who fit its criteria and exclude those who don't.
ConvertKit is a tool meant for creators (bloggers, musicians, artists, and vloggers). Its email builder is not as extensive as that of MailChimp or SendX and provides basic text-based and HTML templates.
Pricing
It's free for up to 1000 subscribers. It's not very cheap at $49/mo after that but worth it if you want a simple system that can handle your list at scale.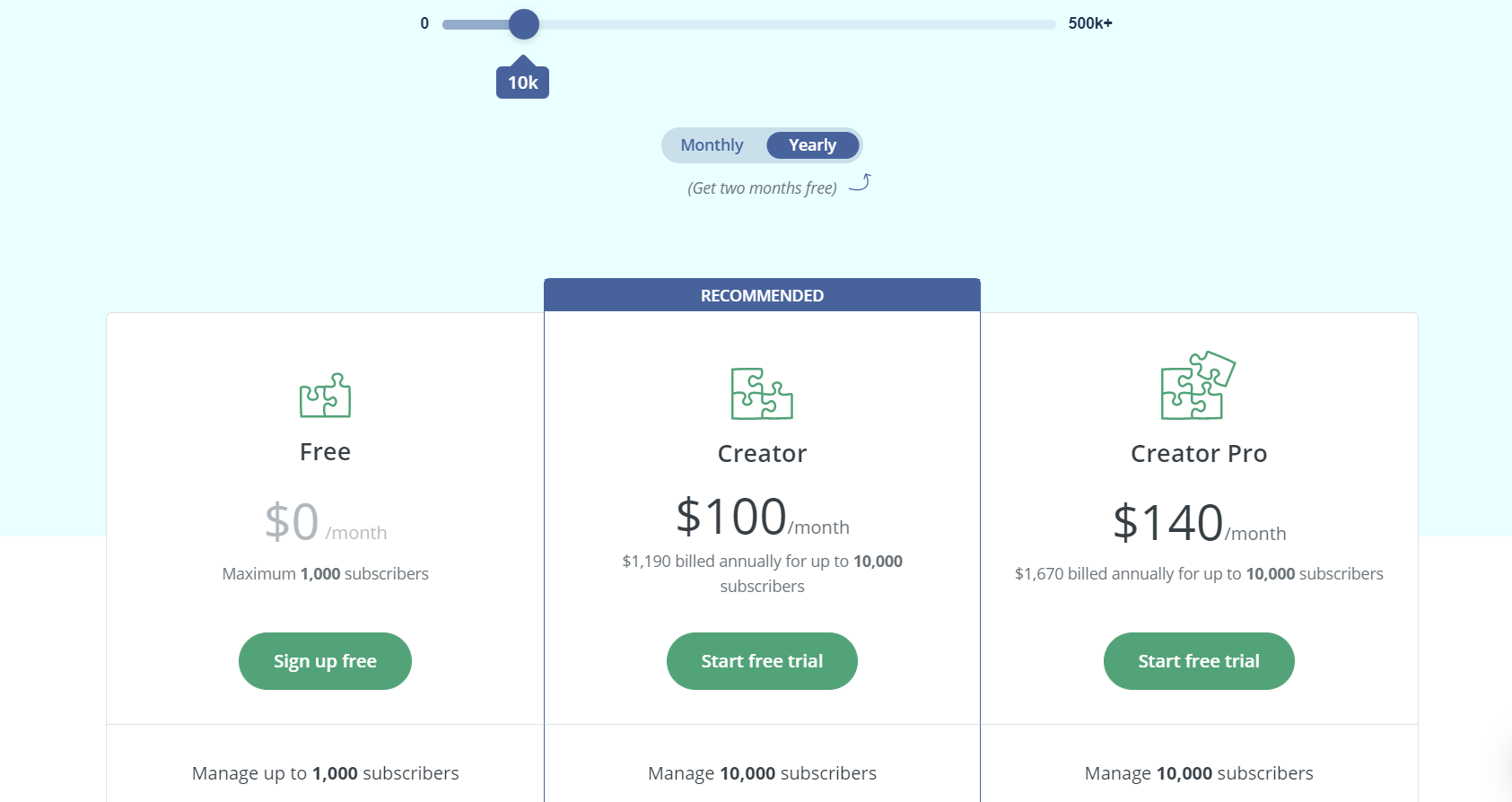 6. Sendinblue
Paid plans start at $25/month for 10K emails

Sendinblue is a tool for small to medium businesses to handle email lists, marketing automation, transactional emails, SMS, landing pages, and Facebook ads.
Once you have created a list you can perform different actions on it such as -- add subscribers, duplicate, set specific campaign settings, import contacts, and more. You can organize multiple lists into different folders according to your products, source of subscribers, or campaigns.
Their email builder is intuitive with a drag-and-drop editor enabling you to create emails quickly. Along with that, it offers a way to retarget your audience via Facebook ads. So it's perfect for a business that's just starting out.
Pricing
Unlike other email marketing software that price based on the number of contacts, Sendinblue charges based on the number of emails sent. It's free for up to 300 emails per day. Paid plans start at $25/month for 10K emails.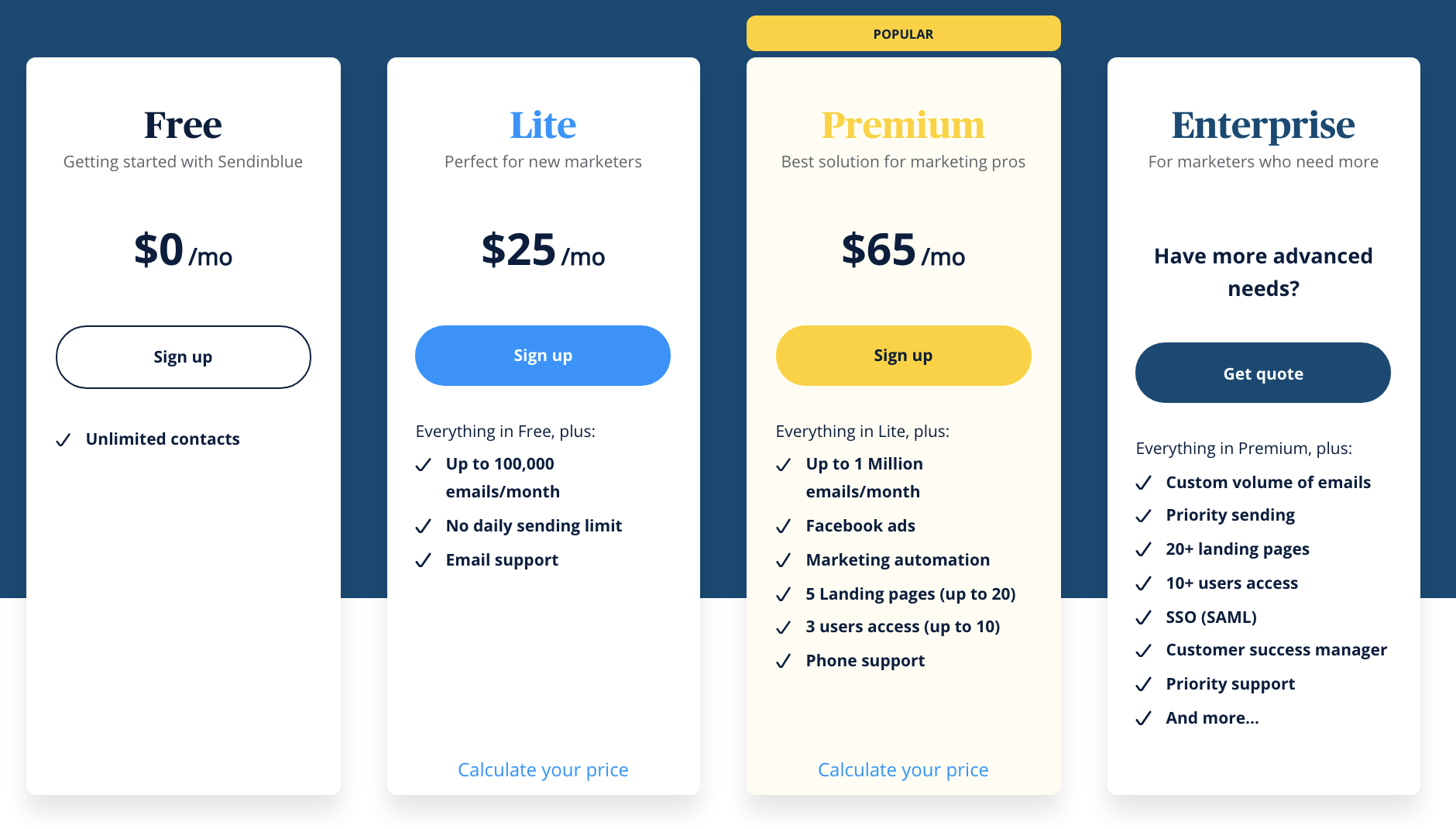 7. Moosend
Free for up to 1000 subscribers. Paid plan starts from $8/month.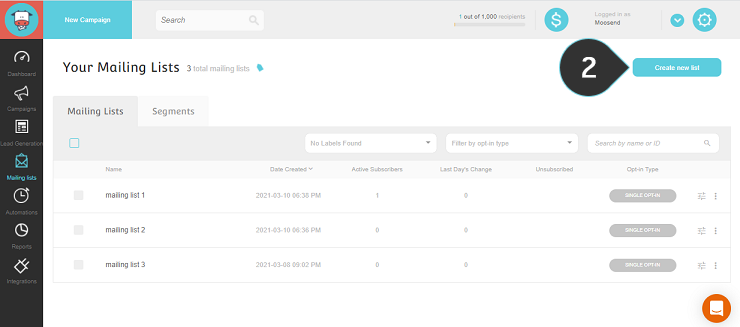 Moosend has all the basic features -- list segmentation, email builder, templates, reporting, etc. -- needed to execute your email marketing strategy.
Moosend boasts powerful email list segmentation features. It allows you to create segments from your existing lists based on any custom field or subscriber behavior you've defined. These segments update in real-time, as new subscribers keep getting added to your list.
It has an AI algorithm that helps you generate dynamic emails that can be used to upsell and cross-sell based on customers' previous buying habits. It's useful for eCommerce companies to send highly targeted emails and nurture their audience.
Pricing
It's free forever with 1000 subscribers and no landing page functionality. If you need landing pages or have more than 1000 subscribers, you can choose a plan starting from $8/mo. For more than 50000 subscribers, you can get a custom quote.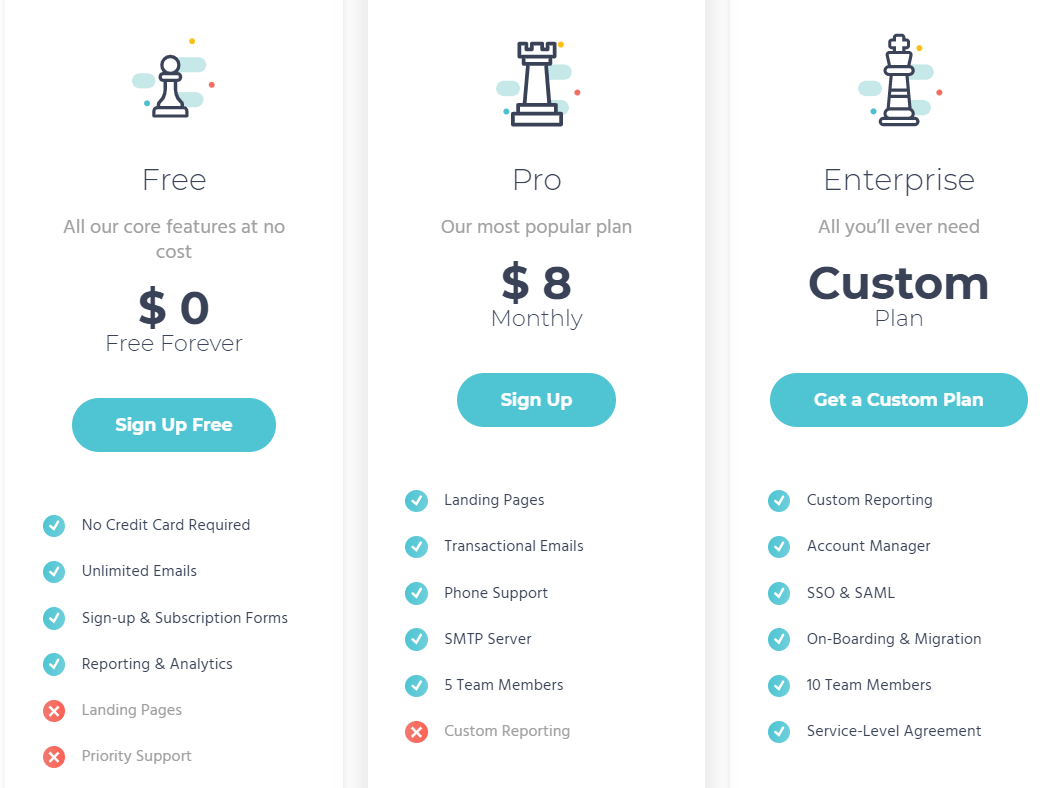 8. Constant Contact
Provides one month free and then $20/mo for up to 500 contacts.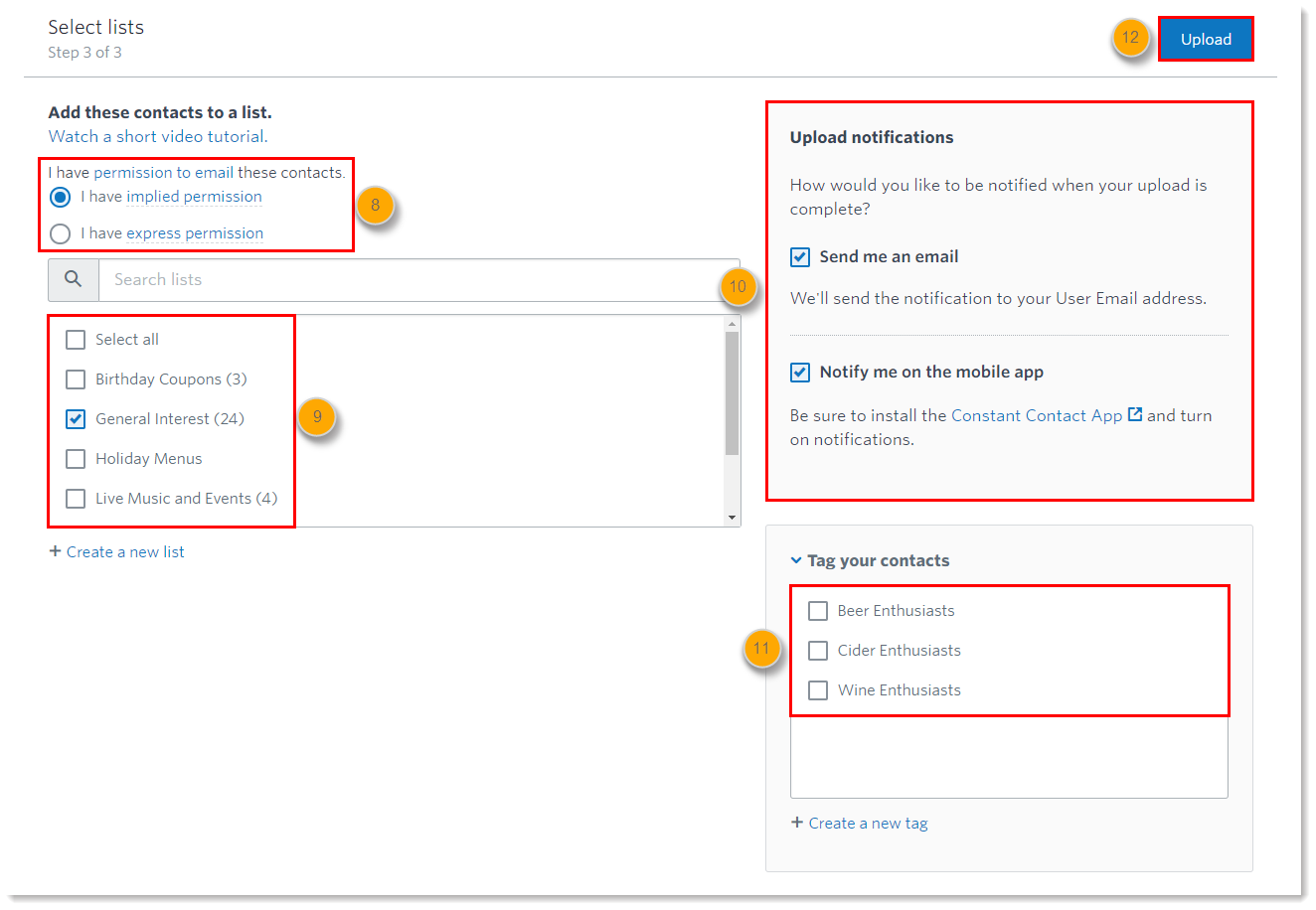 Constant Contact has been in the email marketing space since 1995. They have accumulated a lot of customers and gone through various iterations on their product to refine their list management.
Constant Contact allows you to create lists, manage duplicate entries & merge lists together. It automatically updates duplicate and unsubscribed contacts for you.
You can store as much contact information as you want for each contact​ in your database​—like company, birthday, website, and more.
Their main capability is segmentation based on custom fields & user behavior that allows you to send targeted messages.
For creating emails, you can find 200 templates to choose from. They also allow you to run autoresponders and abandoned cart campaigns for Shopify and WooCommerce, directly from the platform.
Pricing & trial
You can try it for free for up to 30 days. Paid plan starts at $20/month for 500 contacts and you can have 5 users in your account. There is another plan that starts at $45/month and provides advanced features not available in the $20/mo plan.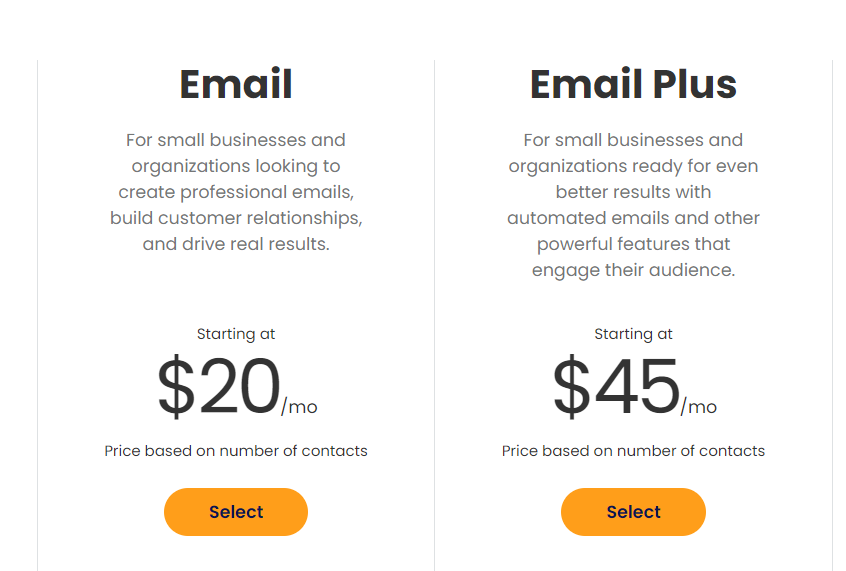 To grow your list: Jotform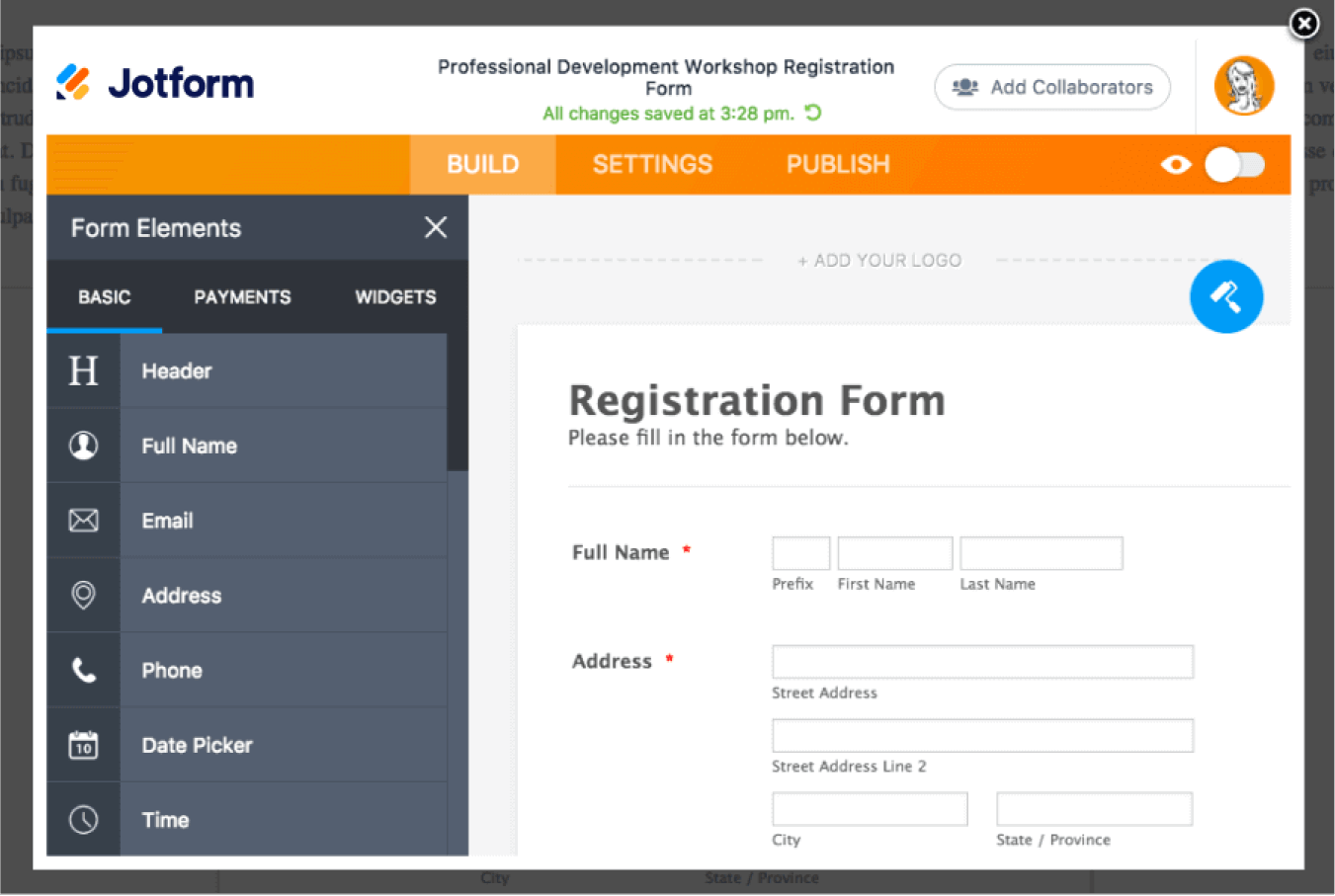 Jotform is a platform that allows you to create custom online forms, without any coding.
It provides an intuitive drag-and-drop user interface to create these forms which can then be integrated with your site or landing page to generate leads and create your list. You can brand the forms according to your brand guideline, add or remove fields the way you want.
This tool doesn't help you manage an already created list but it helps you in the first step, that is, creating emails lists.
Pricing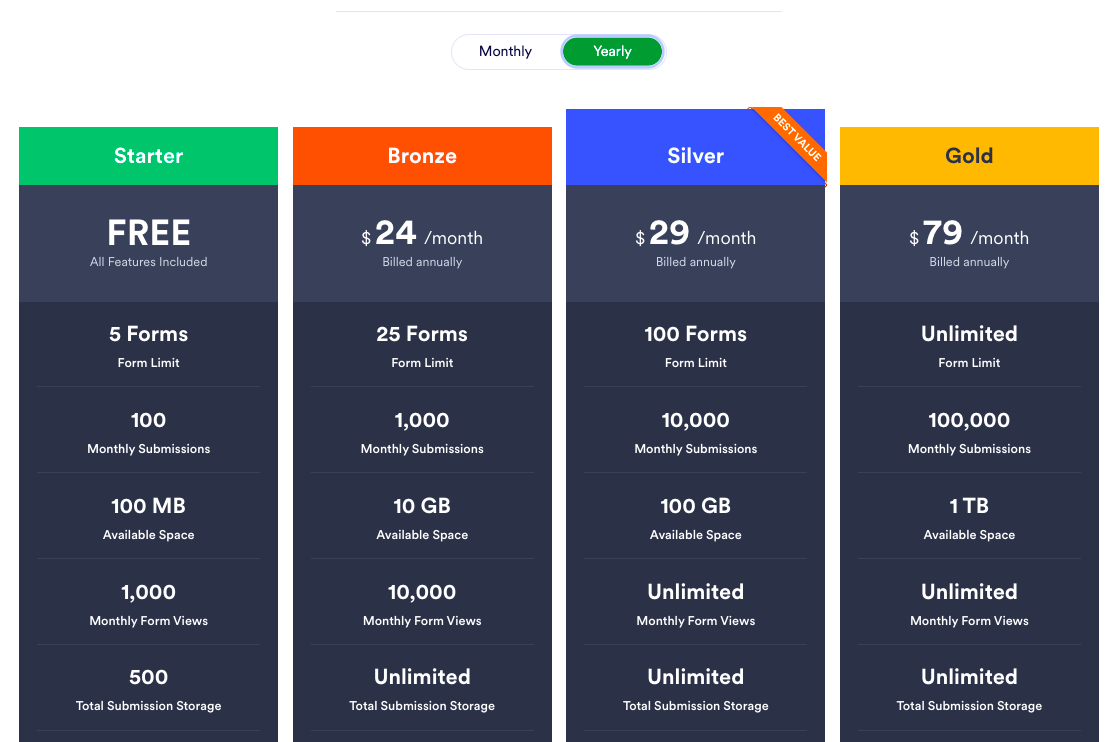 You can create 5 forms and get 100 submissions for free. Paid plan starts from $24/month for 25 forms and 1000 monthly submissions. There is a 50% discount for non-profits and educational institutes.
To keep your list clean: ZeroBounce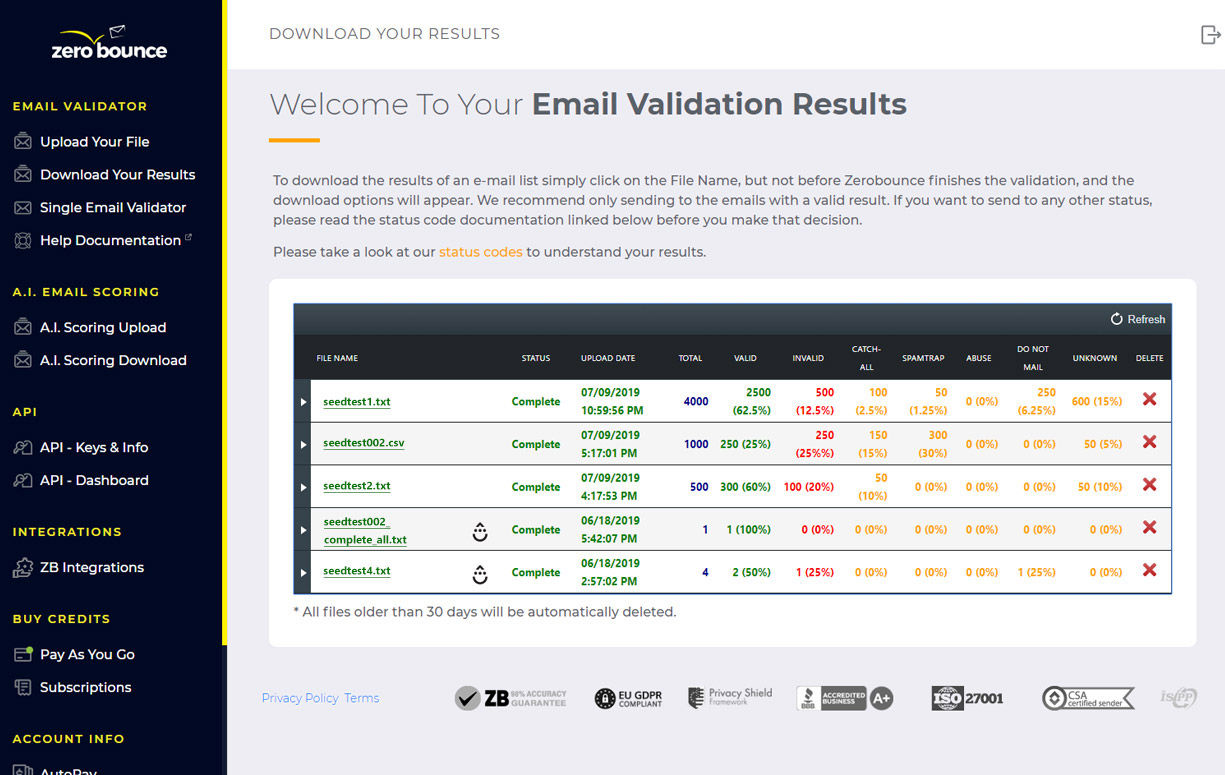 ZeroBounce is an email list validation tool that removes all invalid email addresses to keep your list clean and prevent bounces. This preserves your sender's reputation & increases your email deliverability.
It removes any poorly formatted email addresses, identifies and flags any role account email addresses & detects emails that are known as spam traps.
It also provides an email scoring service and a suite of deliverability tools to improve email inbox placement.
Pricing
It's free to verify up to 100 emails. Then there is incremental pricing. It costs $0.008/email for up to 2000 emails.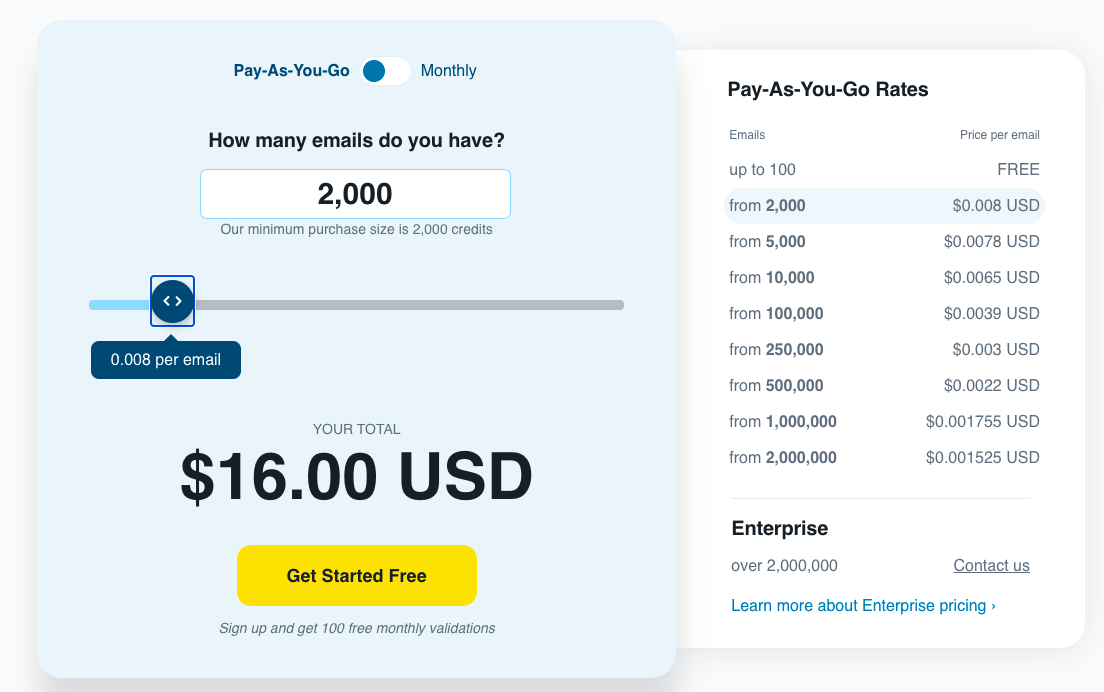 Wrap Up
Keeping your email lists organized can help you run campaigns faster, without missing out on any audience so that you can have time to focus on growing this list and creating valuable content.
We would suggest using a combination of SendX and ZeroBounce. SendX can help you collect emails, segment them and send them to a targeted audience. While ZeroBounce can regularly remove any invalid emails to keep your list cleaned.
---
SendX is intuitive, affordable, and trusted by 3000+ companies for their email marketing. You can give it a try for free 14 days before choosing it for a long-term plan.