7 Ultimate Company Newsletter Ideas To Engage Employees
4 min read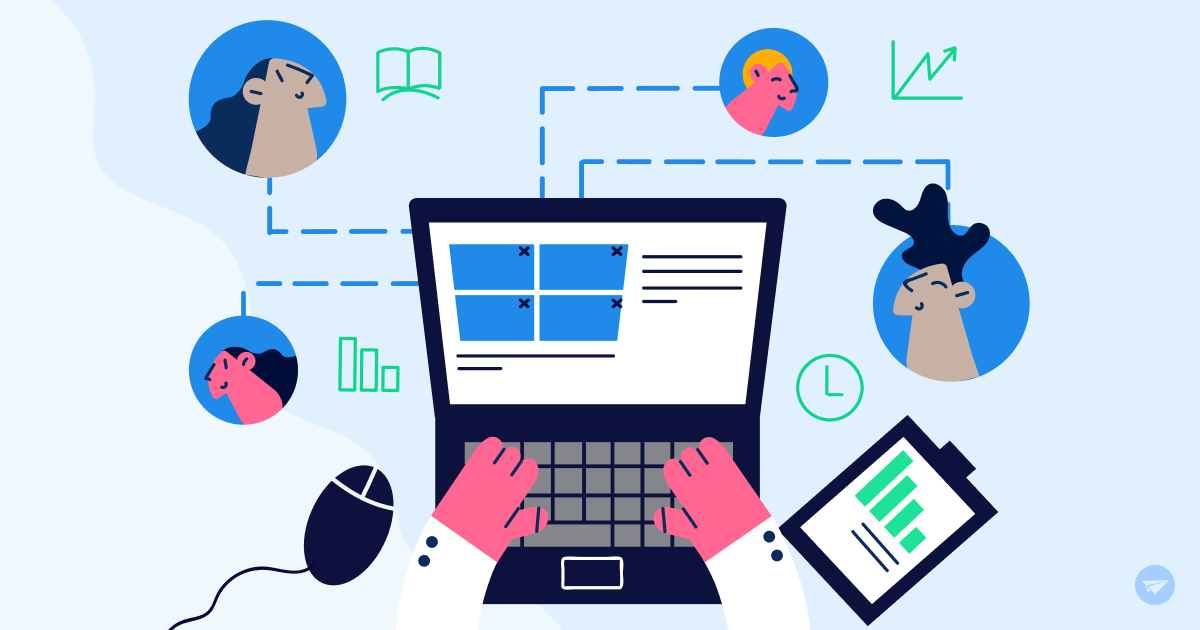 Do you get any response from the employees when you send a newsletter?
Sometimes, but not as per the expectation?
Probably, because employees aren't reading those newsletters. Or worse, dispatching them to trash as soon as it is received because it's not fun to read yet another boring email.
Yeah…
Employees are already drowning in emails & checklists and they don't want to give their time to something which isn't of value to them.
Company Newsletter is an effective, easy to create, and inexpensive method to keep your team aligned on major decisions and happening in your company. They are especially useful in remote settings where over-communication is always helpful.
Newsletters can help you maintain good communication across the company if they are designed keeping in mind what the company wants to communicate & what will catch the attention of employees.
Tips To Design The Newsletter
Get Personal: Replace words like employees and company with pronouns, I, we, and you. This conversational style of newsletters will appeal more to your employees and won't sound like a formal notice.
Bang-on Subject Line: Your subject line decides the fate of your email (trash or inbox). Think of catchy phrases and include merge tags to create a personalized effect.
Include Variety: Spice up your newsletter with a variety to engage all kinds of readers. It can be a fun riddle, quick crossword, quotes, or a couple of jokes.
Look & Design: The newsletter shouldn't be a boring email with lots of words & paragraphs. That instantly turns away the reader. Keep them hooked with a newsletter that is easy to look at with short paragraphs & graphics.
7 Employee Newsletter Ideas That Are Creative & Engaging
Wondering how to make the most of the employee newsletters?
Here are 7 ideas you can try to boost your employee engagement with your newsletter:
1. Industry Updates
To stay ahead of the competition and keep innovating, it's important that employees stay updated. Industry discussions shouldn't be part of just manager meetings but individual contributor employees should also know about what's happening outside of the company. You can include the related news pieces in your newsletter. If your company has been in the recent news then those also can be part of the newsletter.
2. Skill Booster
Employees investing in their skills is a win-win situation for both the employee & the company. You can help them with this by curating free courses, online certifications, learning websites, and related forums. Try to include the resources that offer something for each department.
Bananatag's template for employee opportunities & resources
3. Top 10 Lists & Recommendations
You can create lists of top books of the week, nearby restaurants, movies/series to binge-watch, podcasts, etc. for your employees. You can include a form for suggestions that can be part of your next newsletter , such as birthday, memorial day or pizza day deals.
Bananatag's template for company newsletter
4. Contests & Fun Activities
Engaging group activities are a relief for every employee from their monotonous work. Various team-building activities can encourage the team to perform better with more excitement. In a remote work environment, these can lay the foundations for healthy work relationships and bring about a healthy work-life balance. You can share a newsletter announcing various quizzes, trivia, or fun games where everyone can participate. Include a registration form in this newsletter for the employees. Highlight the prizes for further motivation.
GetResponse employee contest winners announcement email
5. Exercises
With people working from home, the time an average employee spends on their work desk has increased. To maintain the good mental & physical health of your team, send them regular newsletters suggesting some sitting exercises, stretching practices, or casual reminders to just get up and walk a few steps.
6. Customer Success Story
Sharing the success stories of customers is a great way to uplift your team and educate them about customer's needs. Customer's perspective allows the team to understand client expectations so they can contribute in delivering that.
7. Personal Message From CEO
Every organization has values & vision which decides their future roadmap. Company newsletters are a great way to let these common goals trickle down the hierarchy. The CEO can easily communicate the agenda and the corresponding plans to every employee at once to align them for achieving the desired results. It also creates an inclusive environment where the whole organization is informed and can share their feedback for improvement.
Bananatag's employee newsletter with message from CEO
Newsletters are mostly used for company-wide communication related to a new joiner, policy change, anniversaries & birthdays, shout out to employees or departments for achievements, or it could be a management change. Even these newsletters can be jazzed up with a few simple additions. Look for our bonus tip below for suggestions.
BONUS: You can use fillers in your announcement newsletters as well that'll keep the employees absorbed. The fillers can be:
Photo of the week: You can ask the employees to share a fun picture of theirs that can be featured in the newsletter. It can be related to an activity they did on the weekend, a place they explored, or with their furry pets.
Memes: Everyone loves good memes & gifs. Sprinkle them in your newsletter to get a few chuckles from your readers. They'll keep coming back.
Water Cooler Connects: Unlike offices, in remote working, employees don't have the luxury of bumping into their colleagues at the water cooler or coffee machine.
Give the employees an option to connect virtually with their co-workers for an informal chit-chat which can boost camaraderie in the workplace.
You can try out Taggg that helps to avoid the back & forth while fixing a time for the meet. Even group meetings can be scheduled effortlessly with it.
Recipes: Employees can be asked to share the food recipe they've mastered with others.
Q&A: There is nothing like Q&As to engage the teams. Ask the employees to share their questions anonymously and the others can reply to them. These questions need to be work-related but can be anything ranging from philosophical to wacky.
Wrap Up
The best part of the newsletters is that there is no strict format you have to follow. You can mix & match various themes to test what works among your team the most.
The motive behind the newsletters should be to offer value to the employees while bringing everyone on the same track.
If you ever run out of ideas, make that a newsletter as well and ask your team to bring their suggestions to the table. Anything that interests the employees to open their email & engage is a success for you.
Now, go ahead & let your creative newsletter build a team of engaged & informed employees.
FAQ's
1. What are the benefits of sending a company newsletter?
A company Newsletter is an effective, easy to create, and inexpensive method to keep your team aligned on major decisions and happening in your company. It is especially useful in remote settings where over-communication is always helpful.
2. Can you offer some tips for designing a great employee newsletter?
Here are some tips for designing a great employee newsletter:
Keep the wording personal
Have a catchy email subject line
Include variety
Use short paragraphs and graphics.