| | | | | |
| --- | --- | --- | --- | --- |
| Email Marketing Platform | Trial | Starting Price | The Good | The Bad |
| SendX | 14-day free trial | $7.49 / mo | Easy to use, Super affordable, High deliverability | Lack of advanced automation workflows |
| Mailchimp | Forever free up to 2k contacts | $10.29 / mo | All-in-one marketing platform, Forever free plan | Complicated pricing structure, Low deliverability |
| Active Campaign | 14-day free trial | $9 / mo | Advanced automation, Lead scoring | Extra charges for integrations |
| MailerLite | Forever free up to 1k contacts and 12k emails | $10 / mo | Unlimited landing pages | Limited reporting capabilities |
| SendGrid | Forever free up to 2k contacts and 6k emails | $15 / mo | Easy integrations, Flexible API | Extensive, Limited Resorting, Poor customer support |
| Sendinblue | Forever free up to 300 emails per day | $25 / mo | SMS campaigns, Transactional emails | Limited integration, Less options for re-designed templates |
| Moosend | Forever free | $8 / mo | Visual automation builder, Landing age designer | Limited analytics, Low deliverability |
‍
‍
SendX
SendX is an intuitive, simple, and affordable email marketing software that is apt for sending mass communication.
‍
The drag and drop email editor is easy to use even for a newbie. You get ready-made elements for embedding a button, text box, divider, image, etc. Everything is customizable to suit your brand and type of email.
You can preview the email you create via desktop or mobile view with just one click.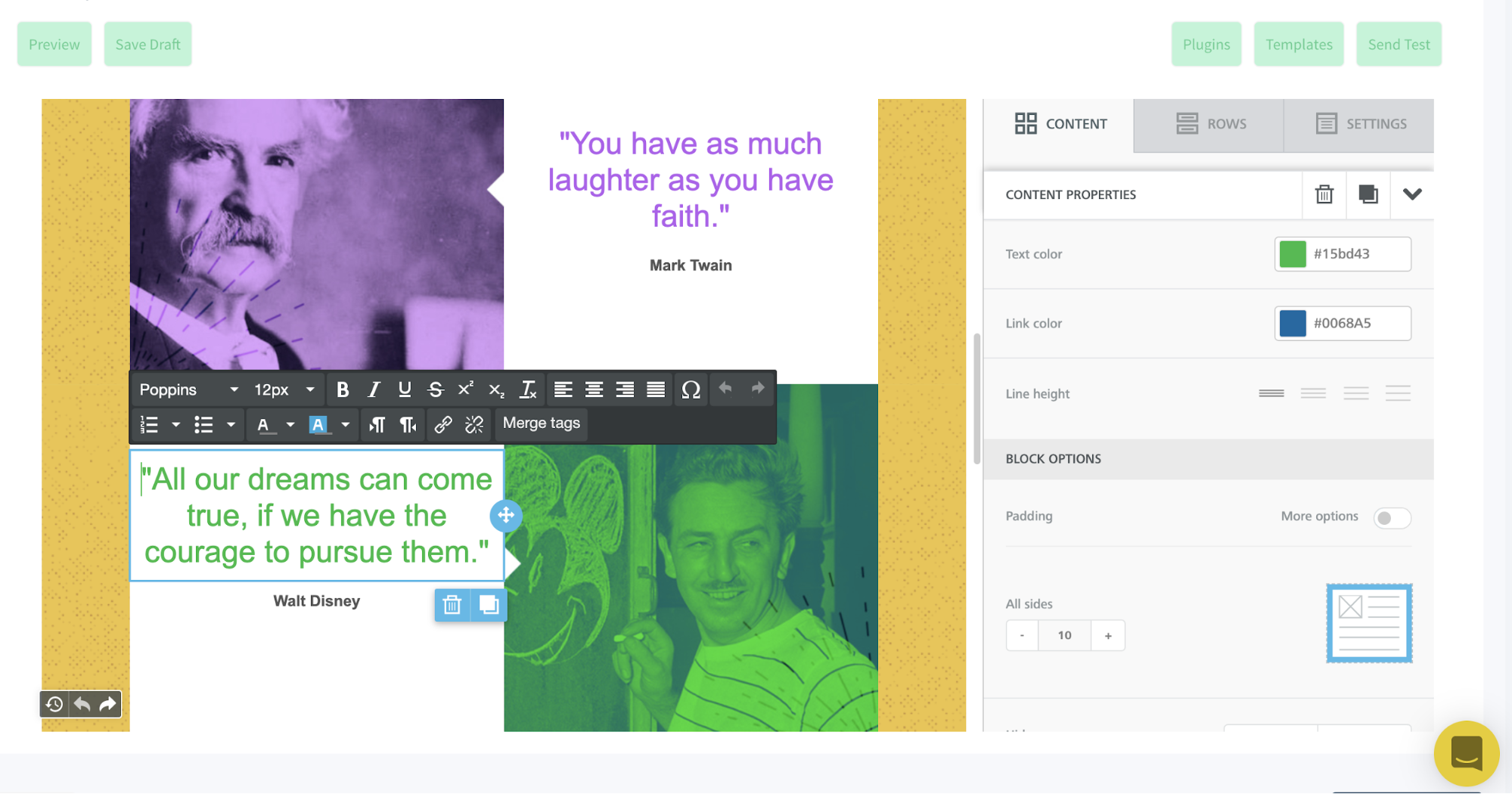 If you don't have much time and want to start from ready-made templates, choose from a library of 20+ free, mobile-friendly, and responsive templates.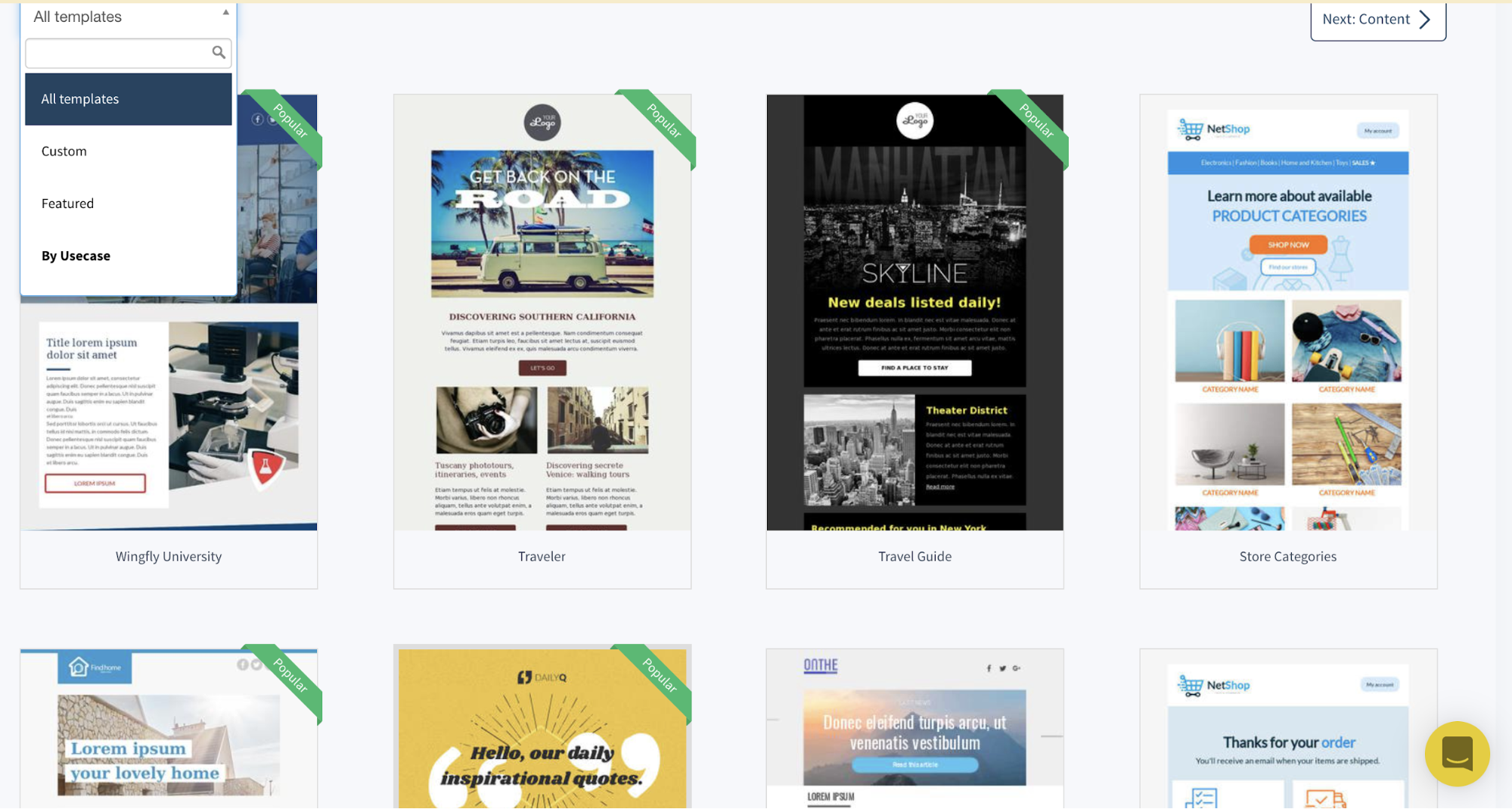 ‍
Along with every price plan, you get access to a collection of almost half a million stock images that can turn around the look and feel of your emails.
SendX has the right technology infrastructure to optimize your email campaigns based on 30+ parameters including past open behavior, timezone, domain name, email client, ISP, etc. This ensures high email deliverability and your email always lands in the inbox.
With every SendX plan, you can send unlimited emails to your subscribers. You will only be charged for your subscribers. So now you can be in constant touch with your subscribers.
You can create automation workflows for various user journeys such as an abandoned cart, new subscriber joining the list, re-engagement for inactive subscribers, and many more.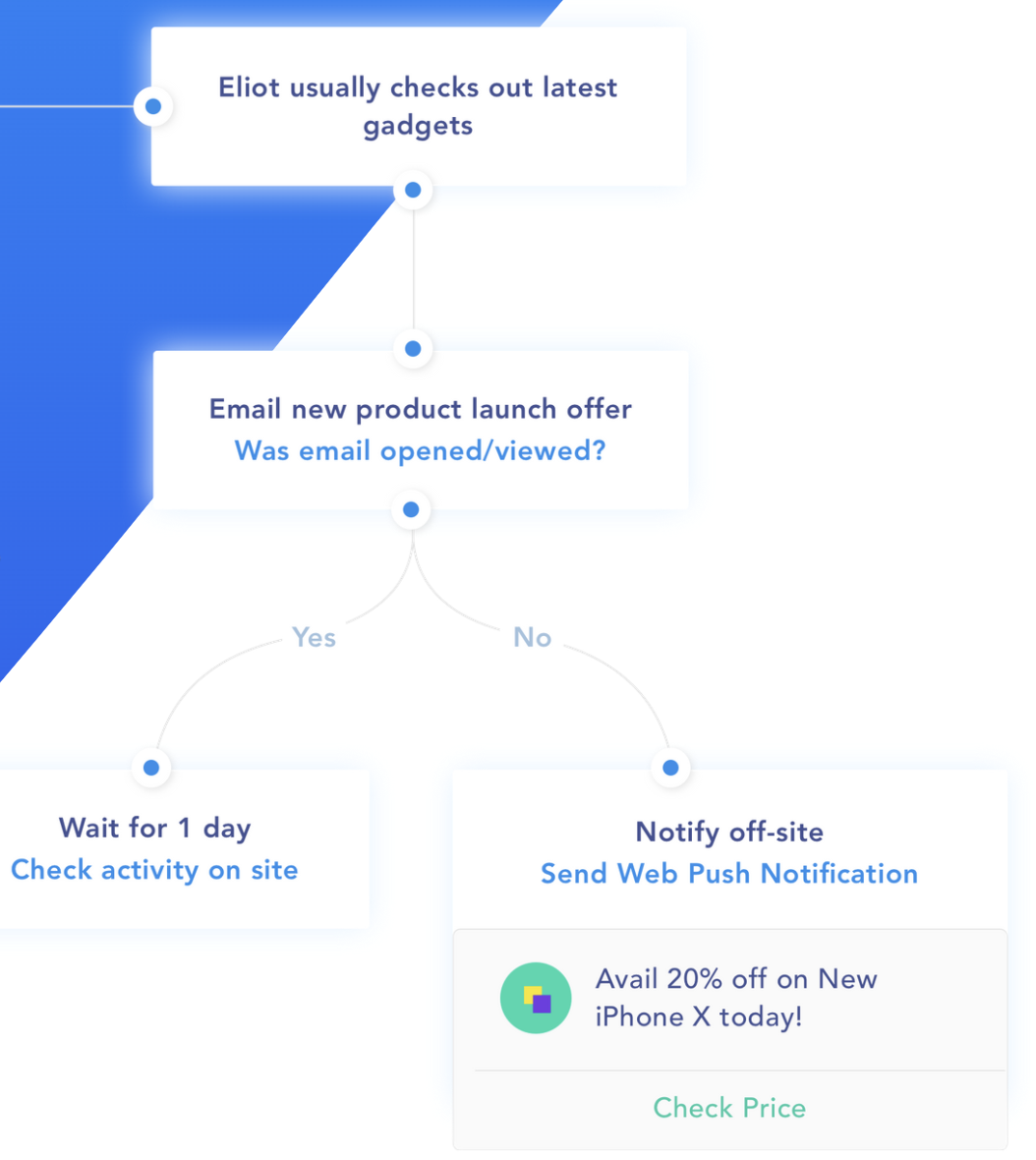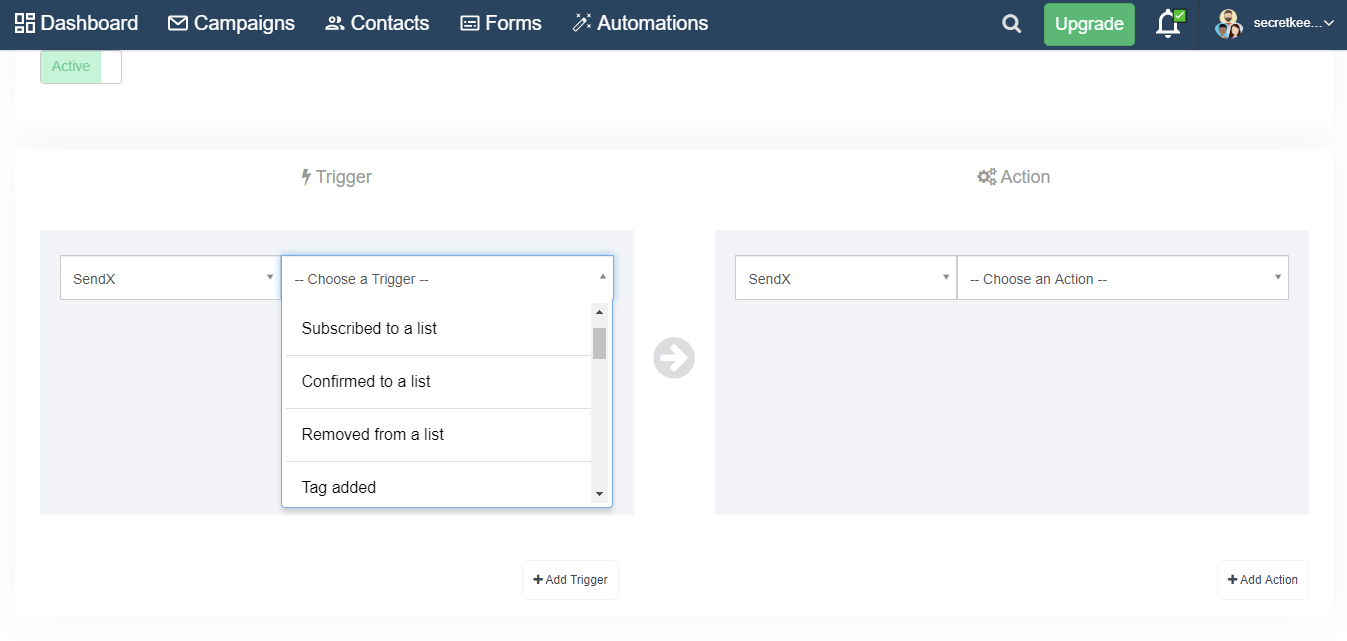 | | |
| --- | --- |
| Pricing | SendX costs $7.49 for 1000 contacts & unlimited emails. Mailjet starts from $15 for 15K emails per month |
| Trial? | 14-day free trial. No credit card required |
| Recommended if | If you're looking to send mass communication via email & need a tool that makes it easy to create emails and ensures high deliverability |
| Not recommended if | If you're looking for multi-variant testing, a large number of integrations, or e-commerce tracking then SendX won't be a fit for you. However, the team is proactive in spinning out new features so you can expect them soon. |
‍
Mailchimp
Before Mailchimp evolved to become an all-in-one marketing CRM, it was popular as an email marketing software. That's their strength. Let's see what they have to offer:
Email builder provides you 5 main categories of templates to choose from:
Layouts (Featured & Basic): Choose an option and build on top of it
Themes: Pre-defined templates you can customize
Saved Templates: Templates you created or exported from 3rd party platforms
Campaigns: Email campaigns you sent in the past
Code Your Own: Option to create your template using HTML, from scratch.
The automation features of Mailchimp make marketing easier to do. For example, you could run a Facebook ad and direct people to a landing page where you collect their email addresses. Those email addresses can be directly added to your broadcast list in Mailchimp. There are many more scenarios for which you can use Mailchimp.
Mailchimp integrates with about 250+ web services and apps. For example, you can integrate PayPal with Mailchimp and import contacts of everyone who buys using your PayPal into your email marketing ecosystem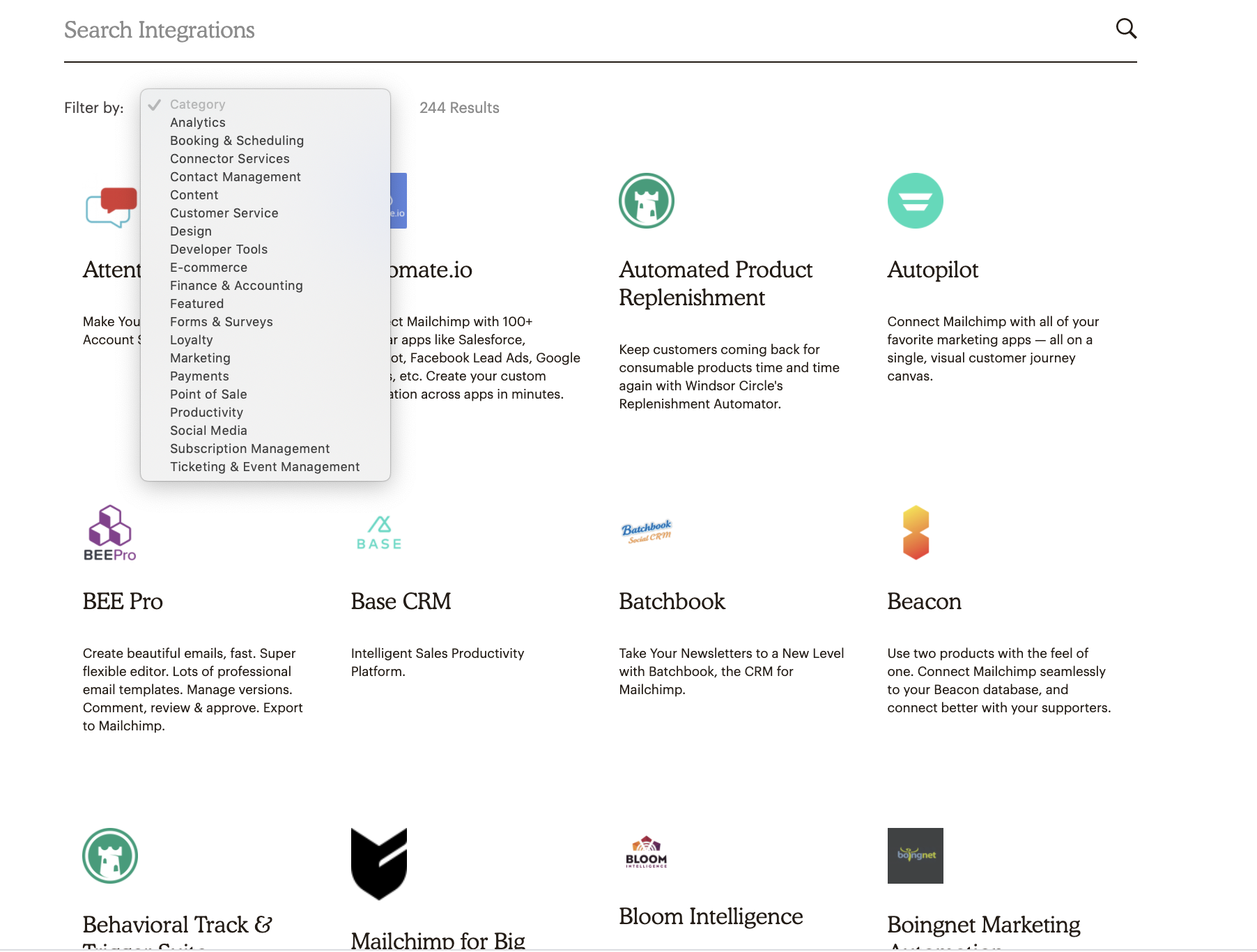 ‍
Dashboards that show campaign performance, list growth, newsletter metrics help you make data-driven decisions. These reports can be downloaded, automated to send directly to your email, shared with colleagues.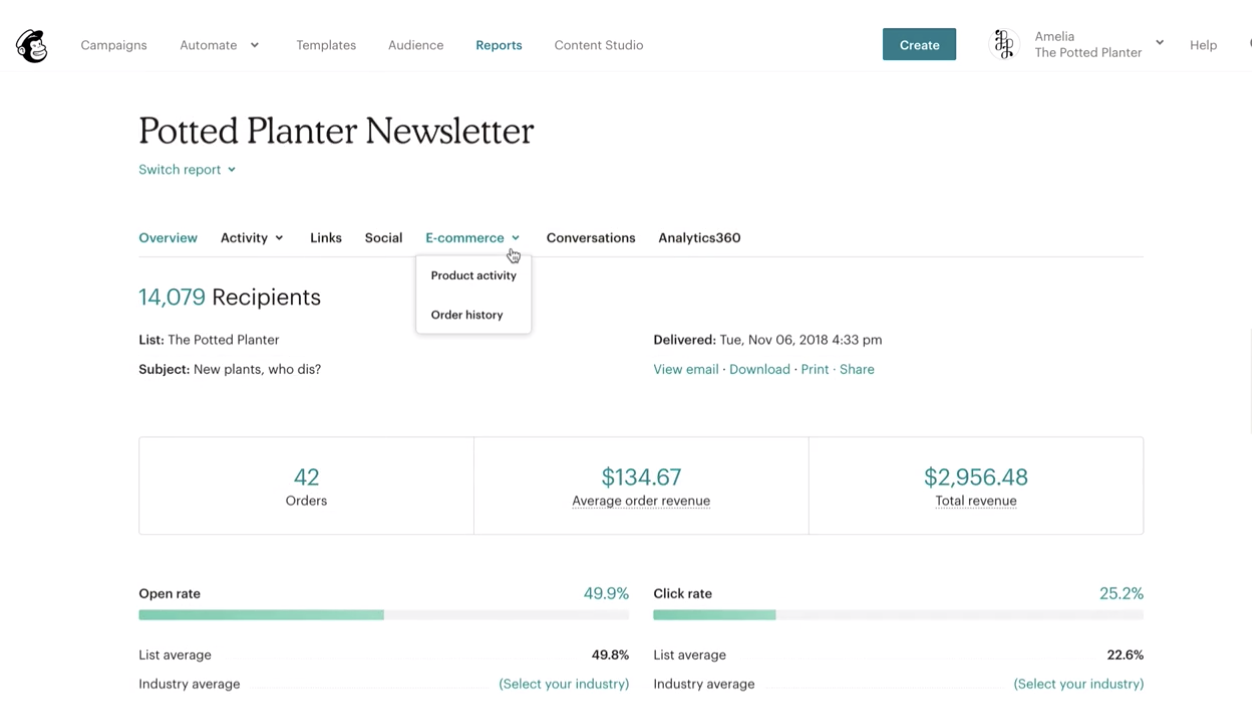 | | |
| --- | --- |
| Pricing | Paid pricing starts at $10/mo for 500 subscribers |
| Trial? | Forever free plan (fewer features) for up to 2000 contacts |
| Recommended if | If you are just starting out and want a basic free plan to test your campaigns or if your marketing needs have grown so much that you now need to integrate all of your marketing in one place. |
| Not recommended if | If you're looking for a less expensive solution, Mailchimp is not a great choice. It will get expensive as your contacts increase. They also charge for un-confirmed and unsubscribed contacts. |
‍
Active Campaign
Active Campaign is a powerhouse of email marketing, suitable to implement advanced email marketing strategies. Some notable features include automation, lead scoring, and a number of integrations.
Active Campaign provides an easy and efficient way to create and manage your automation flows. They provide a simple drag-and-drop builder in a canvas-like setting where you can drag elements to build your automation flow. You can also use the pre-built automation templates and customize them as per your needs.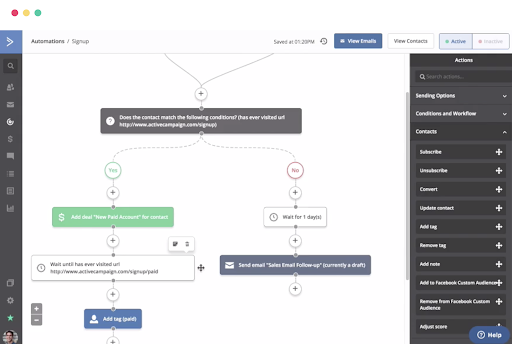 ‍
‍
Segmentation with ActiveCampaign is easy. You can segment contacts using custom fields like location, interests, engagement level. These tags and custom fields can be added or removed via automation too.
ActiveCampaign offers lead scoring that allows you to assign numbers based on past actions of subscribers. This helps you segment the audience from highly engaged to totally inactive. And then you can decide your marketing strategy based on quantitative data.
‍
| | |
| --- | --- |
| Pricing | Active Campaign starts at $9/mo for 500 subscribers. |
| Trial? | 14-day free trial with 100 contacts and 100 emails |
| Recommended if | Marketing automation, segmentation, lead scoring, and analytical reports are your main requirements |
| Not recommended because | The email editor is a bit clunky and not super smooth to use. It can get expensive as you scale to more subscribers. |
‍
Mailerlite
MailerLite's email editor lets you embed dynamic content in your emails. You can create email blocks that will be visible to a specific audience. This helps in personalizing the email and driving up engagement.
If you embed a youtube link in your email, MailerLite makes a gif of that video to keep the email fun and interactive.
Once you sync all of your Shopify contacts to MailerLite, it will automatically create segments based on customers' history (e.g. repeat customers, first-timer, high spenders, etc.). You can create more rules to automatically segment people into categories when they sign up or take any action in your emails.
| | |
| --- | --- |
| Pricing | $10 for 1000 subscribers, with unlimited pricing |
| Trial? | Forever free for up to 1000 contacts |
| Recommended if | Recommended if you are a small business that doesn't need complicated automation or have any CRM needs. MailerLite is best for freelancers, bloggers, and small businesses. |
| Not recommended if | If you are looking for many integrations, automation, or a large number of templates. |
‍
Hubspot
Hubspot is more famous as a complete CRM solution but it's email marketing platform is also great on it's own. Although it comes with a price.
HubSpot's drag-and-drop editor helps you create responsive emails without any extra coding or settings. You can either create your own emails or choose a template from a gallery of pre-built templates and customize it.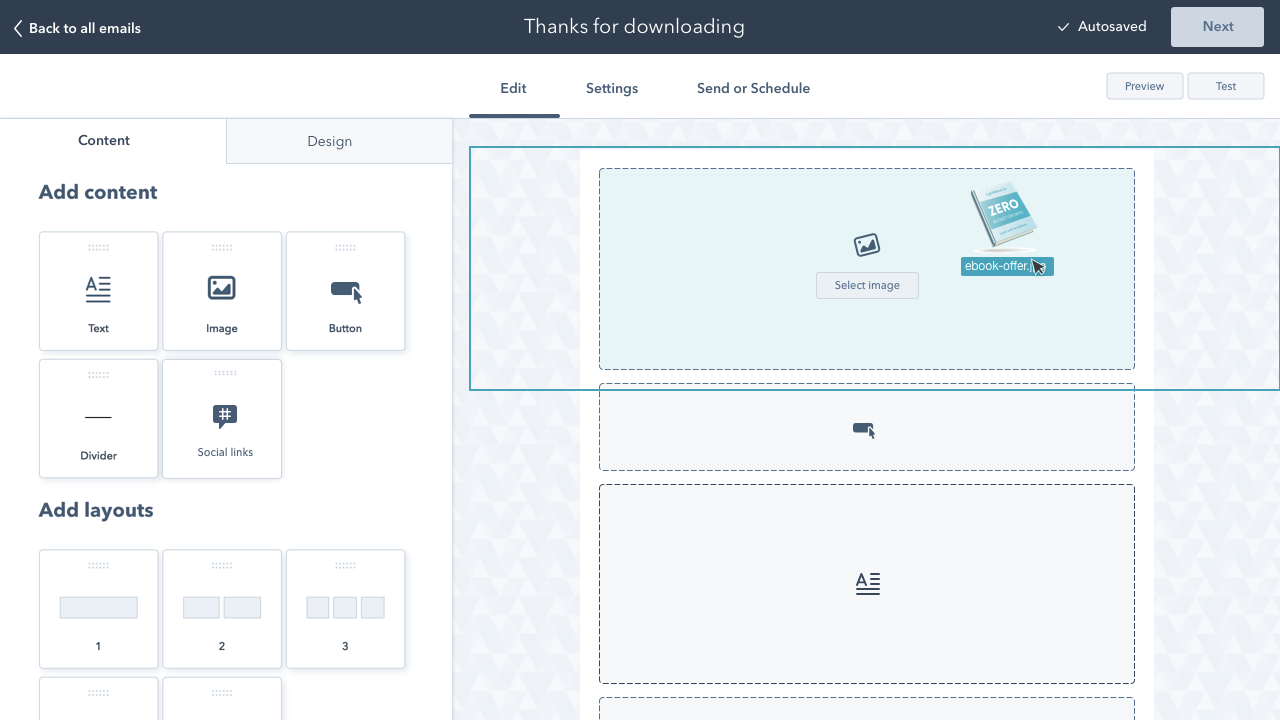 ‍
‍
The unsubscription feature in Hubspot is different from the other ESPs mentioned here. It allows a subscriber to unsubscribe from some specific email topics or lists, instead of permanently unsubscribing to the entire email list.
HubSpot's analytics dashboards provide data on open, clicks, unsubscribers, time spent viewing emails, and click map. These are not usually found in less advanced email marketing platforms. You can get data on the performance of an individual email or the complete email campaign.
It also shows a comparison on the performance of your recent emails vs your past emails.
‍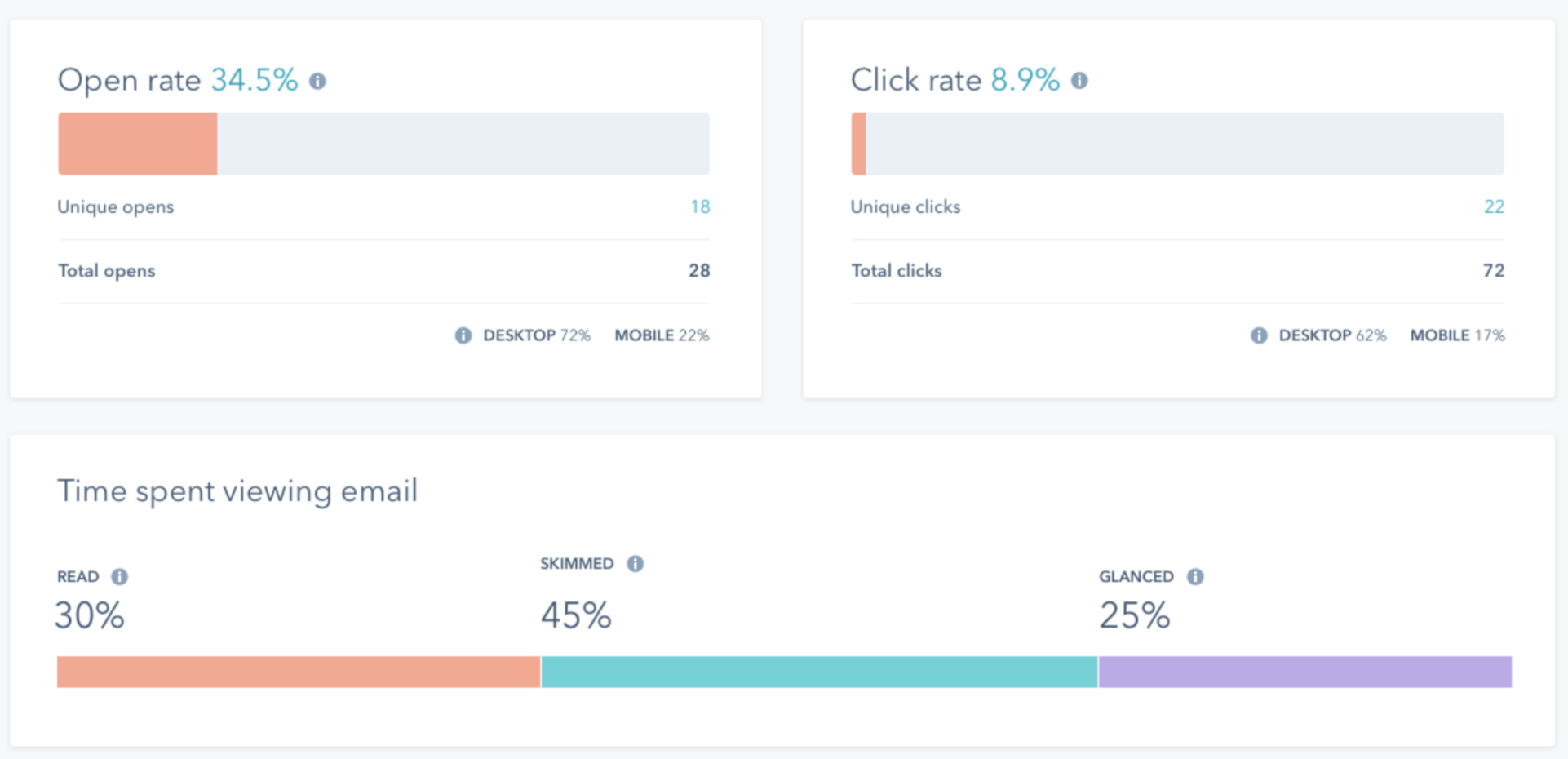 When working with a team, Hubspot's collaboration feature shows you the version history, making the experience smooth for the team. You get a sharable link so that your colleagues know what the email looks like before sending it to your subscribers.
| | |
| --- | --- |
| Pricing | Starts at $45/mo |
| Trial? | 14 day free trial |
| Recommended if | If your marketing plan is clear and you will likely scale and have more complex workflows in coming months, then Hubspot is a great choice |
| Not recommended if | If you think you will not use all the advanced features or don't have clarity on your marketing plan |
‍
Sendinblue
Sendinblue not only provides email marketing functionalities but also SMS, landing page builder, Facebook ads integrations, signup forms, etc.
You can find templates for creating emails as well as landing pages. If you know HTML or have your own code, you can create these from scratch too. Their editor is an easy drag-and-drop type.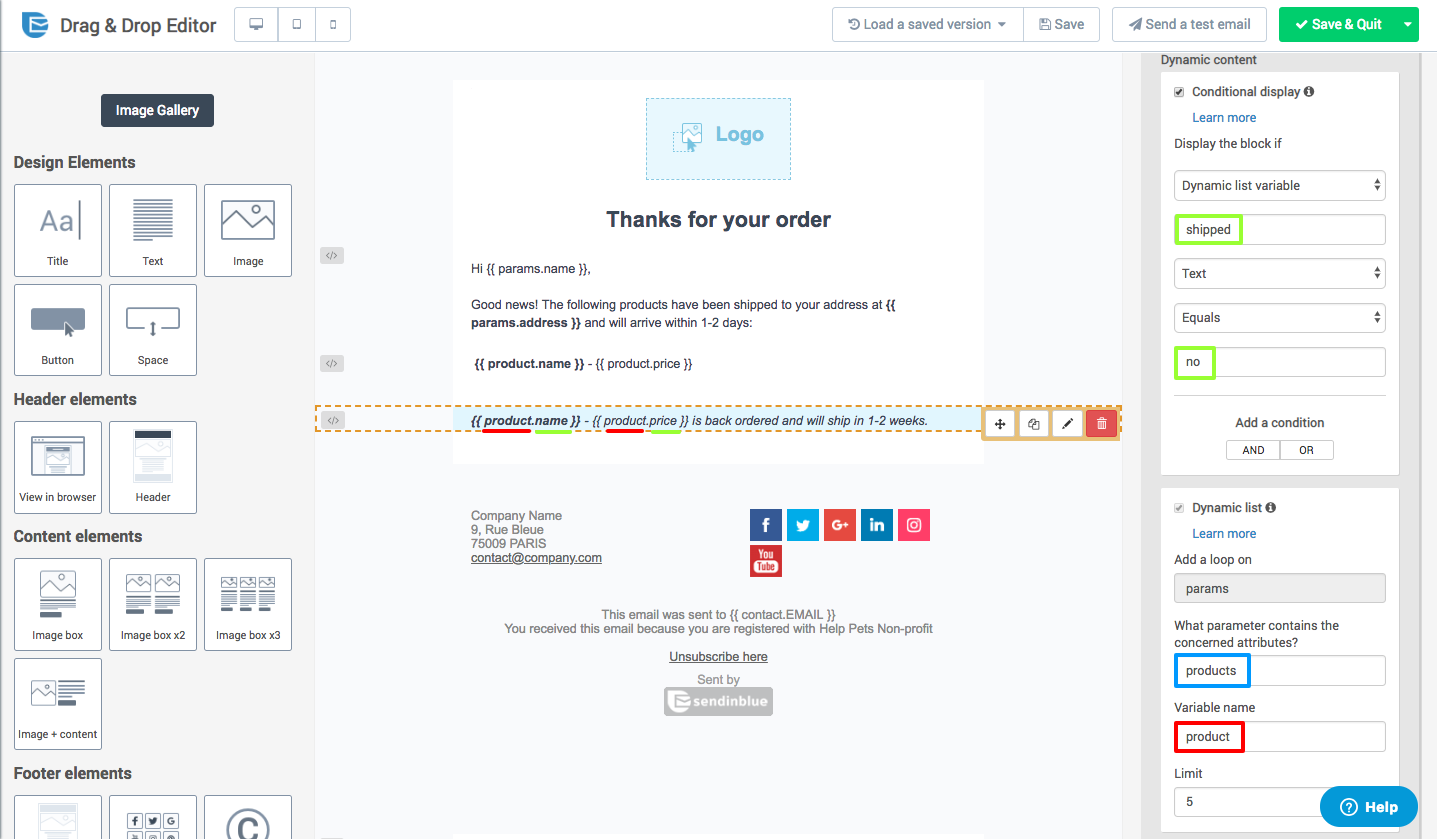 For automating email flows or certain tasks, choose from the 9 pre-built workflow templates. You can also create a workflow from scratch. The workflow editor is also visual and all you need to do is select the element to add.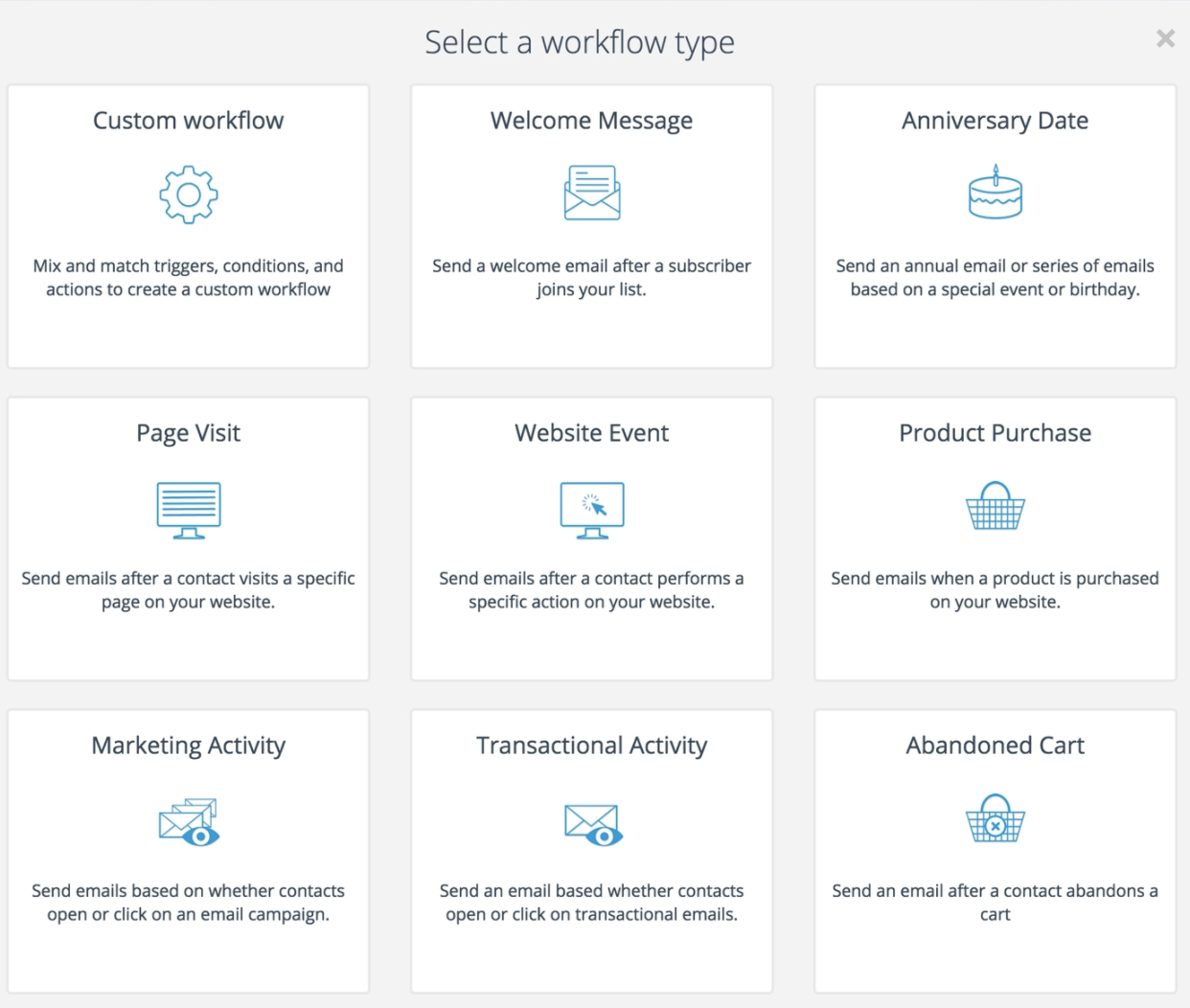 Use the 'send at best time' option that will automatically send an email based on the time when the recipient is most likely to open it. This maximizes your open rates and increases engagement.
You get dedicated transactional email templates & reports. You can use different setup options for your transactional emails, such as API, SMTP Relay, or eCommerce plugins.
| | |
| --- | --- |
| Pricing | Starts at $25/mo for 10K emails for their basic plan |
| Trial? | Forever free for up to 300emails/day |
| Recommended if | If you are looking for low-cost software and want to leverage SMS also, then Sendinblue would be a fine choice. |
| Not recommended if | If you are looking for various integrations and won't be using transactional capabilities, then it might get expensive. |
‍
Moosend
Moosend is an affordable email marketing software that provides automation features, an intuitive email editor, as well as a landing page designer.
Along with a drag-and-drop editor for creating emails, you also get an easy-to-use designer for creating landing pages. Both cut your email and landing page creation time in half. There are also pre-built templates (about 70 of them) for both emails and landing pages. These templates are fully customizable and responsive.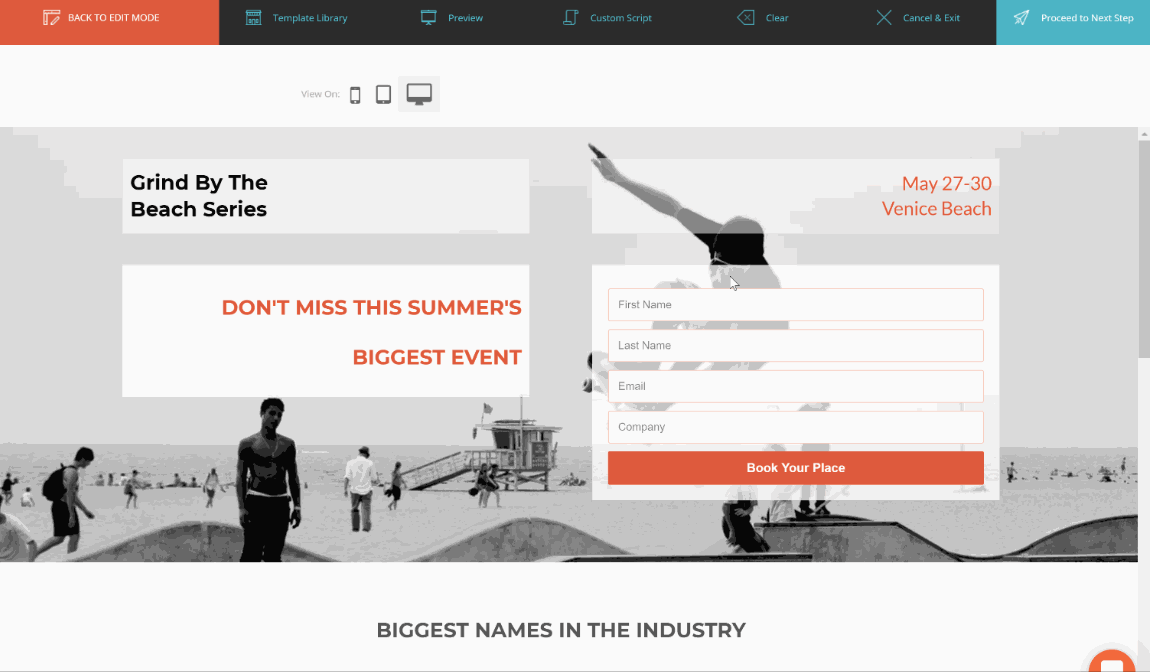 Get a visual automation builder, even with free plans. This allows you to create various sequences like cart abandonment, welcome emails, thank-you emails without juggling with if-else or too many complicated selections. You can also choose from one of the pre-built automation and customize it according to your requirements. This is one feature that is either not available in email marketing tools at this price or if available, you have to choose expensive plans to access it.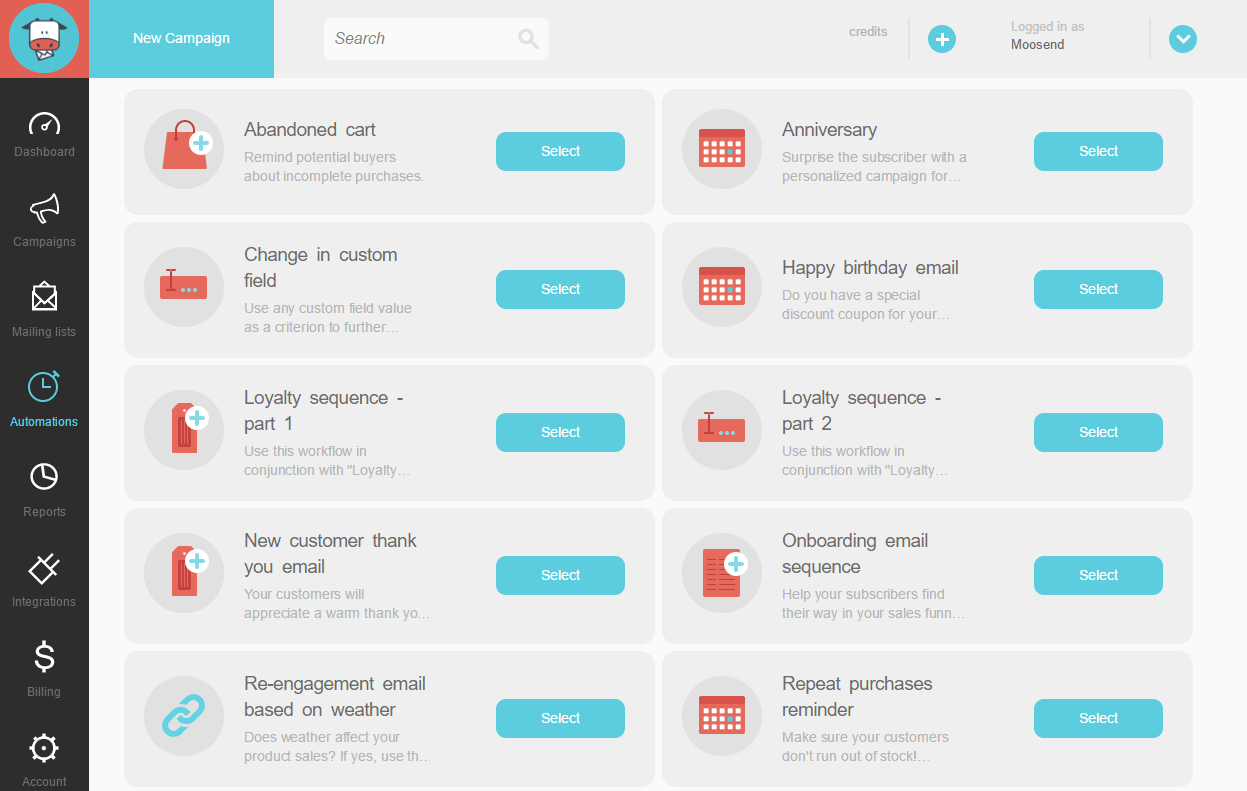 ‍
Pricing
Starts with $8/mo for 1000 subscribers
Trial?
Forever free with limited features for up to 1K subscribers
Recommended if
If you need

pre-built automation templates, visual automation builders, landing page designers at affordable prices

Not recommended if
If you need advanced analytics, can't bear with slow interface & prioritized email deliverability
‍
Which should you choose?
The perfect option will depend on your needs, budget and business goals. Out of these 7 options, you can get a trial for the 1 or 2 tools you think will fit your needs.
To start with, SendX might be a good choice. You get unlimited emails, segmentation functionalities, templates to quickly create emails at affordable price, without compromising the deliverability of your emails.
The best part is that you can test out all the features, run a campaign without paying anything for the first 14 days. Signup for a free trial. No credit card required.