But we understand the kind of email marketing software that will fit your requirements if you are comparing those with ActiveCampaign.
So to help you choose an alternative, we have analyzed the top 6 software to help you grow your email marketing on the basis of features, pricing and customer support available.
Read on to find out more.
‍
1. SendX
SendX is an intuitive, simple, and affordable email marketing software. They have been in business for only 3 years but already popular with 3000+ companies. Let's see what makes them attractive.
Their WYSIWYG editor uses drag-and-drop blocks. It's easy to create your emails from scratch.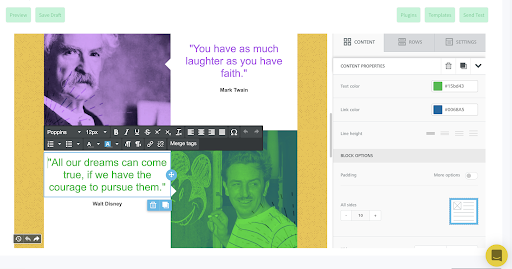 If you want to start from premade templates, you can choose from a library of 50+ free, mobile-friendly, and responsive templates.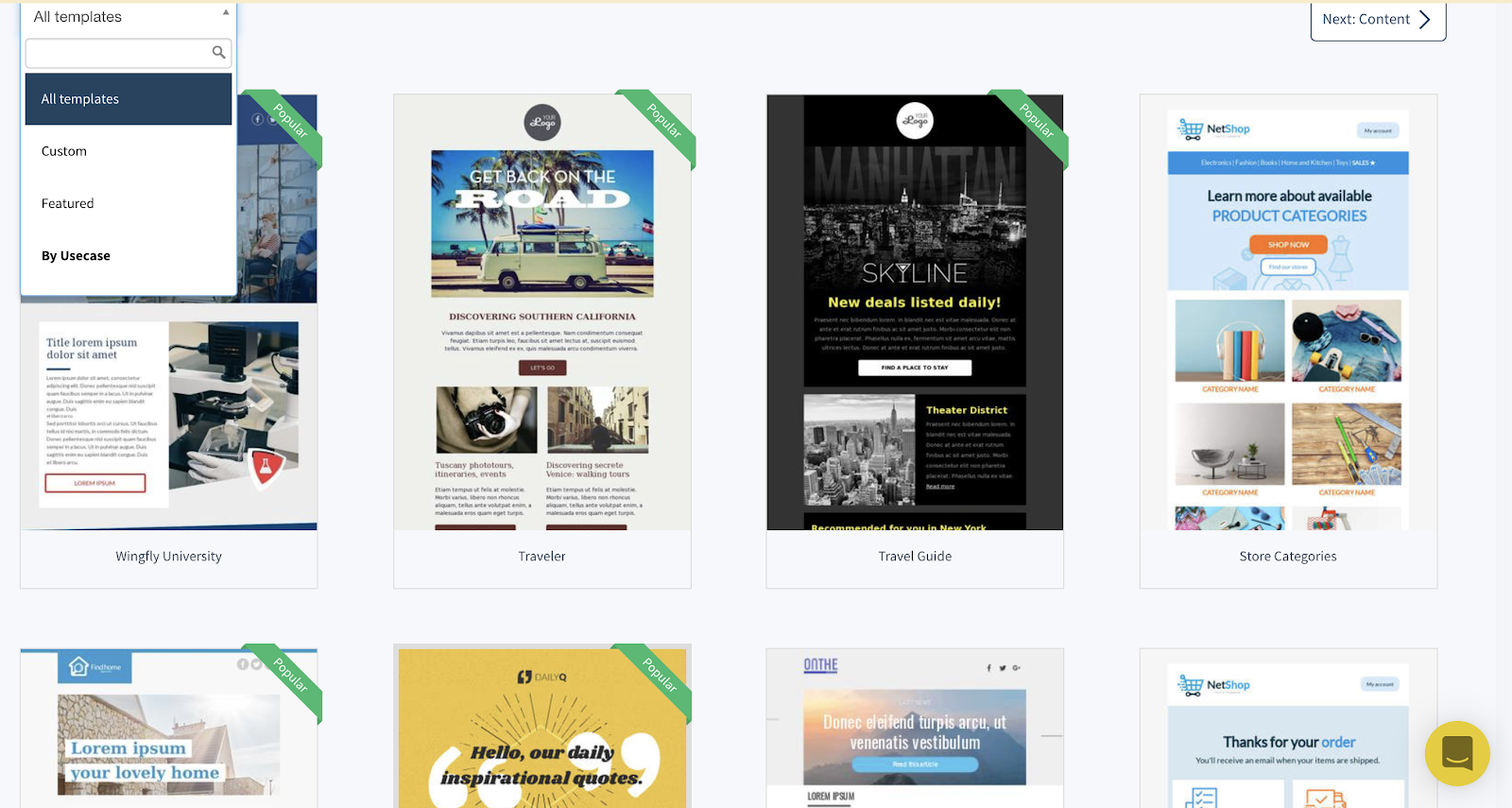 Along with every price plan, you get access to a collection of almost half a million stock images that can turn around the look and feel of your emails.
Many of their customers migrated from other popular software because SendX ensures high deliverability. They optimize your email campaigns based on 30+ parameters including past open behavior, timezone, domain name, email client, ISP, etc.
With every SendX plan, you can send unlimited emails to your subscribers. You will only be charged for your subscribers.
Their automation workflows are simple to manage but powerful when used in combination with their segmentation features and high-converting templates.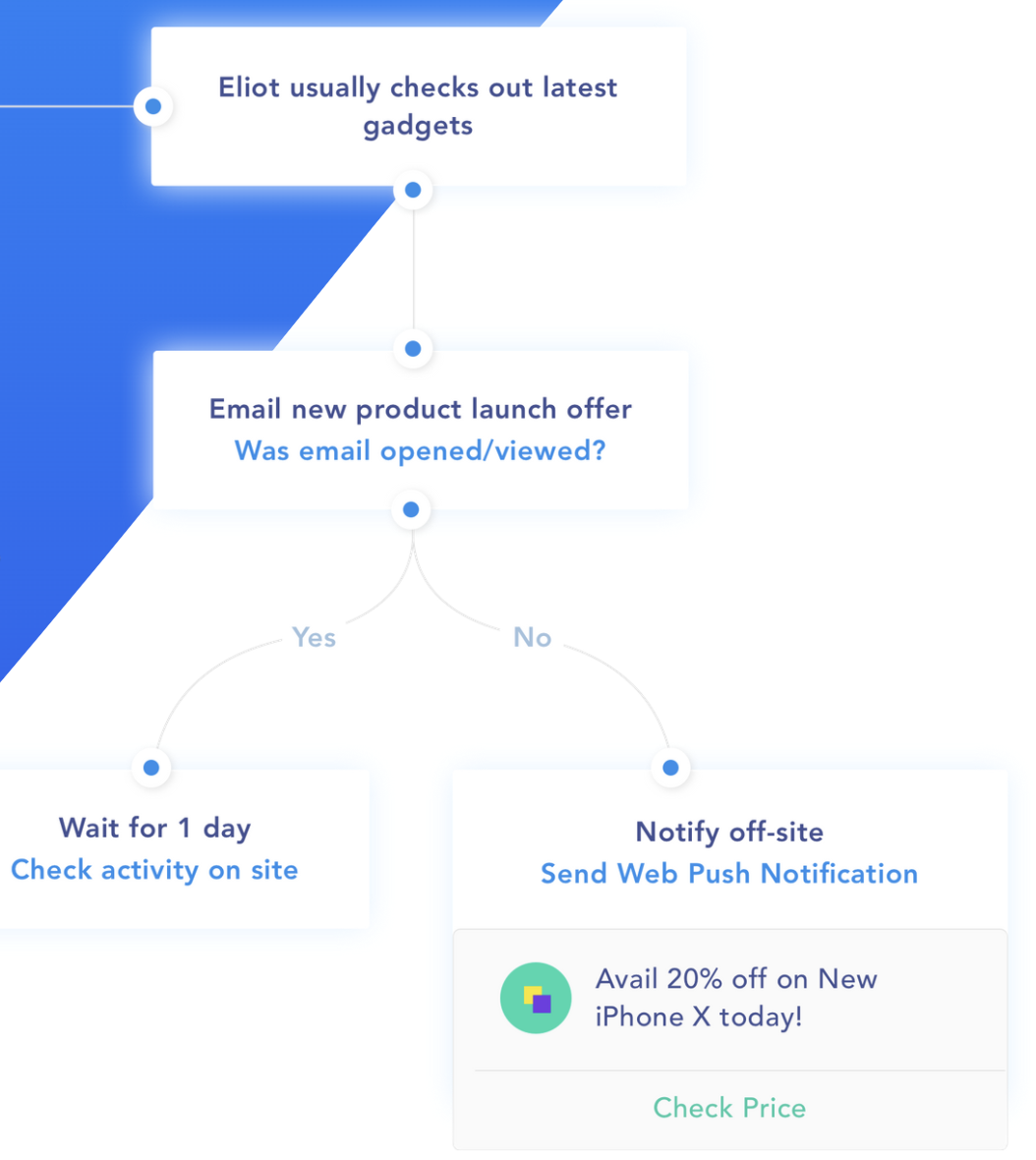 SendX offers a number of in-built triggers and other settings, so you can quickly find and create the right campaign for your business needs. You can also create custom automation from scratch.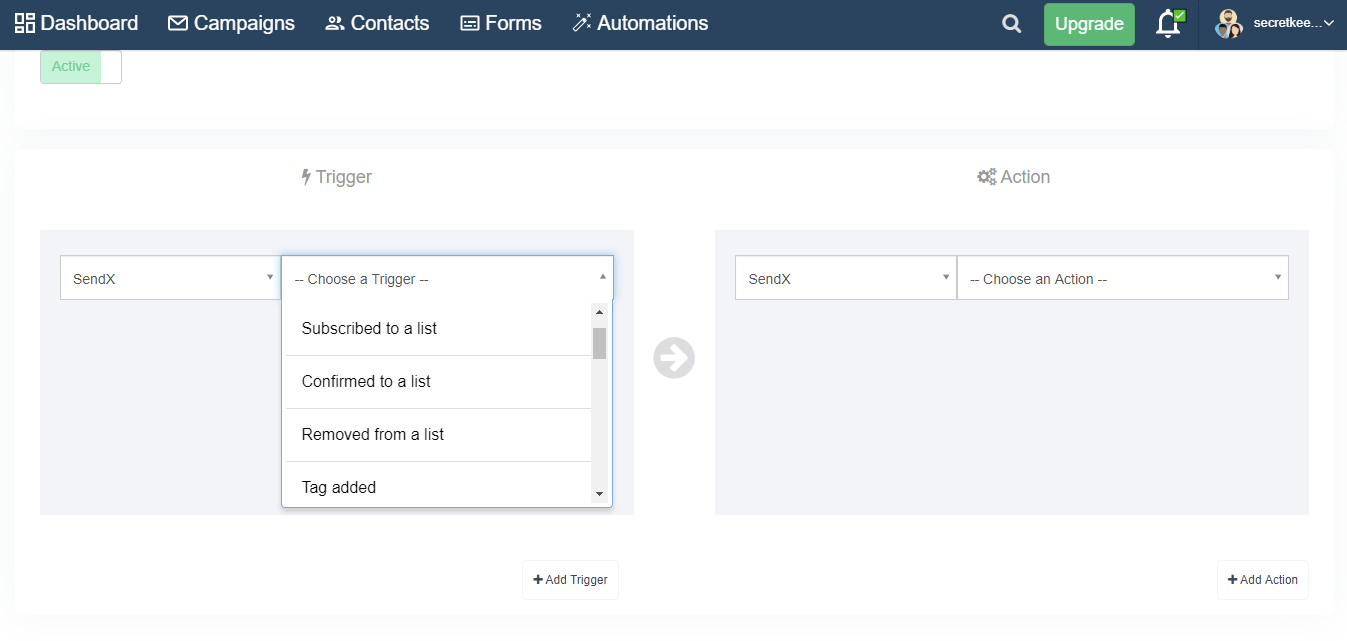 | | |
| --- | --- |
| Pricing Compared to ActiveCampaign | SendX is 55% cheaper than ActiveCampaign |
| Trial? | 14-day free trial. No credit card required |
| Recommended if | If you are looking for an easy to use editor for your bulk emails or newsletters, SendX is a great choice |
| Not recommended if | If you're looking for multi-variant testing, a large number of integrations, or e-commerce tracking then SendX won't suffice for you. However, the team is proactive in spinning out new features so you can expect them soon. |
Pricing Comparison:
| | | |
| --- | --- | --- |
| Contacts | SendX | ActiveCampaign |
| 0-500 | $7.49/mo | $9/mo |
| 500-1000 | $7.49/mo - $14.99/mo | $17/mo |
| 2500-5000 | $29.99/mo | $39/mo-$69/mo |
Full Pricing: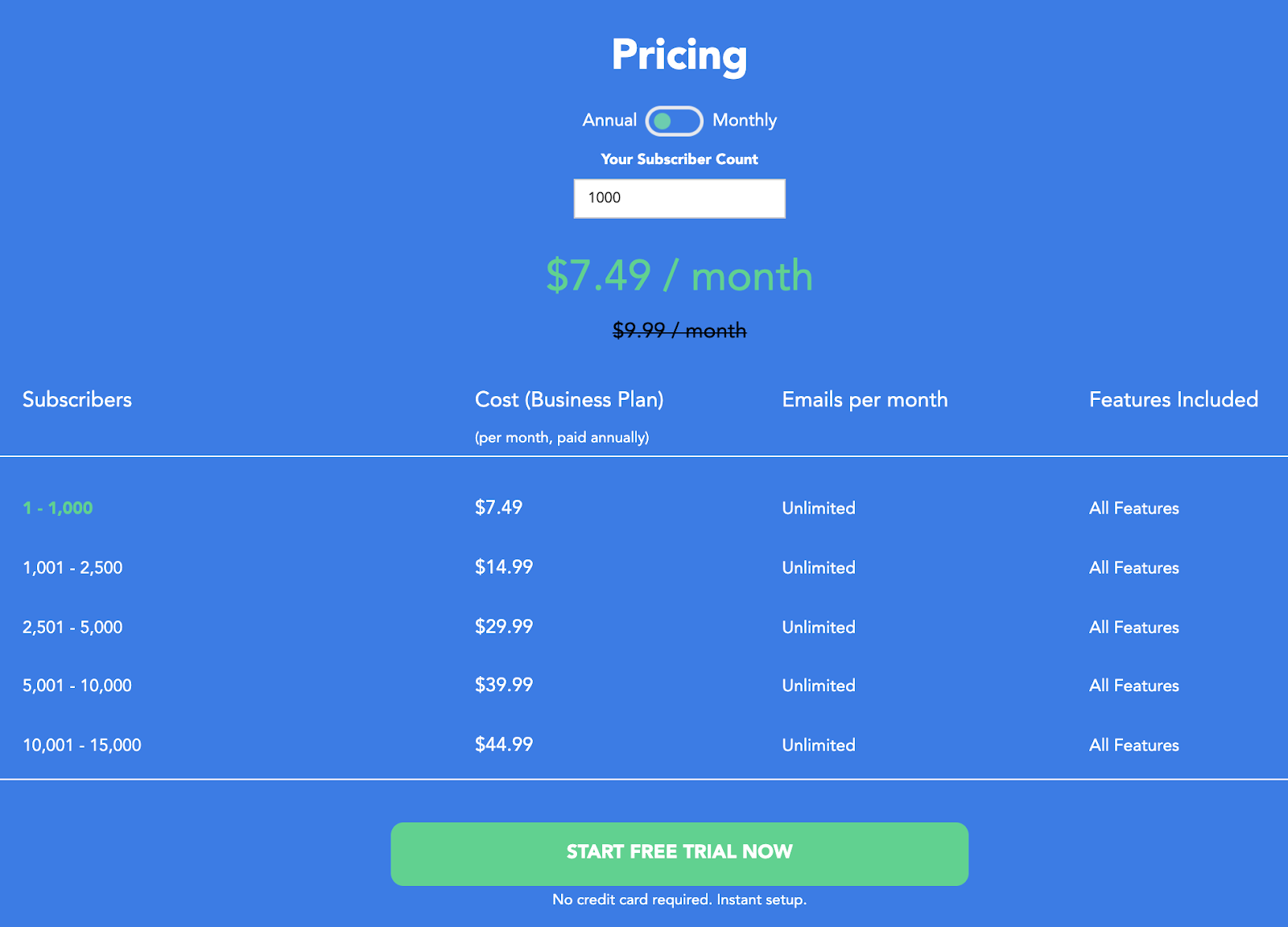 2. Mailchimp
Mailchimp is an all-in-one marketing CRM, but before it evolved, it has been popular as an email marketing software.
Their email builder is comprehensive but still, they have managed to keep it easy to use. You will find 5 main categories of templates to choose from:
Layouts (Featured & Basic): Choose an option and build on top of it
Themes: Pre-defined templates you can customize
Saved Templates: Templates you created or exported from 3rd party platforms
Campaigns: Email campaigns you sent in the past
Code Your Own: Option to create your template using HTML, from scratch.
The automation features of Mailchimp make life simpler. You could run a Facebook ad and direct people to a landing page where you collect their email address. Those email addresses can be directly added to your broadcast list in Mailchimp.
Mailchimp integrates with about 250+ web services and apps. For example, you can integrate PayPal with Mailchimp and import contacts of everyone who buys using your PayPal into your email marketing ecosystem.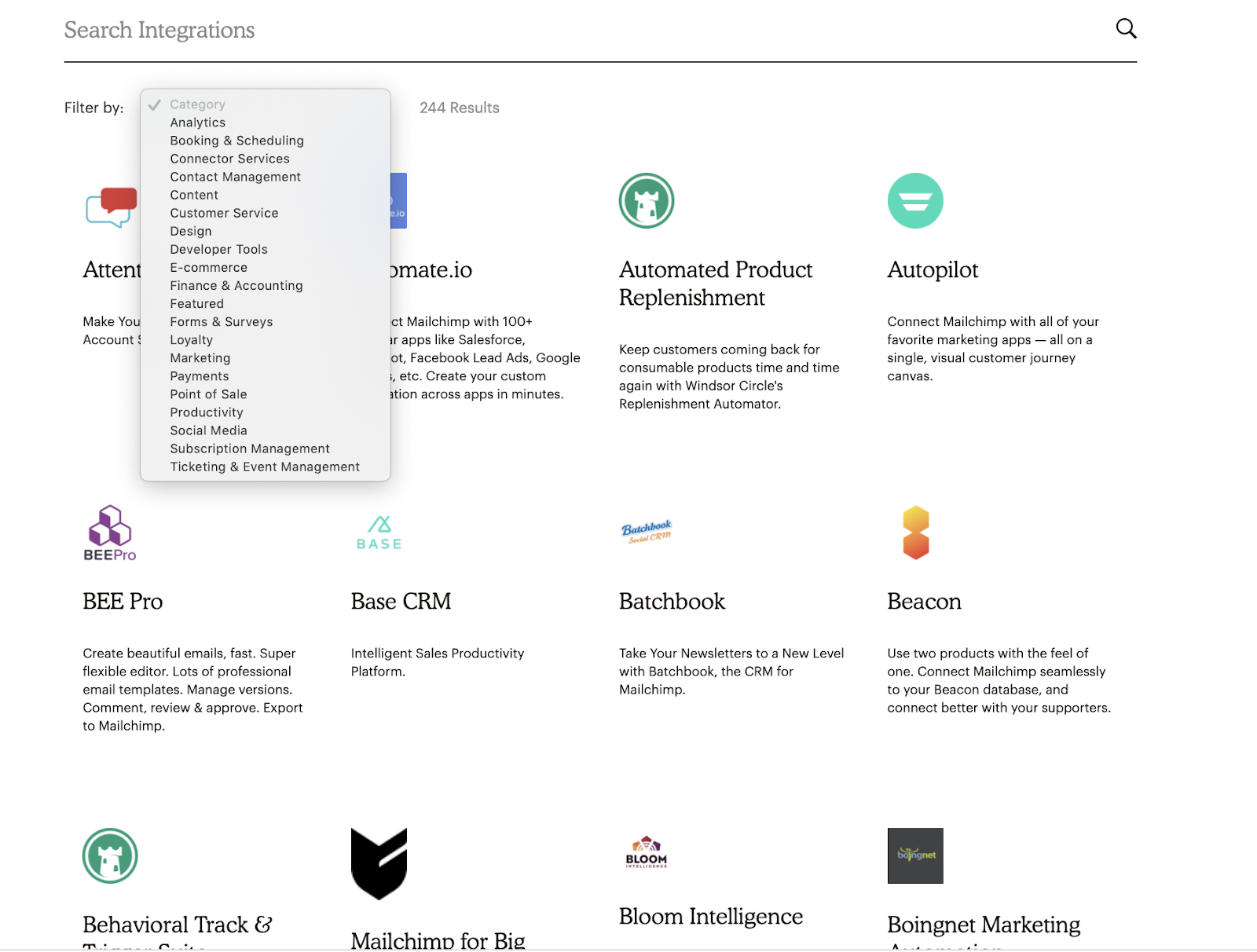 You get a thorough report of your emails, drip campaigns, automation workflows in an easy to understand dashboard. These reports can be downloaded, automated to send directly to your email, shared with colleagues.
They also have a pay-as-you-go payment option, which is perfect if you want to send seasonal emails or have occasional low-volume requirements.
| | |
| --- | --- |
| Pricing Compared to ActiveCampaign | Almost similar for first 500 contacts, ActiveCampaign gets expensive with more contacts |
| Trial? | Forever free plan (fewer features) for up to 2000 contacts |
| Recommended if | If you are just starting out and want a basic free plan to test your campaigns or if your marketing needs have grown so much that you now need to integrate all of your marketing in one place. |
| Not recommended if | If you're looking for a less expensive solution, Mailchimp is not a great choice. It will get expensive as your contacts increase. They also charge for un-confirmed and unsubscribed contacts. |
| Customer Support | Support depends on the payment plan you choose. You get 30 days of free email support to new Free accounts. |
| | | |
| --- | --- | --- |
| Contacts | Mailchimp | ActiveCampaign |
| 0-500 | $9.99/mo | $9/mo |
| 500-1000 | $19.99/mo | $17/mo |
| 2500-5000 | $29.99-$49.9/mo | $39/mo-$69/mo |
‍*Least price, All prices billed annually

Mailchimp's Venture Into eCommerce
One important update for all those looking at Mailchimp as an option is that Mailchimp has also recently launched its own online stores for SMEs, and a new service for booking appointments. The appointment booking service went live on 28th April 2021, and the new eCommerce features are scheduled to become available for the US and UK Mailchimp customers by May 18th 2021.
New 'Websites and e-commerce' plans will be introduced (and free-plan users will have to pay 2 percent transaction fee). Transaction fees will be reduced for users of different pricing grades, for example, those who go for a Plus plan at $29, only 0.5 percent transaction fee will be applicable.
Besides, for $10 extra, Mailchimp's branding will be removed and you will get email and chat support, and you will only have to pay 1.5 percent transaction fees.
All their plans will also include SEO tools and Google Analytics integration. Plus, you can build websites with unlimited pages and without bandwidth restrictions.
And when it comes to the online stores by Mailchimp, you can build your product catalogues, manage your orders, and taxes and shipping configurations.
But if you don't need all of these additional features and services, you should still proceed with comparing Mailchimp with other email service providers.
3. EngageBay
EngageBay is an all-in-one marketing, sales, and service platform with free CRM. Geared towards small and medium businesses, the software has a comprehensive set of tools to collect and build customer databases, automate menial tasks, streamline sales processes, and provide excellent customer service - all perfectly integrated into a single product. The software is divided into three sections: the Marketing Bay, the Sales Bay, and the Service Bay.
‍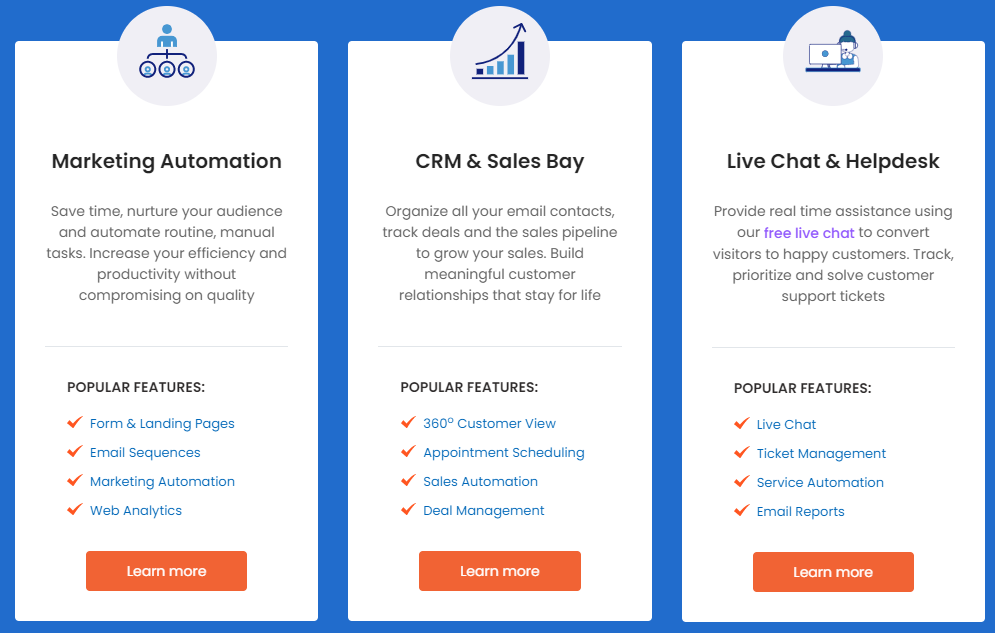 Features:
You can organize and segment your contacts into lists and use a robust set of filters to segregate and extract valuable customer behavior patterns.
With EngageBay's WYSIWYG drag-and-drop landing page designer, you can create visually stunning and responsive pages from scratch. EngageBay also provides you with a vast collection of pre-built templates to choose from, making it easy for you to build landing pages and forms.
With EngageBay's multichannel marketing, you can target and capture leads through various broadcast means, including SMS, web push notifications, emails, and landing pages. With intelligent data analyzers and reports, you can understand your audience better.
You can analyze and compare various versions of your landing pages or campaigns with EngageBay's leading A/B testing tool. Direct your traffic to two variants of the same page and get insightful reports on each page's performance.
EngageBay contains a robust set of automation tools to streamline your marketing and sales process. With sequences, visual workflow builders, and triggers, you can forget the daunting tasks and focus on important ones.
EngageBay's built-in calendar helps you send out a link to your contacts so that they can choose a convenient slot for appointments. You can import and export your schedule to and from third-party calendars with two-way sync, including Google calendar and Office365.
With the intuitive visual deal pipeline, you can track leads, prospects, pending proposals, and closed deals. The visual nature can help you analyze your sales team's progress and help them follow up leads, discard cold ones, and close deals at the appropriate time.
With canned responses, you can automate replies to frequently asked questions so that your service agents can focus on responding to high-priority tickets.
‍
| | |
| --- | --- |
| Pricing Compared to ActiveCampaign | EngageBay's pricing is more affordable compared to ActiveCampaign. ActiveCampaign's pricing quickly skyrockets as the number of contacts increases. |
| Trial? | EngageBay offers a forever-free plan with 1000 contacts and 1000 emails a month. |
| Recommended if | You are a small or medium business looking for an affordable all-in-one solution. |
| Not recommended if | If you are a large enterprise looking for the most advanced tools. |
| Customer Support | Depends on the plan. For the free plan, you get an email and chat support. For the Pro plan, you get a dedicated account manager, phone support, and onboarding sessions. |
‍
Pricing:
This is the pricing for EngageBay's All-in-One platform, paid biennially (albeit the cheapest pricing structure).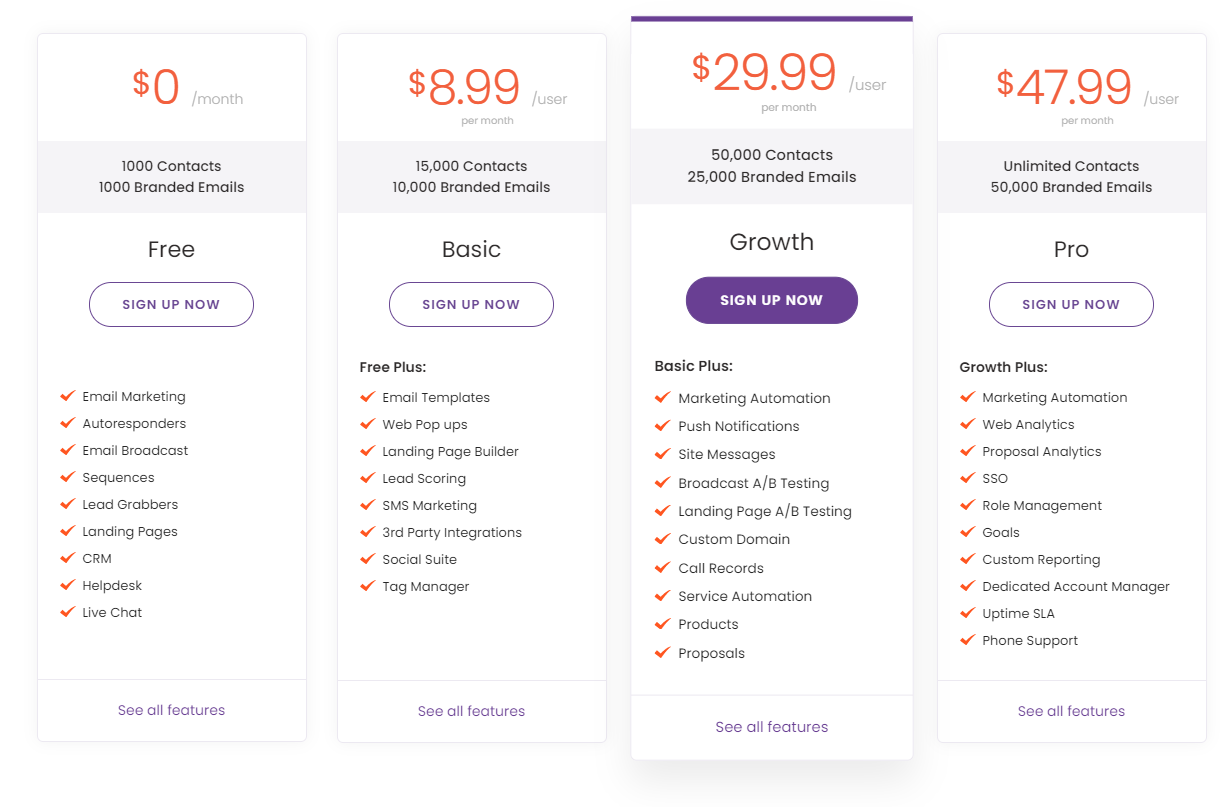 4. Sendinblue
Their ready-to-use templates are not very modern but their email editor is drag-and-drop based and pretty easy to use.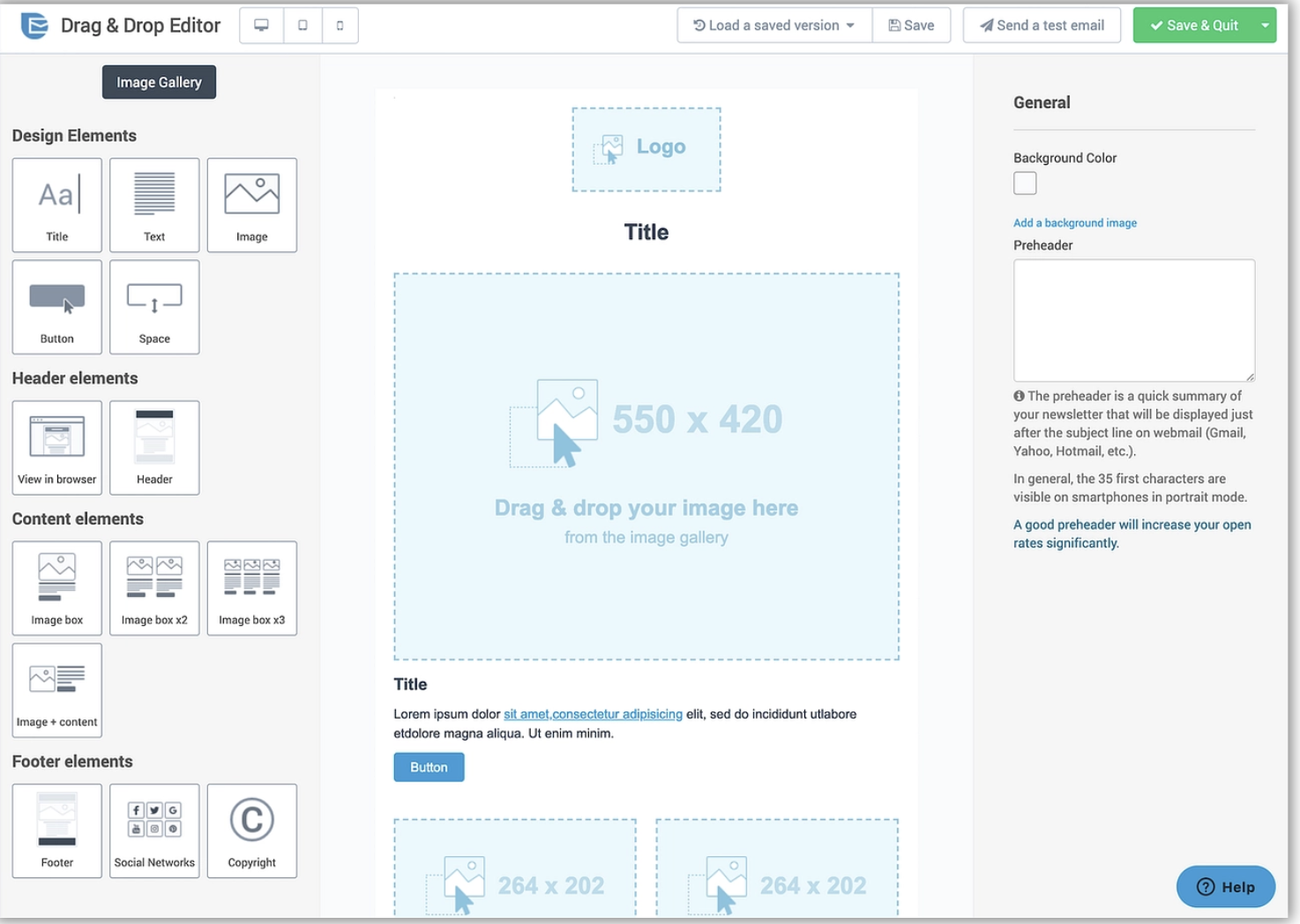 You can get started with automation by using one of the pre-made workflow templates.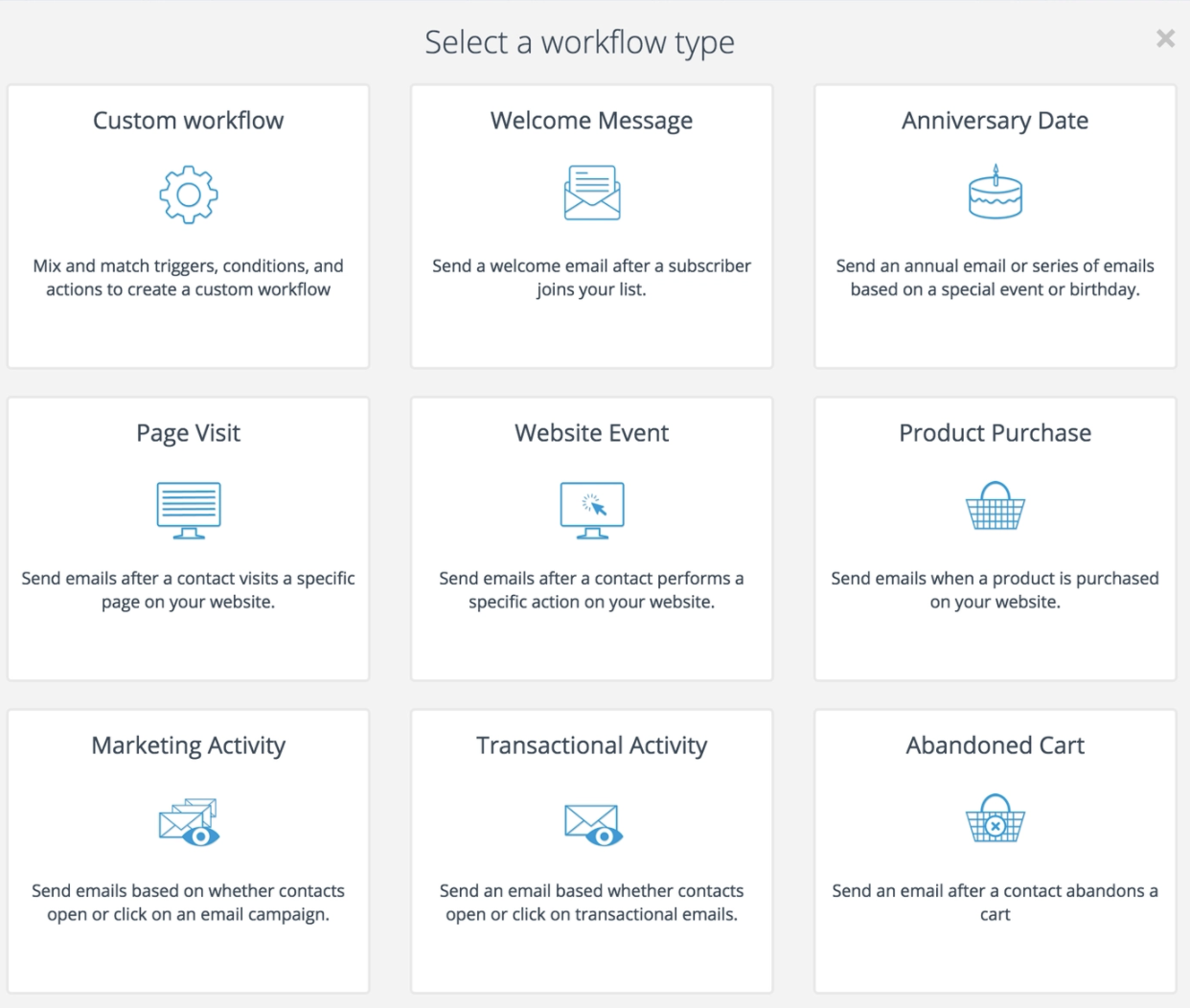 Reporting is basically like any other email marketing platform but also focuses on conversions. You can set your own way to judge what conversion means for you and the dashboard will track that. If you have a premium plan, you can also get data based on the location of people who clicked or opened your emails.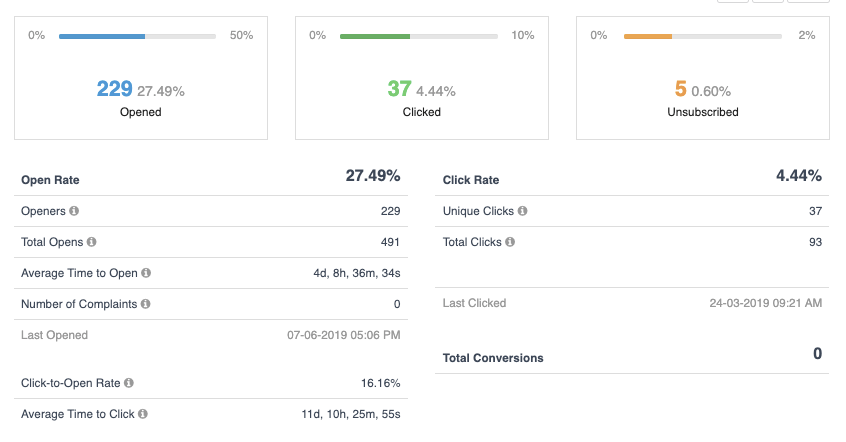 Their segmentation capabilities allow you to store as many data points as you want, on your contacts, without paying anything extra.
Sendinblue offers dedicated transactional email templates & reports. You get different setup options for your transactional emails, such as API, SMTP Relay, eCommerce plugins, or marketing automation
| | |
| --- | --- |
| Pricing Compared to ActiveCampaign | The lowest plan of Sendinblue is 2.5x times of ActiveCampaign but you are charged based on the number of emails sent and not subscribers. |
| Trial? | Forever free for up to 300 emails/day |
| Recommended if | If you are looking for low-cost software and want to leverage SMS also, then Sendinblue would be a fine choice. |
| Not recommended if | If you are looking for many integrations and your list is cold, then Sendinblue might not help much. |
| Customer Support | Chat and email support |
*ActiveCampaign charges based on the number of contacts and Sendinblue charges based on the number of emails sent, so not doing a price comparison between the two.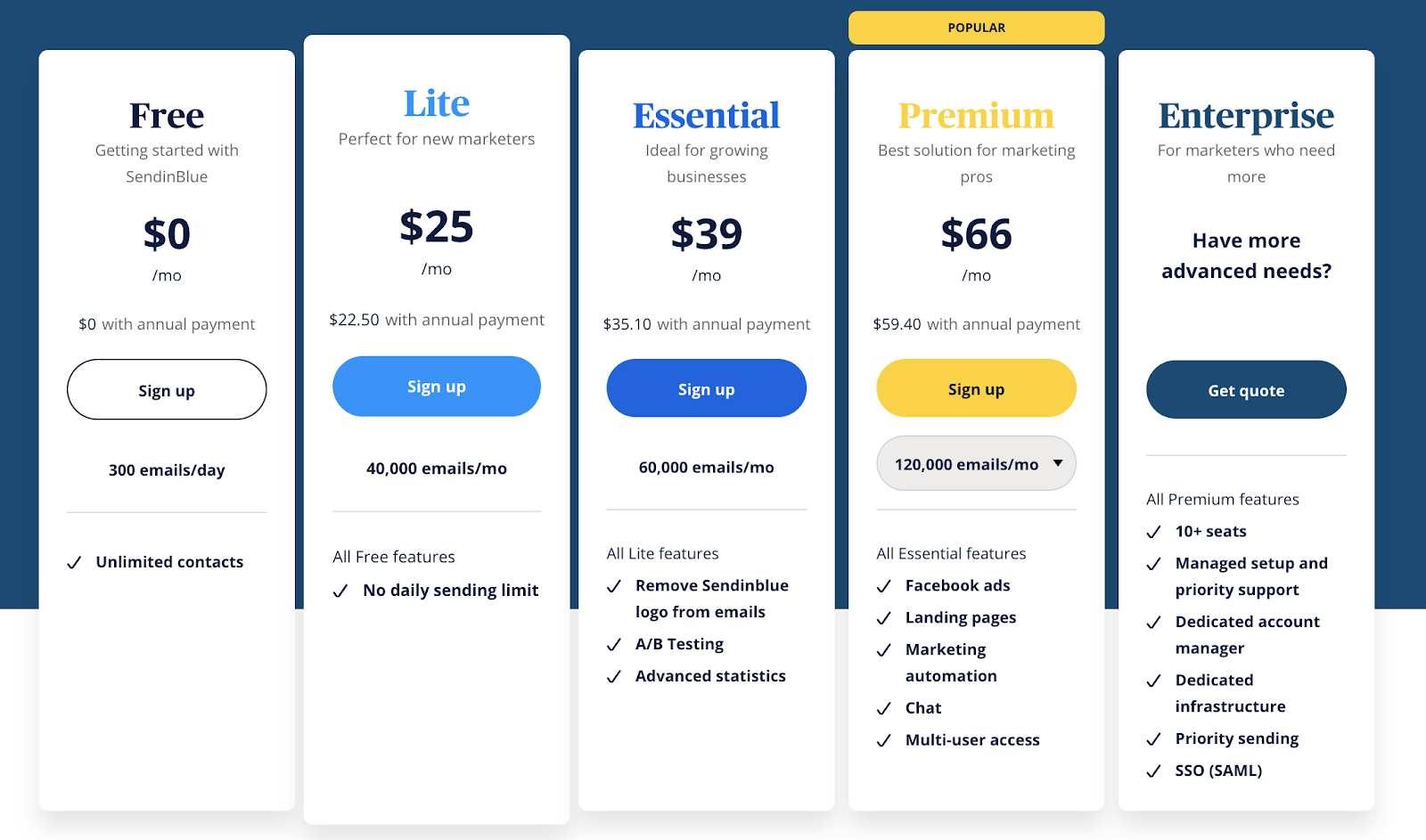 5. HubSpot
Hubspot is an all-in-one marketing & sales platform. Email marketing is one such powerful feature of this platform.
If you are very keen on collecting data on your contacts by observing their interaction with your website pages, email content, landing pages, all in one place, then HubSpot is a great choice. But yes, it will come at a high price and there might be some learning curve involved.
Features:
You get ready-to-use pre-written email templates that you can load into your editor, customize and just send.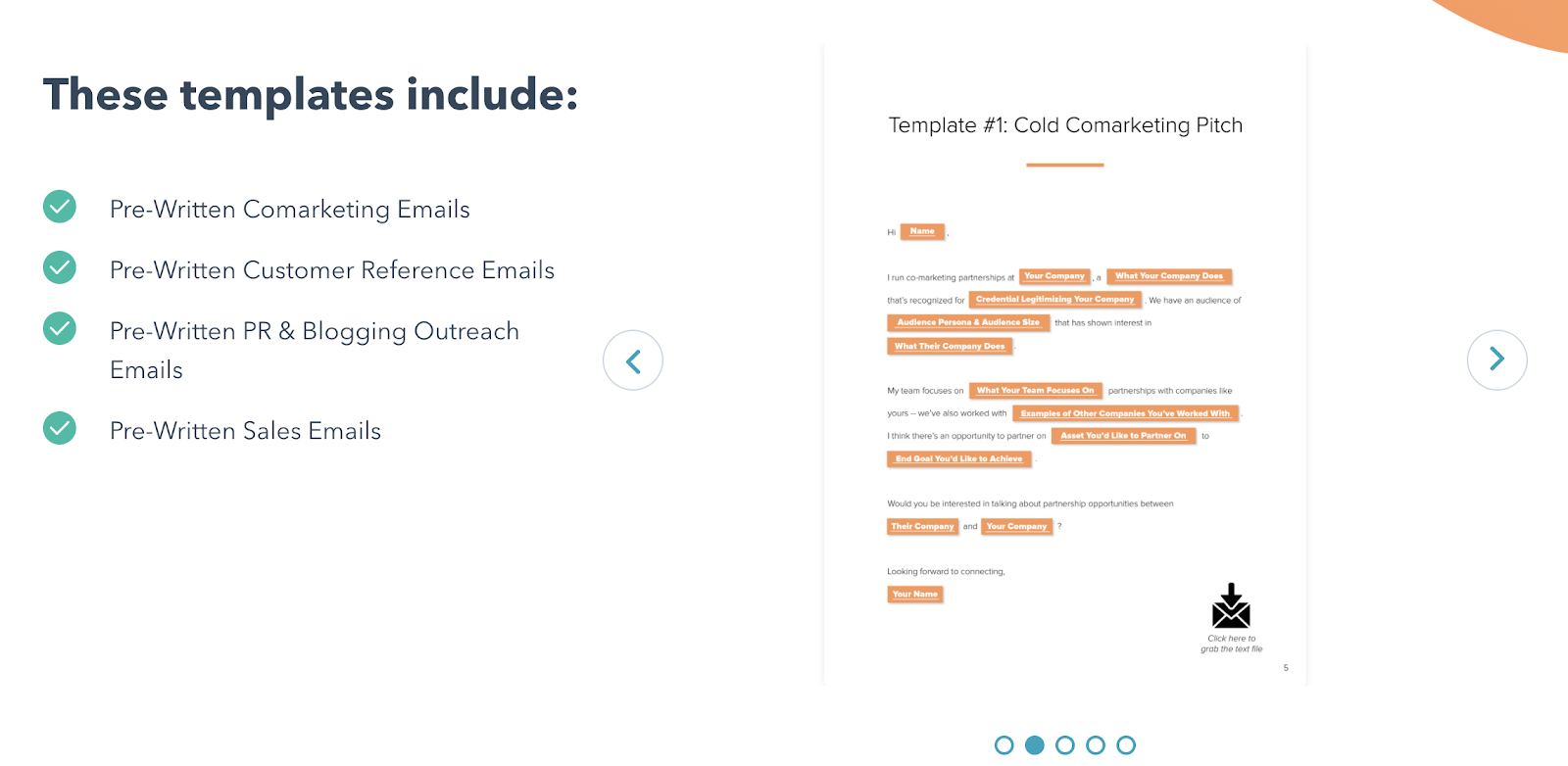 All the emails created with their drag-and-drop editor are responsive and mobile-friendly.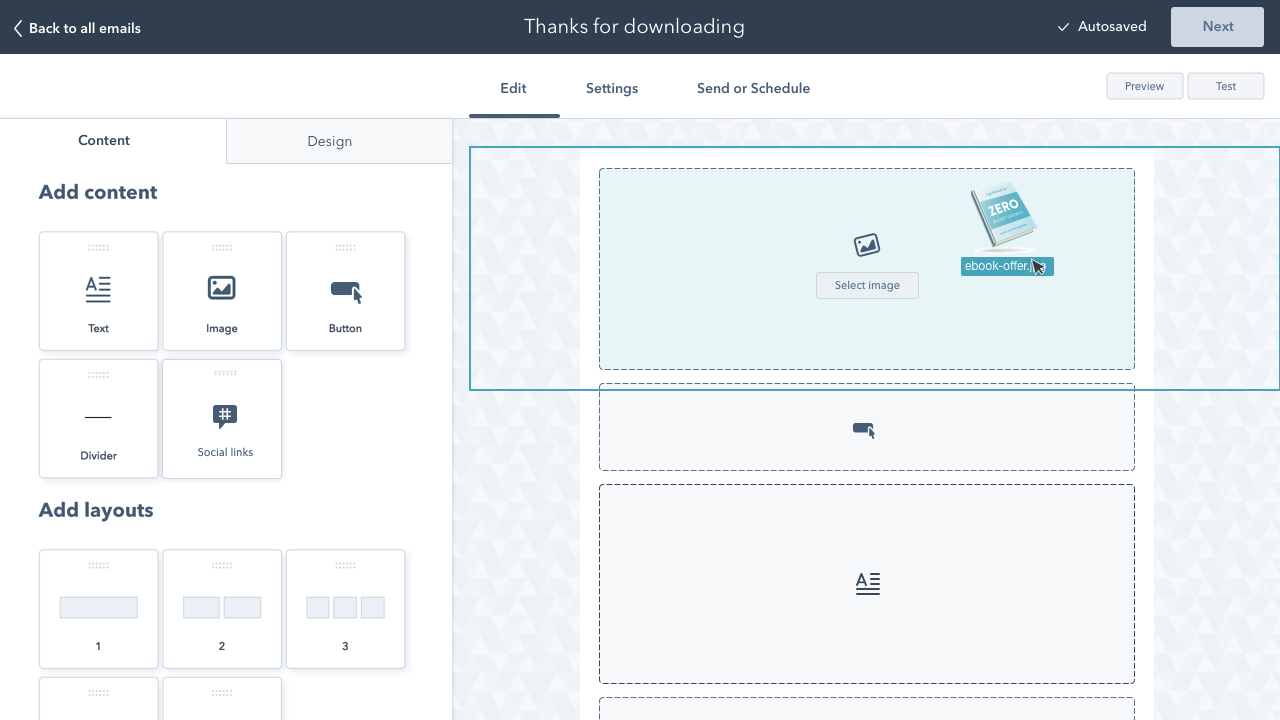 HubSpot provides a useful unsubscription feature where the subscriber can unsubscribe to certain email topics or lists, instead of unsubscribing to all the content, forever.
It provides robust segmentation as you can create different sets of contacts based on not only email interactions but also their behavior on your website or landing pages.
Personalization features are advanced (or as they call them 'smart'). With smart content, you can display various versions of your content based on specific reader criteria.
With 'smart CTAs', you can display customized buttons based on the data you have on various subscribers.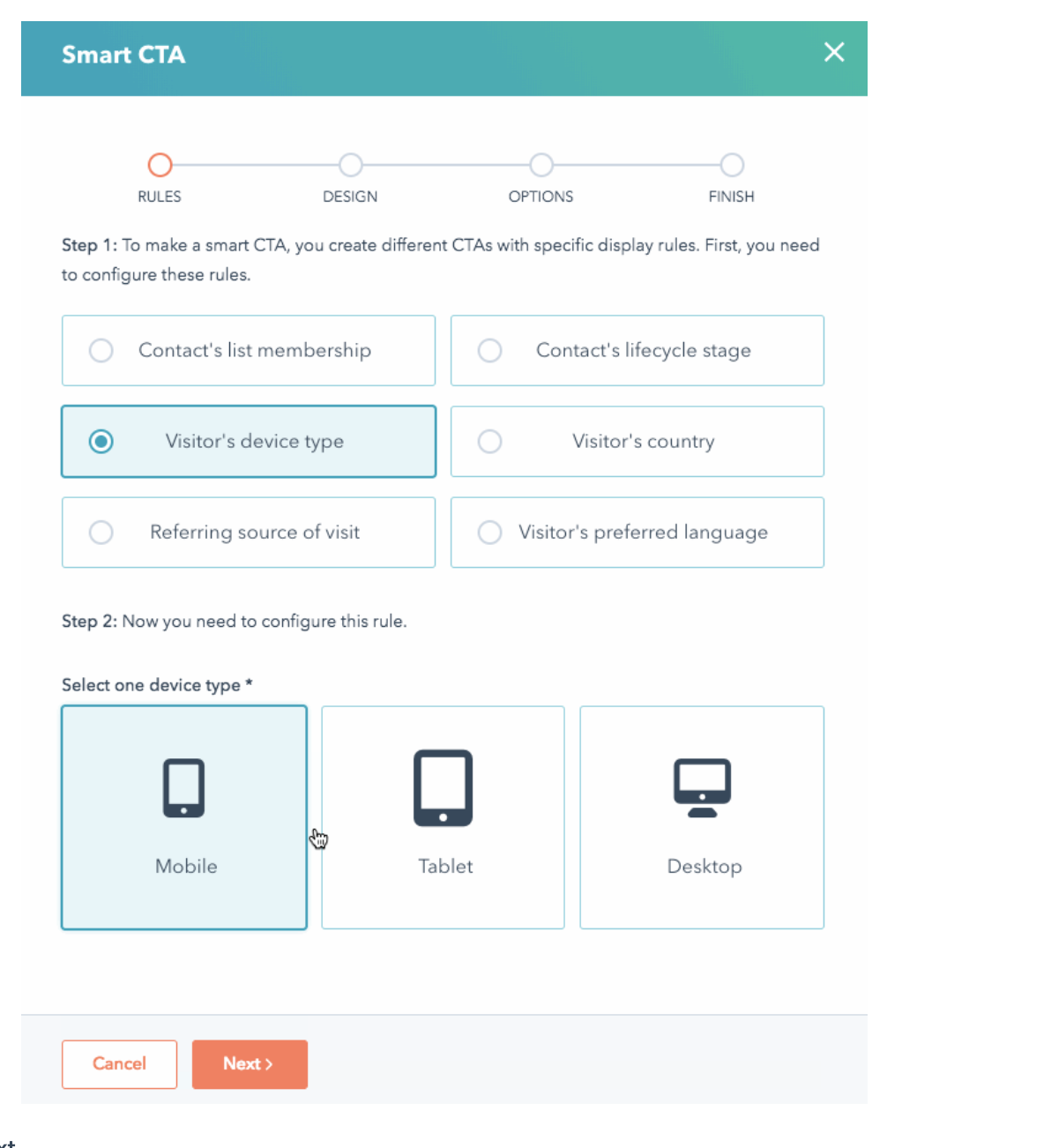 Analytics dashboards are very comprehensive. You can get key metrics data for each email or a full campaign. It also provides a comparison of all emails you sent in the past and you can see which ones performed the best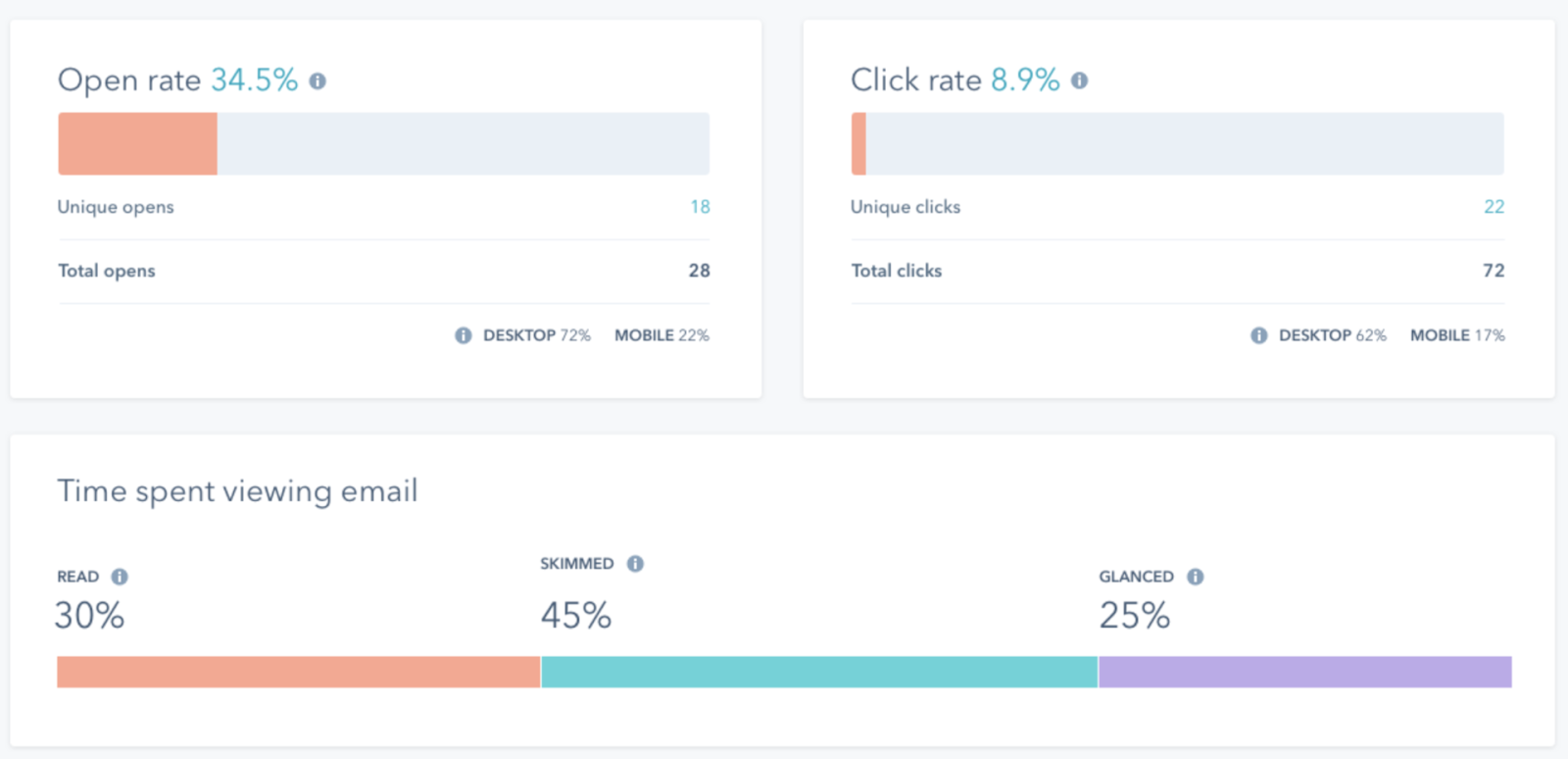 | | |
| --- | --- |
| Pricing Compared to ActiveCampaign | HubSpot is 4.5 times more expensive than ActiveCampaign |
| Trial? | 14-day free trial |
| Recommended if | If you are looking for an all-in-one platform & your budget allows you to go for advanced features. |
| Not recommended if | If you're looking for a simple email marketing tool only and don't wish to have the enterprise-level bills. |
| Customer Support | Through chat, email, call, HubSpot community. |
| | | |
| --- | --- | --- |
| Contacts | HubSpot | ActiveCampaign |
| 0-500 | $40/mo | $9/mo |
| 500-1000 | $40/mo | $17/mo |
| 2500-5000 | $120/mo - $192/mo | $39/mo-$69/mo |
‍Full Pricing: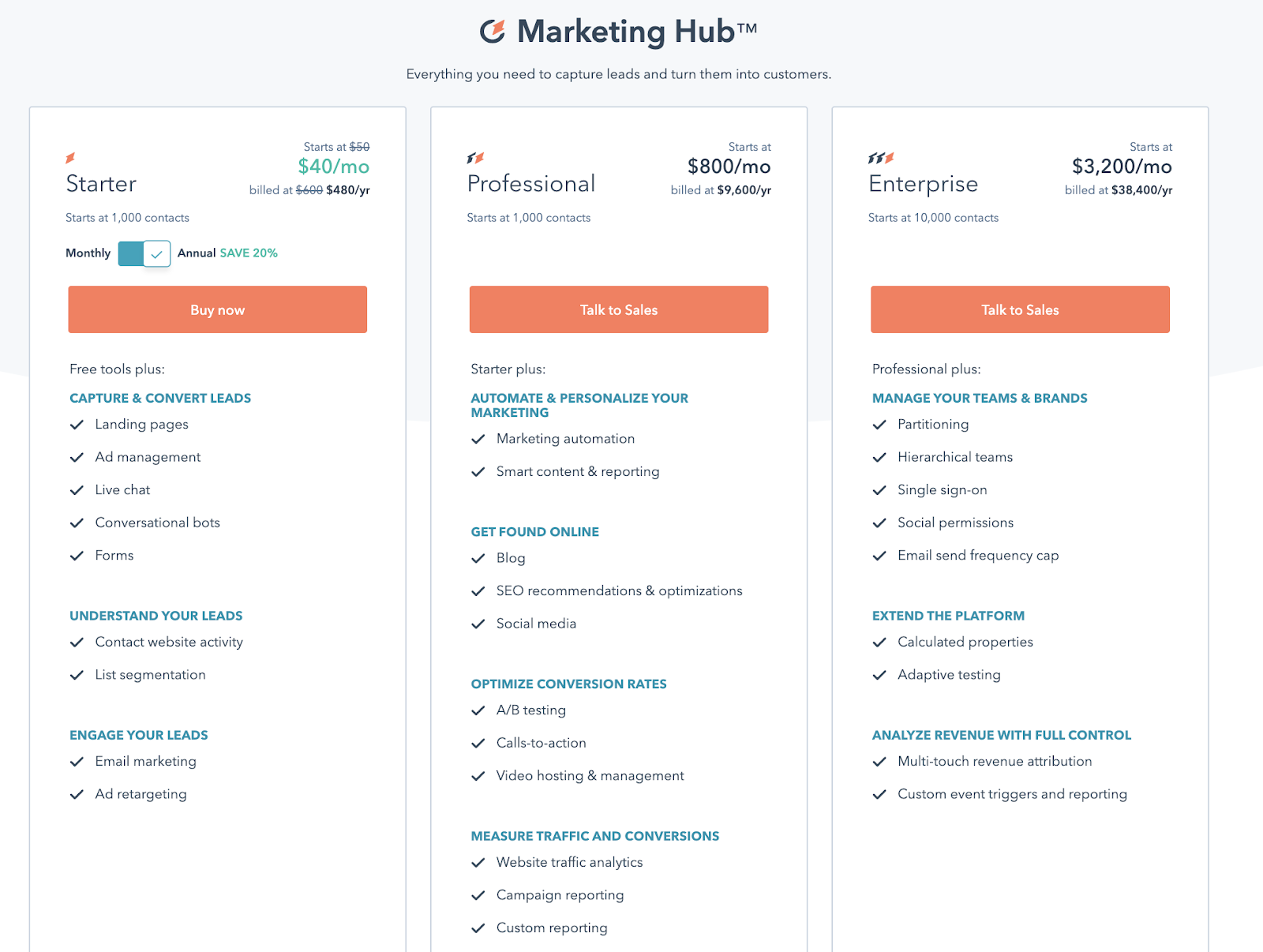 6. Aweber
Aweber gives you three different editors to build your emails - Drag & Drop Email Builder, Plain Text Messages, HTML Editor. You can add your own HTML code to any of the following blocks: Headline, Paragraph, Article, Product, Coupon, and Signature.
There is one block which I particularly like - the "Video" block. This saves a lot of time by creating an image of your YouTube or Vimeo video and hyperlinking that image with the actual video.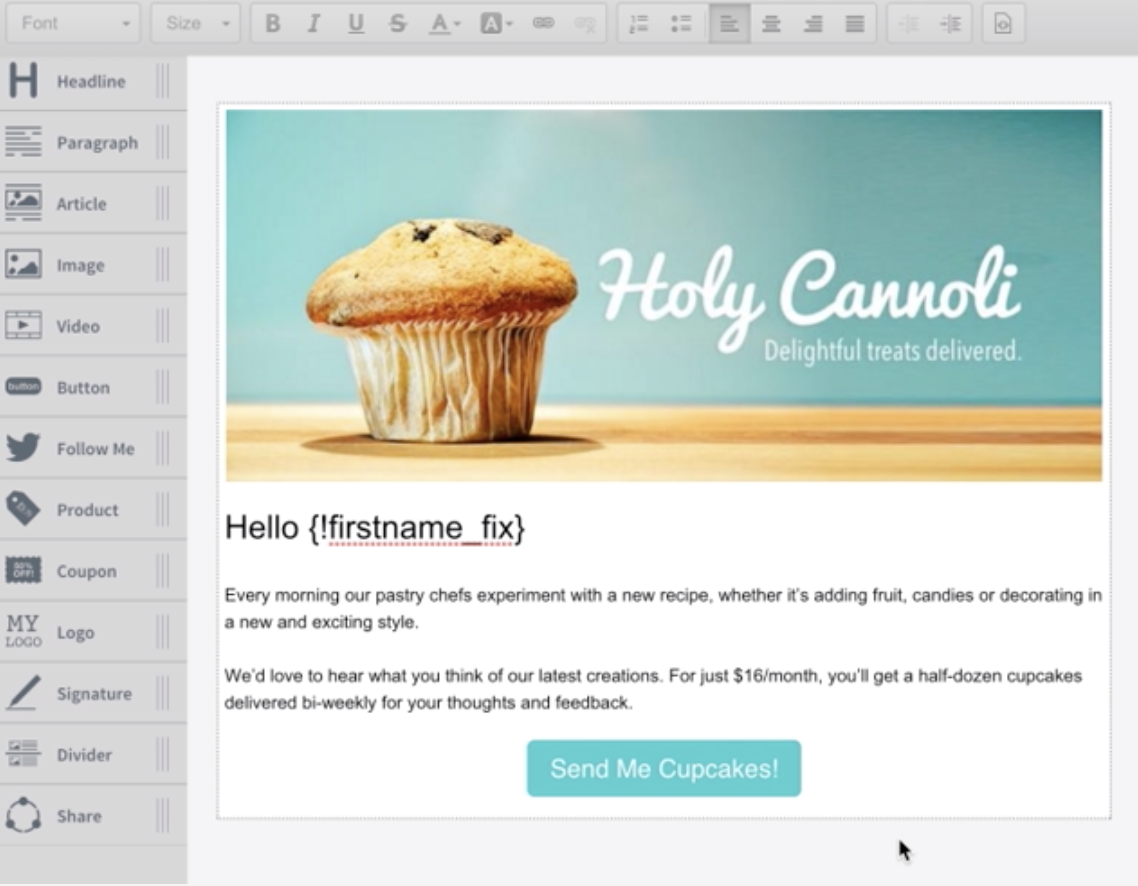 Aweber launched a Smart Designer for your emails.
You put your website URL in a form field & it analyzes your website or social media account for logos, image, and color palettes. Then it automatically builds ready-to-use, custom email templates for your business.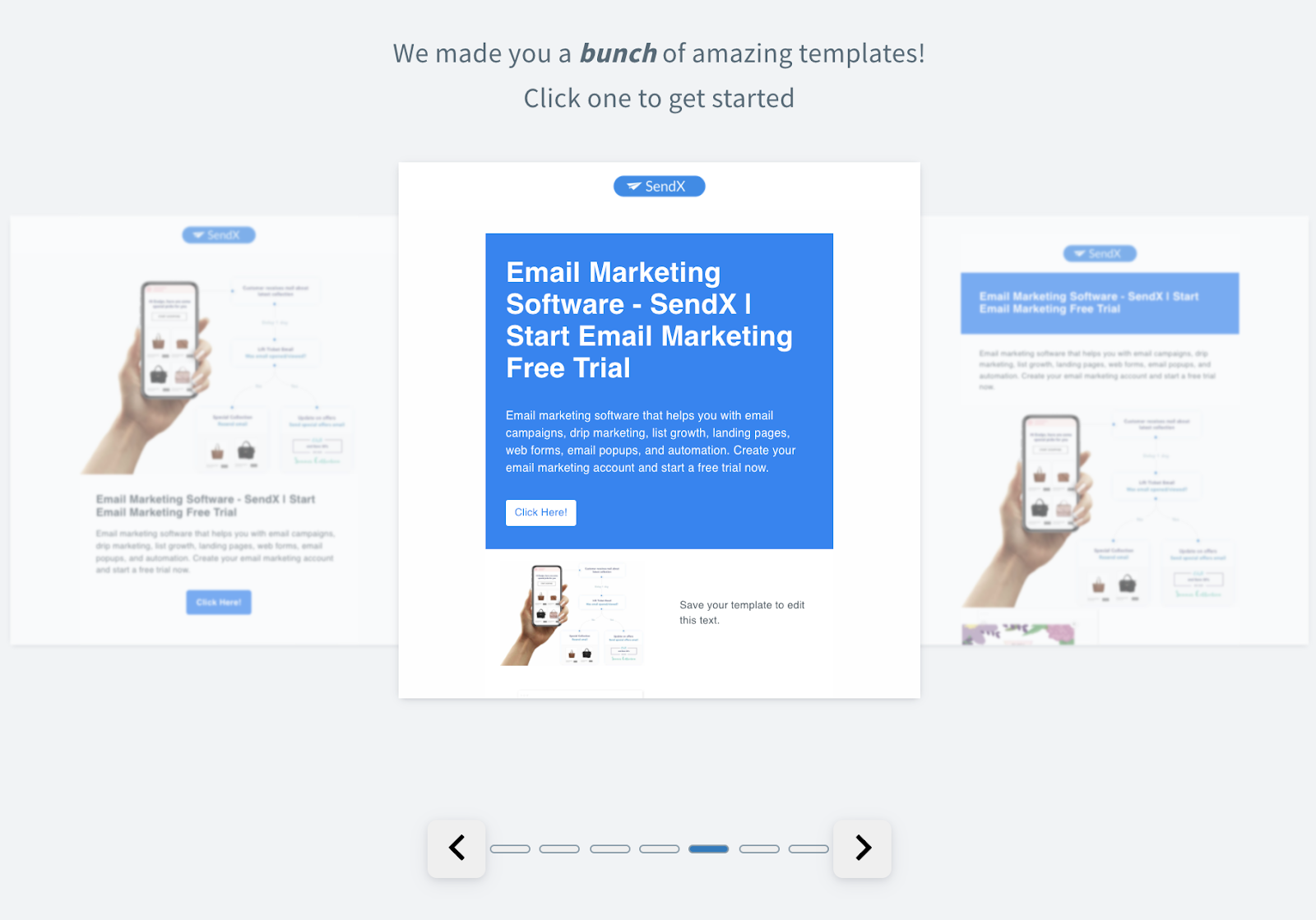 For email reporting, you can get names of people who open and click, visit websites' pages, and also conversion and eCommerce tracking info. You can view all of your upcoming broadcasts in their mobile app too.
You get automation features using which you can trigger emails based on customers' tags or when someone subscribes to a list.
| | |
| --- | --- |
| Pricing Compared to ActiveCampaign | Aweber is 79% more expensive than ActiveCampaign |
| Trial? | 14-day free trial |
| Recommended if | If you are looking for a simple newsletter sending software |
| Not recommended if | If you're looking for many integrations, complex automation or advanced testing |
| Customer Support | Through chat, email -24/7 and call - limited hours |
| | | |
| --- | --- | --- |
| Contacts | HubSpot | Aweber |
| 0-500 | $16.15/mo | $9/mo |
| 500-1000 | $26.15/mo | $17/mo |
| 2500-5000 | $46.15/mo | $39/mo-$69/mo |
*Least price, All prices billed annually
‍
Full Pricing:

Best Pick
All of these email marketing platforms are good at what they do & there is no doubt that all of these will keep innovating. So which one to pick amongst these ActiveCampaign competitors, is still a question for you.
If I have to look at features provided, ease of use, and email deliverability - all without breaking a bank, I would go for SendX.
We all love a good deal — and it's even sweeter when the best product is the one that costs the least. SendX will cost you only $7.49/mo for 500 contacts and you get access to all features. And this is a good deal in context with ActiveCampaign's pricing, details of which you will find here.
Psst, and unlimited emails.
You will be impressed with their simplicity, customer support, powerful marketing automation tools & vast options for landing pages.
You don't have to take my word for it. You should give it a try yourself. You can sign up for a free trial here. No credit card required. You get access to all the features for free for up to 14 days.