Email Marketing for Photographers: Learn How to Master Your Newsletters
Many photographers that I know have given up on email marketing because they expect results fast, almost instantly. And when they don't see a magic bullet… they quit. And when other photographers see this, they never even start.
I don't blame them. We have been so used to instant gratifications from Instagram, Facebook, and other social media platforms that some of us think email marketing is slow, un-sexy, and a loss-making channel.
But that is not true.
With email marketing, you own the list & audience rather than some platform owning your audience.
You don't have to depend on an algorithm for people to see your work or story.
You get undivided attention from your audience once they open your email.
With automation, you save time as the email marketing platform will take care of welcoming your new subscribers, send them emails to remind you about you if they stop engaging anytime
You get actionable data on who is opening which links, at what time is your audience most engaged, etc.
Some say email marketing is expensive. Is that really so?
SendX offers you access to all the email marketing features you will need as a photographer for as little as the cost of two coffees of your day.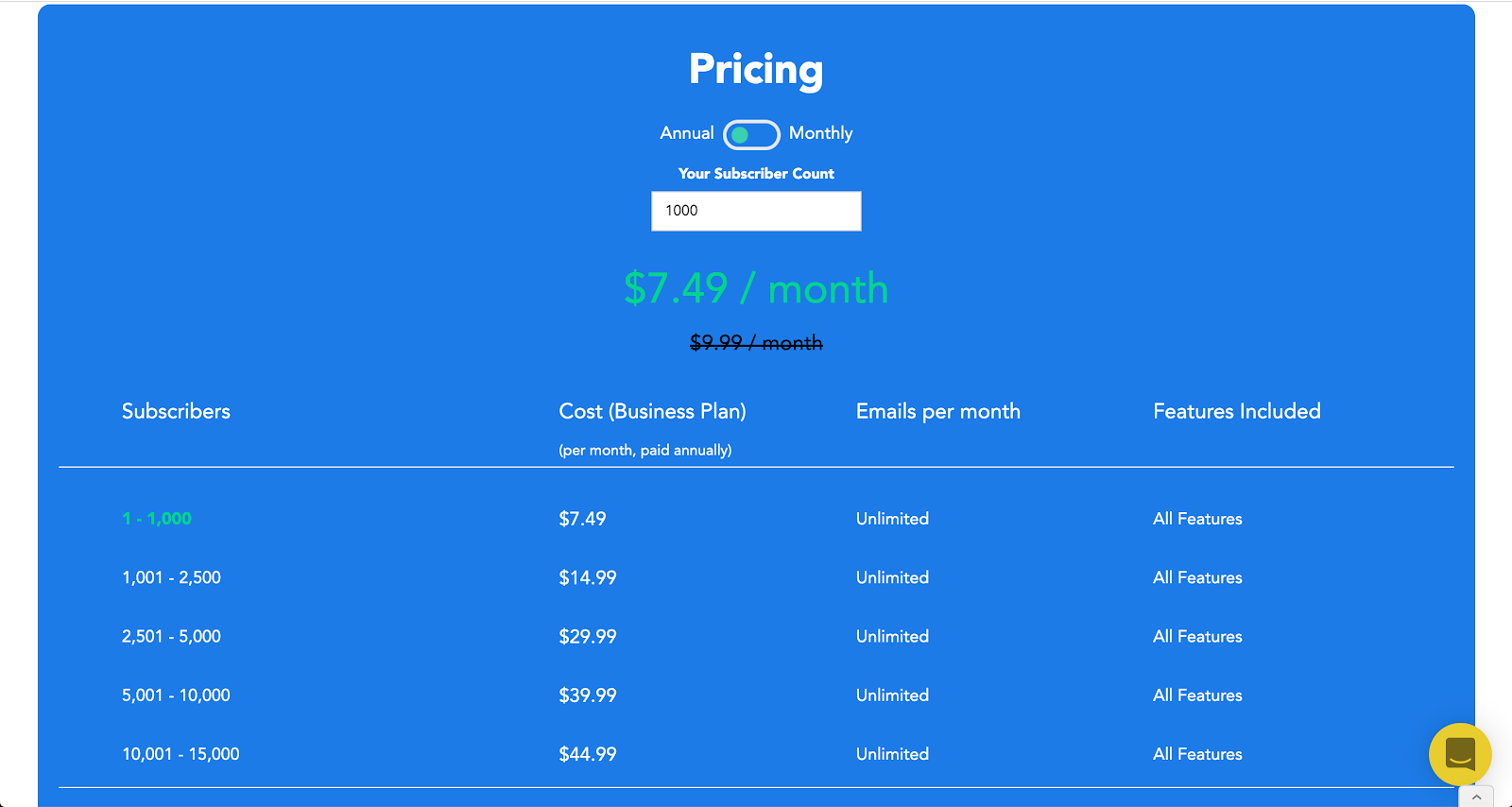 But I am glad you are here, finally considering email marketing, to turn photography not just into your passion but also a profit-making business.
In this guide, we will give actionable strategies to build your list, ideas that will align with your business profitable, and some of the tried, tested, and proven best practices to make sure you don't get stuck.
How To Get People In Your Email List?
Gated content: When people come to your website, offer them a collection of your presets or printable postcards of your favorite photographs. In return, you can ask for their email address. It's the law of reciprocity (when someone does something nice for you, you will have a deep-rooted psychological urge to do something nice in return)
‍
Redirect your audience from other channels: If you look at the social media channels of any successful company, you will see that each one of them leads to collecting your email address & making you part of their ecosystem.
You can do that too. Give your followers on Facebook, Instagram, and Twitter an incentive to
get on your email list.
E.g. promise them behind the scenes of your photography, or deep-dive into your strategies or free workshops.
Update your bio: Put a link to your signup form or website on social media, on dating profiles, and your business cards with a link to your website, and then show a subscription form when someone visits your website.

Here is an example of an email pop-up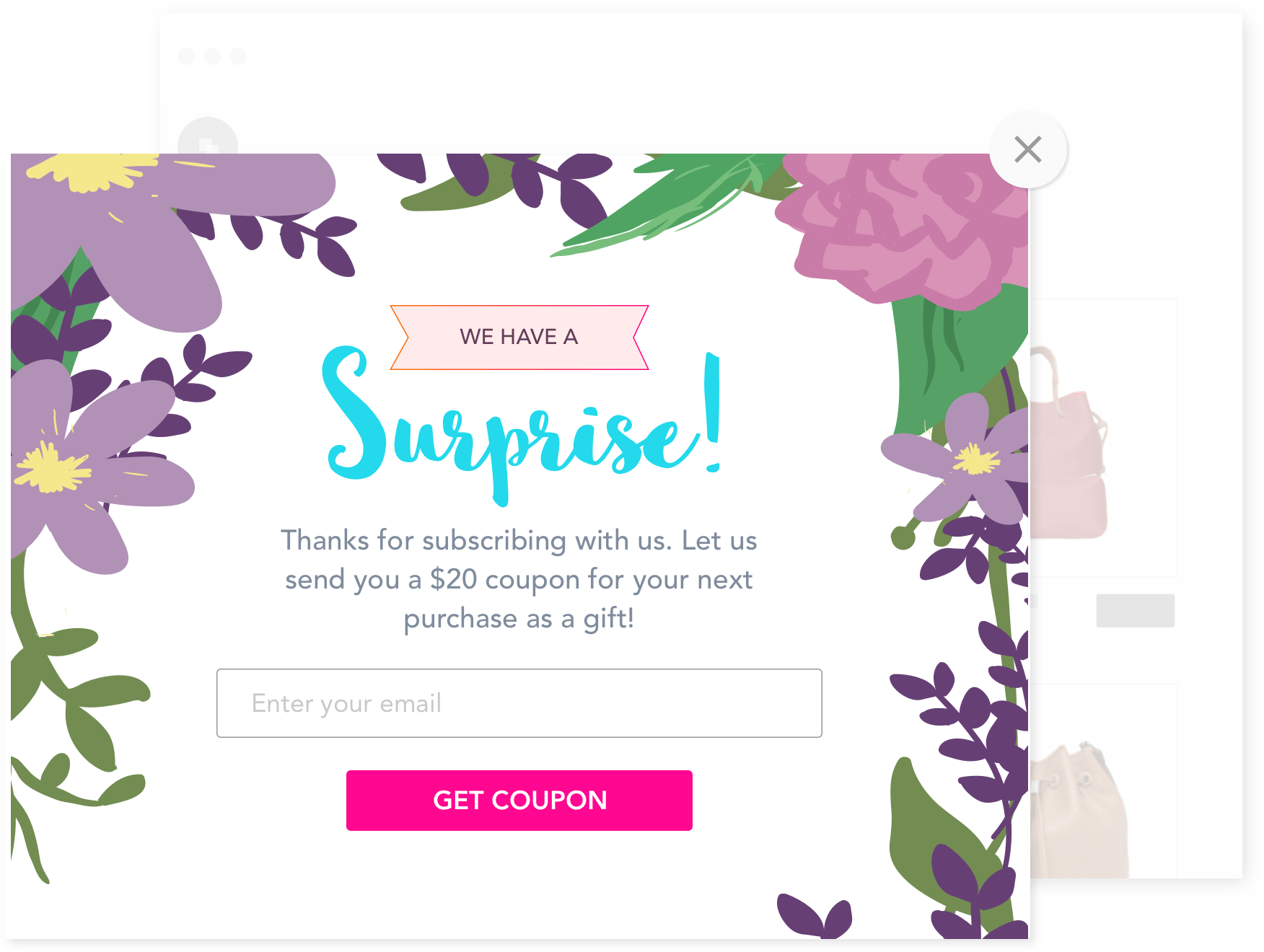 Collaborate with other photographers: Connect with people in similar niche or photography magazines who have email lists and ask them to interview you or feature you on their platform with a CTA leading to your website and you can do the same for them in return.
‍
Collect emails at workshops: Take an iPad or just a sheet of paper & place it on a table at the entrance or exit of your next workshop or event. After the event ends, ask people if they would like to be added to the list. Offer an incentive in exchange for emails like a free postcard with your best picture or discount on your next event.

Create content: You can create quality blogs and guides related to photography as a skill, or talk about other photographers that you admire. You can also take feedback from your followers on other channels about what they would want to hear.
What Kind of Emails To Send?
It's like a friendly hello when you meet someone for the first time. Don't assume they know everything about you, so introduce yourself but at the same time, don't overwhelm them with information. Thank them for joining your list. Then you can share:
What kind of emails they can expect from you
Invite them to join your social media channels if they haven't
You can also ask them to add your email address to their contact list so your emails don't go to spam.
Tips, Templates & Content
As a portrait photographer, you must have a library for templates you use with your clients while booking them or getting their feedback. You also have so many useful tips that you would have learned during your journey. Why not share it with your audience who might be budding photographers themselves?
You take them behind the scenes of your process, studio, workspace, and how you learn your craft. People are always fascinated with artists and their world and showing them a sneak-peek of yours will build authentic relationships.
Here is an example of an email sent by moment:

Feedback
Every once in a while, ask your audience for feedback. Ask them what they like, don't like and what they would like to hear from you. This will give you further ideas and actually serve you audience very well.
Sales & Promotion
Once you have nurtured your relationship with the audience by giving them free content, advice, tips, etc, now it's time to build a transactional relationship.
You can offer your course, a set of guides on photography or workshops. The best way to run a sales campaign is through a series of emails that will run for 4-8 days depending on your offer and price point. Most email marketing software will provide a feature to automate this series of emails.
Tips to Succeed With Email Marketing
Automate your emails
Most people feel scared of email marketing because they feel it's time-consuming. It's not as quick as snapping a picture and putting it into your stories.
But, that's only because they don't understand the power of automation. With automated emails, you can just create your message once, put the rules about when, and to whom it should be sent. And the rest is taken care of, forever!
Here are some ideas on emails you can create once and let the system send automatically:
Welcome emails: You can pre-define a series of welcome emails introducing the subscriber to you, your art, and what to expect in future emails. And these will be periodically and automatically sent to the subscriber. You are thus keeping them engaged.
You can automate getting feedback from people who attended your workshop or bought your art.
You can automate the process to categorize people into lists - highly engaged, bought something from you in the past, according to location, etc. Let's find more about this process called segmentation in the next section.
Segment your audience
Segmentation means creating different categories of your subscribers and sending content tailored for those particular groups.
The criteria to categorize can vary depending on your strategy. You can segment based on purchase history, engagement level, demographics, or location.
If you have a segment of people who haven't opened any of your emails in the past month, you can send a re-engagement campaign specific to this group. Similarly, you can send pre-launch content to your super-engaged audience (your most loyal fans) and get their feedback.
This will maintain good open and click-through rates because the content will be specific to people's interests.
Avoid the spam box
If your emails don't reach the inbox, is there even any point in sending those emails?
So before you fuss over subject lines, which template to choose, etc., ensure that you have 90% + email deliverability. It is a ratio of emails that reached the inbox compared to the total number of emails sent.
How to stay out of the spam box?
You basically have to avoid showing the same behavior as a spammer. That means, avoiding:
'Too-good-to-be-true' subject lines.
Spammy words that are used to make claims or outrageous offers like '100% off', 'free,' '$$$,' 'chance,' 'password, 'guarantee.' There is a long list of these words you can easily find on google. Here is a full list of words you should avoid.
Poorly edited text. Take time to edit and proofread. You can use services like Grammarly to help you with that.
Shortening links
Using image-only emails: As a photographer, images are going to be the center of your emails. But keep the ratio of images to text at least 70:30.
Not letting people unsubscribe: If your unsubscribe button is hidden or not present, readers are going to mark your emails spam. All email clients give them that functionality. And if you get a lot of spam complaints, your future emails will be automatically sent to spam.
This is definitely not an exhaustive list, so read more; you can check out this blog on email deliverability.
Observe your metrics
Email marketing can give you the golden information of who is opening your emails, what kind of emails get the most engagement, and why people unsubscribe. Find your hottest leads and drill down on their exact requirements.
Once you have key performance metrics, you will be able to track your goal, whether it is increasing subscribers, increasing engagement, or getting more leads. And once you track, you can improve and celebrate your success.
What's Next?
Building an email list from your website visitors, social media followers gives you a golden ticket to stay on top of the minds of these people.
The tips and ideas we shared above will be only helpful if you take the first step. So here's some homework for you:
Sign up for an email marketing software, and just create your first email newsletter.
I would suggest signing up for SendX. Why?
Once you sign up, you will see how intuitive & easy it is to use the platform.
It comes with all the nice templates & features a photographer would need in an email marketing platform. You will have your first campaign ready in minutes.
You will be able to build a strong relationship with your fans & followers with the help of autoresponder & automation.
This email marketing software for photographers ensures that your emails go into the inbox and not spam box.
It doesn't cost you more than a mug of beer per month.
You don't even have to commit anything before you are sure. You just have to give it a try with the 14-day free trial: no credit card or any long-form filling process involved. Sign up here.