Email marketing Guide for Hotels & Hospitality Industry
The hotel industry is getting more and more competitive every year. This has resulted in increased ads budget, high prices of influencers quoting to market your hotels, and less visibility for your hotel.

But email marketing is your way out of this and to connect directly with the people in their inbox. Build one-on-one relationships with people over emails and get a better ROI on your marketing efforts.

So in this guide, we will explore why you should be doing email marketing, how to collect emails in the first place, ideas on types of emails to send, and some tips to succeed at email marketing.
Why Email Marketing is Important for Your Hotel
Automated funnels: Automated emails will help you save time and human effort that is better spent talking to customers, growing your business, or living your life. These emails are written once. The then email marketing software takes care of sending and timing them based on customer actions.
Boost brand awareness: Email marketing can help you build brand awareness and recall so that you don't lose leads, past customers. When you provide genuine value to your subscribers, they will remember you as the go-to place for their hotel requirements. Emails stay in people's inbox for a long time (forever until deleted), unlike Instagram stories or posts that are in the feed for a day and then lost in the sea of other posts. This way, they can be easily forwarded to others or even referred back when required.
Lower customer acquisition cost: Email marketing doesn't cost as much as it costs to run ads in a competitive space or pay the influencers for marketing on their channels. And on top of it, when customers receive your communication in their inbox for a certain period of time, they build a connection of knowing your brand well enough to trust it every time they have a requirement for a hotel or stay. That's how email marketing is the way to go if you want to spend intelligently on marketing.
How to Collect Emails
Before you start or scale your email marketing, have a strategy to collect the email addresses of people coming on your website, visiting your hotel, or contacting you through the phone.
On your website: Have a subscription form with a compelling reason on why someone should sign up for your newsletter or offers. For example, you can have a pop-up form on your website that offers a 10% personalized discount code to anyone who signs up for your newsletter.
‍Offline, at the hotel: For people visiting your hotel, you can ask them if they would like to be added to your email list to receive special discounts or upcoming events that might happen at your hotel.
What Kind of Emails to Send
Welcome emails: You can send one welcome email or a series of welcome emails to introduce the subscriber to your property. Here is an example from The Hoxton that thanks to the subscriber for signing up and informs what to expect from future emails. Welcome emails are a chance to introduce the subscriber to your brand's personality so they can look forward to your next email if they connect with it.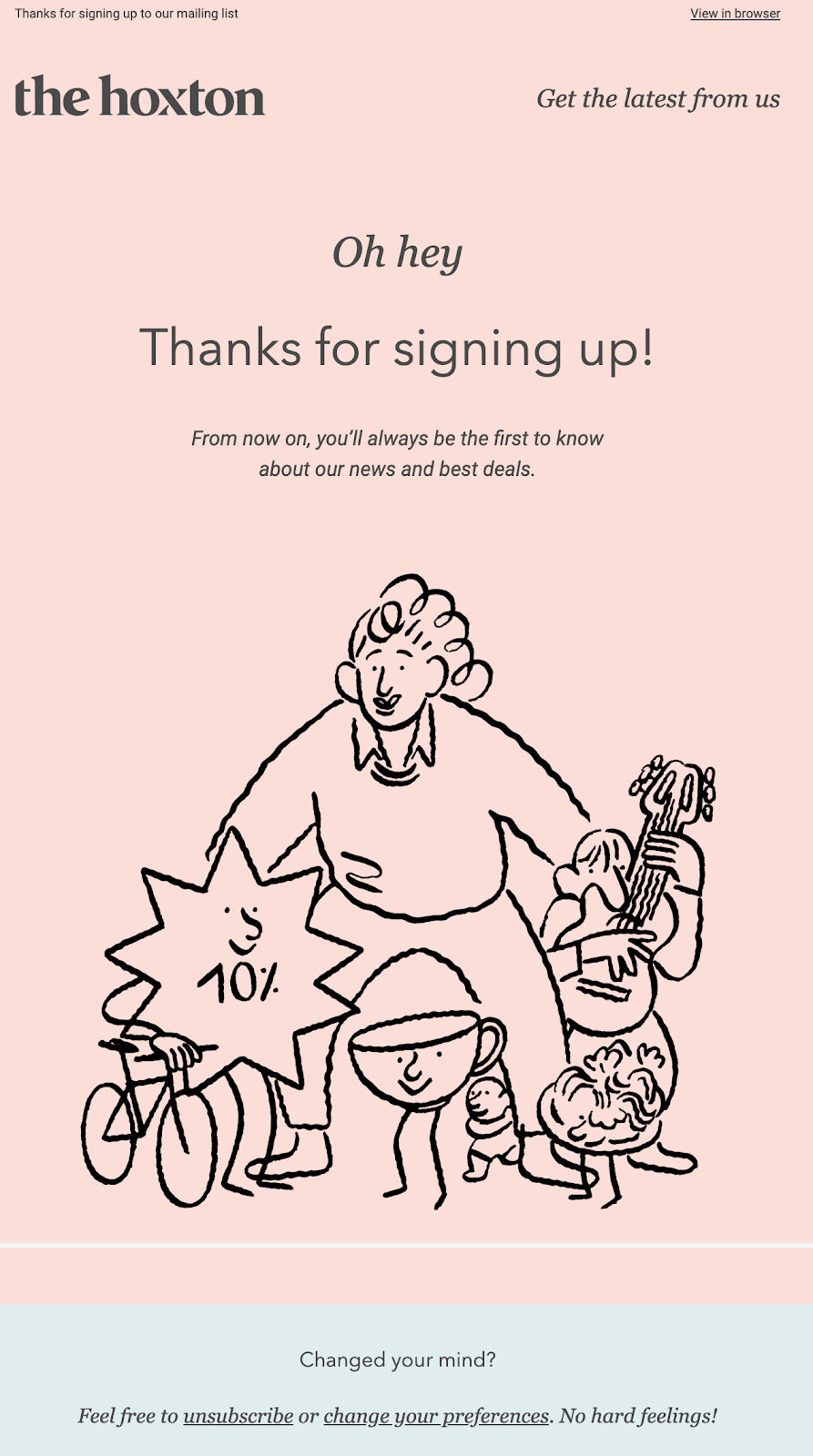 Abandon cart emails: Sometimes, people put items in the cart and leave without checking out because they get distracted or something comes up. It's not a sign that they are not interested in booking. Sometimes, they just need to be reminded and nudged again to relook or even reconsider their decision on a good deal if they left intentionally. So you should automate the process of sending cart abandonment emails. This email should contain the details of what the subscriber was trying to book and what should they do to complete the purchase now.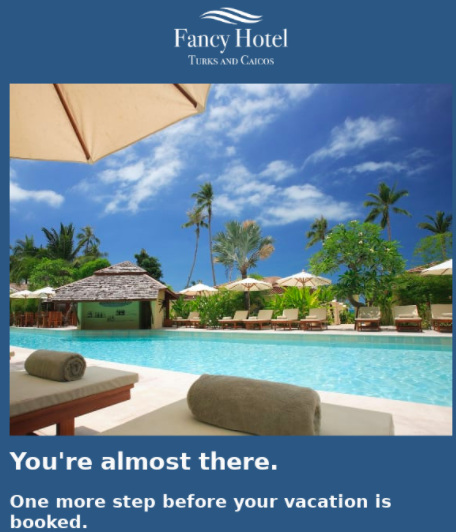 Cross-sell: Cross-selling is simply a technique of increasing the average order value of a customer by offering them something that is related to the purchase that they already made. Once they have already trusted you to buy something, they are more likely to buy something more if needed. This email is sent after the booking.

Upsell: Upsell is another technique to get the customer to spend more by upgrading to a more expensive version of their current experience. You should position the upsell as a really good deal Here is a classic example of upselling. The Colony Palms Hotel informs the customer about a bigger room, what they will get more compared to a smaller room, and how much extra they will end up paying.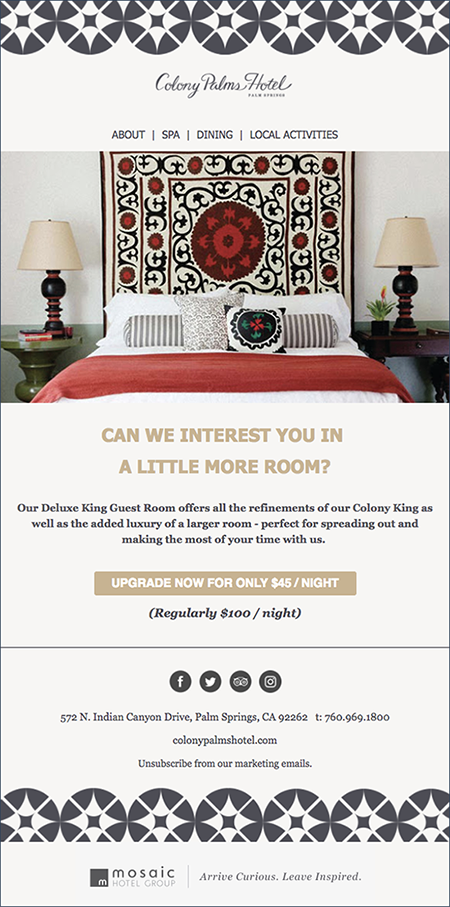 Review: Review emails are important to be sent right after the checkout. If it's sent a few days or weeks later, the person might forget the experience by then. This is also an opportunity for you to know more about your audience & collect testimonials to show your future leads and subscribers.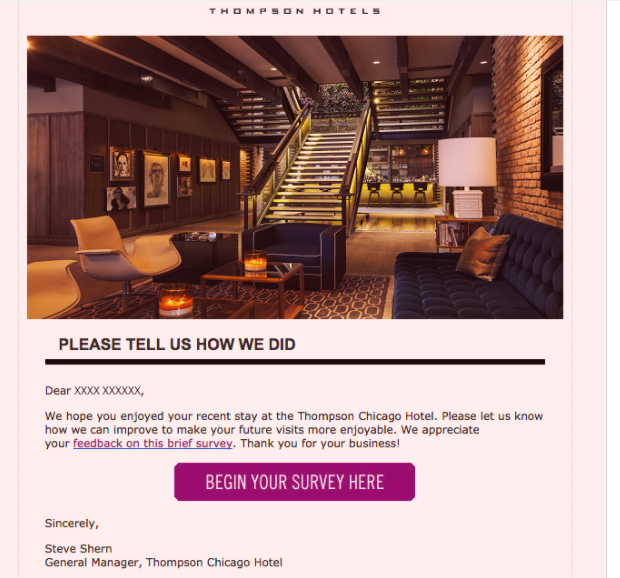 Discounts: Here is an example from the Hoxton. They know that usually, Mondays will be low occupancy days and hence they sent an email with a discount code to entice people who might be just thinking of booking a hotel on Monday.

Update about programs: Emails are a great way to announce the launch of a new program or membership of your hotel. There is only so much you can explain in a social media post or ad but in an email, you can explain everything by combining text and visual formats. Here is an example of an email by Marriott announcing the merging of reward programs and how it will affect their patrons.

Tips to Be Better at Email Marketing for Your Hotel
1. Craft engaging emails
Focus on both the content & design of your email to get readers' attention.
Copy of your emails should be relatable, and simple to read. People always make a purchase or book a place by relying on their emotions and then they justify it with logic. So your copy should evoke some emotions rather than being a stiff explanation of facilities at your hotel.
If your emails are text-heavy, make them scannable for the lazyweb to read. How?
Format your content to have bullets, sections, and subheadings to help people who skim through the emails.
If something can be expressed through an image or GIF, use them.
Make your email responsive - meaning it should be readable and look nice on devices of almost any size - mobile, desktops, tablets. SendX provided a collection of 20+ responsive templates you can use.
2. Segment Your Audience
Email segmentation is when you create different groups of your subscribers based on their past behaviors, and send contextual, relevant messages to each group.
You can segment based on these criteria:
People who have booked with you in the past
People who enquired but didn't complete the booking
Subscribers who have not opened your emails in a while
Your most loyal customers
Segmentation will help you send the right email to the right person at the right time. For example, if someone enquired but didn't book, you can send them a discount or reminder two days later.
3. Avoid 'spammy' subject lines
Your email subject line can be the deciding factor behind the success or failure of your campaign. A good subject line will help you cross the first barrier of catching people's eyes and having their undivided attention on your email copy.
However, a subject line that is tagged 'spammy' by the inbox service providers can land your campaign in the spam folder where it will never be opened and erased in a few days.
To not face that scenario, make sure your subject lines avoid the following:
Spammy words: Here is the full list
Exclamation marks
All capital letters of words
Long sentences
Special characters
4. Use data to optimize performance
You can derive insights from the key metrics of email marketing to know about your audience's behavior. Data from the email marketing tool that you use can help you know when your subscribers are most likely to open, what kind of device do they mostly use, what the major geographical locations where your audience is located are, what kind of emails get the most engagement, etc.
Here is how SendX's dashboard provides this data in an easy-to-read format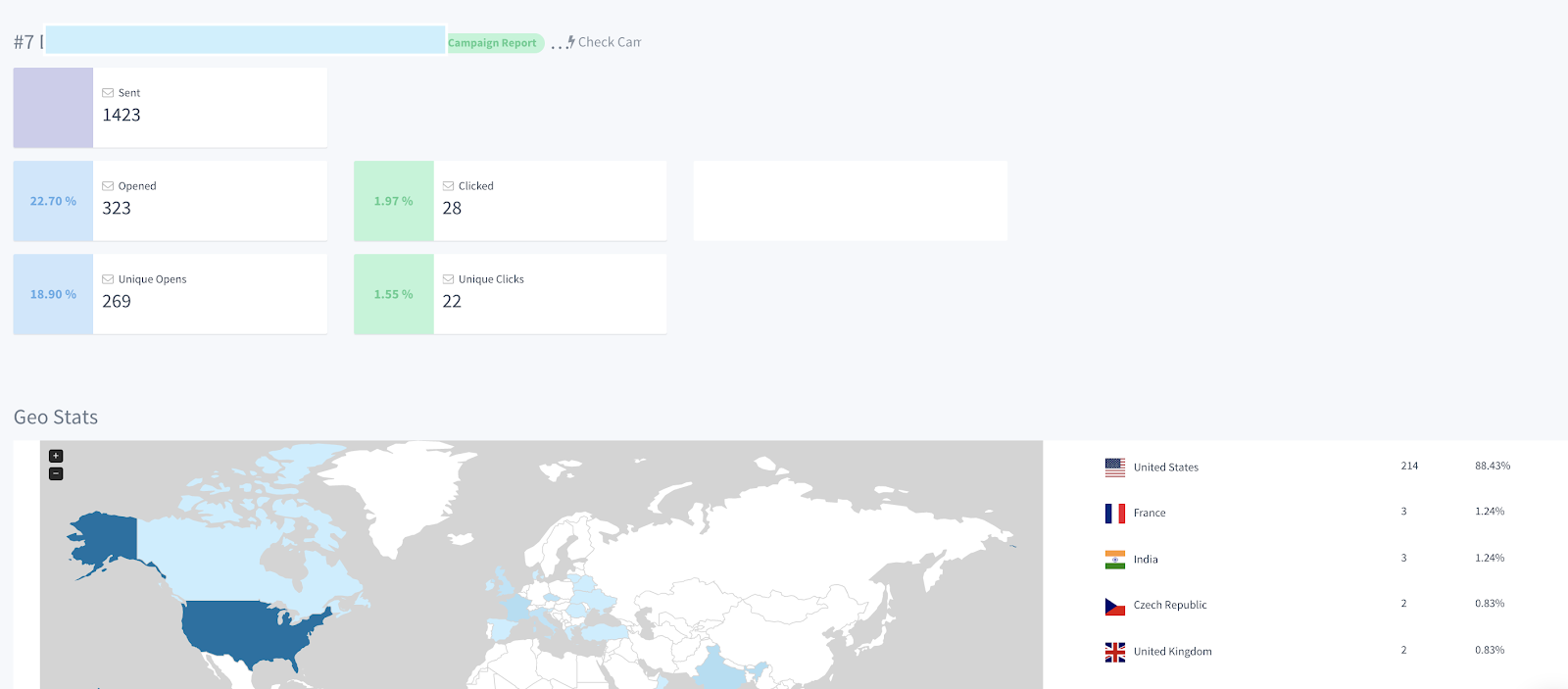 You can use these to make changes to your strategy. You basically have to do more of what's working and less of what's not working.
To know about the key metrics you should be tracking, check out this page on email marketing metrics.
What's next?
Now you know how important email marketing is for saving your time and building a brand. You also have some ideas of emails you have to send with some tips on how to succeed in email marketing. So now is the time to get into action and finally test some email marketing software.
If you want a platform that will ensure a user-friendly interface, 24/7 customer support, high email deliverability, some of the gorgeous looking templates to get you started… and all this without burning a hole in your pocket, then you should checkout SendX. SendX offers a 14-day trial for you to check out all the features and sends out unlimited emails.
It's affordable, intuitive, and trusted by 3000+ companies for their email marketing.
There is no credit card required or any lengthy signup forms to fill up. Just get started with your email address and take advantage of the 14-day free trial.