6 Best Email Marketing Apps for Shopify & eCommerce
Email marketing continues to drive engagement & sales for any business. This is where you can send abandoned cart emails, sales promos and get undivided attention of your audience.
The popularity of email marketing for eCommerce platforms are also evident from the fact that there are so many email marketing services catering to people who have stores on Shopify (an ecommerce platform with over 2 million merchants) or any other website.
It can be tough to find the right one without spending too much time & effort. To make it easy, we have created this post where you can find some of the best email marketing platforms for Shopify to help you decide which one is right for your business.
Here's our list of the top 5 Shopify email marketing tools :
Omnisend: Multiple channels can be managed from one platform, Templates can be shared between different Shopify stores.
Mailerlite: Beginner-friendly tool with good automation capabilities
Drip: Click-and-point editor, personalisation capabilities
Klaviyo: Use data to generate insights, multivariate testing is possible
SendinBlue: Feature-rich platform that provides email marketing, SMS, landing page builder, Facebook ads integrations etc.
Apart from these, we are excited about the SendX Email Marketing Integration App with Shopify. We are currently in beta. If you would like to try or give feedback, do reach out to us at hello@sendx.io
What can help you make the right choice?
Let's talk a look at what top 5 features you should be looking at when choosing an email marketing software suitable for an eCommerce store.
Forms integration: Opt in forms that you can put on your website and where people can fill in their email address or contact info. This info should then automatically be part of your email list.
Email editor: Easy to use, drag and drop email editor so you don't spend hours trying to write code for your emails. It should provide enough flexibility and customizations to make your emails align with your brand colors, elements, etc.
Reporting: A reporting dashboard that can tell you about the ROI from campaigns, automated emails, promos, etc. It should also inform you about the engagement (opens, clicks, replies, etc) on each email.
Automated campaigns: A setup that can allow you to send the right emails at the right time. E.g. sending abandon cart emails with discount when someone doesn't complete the purchase, or feedback emails when the product is delivered.
Segmentation: Ability to categorize your audience into different buckets according to demographic, location, engagement level, buying behavior, etc. The criteria will change depending upon your business model.
Let's find out more about the 5 email marketing apps for Shopify now.
1. Omnisend
This platform is tailored for eCommerce. You just have to install their app & link to your Shopify store. You can use pop-forms for collecting emails on your website and they will be automatically added to your email list on Omnisend.
Multichannel support
It provides channels beyond email (SMS messages, push notifications, Facebook Messenger) so that you can target your audience wherever they prefer to be contacted. This will boost engagement and provide greater customer experience.
‍Editor
Their email editor has drag-and-drop functionality so you don't need to learn to code to use it. The good thing is that it's tailored for eCommerce as you get unique features like:
Product picker to directly add products from your store
Auto-generated discount codes that are synced with your store
Interactive elements such as scratch cards or surprise gift boxes
The product recommender will automatically add your bestselling or newest products to emails.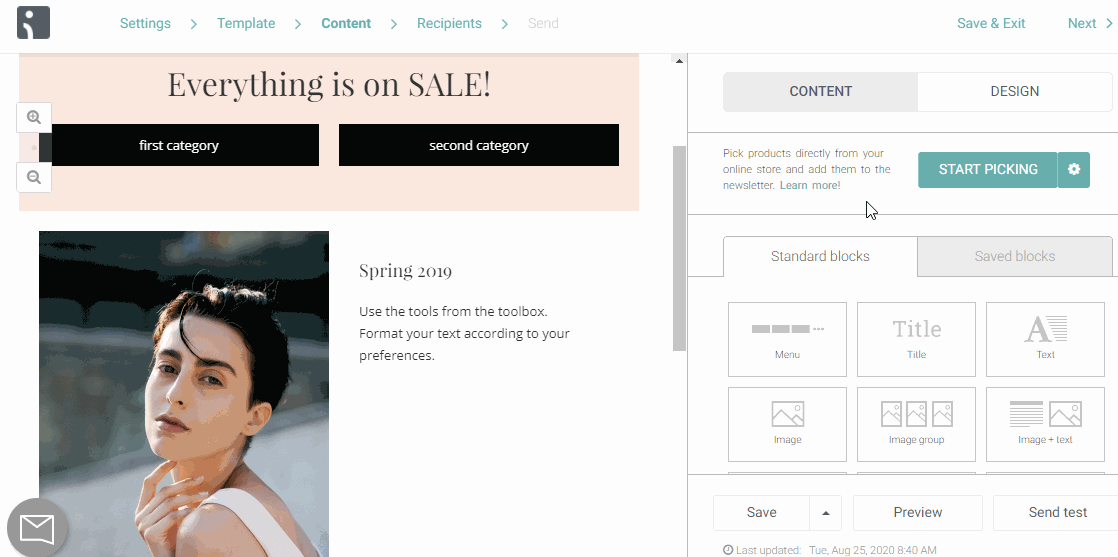 Automation
For automation, you get pre-built workflows for sending cart abandoned emails, welcome series, order & shipping confirmation, etc. You can also create your custom automation with their drag & drop mapping canvas.
Automations are only available for Trial and paid plans.
Templates
The one thing they can improve is to add more templates in their library. eCommerce field requires you to send a lot of emails on lots of occasions, and 20 templates might not be enough to keep the look fresh.
Integrating process
To add this you will have to go to the Apps section in Shopify & search for Omnisend Email Marketing & SMS app on the list. Just click on Add App and installation will be done.
| | |
| --- | --- |
| Features that stand out | Multiple channels can be managed from one platform, Templates can be shared between different Shopify stores. |
| Customer Support | Chat, Email, Facebook Messenger and a searchable knowledge base |
| Trial / Free Plan | 14-day free trial with all features + Free plan with email limit of 15K/mo & other limited features |
| Pricing | Pricing based on a combination of number of emails and number of subscribers. Lowest is $20/mo for 1000 subscribers & 15K emails per month. |
‍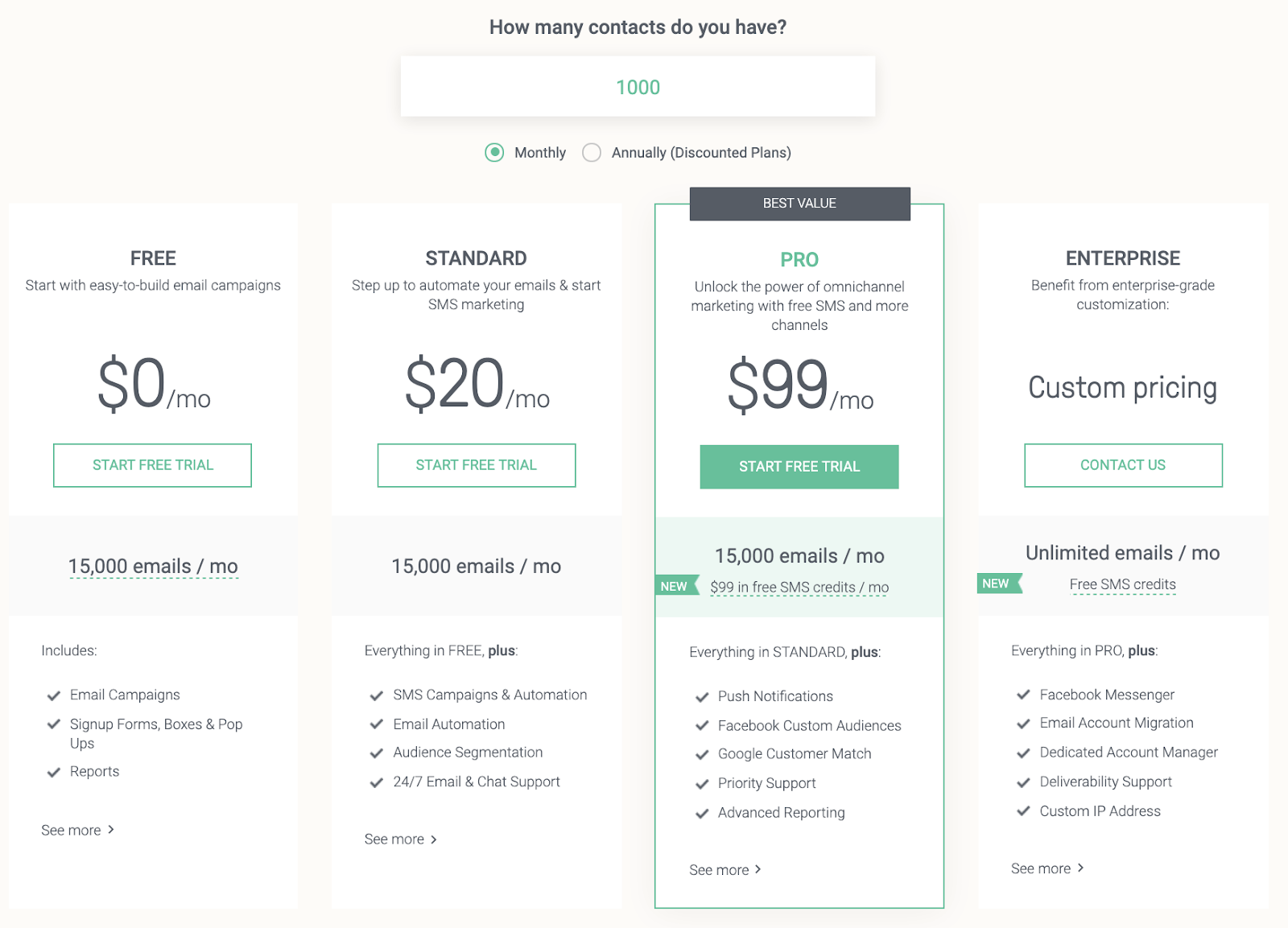 2. NotifyVisitors
NotifyVisitors is an email marketing app for Shopify that boosts the email marketing efforts of e-commerce store owners.
It provides powerful features to create email campaigns and promotions and purchase and browser abandonment recovery email templates.
It also has advanced segmentation capabilities to easily target specific customers or customer groups with personalized messages, providing a more engaging experience.
NotifyVisitors
NotifyVisitors works on all devices, including web, mobile, and tablet. This app allows store owners to leverage email marketing to improve customer engagement and increase sales.
Key Features of NotifyVisitors
Drag and drop editor: Drag and drop editor to assist you in customizing the email templates that match your branding requirements.
Different types of email campaigns- Let you send welcome emails, promotional emails, registration emails, cart abandonment emails, newsletters, etc.
Automated campaigns with journey builder: Target your customers immediately with email drip campaigns and personalized customer journeys with a drag-and-drop feature to encourage them.
Segmentation- Advanced segmentation to categorize customers more authentically and reach them in the best possible way.
A/B Testing: Try and experiment with different variations of your emails to see which variation works the best and drives maximum results.
Team Management: Manage your email marketing team and collaborate on campaigns effortlessly.
Analytics and ROI Tracking: Learn more about your email marketing ROI and performance with analytics tools.
| | |
| --- | --- |
| Features that stand out | Drag and drop editor, Advanced segmentation, Campaign booster, in-depth analytics |
| Customer Support | Email and Knowledge Base available for all plan users |
| Trail / free plan | Free plan available |
| Pricing | Paid plan starts from $49 per month |
3. MailerLite
Editor
It's a beginner-friendly tool as you get a drag-and-drop editor, landing page, and form builders all in one platform.
With their Shopify integration, you can search and automatically add products from your store to your emails by using the 'Product' content block.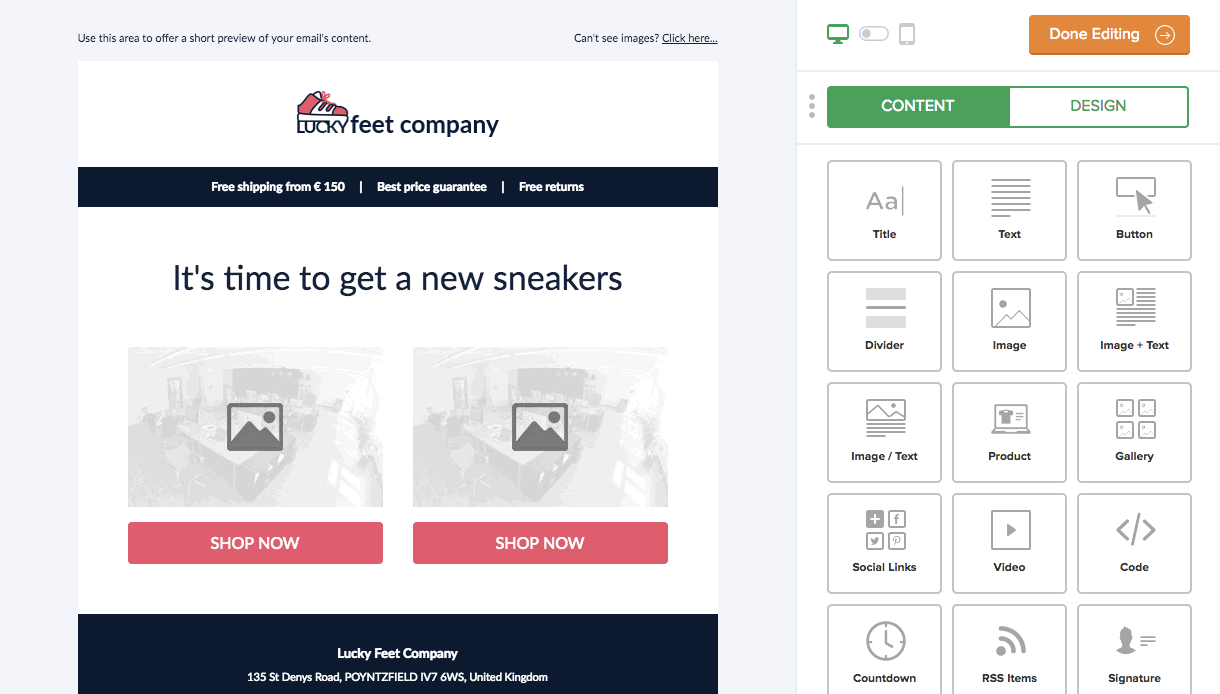 Reporting
MailerLite doesn't have a dedicated section for reporting. You will find "Stats" under "Subscribers," and "Reports" under "Campaigns".
But the sales tracking allows you to see what types of products and content generate the most revenue. You can track the performance of each individual campaign or an automation flow.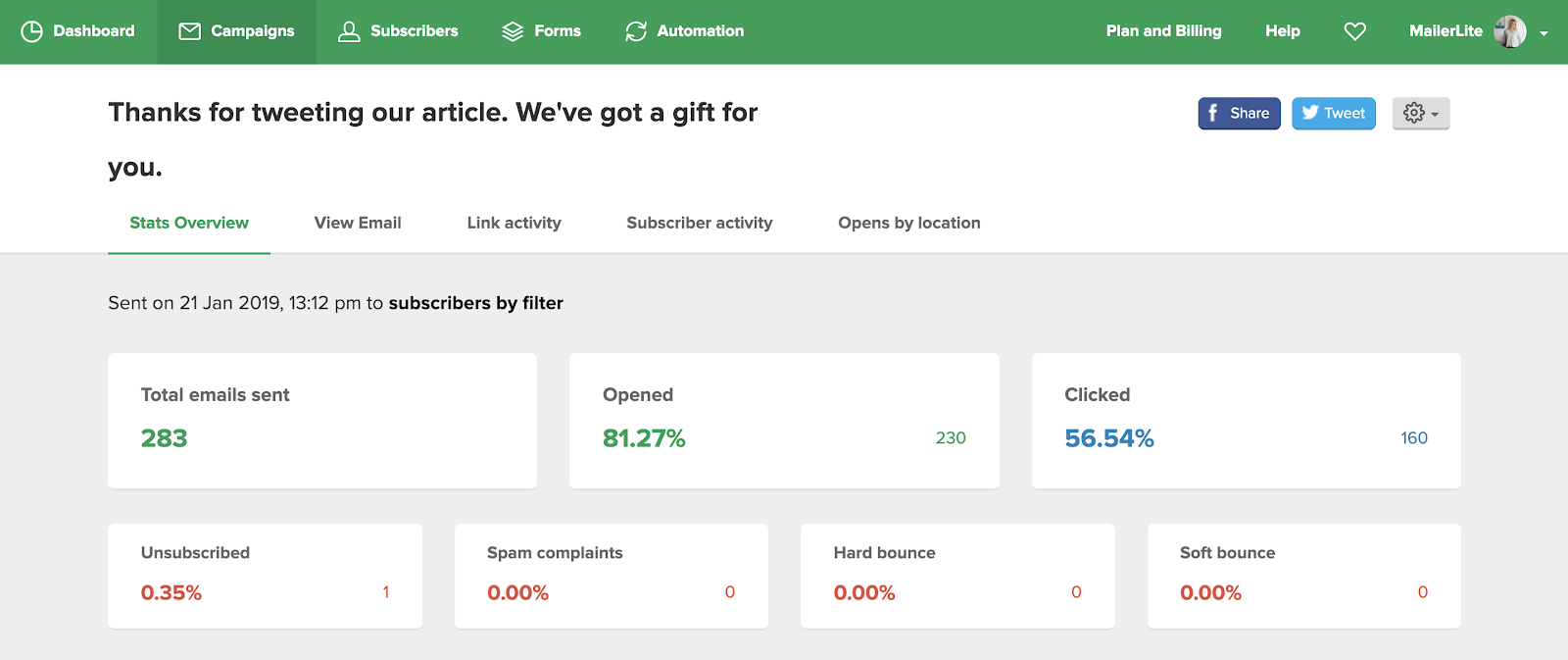 Segmentation
Once you sync all of your Shopify contacts to MailerLite, it will automatically create segments based on customers' history (e.g. repeat customers, first-timer, high spenders etc.).
You can create more rules to automatically segment people into categories when they sign up, or take any action in your emails.
Integrating process
To add this you will have to go to the Apps section in Shopify & search for MailerLite. Then you will have to add the API key you will find in your MailerLite Account. Then you choose the subscriber group where you want to save Shopify customers & it's done.
You will not find very advanced features with this platform. E.g. in automation it doesn't provide advanced conditional elements, and you can't track subscribers' interaction with your website's pages.
| | |
| --- | --- |
| Features that stand out | Segmentation is easy. Landing page builder, pop up form can be created. Solid automation tools |
| Customer Support | Email & Knowledge base for all plans , Live chat for premium plans |
| Trial / Free Plan | 14-day free trial to premium features. |
| Pricing | Pricing is straightforward - based on the number of subscribers. All plans get access to all features. |
‍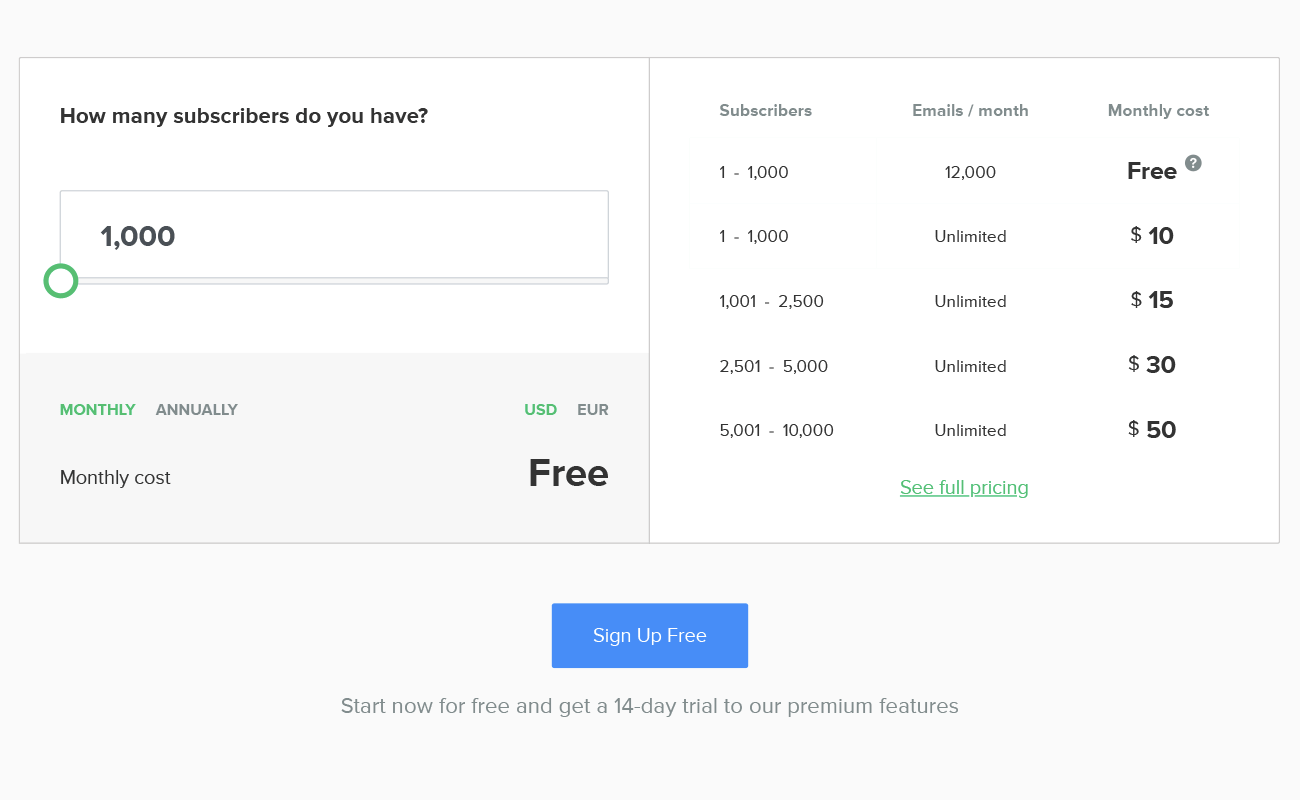 4. Drip
Drip has two email builders: text-builder (to create a simple text-based, personalized email) & visual builder (for branded, full-color, gorgeous-looking emails).
Editor
Their visual editor is point-and-click rather than a drag-and-drop editor. So instead of dragging, holding, and dropping as you would do in a drag-and-drop editor, you just point at an element with your mouse, click it once, then point where you want it to go, and click again to put it there.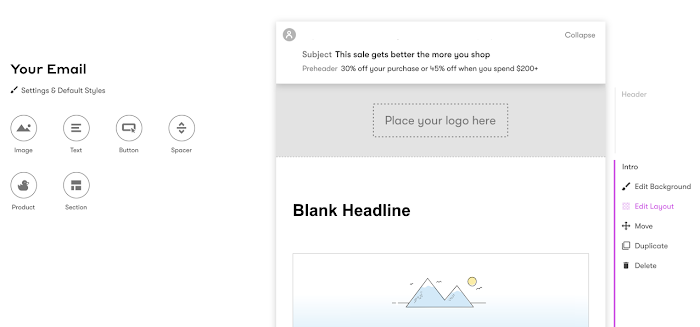 Automation
Drip has 10+ email automation templates built specifically for Shopify use cases. You will get real-world scenarios built into these automation e.g. abandon cart, product price drop, loyal customer message, etc.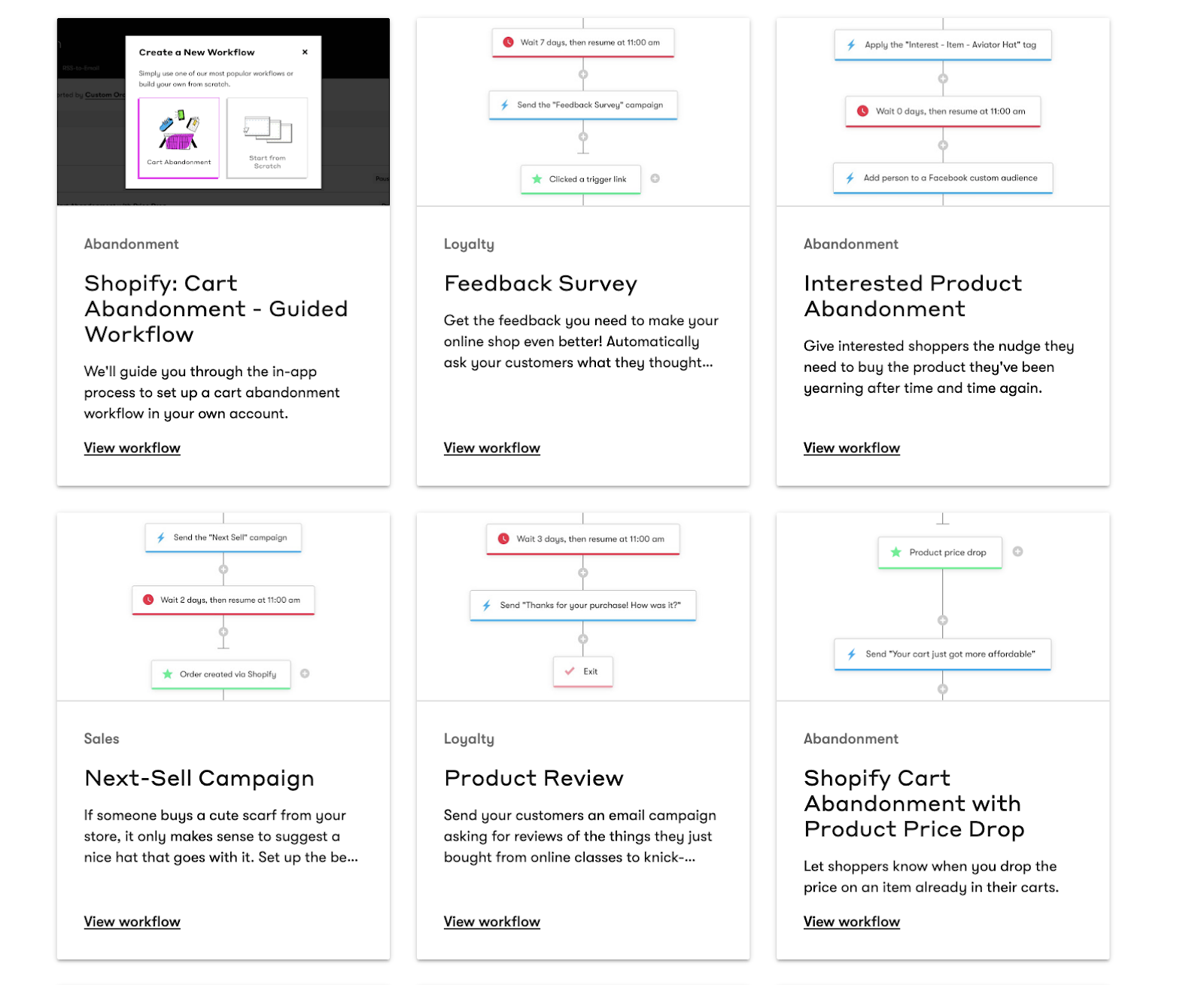 Reporting
On Drip's dashboards, you will be able to see your engagement metrics (opens, clicks, and unsubscribes) along with overall revenue, revenue per subscriber etc, for every email you send or workflow you make.
From what we have heard and read, their point-and-click editor is innovative but not liked by everyone. So if you are one of those who are used to drag-and-drop functionality you might miss that in Drip's editor.
Integration Process
Drip has an unlisted Shopify app that allows you to integrate with shopify. This app will "listen" for activities in your Shopify store. To install the Drip Shopify app, just login to Drip and go to Settings > Integrations > and click the Shopify integration.
| | |
| --- | --- |
| Features that stand out | Pre-built automation workflows, click-and-point editor, personalization capabilities |
| Customer Support | Email support for all pricing plans. Chat support if you have more than 5000 people in your list |
| Trial / Free Plan | 14-day free trial. No credit card required |
| Pricing | Pricing is based on the number of subscribers and you can send unlimited emails and get access to all features. Lowest price is $29/mo for 1000 people. |



5. Klaviyo
Editor
Klaviyo provides pre-built email templates tailored to the eCommerce industry. So you will find templates for abandoned carts, sales, feedback, etc. You can also create your own using their drag-and-drop editor or by using HTML. All emails are responsive.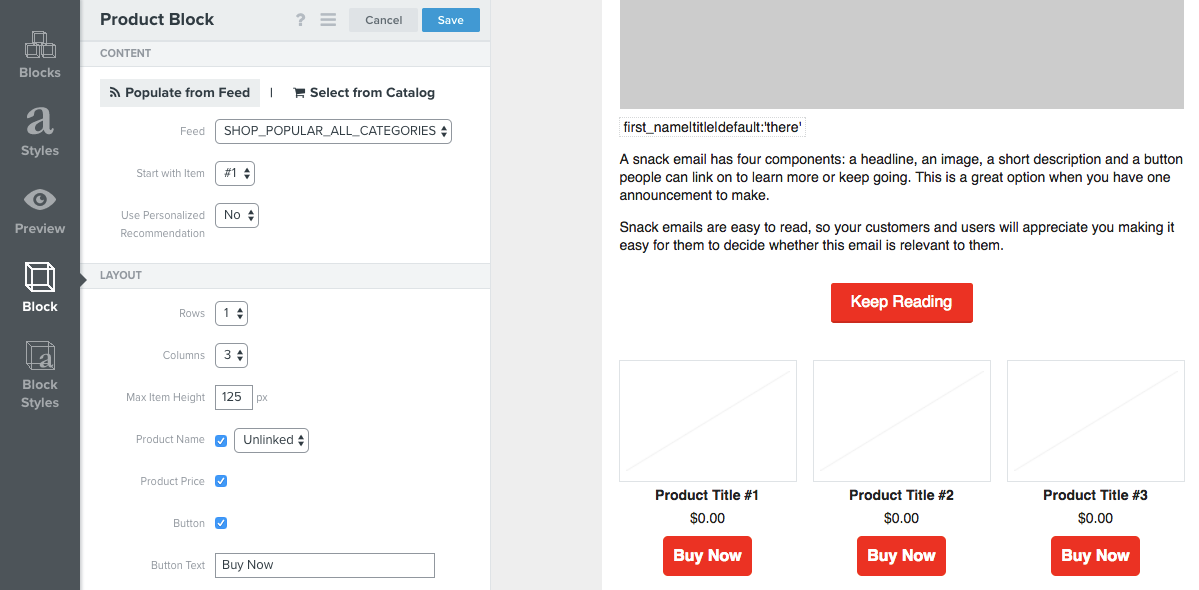 Segmentation
You can create numerous segments based on different conditions like people who spend above a certain amount, people who buy only with coupons, customers who buy specific kinds of products, or people who browse but never buy. These are just to name a few.
These segments are then automatically updated in real-time without manual intervention.
Reporting
You get key metrics for every campaign in a dashboard that you can customize to see what's important for you. Apart from that, you can also measure how much revenue you've generated from specific marketing campaigns and promotions.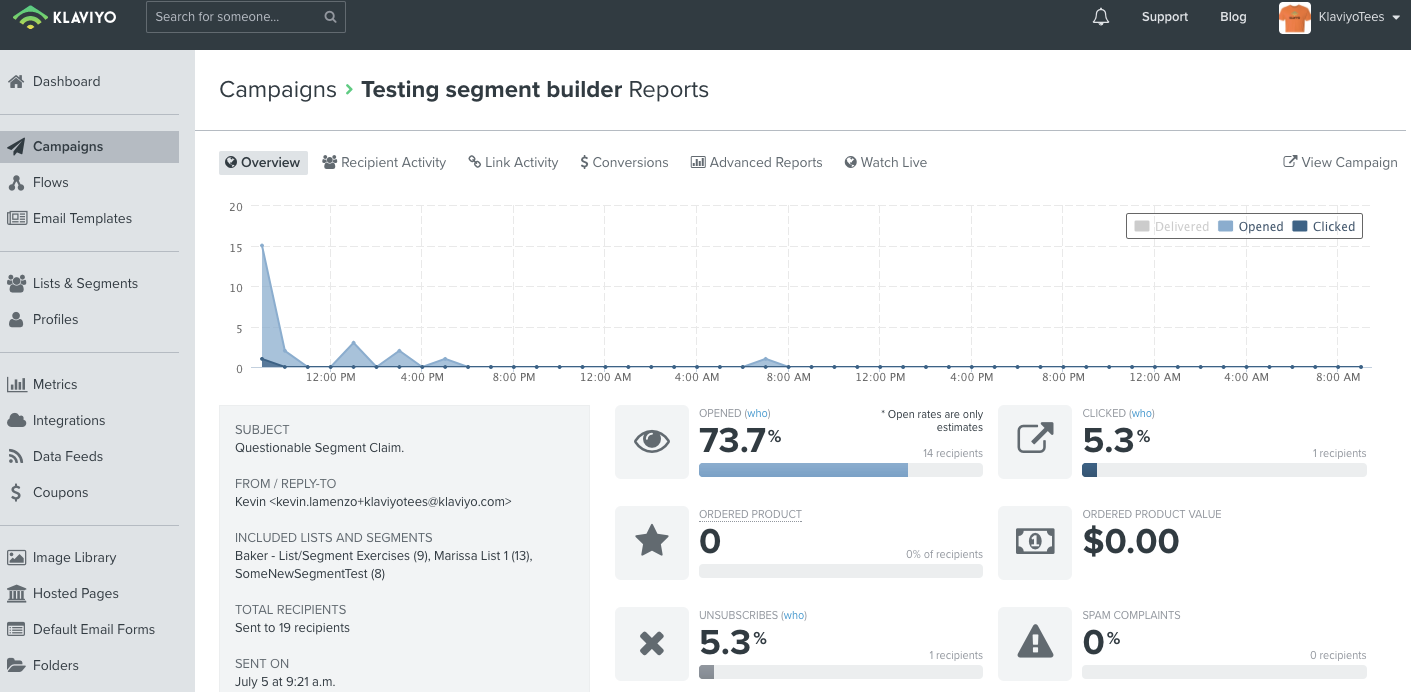 You can filter out more data such as your top buyers for a specific product, people who spend the most on your store, etc. You can use cohort analysis to see shifts in customer behavior
Integration Process
Go to your Klaviyo account > integrations tab and click on the Shopify integration. This takes you to your Shopify Integration settings page where you can put the URL of your store & click Connect.
| | |
| --- | --- |
| Features that stand out | Robust reporting with data science, key metrics, customizable dashboard |
| Customer Support | Email support for limited hours. Chat support only on paid plans. |
| Trial / Free Plan | Forever free for upto 300 contacts in your list |
| Pricing | Pricing is based on the number of subscribers. Lowest price is $20/mo for 300-500 contacts |
‍



6. Sendinblue
Sendinblue is a feature-rich platform that provides not just email marketing but also SMS, landing page builder, Facebook ads integrations, signup forms, etc.
Editor
You can create emails in 3 ways:
Drag-and-drop editor
Rich text editor for simpler emails
Code your own using HTML
Apart from that, you can also create landing pages & signups.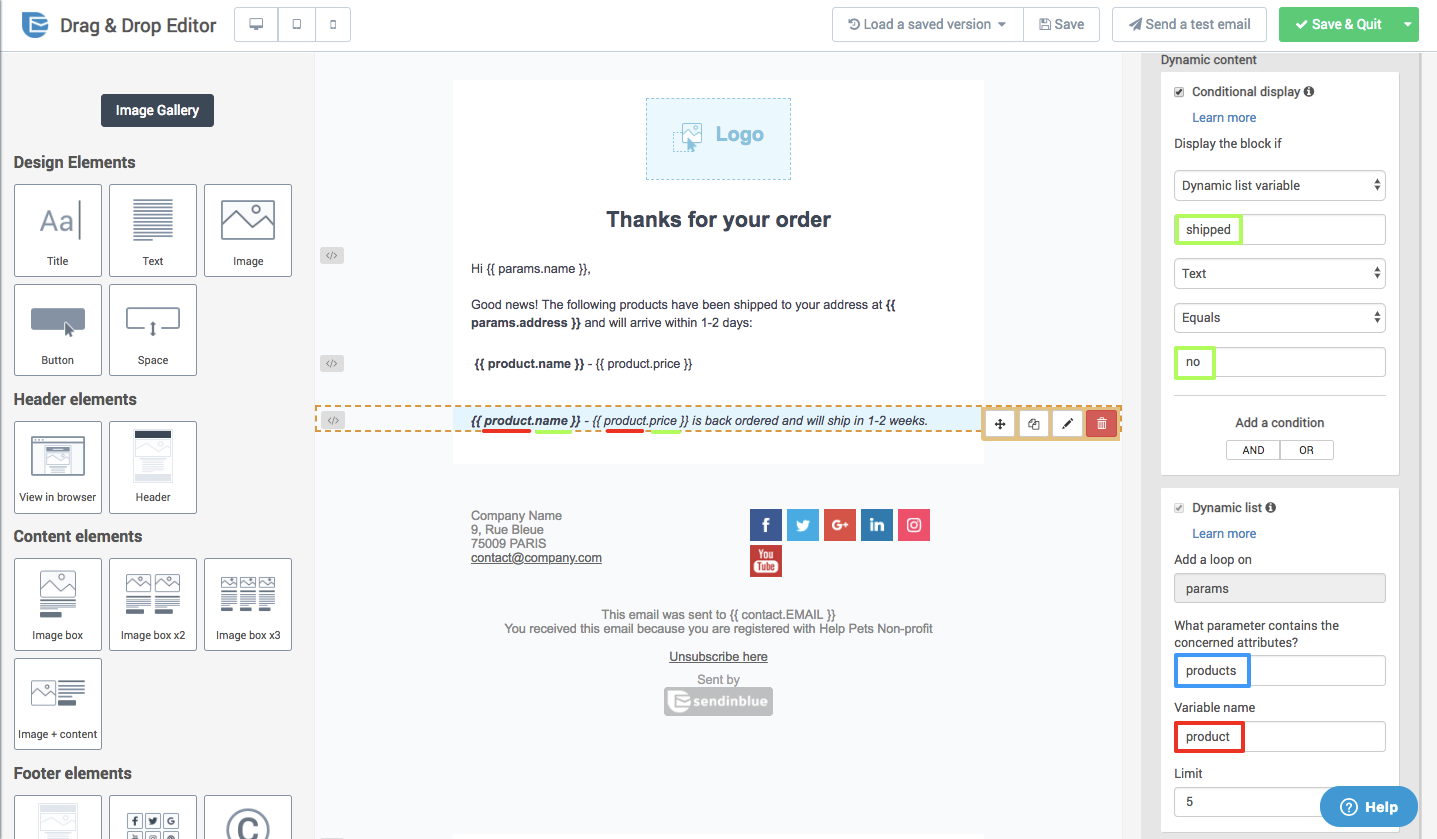 Transactional Emails
They provide different setup options like API, SMTP Relay, eCommerce plugins for transactional emails. You can use these to create confirmation emails, password reset messages etc. The good part is that you can control the design of these emails and these don't have to look ugly receipts.
Automation
Sendinblue lets you trigger emails when people visit a specific page or take a specific action on your website. You can automatically send follow-up emails to non-openers, contacts that opened your emails but didn't click, etc. You can also send welcome emails, happy birthday emails or abandoned cart emails.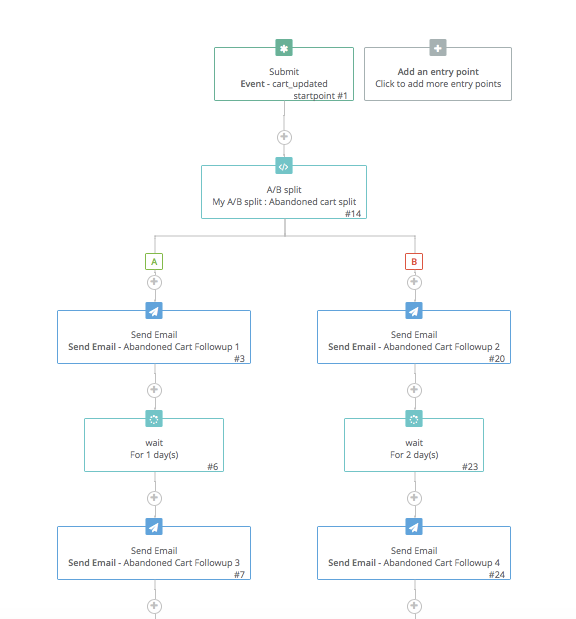 Integration Process
Go to Shopify marketplace & select the SendinBlue app. Establish the connection by just following the simple steps & hit connect. No APIs or code required.
| | |
| --- | --- |
| Features that stand out | Robust automation, SMS functionality |
| Customer Support | Email for all plans. Phone & live web chat for premium & enterprise plans. |
| Trial / Free Plan | Forever free plan with restriction of 300 emails/day |
| Pricing | Pricing is based on the level of features provided & email quote per month. Lowest paid plan is $25/mo which comes with 100K emails/month & only some set of features. |
‍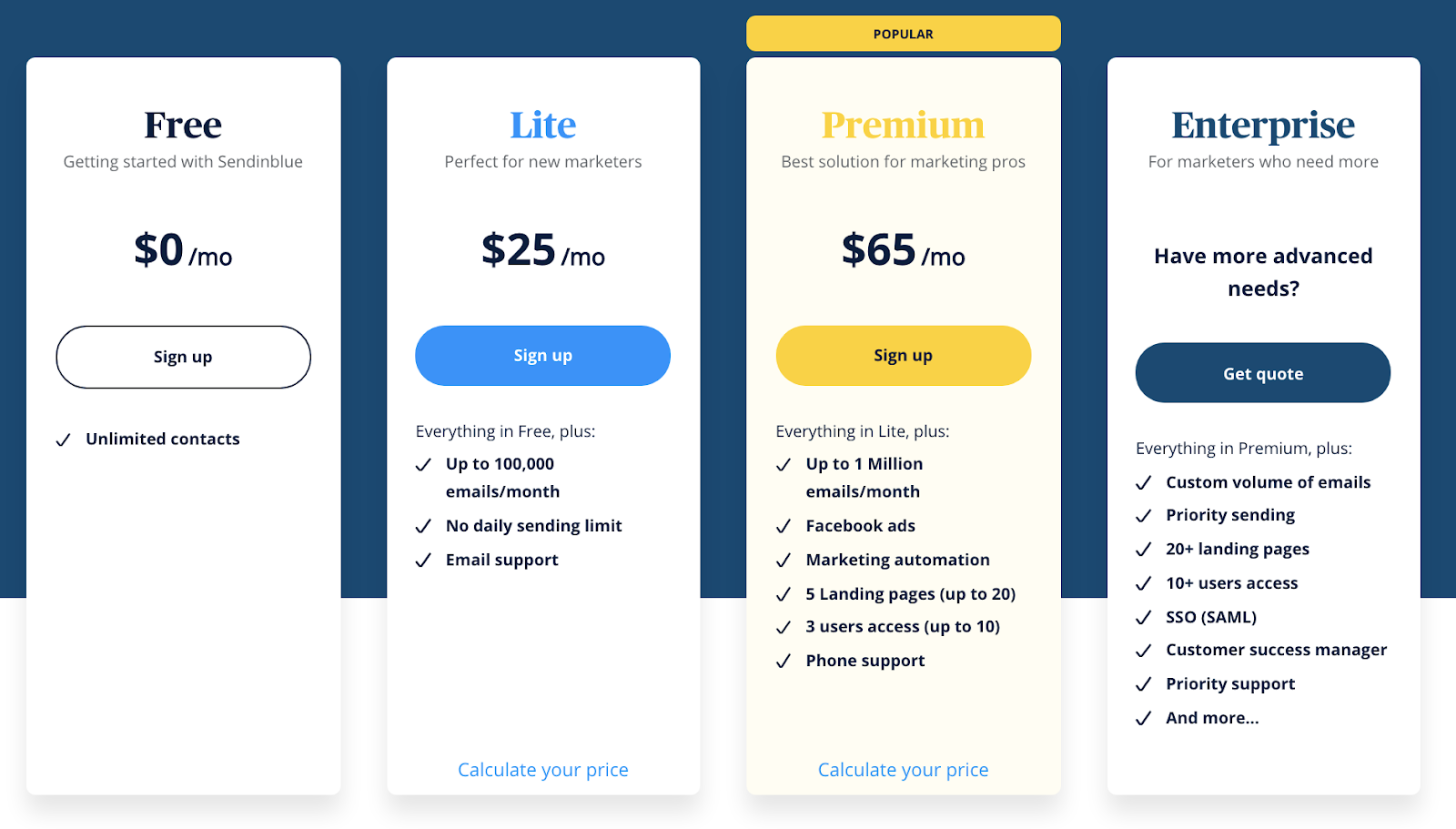 Wrap Up
I hope the features, pricing and screenshots above will help you
decide which platform is right for you. Just keep in mind your business goals, scalability and affordability in mind.
If you are still looking for another option, here is something interesting:
SendX is currently developing their email marketing app for integrating with Shopify. It's currently in beta and has all the features a starting eCommerce or a growing eCommerce brand will need.
The price is going to be the same as what we currently offer. It starts from $7.49/mo. That is 3x cheaper than any of the apps listed above. Plus you will get to try it for free for 14 days, all features included, no credit card required to sign up.
If you wish to know more sign up for the free trial and ping us on the chat to get access to the beta version.