The Most Popular Social Media Newsletters in 2023
5 min read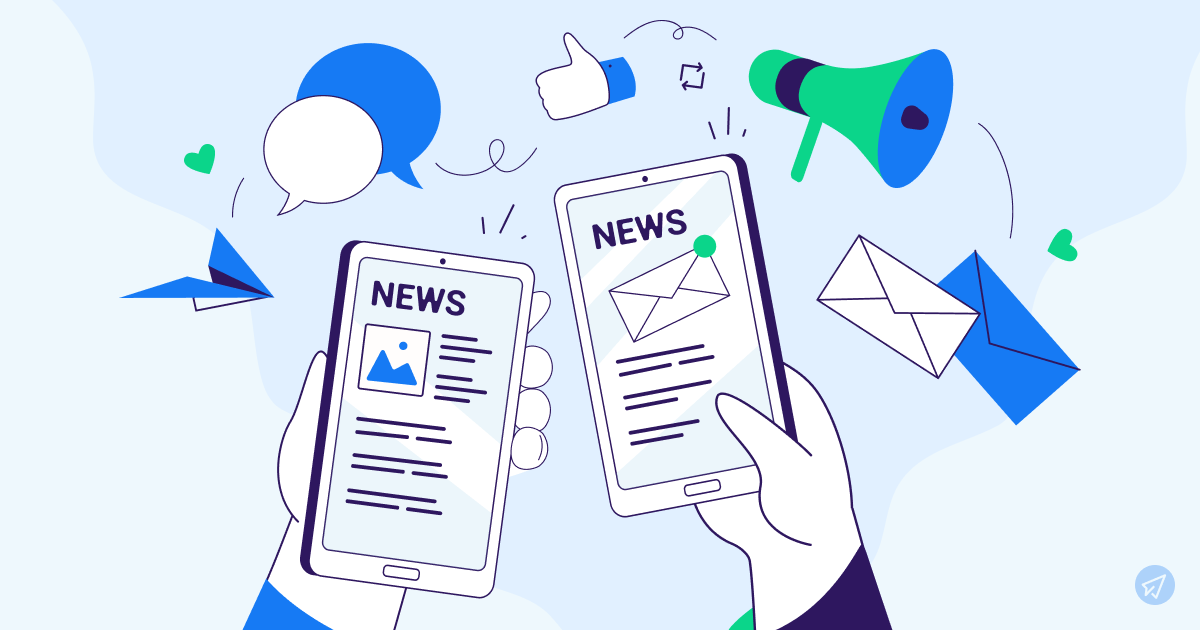 In 2023, the email address is the #1 chased a piece of data about us. It's hard to imagine an online presence without it, as over 4.26 billion email users send almost 13.2 billion every second.
Yes, you don't need your prescriptions checked.
Every second.
The abundance of information and data around us can be overwhelming. If you find it hard to keep up with different portals and regularly check the latest news, sign up for some of the best social media newsletters. This allows you to personalize the incoming information stream.
Table of Contents
Who Should Pay Special Attention to this List of Best Marketing Newsletters Examples?
Social media professionals who wish to keep up with the industry trends, insights, best practices, updates, and events.
Marketing professionals and SMB owners looking to grow their businesses through social media.
Journalists, content creators, and bloggers who cover topics related to social media.
Are Email Newsletters Still a Thing in 2023?
From the perspective of the email user: an inbox is a sacred place.
Aside from spam, access to the inbox can be granted when users see the real benefit of disclosing their personal information.
What makes email newsletters good?
Emails are the number one online communication tool.
Email is the most common and widely used method of communication: we use it to contact friends and family, book vacations, manage projects, stay on top of the offers from our favorite brands, and even to vote (in some countries). It's universal, has a global reach, and is the first thing the user creates while becoming a digital citizen. There is no doubt that email is with us for the long run.
Emails hit the personalization bullseye.
Users personalize their inboxes. If the value proposition is good, they hit subscribe and let you in their sacred space. Misuse this trust, and they will unsubscribe even faster. What can you do to prevent that? According to the email marketing trends report, readers value authenticity and personalization. Use this to your advantage and go beyond the first name or recently bought items.
Emails allow information stream control, unlike social media or media sites.
In social media, users are constantly flooded with content. The abundance of sources, triggers, and topics can make a head spin and set off FOMO. Email frequency is up to the user, not the media source or social community. Daily newsletter updates, weekly marketing news, or a monthly social media newsletters roundup: the user decides based on personal preferences.
The Best Social Media Newsletters to Follow in 2023
Trusted and tested, up and comers, and unobvious black horse-like choices for your consideration. Check out the marketing email newsletters worth of your subscription.
The Social Media Today newsletter
This daily, free-to-all marketing newsletter is one of the most reliable sources on all things social. No matter if you are interested in Instagram updates, influencer marketing strategies, or the latest news and trends. Social Media Today has.it.all. There is no spammy, fake-ish content served here. Experienced journalists share the latest scoop and are not afraid to express their honest opinions. Highly recommended!
Social Media Today's newsletter
Social Media Examiner Newsletter
SoMe Examiner daily updates are easily one of the favorite social media marketing newsletters to follow, period. As organizers of one of the world's most popular and in-demand social media conferences, their Team knows the SoMe world like no one else. Daily tips from expert marketing influencers and practitioners, a community of over 410 thousand readers, and what is unique, no flashy clickbait. As a signup bonus, Social Media Examiner shares free access to content that inspires and teaches the best social media tactics.
Social Media Examiner's newsletter
Ela Mazur Creative
Ela Mazur is a true professional in Instagram and influencer marketing. She is a practitioner. Ela shares tips and the latest news about Instagram in a free, weekly newsletter sent every Monday. Sign up, and your inbox gets a weekly dose of helpful resources: courses, podcasts, personal experience learnings, and case studies. Recommended if you like a conversational and informal style. Ela's messages encourage discussion, and you want to hit reply almost immediately.
Ela Mazur's newsletter
Benedict's newsletter
Benedict Evans, the author of this tech, media, and marketing newsletter, is an analyst who spends time researching and connecting the dots. His newsletters are long, essay-like in-depth messages that unravel the possible connections between a few seemingly unrelated subjects. Benedict shares context and is not satisfied with just scratching the surface, and he is on the lookout for trends and the future of MarTech. The free weekly newsletter comes out every Tuesday. Still, if you subscribe to Evans paid content (10$/mo or 100$/year), you get additional weekly updates and full access to all 450 past issues. I'd say this is money well invested.
Benedict's newsletter
The social media sNAPshot
The social media sNAPshots is a free, monthly newsletter curated by NapoleonCat (official partner of Meta / Facebook), an online tool to help schedule, engage and maintain your social media presence. An experienced team of marketers, regular specialist writers, and platform experts share unique and actionable snapshots for all social media marketing fans. No matter if you are interested in how to sell on Instagram, how to determine if your engagement rates on social media are on point, or need insight about social media users in a specific market – all of this and more, you'll find in NapoleonCat's social media sNAPshot.
NapoleonCat's social media sNAPshot
TL;DR Marketing
Straight, to the point, and no unnecessary words added. This is what you can expect from the too long; didn't read daily newsletter curated by SEO expert Saijo George. Free-to-all and loved by many for its concise form and no extra fluff that comes with long-form content. You get helpful notifications about the newest trending articles straight to your inbox. One or two sentences of summary. No need to go through an infinite scroll to know in the end that a great title serves nothing but sponsored content filled with backlinks. For even more personalization, choose specific topics to focus on, like: paid media, tips & tricks, social media, or even jobs.
TL;DR newsletter
Sarah Gav Social
Sarah is an Instagram expert and practitioner. She follows the latest trends on the Gram. She checks which thousands of audios have the potential to become a big hit on the platform. She knows the ins and outs of Instagram and can help you use the updates to your business advantage. She can also help businesses of all sizes develop effective strategies for leveraging Instagram's features to build brand awareness, connect with followers, and drive sales. You will find all that and more in her free weekly newsletter. Instagram runs through Sarah's veins, making her the new up-and-coming short video expert your business may need.
Sarah Gav Social newsletter
In Summary
Why is it essential to keep up with the best social media marketing newsletters?
Email is one of the most personal channels, close to all of us. After all, we carry it in our pockets and check it a few times daily.
Most marketing blog posts will share the importance for brands to personalize the newsletters for their audience. Still, I have yet to see a similar guide for email inbox users on how to manage email accounts to ensure our inbox is as personalized as possible.
For any social media marketing professional or a business owner who wants to use SoMe to promote a product or offer:
Subscribing to the right marketing newsletters gives you power over who delivers the content to you, and when. If you don't like the content or find it irrelevant, unsubscribe.
You are not distracted by ads, calls to action, and web push notifications attacking from every possible direction when reading the contents in your inbox.
By subscribing to the content shared in newsletters by actual experts in their niche, you not only support a small business like yours. You also get an opportunity to get more personal with the author, discuss topics of interest and refer to new business.
Big media news sites have the advantage of being the first to know the inside scoop. However, smaller creators go more in-depth on the subject of interest. By subscribing to both types of newsletters, you expand your knowledge while being one of the first to know about recent events or upcoming changes.
Take the list as inspiration. Explore newsletters by new, up-and-coming creators, lesser-known media, and emails from people with unique content delivery styles. In 2023 there are still many unexplored social media marketing newsletters to choose from.
FAQ's
1. What is the significance of social media email newsletters?
Unlike social media, where the user is constantly flooded with content, in the case of email, the user decides when to read it based on personal preferences. This makes an email social media newsletter an effective strategy that augments the social media marketing efforts.
2. Why is it important to keep up with the social media marketing newsletters?
Subscribing to the right marketing newsletters gives you control over who delivers the content to you, and when. Also, by subscribing to the content shared in newsletters by actual experts in their niche, get an opportunity to get more personal with the author, discuss topics of interest and refer to new business.