12 Ecommerce Email Marketing Trends In 2023
6 min read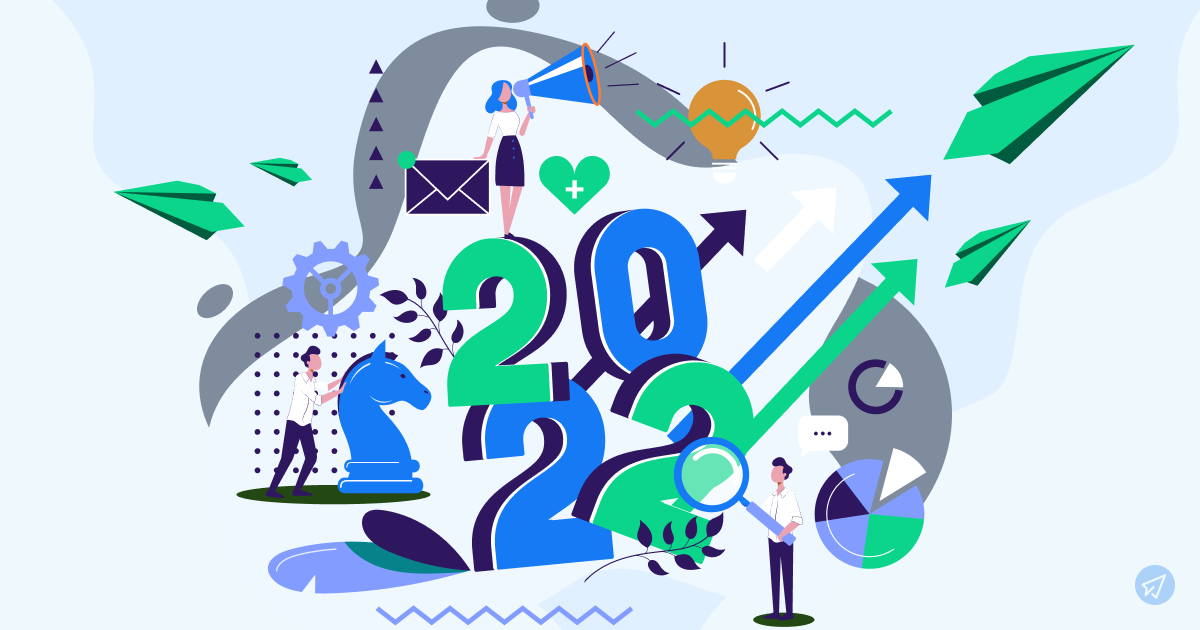 According to data, marketers who use segmented email campaigns saw an increase of 760% in the brand's revenue. Additionally, brands that focus on adding value through their newsletters and have a visually appealing email design are the ones that enjoy higher open rates.
With that in mind, let's look at some of the email marketing trends in 2023 you can't afford to miss if you want to boost your eCommerce sales.
Table of Contents
Top 12 Email Marketing Trends in 2023
1. Designing and optimizing emails for mobile devices
Customers will often ignore a marketing email from brands when it is not compatible with the device they are viewing it on. 81% of all emails are generally viewed on a smartphone.
That's why it is critical that when a consumer views your email on his smartphone, it loads properly. If a potential customer can't decipher your discounts or campaigns accurately, it is unlikely that they will even convert to being actual customers.
Smartphones, excluding tablets, account for about 55% of worldwide website visitors. So, instead of generating marketing emails for computers and afterward modifying them for smartphones, it is far more efficient to build emails for smartphones first and then copy the UX for computers.
2. Customization of emails
Customers often respond well to individualized buying interactions, not just in online marketplaces but also in other eCommerce advertising networks, like email. Shoppers do not want to be treated as incidental individuals; they want to purchase experiences that are influenced by and adapted to their own interests across multiple touchpoints.
Personalizing your email campaigns will increase their efficacy by a factor of ten. Whenever it comes to customizing your email newsletters, we're not just talking about your consumers' first and last names; there's a lot more.
The utilization of AI to create tailored and personalized advertising emails for specific customers is a concept that many brands have not only experimented with but have also found significant success. When a customer receives individualized communications and publications, they will feel cared for and understood.
Example of personalization in email – in subject line and greeting
3. Making emails accessible to everyone
Among many other crucial things for businesses to remember when sending email campaigns is to make them available to as many customers as possible.
Advertisers must guarantee that their email is viewed and consumed by individuals from diverse geographical regions using different phones in order to fully recognise the rewards of their advertising initiatives.
Here are some suggestions for making your emails more accessible:
Make absolutely sure your message and background colors have high contrast
For headlines and the message body, choose a legible font and line length
Extensive quantities of text should be avoided
Make your content is visible on any screen by using a responsive design
For hyperlinks, use informative affiliate links
Make your CTAs visible with contrasting colors to make them stand out and trigger a response
Pictures should include informative alternative text
4. Privacy protection
Since the beginning of the internet, privacy protection has been a major concern for businesses, but customers are more worried now than ever. In fact, this has become so much of an issue that there are a number of privacy policy generators that can help you draft the proper legal documentation.
Managing advanced marketing whilst maintaining all legal provisions is remarkably difficult for eCommerce sellers due to constantly evolving rules, particularly legislative gaps in multiple nations and even different regions.
The elimination of third-party trackers, for instance, is prompting advertisers to find new and inventive ways to follow users across platforms. To be relevant in a shifting economy, we allow employees to depend on first-party information, sponsored links, integrated marketing modeling, and other options.
5. Creative interaction
Advertisers are stepping up their efforts to guarantee that their email campaigns are compelling and intriguing to consumers as competition in the eCommerce industry grows.
Email marketing's main motive is interaction. For some reason, it feels as if we've been awaiting the development of interaction for quite some time. But surprisingly, many B2C brands are not leveraging this to increase sales or even collect feedback as they build their email community.
Making your advertising highly interactive is not as tough as most people actually believe. To put it plainly, even the most basic ideas can lead to conversions.
Quizzes, polling, and client surveys, for instance, enable people to communicate and share their opinions with you. Another way for your brand to increase interaction within the emails is to incorporate gamification elements.
For example, instead of plainly offering your customers a few discount options and offers in the email, you can probably design a wheel of fortune or some other slot game that encourages them to interact with your email.
6. Offering additional value to loyal customers
Consumers are increasingly demanding something in return for their loyalty, according to statistics. While offering frequent attractive deals to your customer base is not feasible, it may be prudent to offer special deals to customers who have been loyal to your brand.
Employ your email marketing campaigns to divide your customers into groups based on the level of involvement. You should send special offers to individuals who open and engage with your emails frequently. Emails that include a clear promotion code are much more likely to be opened, which means more purchases.
Have in mind that a good newsletter also has to be up to date with major trends and explain them to customers. This can help them make more-informed decisions. One thing that can help gather the data is Google trends API.
7. Templates with dark themes
An email marketing poll conducted revealed that a significant number of marketers are contemplating using dark themes for their marketing campaigns. This stands to reason because many users utilize night themes on their smartphones for at least a part of the day. Even for individuals who do not consciously choose it, smartphones now have well-being capabilities for people's eyesight that dynamically flip themes on emails, which might be a reason to panic for email marketers.
So, in 2023, a dark theme would be more of a necessity than a novelty, with email campaign designers scrambling to find solutions to questions about night mode issues such as logo visibility and having to reduce discrepancies to maintain brand consistency.
8. Use of landing pages
After hitting the CTA button in a marketing email, the user will be redirected to the landing page. Numerous marketers focus their energy on creating a well-crafted marketing email but put less emphasis on developing a landing page.
The very first stage of crafting a good landing page should be to establish a consistent framework with a reliable, high-speed hosting service. Although this seems like a no-brainer, many online businesses still overlook the necessity of reliable hosting.
Understand that the 3-second mark is the tipping point for high bounce rates, and if the website does not load by then, you stand to lose about 40% of your visitors.
A landing page requires a significant amount of effort and time to develop in order to get an increased conversion rate.
9. Agile design
A switch toward sleek newsletter layouts could become one of the most crucial email marketing strategies in 2023. The days of stuffing your mail with irrelevant elements and information are long gone.
Your email is only one of several that your customers get on a regular basis. To guarantee that your email is aesthetically pleasing, certain elements must be included. Among them are the following:
Use reflecting components like web-safe typefaces, compressed photos, and illustrations.
Make sure your emails are short and to the point. Tell your recipients why your email is helpful to them by highlighting product benefits or by providing them with incentives to remain connected.
Incorporate programmatic native advertising and visuals of 3D photos that mixes in with the email content to generate revenue.
10. Experimenting with plain text emails
HTML emails may appear more professional & fancy, but they may not always increase performance when compared to plain text emails. The first reason is that plain text emails enjoy high deliverability – because nothing gets flagged (no images, funky code, or colors) and every email client in the world can open a plain text email. And secondly, they are perceived as less sales-y and more personal
For a myriad of purposes, simplicity is a developmental and strategic approach in email marketing, which is why plain text messages are a useful idea to incorporate with experimenting with email design styles.
High-quality pictures or sophisticated GIFs can be your foe sometimes and distract the subscriber from your actual message. So, as minimalism remains an ongoing trend, try to stay with the times and use plain text emails to convey your message to the audience.
Of course, every eCommerce brand and its demographic is unique, so don't hesitate to A/B test and monitor the success of your email marketing campaigns as you go.
11. Incorporate user-generated content (UGC)
If most of your emails are centered around your business, it's a good idea to implement user-generated content in some way or another. One reason why you would want to use this technique is that it gives your audience the chance to see things from different perspectives and thus adding more spice when reading about your company. This particular technique can also help you incorporate punchy and interesting messages which make you stand out from other brands. For example, you can add pictures of happy customers using your services or products. Showcasing an experience like this is a great way to gain credibility as well as build trust with your audience!
JUDY's email with gloring reviews from top publications
12. Email design trends
Here are some of the email design trends in 2023 you might want to experiment with for your next campaign–
Duotones or gradients for a strong visual impact
Interesting shapes like curves and waves for clear email compartmentalization
Distorted or bold fonts
Mixed media to add personality to the email newsletter design
Above all, be sure to personalize the design for your campaign.
Final Thoughts
Countless eCommerce businesses of varying sizes employ email campaigns around the world. Among the most obvious benefits of an email campaign is that it is less expensive than traditional advertising mediums & gives the highest ROI. It provides a significant return on investment (roughly 4200%) which acts as a good impetus to get with these email trends.
Before designing your next email marketing campaign, be sure to leverage trends that are relevant to your brand and make your emails profitable by using automation.