A Guide to SendGrid Email Marketing Pricing [2023]
7 min read
Have you ever used any email marketing software? If you have, odds are you know that nailing the ideal plan down from the various offerings can be difficult. You will need to look at the features from your email marketing goals and budget viewpoint.
But if you are considering using SendGrid, this article will take this burden off your shoulders. By the end of this article, you'll be able to decide which SendGrid plan you should adopt to meet your business' email marketing goals while remaining within your budget.
Quick sneak peek: There are several excellent alternatives to SendGrid, including SendX, which is a great email marketing software available at an even affordable price.
Table of Contents
SendGrid Email Marketing Campaign Plans
Here are the three email pricing plans offered by SendGrid:
The Free Plan
The Basic Plan
The Advanced Plan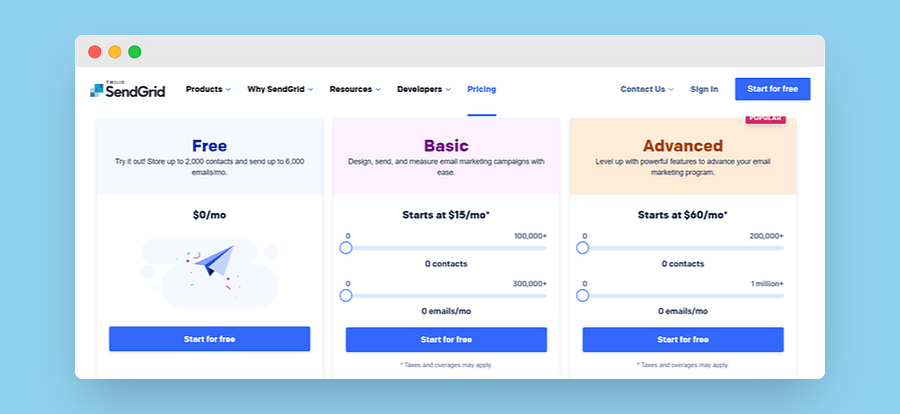 Here is a breakdown of each plan and the main features you will get with each one of them.
SendGrid Free Plan
Price:. $0 per month.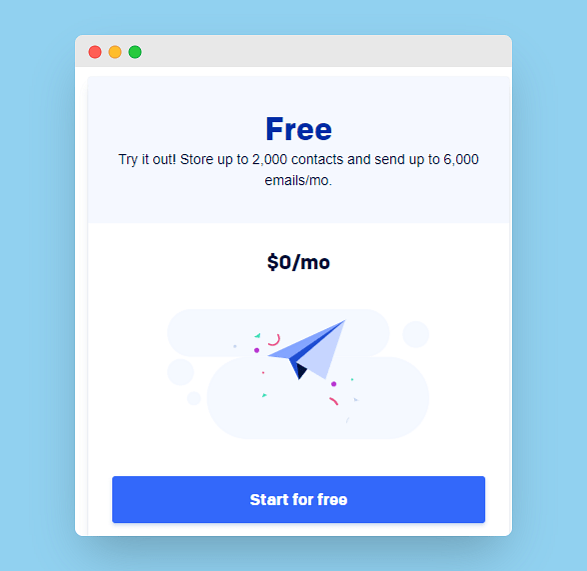 The SendGrid Free Plan allows you to send up to 6000 campaign emails and store up to 2000 email contacts.
Moreover, the Free Plan gives you access to a basic and a limited version of the majority of the premium features. You can automate your sendings, segment your list and even add one team member. This version is ideal if you are just starting with email marketing and do not need most of the premium features.
Here are a few the features you can expect for the freemium version of SendGrid:
The primary email marketing features for design and code editing: Email builder with drag-and-drop editing functionalities, HTML and CSS email codes, easy integration, and more.
Automation: Send automated email sequences or drip series based on the time or triggers you set in place. For example, you can automate your onboarding sequence to get your new subscribers warmed up right off the bat.
Single Sends: Send your emails to a list or segment of your audience all at once without any automation (aka single send).
Ticket Support: Submit a ticket by filling a web form to get help from an expert support team.
3 Email Testing Credits per month: Test and spam-check your emails, see how they look, and verify links using three testing credits per month.
1 Sign up Form: Get a single sign up form you can embed on your website to grow your email list.
Here are the limits:
You can store only 2,000 email contacts
You cannot send more than 6,000 emails per month
No access to dedicated IPs
No technical support offered
No access to expert support
SendGrid Basic Plan
Price: The price varies between $15 and $200 per month.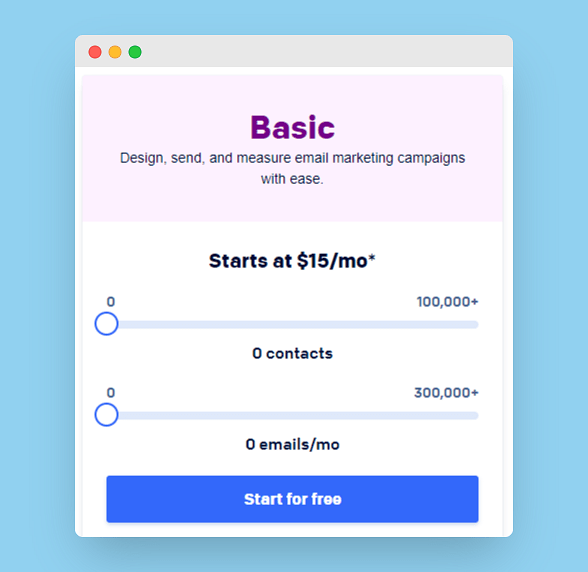 You get an option to customize the number of subscribers and the number of emails you want to send per month, and the price is set accordingly. For example, for 10,000 contacts and 100,000 emails per month, you will have to pay $120.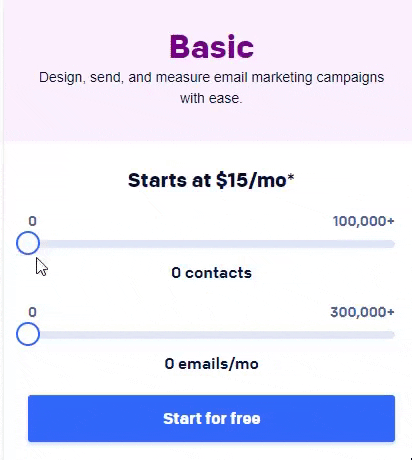 If you need more than they suggest, you can always contact them to customize your plan.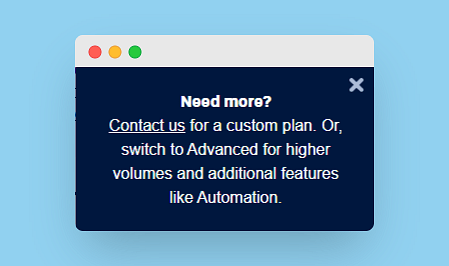 The Basic plan provides an easy way to design, send and monitor your email marketing campaigns. In addition, it includes a more enriched version of the top Free Plan features, but some are missing for marketing purposes.
The features you will get in your Basic Plan include:
A/B testing plus actionable insights: You can A/B test across multiple subject lines and content variations before sending. You can also drill down into analytics reports to glean insights from audience and engagement data.
Segmentation: You can send your emails to different segments that you set up based on your "field data," or you can use your engagement data provided by SendGrid.
One teammate: You can expand and allow a team member to manage your account.
Ticket and chat: Get expert help by submitting ticket forms on the website or by chatting live with them.
Five sign-up forms to grow your email list
Access to expert services
Here are the limits:
You cannot send more than 300 000 emails per month unless you purchase a custom plan.
Your list size is limited to 100,000, and you must purchase a custom plan to store more.
The emails you send out of your marketing campaign, such as occasional transactional emails, count towards your quota.
No automation: You won't be able to send automated sequences or trigger-based drip emails.
No access to dedicated IPs
No sub-user management: You cannot segment your sending activities. Essentially, subusers are used to subdivide your emails and assign them to different sub users according to the different types of emails you send so you can better and easily monitor your sending activities.
SendGrid Advanced Plan
Price: The price starts at $60 per month and goes up to $900.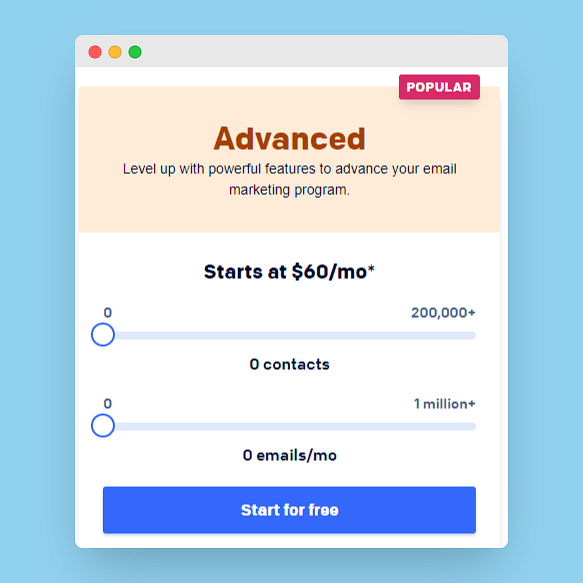 Here again, the price is estimated based on your needs and goals. You set the number of emails you want to send per month and the number of email contacts you wish to store; SendGrid then sets the price accordingly.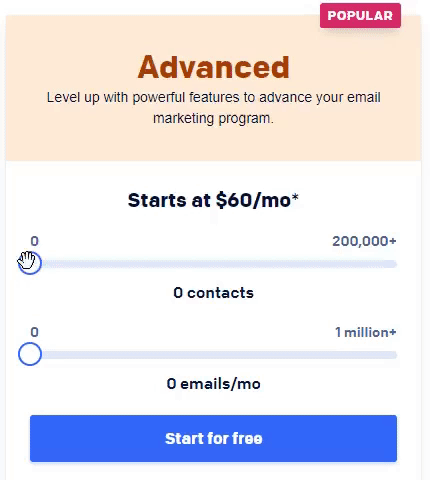 SendGrid's Advanced Plan is the crème de la crème and the most used plan. It includes all the features you'd expect from SendGrid, including a blend and deeper version of the Free Plan and the Basic Plan elements.
Here is a breakdown of the features:
Automation: Send the right email to the right people at the right moment. Scale your email marketing by scheduling or setting up triggers to send your campaign emails automatically.
Ticket, chat, and phone support: Select the most convenient mode from web forms, live chat, and phone calls to get real-time help from a team of experts.
60 email testing credits: Get 60 credits to conduct a deeper set of tests and checks per month—test for spam, test how your content renders on different devices, and more.
Dedicated IPs: Access, add, edit and view your files anytime and without any restriction. You will also be able to own your reputation and administer additional IP addresses.
15 sign-up forms: Get 15 sign-up forms to grow your email list and empower your marketing campaigns.
1,000 Teammates: Split your activities to go faster and save time. Add up to 1,000 teammates to help you conduct your business activities with the software. Of course, you can always limit or remove teammates.
Sub user Management: Segment the sending of your emails and add sub users for each of the different types of emails you send. For example, you can assign a sub user for your transactional emails, another one for marketing emails.
Analytics report: Define your own KPIs (engagement statistics or revenue goal) or track the email marketing industry benchmarks to ensure that your campaign compares well to industry standards.
Full access to expert services
It may come as a surprise to you, but there are still some limits to your activity with SendGrid's Advanced Plan.
The emails you send out of your marketing campaign are deducted from your plan quota.
You cannot send more than 1 million emails per month unless you purchase a high-volume custom plan.
Your list size is limited to 200,000, and you must purchase a custom plan to store more.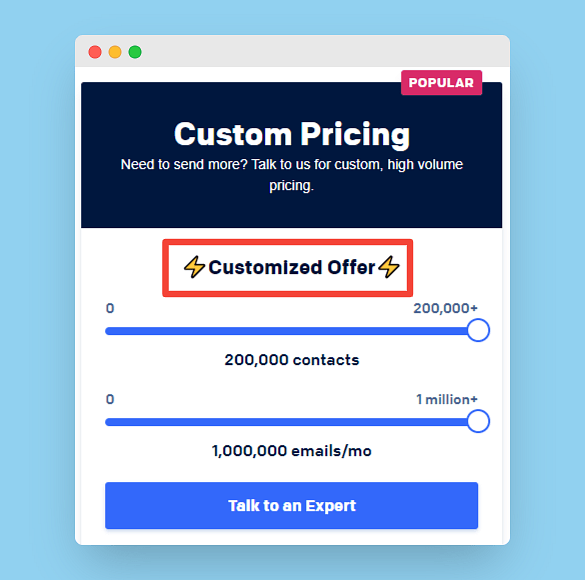 Can I try it before buying it?
Fun fact, a free trial is required for all plans before you can commit to SendGrid. The software does not allow for an overnight upgrade. You can only upgrade after you have tried the software and experienced its features.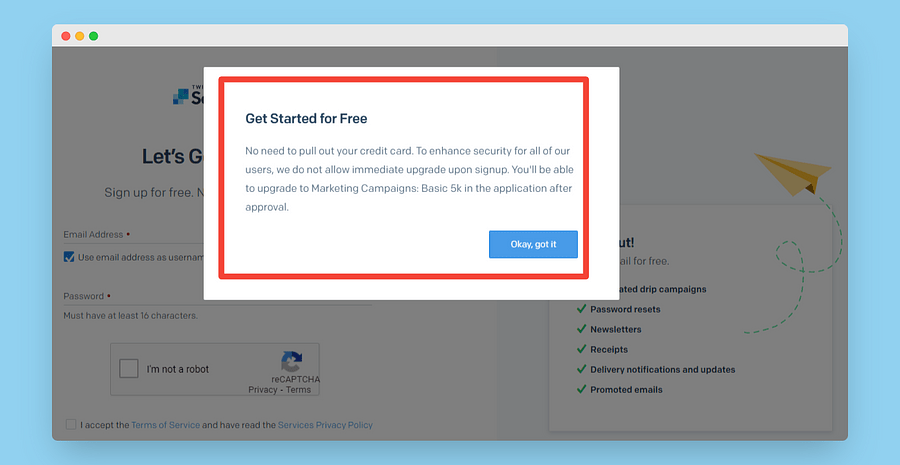 Whatever plan you choose, the free trial is the same - the Free Plan. After the first month's free trial, you will then need to purchase a premium plan for better features or continue with the Free Plan if this is your call.
What should I expect in terms of limits and overages?
SendGrid, unlike most email marketing software, uses an agile pricing method. The pricing is strictly based on your email marketing needs and goals. So, additional taxes and fees apply for each email you send beyond the quota of your purchase.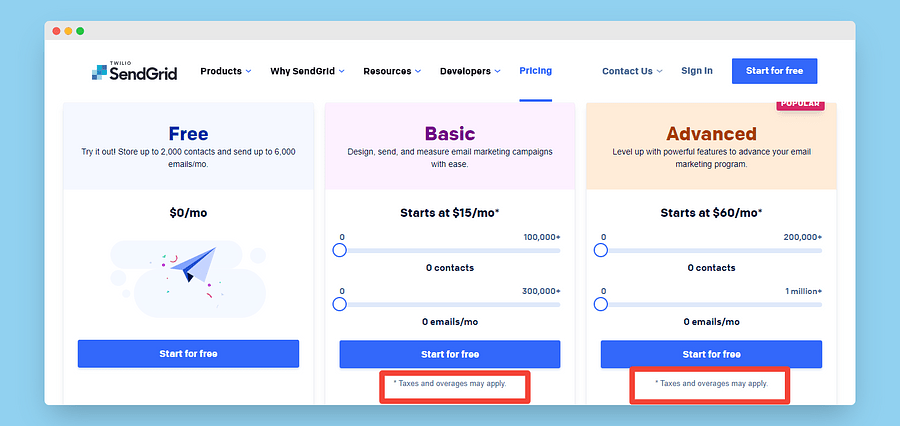 For example, if your plan allows for 500,000 emails per month, you will be charged for each email you send above that number during the month. Billing for additional charges per email will be done the month following the overages.
Can I have a refund?
SendGrid has a refund solution but you must meet their eligibility requirements first. That is, you must be aligned with their criteria based on their refund policy before any refund can be considered.
Before you request a refund, make sure that:
You have not used your account in the current calendar month.
You have no overages, and you have no contacts stored in Marketing Campaigns.
Only if you meet these requirements, can you request a refund?.
What if I want to upgrade or downgrade?
Upgrading is a breeze. You can upgrade as you want. The software will automatically move your data to the upper plan, and you will take it from there.
But downgrading comes with some rather unpleasant changes.
For example, if you downgrade from a premium plan to a freemium plan, the software permanently deletes all the information contained in your premium account, such as your emails, your segments, the sub users you have created. So you will have to restart as a new user with the Free Plan.
Is there any discount with SendGrid?
There are thousands of searches for SendGrid coupon codes and deals on the web every month. Sendgrid discount deals are available on their website and other retail sites. On average, shoppers save around 25-30% on their purchases with SendGrid discount coupons and deals.
What happens if I want to cancel my SendGrid Account?
You can use the software as you want and cancel your account at any time. Upon canceling your account, it automatically will switch down to a Free plan.
What is the best alternative to SendGrid?
Thousands of people pay to use the premium plans of SendGrid. The software offers a great mix of basic and advanced email marketing features that will help you do your email marketing properly. However, it is too expensive and presents some limits. If you want an email marketing software with the gold standard features and at an affordable price, we suggest you look at SendX.
SendX brings email marketing within reach of all businesses, from startups to large enterprises, with outstanding features and a user-friendly interface. SendX solves the lack of affordability, effective marketing automation, and limited marketing management in the email marketing industry.
But don't have to take our words for it. For the sake of clarity and fairness, here is why you need to consider SendX as an alternative to SendGrid.
| | | |
| --- | --- | --- |
| Feature/Performance | SendX Enterprise Plan | SendGrid Advanced Plan |
| Deliverability | Excellent | Excellent |
| Automation | Yes | Yes |
| Free trial | 14 days free trial | Free plan available, however limited |
| Features Included | All features | All features |
| Emails per month | Unlimited | Limited |
| Dedicated IPs | Yes | Yes |
| Expert team | Yes | Yes |
| Taxes and Overages | No | Yes |
| Pricing Basis | Number of subscribers only | Both number of subscribers and list size |
| Price for a 15K email list and 500K emails | $79.99 | $450 |
| You lose | Nothing | $370.01 |
Recap
SendGrid is a great email marketing software. Chances are, you now know which plan is best for your business and what pitfalls to watch out for to stay within the allowance of your budget while using SendGrid.
However, if simplicity, excellence, and affordability are qualities you fancy in an email marketing software, you should consider SendX. It is perfect for any type of business that wants to focus on its goals rather than worrying about email marketing infrastructure.
The company only has one pricing plan and the payment is based on the number of subscribers. What's more, every pricing tier gets all features for email marketing along with 14 days free trial to get you started; you then upgrade as you go.
The table above outlines the key attributes and strengths of each of the software programs. If you are still not sure which software is best for you. Then, please feel free to reach out; we're here to help.
FAQ's
1. Does SendGrid have a free marketing plan?
Yes. SendGrid does have a free marketing plan in which you can store up to 2000 email contacts and send upto 6000 campaign emails.
2. How much does SendGrid cost?
SendGrid's paid plans start at $15 per month. You get an option to customize the number of subscribers and the number of emails you want to send per month, and the price is set accordingly.