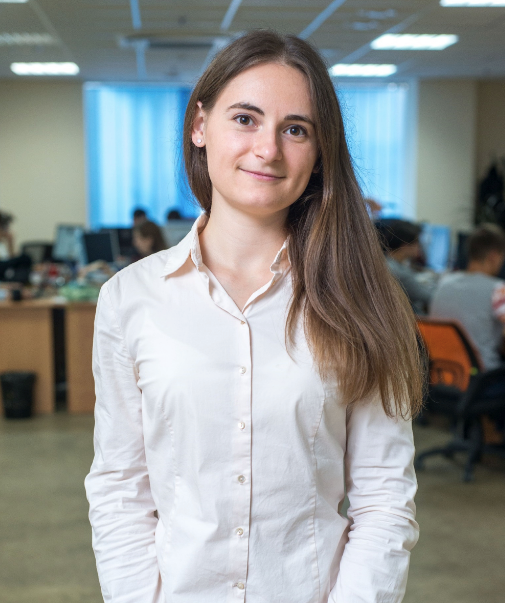 If you are an entrepreneur, I can take a pretty good guess at one of your most common frustrations… effectively reaching your customers. In today's business world, everyone pretty much relies on digital channels for shopping, communication, entertainment, and education.
And this can only mean one thing: Looking for creative ways to reach customers and market products and services within the expansive digital space.
Unfortunately, the multiple tools and platforms to reach customers make it almost impossible for entrepreneurs to create and fine-tune a solid digital strategy. With that said, emails have remained one of the most effective ways to reach customers, which is why any serious business should carefully consider how their newsletter is designed.
In this article, we are going to look at what is email marketing, why it's important, and best email newsletter design examples that can help improve your email campaigns.
Definition of Email Marketing
Basically, email marketing entails using emails to either promote your products or services. But perhaps a better email marketing definition would be a scenario where businesses use tailored emails to develop personal relationships with their target customers or clients.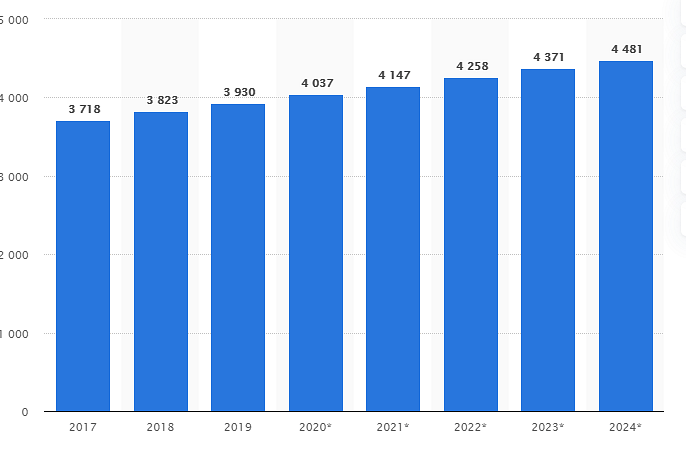 According to a report published by Statista, it is estimated that the number of email users in 2020 is 4B, with the number expected to hit the 4.4 B mark by 2024. The same report reckons that the estimated more than 196 billion emails are sent on a daily basis and expected to jump to 347 billion by 2023. Out of the 196 billion daily emails, 109 billion, are business emails.
With these staggering numbers, it shouldn't come as a surprise that the widespread popularity, irrefutable benefits, and the return on investment of email marketing are massive. In fact, a different report published by DMA estimates that a well-thought-out email marketing strategy has an average return of $42 for every single dollar spent.
There are multiple types of email marketing segments. However, email newsletters top the charts for keeping your customers in the loop about your current sales promotions, and the newest offering.
And although crafting good marketing email copies is important, it goes hand in hand with good email design. This is because the design elements are what helps the readers navigate through the content and entices them to keep reading on once they have opened the email.
As such, it is important to ensure that they are properly designed to resonate with the readers, on top of informing and entertaining them.
Top 3 Benefits of Having a Good Email Newsletter Design
1) Allows You to Track Different Metrics
Right off the bat, blindly sending email newsletters to your customers without tracking the metrics is akin to sitting on a rocking chair. It moves you but takes you nowhere. If you don't have an idea of how your target customers are responding to your engagement efforts, it also means you don't have a way to iteratively refine your approach.
Plain text emails are limited in terms of tracking different things like the open rate, list growth, conversions, and subscriber engagement, essentially meaning that you are taking uneducated stabs in the dark. However, when you take the time to build different performance metrics into your email campaigns, it becomes easy to make tweaks to propel your success.
With that said, all these metrics can only be tracked when using HTML based emails, whose main building block is good email design.
2) Helps Optimize the Rate of Information Uptake
The human brain is engineered to recognize and process images in a fraction of a second. Research has also shown that a human brain responds faster to imagery compared to text, and a good email newsletter design takes into account how the customers' brains work, in relation to images.
By incorporating catchy images in your newsletters, you are able to instantly catch the eye of the reader, as well as ensure they stay engaged, which is just the perfect combo to getting them to read through the entire email copy.
3) Responsive Design Helps in Device Compatibility
As of 2020, mobile devices are the leading sources of online traffic. However, different mobile devices come with varying screen resolutions, orientations, and definitions. As such, it is important to ensure compatibility between your email newsletters and the user's devices as it can hugely impact the click-through rates. If you get it wrong, your emails won't display properly, and they will be quickly deleted. And vice versa.
15 Examples Of Email Newsletter Design For Perfect Email Marketing Results
1) Nike
Our number one email newsletter design here at Mobilunity comes from Nike. It has been known to have some of the best email campaigns and this summer email newsletter shows why. The design is simple and the copy gets straight to the point.
The CTA button focuses on the Men's section which is most likely based on the demographic info provided when subscribing to their list. As an icing on the cake, the sand-like background color mimics beach imagery.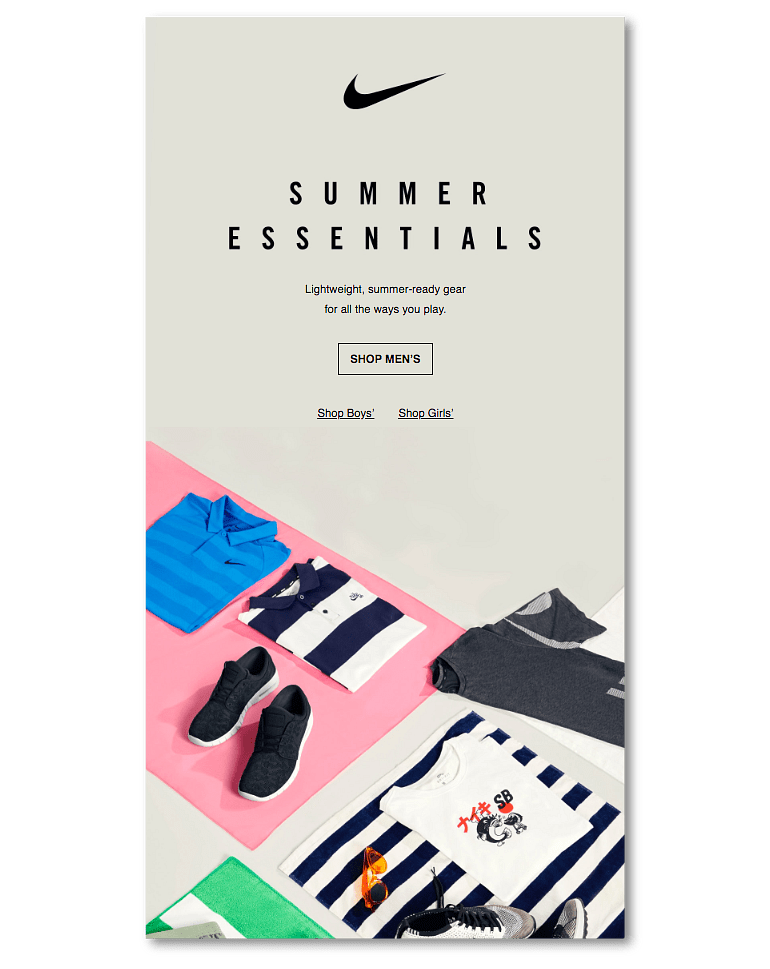 2) Elite Financial
As countries continue to ease restrictions during this COVID-19 pandemic, companies are also stepping up their return to work plans. To communicate the back to work plan, Elite Financial sent out an internal newsletter clearly outlining the Do's and Don'ts.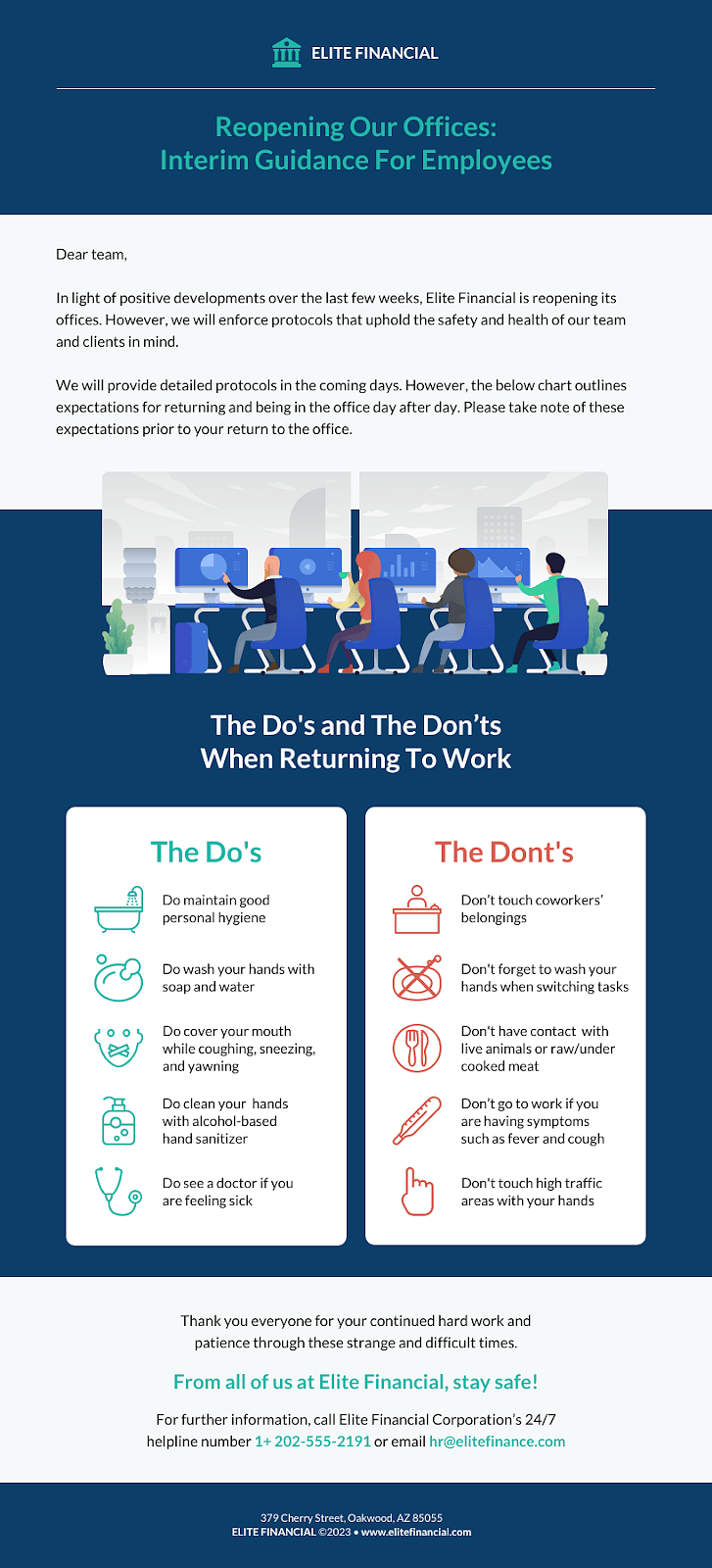 3) Venngage
Another great way to create engaging email newsletters is to use an unconventional layout. For instance, instead of following the simple top-to-bottom or left-to-right layout, Venngage uses the snake layout to draw the reader's eyes back and forth across the email.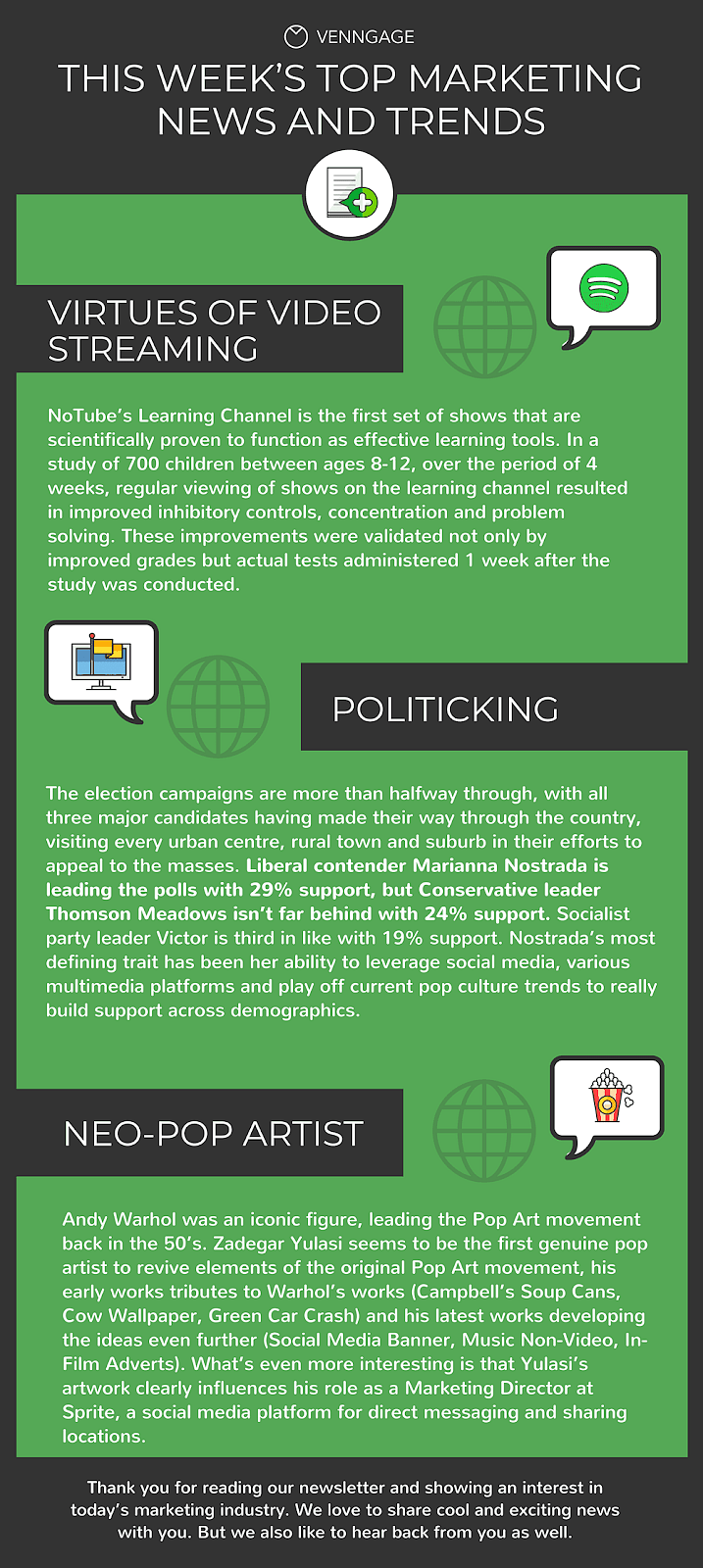 4) Wood Box
Although Wood Box uses a very basic commercial newsletter model, it clearly shows the discounted products and includes a red CTA right below. This is a clever trick as the red color grabs the client's attention and once they click on it, they are redirected to the website's cart.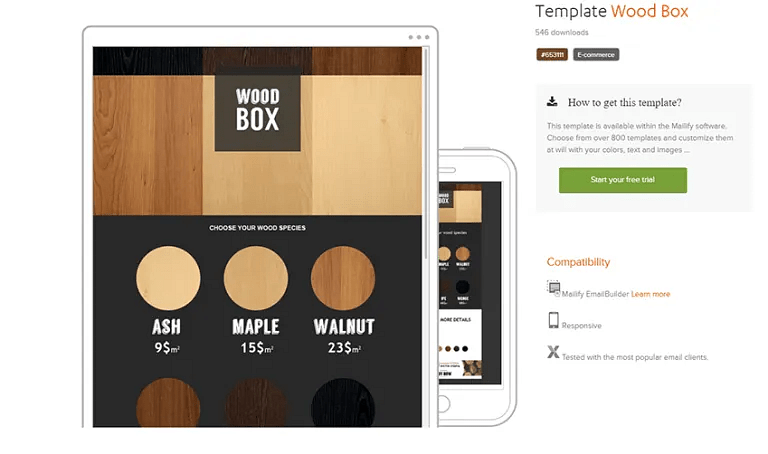 5) Question Pro
You can also take advantage of special events or dates to send newsletters to your readers just like Question Pro.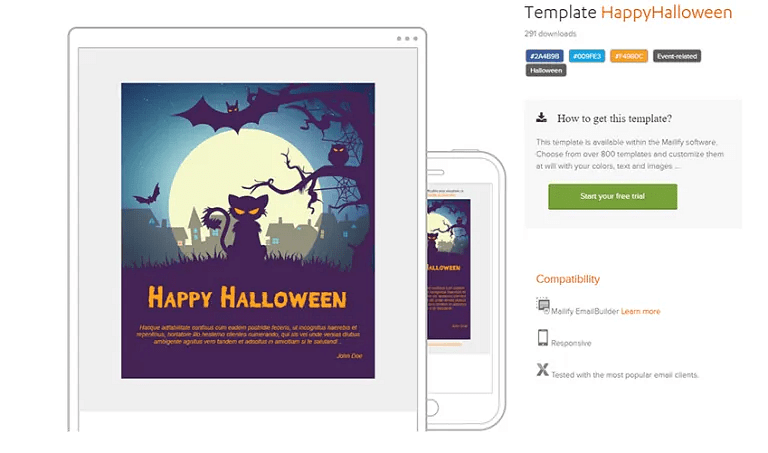 6) Wire By HubSpot
This HubSpot-designed newsletter template helps marketers looking to roll out new products or services to reach their prospects. Wire's thin typeface, contrasting dark background, and a vibrant product copy helps create a sense of intensity to any new email marketing campaign.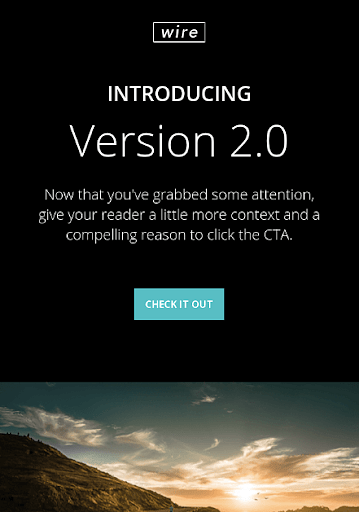 7) Frank and Oak
Looking for a more minimalist look? This great template from Frank and Oak will serve as the perfect inspiration. The email design team uses a two-column layout for their hero section and adds an image into the left column.
Along with that, the main copy and CTA go to the right column, which is a stroke of genius as it only contains a single background color.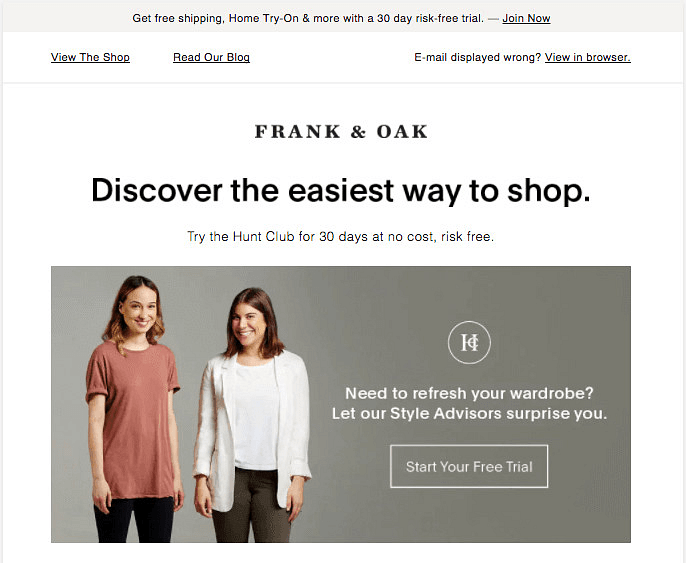 8) Really Good Emails
This email newsletter from Really Good Emails is more colorful and playful, which is a true reflection of the brand's culture.
The logo, multiple colors, little paper planes, a small emoticon, envelopes, and the clouds represent fun, making it a perfect example of a newsletter that any customer would die to open.

9) Chanel
Sometimes you don't need to include a preheader and a navigation menu. Instead, you can use a logo or any other visual item which identifies the brand.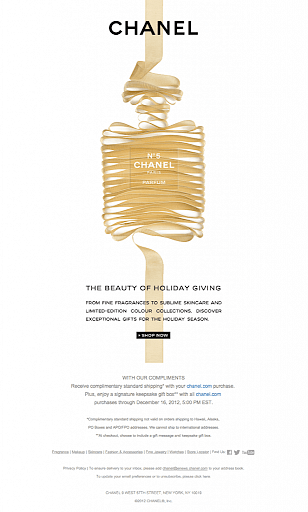 10) Hawaiian Airlines
Outlooks and Outlook.com mainly don't support background images. As such it becomes extremely difficult for email designers to look for alternatives that would make single background images work in Outlooks.
Check out how Hawaiian Airlines does a great job in separating the constant and the background image.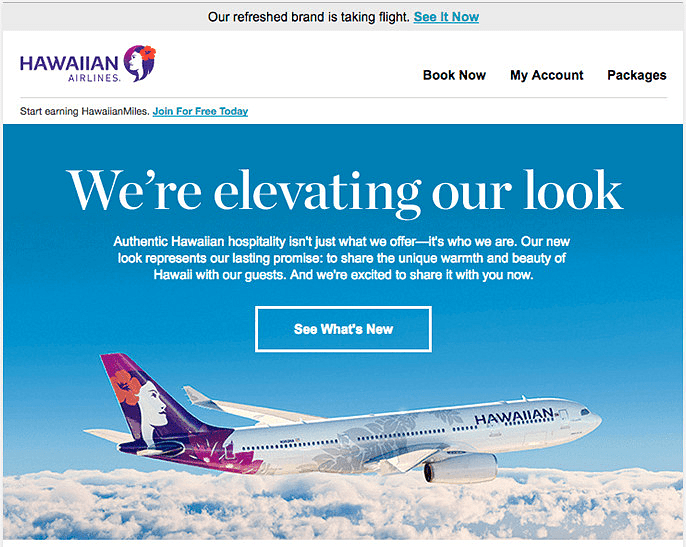 11) Moo
This email by MOO highlights one product that is one sale and has 80% of the area covered with an image.
One interesting element to note here is the tab structure on top of the email that makes it look like a website and all the offerings are accessible, without feeling distracting.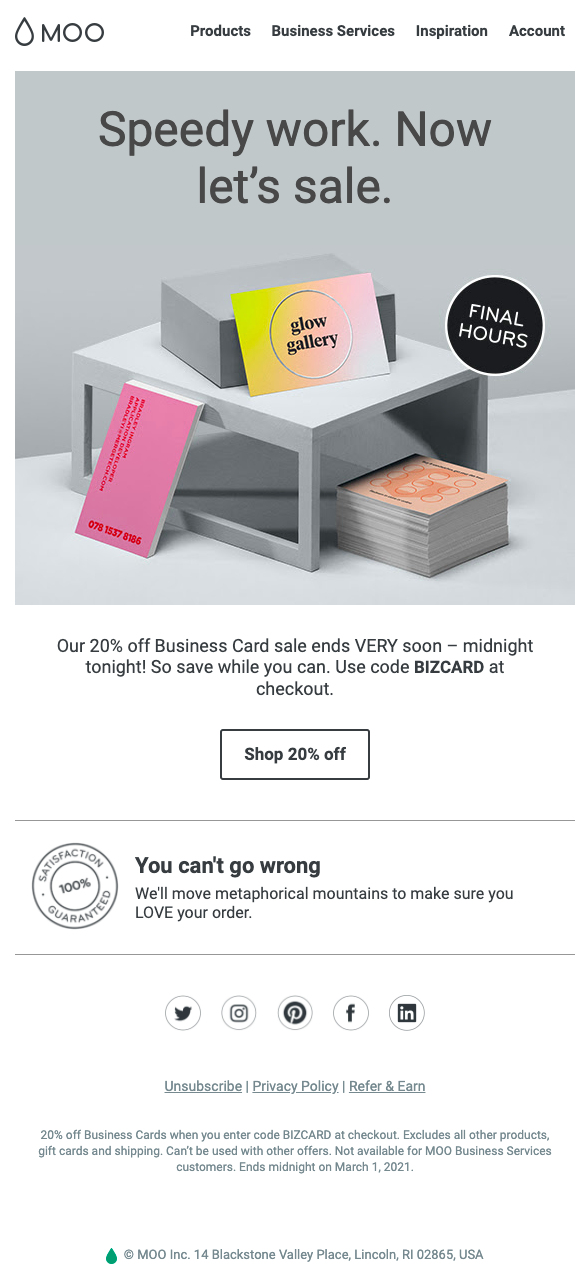 12) The New York Times
This newsletter by The New York Times, Cooking subscription is also heavy on images because food is best presented in visuals compared to words.
The interesting element to note here is the CTA that is placed right below the heading and thus appears above the fold whether it is mobile or desktop.

13) Mindvalley
This weekly digest by Mindvalley has a collection of content. It follows the format of heading > image > description > CTA.
The opening image and quote reflect positivity which are in line with the brand's image.
At the end, there is a space for the founder's note to add a touch of credibility to the email.

14) Waking Up by Sam
This email from Waking Up by Sam Harris is notable for including the brand's icon in the header.
It is a simple design format - image, content, CTA, brief about the author - that is being repeated. This adds to the consistent experience without overloading with the information that screams for attention.
The color is added by creating custom images for each of the speakers.

15) Webinar Announcement by HubSpot
This webinar announcement email by HubSpot has put their webinar banner on top before addressing the subscriber.
This works well to give the most important information to the people without having to scroll through the text to find it. Since it will be above the fold, the conversions might be good.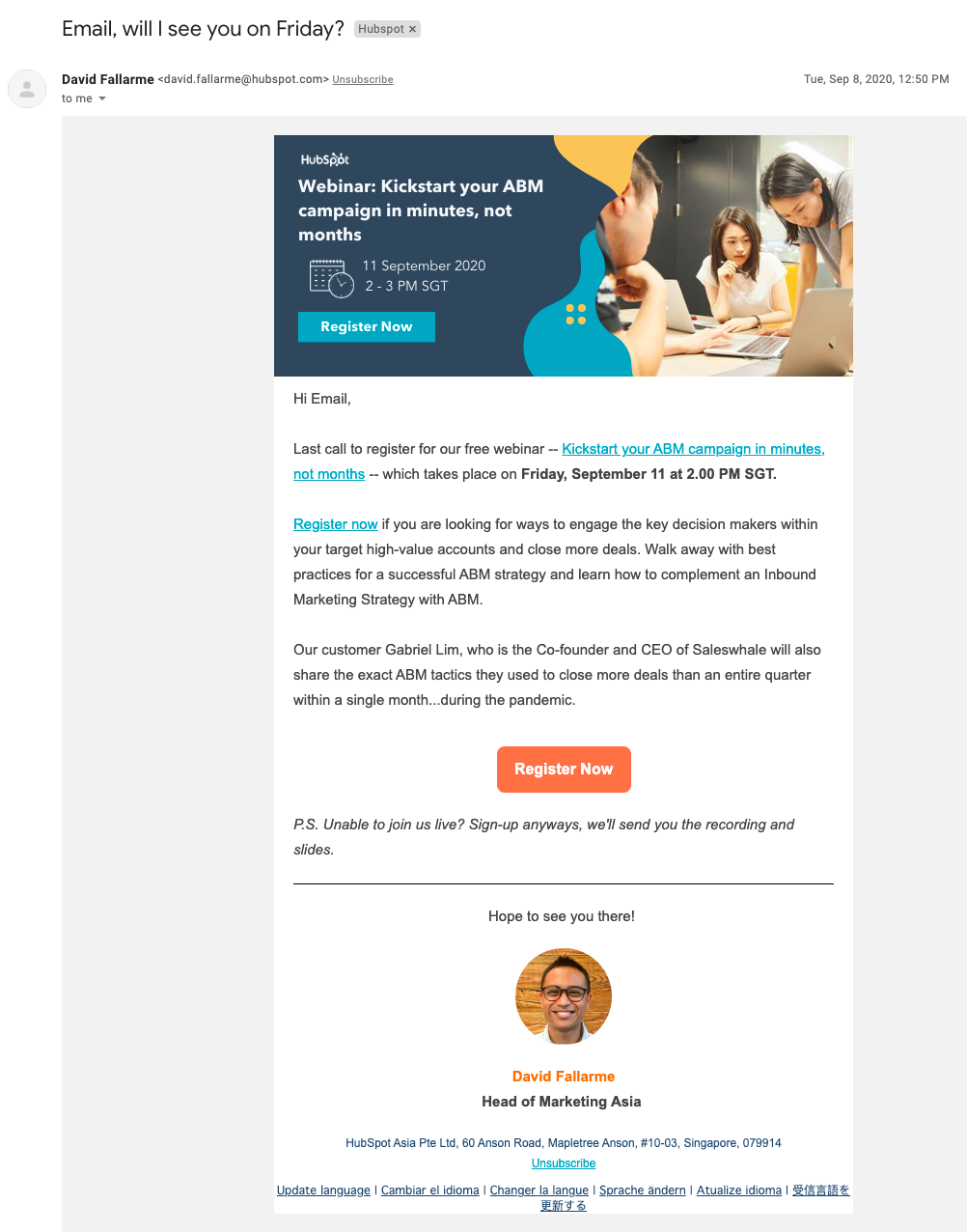 Final Thoughts
As an entrepreneur, email marketing is super-important as it helps you build relationships with your current customers, prospects, and even past customers. It is the only chance to directly speak to them in their personal emails and at a time that is convenient for them.
With that said, the ever-changing customer needs, compounded by emerging email marketing trends means that businesses have to quickly adapt. And with these 15 great email newsletter designs, you shouldn't have a problem in setting up and running effective email campaigns.
And talking about the effectiveness of email newsletters, you need a really good email editor to make a real impact. You would do well to try SendX, which comes with a free 14-day trial during which you can use all of its features (no credit card required).