Building an Email Marketing Database for a Healthy Business
8 min read
Your email list is one of the cornerstones of digital marketing. Email marketing helps you increase brand awareness and generate more sales. It's why you hear so many professional bloggers throw around the phrase, "the money is in the list!"
Before you can conduct an email marketing campaign, you need to have an email marketing database. It will take time, and a considered strategy, to grow your email list. However, with the right approach, your email list will become a hugely profitable part of your business. With that in mind, let's discuss the fundamentals of an email marketing database.
Table of Contents
Why is a Healthy Email List Essential to Your Business?
When you set out to strategize an email marketing strategy, the first question that naturally comes to mind is: "what email addresses are going to receive my newsletters, promotional messages, and other communications"? That's where the need for an email marketing database arises.
An email marketing database is a consolidated collection of names and their corresponding email addresses. These are people who gave you permission to send them your marketing material. They give you your email addresses when they subscribe to receive your content or opt in, usually on your website.
Your in-house web development team can easily add a widget for the email subscription option. In case you have delegated the website creation to an outsourced team (for instance, if you decided to hire MEVN stack developers), you can still ask for an additional feature. Web development today offers endless possibilities for customization and scalability, making it easy to enhance your site's functionality even after outsourcing the initial development. Most external developers provide ongoing support after the website is fully developed.
The most common way to join an email list is by inputting your data into an opt-in form. Sometimes you're signing up for a software platform. Other times you'll be providing your information in exchange for a piece of free content, like an eBook.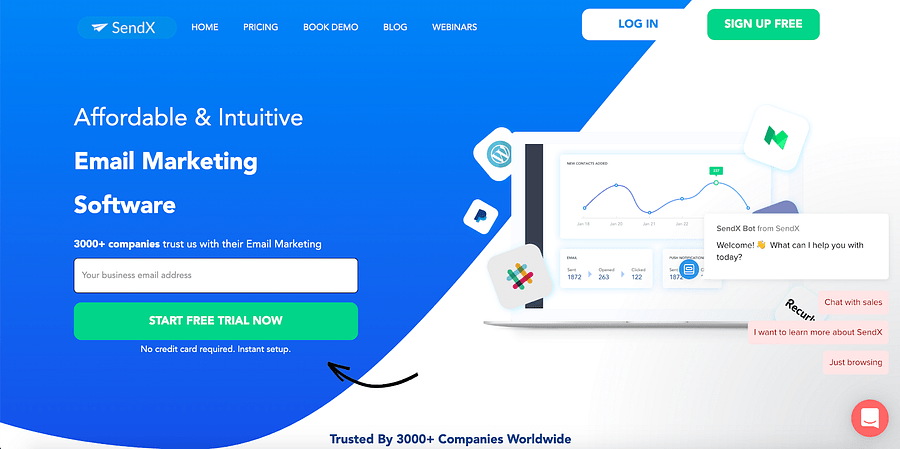 Email marketing and mailing lists are inseparable. Online brands and businesses spend a considerable amount of time building their email marketing database because they recognize its importance as a promotional tool - and you should too.
In more succinct terms, here's why you should start building your email marketing database (if you haven't already):
Email lists help you build relationships with your subscribers.
You can put together an offer tomorrow and try to sell that product or service to your list at no cost.
You have complete control over your email list. A change in the Facebook algorithm, on the other hand, could restrict your access to Instagram followers.
So, an email list has value.
It's not enough for you to build a mailing list. You have to make sure your list is healthy and organized, too. That means your email addresses should be updated and should be authentic. You want good email deliverability to reach your intended audience. You also need to organize the list with customer database software so that you can reach your customers easily.
Why is it Dangerous to Buy an Email Database?
Building an email database can be a long, arduous process, especially if your business sells a niche product. The difficulty in growing an email list has, perhaps, given rise to the selling of ready-made mailing lists.
Purchasing email lists is against email marketing best practices. For a start, buying an email list can be illegal. For example, data collection laws such as Europe's General Data Protection Regulation make it illegal to buy and sell people's digital information.
Not only that, but it can also harm your brand.
Frequently, a high portion of a purchased list is fake or hasn't been used in a long time. That makes the total endeavor of buying the list a waste of precious time and money. Purchased email addresses have a low deliverability rate compared to their organically sourced counterparts.
Unsolicited emails are also less likely to be opened. Even if a message is opened, there's a good chance the person receiving the message will unsubscribe.
Finally, Email Service Providers (ESPs) monitor unscrupulous practices by online entities. Sending unsolicited emails can set off alarm bells, leading to a ban - which, sometimes, can be for life! Even if you don't get the ban, your content can eventually just be filtered into the "spam" folder.
5 Tips to Help You Build a High-Quality Email Marketing List
Now that you've stricken off the purchasing route from your list of options, it's time to explore the authentic, tried-and-tested way to go about building a great email marketing database. Here are five pointers to help you on your way:
1. Run Organic Outreach Campaigns
You might already have the email addresses of your friends and family. Why not start with them?
You can't, of course, automatically include them in your email marketing database. That would, again, be ethically, morally, and even legally wrong. What you can do, though, is send an email asking if they'd like to receive your promotional content.
One blogger, Bryan Harris, did just that to build his email list from scratch. Here's an example of an email he sent his friends.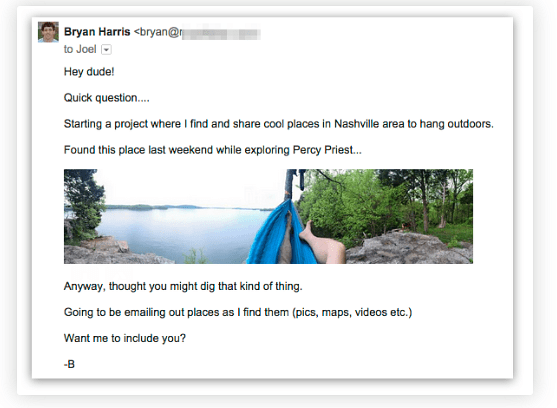 The result?
He got the yes he wanted.
You can manually include people who yes to your email marketing database, but that can be time-consuming. I recommend then that you instead include a link directing your prospects to a landing page where they can opt in.
Here are other tips you should consider when running an email campaign:
Always include a nice hook in your email. In our example, notice that the blogger started his email by emphasizing that he planned to find and share "cool" places to "hang outdoors." Many people like to travel so that's something they would be interested in.
Include attention-grabbing images. The blogger in our example did just share a nice picture of the place he visited.
Use appropriate language when sending an email. In the example above, the tone is informal, which is fine. You might choose to use more formal language.
2. Leverage Social Media
You can use social media platforms to build your email marketing database, too.
You can opt for the direct approach: create a compelling post urging your audience to opt in, and include a link directing them to your website where they can do just that.
Or you can opt for the indirect approach: Offer something your audience can't resist--maybe a new study.
Here is a nice example by Eddie Shleyner.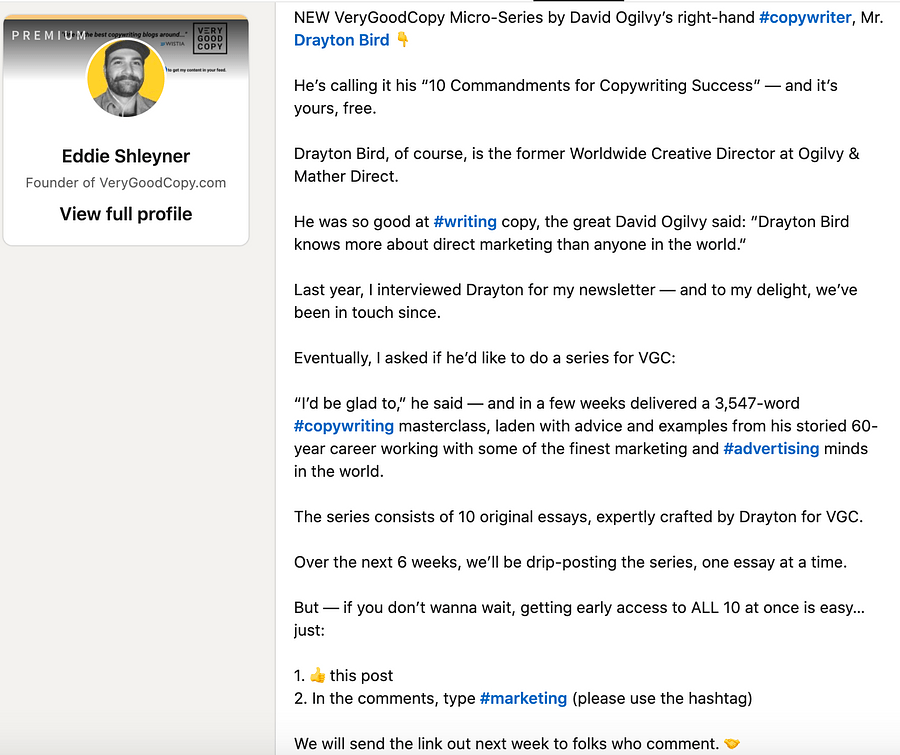 He received 1,195 comments and counting from this post. That's the start of an email list right there!
But Facebook is not the only platform you can leverage for this. You can grow your email list using Instagram, LinkedIn, and even Twitter, too!
You can also run a social media ad campaign. If you choose this route, here are a few tips:
Target your demographic to suit your business using data you've previously collected like age, location, gender, career paths, and more.
Incorporate your branding and website URL into the ad.
Set a realistic budget. Remember, you can set spending based on clicks.
Running social media ads will cost you, but if you think about those benefits your business can reap once you have that email list, you'll believe the money and effort were all worth it.
3. Create Landing Pages
Don't send your prospects to your homepage so they can subscribe to your mailing list. They don't have the time to look for your opt-in form. If you ask them to click on a link to subscribe, make sure that link directs them to a landing page instead.
A landing page is a page a person "lands on" after clicking on an ad or a link on your social media post and others. Unlike a homepage, a landing page is designed to get people to take a specific action. In this case, that specific action would be to subscribe.
Your email capture landing page should have the following:
An enticing headline
Attractive visuals
A clear call to action
Relevant social proof
Some type of offer
Check out the example below of the SEMrush landing page for their State of Content Marketing Report.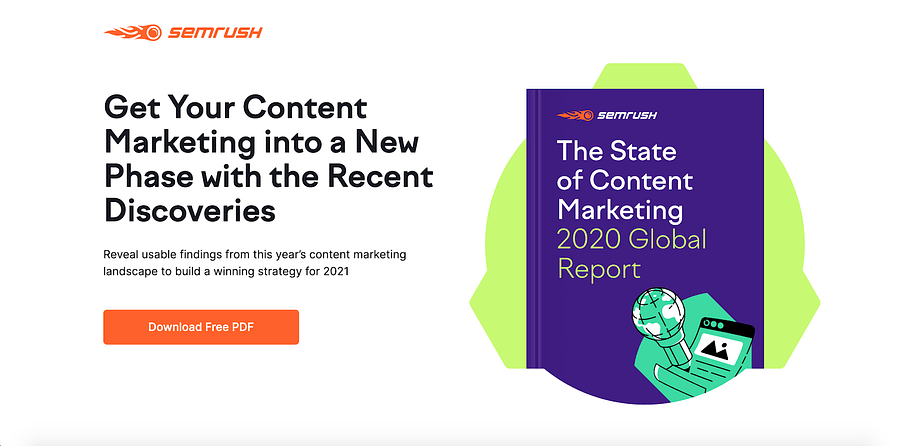 There's an enticing headline, a clear call to action, and a nice hero image of the report. It's a visually attractive design that conveys key information fast.
4. Run Promotions on Partner Sites
As a savvy business owner, you understand the importance of partnerships and alliances. You can draw on these connections to reach an even broader audience and build an email marketing database.
This is co-marketing. According to Hubspot, co-marketing is a process that involves two or more companies working together to reap the benefits of their combined efforts. So the companies promote shared offers and get behind each other's marketing efforts.
According to UppercutSEO, a leading SEO Company, to build your email list, you can run a promotion on your partner's website. It's mutually beneficial. You get to build your list while your partner website gets traffic and leads.
Why not host a giveaway, for instance? Offer a product that your partner website visitors can have the chance to win if they subscribe to your mailing list. That product should be of value only to people in your industry. If you offer something everyone likes, like an Amazon gift card, you'll only end up with the email addresses of people who are not even interested in your brand. That means you won't even have a chance of turning them into paying customers with your email marketing content.
Make sure, again, that when people click on that link on your partner website, you direct them to a suitable landing page. Don't send them to your homepage.
Effective co-marketing campaigns rely on logical partnerships. Ask yourself questions like, are both our audiences similar enough? How many email addresses do I stand to gain by doing this?
5. Employ Traditional Techniques
You can also build your email list by employing traditional techniques.
Take the opportunity to collect email addresses at offline events such as conferences, trade shows, seminars, and conventions.
For example, offer a demo in exchange for email addresses. You can maybe give relevant information about your industry or new offerings, company developments, and promotions.
Offline events are great venues for engaging one-on-one with your audience. Since they came to you, they are more likely to give their email addresses since they already had an interest in your product in the first place.
Bottomline
Email list building is critical to your email marketing efforts. Without a good email marketing database, you won't be able to reach people, build relationships, and ultimately turn them into paying customers.
Use the tips I gave you to build a healthy email marketing database. Use email outreach campaigns, leverage social media, create landing pages, and run promotions on partner sites. Don't forget to employ traditional techniques, too!
Building an email list entails strategy, time, and effort. And once you have a great email list, you will be executing your email campaigns using a suitable email marketing software. We recommend SendX, which comes with a 14-day free trial, no credit card required.
Once you have your healthy email list before you, and those conversions just keep coming in, you will say everything was worth it.
FAQs

1) What is email list building?
Email list building is the act of getting users to subscribe to your email list. It means that you grow your list gradually and organically by adding subscribers from your web forms and landing pages, and other subscription interfaces. It is a list of people who've signed up willingly to receive your e-newsletters or any other e-communication you may plan to send them.

2) Why is it important to build an email list?
Email marketing remains one of the top marketing techniques, and in order to get the most of it, you need to build an email list consisting of subscribers to whom your product or service is relevant, and who are likely to convert into customers with the right kind of targeting marketing.

3) What are the benefits of email list building?
Here are some top benefits of building an email list:
You can easily reach your customers through your emails
You can get visitors to act on your CTA
The email list built by you is yours forever
Sending emails to a relevant email list will help you gain the subscribers' trust and respect
A well targeted email to an opted-in list has a higher chance of conversion.

4) What strategies can I adopt to build an email list?
Listed below are some of the strategies and list building techniques that can be adopted to build an email list:
Make it simple to sign up
Offer something which the customer truly values
Include a clear and strong CTA on your landing pages, and even blogs
Identify exit intent and catch the subscribers while they are leaving.