Tactics, Strategies and Ideas for Marketing a Small Business [Updated for 2023]
11 min read
Table of Contents
Setting the Stage
Growing your business is hard.
Growing predictably at a fast pace is way harder.
Irrespective of the size or stage of your business its success finally boils down to your understanding of various levers of growth & conversion.
However, doing that is easier said than done.
It really doesn't matter whether you are running an e-commerce shop or are a small real-estate company. Whether you are a professional blogger or just getting started with your SAAS software businesses. Marketing your business online is always going to be hard when you are getting started.
Being able to drive more traffic and convert it better is always hard. You could search for "software house, Poland" or some other phrase, contact the best-rated firms, and cooperate with them to make this process more manageable. However, at the end of the day, you cannot escape getting your hands dirty and doing the legwork.
Small businesses play a crucial role in the economy, despite having fewer employees and customers than the average large business. They are a driving force for innovation, expanding opportunities, and job creation. By December 2021, there were a total of 33.2 million small businesses, accounting for 99.9% of all private establishments in the US.
Over the years we have worked with businesses of various size, industry, and stages. We have helped them with our software and knowledge and seen common patterns and learnings emerge.
With this guide, we have tried to distill these common patterns and years of our learning into web business fundamentals.
We have then provided various tactics, strategies and ideas for marketing a small business, which as a small business owner once you master, you will be able to grow and market your business predictably.
This guide is broken into 2 parts:
Fundamentals of marketing your business online
Tactics, Strategies and ideas for marketing a small business
We are providing this guide for free because of we KNOW that if you implement these strategies, you will have a much better shot and taking your small business and it's marketing to the next level. Whatever your business goals are, whether its selling the business or using it to build something else, this guide will help you get there.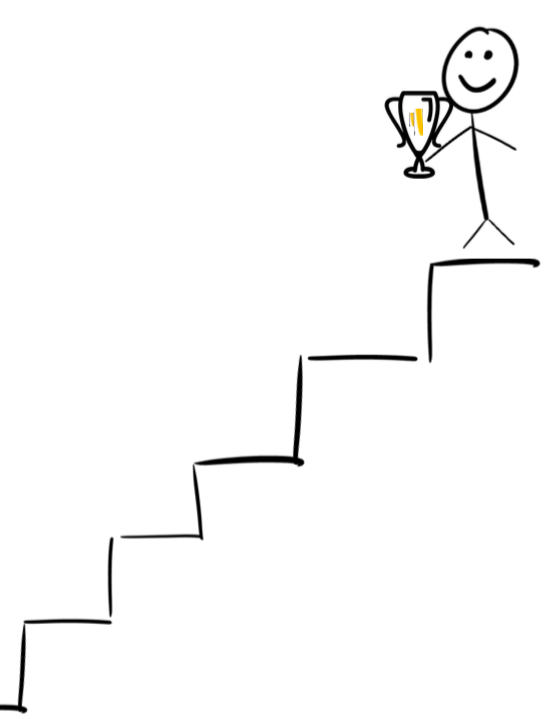 And hopefully, you will use SendX for your business till eternity.
Well, that right there was my evil plan to get you to buy our software and be able to afford a Hawaii trip with my family :)
But on a serious note take this guide as a blueprint. Rather than procrastinating after reading it take some massive action.
So let's get started.
Fundamentals
A Word About Traffic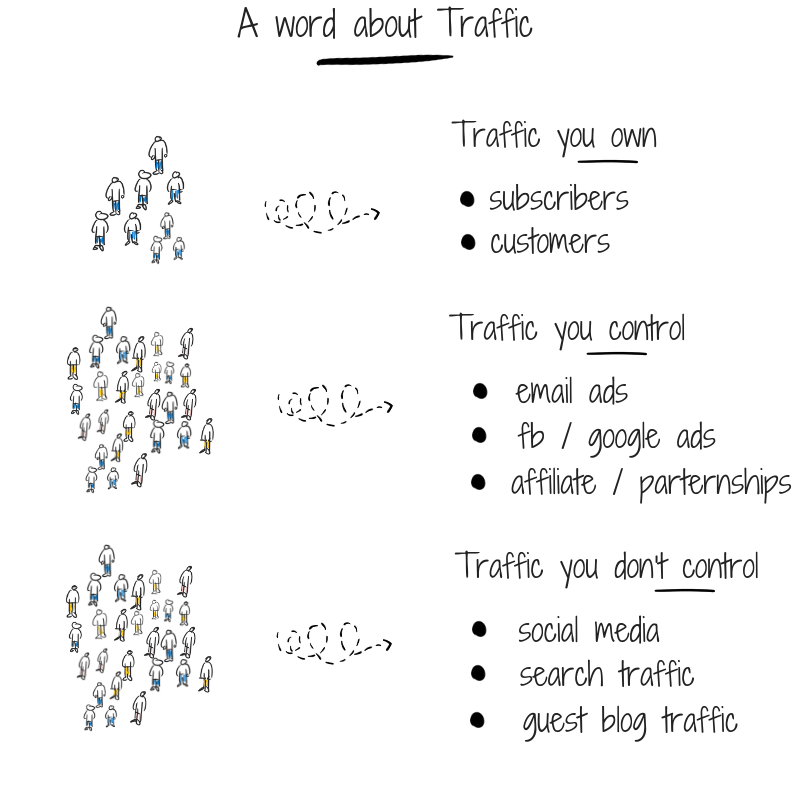 Traffic.
That right there is the source of all misery and has the potential of all happiness.
Whether you are able to build a 6 digit, 7 digit or 8 digit web business solely depends on how your traffic converts.
But before getting ahead of ourselves let's first understand the various types of traffic.
Quite simply traffic is of 3 types:
Traffic you own
Traffic you control
Traffic you don't control
So the traffic which you own consists of your subscribers or customers. You can reach out to them any time with your message or offer.
Traffic which you control (paid traffic) comes from Ads (email, FB, Google) & affiliate partnership. As your input money will increase the resultant traffic also increases.
Traffic which you don't control (organic traffic) comes from SEO, social media and guest blog traffic.Ranking for keywords is the best way you can control the traffic. Using a rank tracker tool like Linkio can help you focus on the right keywords and get the right traffic. Also, if you are a brick and mortar business having a Google My Business account is really important. Refer a detailed guide to setup your account.
To improve your SEO, link outreach is your perfect option. Check out OutreachPete if you want to get started.
If you're looking to get started with social media, take a look at SocialPilot to automate and make your social media activities much more effective. Or if you use Buffer, a social media tool like Bulkly can make adding content to your Buffer account a breeze. Social Champ helps you to manage your posts on various social networks with a strong analytical dashboard.
As a business, it is super important to understand which channels drive how much traffic to your website and their growth over a period of time.
Doing that diligently should act as a north star for your business. It will help you to focus on channels which are growing and driving the majority of traffic to your website.
As a business, it is super important to understand which channels drive how much traffic to your website and their growth over a period of time.
The Traffic Funnel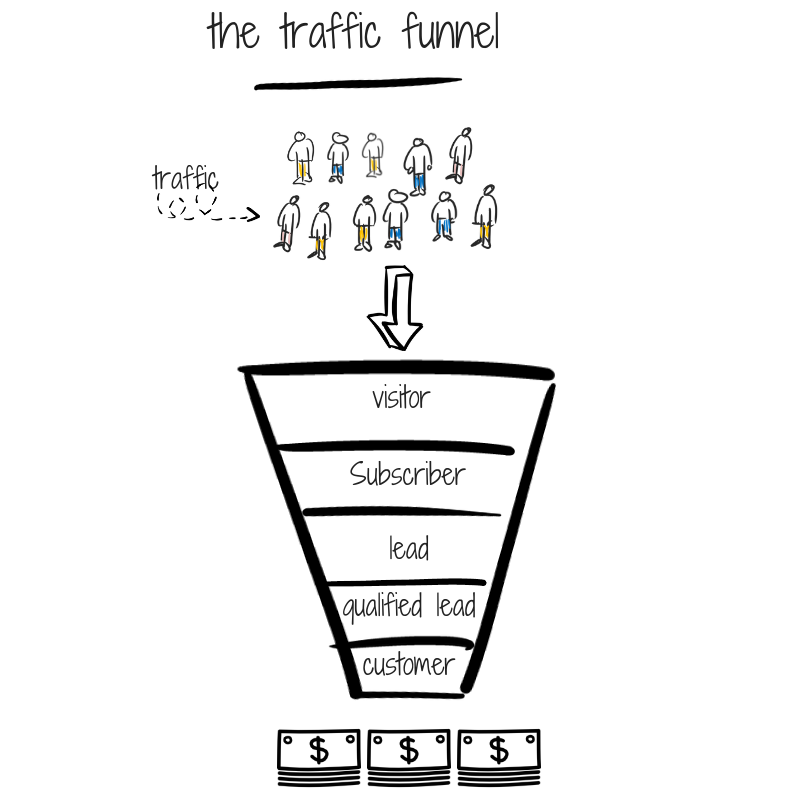 If you are like most online businesses, then your website visitors shall have a mix of traffic you own, traffic you control and traffic you don't control.
Irrespective of the type of traffic, every visitor who lands on your website or a landing page goes through the traffic funnel. And hence you must analyze your website visitors and know their behavior clearly before anything else.
You want these visitors to convert into subscribers first.
Once they have become your subscriber you want them to convert into a lead and then to a qualified lead eventually converting into a customer.
Because that's how you make money.
Now for some visitors passing through the entire funnel may take a single web-session. For others, it may even take more than a couple of months.
In either case what is really important for you as a business is to have numbers of :
a. Traffic sources breakdown
b. Traffic funnel metrics
You will be surprised to know that this simple activity will answer some of the most difficult questions ailing your business growth.
The Value Ladder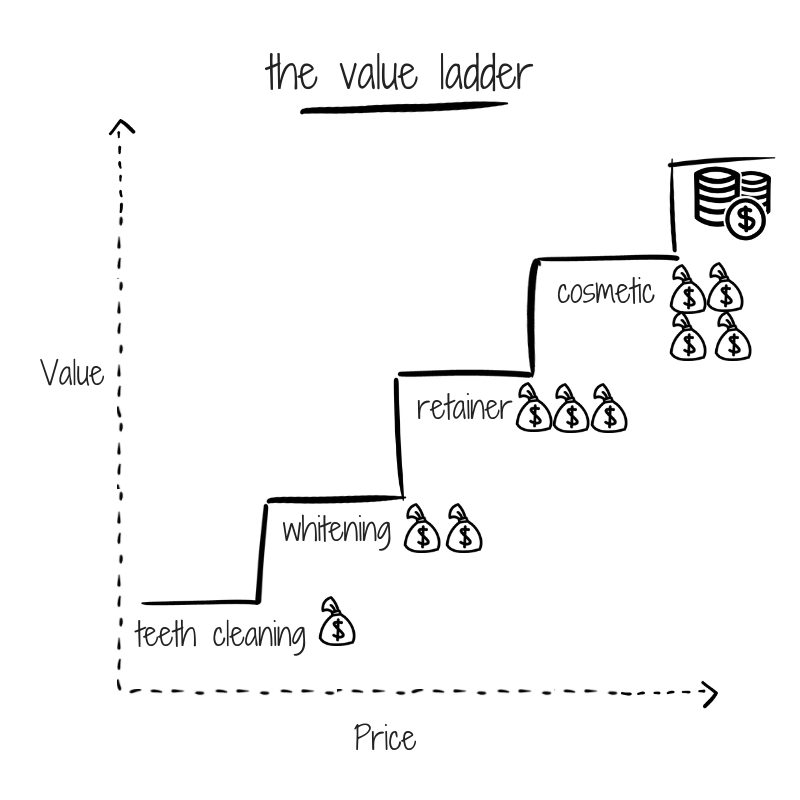 For most businesses, the story ends at converting visitors into customers.
That is a huge huge mistake.
Your current customers trust you.
You have already spent enough time in building a relationship with you.
They are always eager to buy more from you as long as you keep giving them more value.
The value ladder is one the most important strategies of growing your business and selling more & more to your current customers.
You might have come across dentists providing free teeth cleaning services.
They use it as a bait to sign you up for teeth whitening. Once you do that they will go for cavity fillup or plaque removal.
Many times they would go for monthly or yearly retainers. Finally to some percentage of their customers, they will upsell cosmetic surgery.
Be like dentists.
Identify the value ladder for your business.
It can start with free eBook and later graduate to free trial or free course and move from there to paid courses, recommendations, personal training, and other added services.
Tactics & Strategies
Visitor to Subscriber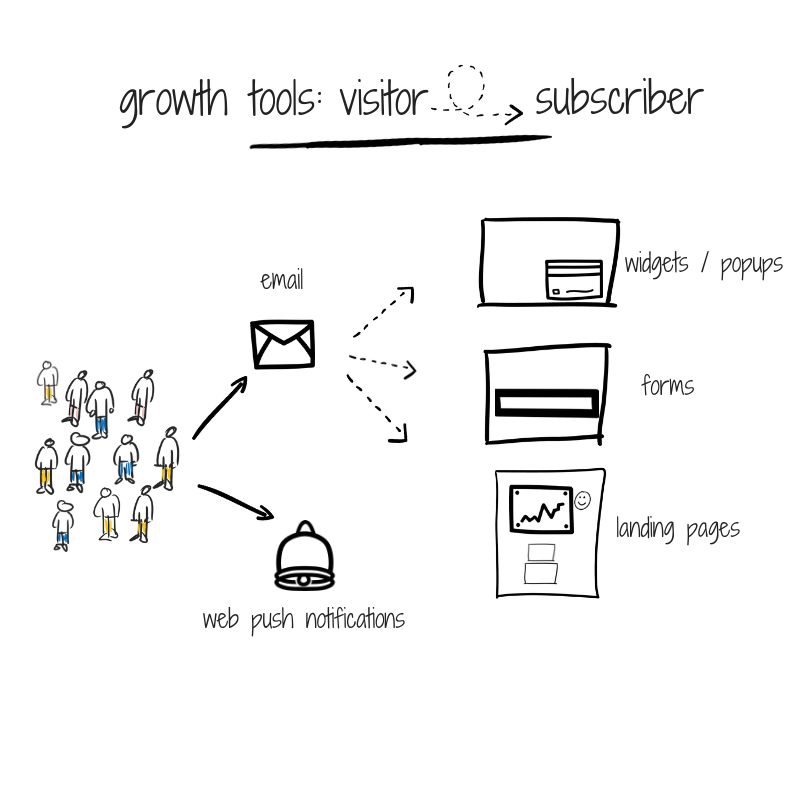 Till now we have set the foundational blocks required for understanding growth & conversion.
By now, you should have clarity about types of traffic, the traffic funnel, and the value ladder.
In this section, we will see how to convert website visitors to your subscribers.
If you recall, this is the first stage of the traffic funnel.
Convert Visitors to Subscribers.
So let's first talk about various marketing channels for a web business so to communicate to your audience :
a. Email
b. Facebook Ads
c. Google Ads
d. SEO
e. Web Push Notifications
In this guide, we won't be covering Facebook Ads and SEO since they require a guide of their own.
However, if you're looking to get started with Facebook Ads fast, you might want to look at a Facebook Ad Agency to get going without much hassle.
Google Ads is another huge powerhouse which requires a separate guide. But don't worry, we've got you covered there. Our Google Ads: Definitive Guide is built from the ground up to ensure maximum growth no matter where you are in your business.
We will primarily be talking about your marketing channels which you own end-to-end which are Email and Web Push Notifications.
It is worth mentioning that another marketing channel you own end to end is SMS marketing. If you are a B2C business, it can work quite effectively in a bunch of geographies. This again requires its own guide and we won't be delving into the details of SMS marketing here.
Email is by far the best marketing channel as far as ROI is concerned. It is a great medium for user nurturing and up-sell.
In fact as an online business one of the most important small business metric for you to track is the value of each email to your business. What's best, you can easily start with a few very affordable email marketing services to test the waters.
Which means that writing a good email, choosing the correct responsive template and making sure it is getting delivered to the right people can literally make or break your business.
Note that here I am talking about emails and not customers. If you know that you have a winning email marketing strategy. You can get 10000 emails -> 100 customers -> $10000 in annual revenue, then you can quite simply put your energies into growing your list or converting visitors to subscribers.
In fact, if you're running an eCommerce Business (Bonus eCommerce tip: learn how to manage online sales during COVID-19) (Read more Resource : 23 Ecommerce Marketing Tips to Grow Your Online Store Sales) and simply send one email to all the people who abandon the cart during checkout. You can make 1 out of 4 people buy like that! I'll leave it up to you to do the math and recognize the sheer value of email here.
The other channel which we have mentioned is web push notifications.
It is a great channel for interrupt driven marketing. We will discuss more on this in the later part of the book.
Now for converting visitors to subscribers, we have the following tools:
a. Popups
b. Embedded Forms
c. Landing Pages
You can use all the three tools for converting your visitors to subscribers, however, each one of them has a different use case.
Popups like browser push notifications are a part of interrupt driven marketing.
However for interrupts to work you need to provide a bait which is valuable. This may be an ebook, case- study, infographic or content marketing tools for creating engaging content upgrade.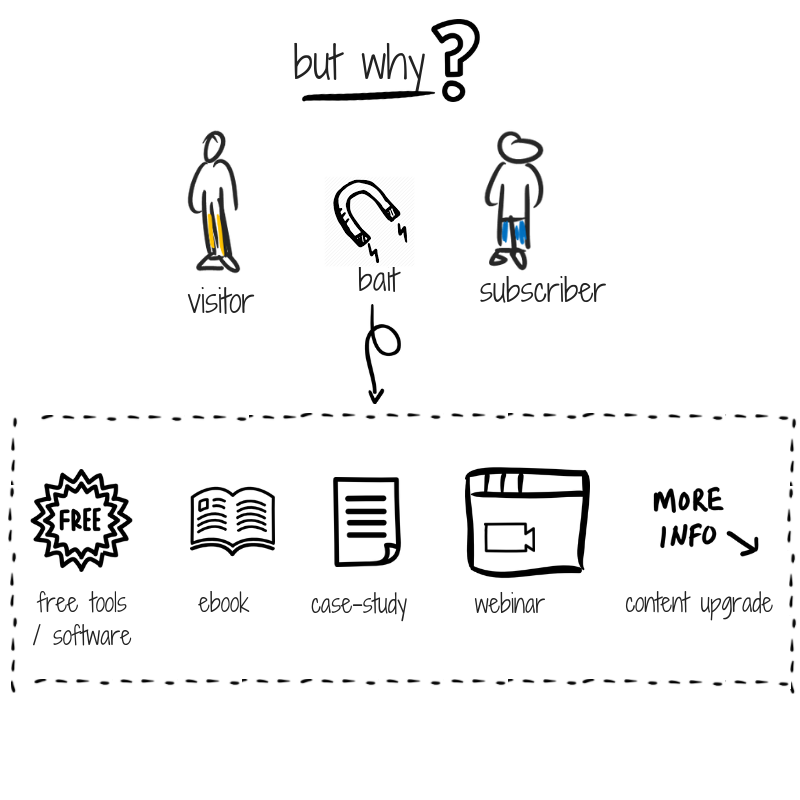 Unlike pop-ups, forms don't demand attention. They perfectly fuse with your overall content. The CEO of PickWriters spoke on the matter recently: "The big reason why so many forms are unnoticed to users is that they are often far too generic. Try to put the focus on a specific group of people or a community that you want to attract."
You can use them in between your blog content for driving list growth. Once a user is engaged with the content they constantly want more value from you. You can also use them for getting swipe files or PDF version of the blog post.Speaking of content, make sure to use a good CMS such as WordPress while also ensuring proper WordPress security and maintenance.
Landing pages are best for driving leads via Paid Ads & SEO. You can dedicate each landing page for a specific feature, use-case or audience. Sending people from emails to landing pages can drive more leads. More webpage real-estate helps you to make the bait stronger.
They are great for increasing list growth via Webinars, Ebooks, and Free tools.
Start Your 14 Day Free Trial. Leverage Email & Push Notifications.
Right Message for the Right Audience
Getting into the inbox of your subscribers is great.
However, you have limited time to hook their attention and gain their trust.
The real power of marketing automation comes when you are able to reach out to the right audience with the right message.
Now personalizing message can be done using custom fields (custom data associated) with a subscriber.
To do so, you need to classify your audience correctly into:
a. Lists
b. Tags
c. Segments
Lists are great for associating custom life-cycle to your subscribers. So users coming from Widget A get Lead Magnet A (ebook) immediately via email.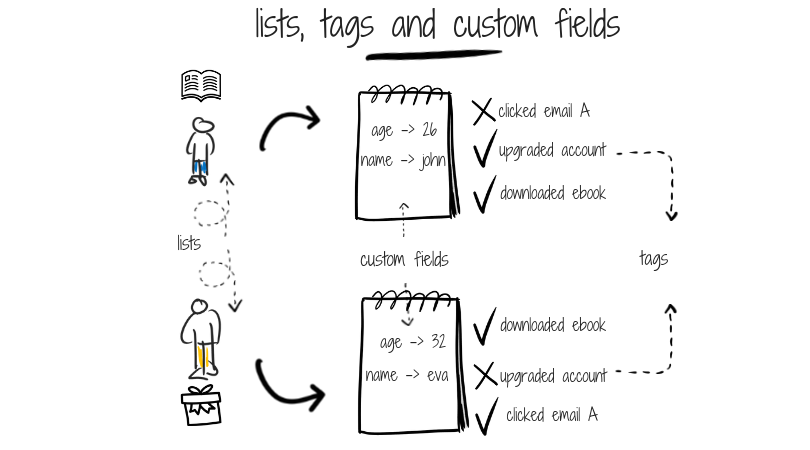 Users coming via Form B get subscribed to New Blog Subscribers Drip and users coming via Landing Page C get into Webinar Drip.
Using lists it is super easy to send a personalized message to the audience based on which growth tool they are a part of. Also, users can unsubscribe from one list and still be on the email communication of others.
Tags, on the other hand, are great for associating custom actions with a subscriber eg: account upgraded, video watched, webinar attended etc.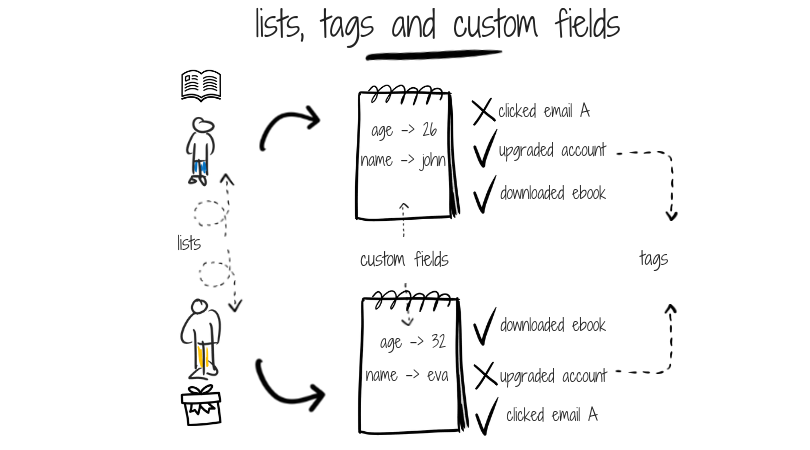 Segments are a combination of (and) and (or) conditions on top of lists, tags and custom fields.
Using them you can hyper-target your audience and tune the exact message so as to convert them.
So say you can create a segment of all users who have downloaded ebook A (tags) and have signed up in less than 1 month and have done a total purchase of $500.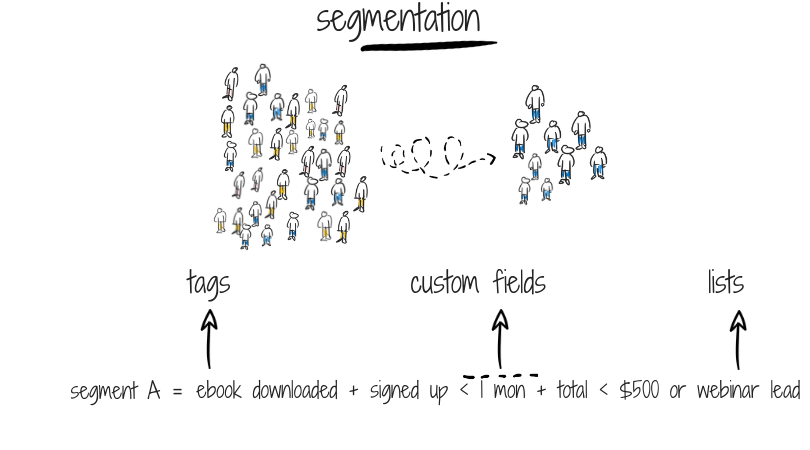 In the later parts, we shall see sending a message using automation when a user subscribes or unsubscribes to a list, added or removed from a tag or a segment.
Subscriber to Customer
In the last section, we learned how to classify our audience using lists, tags, and segments.
We also learned to personalize the message using custom fields and orchestrating it using SendX automation.
In this section, we will learn how to convert these subscribers to your customers and finally start making money.
But before that, we will take a quick detour and talk about ~ Product Awareness Continuum.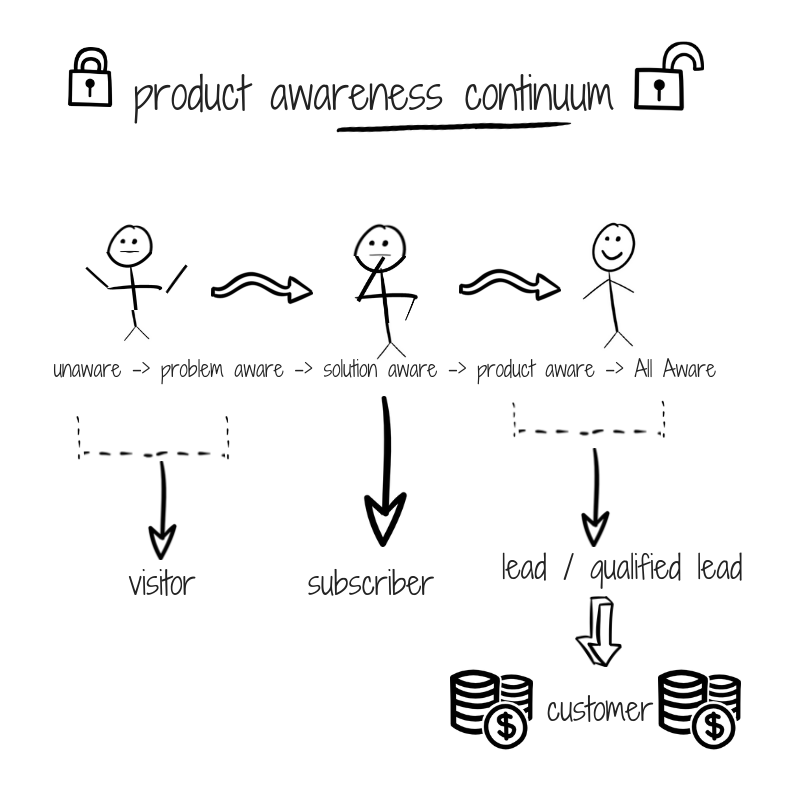 I know it sounds like a marketing jargon.
Don't worry it is super simple to understand and will guide you with right communication based on user's product awareness.
So visitors typically coming to your website are either totally unaware or just problem aware.
The ones that convert into subscribers are aware of the solution.
Now to convert these subscribers to paying customers you need to make them product aware and also sell why your product makes the most sense for them.
Only then the transition from a subscriber to qualified lead and then to paying customer will happen.
Keeping product awareness continuum at the back of our head, we can now decide the best way to take our users through the subscriber to customer funnel.
Drip Email Sequences are considered the best tool to do that.
They are quite simply a series of emails separated by time but are the secret mojo behind most conversion strategies.
We have provided a blueprint drip sequence which first does problem reinforcement, build product awareness, builds trust via case study or reviews and then nudges leads to becoming a customer with some urgency or FOMO Offer (fear of missing out).
Some leads may convert into a paying customer on say day 7, others on day 14 and a few others who won't ever become a paying customer.
For driving growth, you ideally want to change the user journeys of your paying users as well as your non-paying ones.
This is where automation kick in.
Automation is simple If this, then that set of rules to put your marketing on autopilot mode.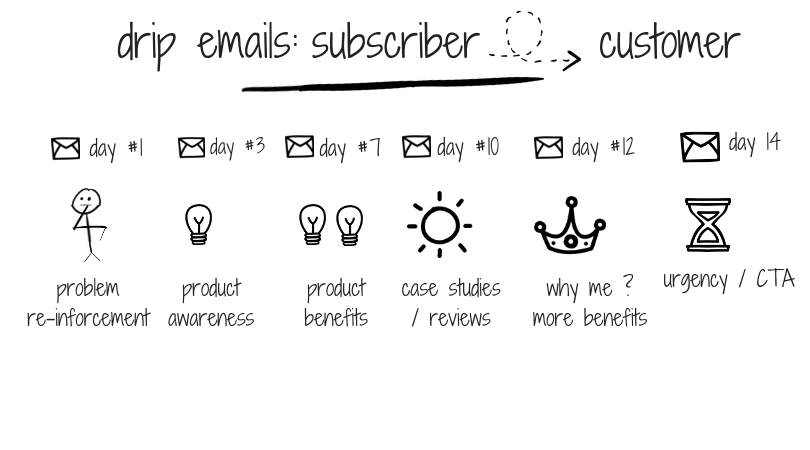 So if a user upgrades his account ( on tag addition ) we first unsubscribe him or her from the earlier drip and move them to customer drip which moves them up the value ladder.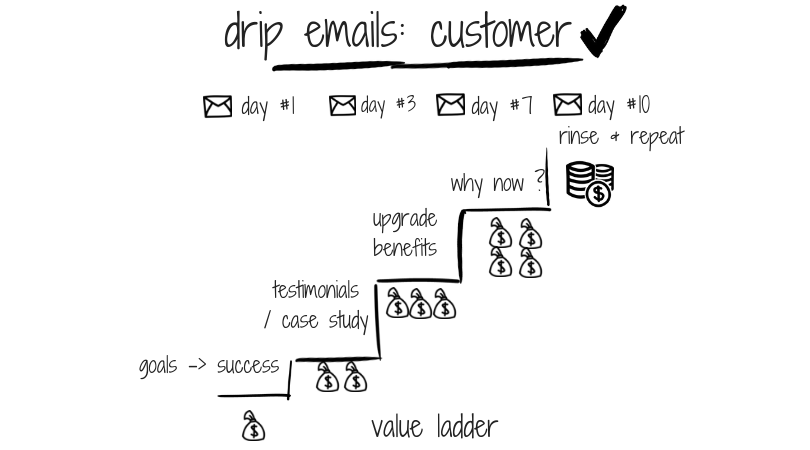 Similarly, if a user hasn't upgraded his account on the completion of earlier drip then we move them to customer drip which again nurtures them to convert from subscriber to a customer.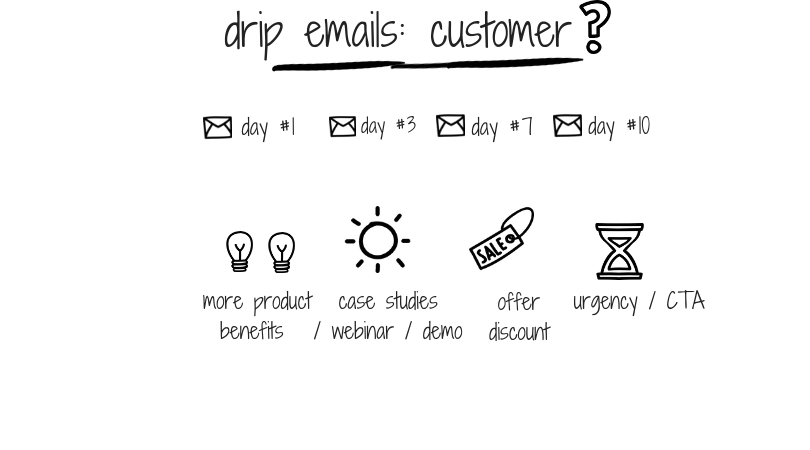 Sign Up & Start Using Drip Sequences.
Web Push Notifications - Interrupt Marketing
So far we have been focused on email as a channel.
But, in this section, we are going to talk about Interrupt Marketing where web push notifications are fast becoming the go-to channel to drive conversion and revenue growth.
In this section, we will discover what are web push notifications, when to use them and how to use them.
Web Push Notifications are messages that come from a website.
Like in the case of website popups you have to fill in your email, similarly, for web-push, you have to allow the website to be able to send messages to you.
The best part is that subscribers don't even need to keep your website open after they have subscribed. They can close the tab or window, or be on some other website and still receive your notifications.
As a channel, they are supported on most major browsers on the desktop (Chrome, Firefox, Opera, Safari) and Chrome on Android.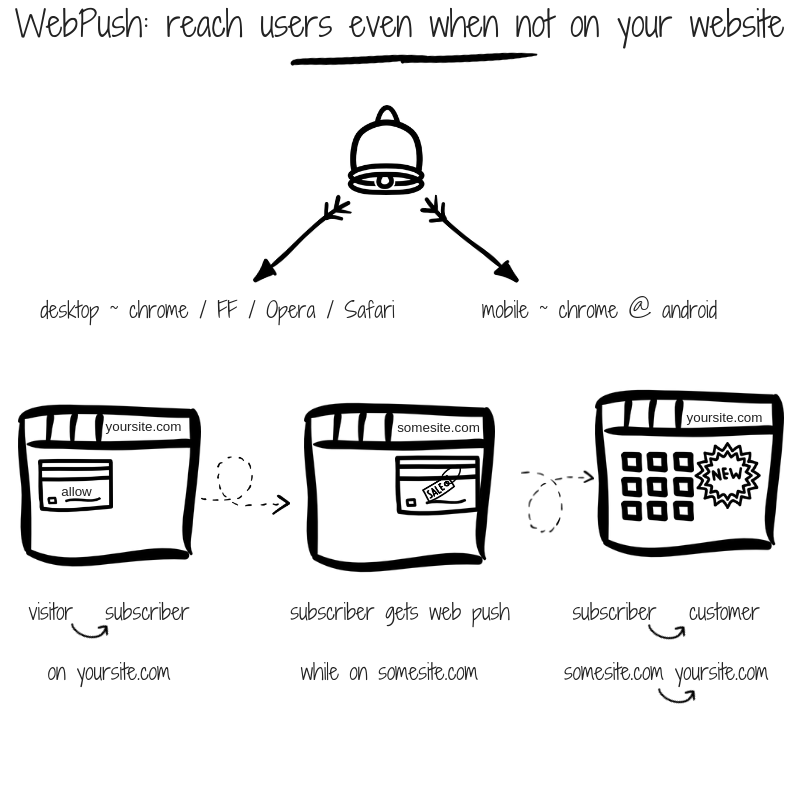 Web Push Notifications as a channel is very very new. As a result, it is a very effective channel to do interrupt marketing with a comparatively lesser competition.
They are great for running time-sensitive offers or alerts:
a. Flash Sales
b. Time Sensitive Alerts Cart Abandonment
c. New Launches
d. Geo Targeted Campaigns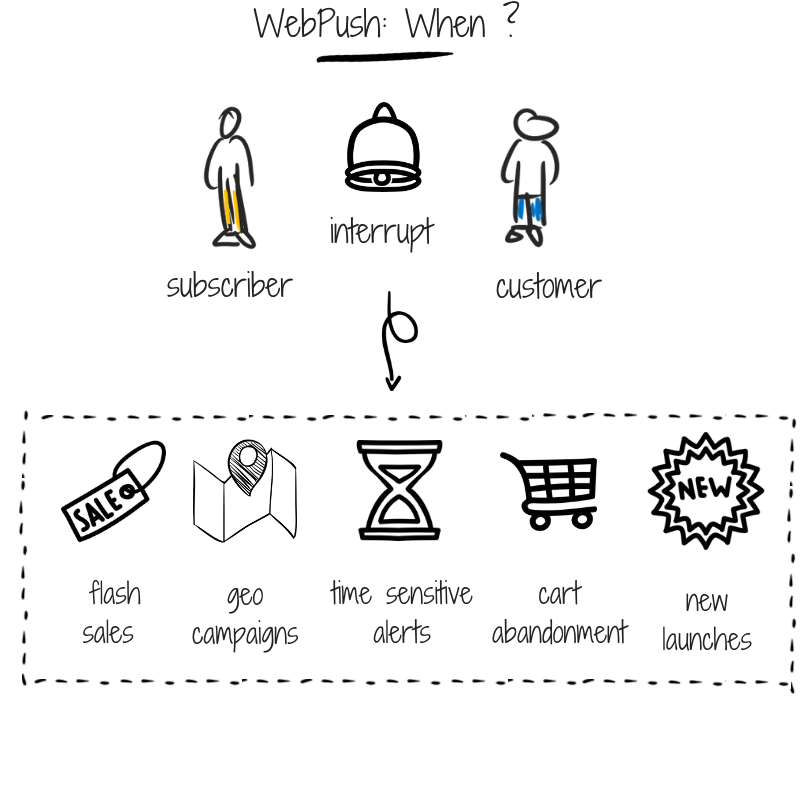 So say an e-commerce company can provide time-limited discounts via web-push.
A food company can run geo-focussed offers. Your company can notify users who have added a product to the shopping cart but are yet to make a purchase and so on.
The only thing to be cautious in case of web-push is that your subscribers still need to be nurtured and educated.
In case you need help with setting up and are interested in knowing the ins and outs of Web Push, The Ultimate Guide to Web Push Notifications is here to save the day!
So while web-push can act as a great boost to drive sales but without email, your entire traffic funnel may fall off.
Wrapping it up
As a small business owner, you are constantly grappling with 100+ fires and issues every day. You might have hundereds of ideas for marketing your small business but not sure which one to bet on. You may still be looking for the perfect hire for your digital marketing efforts or you may be using a virtual assistant as a temporary solution.
I get it.
I have been there and done that.
But sooner or later you have to start investing in things which can reap you long-term predictable growth.
Most of us are so busy in our day to day fire-fighting that we are never able to allocate time to understand these growth levers. Even if we understand we almost always never take any action.
Doing this looks hard and time-consuming.
Being a skeptic we drudge along promising ourselves that we will do it when the right time arrives.
This guide would have provided you a map to navigate your growth & conversion problems. Your might have got ideas for marketing a small business. You are now better informed about the fundamentals which lead to an effective marketing for small business. You also know about various marketing channels, high-level strategies and some marketing ideas for small business which you can set in a few hours to a couple of days for your business. All this will directly help you with marketing your small business.
So now is the time to take some action.
Massive action.
Go ahead and implement some of the strategies & ideas for marketing a small business which we outlined above.
If you are not sure then set up a call with one of our growth experts and we will provide a free consultation to help in marketing your business.
Either the experiments you do will succeed or you will learn to do better experiments.
Remember the only failure is in inaction.
the right traffic