How to Make Personalized Videos for Emails
6 min read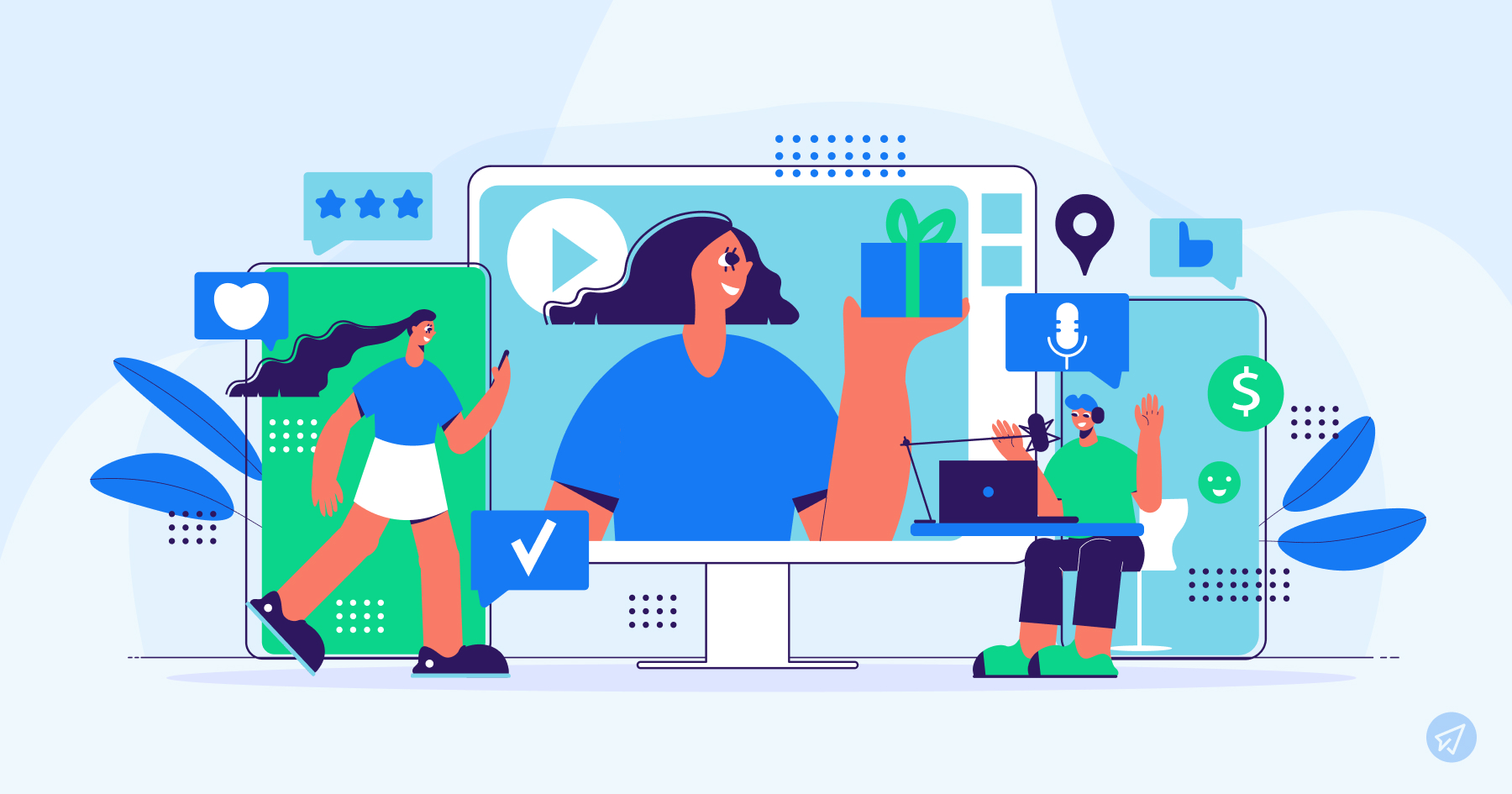 Video marketing has become increasingly influential in driving conversions. And this means it can directly play an important role in improving your bottom line.
In fact, research shows that 91% of businesses are using video marketing to promote their brands.
Image via Wyzowl
But how can you ensure your videos genuinely engage your audience in those crowded inboxes?
Well, you can personalize your video for emails.
Personalizing your emails makes the recipients feel special. And that's a great way to give email marketing a boost.
After all, who doesn't want to feel special?
When customers feel valued through personalized emails, it increases engagement and ultimately drives higher business profitability. In fact, 90% of leading marketers report that personalization significantly contributes to business profitability.
So, if you plan to make personalized videos for your business, you're in the right place.
This post will explore the steps you can follow to craft compelling and personalized video messages.
Read on to get started in the right direction.
Table of Contents
What are Personalized Videos for Emails?
Personalized videos for emails are customized videos sent to individual recipients, addressing them by name or tailoring the content to their interests and preferences.
Unlike traditional mass emails that deliver the same message to all recipients, personalized videos for emails are designed to make each recipient feel unique and valued.
These emails aim to engage recipients more effectively and increase the likelihood of a positive response.
That can include clicking through a website, purchasing, or taking any other desired action. And this can help you generate income directly or indirectly. So, if you're wondering how to monetize videos, this is a great way of doing so.
7 Steps to Make Personalized Videos for Emails
Here are steps to create engaging personalized videos for emails that'll leave a lasting impression on the recipients.
1. Choose the Right Video for Email Platform
Selecting the right type of video for the email platform is a crucial step. Fortunately, several reliable platforms can help you create and embed personalized videos into your emails.
Some popular options in the market include Loom, and BombBomb. Each platform offers unique features and functionalities, catering to varying needs and preferences.
When deciding on the perfect platform for your personalized video for emails, consider factors such as
Ease of use
Video recording features
Editing capabilities
Integration with your existing tools
Analytics and tracking features
Customer support
Additionally, take into account the pricing plans and whether they align with your budget and expected usage.
To make an informed choice, you should explore free trials or demos of the platforms that catch your eye. This hands-on experience will give you a feel for the platform's functionality and help determine if it meets your requirements.
2. Set Up Your Account
Many video platforms will prompt you to register or sign up when you visit their site.
You may need to provide basic information, such as your name, email address, and password. Some platforms might also ask for additional details to customize your account settings further.
Depending on the service you've opted for, you might be required to install a browser extension or a mobile app to facilitate recording videos and embedding them in emails.
These extensions or apps are designed to seamlessly integrate with your email marketing tools, making video creation more convenient and accessible.
After you sign up, you can explore the platform's interface and familiarize yourself with its various features. That'll help you make the most of the platform's capabilities and ensure a smooth video for email creation experience.
3. Record Your Personalized Video
Recording the video is the most critical part of the whole process. To make the most impact with your video, some planning goes a long way.
You can outline what you want to say in your video. It's essential to keep your message concise and relevant to maintain your recipient's attention. Remember, personalized videos are about creating a one-to-one connection, so tailor your content to address the recipient's specific interests, needs, or recent interactions.
Some of the things you can personalize include:
Including information about the recipient's recent interactions. Whether it's a recent purchase, a webinar attendance, or any other engagement.
You can also tailor the content of your video to address the recipient's interests or preferences. Talk about topics or offers that align with their interests to enhance the relevance of your message.
The introduction of the video could be personalized to each customer by talking about their product, requirements, etc.
Make sure you personalize the language based on their region or preference too. If not, you could add closed captions in the local language.
You can then find a quiet and well-lit space for recording to ensure your video's quality is top notch. Pay attention to your background, keeping it professional and free from distractions. It's essential to make a positive impression visually and with your message.
Before hitting the record button, take a moment to rehearse what you'll say.
Why?
That'll help you sound more natural and confident in front of the camera. Remember, authenticity is key to building trust and rapport with your audience.
When recording the video, speak clearly, smile, and let your personality shine through. Be genuine and approachable, just as you would in a face-to-face conversation.
4. Edit the Video
Editing your video can make or break the impact it can have on your audience.
The good news is most platforms provide guides that make this process easier.
While there are several professional video editing platforms that may require you to have some basic video editing knowledge, there are others that can be used by beginners too.
Pay close attention to the video's length during the editing process. Keeping your video concise is essential to maintain your audience's engagement, so remove unnecessary segments or pauses.
Trim the video down to its most compelling parts to keep the viewer captivated from start to finish. You can use a tool like Movavi Video Editor to combine videos and use the best parts of multiple videos to create a single effective video for email.
What's more?
Consider adding captions to your video. Doing so enhances accessibility for viewers. Also, it ensures that your message comes across clearly even if the recipient watches the video with the sound off.
When done with the necessary adjustments, take a moment to preview the final version of your video. Before proceeding to the next exciting step, check for any last-minute tweaks or corrections.
5. Craft a Compelling Email Subject Line and Message
Your personalized video is now ready. But you can't just send your video's email without a message.
So, it's important to create a compelling subject line and message for your videos for email.
Start with a compelling email subject line that piques curiosity and sets the tone for what's inside. Consider using the recipient's name in the subject line to add a personal touch.
A well-crafted subject line can make all the difference between your email being opened or sent to the dreaded "spam" folder.
In the body of the email, clearly explain the purpose of the email and why you created the personalized video specifically for them. Emphasize the value they'll receive by watching the video, whether exclusive information, tailored recommendations, or a special offer.
Keep the message concise and to the point, prompting the recipient to watch the video. Avoid any jargon or irrelevant information that may distract from your main message.
It's also essential to add a clear call-to-action (CTA) that prompts the recipient to watch the video immediately. Use action-oriented language and, if applicable, create a sense of urgency to encourage immediate engagement.
Finally, add an email signature with your name and that of your organization to make your email more authentic. You can use the right email signature generator to generate email signatures easily.
Here's an example. Note how the CTA is placed right after the video.
6. Insert Video Into Your Email
There are many ways to insert your video into your email. If you've chosen the right video editing and email platforms, they'll enable you to embed your video into emails with ease.
You may get the option to use either an embed code or a URL of the video.
If you received a link for your video, simply paste it into the designated space in your email. Some platforms may automatically convert the link into a playable video thumbnail, creating an eye-catching preview for your recipients.
Alternatively, if you received an embed code, copy and paste it into your email's HTML or source code. The embed code will seamlessly integrate the video into your email, ensuring it's ready to captivate your audience with just a click.
7. Send the Video Email
Before hitting that "send" button, take a moment to double-check everything. Review the email content to ensure it's error-free, coherent, and aligned with your brand's voice and messaging. Also, check that the recipient's name is correctly spelled and placed throughout the email.
Next, verify that the video link or embed code is correctly inserted and functional. Click on the link or preview the embedded video to confirm that it plays smoothly and delivers the intended personalized content.
Ensure the email is formatted for optimal display across different devices and email clients by testing how it looks on desktops, laptops, tablets, and smartphones to ensure a seamless viewing experience for all recipients.
Once you're confident that everything is in perfect order, it's time to send your personalized video email to your eagerly waiting recipients. Address the email to the individuals or segmented groups to ensure a more targeted and relevant experience.
Final Thoughts
Hopefully, the above steps will help you create personalized videos for emails for your business.
One thing you should know is the impact of personalized videos for email marketing goes beyond mere engagement: It fosters trust, loyalty, and lasting relationships with your recipients.
So, don't hesitate to experiment, refine, and improve your video communication efforts as you continue to amaze your audience with personalized experiences.