Top 6 Tips to Design an Email Newsletter Layout
5 min read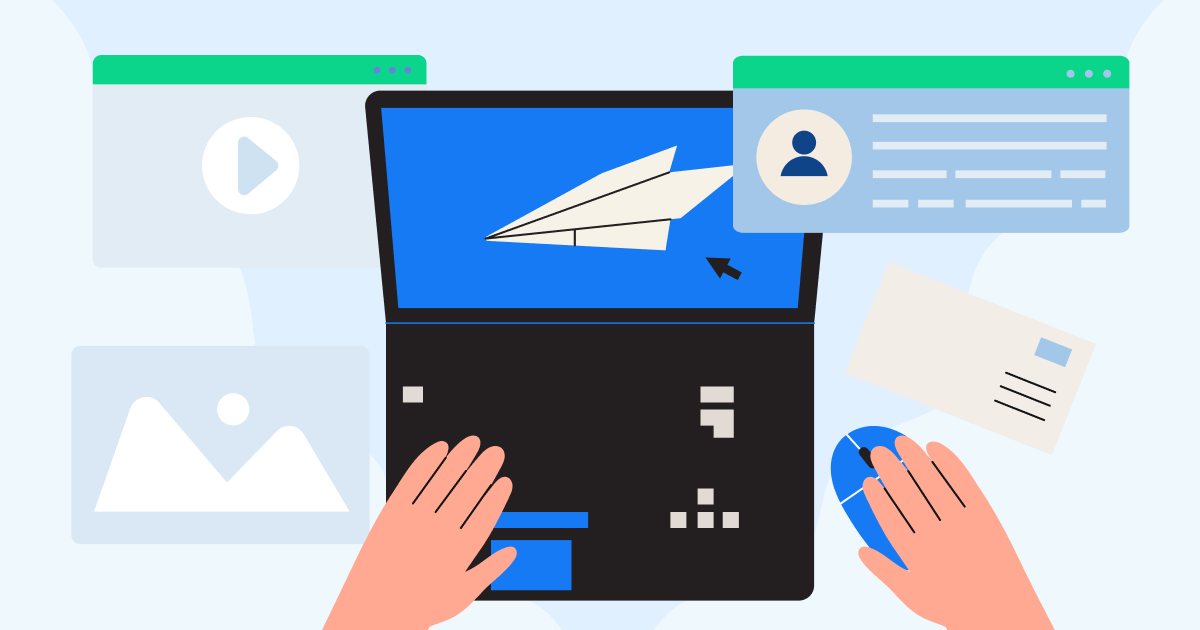 Humans 'see' before they start reading anything and that forms the first impression.
So your newsletter layout is important for user experience and conversions. It should be responsive, designed for skimmers, and easy to use for you to implement.
You can work smartly by "borrowing" from the best and latest newsletter layouts used by some of the successful newsletters. In this post, we explore the elements that make a newsletter design aesthetically pleasing, and helpful for conversion. These newsletter layout tips are easy to implement and focused on providing a memorable user experience.
An email newsletter layout should compose design ideas and elements that can fulfill its role as a strategic marketing tool.
Irrespective of having all the essential elements but placed inappropriately, an email newsletter layout can not just end up in the trash bin but could also be a reason for you to lose a subscriber who could have been a potential client.
In this article, you will find a list of curated tips, design ideas, and elements for email newsletter layouts that could benefit you and your business in ways beyond your imagination.
6 Tips for a Great Email Newsletter Layout
Know your brand well
One of the most important aspects to begin designing an effective email newsletter layout is to clearly understand your brand.
Understanding your brand means having complete knowledge and being aware of the essential design elements used in all other marketing channels as well.
Such as color schemes, voice tones, fonts, font sizes, using small, bold, underline, italic, or capitalized letters, etc.
When you follow a consistent design pattern in all the marketing channels you use to reach out to your clients and potential customers, they recognize you easily and anticipate the forthcoming message.
Being consistent is also a way for building customer loyalty. Remember that your loyal customers may occasionally use your design elements and approach to showcase and resemble their loyalty towards your brand.
Prioritize the content of your email newsletter layout
Every individual email newsletter layout consists of different types of content, for example, company logo, headings, sub-headings, images, simple text, a call-to-action text, etc.
However, all these different types of content aren't equally important. Some are more important while others are less.
Therefore, the key to creating an effective email newsletter layout is to prioritize this content according to its importance.
Starting from the top, organize and place each content type as a guide for the readers to follow a fixed pattern.
Put the most important piece of information first. Then as they move further down, place content that keeps them engaged and draws more attention.
But remember that email newsletter layouts should not be too long otherwise they will drain the excitement out of the reader. Basically, the longer they are the more engaging they must be.
Therefore, give more space to the content that is most important, attention-grabbing, and/or requires a call-to-action on the part of the viewer.
Use a visual hierarchy to help prioritize the content in your email newsletter layout
One of the most effective ways to prioritize the content in your email newsletter layout is to create a visual hierarchy.
Depending on your brand, product/service type, company, industry, and purpose of sending a particular newsletter, you may have to decide on a different visual hierarchy to follow.
A few important points to look out for a while setting the visual hierarchy for any specific email newsletter layout are –
1. Eye movement pattern – Studies have shown that most people, instead of going through everything, tend to scan the content of the email for the most important stuff. Scanning usually involves using an eye movement pattern or path to quickly go through the maximum or entire email newsletter. For example – Z-Pattern email newsletter layout (moving from left to right), inverted pyramid newsletter layout (starting with a broader view from the top and narrowing down as you reach the bottom), Gutenberg diagram (using a primary optical point to start and ending diagonally at the terminal point), and F-Pattern email layout design (useful for plain text emails).

2. Using size and scale – When something is more important, you increase its size to make it more noticeable to the reader. This applies to both images and text alike.

3. Object placement – Similar to using size and scale to enhance the noticeability of the most important content in an email newsletter layout, important information or crucial branding should be placed at the beginning or top sections of the email.
4. Color scheme – Use bright colors to grab the reader's attention. Bright colors are hard to ignore and are therefore attention seekers.
5. Color contrasts – Using bright colors, but responsibly. Using color contrasts to differentiate one thing from the other is a great way to grab a reader's attention.
6. Using white space to separate – Leaving white space between different elements and sections of your email is an excellent way to keep things separated from each other. This also enhances the readability of the recipient as well.
7. Alignment – Use alignment to create differentiation between important and less important items. For example, bigger images and bold texts should preferably be centralized rather than placed on the email newsletter layout's left or right side.
8. Proximity – Proximity refers to placing the objects near or far away from each other. Usually, similar items are placed close to one another while opposite elements stay afar. Displaying items at close proximity also suggests their relationship to the reader.

Insert directional elements in your email newsletter layout
Besides arranging content to adhere to an eye movement path and pattern, some things could be used to direct an email recipient's attention towards a fixed point.
This means inserting directional elements in your newsletter layout.
Two common ways to do this is to use –
Explicit elements - for example an arrow, marker, pointer, or line pointing towards another object; and/or
Implicit elements - for example, an image of a living being gazing towards an object.
Add CTAs at the right places
As discussed earlier, the main objective of a promotional email is to engage a reader, compelling him/her towards the call-to-action button, and sales conversion. Adding a CTA or call-to-action button, object, or prompt is a highly important element in an email newsletter layout.
Therefore, doing it in a way that makes it effective is the key objective in this case.
To things can be done to accomplish this –
Color and design – Make a design and choose a color for the CTA button that makes it stand out from other elements in the email newsletter layout. A good idea is to use a sharp color that contrasts with the background color of the email newsletter layout.
Number of CTAs and their placement – Choosing the number of CTA's to use in an email newsletter layout isn't fixed. Rather, it depends on the content and purpose of the email. For example, a discount or sale offer on a single brand/product may have only one CTA right under the product description. As against this, an email containing multiple brands/products can have one CTA next to each product description.
Using first-person action words – The last but not the least is to use first-person action words that create an urge to take action in the reader's mind for their own benefit. For example, 'I am interested', 'Buy now, pay later, 'Yes, I am a hero', etc.
Here are 3 examples of how CTAs can be used in email:

Email with two CTAs - primary CTA as a button, secondary CTA as text.
Using responsive designs
Although there isn't any need to mention this point, ignoring or being unaware of it is one of the key factors in reduced user engagement and a drop in sales for many businesses, especially online stores.
And this is about not using an email newsletter layout that is responsive to suit different screen display sizes.
Since most people today use smartphones, tablet PCs, and personal computers with varying display sizes, having a one-size-fits-all policy doesn't work anymore.
Therefore, use an email newsletter layout that is flexible to adhere to different device display sizes. This helps customers interact and engage better with the elements of the email newsletter and straighten the path towards using the CTA option provided in the email.
To Sum It Up
Besides making your clients feel important with some exclusive news and/or a promotional offer, the overall email newsletter layout should be able to satisfy the following purposes –
Engage the recipient/viewer into a thought-provoking process,
Compel them to read further,
Create an urge to act,
Drive traffic towards your website and/or product page, and
Finally convert a prospect or potential customer into returning clients.
Creating a high-converting layout can be time-consuming and might not be a viable option if you are still testing out what works with your audience.
The solution is to use an email marketing platform that gives you pre-made, tried-and-tested templates created by professional email designers. SendX is one such tool.
When you use Sendx, you get access to 20+ high-converting email templates that are responsive on all devices. Want to try out?
You can get 14-day free access here.
No credit card is required & you get to test all the features.