User Feedback: How to Collect It and Improve Your Email Marketing Strategy
9 min read
You have heard it before: "the customer is always right." Cliché as it may sound, it's true. Your customers know things that you could use to improve your email marketing strategy in ways that you couldn't find on your own. All you have to do is collect this information. But how do you do it?
The answer lies in what marketers call "user feedback." In this context, the words "user" and "customer" mean the same: they both refer to the people that your business profits from. They are the sole reason your business exists.
If you want to learn more about why you need to collect user feedback and how you can use it to improve your email marketing strategy, this article will show you what you need to know to get started.
Benefits of Collecting User Feedback
1. Gather customers complaints
No matter what you do, your customers will always have complaints about your brand. Whether it is they don't like your customer services, website, or products, your customers want to share that with somebody.
Sadly, most companies don't ask for their customers' complaints proactively. According to a survey by ThinkJar, only one out of every 26 customers is likely to share their complaints with a brand, while the other 25 won't say a word. As ThinkJar's CEO Esteban Kolsky says, "A lesson here is that companies should not view the absence of feedback as a sign of satisfaction. The true enemy is indifference."
If they share their complaints with your company, not only will you lower the chances of getting bad PR, but you will also show your customers you care about them.
2. Provide excellent customer service
Customer service may look like a nice idea on paper, but in 2021, consumers value it much higher than ever. Your user feedback tools will help you serve your customers when they most need it, which they will appreciate highly.
According to SurveyMonkey research, 91% of consumers think companies should listen to their feedback to fuel innovation. Similarly, American Express found that 90% of Americans use customer service as a factor when deciding whether or not to do business with a company.
3. Improve your marketing strategy
There's no better way to improve your marketing strategy than by getting ideas out of your customer's mind. You may think that your current sales funnel is on-point, your product offering is excellent, and that your pricing is optimal, but none of this is true until your customers validate this for you.
User feedback will help you uncover all of these key aspects of your marketing strategy, so you can take their ideas and suggestions to improve it continuously.
3 Types of User Feedback to Gather
There are several types of user feedback you can use. The following are three of the most popular and effective for improving your email marketing strategy.
1. Website experience survey
Your website works like an all-in-one business' storefront, salesperson, and customers support representative. Presenting a website that your visitors find useful will help you get more visitors, leads, and customers. To do that, you first need to know what your visitors think about your website.
A website experience survey will help you uncover how your visitors perceive your website, so you can find any problems they have, fix them, and improve your website's experience.
There are several ways you can approach a website experience survey. The main goal is to find any roadblocks they encounter, such as an unclear navigation menu, and use that information to guide your website optimization efforts. Some questions you can ask to create this survey include:
Did you find what you were looking for today?
What other information would you like to see on this page?
Is there any way we can help you find what you need?
What, if anything, surprised you while browsing our website?
What did you find difficult, if anything, about using our website today?
What prevented you from making a purchase today?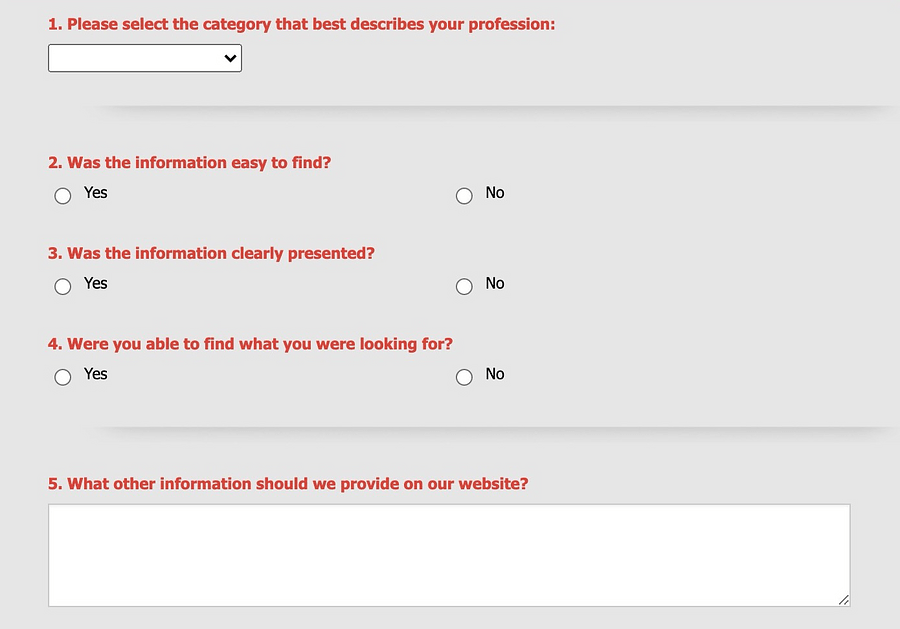 You can also use a Likert scale or a numerical scale asking your visitors to measure their satisfaction with a specific part of their website experience, like your search bar, homepage, or navigation menu.

You must understand your website experience surveys aren't popups—the latter focus on promoting some type of offer, like a discount, whereas the former may show up in a pop-up fashion (although not exclusively so, as you will see later on), but focus on getting answers from your visitors.
2. Customer satisfaction survey
As the name suggests, a customer satisfaction survey aims to measure how satisfied your customers are about your brand and your products. A customer satisfaction survey can ask any questions—or use rating scales—to measure your visitors' satisfaction with your brand and products.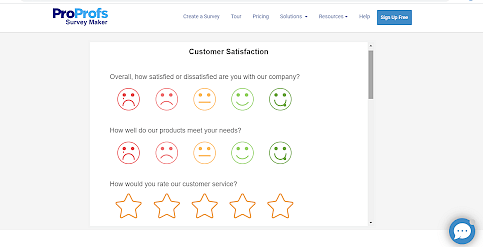 Consumer brands tend to ask their customers to share their products and then fill a Likert scale to measure their level of satisfaction regarding the products, service, and store.
Two seemingly simple but highly effective surveys that measure your customer experience are:
The Net Promoter Score (NPS) measures the likelihood a customer will recommend your brand to their friends or colleagues.
The Customer Satisfaction Score (CSAT) measures whether a product fulfilled the customer's expectations.
An NPS survey segments the answers depending on the numerical rating scale the customer selects. Customers who answered between zero to six are called "detractors," whereas those who answered between seven and eight are "passives," and those with nine and ten are "promoters." Then, the net promoter score is defined by resting the percentage of promoters by the detractors.

With an NPS survey, a brand can get a broad idea of their entire marketing operations' effectiveness—i.e., they can see if they are meeting their customers' expectations—and ask further questions to learn more about their customer's experience.
A CSAT survey does a similar job to an NPS survey but focuses on the satisfaction the product the customer bought generates.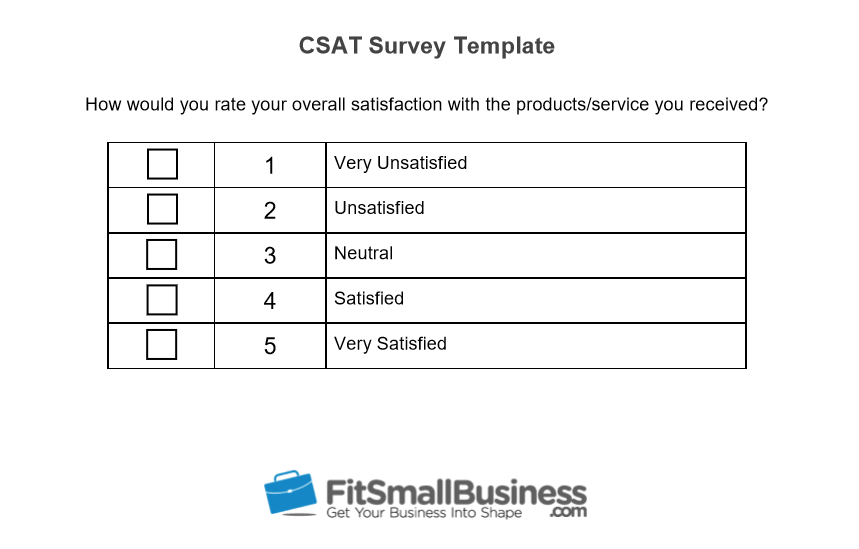 3. Post-purchase survey
The experience a customer goes through after they buy a product determines whether they become a one-time customer or a loyal one. The experience depends on the type of business you run—SaaS, ecommerce, consulting—and how your product fulfills their needs. You want to measure their satisfaction by using a post-purchase survey.
In this type of survey, you seek to learn more about how your company met their expectations, how useful they found your product, and whether they had any issues receiving and using it. You can ask questions like:
Did you get our product on time?
Have you searched for any alternatives after buying/signing up with us?
What results have you found with our product?
How satisfied are you with our product?
How much does it take you to use our product?
You can use this information to improve your existing marketing strategy and guide your future product development efforts.
3 Ways to Collect User Feedback
1. Add feedback forms on your site
To collect user feedback, you need to add any of the feedback forms mentioned before on your website. Companies such as SurveyMonkey, Typeform and Zonka Feedback will help you add feedback tools to your website by adding a code snippet, although some Wordpress themes already allow you to add basic forms on your site to survey your visitor
The question isn't how you add these tools on your site, but which ones you should use and where you need to present them.
There's a lot of user feedback you can gather, so instead of trying to acquire as much diverse type of data as possible, focus on the main challenges your email marketing strategy currently faces. It could be a low visitor-to-subscriber conversion rate, low open rates, low CTR, high unsubscribe rates, and more.
Pick one problem you want to fix and work your way back: what data do you need from your customers that could help you decipher the cause of this problem?
With your surveys, you can find:
The content they are expecting to get from your company.
The satisfaction level they get from your emails.
The reason they signed up for your email list.
What other email lists in your industry they have signed up for and study them for more ideas.
Based on your decision, you then need to develop your survey. Pick one of the three options mentioned before, and create your survey. Add the questions you saw previously or add your own.
Your surveys must be simple to use and ask the right number of questions. Avoid asking more than five questions to avoid overwhelming and boring your respondents.
Finally, decide on the trigger you will use to present your survey. You can use:
Time on site—e.g., presenting the survey after 30 seconds on site.
Number of visits—e.g., presenting the survey exclusively to first-time visitors.
Site section—e.g., presenting the survey to visitors on your product pages.
Behavior—e.g., presenting the survey to exiting visitors.
Since you will be using this information to improve your email marketing strategy, use triggers that are more likely to appear to an email subscriber by syncing your survey tool with your email marketing provider and targeting only your email subscribers.
Alternatively, check your analytics tool, see where you get the most email subscribers, and show your surveys only on these pages.
2. Send email surveys
To improve your email marketing strategy, the best way to do so is by sending email surveys. The workings of sending email surveys are almost identical to showing your surveys on your website.
You decide on the user feedback mechanism type you want to use, you create the survey, and you send it to your list; the only important difference is the segment you will send your survey to. You want to pick a segment that's most likely to give you the information you need to improve your email marketing strategy.
For example, if you want to improve your open rates, you could create a segment for:
The subscribers whose open rates are lower than the average.
The subscribers whose open rates are higher than the average.
The subscribers who didn't open your emails in the past thirty days (or any other time frame that works best for you).
The subscribers who opened your emails in the past thirty days.
Your survey will depend on your segment choice. For example, suppose you decide to send your survey to those subscribers with lower-than-average open rates. In that case, you should focus your questions on their dissatisfaction with your current email content. You could ask:
What type of content are you expecting to see that you don't see right now?
What would you change from your email content?
What do you like the most about our email content?
What do you dislike the most about our email content?
After you created the survey and the segment, you need to write your email. In that case, all you have to do is write a subject line that tells them you are sending them a survey and explaining why you are doing so. You should also give them an incentive, like access to a giveaway.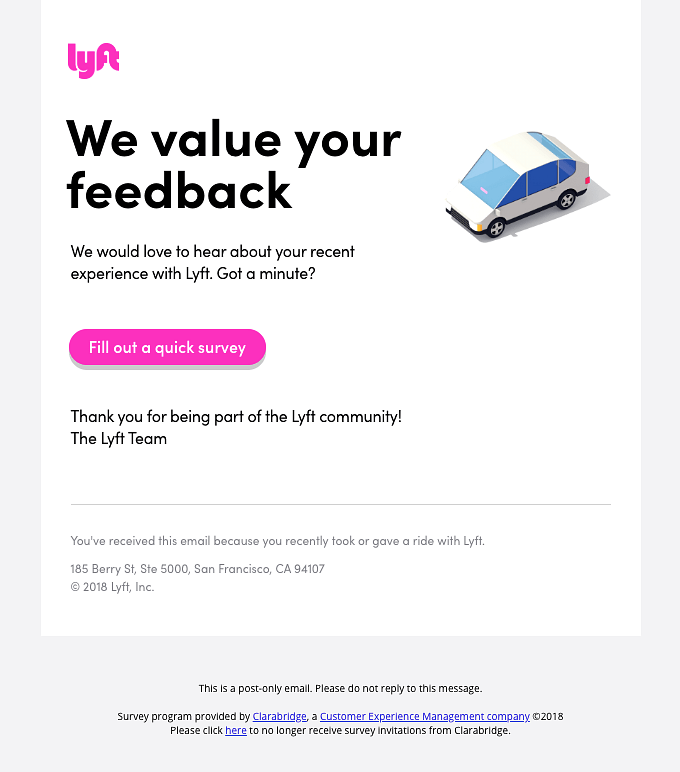 A professional-level email marketing tool like SendX will make this entire process easy to execute.
3. Promote your surveys on social media
Your current social media following is a goldmine of information you can use to improve your email marketing strategy. Comments, replies, and reactions all give you a strong indication of how your customers feel about your brand.
One way you can extract user feedback from your social media following is by using what social media marketers call "social listening:" the act of reading through your followers' comments to find any valuable insights.
Alternatively, you can create a survey and promote it in your social media following. To do that, you first need to select a social network, decide on your goal, and create the survey.
Since your social media followers may not be email subscribers, you need to be creative when creating your survey. Once again, focus on the causes of the email marketing problems you are trying to solve instead of asking direct questions about your email marketing strategy. Some questions you can use include:
What's your favorite email newsletter?
How many newsletters do you follow?
What brands in [your industry] do you like the most?
These indirect questions can surface incredible insights that you can use to work on your email marketing strategy.
Analyzing User Feedback
Once you have acquired enough user feedback, you need to analyze it, a task that's not as easy as it seems. For surveys that use scales and pre-written answers, the analysis is relatively simple, but if you use open-ended questions, you will have to read through many answers before finding any valuable insights.
To start, you want to categorize all the answers—which is especially important if you use open-ended questions—into groups and organize them by frequency and importance.
Through your segmentation, specific segments will start to appear. For example, you may find a group of highly unsatisfied customers who have high expectations, whereas another segment will be the exact opposite.
You want to find common patterns in the answers and start taking notes. Every insight should be related to your email marketing strategy, so by the time you finish with your analysis, you have a list of ideas to discuss and implement.
Conclusion
As you have seen today, you can improve your email marketing strategy by leveraging your user's feedback consistently. Its benefits exceed its costs by a large margin; all you need to do is get started.
Start by adding any of the user feedback mechanisms described above and analyze the results regularly. Then, use the insights you find to fix any issues you find. After you have implemented this process a few times, your email marketing strategy will have improved dramatically, all thanks to your user feedback.
FAQs

1) What are the benefits of collecting user feedback?
The top benefits of collecting user feedback are that you can gather customers' complaints, provide excellent customer service, and improve your marketing strategy.

2) What are the various types of user feedback that we can gather?
The main types of user feedback that you can gather are: website experience survey, customer satisfaction survey, and post-purchase survey.

3) Can you suggest some ways to collect user feedback?
Some of the best ways to collect user feedback are:
Adding feedback forms on your website
Sending survey emails
Promoting your surveys on social media.

4) How can I go about analyzing the user feedback acquired in various ways?
It depends on the mode of acquiring the user feedback. For instance, for surveys that use scales and pre-written answers, the analysis is relatively simple, but if you use open-ended questions, you will have to read through many answers before finding any valuable insights.