10 Crucial Email Marketing Mistakes (With Tips to Avoid Them)
9 min read
"Email marketing is dead!"
That's what some marketers would say.
The pace of technology's innovation as well as the number of resources that are available to marketers today is extraordinary.
Is Email Marketing Really Dead?
In 2015 alone, VentureBeat said that there are almost 2,000 companies from 43 marketing categories; including social marketing, SEO, mobile analytics, video marketing, and more.
And just think about the new categories added in the following years, giving marketers new ways to promote brands and products and totally forgetting about email.
However, if there's just one category that continues to perform really well, year after year, it's email marketing.
How?
First off, the number of email users are in the billions.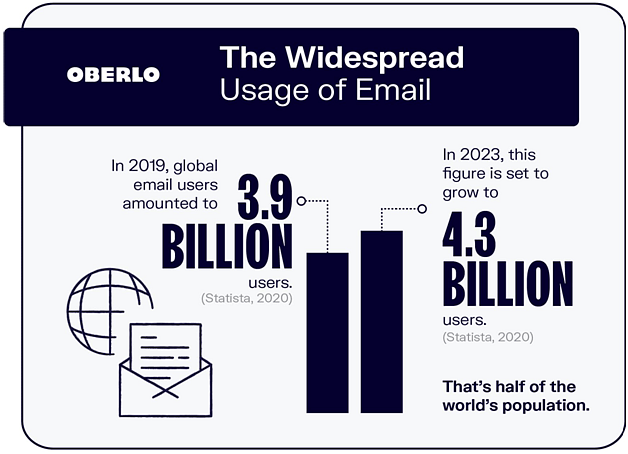 And there's also a staggering number of emails sent and received every day according to Statista.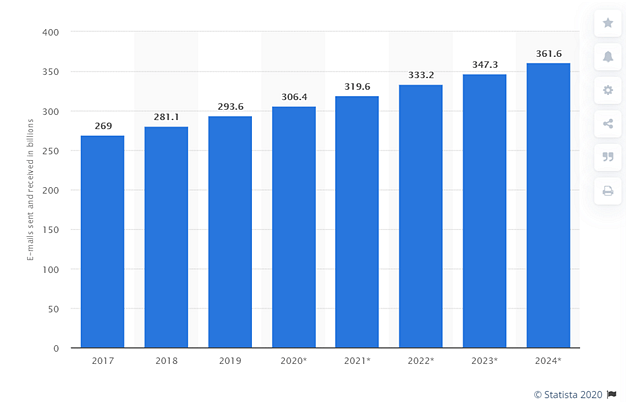 And just so you know, email continues to deliver the highest ROI for marketers; even beating social marketing by 40 times for customer acquisition.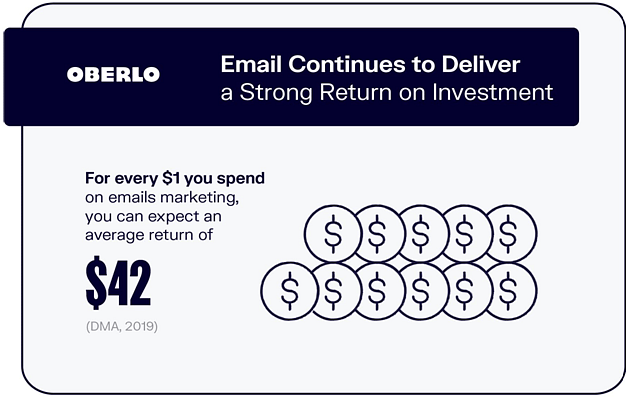 So, it's safe to say that email marketing is alive and well and is still one of your best bets for business growth.
Unfortunately, email marketing isn't as easy as it seems. You can't just send an email to your audience and expect instant conversion.
No. Email marketing can be quite complex, thanks to the sheer number of variables and factors that affect it. And you don't want to waste your time, money, and effort on an email that is not opened, read, replied to, or gets sent straight to the spam folder.
So, to help you avoid the pitfalls that most marketers fall into when utilizing email marketing, we have outlined the 10 most common and crucial email marketing mistakes. Plus, we have some tips for you on how to avoid them.
10 Top Email Marketing Mistakes + Tips To Avoid Them
1. Off To A Bad Start
So, someone just subscribed to your list. Congratulations!
What're you going to do next?
If your answer isn't "Send them a welcome email, ASAP," then you're off to a bad start.
While it's true that readers have subscribed to your email list intentionally, it's also true that there's a good chance that they'll forget you; given all the other newsletters they've subscribed to as well.
Therefore, you want to ensure that you don't get off on the wrong foot. You can start building a relationship with them, only after you have welcomed them.
And in case you don't know, emails are effective in improving open rates.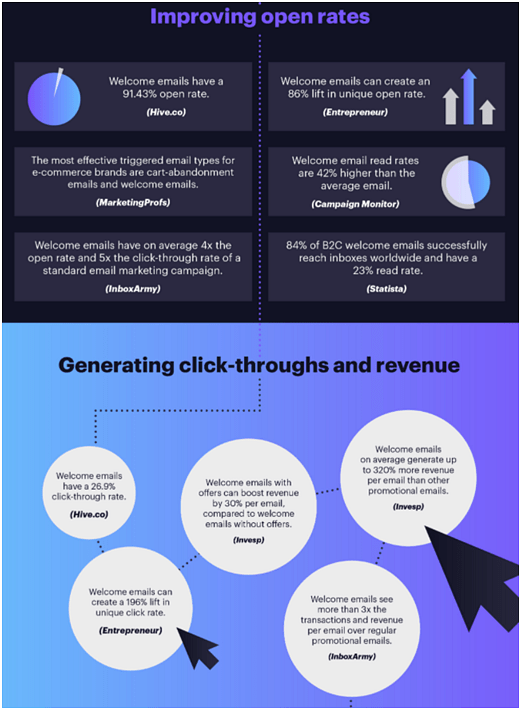 As you can see, the first email that you send to your subscribers is your most read email. They just subscribed to your email list. You are fresh in their minds, and thus, are most engaged with you.
So, how to whip up a nice welcome email?
Well, some are straightforward: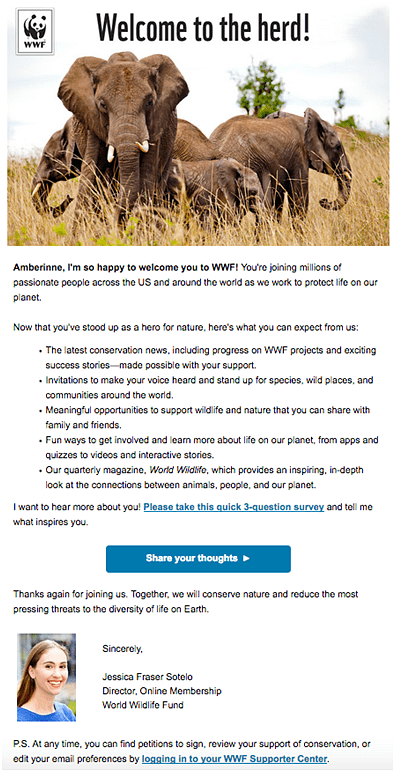 And some can be lighthearted and fun, like this welcome email I received from European Language Jobs.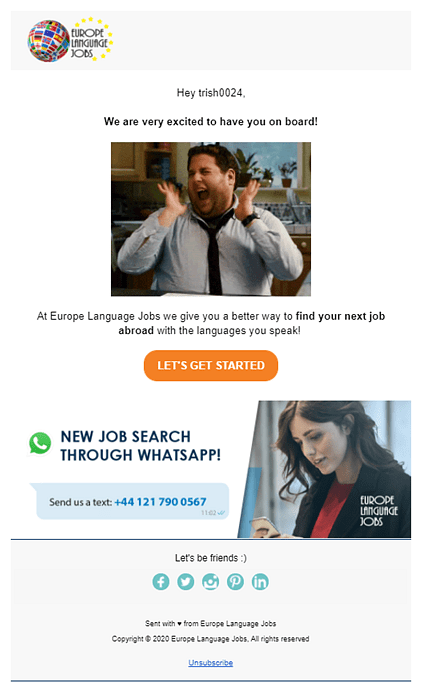 But, regardless of how you compose your email, all good welcome emails will have these common elements:
Welcoming your reader
Introducing yourself
Setting the stage for what's next
So, if you can write a welcome email with those 3 elements, then your email marketing is off to a great start.
2. Sending Emails That Lack A Personal Touch
One of the mistakes in email marketing you might be making is sending out generic and impersonal emails that seem to have been written by an uncaring bot.
The best emails will engage their recipient. And to best engage your audience, it is crucial to create emails with a personal touch.
Personalization is not just a buzzword. In fact, it is one of the main drivers of a successful email campaign.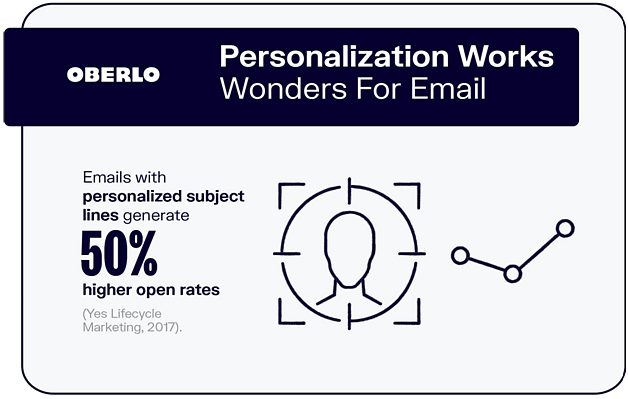 And what happens when you don't tailor your emails to your customers' interests and needs?
Smart Insights said that 63% of current customers will stop buying or shopping from these brands.
By creating emails with a personal touch, your emails will stand out in your subscriber's inbox. Plus, with personalized attention, your customer will feel special.
So, how do you create a personalized email?
Start from the subject line. Using your customer's first name in the subject line can instantly give that personal touch.
Here's an example from Samsung that uses the first name of customers in their subject:

This makes your customers feel as if you're talking directly to them. Plus, it also makes your email less "salesy."
Next up, you want to offer personalized content based on your subscribers' demographics.
You'll need to make use of other data received from them when they signed up: Such data includes:
Interests (related to your services and/or products)
Location (applicable seasons and festivals)
Gender
Date of birth (age and birthday)
You can use these data to plan relevant content and promotions. Engaging your subscribers based on their demographics can make your emails more personalized and relevant; thus increasing the chances of them interacting further with you.
Lastly, you can create personalized recommendations based on your customers' behavior.
For customers who have not yet purchased, you can send an abandoned cart email like this one: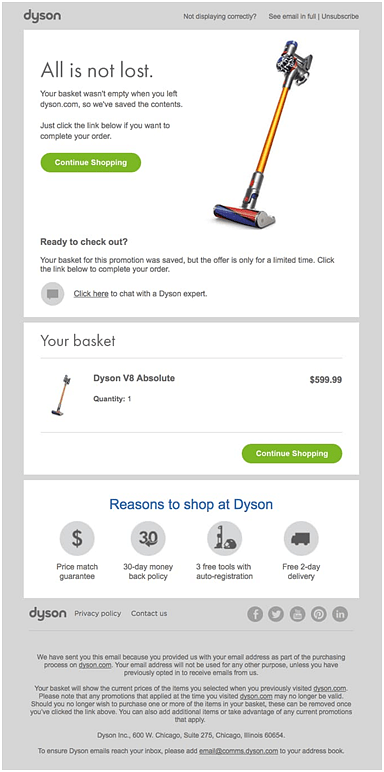 In this way, you can inform them that the item they added to their cart is still available, reminding them in case they forgot, and encouraging them to purchase.
You can apply a similar approach for the customers who have already purchased. However, the difference is that you should recommend products that are complementary to their previously purchased items, or something that is similar in style.

This is also the perfect time to increase customer loyalty by encouraging them to interact with your brand by offering discounts, reward points, and other special perks.
3. Subject Lines That Are "Meh"
An email that does not get opened will not be read. And an unread email means zero sales.
So, since your goal isn't to waste time and money sending emails that are not going to be opened, make sure you don't make the big mistake of writing bad subject lines.
The fact is: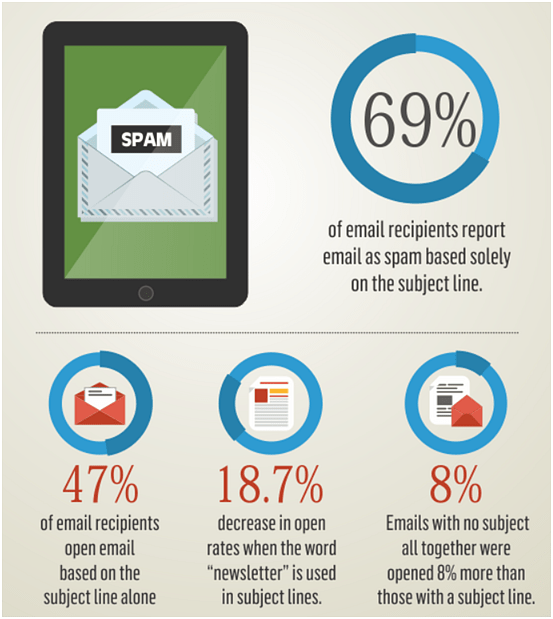 These stats show just how much impact a good subject line has on the actions of the email recipient. So, how do you write a subject line that's not meh?
Subject line. Emphasis on the "line."
So, yes, this is not the place to write a novel.
Desktops can display about 60 characters while smartphones can show 25–30 characters. With that said, you need to keep your subject line on point, within 6–8 words.
Here's why: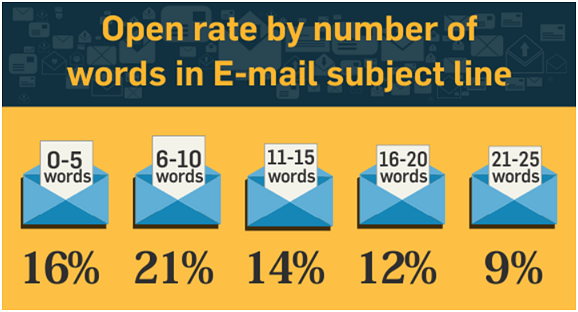 Here's an example from Spotify that is short and gets to the point:

As we discussed before, personalization is key to making your subscriber feel special. Fortunately, your email autoresponder offers the option to include your specific customer's name in your subject lines.
Something like this:

Most marketers argue that adding emojis makes the email look unprofessional. However, emojis can make your subject line less boring and add some character.

But that's not all: research also proves that emojis are quite effective.
The use of emojis began in 2015 and has shown to have had a profound impact on open rates. In fact, open rates for emails with emojis in their subject line have gone up as much as 775 percent in 2015 – 2016 alone.
In short, subject lines with emojis are more likely to be noticed in a customer's cluttered inbox.
Take note, however, as adding emojis is not always called for. So, if you think your brand can do well without these, then go ahead with your plans.
4. Sending From The donotreply@ Addresses
The noreply emails are email addresses that are not monitored and block receivers from replying. Thus, it is unwelcoming and uninviting, often frustrating, and confusing for customers.
Emails that fail to let receivers respond or ask questions might encourage customers to look for a more responsive and personable organization to do business with.
In addition, the number one reason why a customer opens an email is based on the sender's name.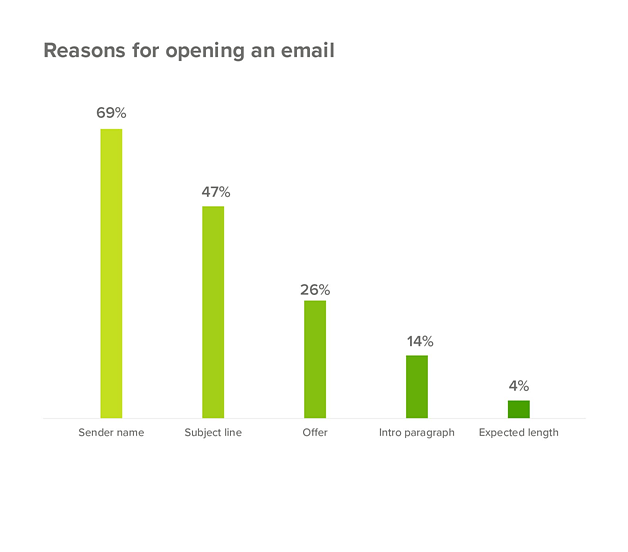 So, if you send an email from a DoNotReply@ or No-reply@ address, then do not expect a high open-rate.
Always send emails from an address that your subscribers can reply to if they choose. If allowing replies becomes too overwhelming, then you can include a "Contact Us" link, leading the client to a well-designed landing page to ask questions or get additional information.
5. Adding Too Many Links
Want to attract your subscriber's attention, increase your click-through rates, and boost your link building campaign? Add links to your emails.
But don't fall for this:
Do not pack your email with links! This is what a link building reseller would avoid.
If the content or body of your email is littered with links, then there's a good chance that it will trigger the spam filters of most email service providers, thus resulting in a low delivery rate.
And if your email miraculously dodged the spam folder, your subscriber would often view it to be spammy. It can be distracting, confusing, and most of the time, suspicious.
So, instead, only include the essential links and no more.
For instance, if you are sending your monthly newsletter, then you might want to include several links to your latest articles or blogs. This is a great example:

Or if you're sending an email for a special promotion or product/service announcement, you can create a CTA (call-to-action) button or link that takes your subscribers to a landing page. Take a look at this one:

6. "One Size Fits All" Email Marketing Approach
The key to effective marketing is relevance.
And doing the "one size fits all" email marketing approach doesn't scream relevance at all.
Whipping up a nice email and relying on the "Send to all" button won't work. Sure, that email will relate to some. But there are also a good number of subscribers that won't relate and will lose interest.
In short, your message and content need to change based on who'll be receiving the emails.
So, how do you do that?
Segmenting your email list and customizing email content to each reader will give you a higher CTR (click-through-rate), happy and engaged customers, and other perks!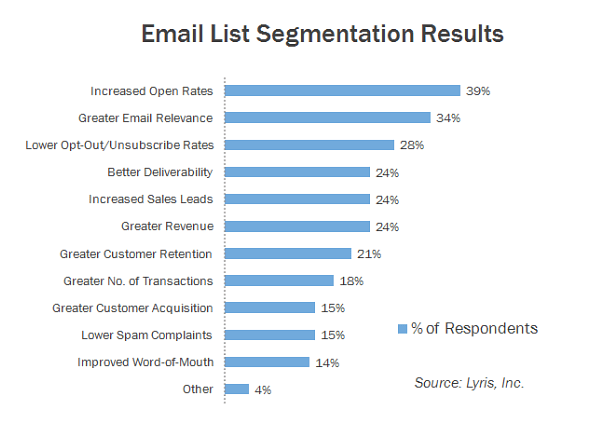 You can place your segmentation on your subscription page. Allow your subscribers to select the topics they're interested in. This will automatically segment them onto different mailing lists, where you can offer different kinds of content per their preferences.
In addition, there's also a chance that your subscribers are at different stages of the sales funnel. This means that each customer will need to receive specific content that is relevant to their buying stage.
With that said, you can try the AIDA strategy.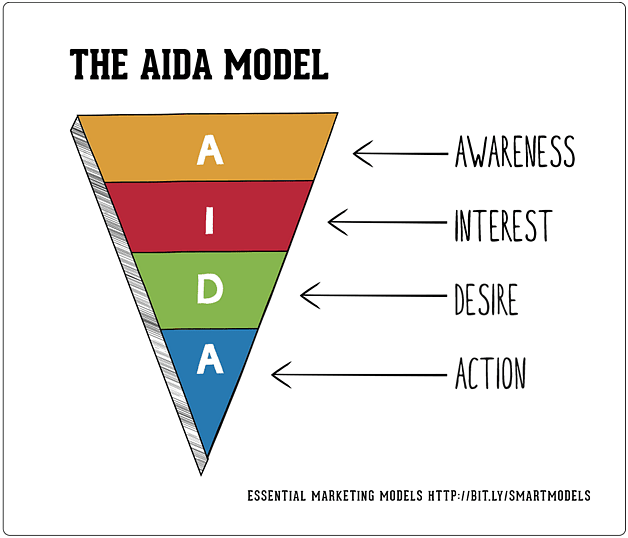 This formula allows marketers to offer result-driven content to their subscribers with the end goal of moving them through the sales funnel.
7. Concealing The Unsubscribe Link
People will sometimes sign up for your email list but then decide to unsubscribe after receiving a few of your emails.
There are 2 ways to handle this:
First, you accept and respect their decision and make it easy for them to unsubscribe. Or you can be a jerk and hide your unsubscribe link any way you can.
The first option is definitely a professional move, while the second one can only cause a lot of bad feelings and frustration. Not to mention that you also risk failing to comply with the GDPR and getting fined.
If a subscriber does not want to hear from you anymore, hiding the unsubscribe link is not going to magically make them want to purchase your service or product.
So, don't even think of looking for ways to conceal your subscriber link.
And don't make it way too small: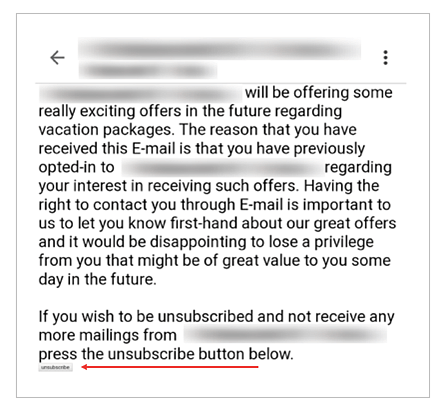 Or try to camouflage it in a sea of text like this one: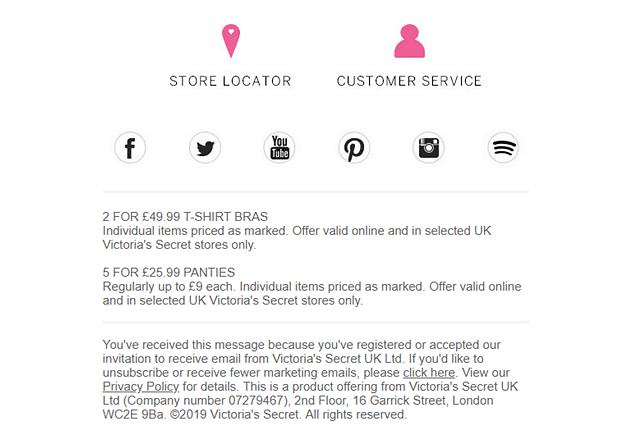 8. Ditching The CTAs
By now, you might have heard that any content will need a CTA (call-to-action), whether it's a blog post, a landing page, or emails like this one: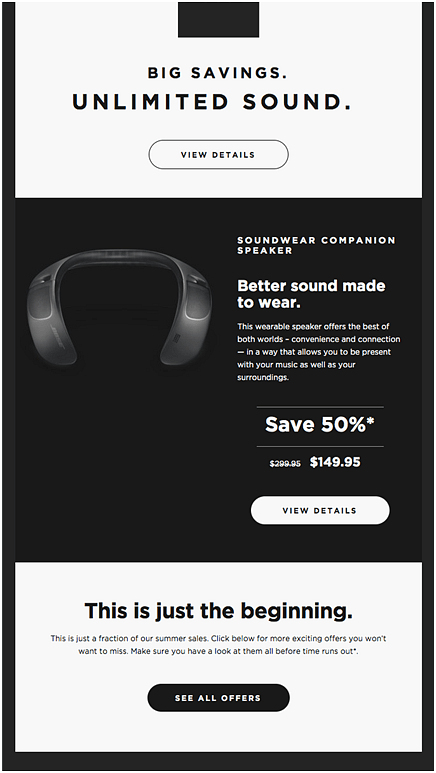 Without CTA, you are leaving it up to your readers to figure out what's next. And sometimes that means clicking on the back button.
So, how do you compose a great CTA?
Use bold text, bright colors, or large buttons. Don't bury it in your email, but instead prominently display it so that it stands out. You can also make it interactive which increases customer engagement.
Words matter, too. If your CTA is vague or boring, your audience might skip right over it. Phrases like "Read more" or "Buy now" are some examples of common action words.
How about something like this?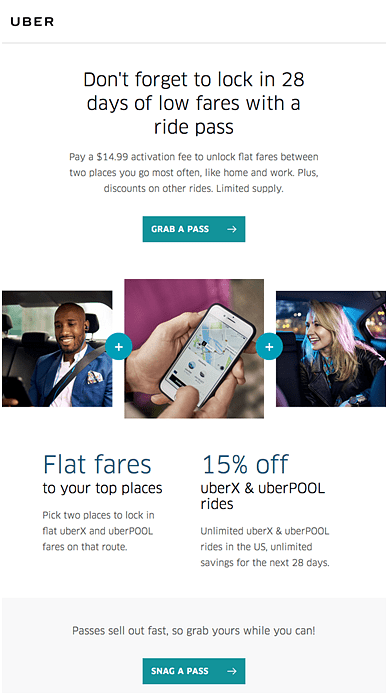 Or create a sense of urgency like this: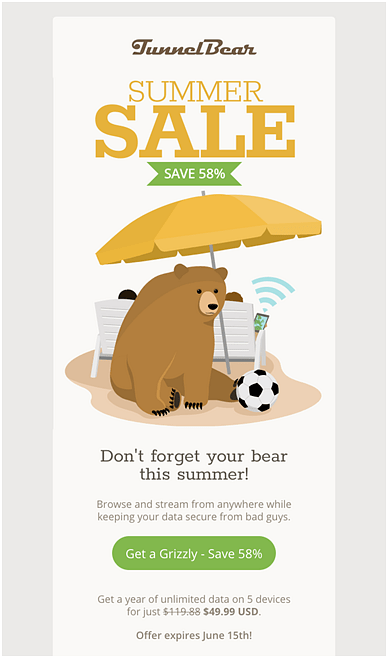 In addition, you can repeat your CTA action more than once when appropriate. By doing so, you give more opportunities for your reader to notice and engage with your site.
9. Ignoring The Mobile Users
According to Statista, there are about 3.5 billion smartphone users around the globe. It is anticipated to reach about 3.8 billion users by next year.
In line with email marketing, statistics indicate that: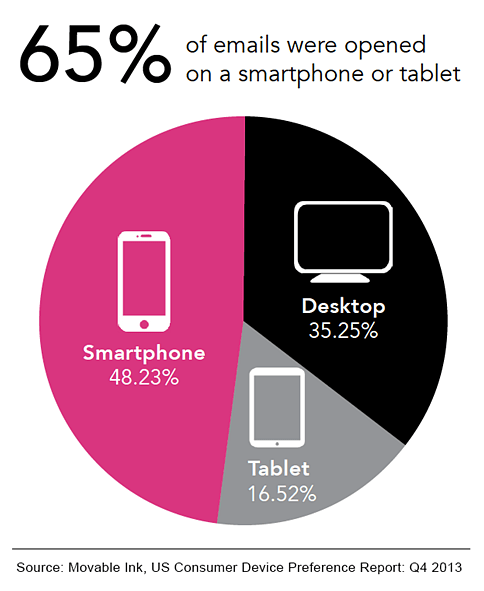 So, if there's another expensive email marketing mistake that most marketers do, it's forgetting about their mobile users. Failing to tailor your email campaigns to properly load on mobiles can result in less customer satisfaction and less business.
Formatting your email for mobile should be clean and simple. Use text and images that are easy to read on small screens. Consider using images that are less than 600 pixels wide.
With mobile, your real estate is limited. So don't beat around the bush. Write short, consumable, and scannable chunks of content like bulleted lists. Also, place your CTA buttons front and center.
Lastly, you want to do an email test on multiple devices before sending them to ensure that your email looks the way you've planned.
10. Sending Emails at the Wrong Time
Did you know? There's also a right and wrong time to send emails.
And most marketers don't even know about it.
A well-written email sent at the wrong time is another email marketing folly you need to avoid.
Sending emails on a Monday might not be the best time. Your users are likely to be busy working which means a very small possibility of them opening and reading your emails.
With that said, what's the best day for email marketing?
Both Campaign Monitor and Mailchimp say Thursday for higher open rates.

Experian claims Tuesday has an overall higher open rate and CTR.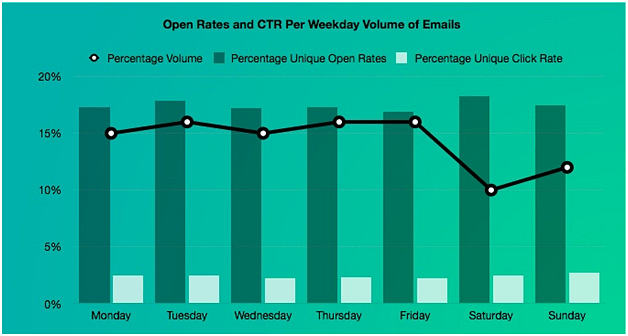 The next question is:
What is the best time to send emails?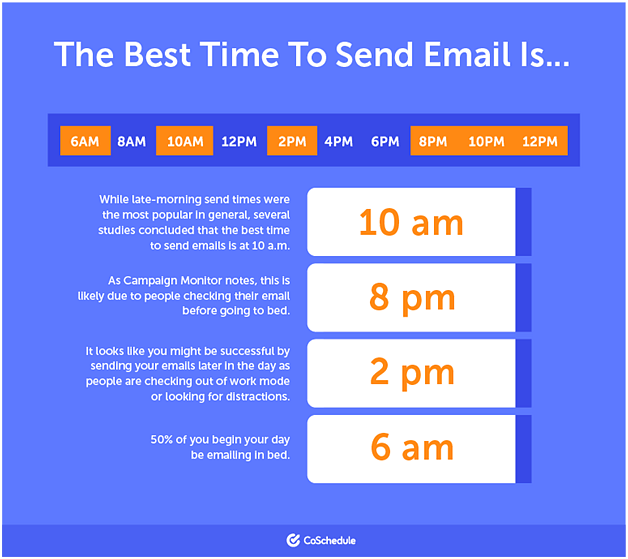 So, don't just hit that send button as soon as you finish your email. Use these data for an effective email campaign.
Over To You…
Conversions don't just happen because you have someone's email address. They happen when you effectively execute your email campaigns by avoiding the mistakes in email marketing. And for that you will need an email marketing software like SendX, which comes with a 14-day free trial (no credit card required).
Now that you know the crucial email marketing mistakes to avoid; you will be able to avoid them in your email campaign and increase your email conversions.